SureGuard's waterproof mattress protector keeps mattresses safe from water damage and allergens. Its cotton terry fabric is soft and (nearly) undetectable, too.
SureGuard Mattress Protector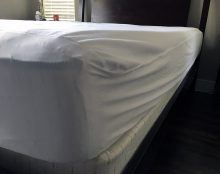 SureGuard's waterproof mattress protector keeps mattresses safe from water damage and allergens.
Mattress Clarity Score
4.60 / 5
Read Full Review
Key Features
100% Waterproof
Hypoallergenic: Blocks dust mites, pollen, pet dander, mildew and mold
100% cotton terry surface
Fitted sheet with expandable skirt
Care: Machine wash with cool water. Tumble dry low heat or air dry. Do not bleach, iron, or dry clean.
Free from Vinyl, PVC, Phthalates.
30 days to try it risk-free (if purchased from Amazon)
10-year full replacement warranty
Pros
Good fit for my 10-inch thick mattress
Easy care – machine washable and dryer-friendly
Passed waterproof test
Could not feel cotton terry fabric under bed sheets
Pretty good price (see price on Amazon)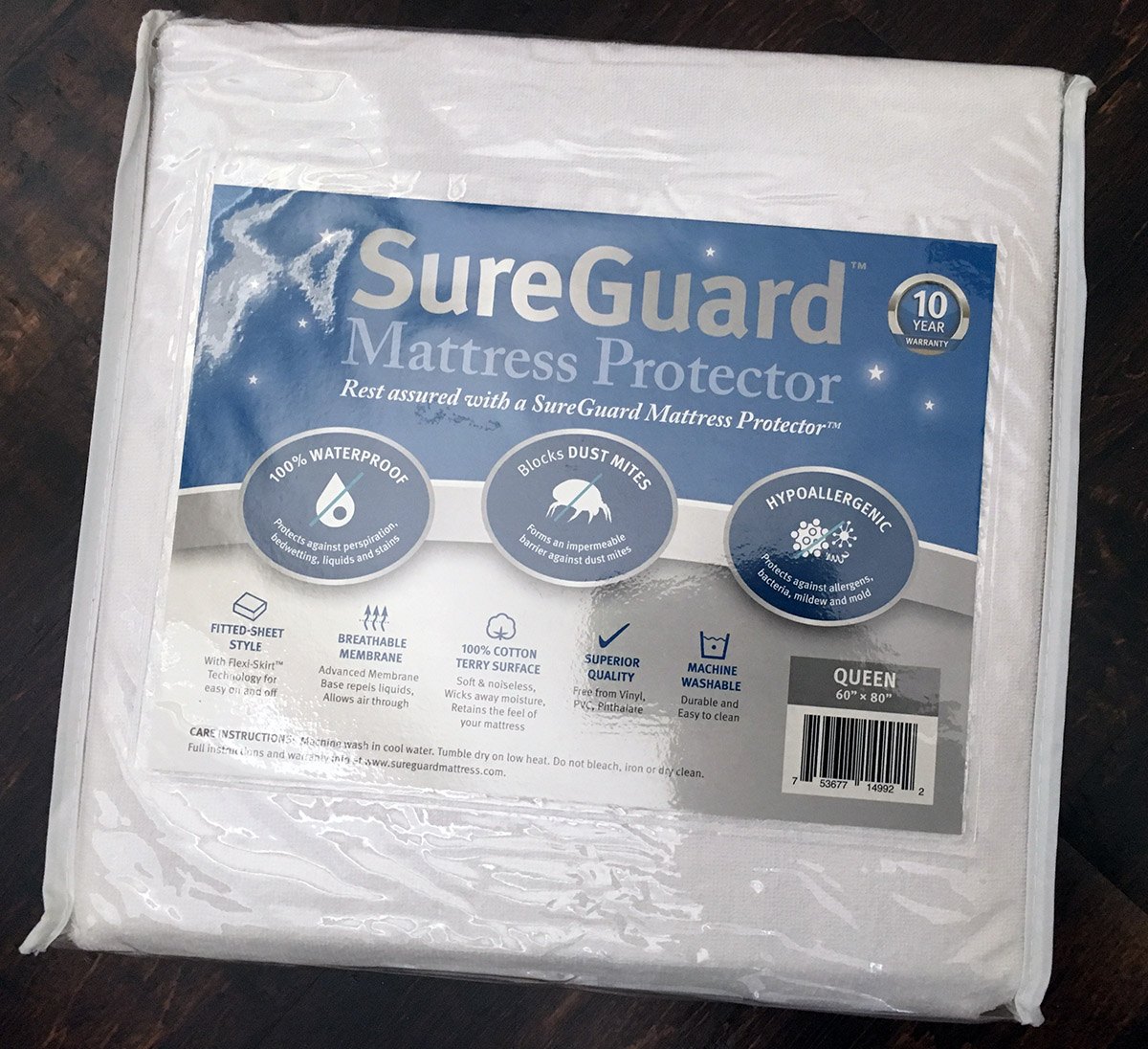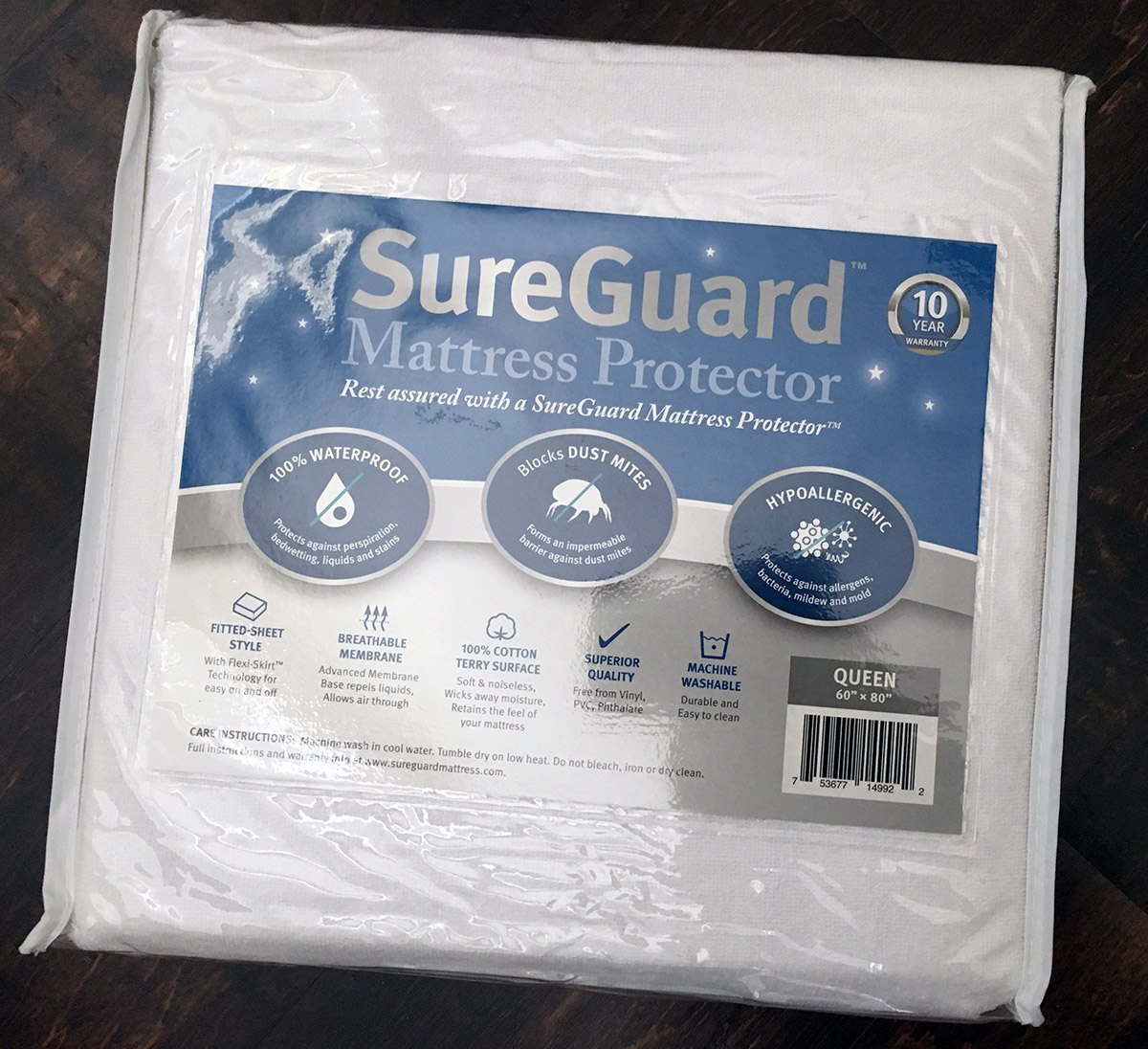 Cons
Audible noise levels – especially during higher levels of activity
Some reviewers mentioned faulty waterproof barrier
Waterproof Test
The main reason many people purchase mattress protectors is to prevent liquid from seeping into their mattress. These leaks can leave stains or cause damage. Often, water damage will cause a mattress warranty to become void.
I poured 10 ounces of water into a concentrated area on the mattress protector to mimic a large spill or accident.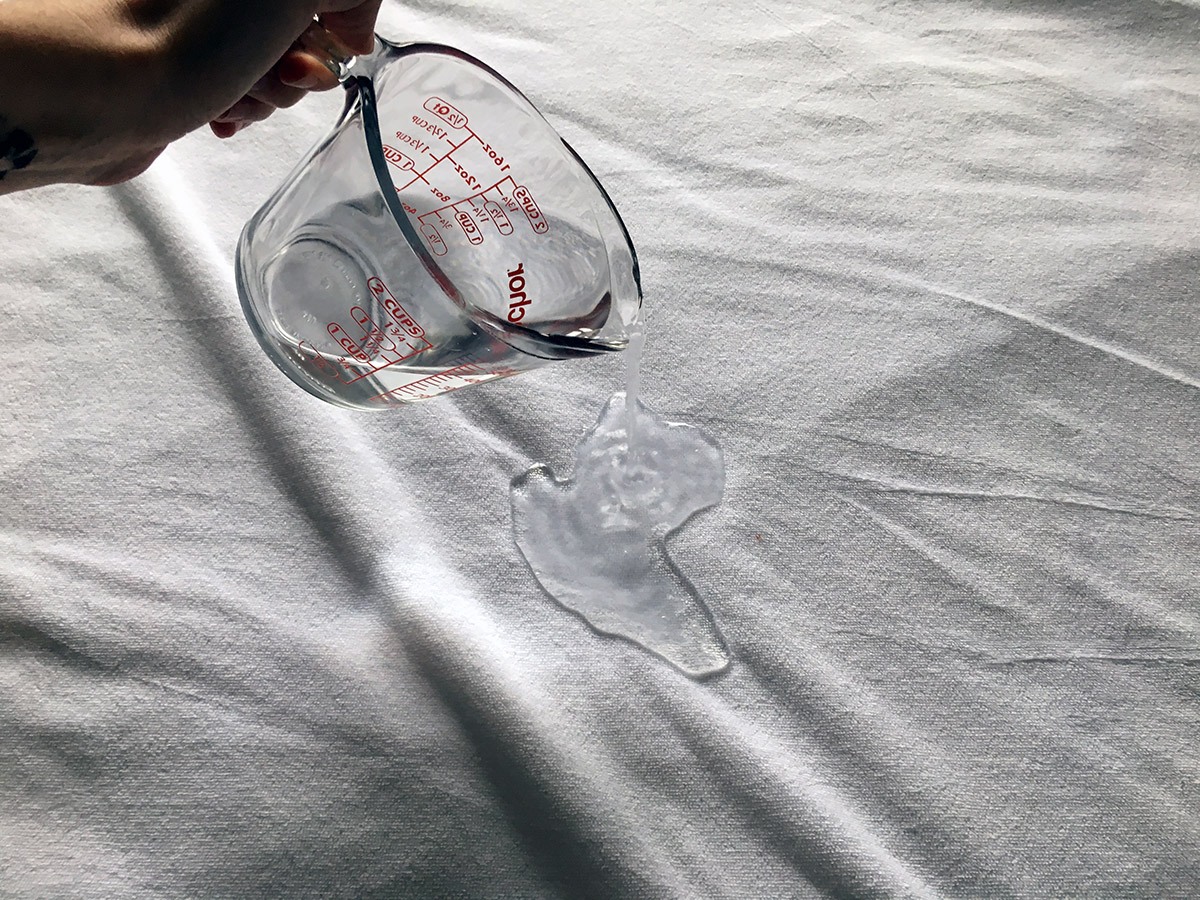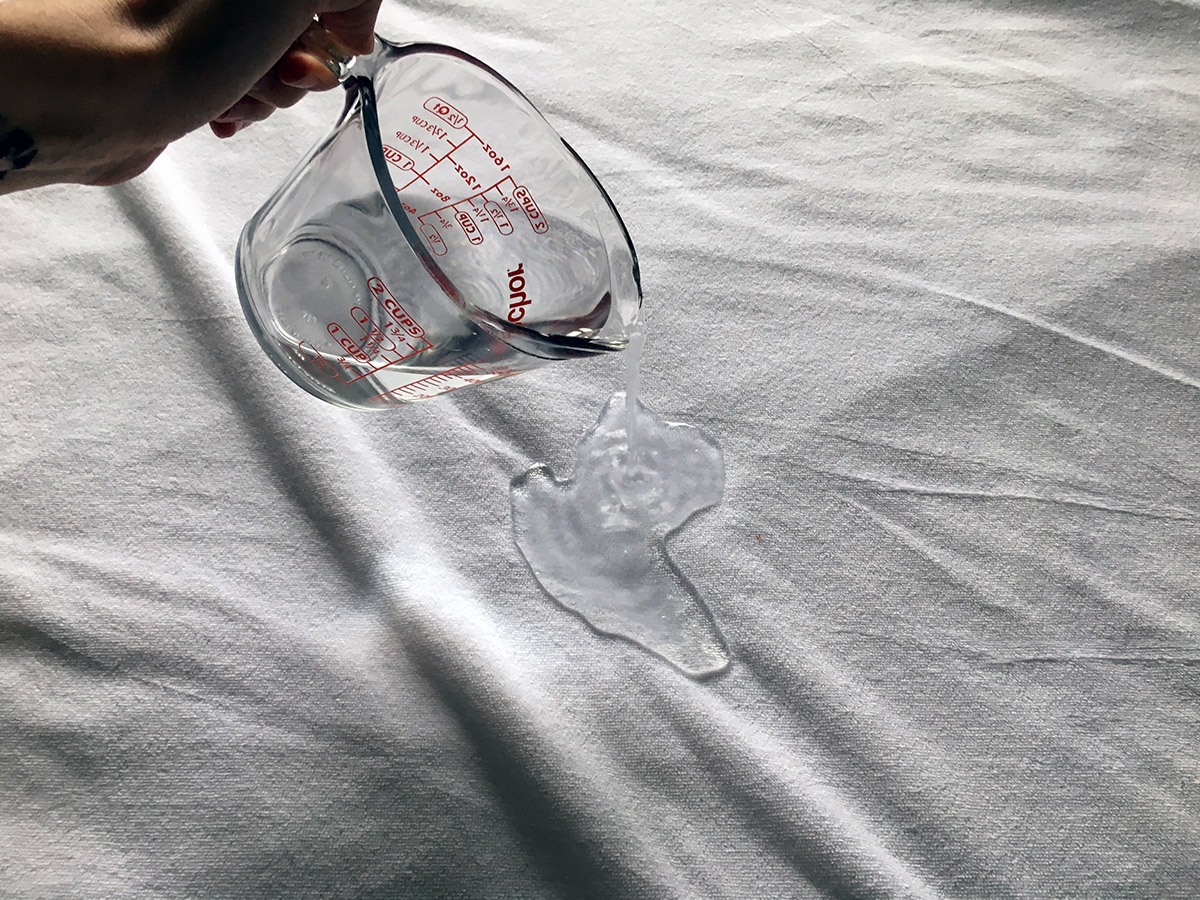 After waiting two hours I did a check and my mattress was completely dry, no leaks or moisture. The protector passed the waterproof test for me and performed excellently overall.
However, there were several reviews online from customers who had different experiences. The protector's waterproof barrier did not work for them.




This may seem like a hassle, but my personal advice would be to test the protector – after washing and drying it.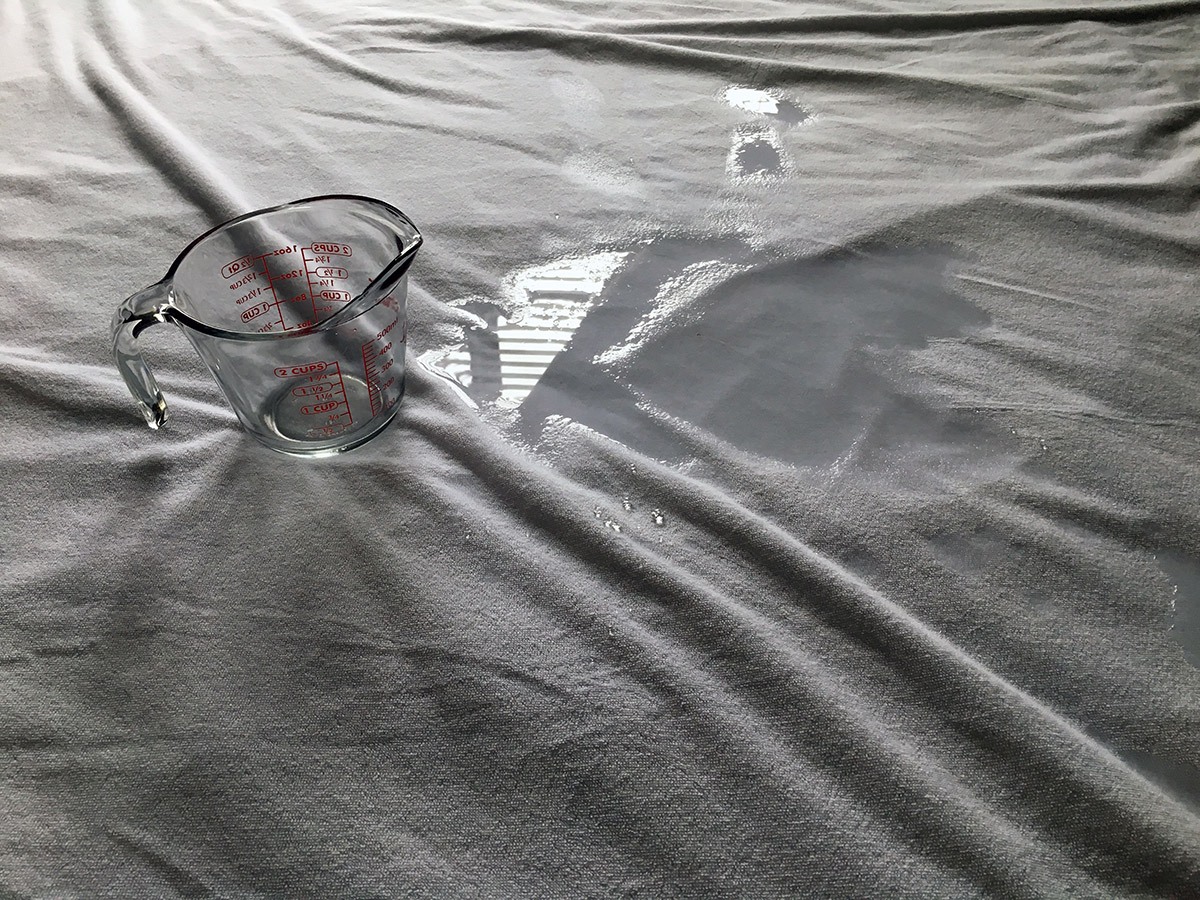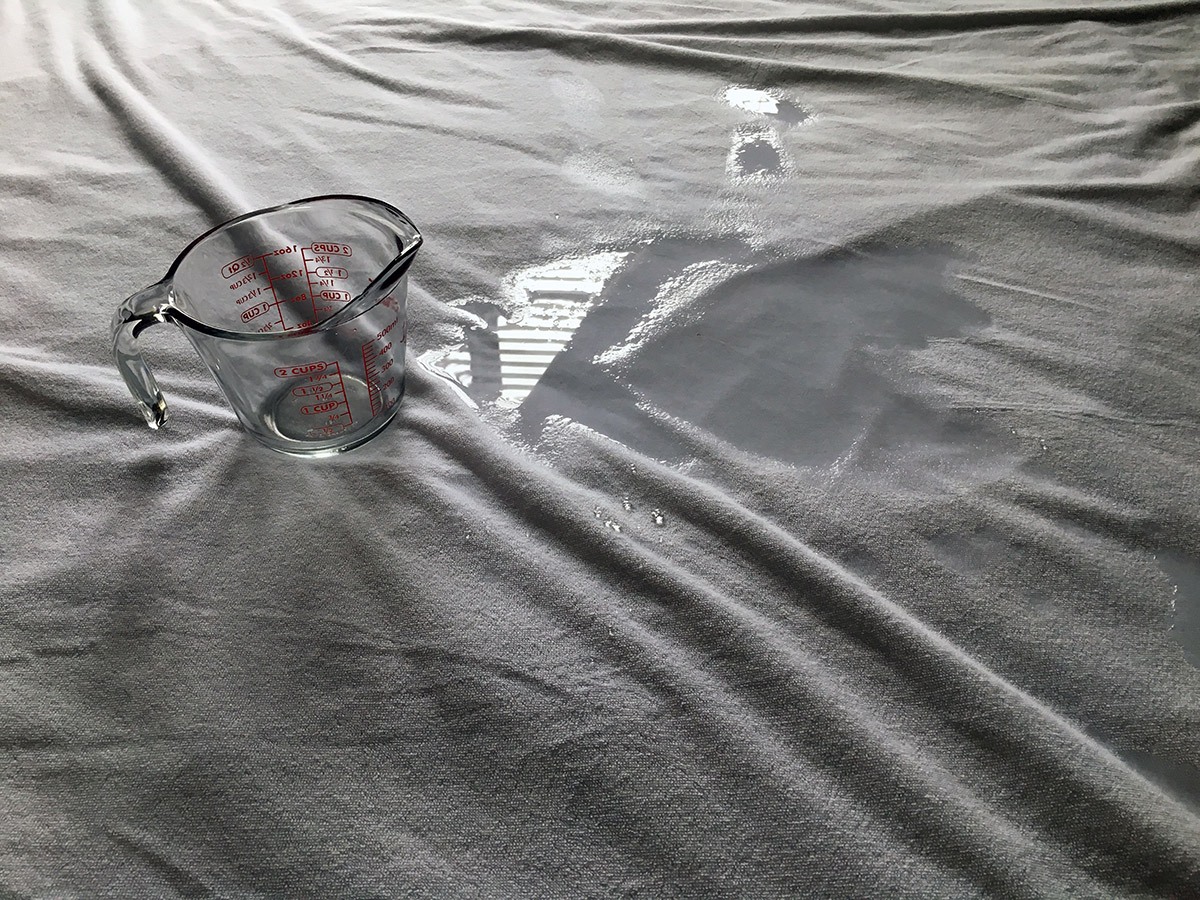 Care
With waterproof protectors, it is important to follow the care instructions. In some cases, drying the protector at too high a temperature can mess up the waterproof membranes, which may allow leaks to come through.
The care instructions for this protector are as follows (from the SureGuard website):
Before use, machine wash & dry the protector. This will make the cotton terry softer, more absorbent, and will remove any packaging odors.
Machine wash separately in cool water (35°C / 95F), using a mild detergent (free from any bleach). For the pillow protectors, mattress encasements and box spring encasements, make sure they are unzipped with waterproof backing facing in.
Do not bleach – it will weaken the waterproof lining.
Avoid using fabric softener – it reduces the absorbency of the cotton terry surface.
Tumble dry on a low heat or air dry.
Do not iron.
Do not dry clean.
RELATED: Best Mattress Protectors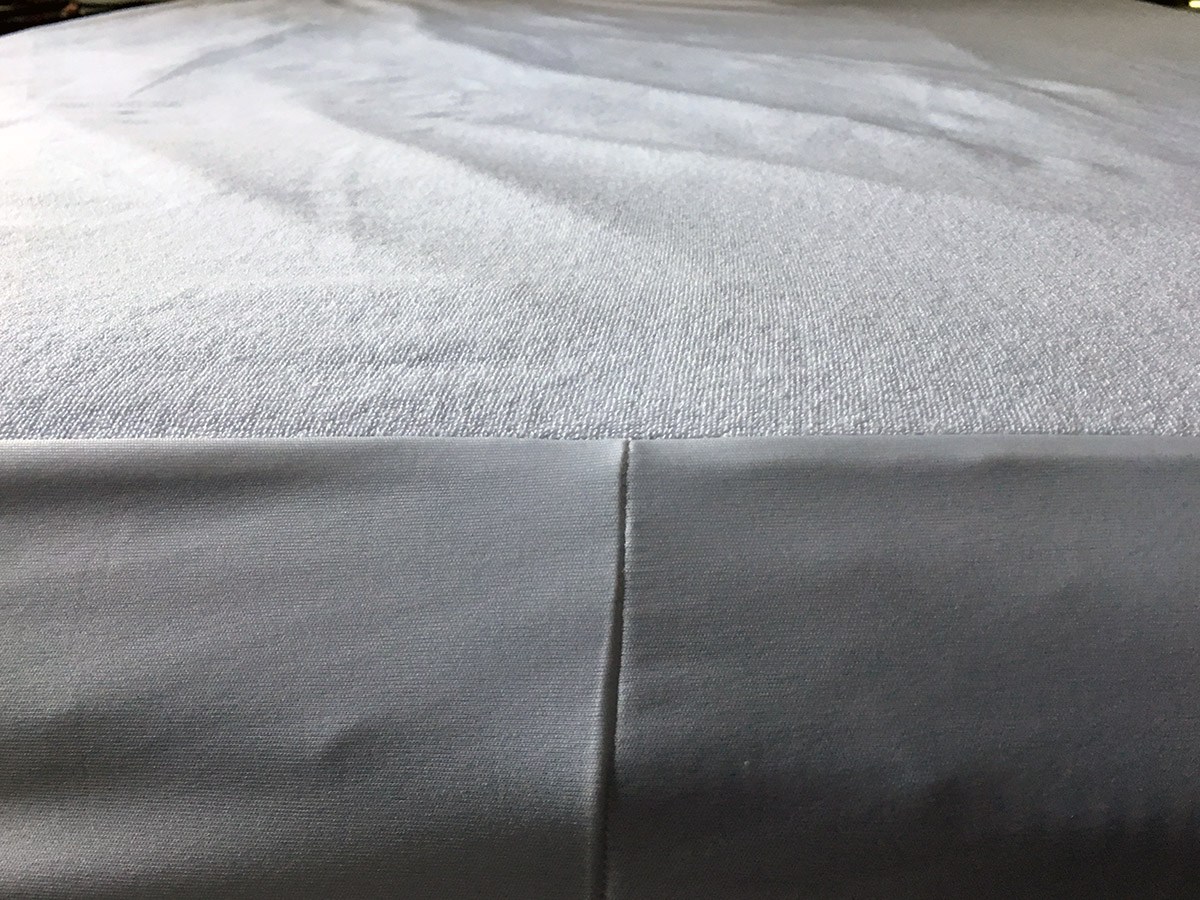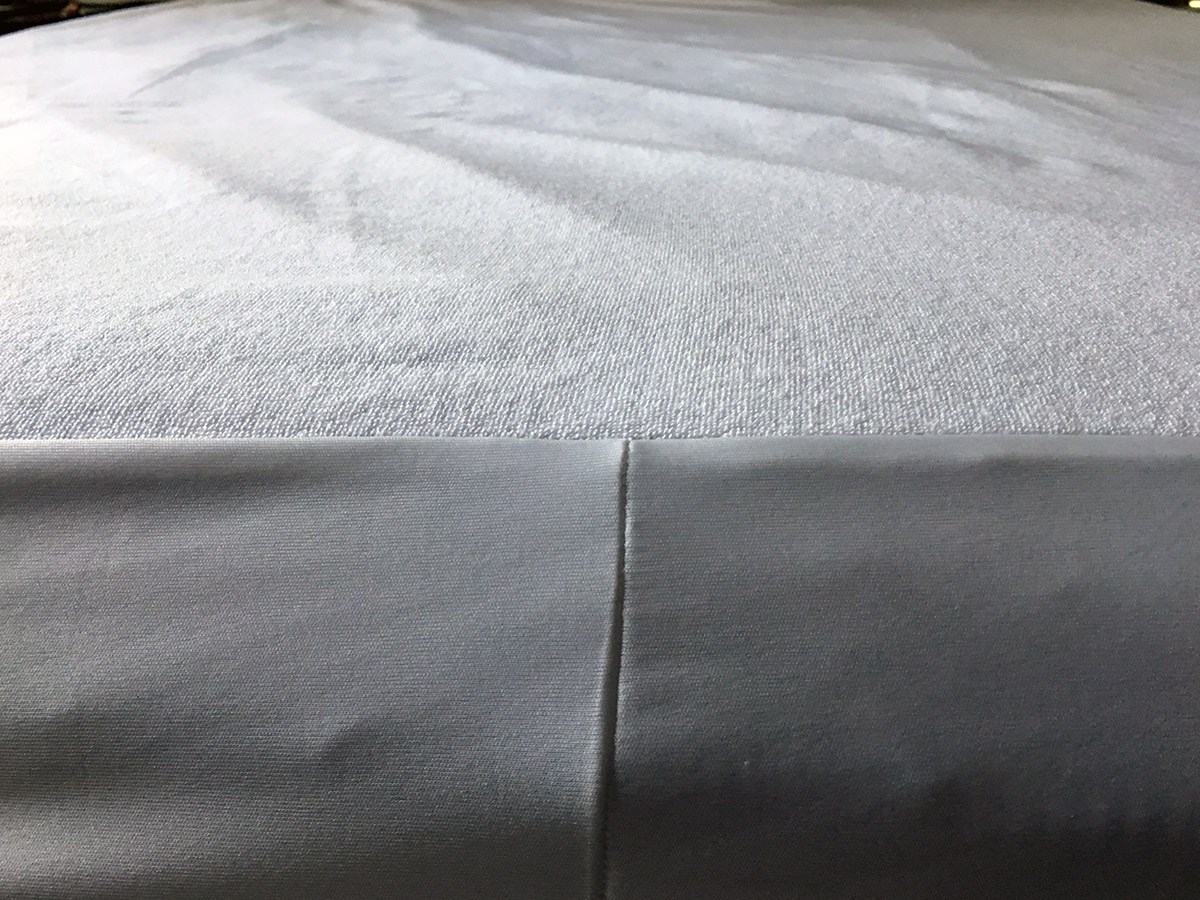 SureGuard also has a video on their website that shows quick steps to protecting the mattress. That video can be viewed here.
Noise
Mattress protectors, especially ones that are waterproof, may have a "crinkling" or rustling sound that can be heard against bed sheets.
Some mattress protectors make more noise than others, depending on the material used to produce them.
The SureGuard mattress protector is made of cotton terry on the surface, with a 100% polyurethane backing underneath to make it waterproof.
After placing it on the bed and moving around – noise was still detectable. It was similar to noise levels I experienced with the Luna or Linenspa mattress protectors.
Vinyl Free
In the past few years, there has been a lot of attention around the toxicity of plastics, including PVC (also known as polyvinyl chloride or vinyl).
Products that contain vinyl or PVC – like mattress protectors and curtains – can release toxins into the air (often called off-gassing) that have negative health effects. This is especially concerning for babies or small children whose bodies are still developing.
It is best to avoid using products made of PVC or Vinyl – especially for people with children.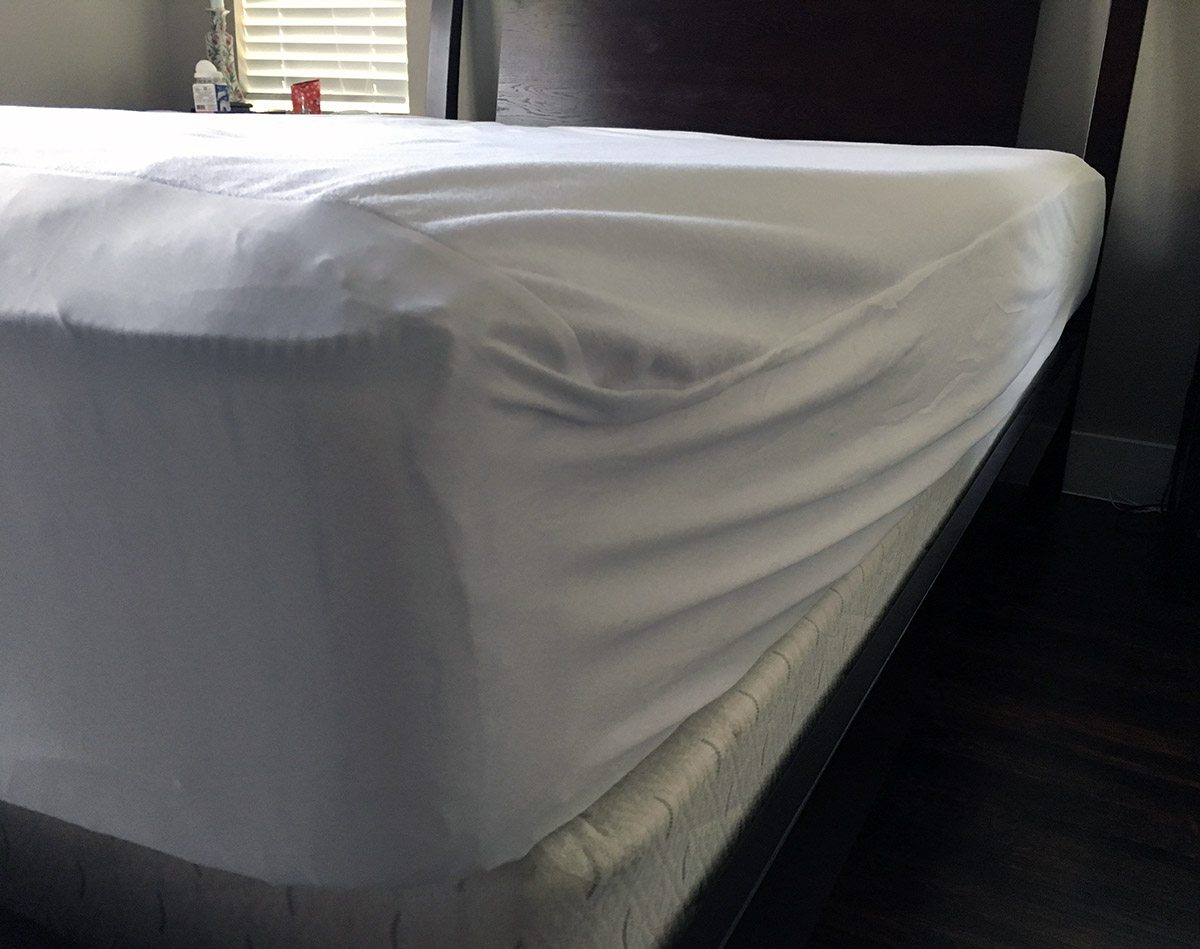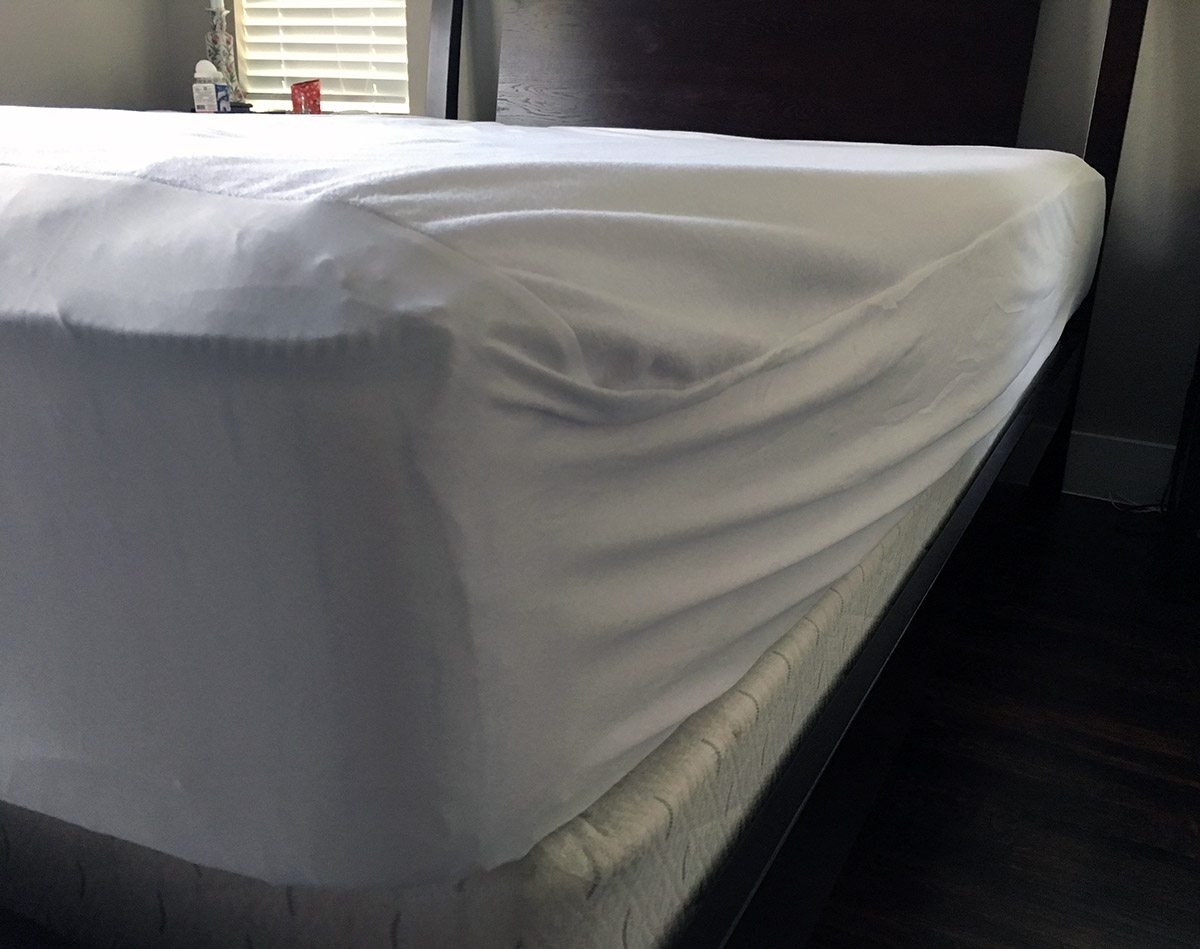 Here is what SureGuard says about the safety of their protectors:
SureGuard Mattress Protectors contain no Vinyl, PVC or Phthalates, making our products breathable, odorless and free from harsh chemicals.
To demonstrate that our protectors and encasements are low-emitting and promote better indoor air for your family and environment, all SureGuard products are GREENGUARD Gold certified for low chemical emissions.
RELATED: Are Vinyl Mattress Protectors Unsafe?
SureGuard Mattress Protector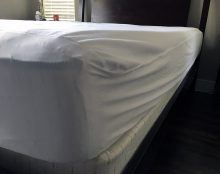 SureGuard's waterproof mattress protector keeps mattresses safe from water damage and allergens.
Mattress Clarity Score
4.60 / 5
Read Full Review
Additional Considerations
I thought the overall fit of this protector was great for my 10-inch thick mattress. It will fit thicker mattresses as well, but it did not leave a lot of extra fabric hanging over the edge of my bed.
The cotton terry fabric on this protector felt softer and less textured than the cotton terry on the Luna Premium. I was not able to feel the texture of the protector underneath my lightweight Bamboo Supply Co. bed sheets.
SureGuard Mattress Protector
Summary
SureGuard's mattress protector passed my waterproof test and provided breathable comfort. I did not feel the cotton terry fabric under my lightweight bamboo sheets but I did hear noise from the protector when I moved around the mattress quickly. Overall, it is an affordable price for the quality of the mattress protector.
Price and Value
The mattress protector is sold on Amazon and retails for around $37 for a Queen size.
Based on the softer feel and waterproof functionality, I think this is an affordable price for a mattress protector.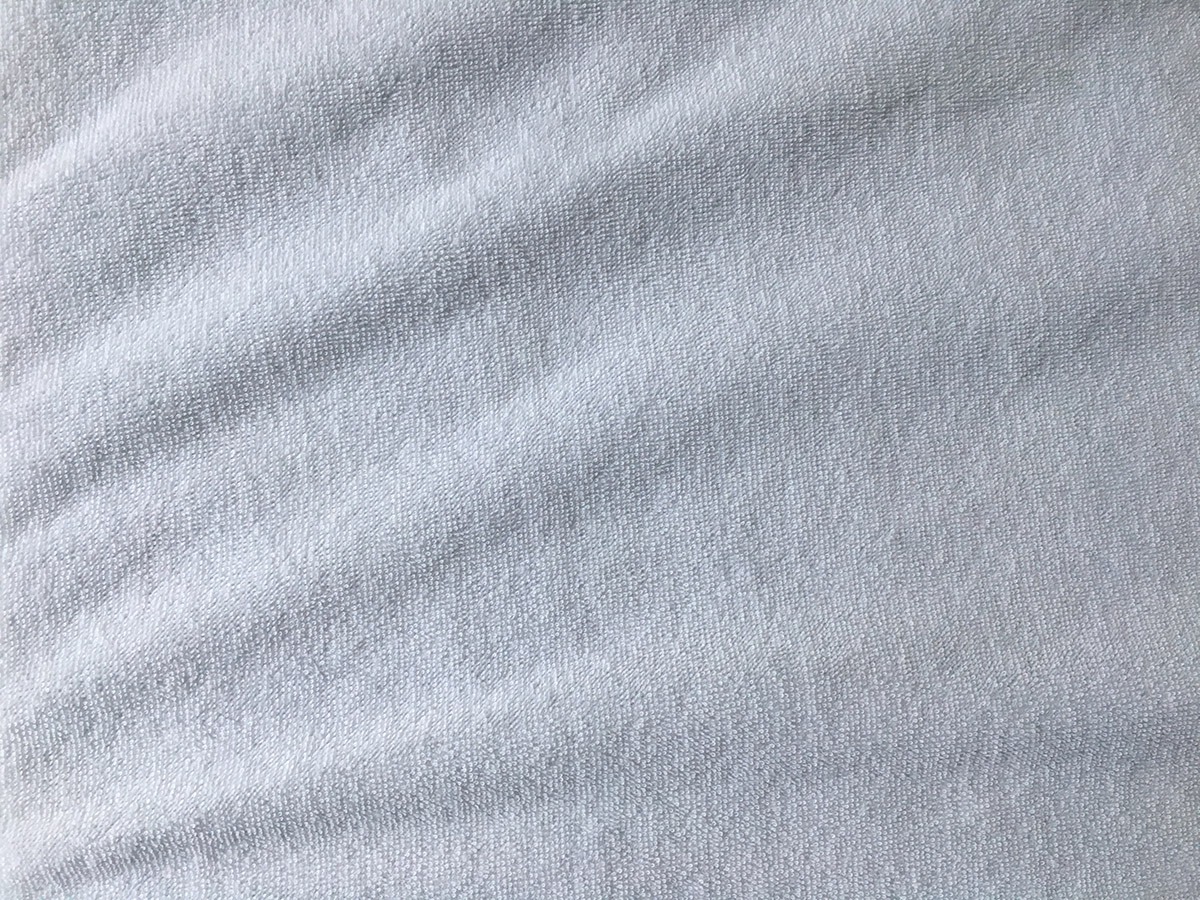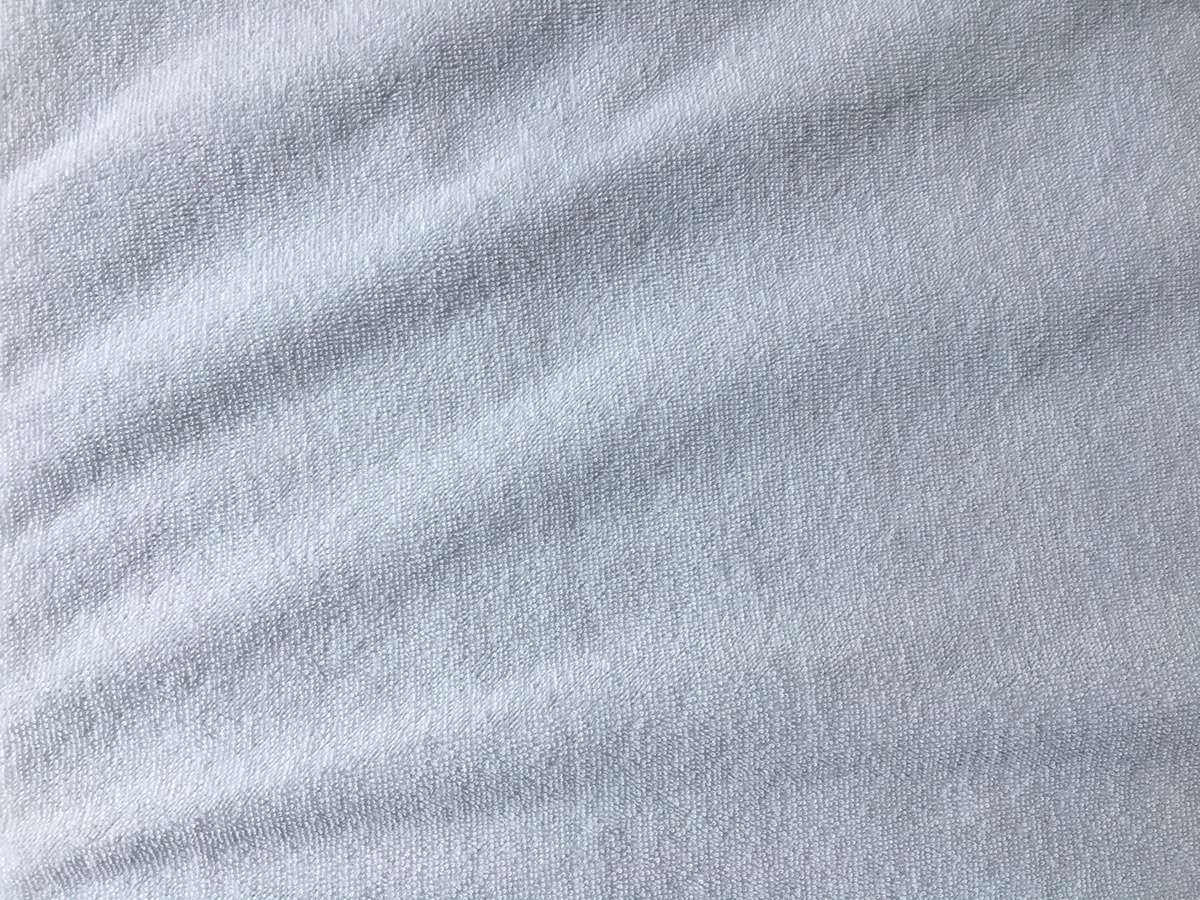 For those who do not like the feel of cotton terry, I would recommend looking for a different protector (other alternatives are the Linenspa Premium protector or the Slumber Cloud Dry Line Mattress Protector).
There is a 30-Day money back guarantee for people who purchase the protector on Amazon. There is also 10-year warranty for the protector, but there are conditions attached that must be followed.
Katie Golde
Katie previously managed the day to day operations of the Mattress Clarity news site and reviews sleep products in addition to writing and editing sleep news. She hails from Austin, where she lives with her growing family. She is a Certified Sleep Science Coach and has a master's degree in Journalism from Northwestern University and has a background in health and science content. Her work can be found in print and online publications like Discover Magazine, USA Today and The Huffington Post.