Editor's Note: The Malouf Woven Bamboo Bed Sheets are no longer available for purchase. For a similar option, check out our review of the Puffy Bamboo sheets.
There's no doubt that Malouf's Woven Bamboo Bed Sheets are soft and silky, but they are only best for the right type of sleeper. This review will go over the main takeaways from these sheets to try to help consumers make a more informed purchasing decision.
Key Features
100% Rayon from Bamboo
1 flat sheet, 1 fitted sheet and 2 pillowcases
Universal Fit (ultra-thick elastic and deep pockets for secure fit)
Queen Sheet Size – 60 x 80 inches (fitted sheet)
Deep pockets for mattress depths 6"–22"
Available in sheet sets or pillowcase sets
Available in six colors
XL and Split sheet sizes available
Hypoallergenic
Odor-resistant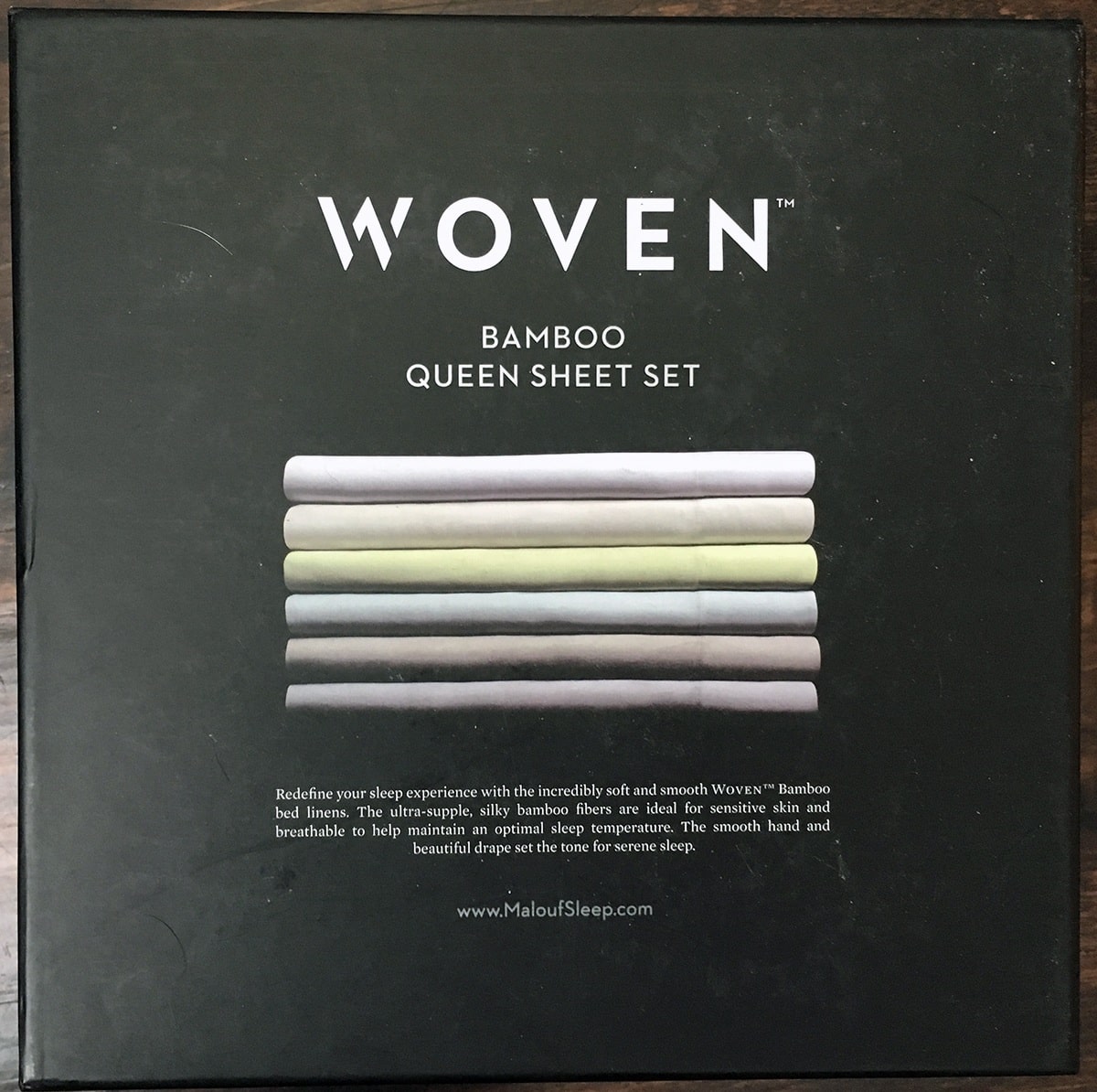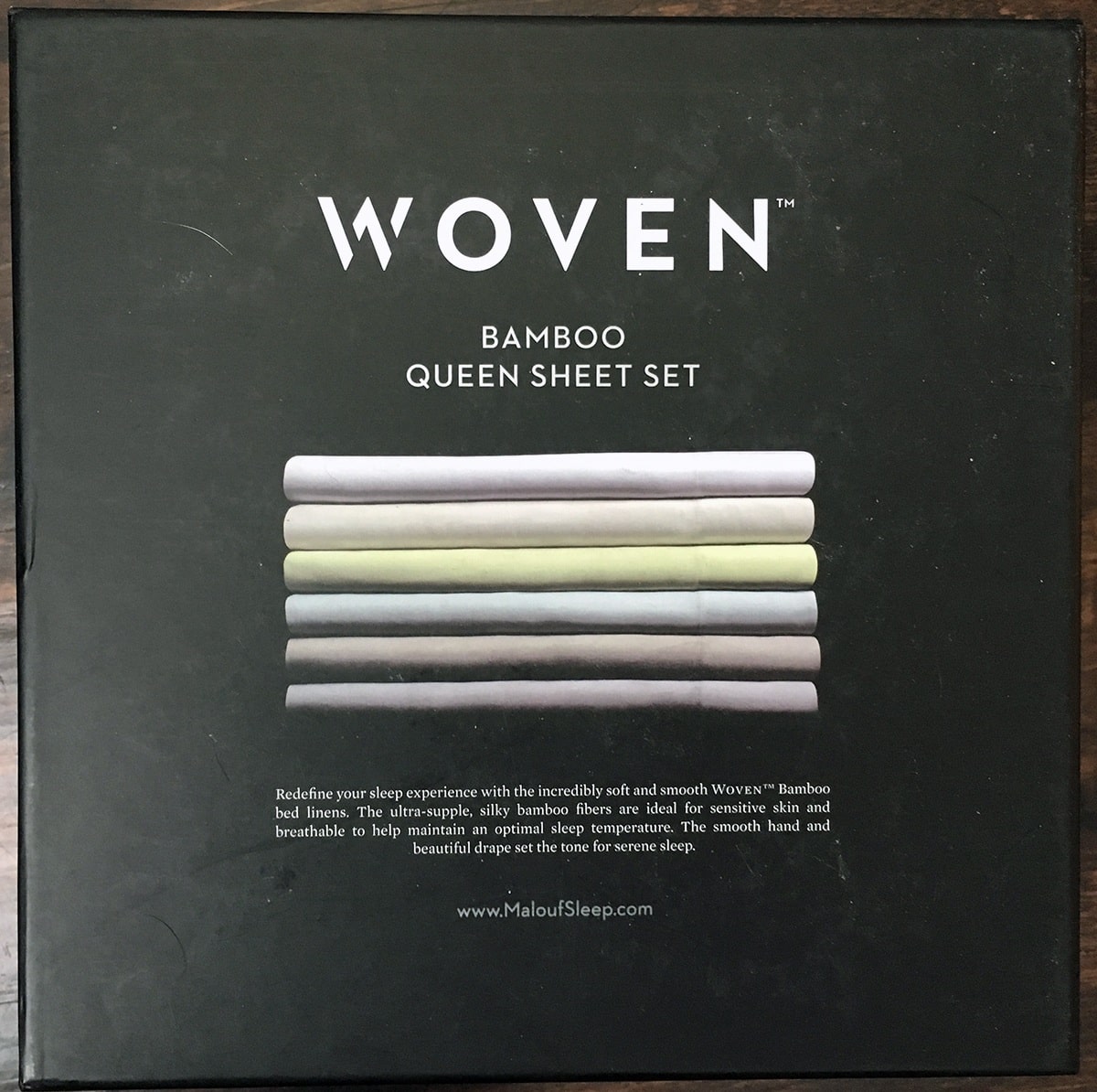 Pros
Silky, soft fabric
Multiple color options
Drapes easily with oversized flat sheet
Cons
Detailed (and potentially time consuming) care instructions
Wrinkles and creases easily
Heavier fabric than other bamboo sheets
Heavy and stiff when wet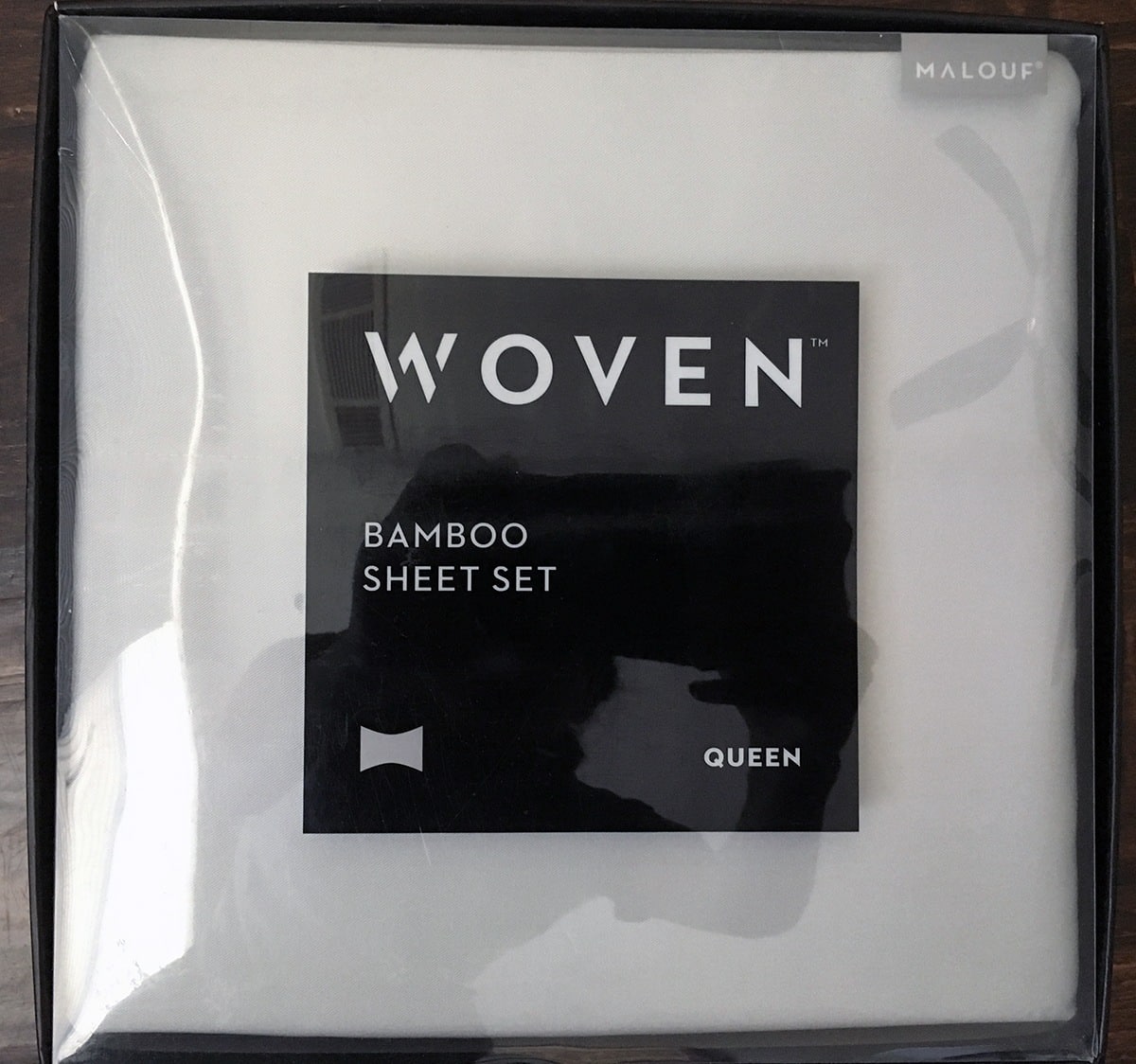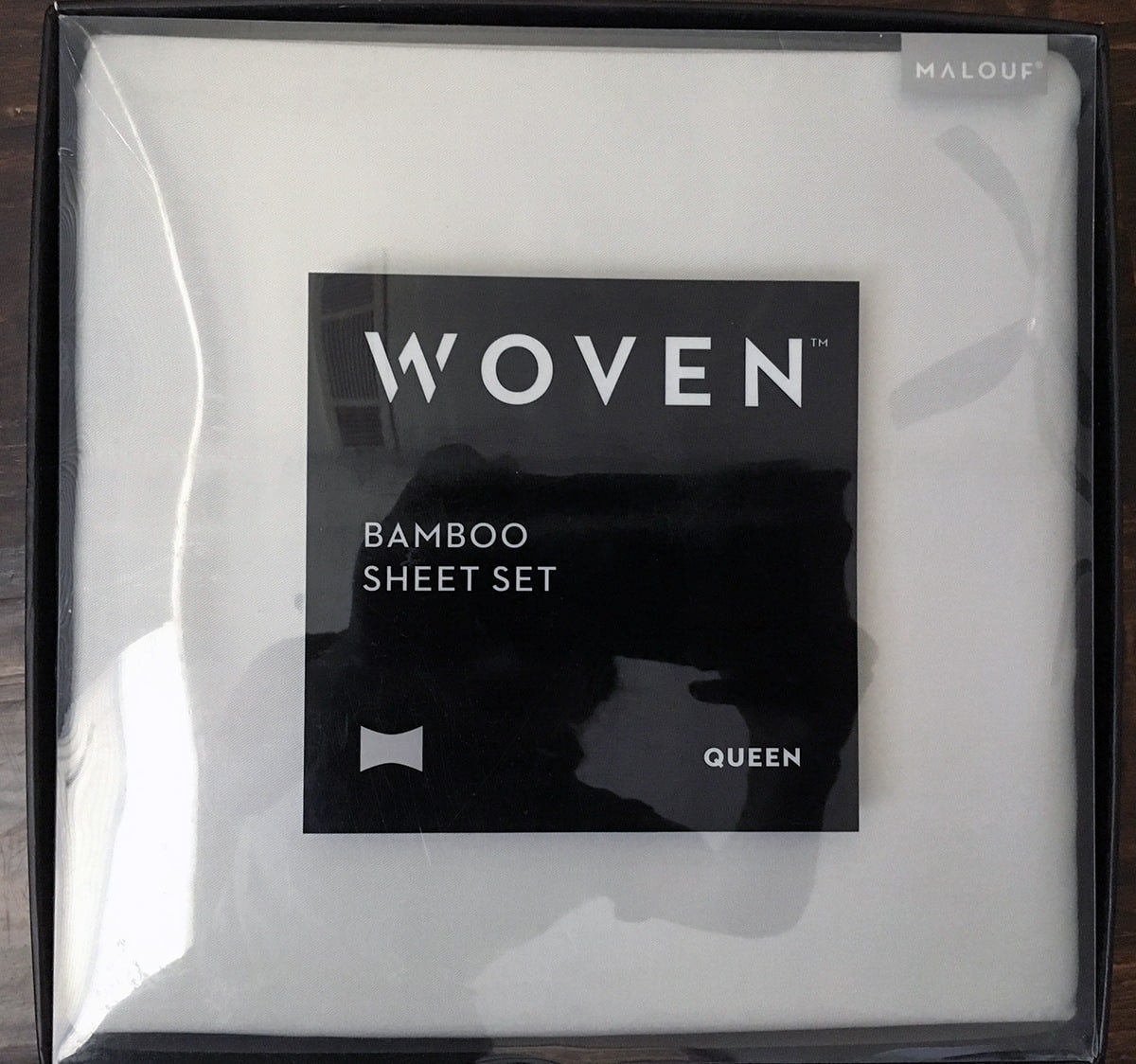 My Experience
Overall, I thought the Bamboo sheets by Malouf were very soft and I slept comfortably during the three nights I tested the sheets. My sheets were a Queen mattress size set in the Ash color.
My husband (the volunteer reviewer) and I had no skin sensitivity issues and neither of us woke up uncomfortably hot or cold during the nights we reviewed the sheets.
I personally really loved the Ash color and I really like the oversized flat sheet. It made it very easy to make the bed and I wasn't worried about the sheets pulling out overnight.
The pillowcases also seemed a little oversized. I wasn't as big of a fan of how they fit my standard pillows – they emphasized the wrinkles in the fabric.
The care instructions are very detailed and very specific. Each sheet set comes with a card folded into the sheets with printed instructions and people can also find a PDF of the instructions on the Malouf website.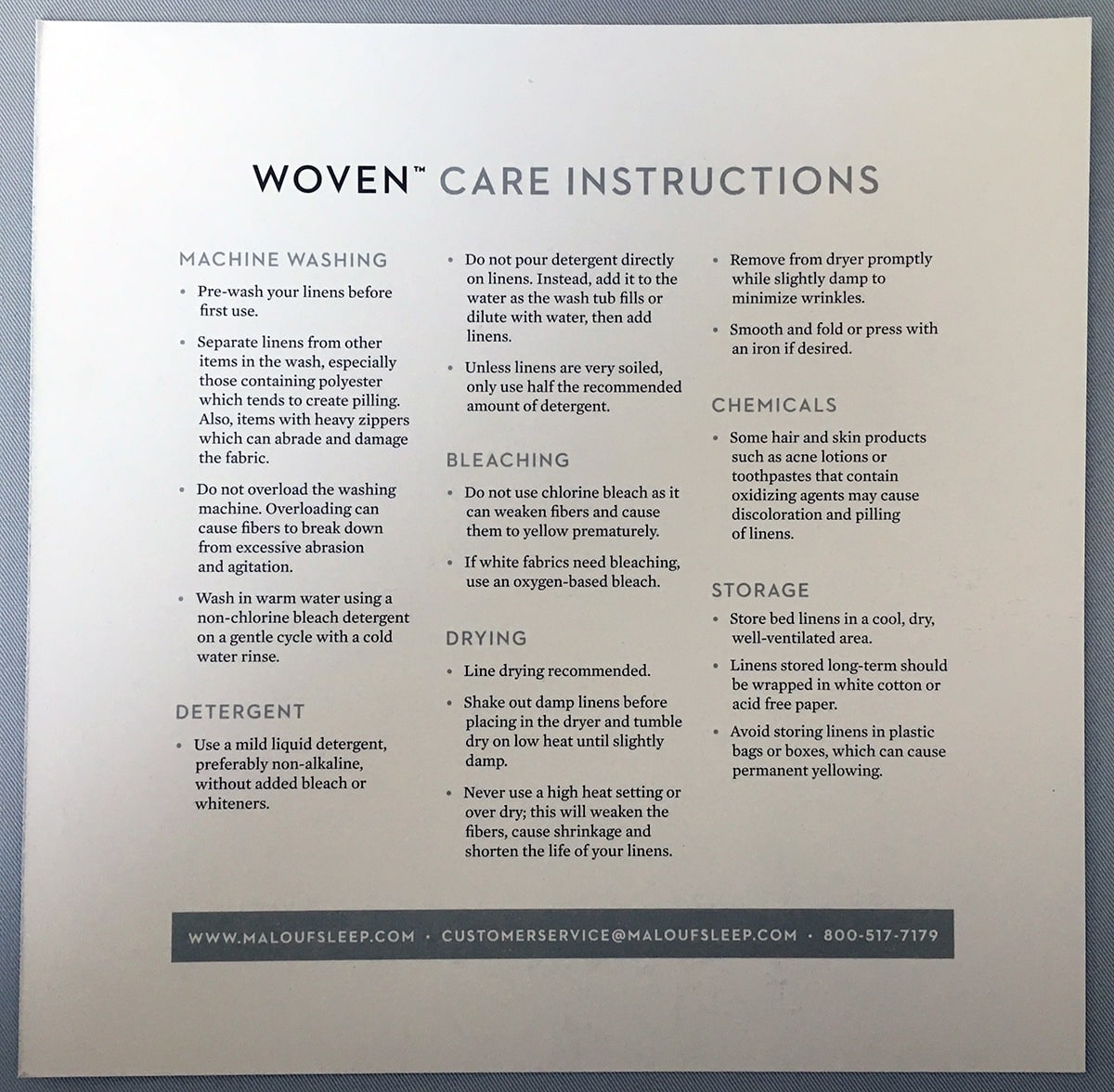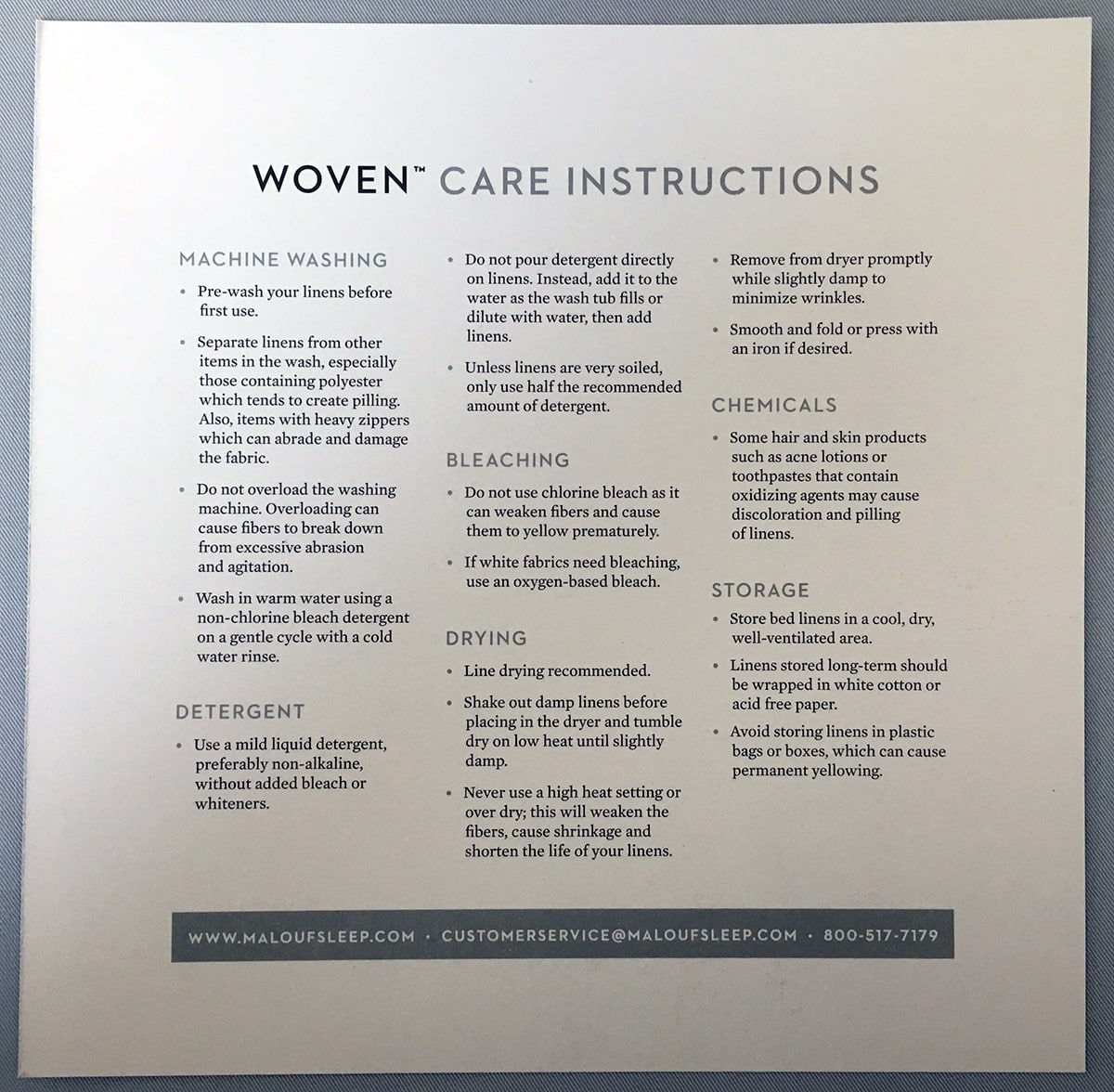 Some of the care requirements that stuck out to me include:
Separate sheets from other items in the wash
Use in warm water on a gentle cycle with a cold water rinse
Use a mild, non-alkaline detergent
Line drying is recommended
Shake out the damp sheets before tumble drying
Tumble dry until sheets are slightly damp to avoid wrinkling
Smooth and fold and use iron if desired
Bamboo fibers are different than others and should be treated accordingly, but I am not always able to stick around while washing and drying my sheets so I can pull them out at the right time.
I also live in an apartment and there just isn't enough room to air dry a Queen sized set of sheets. Also, the washer don't offer a warm/cold wash and rinse option.
I washed and dried the sheets in two ways: The first time I washed and dried them like I would any other set of sheets. I used a gentle cycle with cold water (with Seventh Generation detergent) and a low tumble dry until the sheets were completely dry.
After the first wash and dry, my sheets were very wrinkled when I got them on the bed.  They continued to crease and wrinkle after sleeping in them. However, the sheets draped on the bed well and there were no issues with shrinking or size.
See how these sheets compare to the top bamboo sheets.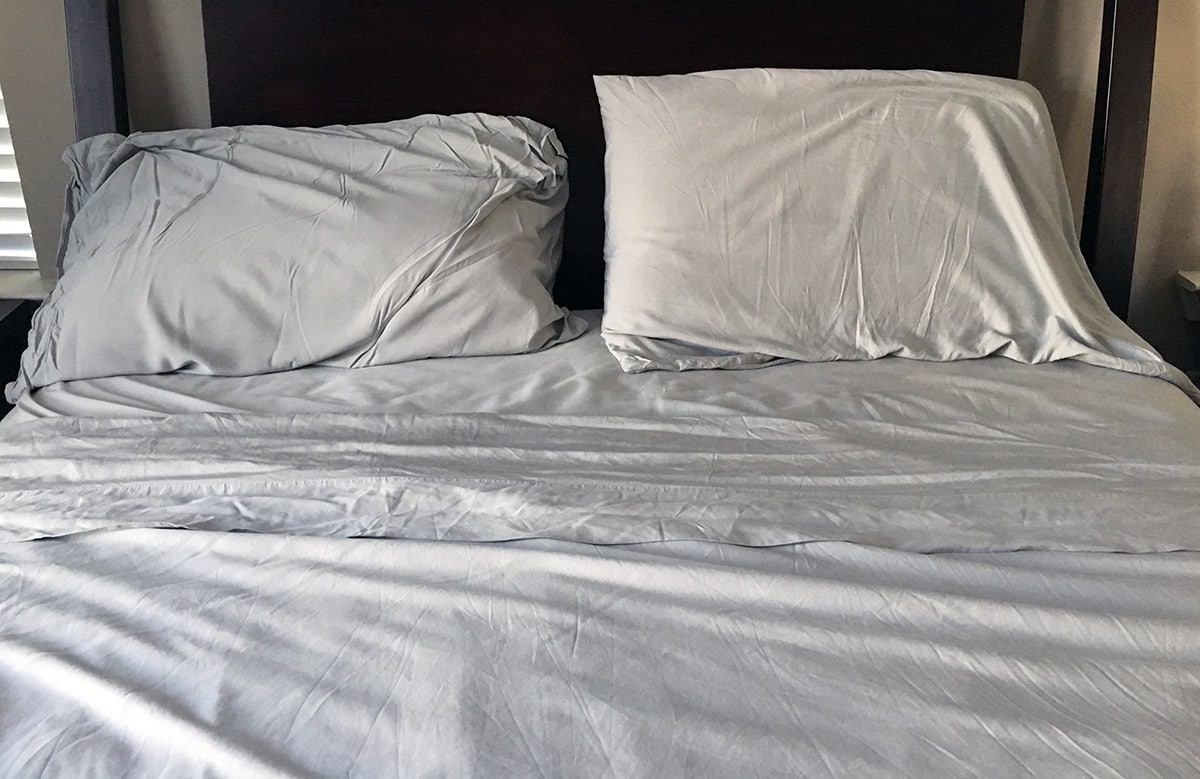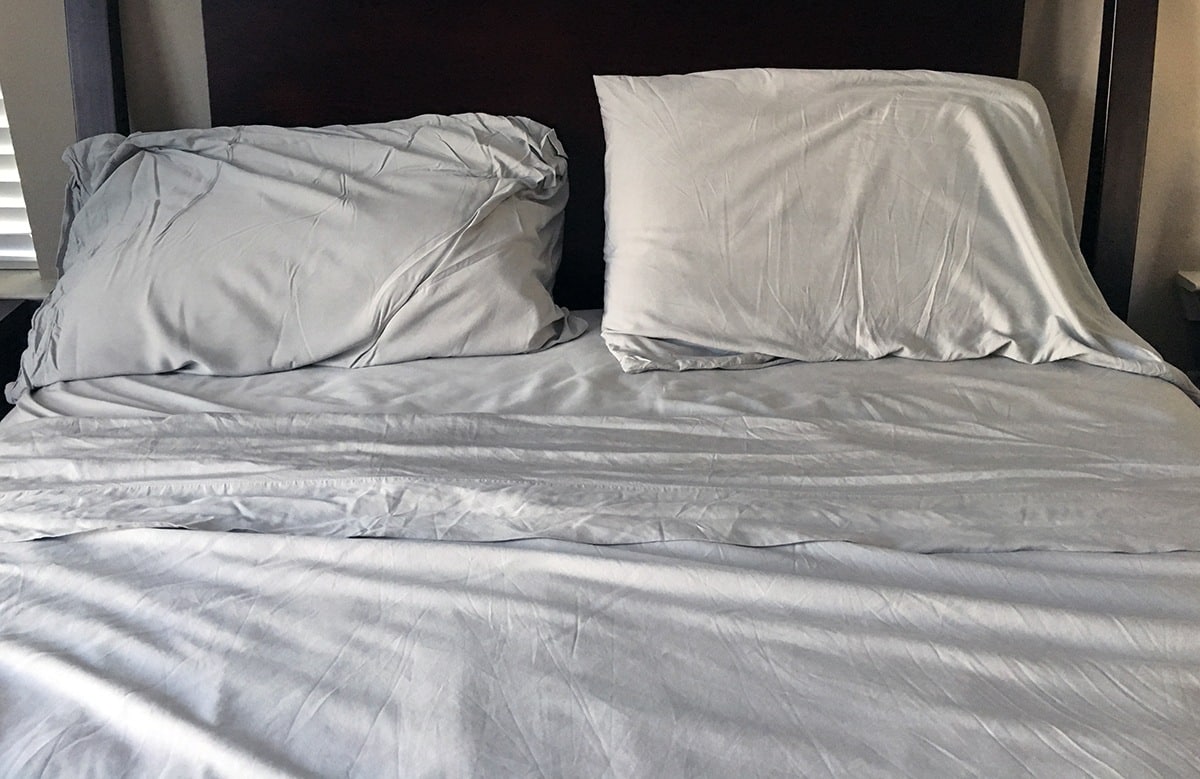 The wrinkling was especially heavy on the edges of my pillows. I had this same wrinkling experience with Linenspa bamboo sheets, so people should make sure to see my article on how to care for bamboo sheets.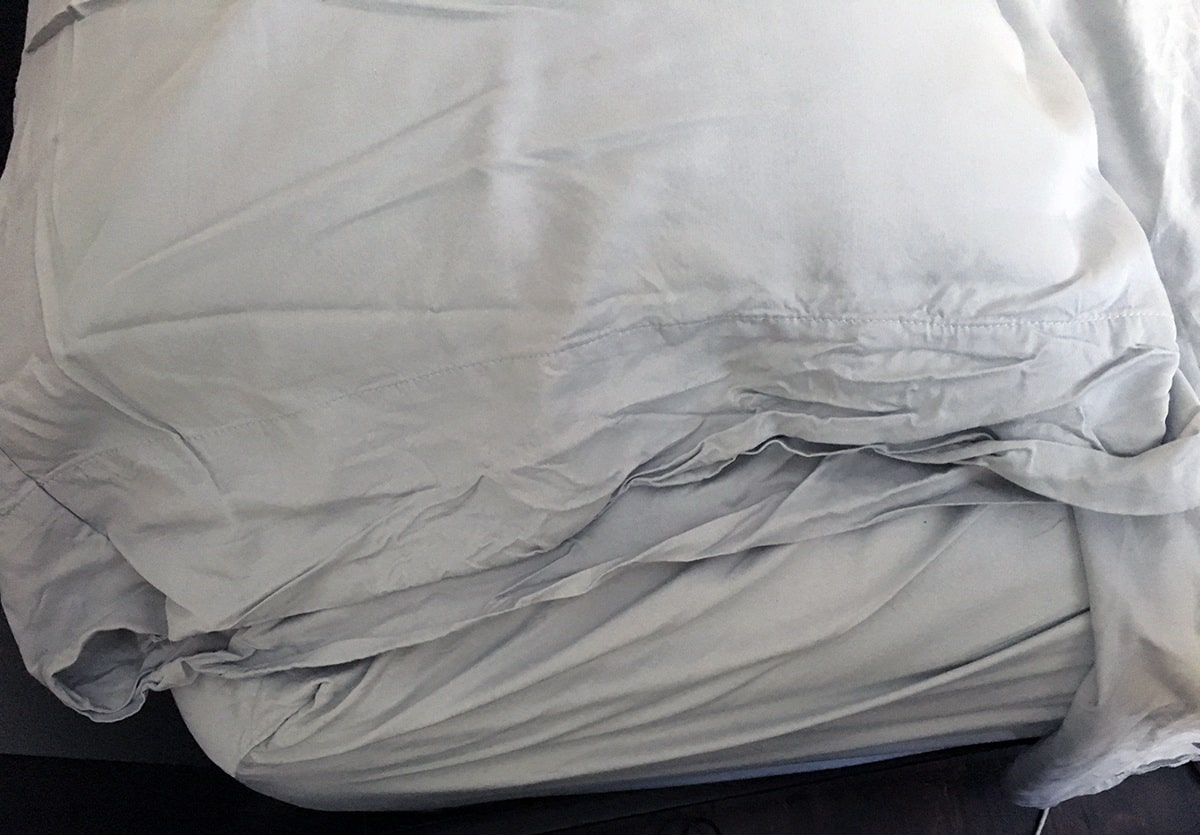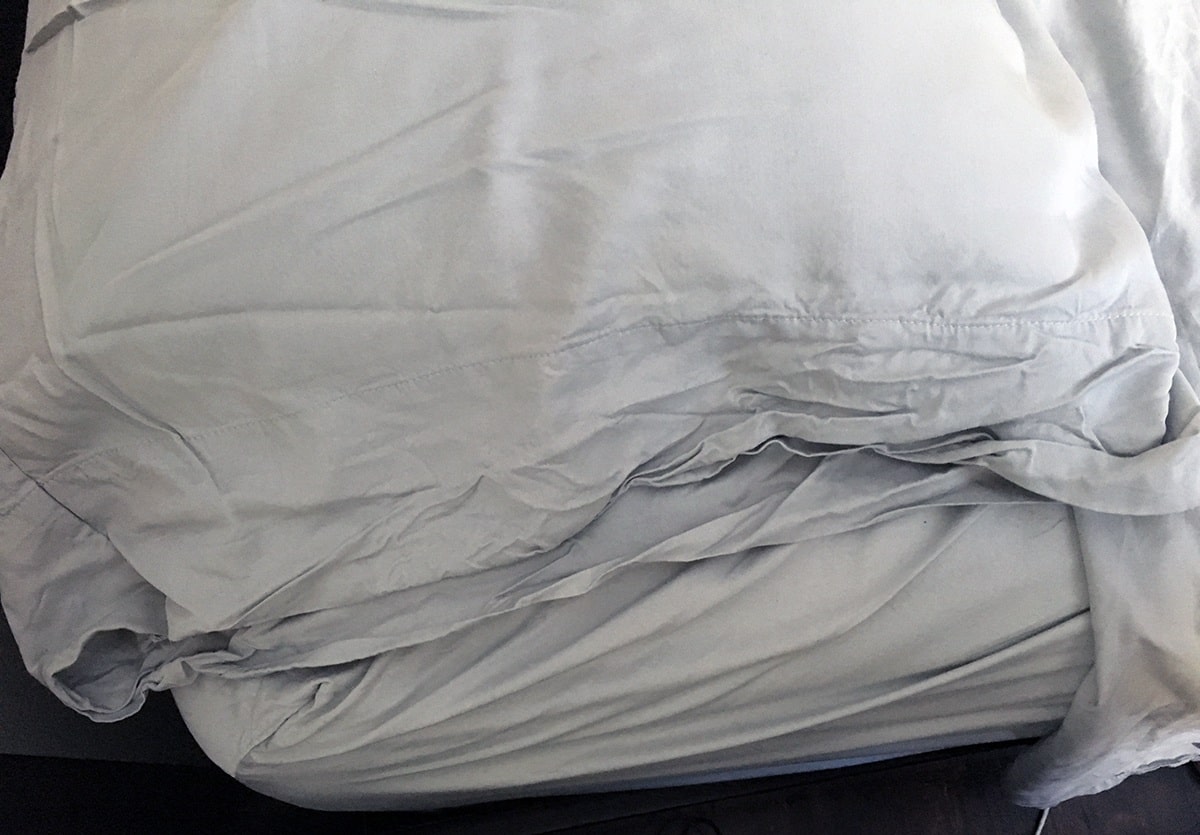 During the second wash and dry, I washed them again in cold water and a gentle cycle. After pulling the sheets out of the wash I shook out the damp sheets before putting them in a dryer.
It was time-consuming to constantly check the sheets to see if they were somewhere between damp and dry. I was able to pull them out when they were about 95% dry.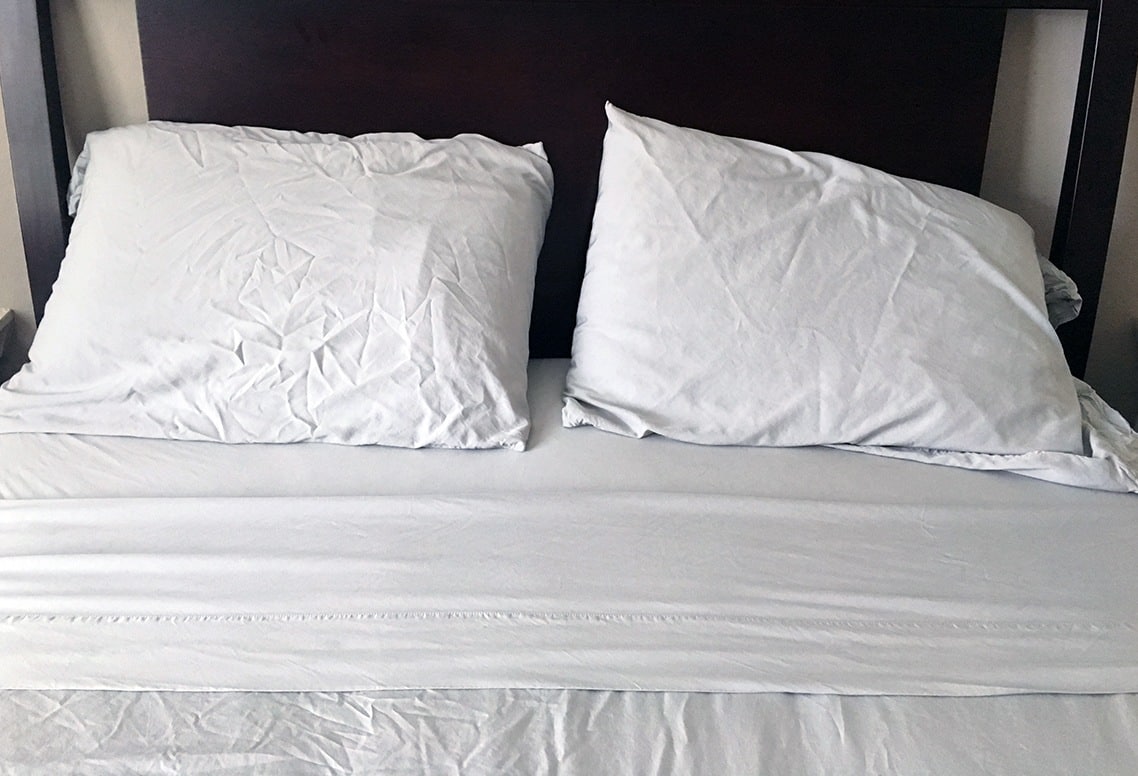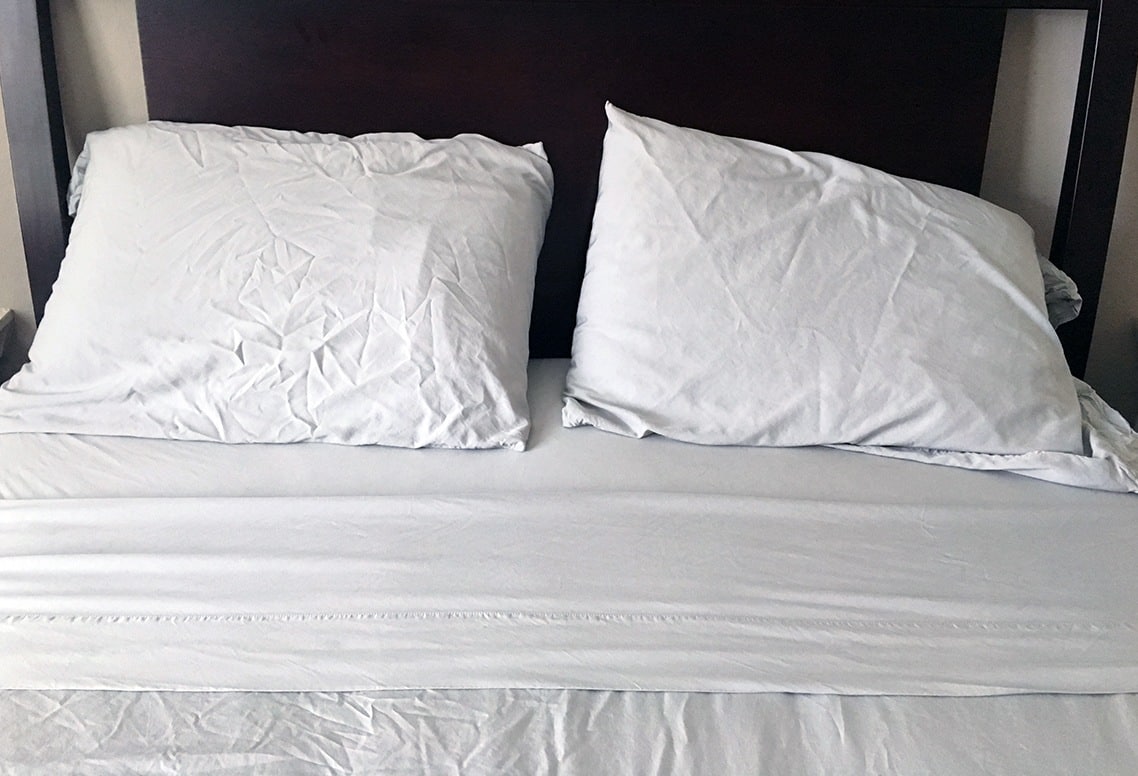 The fitted sheet and flat sheet appeared slightly less wrinkly after following the care instructions very carefully. The pillowcases, however, were even more wrinkly than the first time they were washed and dried.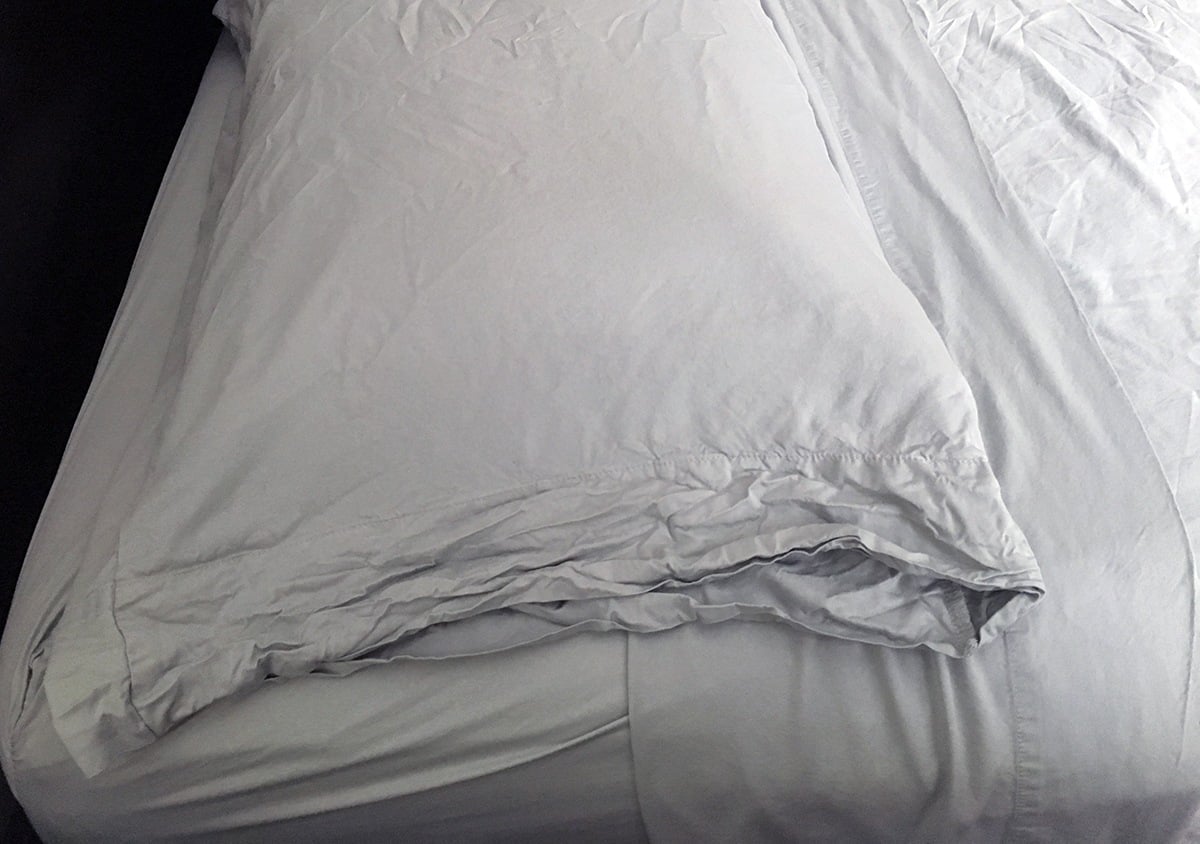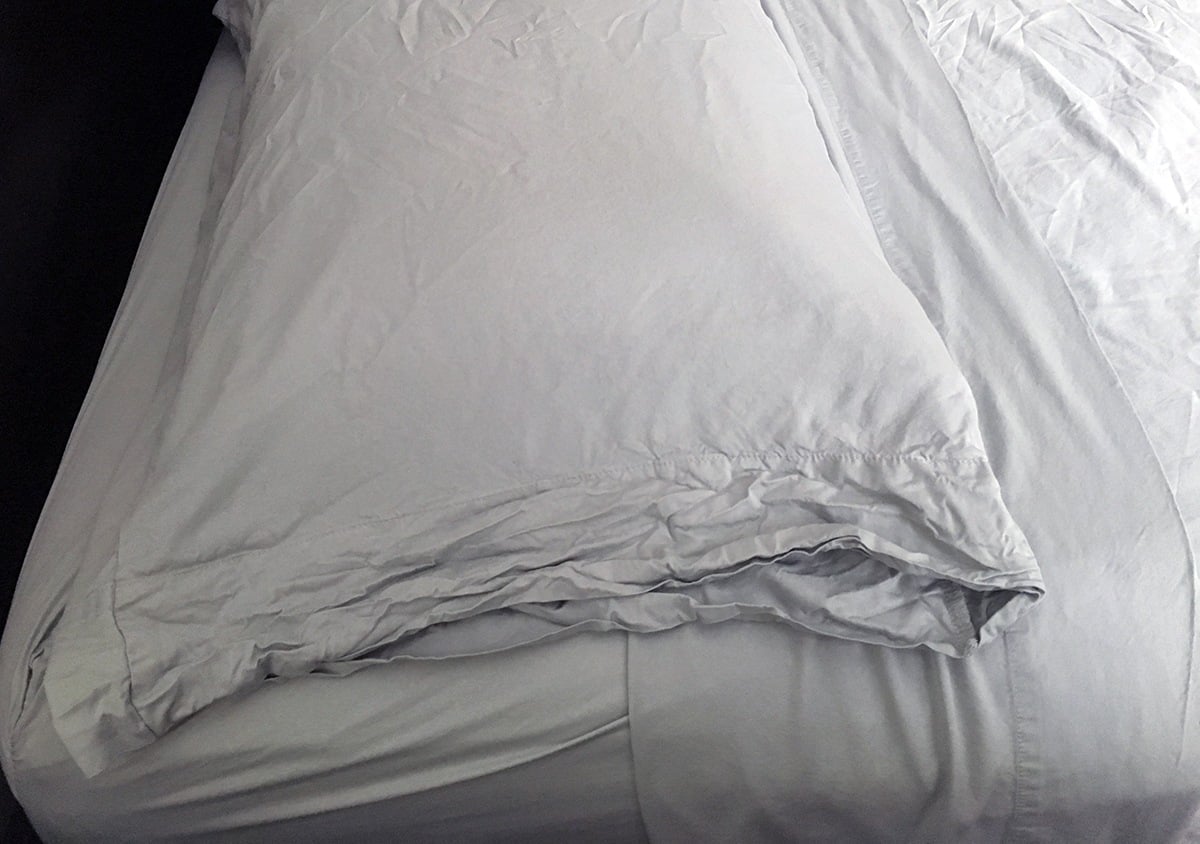 The wrinkles, as with many bamboo sheets, seem unavoidable because of their nature. The wrinkles at the end of my pillowcases seemed extreme compared to wrinkles on the rest of the bed and I think I'd feel compelled to at least iron them if I were to use these frequently.
Malouf Woven Bamboo Bed Sheets
Summary
Overall I thought the sheets were very soft and silky. I liked the color (and the other color options). The oversized flat sheet made it easier to make the bed and keep the sheets tucked in during the night. I did not like how easily the sheets wrinkled, especially around the edges of the pillowcase. The detailed care instructions felt like a lot of work to me.
Things to Consider Before Buying
These sheets require extra care in order to keep them in their best shape and less wrinkly. This type of care is not always an option.
Other reviewers had issues with pilling and wear issues not long into using their sheets.


The sheets are not as lightweight as other bamboo sheets I have reviewed (like the Cariloha Classic and Cariloha Resort sheets). When I pulled them out of the wash they were very stiff and heavy, similar to the Linenspa sheets I have also reviewed.
The color of the sheets didn't 100% match what they looked like online and seemed more blue-grey or at least a lighter grey in natural lighting.
The sheets are made with rayon from bamboo and the chemical process in which these fibers are produced is not environmentally friendly. The Federal Trade Commission warns customers that when bamboo is processed into rayon, "no trace of the original plant is left."
This makes me wonder whether or not the sheets are actually antibacterial or odor resistant. If these qualities are as important to people, it may be worth learning more about how their sheet fibers are manufactured before purchasing.
Price
The Queen sheet set is available in a range of prices. They are currently cheaper on Amazon and retail for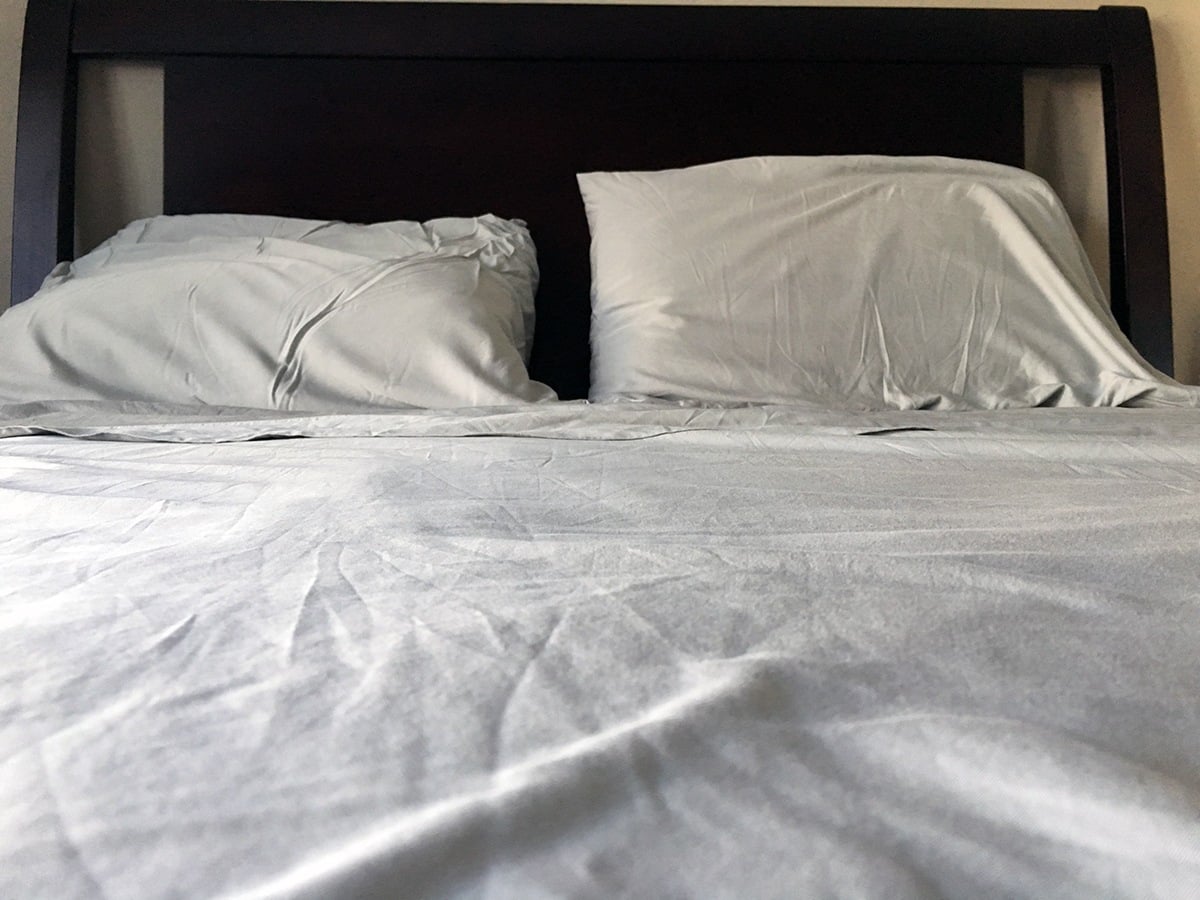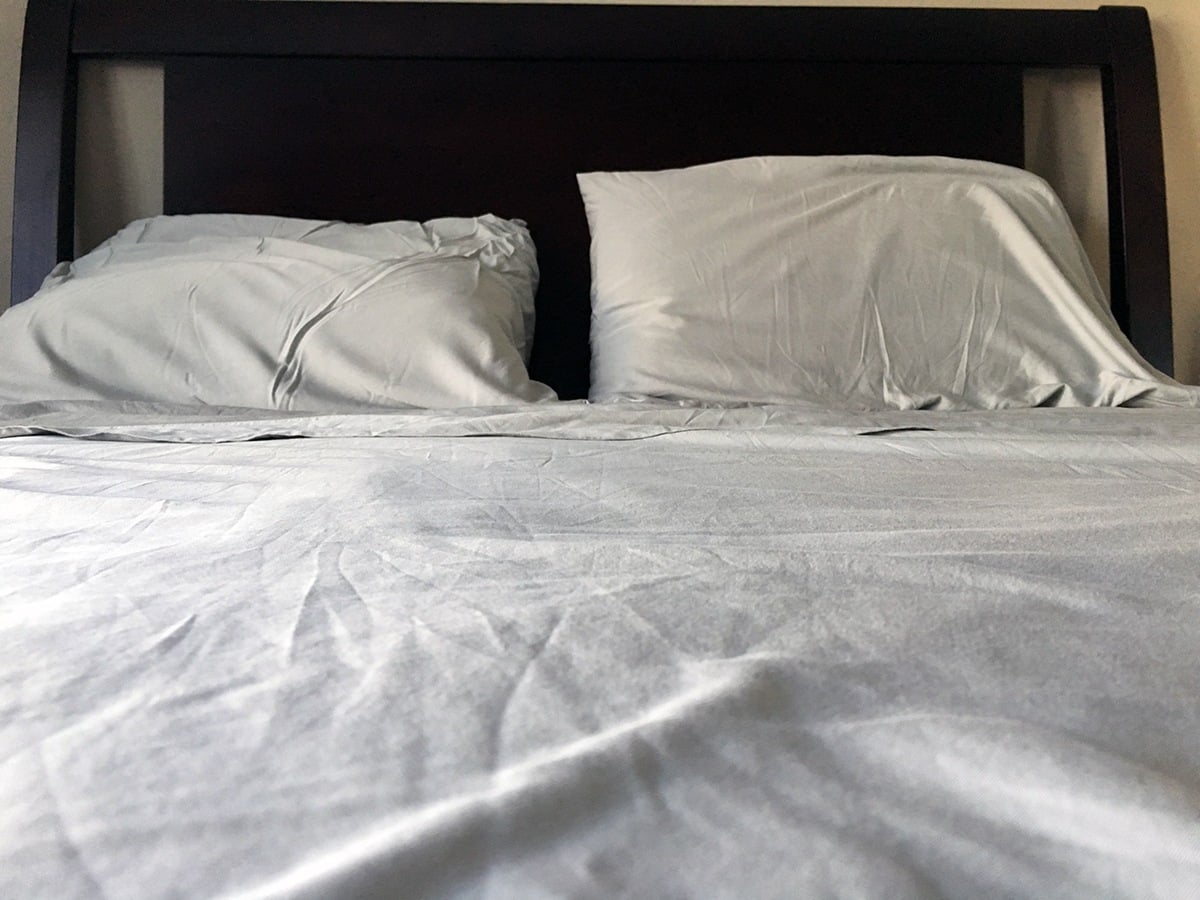 These sheets are recommended for people can find them at a discount. I really liked the oversized nature of the flat sheet, as well as the silky feel of the sheets. The detailed and time-consuming care instructions and the intense wrinkling on my pillowcases are not the most appealing.
The Cariloha Classic and Resort sheets may be a better option if people are looking to splurge on sheets, but for less than $120 these could also be a good alternative.
Malouf's Woven collection of bed sheets comes with a 5-year limited warranty that might be worth checking out before considering.
Katie Golde
Katie previously managed the day to day operations of the Mattress Clarity news site and reviews sleep products in addition to writing and editing sleep news. She hails from Austin, where she lives with her growing family. She is a Certified Sleep Science Coach and has a master's degree in Journalism from Northwestern University and has a background in health and science content. Her work can be found in print and online publications like Discover Magazine, USA Today and The Huffington Post.