Linenspa's bamboo bed sheets are soft, silky and come in some gorgeous colors that will remind people of a day at the spa. They have a lot to offer, but there is also some potential room for improvement. This review will go over the construction of the sheets and attempt to highlight the main takeaways people should look out for if they are thinking of buying them.
Linenspa Bamboo Bed Sheets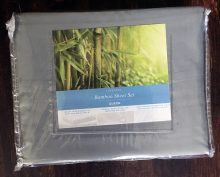 Affordable and soft, the Linenspa bamboo sheets are great for folks who are on a budget.
Read Full Review
Linenspa Bamboo Bed Sheet Video Review
Who Makes It
The bamboo sheets are made by Linenspa, an online retailer of sleep-related products like mattresses, pillows, and bed linens. Linenspa even sells beds for our furriest family members
There is no information on Linenspa's website about the company or information regarding their manufacturing process for products like bamboo sheets.
Key Features
100% Rayon from Bamboo
Twill weave
Sizes: Twin, Twin XL, Full, Queen, King and Cal King (see our article on mattress dimensions)
Comes with 1 fitted sheet, 1 flat sheet and 2 pillowcases (twin and twin XL come with 1 pillow case)
Four color options
Soft feel
Temperature-regulating
Deep-pocket fitted sheet (6″ – 18″)
Machine wash, dryer-friendly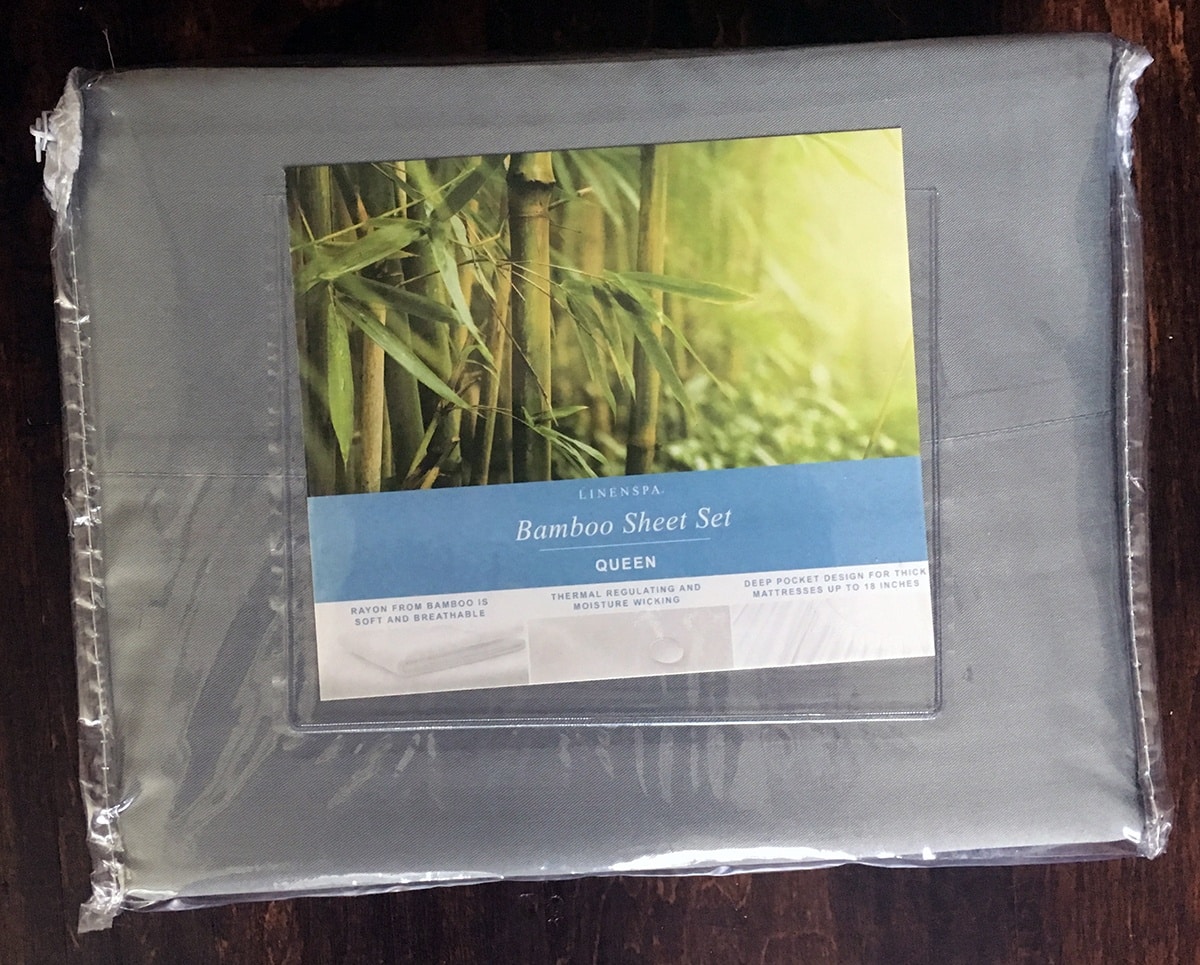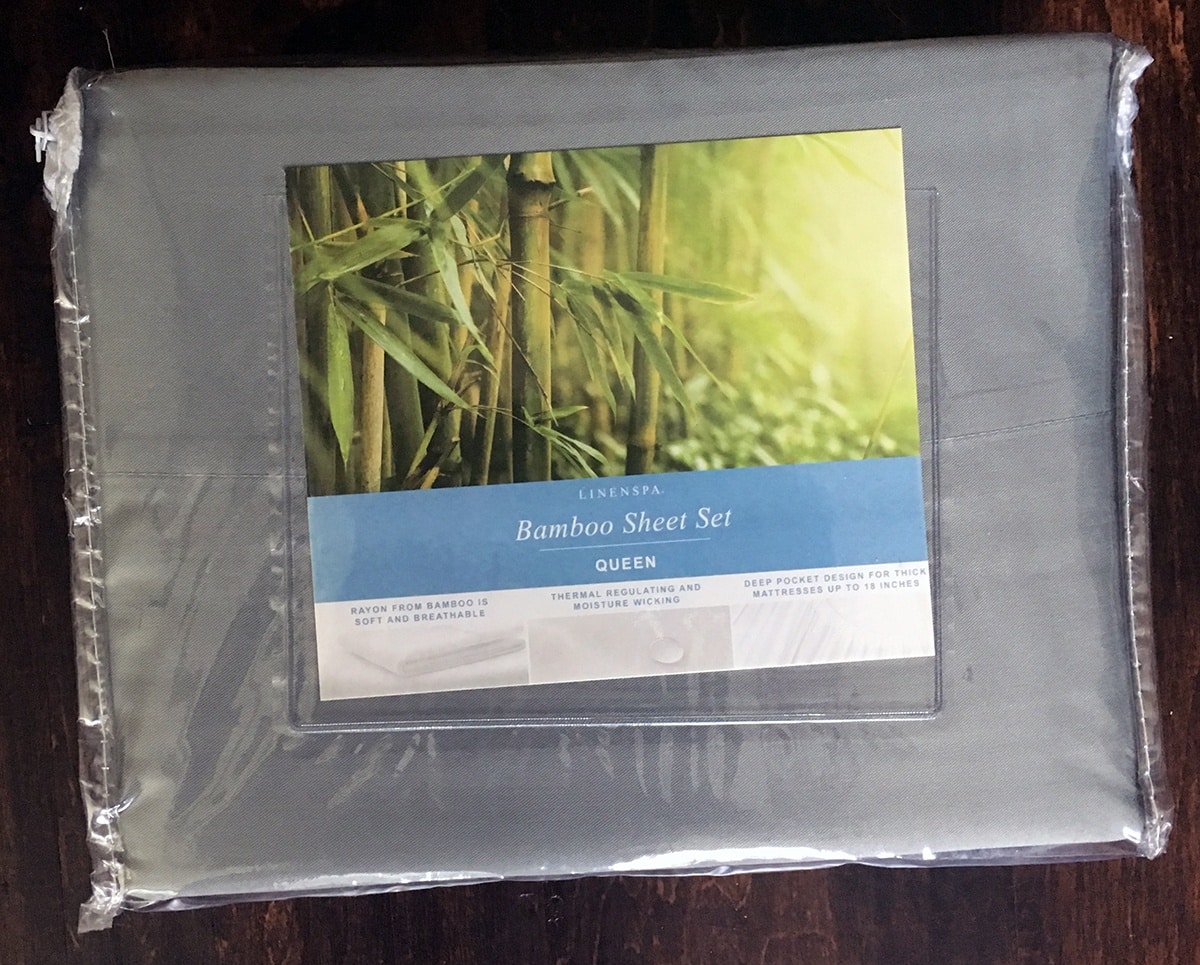 Pros
Wonderful color (Stone)
Soft and silky feeling
No thermal regulation issues
Variety of sizes available
Cons
Exceptionally and inconsistently wrinkly
Extra care – warm iron recommended
Ill-fitting flat sheet
Care tag located at the top of flat sheet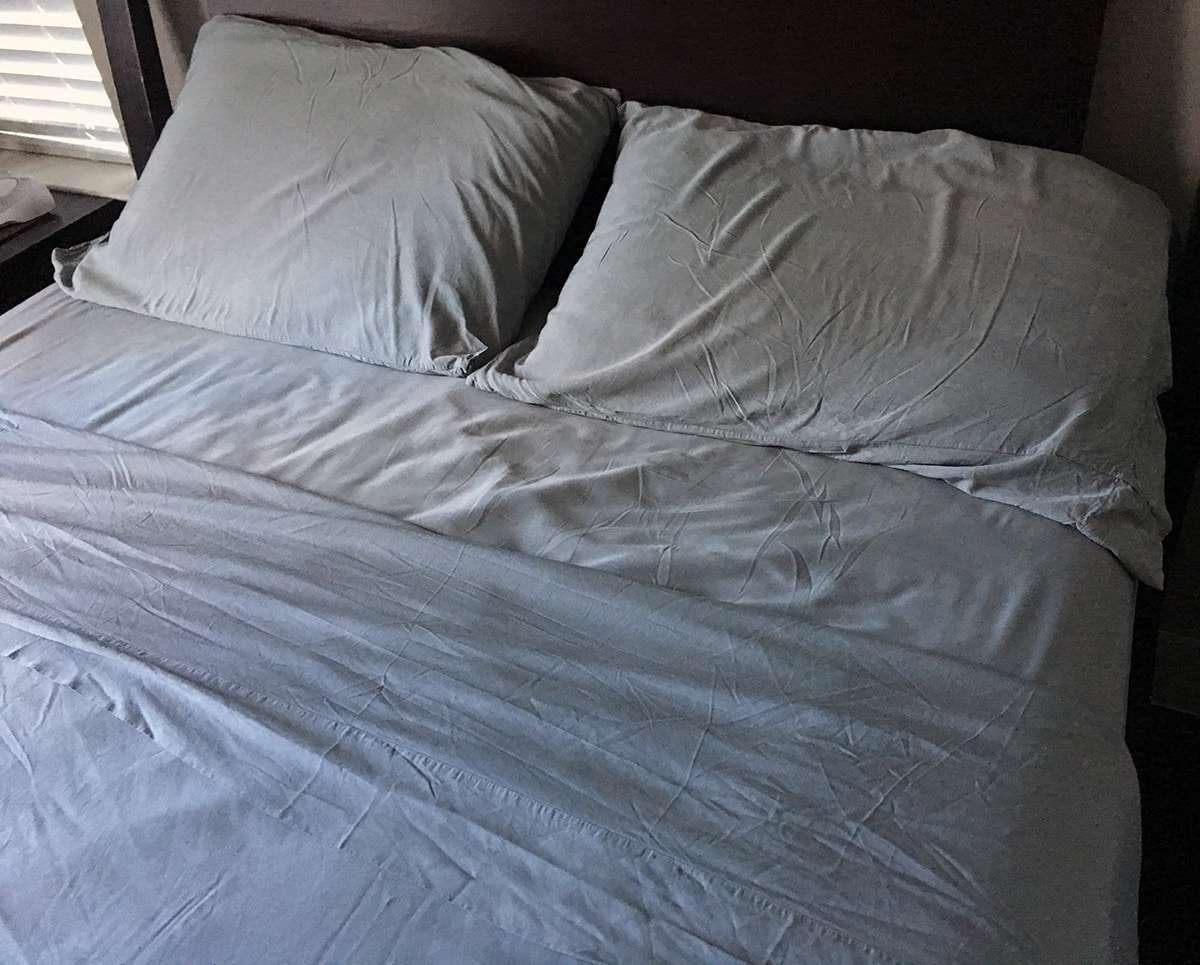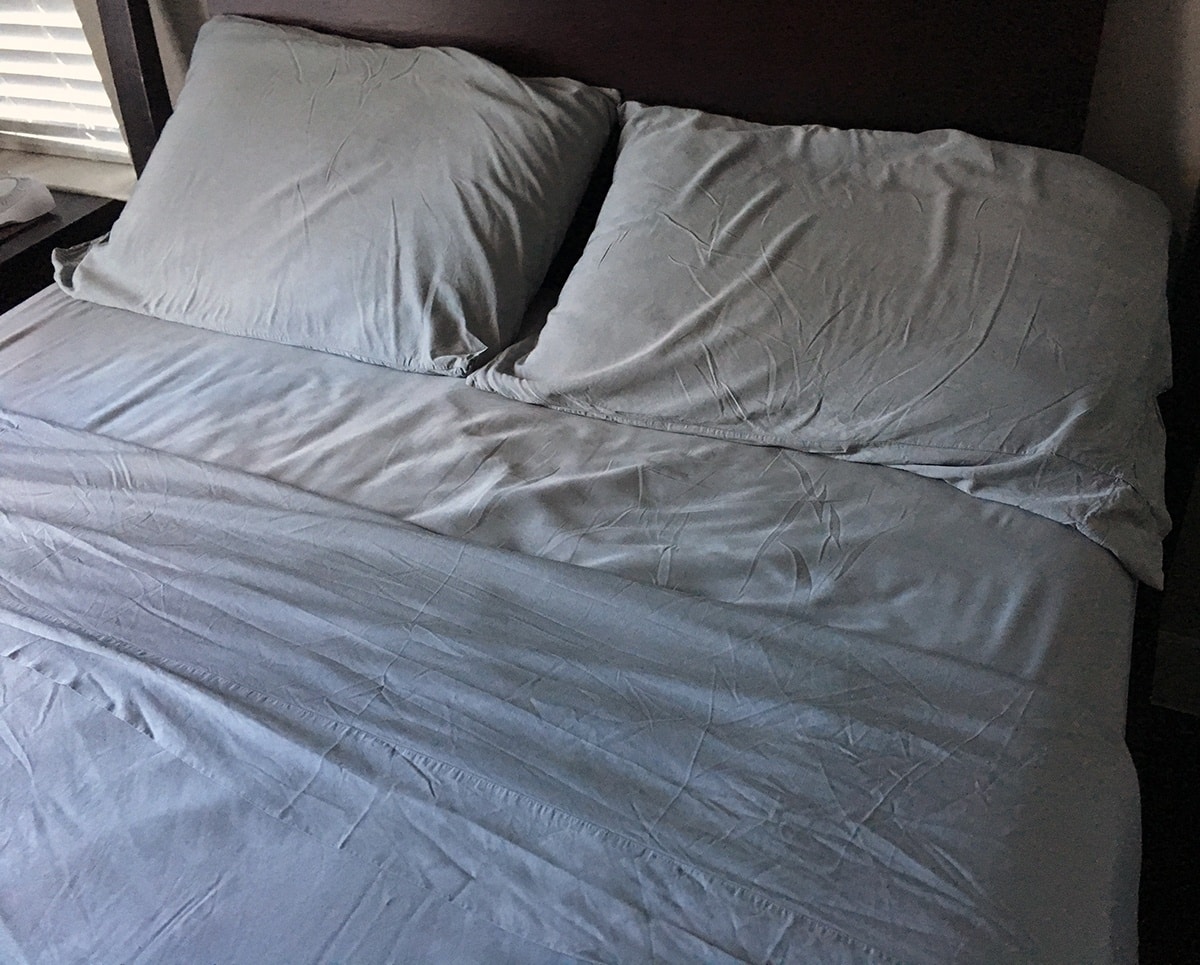 Linenspa Bamboo Bed Sheets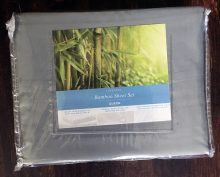 Affordable and soft, the Linenspa bamboo sheets are great for folks who are on a budget.
Read Full Review
My Experience
The bamboo sheets from Linenspa were very comfortable to sleep on; I enjoyed the soft fabric and had no issues with skin irritation or feeling overly hot or cold during the night.
The Stone color was really luxurious looking, and in the natural light it had a blue sheen to it and overall it reminded me of nice sheets I'd find at a high-end spa.
Compared to other bamboo sheets I've reviewed, the Linenspa sheets felt heavier as soon as I got them out of the package. I put them in a delicate cold wash and when they came out wet they were even heavier and almost stiff. This reminded me of the Brielle Home sheets I've reviewed.
I put the sheets on a light tumble dry and removed them almost as soon as they were done drying to try and avoid wrinkles. When they came out of the dryer they felt softer than they when I pulled the out of the packaging.
The first thing I immediately noticed was the intense wrinkling at the end of both of the pillowcases. It initially appeared to be a design element I'd just missed reading about (it's not).
RELATED: Pros and Cons of Bamboo Sheets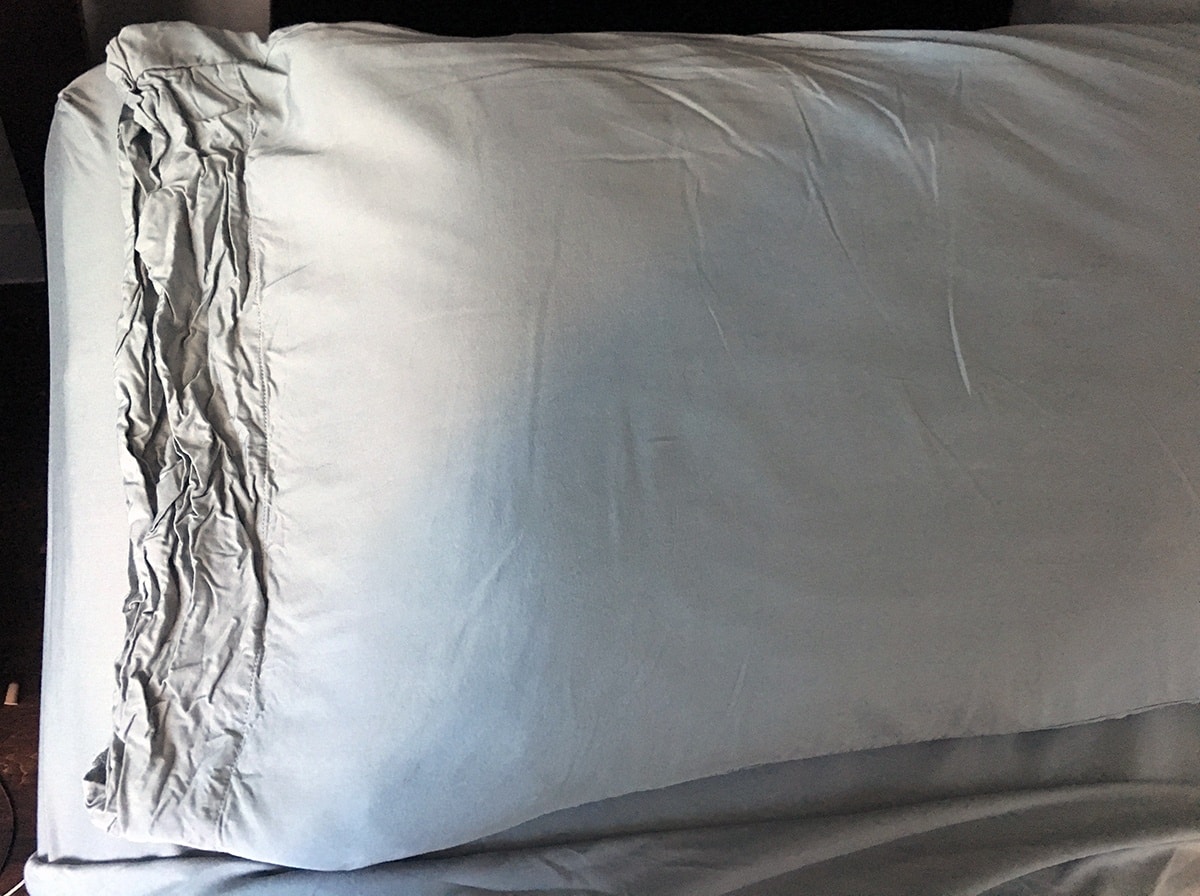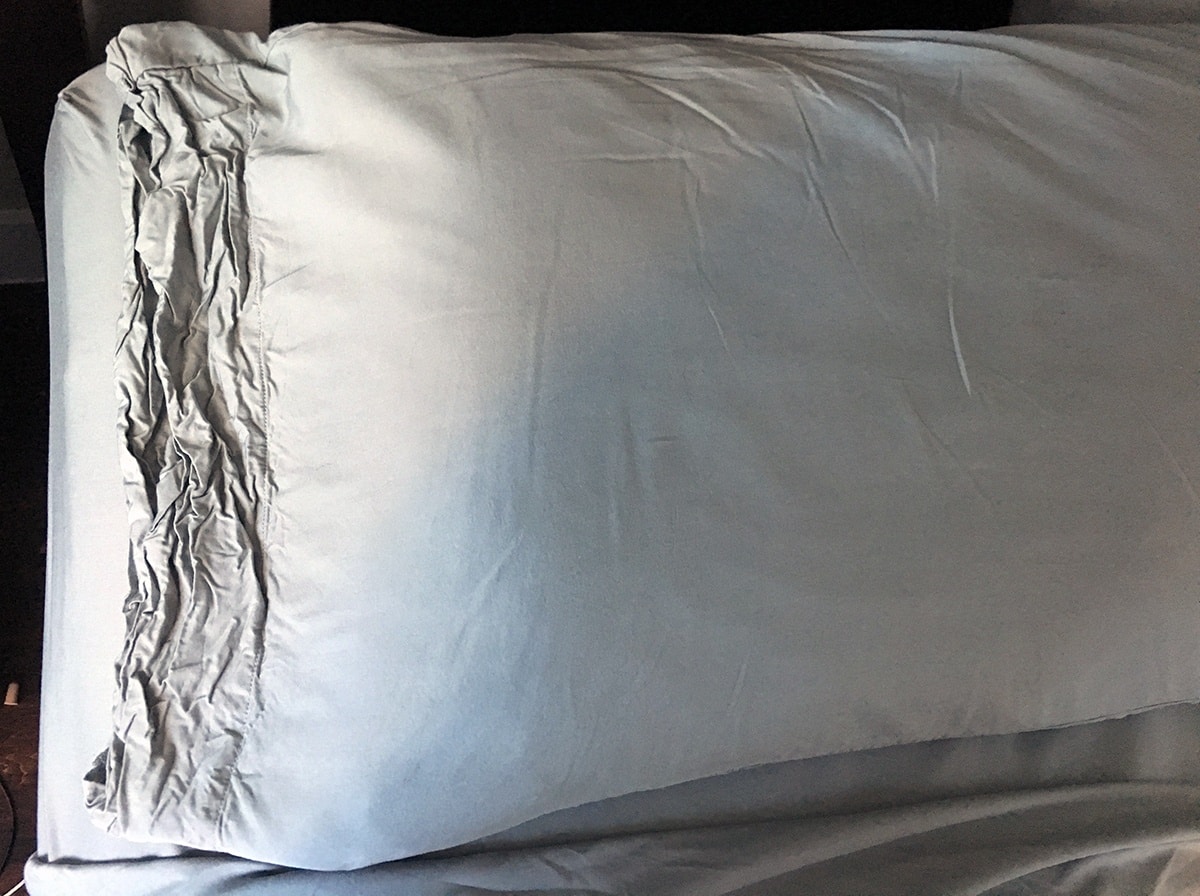 There was also some wrinkling near the seam in various sections of the flat sheet but I was able to tuck it under my mattress so it wasn't nearly as noticeable as my pillowcases.
It seemed like this wrinkling had something to do with the way the bedding was washed or dried, so I re-followed the instructions and sent it through again but had the same results. 
The fitted sheet was a little bit of a struggle to get on. It was very tight but fit over the 10-inch thick mattress. There wasn't a lot of room leftover, so it is difficult to see it fit well over anything thicker than 14-inches.
The flat sheet fit fine on the length of my bed, but the width was a little tight. It came out from under the mattress during the night with little effort.
This leads me to think that the sheets may have shrunk slightly while in the dryer – despite following the care instructions to tumble dry lightly.
The care instruction and brand tags were attached to the top of the flat sheet. After pulling the sheet up at night to cover myself and go to sleep, the tag was right by my head and sometimes touching my face. This was a pretty big annoyance and it's unclear why they'd sew the tag there (unless it was a mistake).
RELATED: Best Reviewed Bamboo Sheets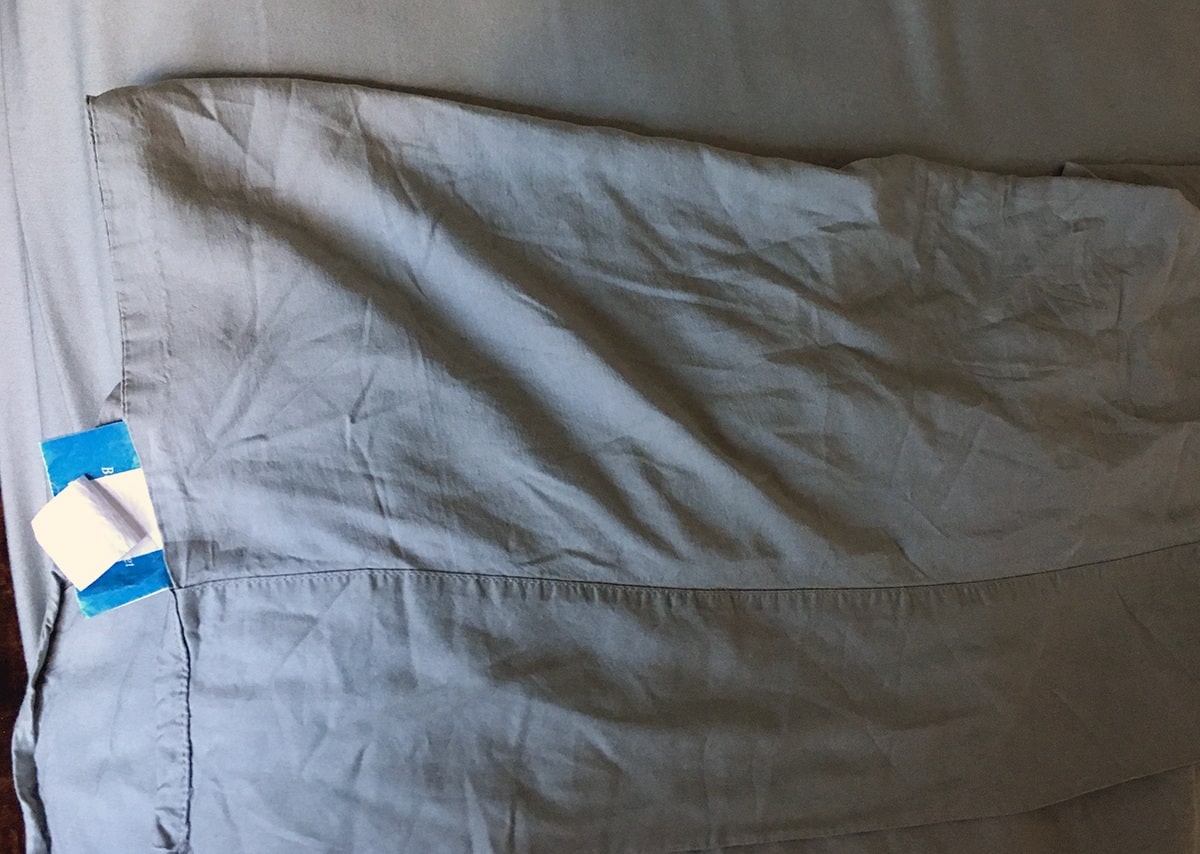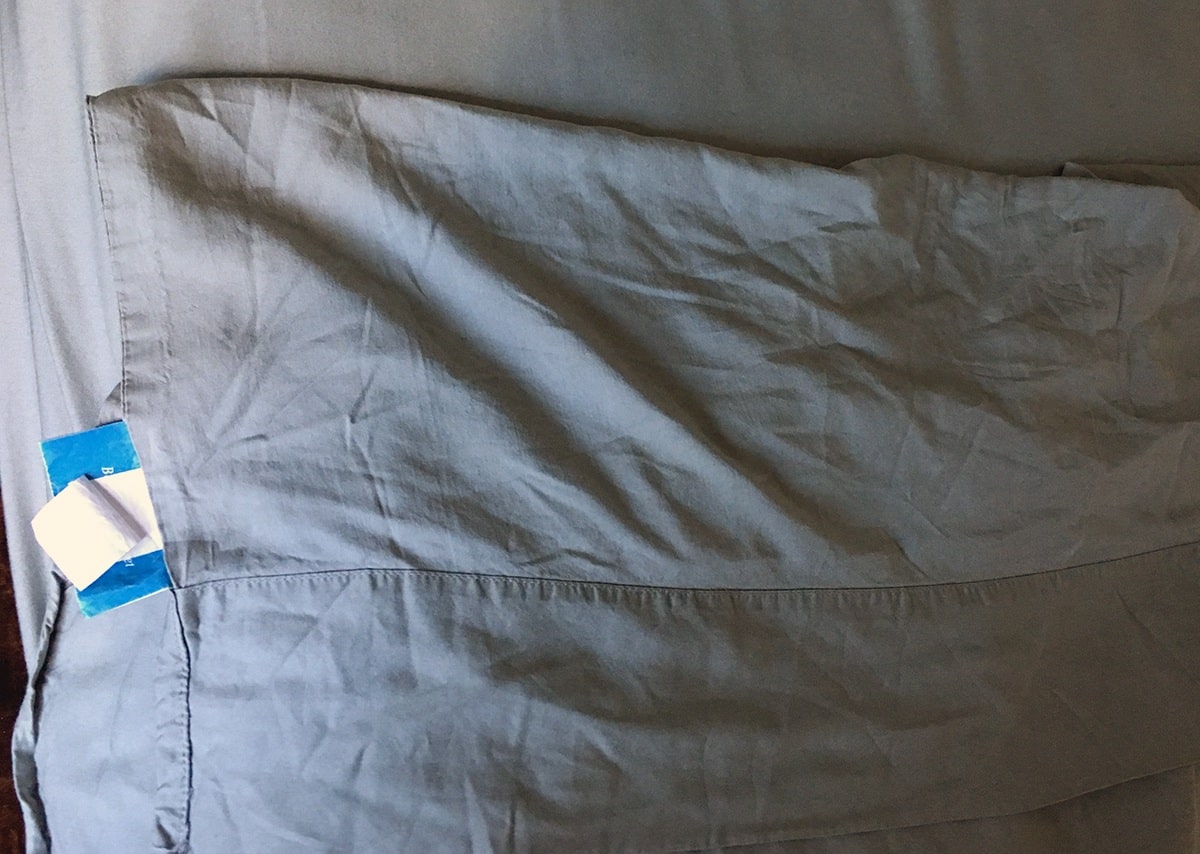 The sheets kept me comfortable temperature-wise during the night and felt very soft. There were no issues sleeping with them during the night except for the flat sheet coming out from under the mattress (and the tag occassionally brushing my face).
Linenspa Bamboo Bed Sheet Review
Summary
Linenspa's Bamboo Bed Sheets come in a wide range of sizes and four color options. They are very soft sheets, however not lightweight. They wrinkled easily and inconsistently and the sheets seemed to have shrunk in the wash. While they were soft and I slept relatively well, I think the overall quality stops me from giving them a full recommendation.
What to Consider Before Buying
The extreme wrinkling, especially in the pillowcases, was echoed by many in the reviews available on Amazon (the Linenspa website does not have any reviews for the sheets at this time).
The Linenspa customer service team did reply to one reviewer and suggested they take the pillowcases out when they were slightly damp and allow them to air dry to avoid wrinkling.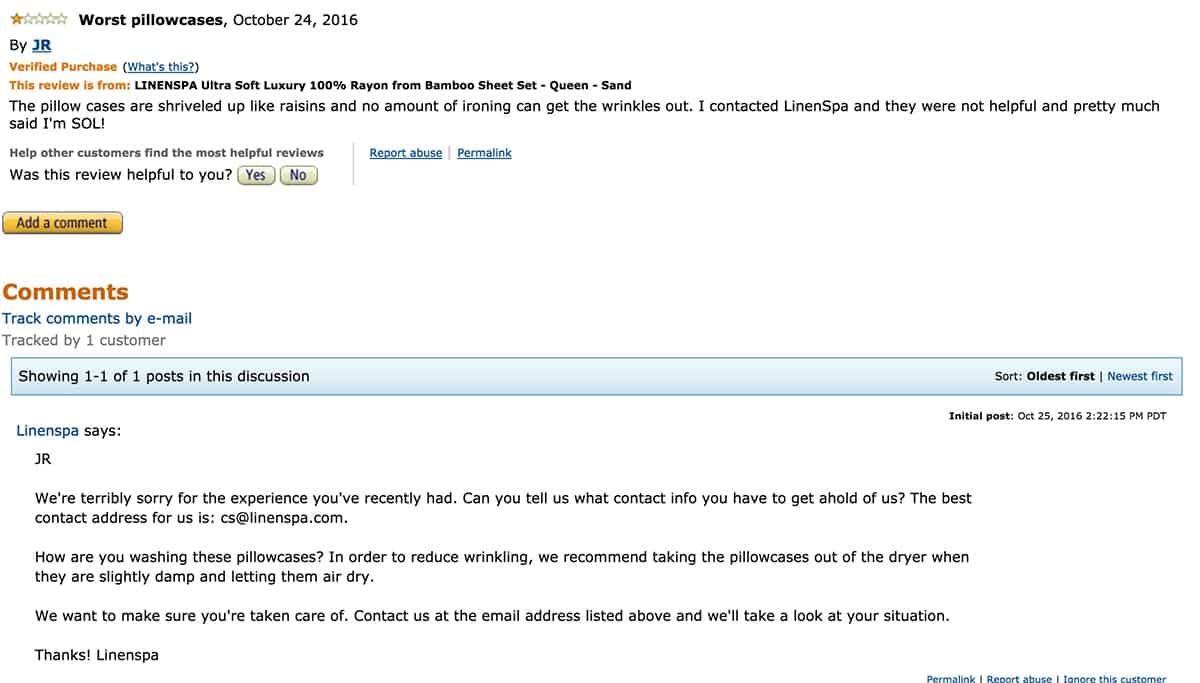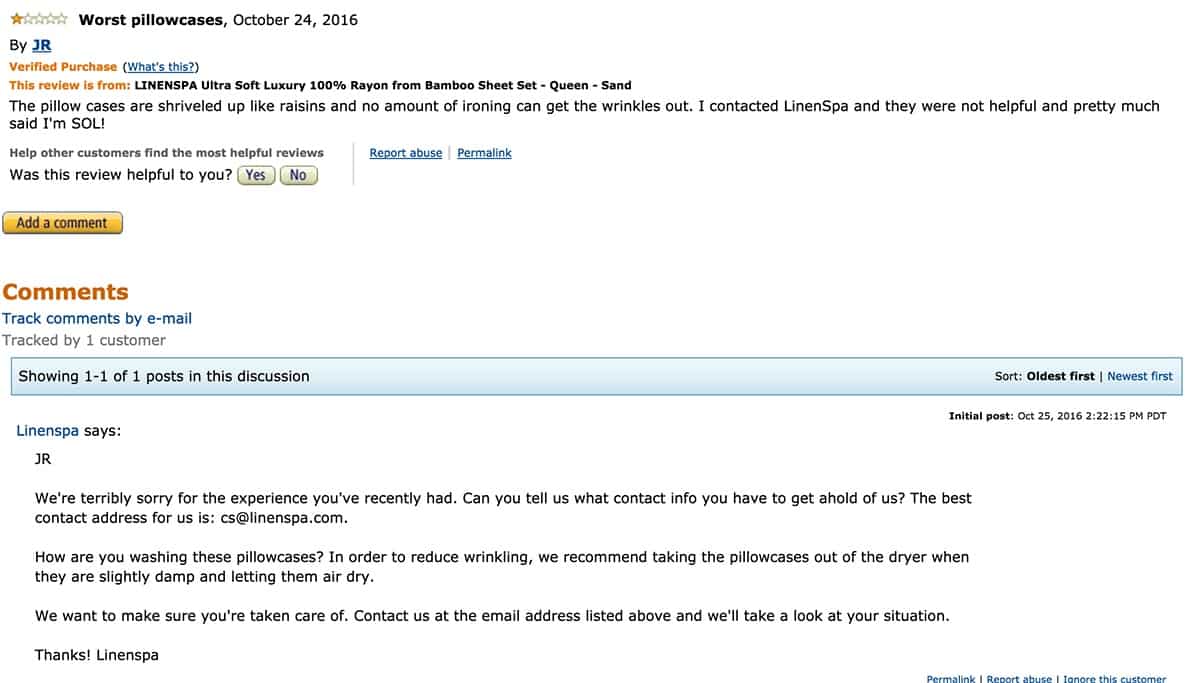 Taking extra steps to avoid wrinkling by ironing or air drying my sheets may not be a realistic option. A little wrinkling isn't the end of the world, but it's not the best to have extreme wrinkling on the pillowcases.
The flat sheet was a little tight width-wise on the bed and this may have been because of shrinking. Other reviewers had issues with fit as well.


There are different ways to manufacture bamboo fibers into fabrics – some are more environmentally friendly than others (more information on that is available here). I couldn't find any information on Linenspa about how their sheets are made but I would consider digging further if environmental impact is important to people when considering purchasing bamboo sheets.
RELATED: How to Care for Bamboo Sheets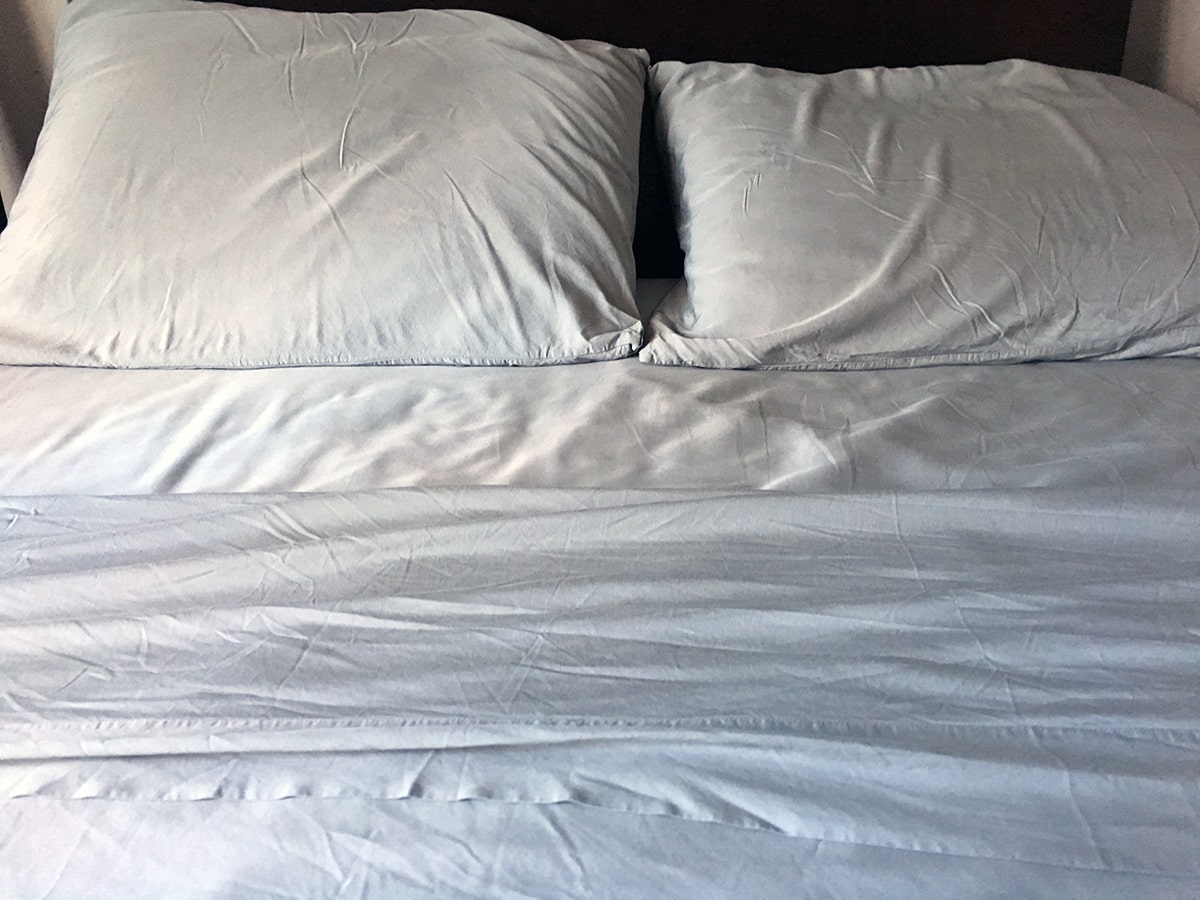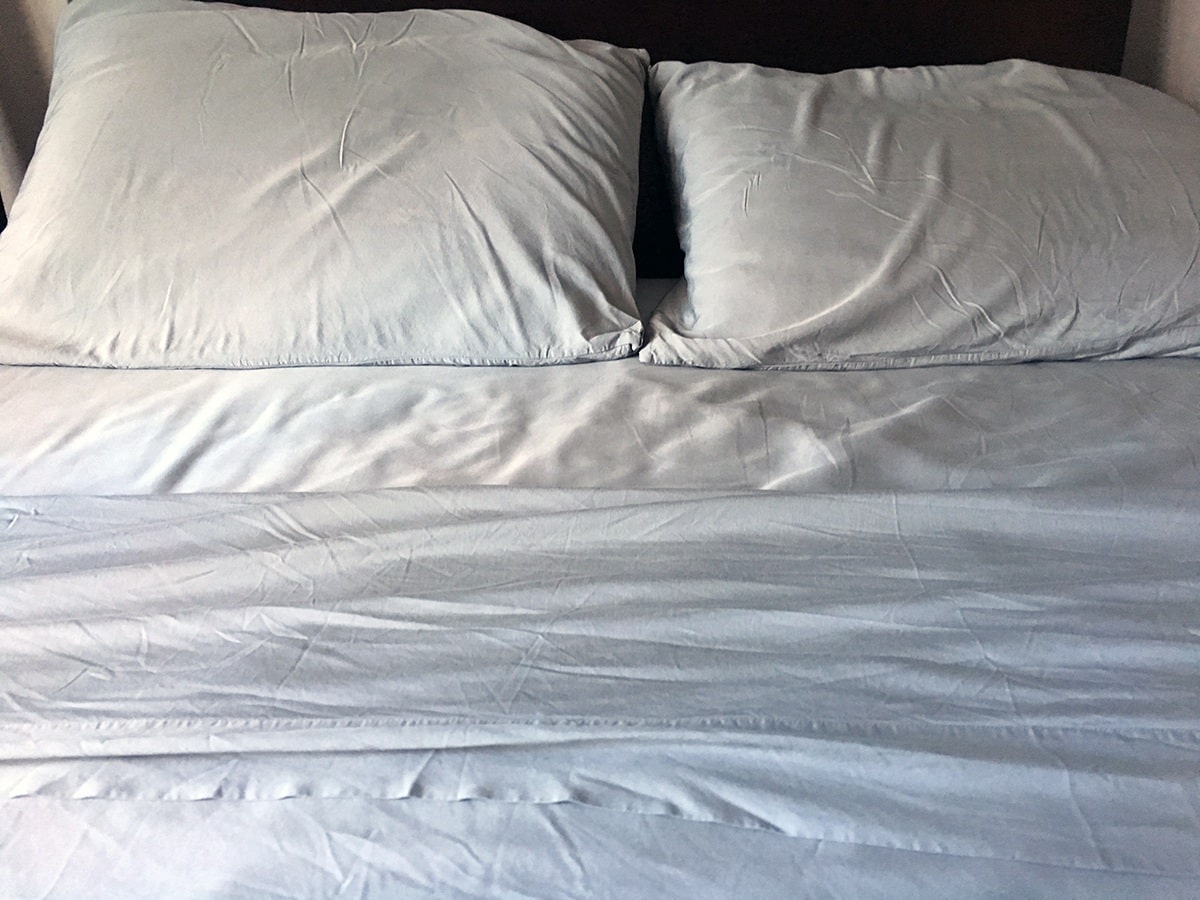 Price
According to the Linenspa website, the sheets (Queen size) regularly sell for $139.99 but were available for $89.99. They are sold for the same price on Amazon.
The sheets come in some lovely neutral colors and are definitely soft. The thicker feel to the fabric may be enjoyable to those who like heavier sheets.
Due to the poor fit and extreme and inconsistent wrinkling in the fabric, I don't think these are the right bamboo sheets for me.  They were extremely comfortable, but I had a hard time getting over the wrinkles. I would also like to know more about how their bamboo fabric is made (including what chemical process they use).
For those interested in trying the sheets, Linenspa does offer a moneyback guarantee.
Katie Golde
Katie previously managed the day to day operations of the Mattress Clarity news site and reviews sleep products in addition to writing and editing sleep news. She hails from Austin, where she lives with her growing family. She is a Certified Sleep Science Coach and has a master's degree in Journalism from Northwestern University and has a background in health and science content. Her work can be found in print and online publications like Discover Magazine, USA Today and The Huffington Post.