It's true – there really is a pillow out there for everyone (we promise!). For those specifically looking for an all-natural and organic option, the Birch pillow could be the perfect match.
The Birch pillow is designed with an eco-conscious flair and features materials from across the globe, including Birch wool from New Zealand and Talalay latex from southeast Asia. Not only that, but this versatile pillow can work for all three sleeping positions!
Who will love this pillow, and who needs to pass on it? Check out our full Birch pillow review for more details.
Birch Organic Pillow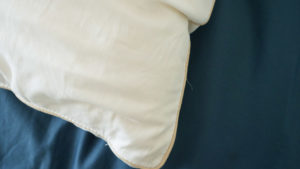 The Birch Pillow is an eco-friendly and sustainably made pillow that has an organic cotton cover and fill made with Birch Wool and Talalay Latex shreds. It will work for all sleep positions and needs to be spot cleaned only.
Mattress Clarity Score
4.10 / 5
Read Full Review
Birch Pillow Overview
Owned by the popular Helix mattress brand, Birch came to the bedding industry with a mission: to keep you and your home cozy and safe with sustainably sourced, eco-friendly, and organic sleep products. Birch products like the Birch mattress and Birch Organic sheets use only natural materials and carry several international certifications to ensure chemical safety.
Plus – in accordance with the company's sustainability efforts – 1% of all Birch sales are donated to the National Forest Foundation. Environmentally conscious shoppers, this is the brand for you!
Like the rest of the Birch bedding products, the Birch pillow is a high-quality, organic option that is as good for your home as it is for the environment. Let's see who might like the Birch pillow best:
Who Might Like Birch Pillow:
Fans of responsive, supportive pillows
Combinations sleepers
People who want a sustainably sourced pillow
Who Might Not Like Birch Pillow:
Fans of slow moving memory foam pillows
People looking for a machine-washable pillow
Shoppers on a budget
Birch Pillow Video Review
Explore the unique features of the Birch pillow with our video review:
Birch Pillow Firmness and Feel
The Birch pillow is one of those rare non-adjustable pillows that can actually work for all sleep positions – the unicorn of pillows, perhaps? Let's dig a little deeper.
How Firm is the Birch Pillow?
Talalay latex is traditionally found in soft, light, and squishy pillows. The Birch pillow, however, feels slightly firmer than the average Talalay latex pillow. The pillow's outer layer of wool is plush and malleable, yet the inner latex remains dense and supportive enough to keep the head and neck aligned with the spine. Overall, I'd describe this pillow as medium firm–a good choice for those looking for a balance of comfort and support.
Sleeping on the Birch Pillow
The Birch pillow is well-suited for all three sleeping positions. Combination sleepers in particular will like this pillow, as the responsive latex core makes this pillow easy to move around on.
Talalay latex is fairly soft and responsive, and this pillow feels like a cushion while I rested on my back and side. Personally, I didn't prefer sleeping on my stomach with this pillow, but some stomach sleepers with larger bodies will be able to compress this pillow more.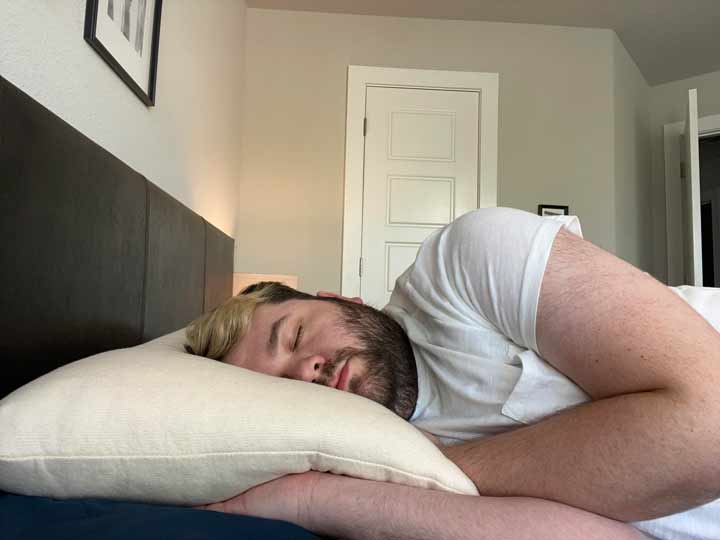 What does the Birch Pillow Feel Like?
The reason this pillow is successful – in my opinion – is due to the support and response of the latex filling mixed with the soft but substantial Birch wool. The latex gives the Birch pillow a bouncy and responsive feel, while the organic wool adds a layer of plush coziness. These natural materials combine to give the Birch pillow a unique blend of softness and support.
You're not really going to sink into this pillow, if at all. And it won't conform to your head and neck while you sleep like a traditional memory foam pillow would.
Average Weight Sleepers – 130 lb – 230lb
Side, stomach, and back sleepers alike will enjoy the Birch pillow. Average weight sleepers of all three positions will find the natural latex core provides good support for the head, while the outer layer of wool gives the pillow a plush and comfortable feeling. Average weight combination sleepers in particular will get a lot out of this pillow.
Heavyweight Sleepers – Over 230lb
Heavyweight sleepers of all three positions should also like the Birch pillow. The inner Talalay latex is firm enough to prevent the head from sinking too far into the pillow, while the 5" loft gives heavyweight back sleepers good contouring and support around the head and neck.
While the Birch pillow should work well for most sleepers, side sleepers with an especially large frame may prefer a taller pillow to accommodate their shoulders.
RELATED: Best Pillows for Side Sleepers
Lightweight Sleepers – Under 130lb
Lightweight sleepers will find the Birch pillow is ideal for side and back sleeping. Smaller stomach sleepers may not compress the inner latex as much as heavier sleepers, which may make the Birch pillow too tall for lightweight stomach sleepers.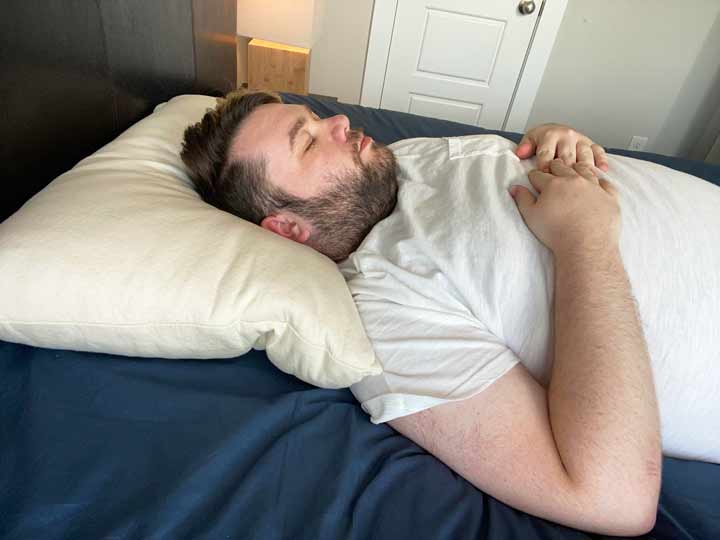 Birch Pillow Construction
The Birch pillow stands out for its use of all-natural, organic materials. Let's take a closer look at how they all work:
Cover
Surrounding the wool and latex of the Birch pillow is a 100% organic cotton cover. This soft, stretchy cover is naturally breathable and will wick moisture away from the body. No trapping heat with this one!
The cover is also Global Organic Textile (GOTS) certified–the international gold standard for organic textiles. Shoppers can be sure the materials in the cover were obtained using environmentally friendly and socially responsible methods.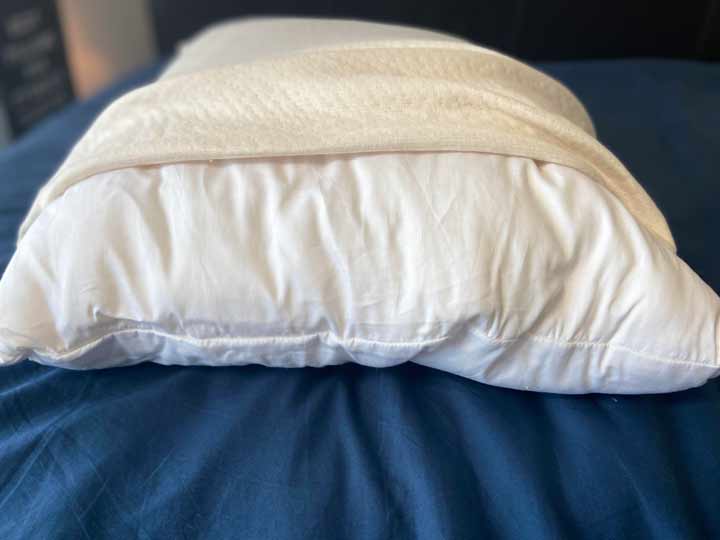 Core
The inside of the Birch pillow includes two chambers: an inner core of shredded Talalay latex and an outer layer of sustainably sourced Birch wool. These materials combine to form a core that is both plush and supportive, breathable and firm.
The Birch pillow also carries the GREENGUARD Gold certification, which ensures all the components of the pillow are free from harsh chemicals. Again, it's worth mentioning that while the outer cover is removable, there's no zipper for this inner compartment for the fill. This means you can't take out or add in excess or additional fill.
Weight
The Birch pillow has two sizes: standard and king size. The standard size weighs 4lbs, while the king size weighs 5 lbs.
Height/Loft
A pillow's primary goal is to keep your head and neck in neutral alignment with your spine. Neutral alignment reduces nightly discomfort and can prevent neck and back pain down the line. The height of the pillow, referred to as its loft, plays a big role in how well the pillow is able to keep you in neutral spinal alignment.
Although non-adjustable, the Birch pillow comes at 5″ tall – the sweet spot for most sleep positions (based on my experience, at least). This pillow is tall enough to accommodate the heads and shoulders of back and side sleepers, yet it is also soft and flat enough to keep stomach sleepers comfortable. This is a very versatile pillow!
RELATED: Best Pillows for Neck Pain
Birch Pillow Size Options and Price
Stay up to date on the Birch pillow with the following chart:
| | | |
| --- | --- | --- |
| Size | Dimensions | Price |
| Standard Size | 28 x 20 in | $99.00 |
| King Size | 36 x 20 in | $119.00 |
Birch Organic Pillow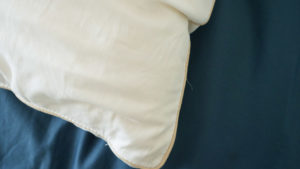 The Birch Pillow is an eco-friendly and sustainably made pillow that has an organic cotton cover and fill made with Birch Wool and Talalay Latex shreds. It will work for all sleep positions and needs to be spot cleaned only.
Mattress Clarity Score
4.10 / 5
Read Full Review
Birch Pillow Performance
Now that we've gone over firmness, feel, and loft, here's how the Birch pillow performs a few more key categories: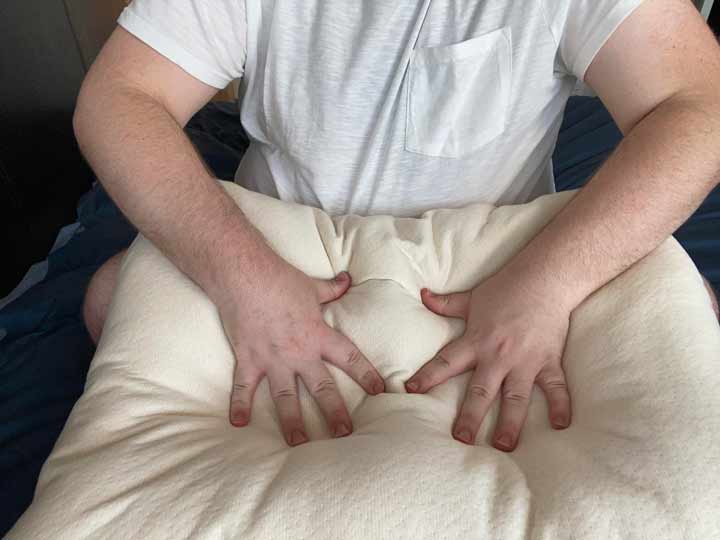 Sleeping Hot or Cold
One might expect a wool pillow to sleep hot. Not so with the Birch pillow! Although wool is a natural insulator, it also has moisture-wicking and thermoregulating properties that prevent the build up of heat and sweat. Meanwhile, the shredded Talalay latex core and organic cotton cover facilitate active airflow and ventilation through this pillow.
All of this is to say that the Birch pillow shouldn't trap heat, and you shouldn't need to constantly flip this pillow to stay cool. If you are an especially hot sleeper, though, you may want to look for cooling pillows designed specifically with hot sleepers in mind.
Off-Gassing
This pillow comes ready for sleep right out of the box. Birch never compresses its pillows, so the Birch pillow should not come with that "new bed" chemical smell. If you are especially sensitive to smells, letting the pillow air out in a cool and dry place for a day should allow any slight smells from production and shipping to dissipate.
Care Instructions
The Birch pillow is not machine-washable. Even though the cotton cover is removable, Birch recommends spot cleaning only for the Birch Organic pillow. Allow the pillow to air dry before replacing the cover.
Allergies
The natural latex used in the core of the Birch pillow is resistant to mold, mildew, mites, and other allergy triggers. This is a good organic choice for allergy sufferers!
Company Policies
Got your eye on a Birch pillow? Here's what you can expect if you pick up a Birch Organic pillow of your own:
Warranty Info
Birch offers a 1-year warranty for its pillows, including the Birch Organic pillow. Should you find any defects with your pillow within that first year, Birch will send you a replacement for free.
Sleep Trial
The Birch pillow comes with a generous 100-night sleep trial that begins on the day of delivery. This gives you ample time to decide if the Birch pillow is right for you.
Return Policy
Birch will accept returns for the Birch pillow within the 100-night sleep trial period. Returns generate a full refund, and Birch will do its best to donate all lightly used return items to charities and housing facilities. Returns can be requested via the Birch website.
Common Birch Pillow Complaints
Most reviews praise the Birch pillow for its versatility and eco-friendly construction. Some reviews note, however, that  the Birch pillow can feel a bit lumpy when the pillow is fluffed. This is due to the combination of wool and shredded latex used in the inner core.
The pillow's all-natural materials, while high quality, also carry a higher price tag to match. Those looking for an organic pillow on a budget may need to look elsewhere.
RELATED: Best Pillows of 2023
How Does Birch Pillow Compare To Other Pillows?
Supportive, soft, and sustainably sourced, the Birch pillow checks a lot of boxes. But how does it compare to other pillows we've reviewed? Let's take a look.
Birch Vs. Nolah
The Birch pillow is a fantastic option for those looking for an all-natural latex pillow. But, if you're a fan of dense, slow-moving memory foam, the Nolah Squishy pillow may be the better choice for you.
The Nolah Squishy pillow stands out as an adjustable foam-filled pillow. The foam cubes within its inner chamber can be added or removed to achieve the ideal loft for all three sleeping positions, while the cooling bamboo cover makes the Nolah Squishy pillow a good choice for hot sleepers. The cover is also machine washable for easy care. With all this going on, it's no surprise the Nolah Squishy pillow made our list of the best memory foam pillows!
While the Nolah Squishy pillow comes OEKO-Tex certified for chemical safety, it doesn't carry the same number of eco-friendly certifications as the Birch pillow. Environmentally conscious shoppers may want to stick with the Birch pillow.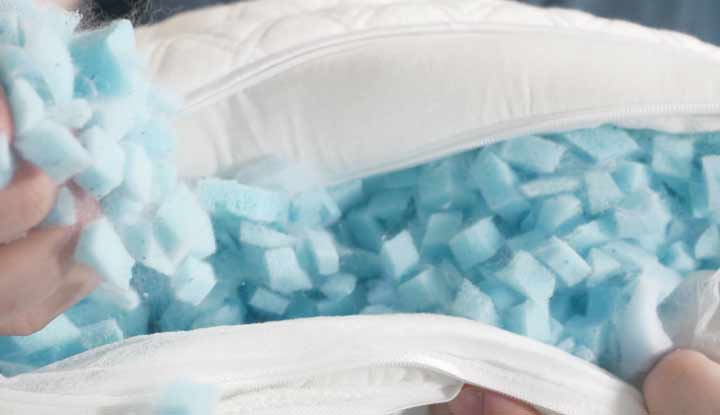 Who Should Get the Birch Pillow?
Fans of responsive, latex pillows
Eco-conscious shoppers
Who Should Get the Nolah Squishy Pillow?
Fans of memory foam pillows
People looking for an adjustable loft pillow
Read our full Nolah Squishy pillow review.
Birch Vs. Sleep Number
While its cotton cover and shredded latex core prevent this pillow from trapping too much heat, the Birch pillow doesn't sleep as cool as some pillows out there. Chronically hot sleepers may prefer a pillow constructed with coolness in mind, such as the Sleep Number True Temp pillow.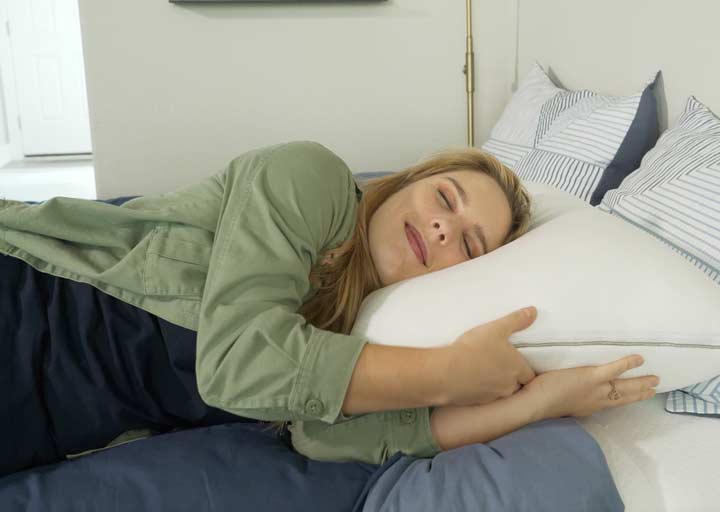 The Sleep Number True Temp pillow is on the cutting edge of cooling technology. The pillow uses 37.5 active particle technology to actively adapt to your body's temperature, meaning the warmer you get, the more heat it will pull away. With three models to choose from, the True Temp pillow is a great choice for hot sleepers looking for a lofty and luxurious pillow.
Side and back sleepers will like the supportive, dense foam fill of the True Temp pillow, but stomach sleepers will likely prefer the Birch pillow's lower loft and soft Talalay latex core. Both pillows are made from durable materials and can be spot cleaned as necessary.
Who Should Get the Birch Pillow?
People looking for an all-natural, organic pillow
Stomach sleepers
Who Should Get the Sleep Number True Temp Pillow?
Hot sleepers
Side and back sleepers
Read our full Sleep Number True Temp pillow review.
Our Birch Pillow Ratings
Check out our final Mattress Clarity score for the Birch pillow:

FAQs
What is the best pillow on the market?
The best pillow for you depends on several factors, including material, price, durability, and your individual sleeping position. Versatile pillows like the Birch pillow are a great option for many shoppers because the pillow can work for all three sleeping positions.
What if I don't like my Birch pillow?
The Birch pillow comes with a 30-night sleep trial. If you decide the Birch pillow isn't for you, you can return the pillow for a full refund within that 30-day period.
How long will the Birch pillow last?
The Birch pillow is made with high quality, durable materials that should stand up to years of use. The 1-year warranty ensures you will get at least a year with this pillow.
Katie Golde
Katie previously managed the day to day operations of the Mattress Clarity news site and reviews sleep products in addition to writing and editing sleep news. She hails from Austin, where she lives with her growing family. She is a Certified Sleep Science Coach and has a master's degree in Journalism from Northwestern University and has a background in health and science content. Her work can be found in print and online publications like Discover Magazine, USA Today and The Huffington Post.