If an infinity scarf and a bamboo-covered pillow made a baby, it would be the Infinity Pillow (formerly called the Huzi Infinity Pillow). This quirky but comfortable pillow can be used in multiple ways, but is it worth the higher price? Read on for my full review.
Buy the Huzi Travel Pillow on Amazon
Who Makes It
The Infinity Pillow is made by Huzi Design, who enlisted the help of boutique firm BCXSY to design the pillow. The Infinity Pillow actually started as a Kickstarter project in the Fall of 2013 and the first pillows were shipped in 2014.
Huzi Design is an interesting company as they only sell a handful of simple and designed products, from a tennis table set to a plush toy with magnetic attachments and the infinity travel pillow.
See how Huzi compares in my travel pillows review page.
Key Features
39-inches by 6-inches
Möbius (infinity) shape
Bamboo fabric cover (55% bamboo, 45% polyester)
Cotton lining and polyester filling
Hypoallergenic
Machine washable at low temperature, no tumble dry
Four fashionable colors available (burgundy, tan, navy and grey)
Travel case available at an additional cost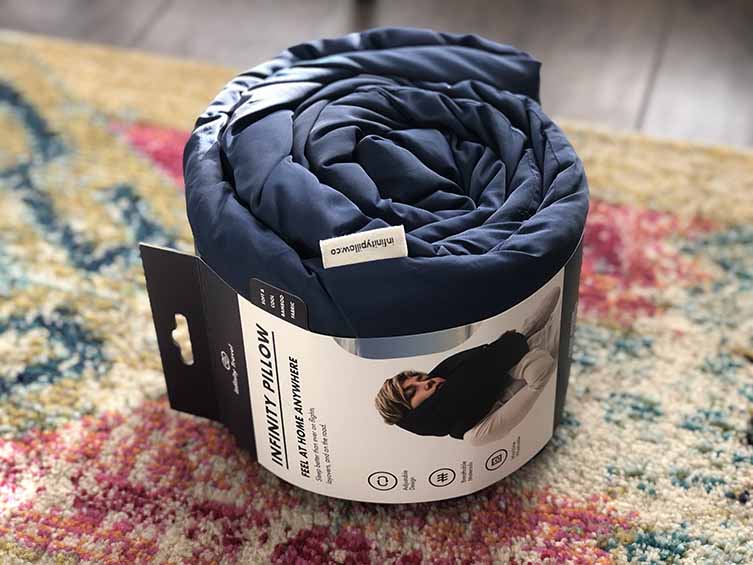 Pros
Machine washable
Can be twisted/formed into several shapes
Can be used for travel as well as everyday life
Available in many fashionable colors
Can be pulled up against ears and eyes to block out sound and light
Cons
Larger size (bulky to carry-on)
Air dry only
$39 price
The pillow is not firm
No removable cover
May interfere with headphones/earbuds
My Experience
You can tell a design company created the Infinity Pillow. Everything about the pillow, including the outer packaging and travel bag it comes with, is modern (and yes, hipster).
It's very simple looking and large for a travel pillow, but the length and the infinity-shaped design give it almost endless opportunities to position it in a way that will make you comfortable on a trip.
I am reviewing the green color and I love it. It's a nice classic navy. The bamboo fabric gives the pillow a unique feel. It's not plush or velvety, but it is soft and feels durable and breathable.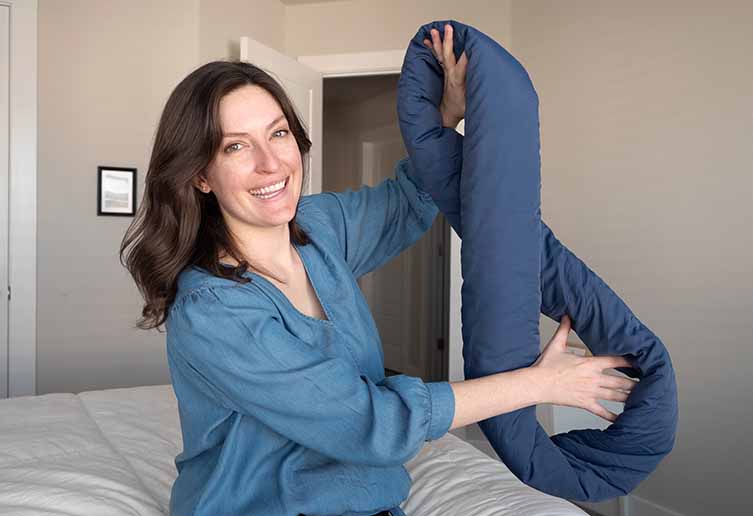 There really are so many ways to utilize this pillow, especially on a plane, train or in a car. I put it around my neck like an everyday infinity scarf and pulled one of the loops down, so the other loop tightened around my neck. Once I adjusted it I felt like I had a supportive neck pillow on.
You can also wrap it over a sizable portion of your face to block out light and/or sound. You can twist it into a knot-like structure and use it as a standard pillow against a window. Another reviewer used it to support her lap child during a flight and others used it on their lower backs.
The pillow is also machine washable (but not dryer-friendly). I used a delicate cycle on cold and left it to dry overnight. It took a little over 10 hours for it to feel dry.
Final Thoughts
While the Infinity Pillow seems to offer infinite ways to keep you comfortable on a trip, it is not very size-friendly. It is a fairly large pillow (quite long) and will take up more room if you pack it in a suitcase.
Travelers have suggested tying the pillow around the handle of a carry-on.
The pillow cannot be dried in a dryer, so you have to leave time to air it dry. It took more than 10 hours for my pillow to feel fully dry after washing.
The filling is pretty loose and not firm, but folding it over at least once will increase support.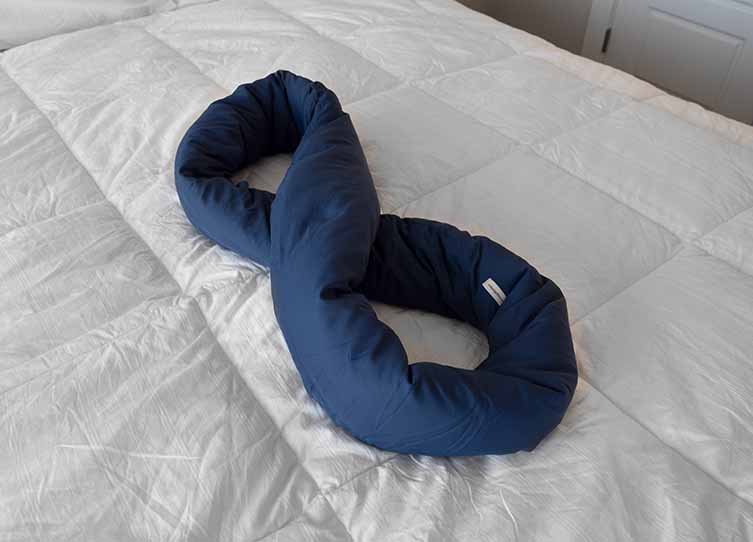 The Infinity Pillow is a little pricey. Huzi sells it on their website for $39 (just in grey and navy colors at the moment). You can also find it for $39.99 (nearly one dollar more) on Amazon.
Unlike other travel pillows at this price range, the Infinity Pillow can be used virtually anywhere, not just for travel.  I consider it one of the better travel pillows.
The level of versatility and the sheer comfort of the pillow fabric and overall design make it a good investment as a pillow, not just a travel pillow.
Buy the Huzi Travel Pillow on Amazon
The following two tabs change content below.
Katie Golde
Katie manages the day to day operations of the Mattress Clarity news site and reviews sleep products in addition to writing and editing sleep news.She hails from Austin, where she lives with her growing family. She is a Certified Sleep Science Coach and has a master's degree in Journalism from Northwestern University and has a background in health and science content. Her work can be found in print and online publications like Discover Magazine, USA Today and The Huffington Post.
Latest posts by Katie Golde (see all)