The trtl Travel Pillow, with its soft fleece wrap and structured neck support, definitely gives the traditional neck pillow a run for its money. But while it may succeed in some areas, it falls short in others. Read on for my full review.
Buy the Trtl travel pillow on Amazon
Who Makes It?
The trtl (pronounced "Turtle") Travel Pillow was created by engineers Michael Corrigan & David Kellock of Coolside Limited in Great Britain . They decided to develop a product that would make travel experiences more comfortable for everyone.
Their website says sleep sets the foundation to be able to experience more. They also describe the trtl Pillow as your essential "napparatus." Points for creative phrasing.
See how trtl compares on my best travel pillows page.
Key Features
7.5 x 7.5 x 3.7 inches
6.4 oz (a little under ½ lb)
Hypoallergenic fleece (polyester) shell
Polyurethane foam filling
Plastic internal support system
Machine washable and dryer-friendly
Available in three colors (only two colors sold on their website)
$29.99 price
Scientifically proven to keep your head in a better position than a traditional U-Shaped neck pillow

Pros
Can machine wash and dry easily
Company's website and packaging provide clear instructions for use
Lightweight
Relatively easy to pack flat
Can be wrapped over mouth and nose to protect from germs (yours or your fellow passengers!)
Cons
The internal neck support system is non-adjustable
Cannot be compacted or rolled into a very small size
Hard to locate tag for care instruction
Not always compatible with earbuds/headphones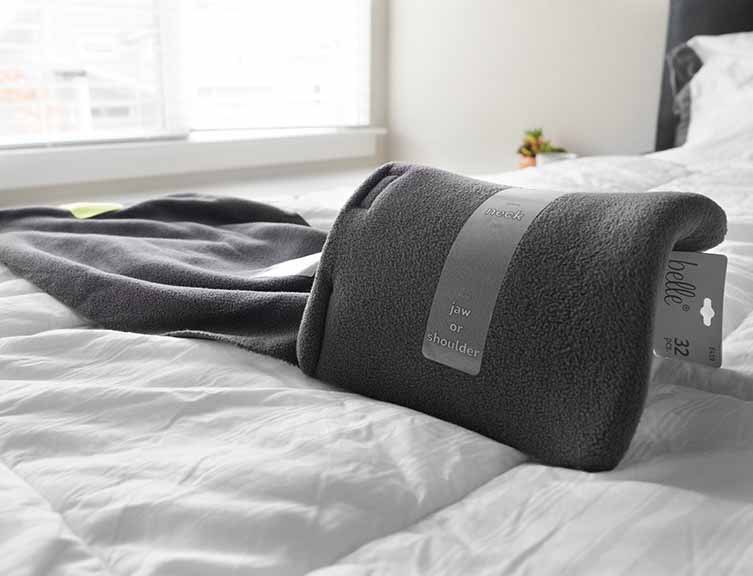 My Experience
What I immediately like about the trtl Travel Pillow is that it's very lightweight and the fleece shell is very soft. Although you can't compact it or really roll it into a small ball, like you would an inflatable pillow, the internal support structure (made from plastic) is flat enough that you can lay it easily into a carry-on.
When I unwrapped my pillow from the packaging I noticed some dirt on the fabric. Not the best first impression but it's probably always a good idea to wash any new products soon after opening.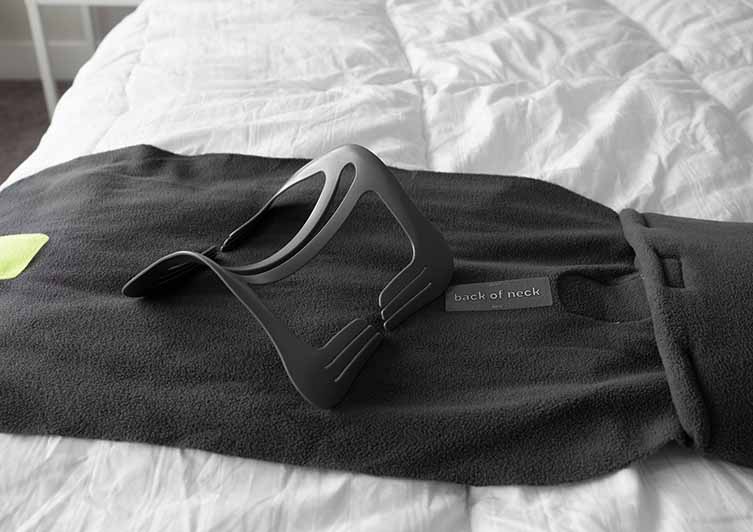 I had a hard time locating the care instructions tag – it's tucked into the pocket of the pillow with the plastic internal support device. It says to wash in water at 30 degrees Celsius (that's 89 Fahrenheit) and tumble dry. It also says to make sure all fabric is looped/fastened and to take out the plastic insert before wash.
I washed it immediately – just removed the plastic portion and threw the rest in the washing machine. I did a gentle cold cycle and a low tumble dry and had no issues with wear or fabric color bleeding.
The instructions also say, "when reinserting the plastic part, make sure to insert at the correct orientation." I encourage you to pay close attention to this part because reinserting the plastic support piece was tedious for me. I had to look up a couple of sets of instructions to get the orientation correct.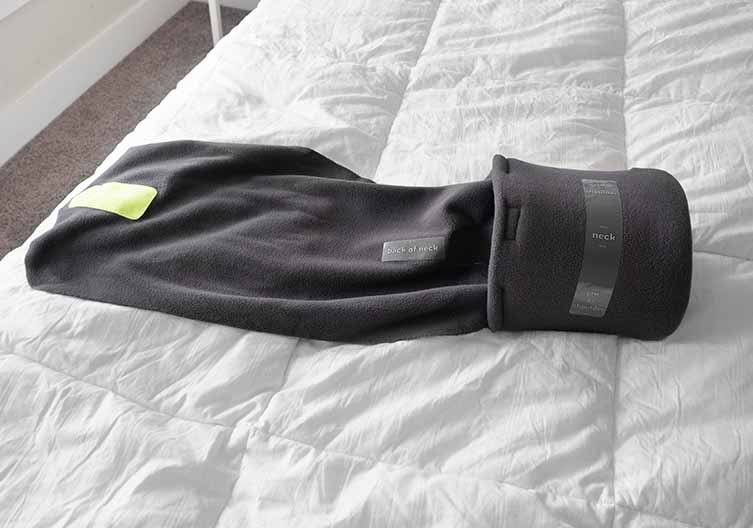 Once the pillow was around my neck, I really felt the support when I tilted my head to the side. I had to re-wrap the pillow several times before I found the correct tightness and comfort ratio for me. I can see this pillow being a good fit for someone in the middle seat of a plane or train.
The perk of this pillow is that you don't need to attach it to anything to keep your head from moving, you have it all attached to you. You can move the support to the side or you can move it under your chin to keep your head from falling forward while resting.
I was most comfortable using this pillow when I was sitting straight up, it did nothing for me when I had my head leaning against my car window.
It interfered with my headphones when I had the pillow to one side of my head, but it was fine when the device was supporting my chin and stopping my head from falling forward.
I understand that this pillow is supposed to put your head in a better position than a u-shaped neck pillow, but I think it's still possible to have a stiff neck or strained muscles depending on how tight you wrap the scar-part of the pillow around your neck.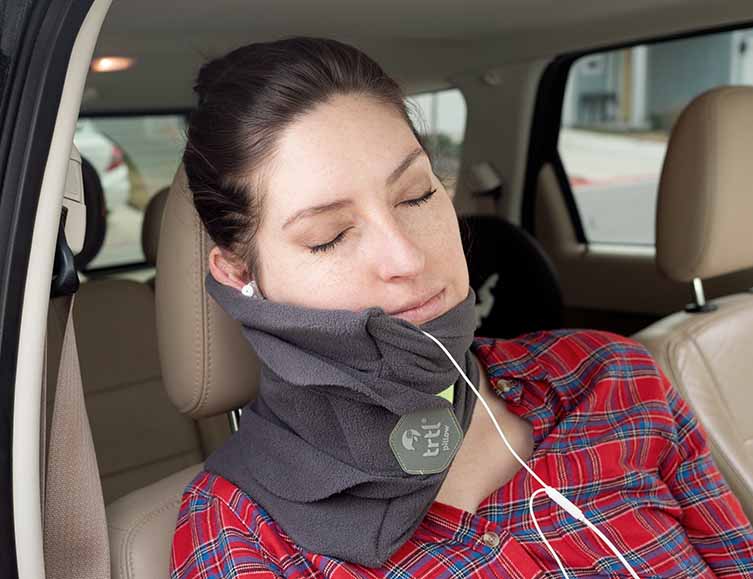 I can see this being comfortable for a shorter flight or when I'm in a middle seat, I have a hard time personally seeing this work comfortably on a red-eye or a long flight where I'd like to sleep. I think there would be too much surrounding my neck and too much potential strain around my neck to be comfortable for a long haul.
Trtl Travel Pillow Review
Summary
The Trtl Travel Pillow is uniquely designed and provides stable neck support. It is machine washable and dryer-friendly and can be packed easily due to its smaller size and light weight. However, it has the potential to cause some next strain depending on how it is used and may not be comfortable for long flights.
Things to Consider Before Buying
Overall, the trtl Travel Pillow got many more positive reviews than negative, but I wanted to highlight some of the common complaints in the negative.
Some found it to be suffocating/constraining because the fleece is wrapped around your neck
Some felt their neck was strained from the fleece pulling against the neck
Some felt the plastic insert wasn't' stiff enough to provide adequate support
I do think it's closer to an apparatus (or a "napparatus") than a pillow with its design. It was easy to wash and dry but be sure you know how to put the plastic insert back inside the pillow correctly.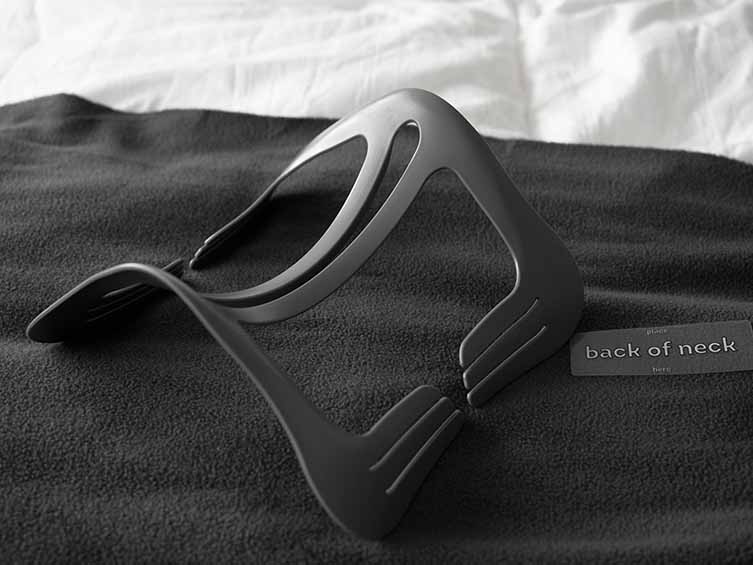 See our take on other travel pillows.
Price
The pillow costs $29.99 on the trtl Pillow website and on Amazon, which seems to be a little higher than middle-of-the-road in terms of travel pillow prices. I think that it is unique and could be a good investment for a passenger who wants to recline their seat when traveling, sit straight back and not let his/her head tilt. However, there are some other supportive neck pillows on the market for around $30 or less.
The team at trtl Pillow offer a 60-day money back guarantee that may be worth checking out as well.
Buy the trtl travel pillow on Amazon
The following two tabs change content below.
Katie Golde
Katie manages the day to day operations of the Mattress Clarity news site and reviews sleep products in addition to writing and editing sleep news.She hails from Austin, where she lives with her growing family. She is a Certified Sleep Science Coach and has a master's degree in Journalism from Northwestern University and has a background in health and science content. Her work can be found in print and online publications like Discover Magazine, USA Today and The Huffington Post.
Latest posts by Katie Golde (see all)