Is it hot in here or is it just me? I tend to ask this question a lot; at parties, restaurants, and pretty much everywhere else. I naturally run hot, so I'm always ready to set the thermostat to its lowest setting.
It might come as no surprise that I sleep hot too, especially when I am lying under a comforter. Even the most breathable of comforters make me overheat, so I wake up drenched in sweat.
That's why I was very interested when I heard about the ClimaBalance, a comforter made specifically to regulate sleepers' body temperature. The comforter features mesh squares for airflow and a heat-dissipating down alternative fill as well.
So, does the ClimaBalance actually help me sleep cool? Read on for my full ClimaBalance comforter review!
ClimaBalance Deals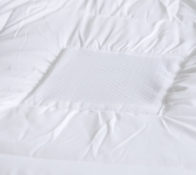 The ClimaBalance down alternative is a great option for those who sleep hot. Click the button for the best deal on ClimaBalance. 
The ClimaBalance Might Be A Good Fit For…
Hot sleepers. Temperature-regulation is what the ClimbaBalance is all about. With its climate zones promoting airflow through the comforter, sleepers shouldn't feel stifled at night. Also, the Sensofill found inside the comforter should help pull heat away from the body so, simply put, hot sleepers should be sleeping quite cool.
Fans of thinner comforters. Fluffy comforters aren't for everyone. The ClimaBalance is definitely on the thinner side and lies mostly flat against the mattress. Those who want a comforter that isn't too heavy or cloudlike will mostly like enjoy the ClimaBalance.
People with allergies. Waking up with watery eyes and stuffy nose is no fun, and this can be quite common for some when they sleep under a down comforter. This should not be an issue while sleeping under the ClimaBalance as it only contains hypoallergenic materials. Allergy suffers should be waking up clear-eyed and clear-nosed.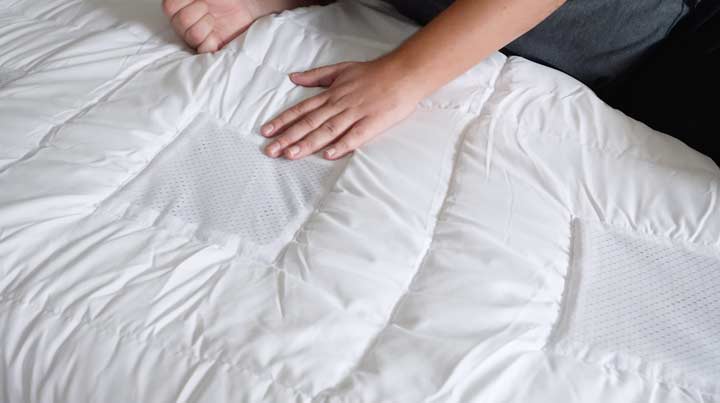 The ClimaBalance Might Not Be A Good Fit For…
Those who want something for the colder nights. While the ClimaBalance should very effective at keeping sleepers cold at night, it might not be the best at keeping them warm. The blanket is on the thinner side and has climate zones meant to promote airflow. Some sleepers might not get the best insulation on those colder nights and could need to add another blanket.
Fans of fluffier comforters. Some people prefer a comforter that is fluffy with plenty of loft. People who are looking for that kind of experience are probably going to want to look elsewhere. The ClimaBalance is quite thin and has very little body to it.
Those who want a longer-lasting comforter. Reading the customer reviews for the ClimaBalance, it does not appear to be the most durable product. Also, after using the blanket for only a few nights, I did see some loose threads. Those who want a comforter to last them for a long time might need to look elsewhere.
RELATED: Best Comforter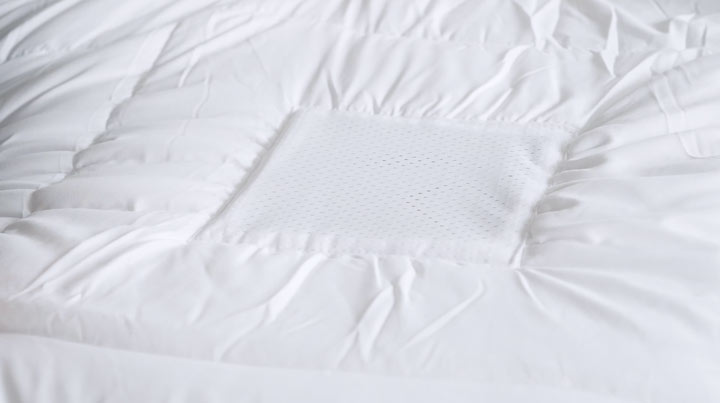 Construction
The comforter comes in multiple sizes: Twin, Full, Queen, King, Large King, and California King.
The shell of the ClimaBalance is made from polyester.
Inside the comforter, the fill is something called Sensofill, a down alternative. It is designed to draw heat away from sleepers and help them sleep cooler. The fill is held in place with sewn-through stitching.
In the middle of every large square is a smaller mesh square that the company calls "climate zones." There is room in the mesh which air can flow through.
According to the company, its technology will reduce the time it takes to fall asleep and also help people sleep more deeply. In addition, it will help extend deep sleep phases by up to 50% and also extend REM sleep.
The ClimaBalance can be machine washed on a hot setting.
ClimaBalance Deals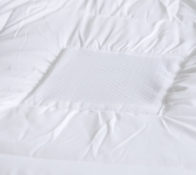 The ClimaBalance down alternative is a great option for those who sleep hot. Click the button for the best deal on ClimaBalance. 
Feel And Loft
First off, just rubbing the outside of the comforter, it feels quite rough. Compared to comforters I have tried with cotton shells, the ClimaBalance feels pretty starchy. Also, I read some customer reviews that complained of static build-up.
The company mentions this could be a problem, and they recommend pairing the comforter with a cotton duvet cover. However, there is just one issue; the ClimaBalance does not have duvet tabs at the corner. This means it will be impossible to secure the comforter in a duvet cover, so it could shift around at night.
Also, I worry that pairing the ClimaBalance with a thicker cotton duvet cover will impact the comforter's ability to really cool sleepers. Those climate zones will not be able to let as much air to flow through, so it could make for a hotter night of sleep.
In regard to loft, the ClimaBalance is one of the thinner comforters I have reviewed. There is very little loft, and the comforter lies mostly flat against the comforter. This makes sense, given that the comforter is meant to keep sleepers from overheating and, if it was too fluffy, that would be difficult!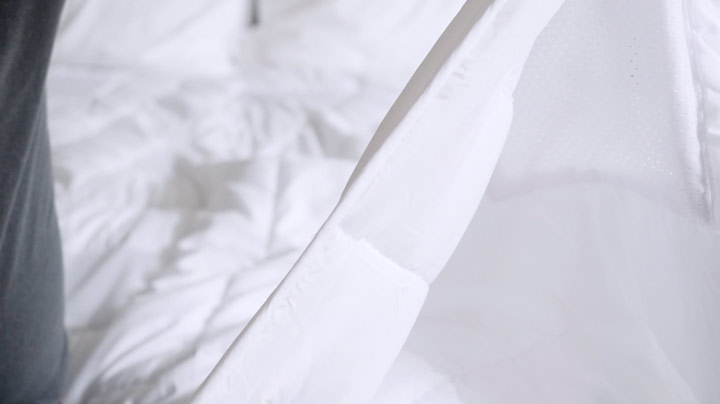 Warmth And Breathability
So, since temperature-regulation is what the ClimaBalance is all about, we should talk about how effective it really is. First off, I can say that the ClimaBalance does sleep cool. I am a notorious hot sleeper, and the ClimaBalance definitely helped me cool down at night.
I could feel the air outside of the comforter flow through and over my body. The climate zone mesh squares are, of course, extremely breathable. Also, I feel like that Sensofill is doing its job at drawing heat away from my body.
Now, the company says that the ClimaBalance will also assist with cold sleepers and keep them warm at night. I did try this blanket on some cooler nights, and I did not have this experience. The climate zones and thinner nature of the blanket are not keeping me too insulated.
Final Thoughts
In the end, the ClimaBalance comforter should be a fitting option for hot sleepers. However, it might not be the best option for those who want something warm and fluffy. If anyone has further questions, just leave them below!
Marten Carlson
Marten is the Lead Reviewer at Mattress Clarity. He is a Certified Sleep Science Coach and covers the mattress industry as well as sleep science news. He is specifically interested in the connection between sleep and overall health. Marten has written for media publications like Consequence of Sound and received a master's degree in Film Studies from Emory University. He comes from Franklin, Indiana, and spends all the time he can writing, directing, and acting in films.