If you're trying to choose between the GhostBed and Casper mattresses, you're in the right place! We're here to give you all the information you need to choose between these two great mattresses.
Let's take a look at each one, evaluating their materials, their construction, their price point, their performance, and more. By the end of the GhostBed vs Casper comparison, you should know exactly which one is right for you.
Ghostbed vs. Casper
Compare the Ghostbed and Casper mattresses below to see which may be best for you!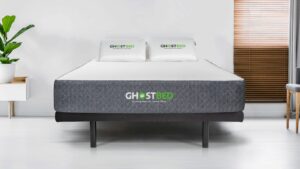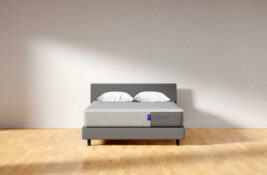 Ghostbed vs. Casper
Compare the Ghostbed and Casper mattresses below to see which may be best for you!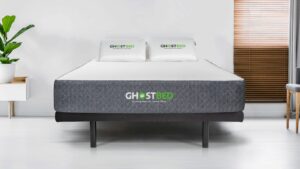 Product
GhostBed Mattress
Score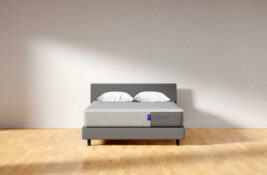 Product
Casper Original Mattress
Firmness
Medium-firm: 7/10
Score
GhostBed vs. Casper Overview
The GhostBed and Casper are two of the best-reviewed and bestselling online mattress brands around. Made with gel memory foam and ventilated latex, the GhostBed's claim to fame is that it offers maximum comfort and maximum cooling. The Casper, on the other hand, is made entirely of foam, with a Zoned Support system that provides a healthy dose of lumbar support and pressure point relief.
Both mattresses have a lot to offer but, in the end, they are going to work better for different types of sleepers:
Who Should Get The GhostBed?
Those who prefer something a little firmer
Hot sleepers who need a cooler-sleeping mattress
Stomach sleepers who need a firmer mattress
Who Should Get The Casper?
Side sleepers looking for good pressure relief
Back sleepers who need a balance of comfort and support
Lighter people who need something softer
GhostBed vs. Casper Video Comparison
Want to get a direct look at what's inside each mattress, and how we think they perform? We put together a video review to offer some high-level thoughts on the GhostBed vs. the Casper.
Key Similarities Between The GhostBed And Casper
While far from identical, the GhostBed and Casper mattresses are similar in a number of important ways:
Both are wildly popular products in the online mattress space.
The GhostBed and Casper both feature memory foam.
These mattresses have a very similar base layer
They are both responsive and have good bounce.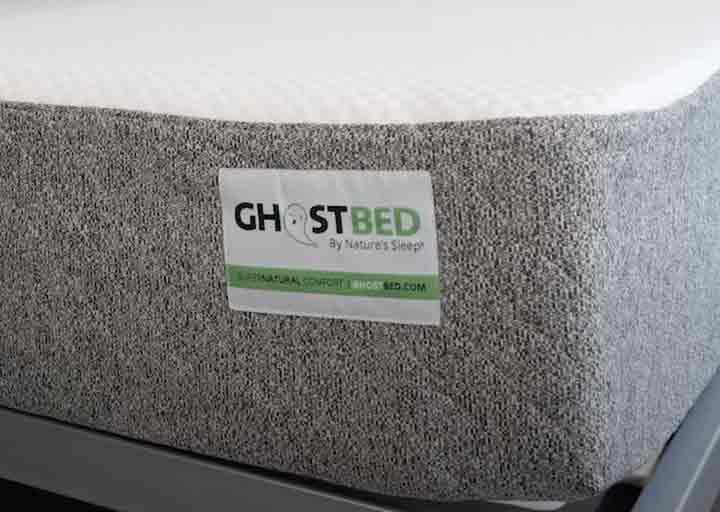 RELATED: GhostBed Mattress Review
Key Differences Between The GhostBed And Casper
There are also a number of important differences between the two mattresses.
The Casper mattress is softer than the GhostBed.
They feature different materials in their comfort layers.
The Casper has a zoned construction, but the GhostBed does not.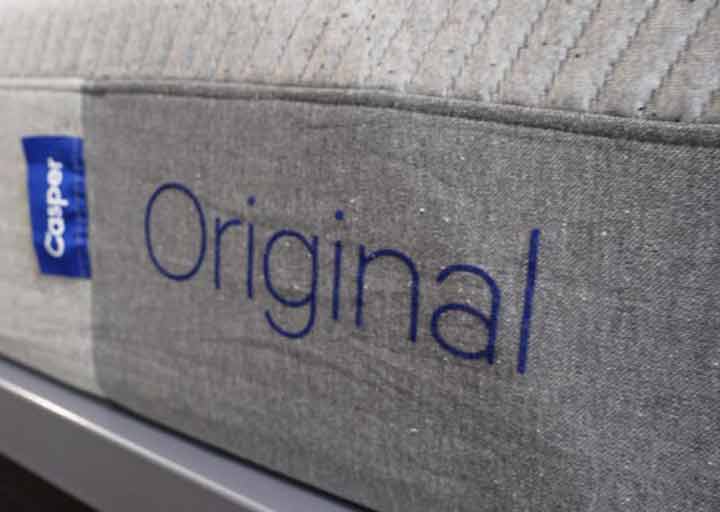 RELATED: Casper Mattress Review
Firmness And Feel Differences
When we are reviewing mattresses, we always test them out for firmness and feel first. This will start to give you an idea of which mattress is right for your situation.
How Firm Are The GhostBed And Casper Mattresses?
The GhostBed is definitely the firmer of the two mattresses; we'd give it about an 8.0 out of 10 on the firmness scale, which qualifies it as firmer-than-average. The Casper, at 7.0 out of 10, isn't too far behind, but the difference is noticeable.
It's worth noting that the Zoned Support system means the Casper may feel a little firmer or a little softer, depending on your sleeping position. Specifically, we find that it's firmer when you're sleeping on your back or stomach, and softer when you're on your side.
Sleeping On The GhostBed And Casper Mattresses
As for how these mattresses feel when you're lying down on them, let's take the GhostBed first. In our experience, it feels great when you're on your back, perfectly balanced between comfort and support. However, we can understand how it might feel a little too firm for lightweight sleepers.
Most side sleepers will find it to be too firm, and they could feel some serious pressure on their shoulders and hips. Side sleepers will need something with softer materials on top.
Stomach sleepers should think the GhostBed is the perfect match. They should feel good overall support, and they shouldn't feel like their hips are sinking in.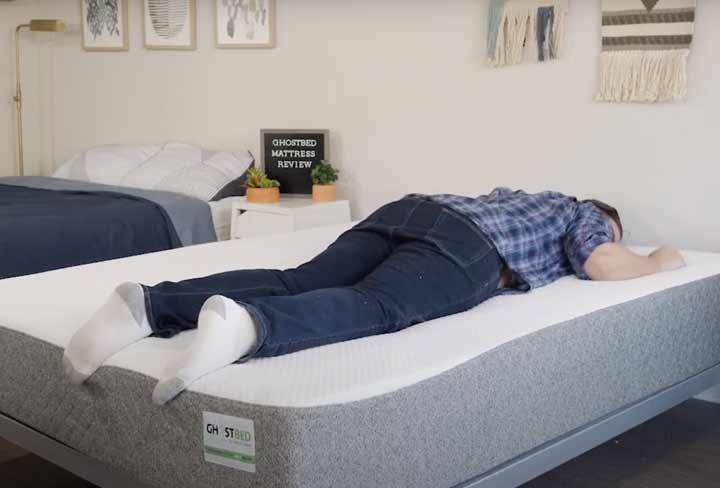 The Casper is an excellent choice for back sleeping; your hips will melt into the mattress just a bit, yet you'll still feel totally supported. The Zoned Support system really comes into play here and provides excellent support under your lumbar area.
Side sleepers should also find the Casper to be comfortable, especially those who are light- or medium-weight. The mattress is actually softer under the shoulder area, so they should feel less bunched up there.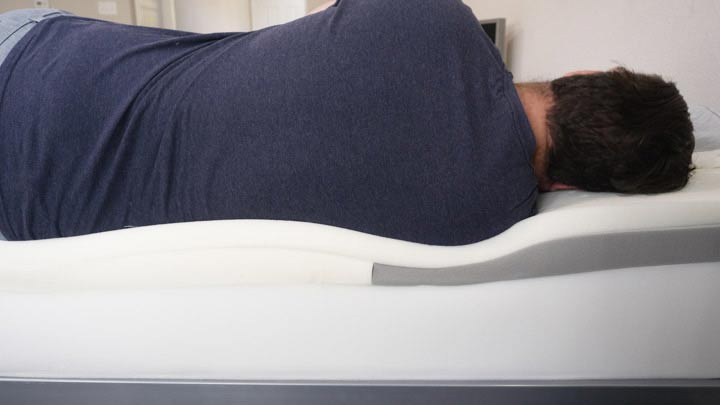 RELATED: Most Comfortable Mattress 
As for stomach sleeping, we found it to be just fine, though if you're a stomach sleeper who generally prefers extra firm mattresses, you might want to look at the GhostBed.
What Do The GhostBed And Casper Mattresses Feel Like?
The GhostBed is a very bouncy mattress, which makes it easy for you to move around and shift positions. This is mostly due to synthetic latex on top of the mattress.
The Casper is also responsive, but it doesn't have that same latex bounce you find with the GhostBed. It is more of a balanced foam feel that lets you sink in without feeling stuck.
Average Weight Sleepers – 130 lbs to 230 lbs
For back sleepers who are close to 130 lbs, the GhostBed may be a little too firm for comfort because their hips won't really sink into the latex layer on top. Those who are closer to 230 lbs will probably find it a much more pleasant sleep experience, offering comfort and support alike. Side sleepers in this weight range will find the GhostBed a little too firm, but stomach sleepers will find all the support they need.
As for the Casper – average weight sleepers should feel comfortable and supported in all three sleeping positions, making this a smart choice for combination sleepers. Back sleepers will find plenty of lumbar support, while side sleepers will experience all the pressure relief they need. Average weight stomach sleepers will also get enough support under their hips.
Heavyweight Sleepers – More Than 230 lbs
For back sleepers in the heavyweight category, the GhostBed should be a good fit; however, those who weigh 300 lbs or more may want to consider some mattresses with coils, or mattresses built especially for heavier individuals. Heavier side sleepers are likely going to find the GhostBed too firm. For stomach sleepers who are closer to 230 lbs, the GhostBed should offer more than enough support. Those nearer to 300lbs may want to look into some more supportive mattresses.
Most heavyweight back sleepers will find the Casper to be plenty comfortable. We'd only advise those who exceed 275 lbs to consider an innerspring or hybrid mattress, ensuring sufficient support. Heavier side sleepers may not like the Casper as much; the pressure relief may not be sufficient, leading to a bunched-up feeling at the hip and shoulder. And we think most heavyweight stomach sleepers will want something firmer and more supportive.
Lightweight Sleepers – Under 130 lbs
For those who are in the lightweight class, the GhostBed isn't the best fit. Both back sleepers and side sleepers will find it too firm. Only stomach sleepers will find the GhostBed to be a good match.
However, we think lightweight sleepers should like the Casper across the board, no matter their sleeping position. The Casper offers a great balance of supportiveness and pressure relief; we'd call it one of the very best mattresses for lightweight people.
Mattress Construction Differences
Next, let's take a peek inside each mattress, exploring what each one is made of. We'll look at each layer one by one and discuss how it affects mattress performance. To see how they stack up against other mattresses, check out our GhostBed mattress comparisons and Casper mattress comparisons.
Cover
The GhostBed is made with a polyester cover that's both soft and stretchy. The cover of the Casper, meanwhile, is a thin, knit material that's great for air circulation. Neither cover will affect the overall feel of the mattress.
Comfort Layers
The GhostBed's top comfort layer is 1.5" of aerated latex foam; it's synthetic latex (not organic), which may disappoint those who want eco-friendly materials, though it is ventilated to allow plenty of air to circulate. Below that, you'll find 2″ of cool gel memory foam.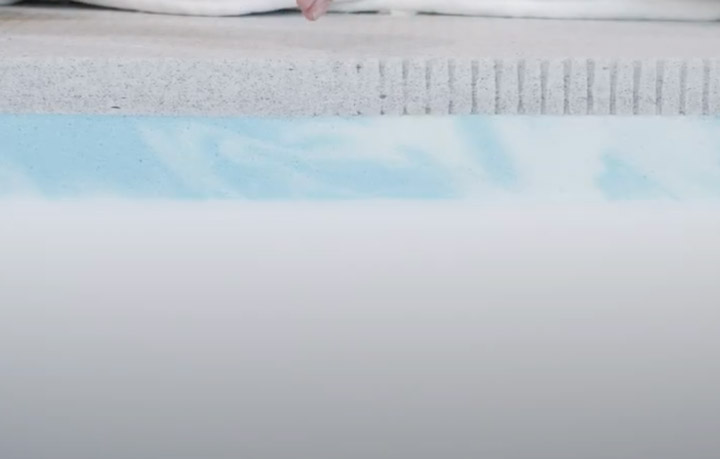 As for the Casper, its top layer is something called AirScape foam, which is perforated to let plenty of air pass through. It's very plush, but also highly responsive. Under that layer, there's the Zoned Support layer, which is basically memory foam that is firm toward the center of the mattress and soft toward the head and foot. It's designed to be more supportive and firm for stomach and back sleepers, with more "give" for side sleepers.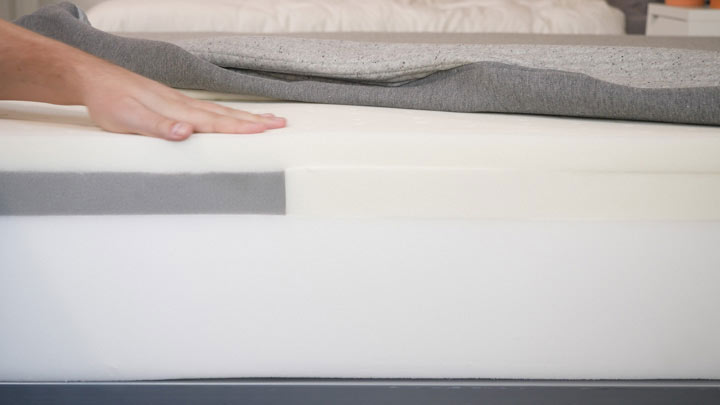 Support Layer
Both mattresses have high-density foam at the bottom, which helps them feel sturdy and supportive.
Mattress Height
Both mattresses come in at 11" in height.
GhostBed vs. Casper Mattress Size Options And Price
For up-to-date information about the size options available, as well as pricing, take a look at these charts.
GhostBed
| | | |
| --- | --- | --- |
| Size | Dimensions | Price |
| Twin | 38" x 75" | $945.00 |
| Twin XL | 38" x 80" | $1095.00 |
| Full | 54" x 75" | $1295.00 |
| Queen | 60" x 80" | $1395.00 |
| King | 76" x 80" | $1695.00 |
| California King | 72" x 84" | $1720.00 |
| Split King | Two 38" x 80" pieces | $2190.00 |
Casper
| | | |
| --- | --- | --- |
| Size | Dimensions | Price |
| Twin | 39" x 75" | $1095.00 |
| Twin XL | 39" x 80" | $1145.00 |
| Full | 53" x 75" | $1233.00 |
| Queen | 60" x 80" | $1495.00 |
| King | 76" x 80" | $1945.00 |
| California King | 72" x 84" | $1945.00 |
30% Off

GhostBed

Get 30% off by using the link below
A great fit for stomach sleepers
Supportive enough for heavier sleepers

Save $100

Casper

Use the code "MATTRESSCLARITY" to save $100 on your order!
Features a zoned construction 
A good fit for all three sleeping positions. 
For even more deals, see our GhostBed coupons and Casper coupons.
GhostBed vs. Casper Performance Differences
We put the GhostBed and Casper mattresses to the test! We scored them based on their cooling, motion transfer, and edge support – let's see how they did!
Sleeping Hot vs. Sleeping Cold
Between its ventilated latex and its gel memory foam, the GhostBed is definitely the cooler of these two mattresses. It does a great job of dissipating body heat.
The Casper shouldn't trap too much heat because of its ventilated AirScape foam but, in our experience, the GhostBed is the best cooling mattress.
Motion Transfer
For couples who share a bed, we recommend the Casper. It does a satisfactory job of cutting through motion transfer, while the cover of the GhostBed just has too much bounce. When you move around on the GhostBed, you could disturb your partner during the night.
Edge Support
When it comes to edge support, we'd call it a tie. Both mattresses are supportive, even if you're sitting at the corner or sleeping at the edge of the bed. You shouldn't feel like you are going to roll or fall off either mattress.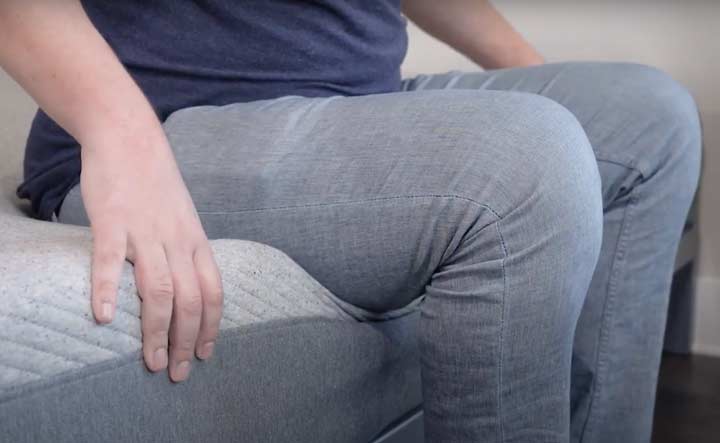 Durability
Both mattresses are well-made and should last a good long while, but if we had to pick one over the other, we'd give the GhostBed the edge. Its latex layer should help prevent premature sagging. The Casper should also be a good investment, the GhostBed will probably last a bit longer.
Off-Gassing
Both mattresses emitted a mild chemical odor when we unboxed them, though in both cases that smell went away within 48 hours. This is totally normal with bed in a box mattresses.
Noise
The GhostBed and the Casper are both very quiet; we moved around on them a lot and didn't hear a thing. You shouldn't hear any squeaking or creaking when you change positions.
Sex
These two bouncy, responsive mattresses both make good choices for having sex with a partner. Moving around is really easy and comfortable.
Warranty Info
The GhostBed comes with a 101-night sleep trial and a 20-year warranty.
The Casper has a 100-night sleep trial and a 10-year warranty.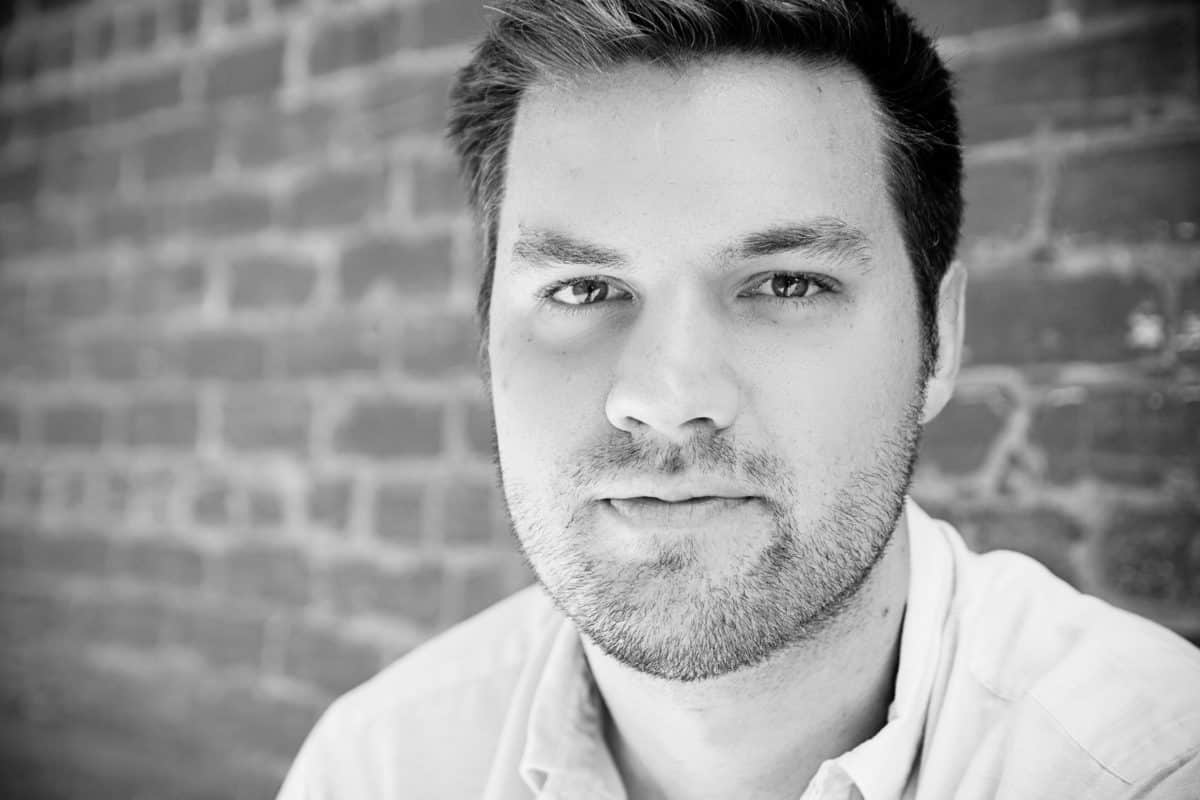 Marten Carlson
Marten is the Lead Reviewer at Mattress Clarity. He is a Certified Sleep Science Coach and covers the mattress industry as well as sleep science news. He is specifically interested in the connection between sleep and overall health. Marten has written for media publications like Consequence of Sound and received a master's degree in Film Studies from Emory University. He comes from Franklin, Indiana, and spends all the time he can writing, directing, and acting in films.