TEMPUR-Pedic's TEMPUR-Cloud pillow is aptly named. It's got an attractive and dare I say "cloud-like" white cover and a super-soft (albeit not fluffy) core. The traditional shape and solid memory foam feel make it a great choice for those looking for some serious pressure relief.
What sleeping position(s) works best with this pillow? Check out my comprehensive video review or read my in-depth written review below to find the answer to that question and more!
TEMPUR-Pedic Pillow Deals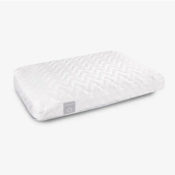 The TEMPUR-Cloud pillow is a traditional memory foam-like pillow made with a solid piece of TEMPUR material. It has a soft knit polyester cover that's removable and can be washed. The pillow is a good fit for most back sleepers.
Key Features
Dimensions of the pillow are 24″ x 15 3/4″ x 5″ (height)
Fits Standard or Queen-sized pillowcases
Cover: 100% polyester knit
Filling: TEMPUR® material (100% memory foam)
Extra-soft feel
Care: the cover can be removed and machine washed (line dry the cover); the inner filling cannot be cleaned
$79 at full price
5-year limited warranty
No returns
RELATED: Best Memory Foam Mattresses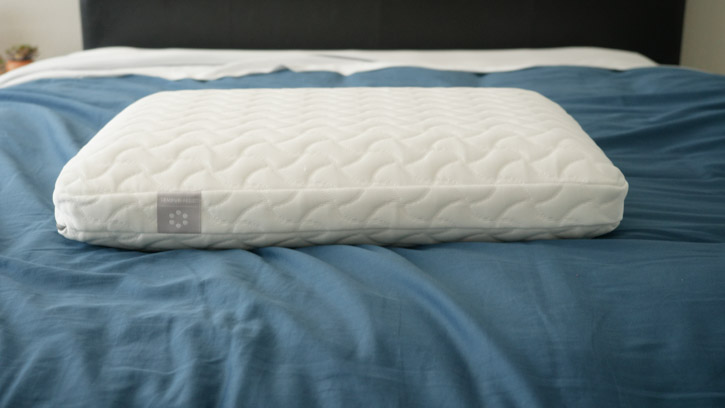 Who Makes It?
The TEMPUR-Cloud pillow is made by TEMPUR-Pedic, a pioneering mattress, and bedding company when it comes to the use of memory foam, that merged with Sealy in 2012 to become Tempur-Sealy International.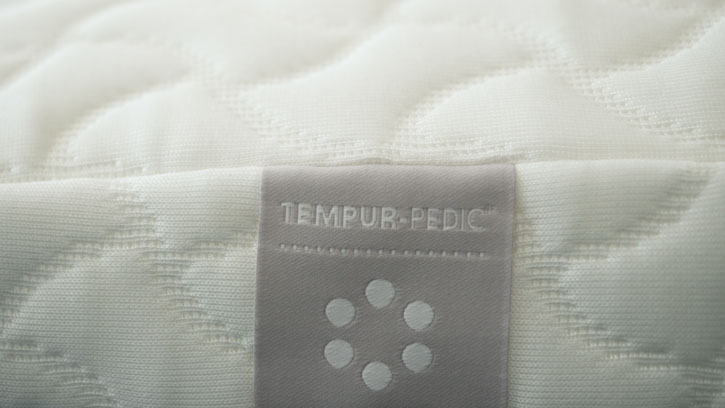 The TEMPUR-Pedic brand is well known for being a pioneer in the world of foam mattresses and the first to take memory foam mattresses mainstream. It also has a large collection of pillows made with TEMPUR material.
Sleepers can check out our review of their TEMPUR-Cloud Breeze Dual Cooling pillow or their TEMPUR-Symphony pillow. We also just recently reviewed their TEMPUR-Pedic body pillow.
Pros
The foam is very contouring and pressure-relieving
The cover has a nice, soft knit feel
Will probably work best for back sleepers and some stomach sleepers
The outer cover can be removed and cleaned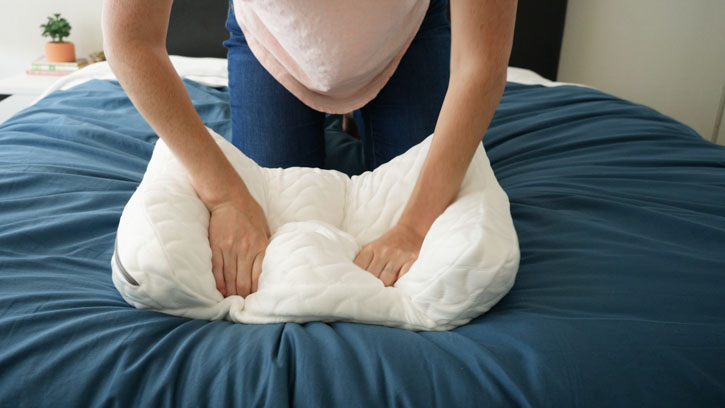 Cons
Not ventilated so may sleep a little hot
There are no trial periods or returns available on the pillow
Pricier than other solid memory foam pillow options
May not work for all sleep positions
Best Sleeping Positions For This Pillow
TEMPUR-Pedic recommends this pillow for all sleep positions but categorizes it specifically as a pillow for back sleepers on its site.
Based on my experience, I think it's actually the best fit for both back sleepers and stomach sleepers – Marten's take on the pillow for heavier sleepers is featured below.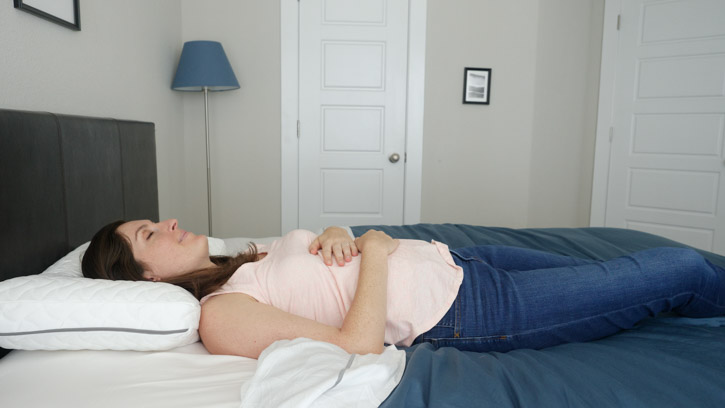 For context, I'm 5′ 7″ and about average weight and build and I found that, even though the pillow has a 5″ height profile, the solid memory foam filling is so plush that one's head will sink down enough to be a beneficial angle for most back sleepers; stomach sleepers who prefer the feel of classic memory foam may enjoy it as well.
While it may be well suited for those sleep positions, there's not enough loft of firmness in the core to support side sleepers appropriately.

My Experience
TEMPUR-Pedic always has a range of pillows to offer. They're always made with the brand's TEMPUR material, or high-quality memory foam in a variety of shapes, sizes, and firmness levels.
The TEMPUR-Cloud actually does look a little bit like a cloud with its rounded sides and white, textured knit cover. "Cloud-like" also describes the feeling when pressing down and feel how extra-soft the filling is – the head will sink immediately into the pressure-relieving foam.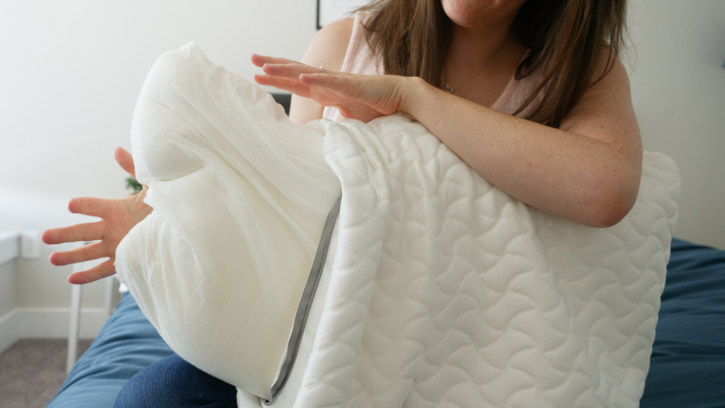 There is a lot to like about the TEMPUR-Cloud, especially for those who prefer that slow, responsive feel of memory foam and is looking for a pillow that doesn't offer too much firmness or loft.
To me, the pillow worked best for back sleepers and stomach sleepers who like contouring pressure relief. It really is "extra soft," so be prepared for one's head to sink slowly into it and fall pretty deeply in.
The soft knit cover is nice but it is textured. That's something for stomach sleepers and side sleepers to consider since it will be their faces pressed against the cover, where they can feel the texture through a thin pillowcase.
If the texture of the cover is bothersome but the filling is a good match, one workaround may be to remove the cover and use a thin pillow protector between the core and a pillowcase.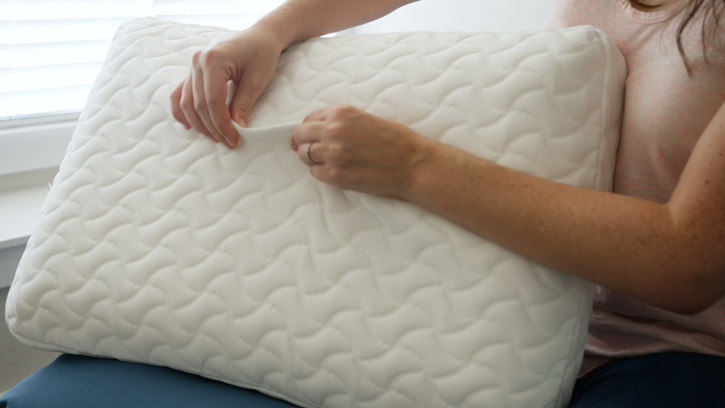 Sleepers can also remove the cover to machine wash it, but it does need to be air-dried so there is no shrinking.
One downside to potentially investing in this pillow is that TEMPUR-Pedic does not offer a trial period or any returns. Because it's priced at $79 at full price, this makes it a bit of a risky investment. If the pillow ends up being a bad fit, donating it or giving it to a friend to keep may be the next best scenario.
Marten's Take
When shopping for a pillow, it is worth considering both a person's sleeping position and weight. At 250 lb, I am much larger than Katie, and I also sleep on my side. I wanted to give sleepers a different perspective on the TEMPUR-Cloud pillow.
First off, I am a fan of the TEMPUR-Cloud's feel. It has that slow-moving, memory foam feel. While lying down, the pillow slowly compresses. I actually feel like I am sinking into a cloud.
Here's how the pillow performs in different sleeping positions:
When I am back sleeping, the TEMPUR-Cloud is a good match for me. My head sinks in just the right amount, and the TEMPUR material supports my neck.
While side sleeping, the pillow is too soft for me. My head drops through, and I am not getting enough support.
When I am on my stomach, my head is allowed to sink in the right amount.
The TEMPUR-Cloud should be a good match for heavier back sleepers and stomach sleepers.
TEMPUR-Pedic Pillow Deals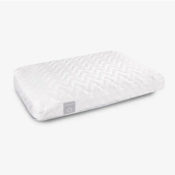 The TEMPUR-Cloud pillow is a traditional memory foam-like pillow made with a solid piece of TEMPUR material. It has a soft knit polyester cover that's removable and can be washed. The pillow is a good fit for most back sleepers.
Overall
TEMPUR-Pedic says this pillow could be a good introduction to a memory foam pillow, and I'm inclined to agree — so long as the customer is a back sleeper or stomach sleeper and looking for a soft pillow. It really does have that traditional memory foam shape and slow, responsive feel.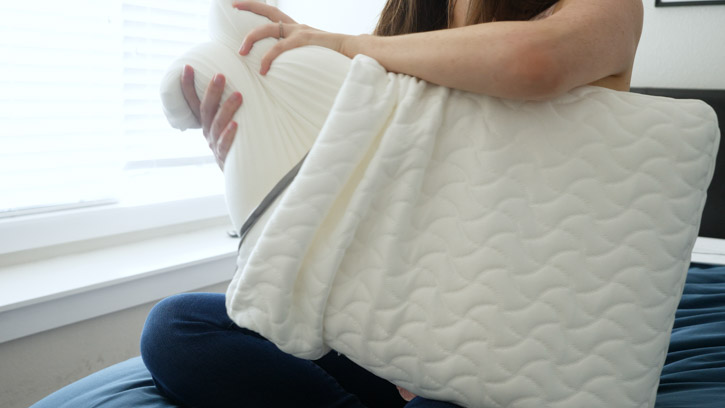 Because the pillow can't be returned if it doesn't work out, I'd suggest it for those who know they like the feel of memory foam and are primarily stomach or back sleepers. At $79, it's more affordable than many other TEMPUR-Pedic pillows, but it's not inexpensive!
Please let me know if any questions come up about the pillow or for a personal recommendation!
Katie Golde
Katie manages the day to day operations of the Mattress Clarity news site and reviews sleep products in addition to writing and editing sleep news. She hails from Austin, where she lives with her growing family. She is a Certified Sleep Science Coach and has a master's degree in Journalism from Northwestern University and has a background in health and science content. Her work can be found in print and online publications like Discover Magazine, USA Today and The Huffington Post.