Ever faced with the decision between a down, a down alternative or a foam pillow? The goal is to feel that soft and cozy fluff of down but aren't willing to give up the much-needed support that only foam seems to provide.
Thanks to its creative filling combo, Coop Home Good's Eden pillow can provide softness and support along with customization thanks to its adjustable filling. The pillow can surely please a lot of people, but as always there are some things to be aware of. Make sure to keep reading below for the full scoop on the Coop Home Goods Eden pillow.
Key Features
Three sizes: Standard, King, Queen
The idea behind this pillow is that it's made for those who want the support of memory foam and the comfort of down in one pillow
The Eden is adjustable – sleepers can add/remove the filling
It is filled with a lush blend of gel-infused memory foam and microfiber
The cover is 60 percent polyester and 40 percent viscose rayon derived from Bamboo (soft and breathable)
100-night sleep trial
Machine-washable and dryer friendly (both the cover and inner filling are removable)
$80 for Queen ($70 for Standard and $90 for King)
Who Makes It?
The pillow is made by Coop Home Goods. The business is family-owned by a brother and sister team. They are known for bringing high-quality and innovative products directly to consumers, bypassing retailers and associates.
Their first product is the shredded memory foam pillow that they started selling in October 2013. They also sell a mattress protector and home-related products such as a stainless steel spin mop and dish drying mat set.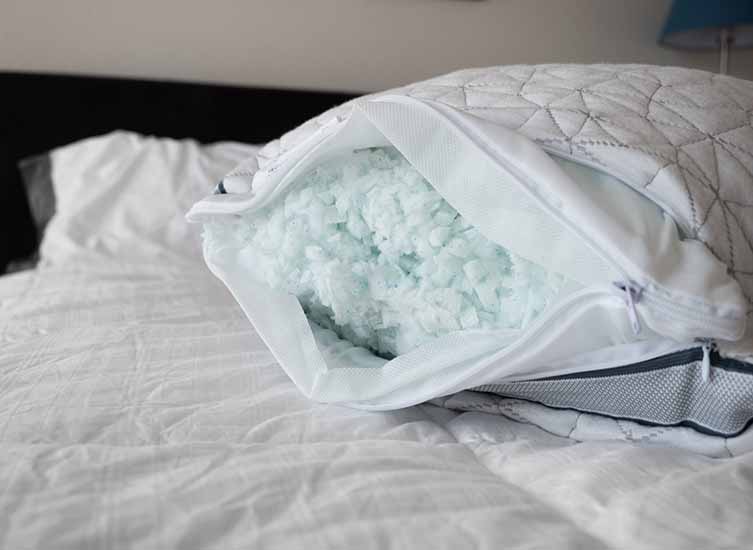 Construction
The Eden pillow has a traditional pillow shape, and the filling is made up of crosscut, gel-infused memory foam and microfibers. This mixture helps alleviate the lumpy or clumping feeling that can happen with big chunks of foam. All of these pieces are uniform and the same type of foam and sort of hold together with the polyester microfibers.
The soft-knit cover is 60 percent polyester and 40 percent viscose rayon derived from Bamboo. It has a textured feel and some mesh-like siding on the side to help with breathability.
The pillow is adjustable, meaning that individuals can open up and access the filling to add or remove as much as the person wants. Coop also sends extra filling in case someone would like to add even more for more loft and firmness.
Pros
The entire thing is machine washable (just make sure to remove the outer cover)
Technically suitable for all sleeping positions
Super soft, breathable cover
Customizable inner filling that offers that "best of both worlds" feel
Comes with extra filling
Cons
Removing the filling can make a mess
The pillow takes a long time to dry
Has more of a shredded foam feeling to me than a fluffy down filling (but less lumpy)
A little on the pricey side ($80 for Standard)
RELATED: Best Memory Foam Pillows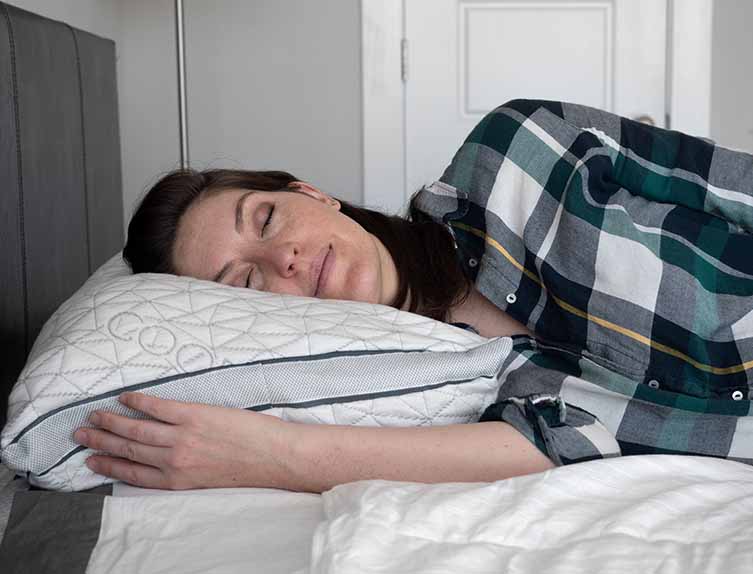 My Experience
Coop Home Goods has two popular pillows: the Original (read our review of it here) and the Eden.
The Eden pillow is a mix of crosscut, gel-infused memory foam and polyester microfibers. This combination is intended to give the pillow a feel of both a down or down alternative pillow and a foam pillow.
I was curious to see if this would really be able to provide a soft and fluffy feel but stay supportive and not get clumpy or lumpy on me. The pillow comes pretty stuffed already, but they do offer an extra bag of filling for those who love a firm pillow.
I am primarily a back and side sleeper, so I tend to like a medium firmness and loft on my pillow — nothing too full or too flat. I took a few handfuls of filling out and was pleasantly surprised that it wasn't a total mess the way other shredded foam-filled pillows have been (with lots of pieces all over the place). The polyester microfibers hold the foam pieces together. It's still a little bit of a mess, but not as bad as it could be.
One thing that really stood out for me with this pillow, compared to other shredded foam pillows, was how smooth it feels. There was really no lumping or separating of the shredded foam filling inside. It does give the pillow a fluffier or down-like feel to it as a result. But because there is a good amount of supportive foam in there, one's head won't sink to the bottom.
The cover is textured, soft-knit polyester and viscose/rayon derived from bamboo. It's super soft and easy to remove. It's also machine washable and dryable. The entire pillow is washable, but I'd recommend washing/drying the inner filling only if someone really needs to. It will take a while to dry completely — like 3 to 5 hours on a low tumble dry. (This is typical for shredded foam pillows.)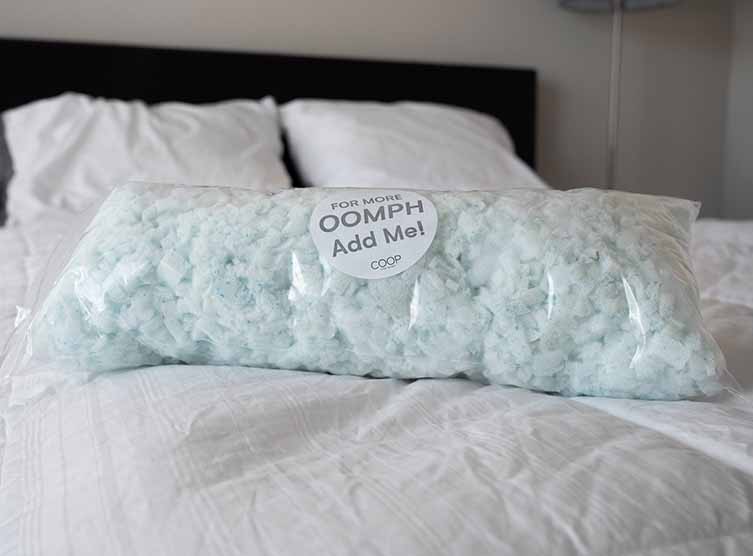 Overall
This pillow really is the "best of both worlds" in terms of providing that nice support and pressure relief from the gel-infused memory foam but also providing a soft and lump-free feeling thanks to those polyester microfibers. I would recommend this pillow for people who have been primarily sleeping on down or down alternative but want to go with a shredded foam option. This is a nice transitional pillow, I think.
Because it is adjustable, this pillow can pretty much work for all sleep positions. Bigger or heavier individuals who typically need a big pillow can add more filling, and stomach sleepers or petite individuals can take a lot of the filling out to get comfortable.
The pillow comes in three sizes and is a little on the pricey side (around $80 for a Queen at full price), but there is a 100-night sleep trial on all orders!
The following two tabs change content below.
Katie Golde
Katie manages the day to day operations of the Mattress Clarity news site and reviews sleep products in addition to writing and editing sleep news. She hails from Austin, where she lives with her growing family. She is a Certified Sleep Science Coach and has a master's degree in Journalism from Northwestern University and has a background in health and science content. Her work can be found in print and online publications like Discover Magazine, USA Today and The Huffington Post.
Latest posts by Katie Golde (see all)