If you're shopping for a new mattress, you probably read all kinds of industry jargon. These unusual terms often make the buying process even more confusing and difficult, but you don't have to sit there scratching your head. Here at Mattress Clarity, we know how to demystify the shopping experience.
If you're trying to decipher the difference between Euro top and pillow top mattresses, read on. We'll go over the similarities, differences, and cost discrepancies so that you can snooze on the best mattress possible.
Differences Between a Euro Top & Pillow Top Mattress
Euro top vs pillow top – who will win? Check out our chart below to learn more about the differences between the two designs.
| | | |
| --- | --- | --- |
| | Euro Top | Pillow Top |
| Cost | budget – luxury | budget – luxury |
| Physical Feel | firm around edges and soft in the center | soft, plush, and pillowy |
| Durability | extremely durable | less durable — tends to flatten over time |
| Edge Support | fantastic support around the edges | less edge support |
| Thickness | 1″ – 4″ | 1″ – 4″ |
It's important to note: Pillow and Euro tops don't significantly affect the overall firmness of a mattress. We recommend researching the mattress's firmness level before purchasing.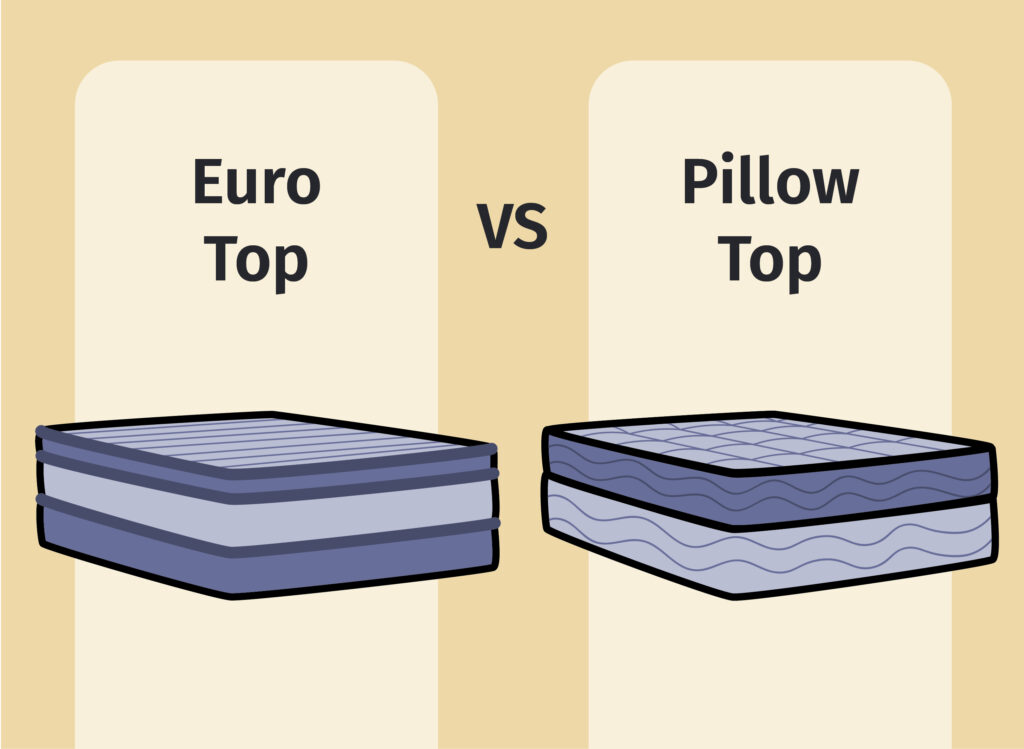 What is a Pillow Top Mattress?
Like the name suggests, pillow top mattresses have a plush and soft feel. They consist of a thick layer made of either foam or fiber. Pillow tops are sewn on the top of the mattress, leaving a small gap before the first comfort layer. This gives the mattress a domed and fluffy appearance, much like a thick and comfy pillow.
Pros
Pillow tops create a great balance of comfort and support.
They give the bed a more uniform and consistent feel.
Cons
Pillow top mattresses tend to flatten out over time.
They don't have great edge support.
Who Should be Using Pillow Top Mattresses?
Pillow top mattresses feel especially soft and fluffy, making them great choices for side sleepers. In this sleeping position, folks need lots of cushioning along pressure points. If you have hip pain, you might also benefit from a pillow top mattress. The extra boost of comfort can help soothe aching joints, especially if the mattress has a supportive base layer.
What is a Euro Top Mattress?
Euro top mattresses typically contain dense materials, making the top of the bed feel more supportive. Unlike pillow tops, Euro tops are sewn to the sides of the mattress. This gives Euro top mattresses a flat and uniform look, and it makes them feel slightly firmer around the edges.
Pros
Euro top mattresses have nice edge support.
They're more durable than pillow top mattresses.
Cons
They don't feel as soft and fluffy as pillow top mattresses.
Euro top mattresses don't have a consistent feel throughout – the edges feel firmer than the center of the bed.
Who Should be Using Euro Top Mattresses?
Euro top mattresses work well for couples because they create excellent edge support. This means both people can utilize the full surface area of the bed without feeling like they will fall off the sides! Because Euro top mattresses are more durable, they also work well for heavier folks.
Other Things to Consider When Purchasing
Both options provide an extra layer of plushness that can help alleviate pain and pressure. However, it's important to remember that a pillow top won't change the overall feel of a mattress very much. It's still important to examine the firmness level of the mattress before clicking 'add to cart.'
It's also important to understand how different materials affect the overall feel of a mattress. For example, latex pillow top mattresses tend to feel more responsive and supportive than those made with memory foam pillow tops.
Pillow top mattresses often cost more than baseline models, but even if you're tight on cash, you can still enjoy that same plush comfort. Just order a mattress topper! The Helix Plush mattress topper has a tufted and luxurious feel. You'll get the five-star hotel experience without the hefty price tag.
Which One is Right For You?
The differences between Euro and pillow top mattresses are subtle, but for some sleepers, they could make a big difference. Euro top mattresses work well for couples, but pillow top options offer more plush comfort. If you're sold on the latter, check out our list of the best pillow top mattresses.
And remember: When searching for your dream mattress, the type of pillow top is just one small element to consider. Don't let the type of pillow top deter you from choosing a bed that offers optimal comfort and support. At the end of the day, firmness and feel play a bigger role than what's sewn into the top layer.