Recently, many mattress companies have begun to release mattresses designed specifically with larger people in mind. Most of these mattresses contain very supportive coils, high-density foams, and other features meant to handle heavier weights.
Now, Brooklyn Bedding, one of the most popular bed-in-a-box brands, is getting in the game. The company recently released the Titan mattress, its own mattress for large people.
As a fan of the Brooklyn Bedding mattresses and having tried out many mattresses for larger people, I was interested to see how the Titan would stack up.
Is this a quality mattress for heavy people? Read on for my full comparison.
Get 25% Off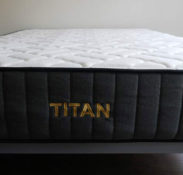 The Titan is Brooklyn Bedding's mattress for heavy people. It is a firm, supportive mattress that can support heavier weights. Click the button and use code MLK25 to save 25%.
You Might Want To Pick The Titan If …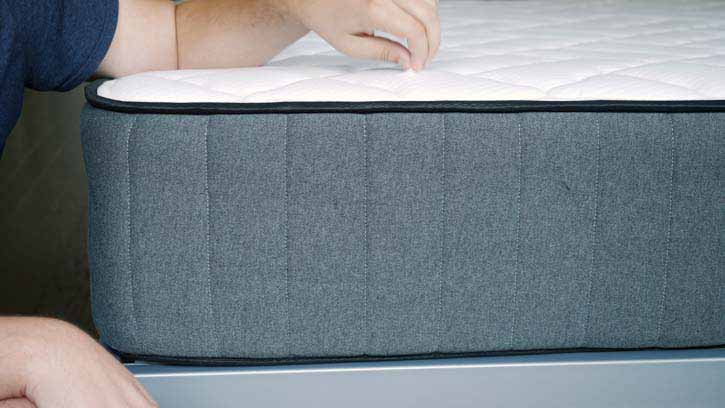 You Might Not Want To Pick The Titan If …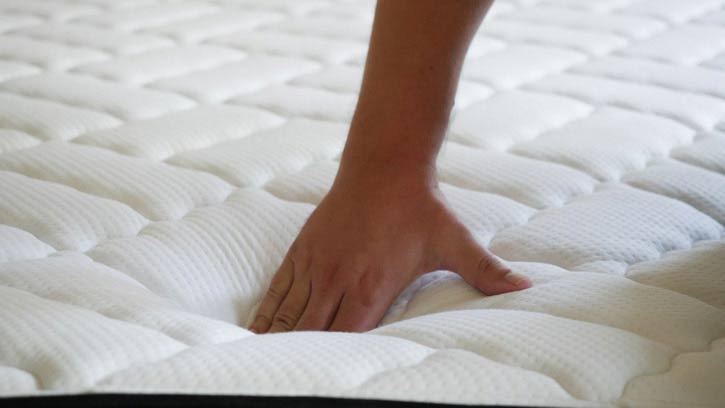 Construction Overview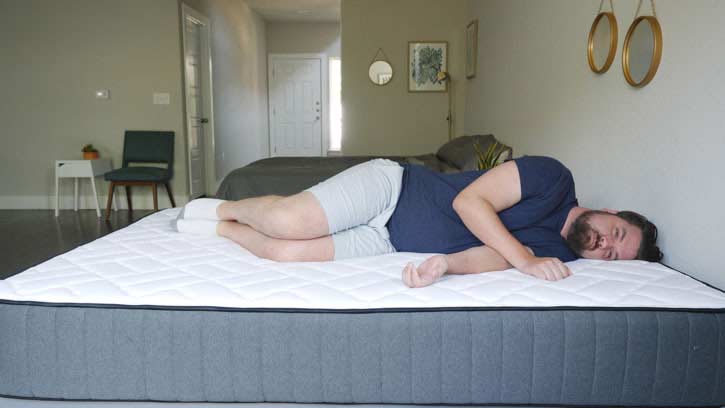 Construction Takeaways
Get 25% Off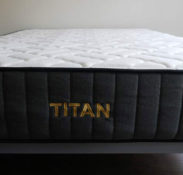 The Titan is Brooklyn Bedding's mattress for heavy people. It is a firm, supportive mattress that can support heavier weights. Click the button and use code MLK25 to save 25%.
Firmness And Feel
When we talk about firmness, it is really subjective. The perceived firmness of a mattress can depend on your weight and your experiences with other mattresses.
When lying down on the Titan, the firmness is very much affected by my size. I weight 230 lb and am 6'7″. For me, the Titan felt like a 9/10, which is very firm. If you are heavier than me (in the 300 to 500 lb weight range), the Titan could feel softer to you. Your weight could cause you to press into the mattress more than I did, altering the firmness.
Here is how I felt while sleeping on the Titan mattress:
To test out the bounce of the mattress, I dropped a lacrosse ball from about three feet. The ball does not really bounce at all. That soft memory foam is pretty much stopping it.
While there is little bounce, it shouldn't be difficult to move around on the Titan. The comfort layer is not very thick, so you do feel the coils beneath. The mattress has more of an innerspring feel with just a bit of that soft memory foam feel on top.
Motion Transfer
If you sleep with a partner, it is important to think about motion transfer. When your partner moves around at night, will that motion transfer to you or will it be isolated to your partner's side of the bed?
To test out the motion transfer on the Titan, I placed a glass of water in the center of the mattress. I then pressed into the other areas of the mattress. I saw very little disturbance in the water. I think this is because you have soft memory foam and TitanFlex in the top layers. This is cutting down on some of the motion transfer.
In the end, this lets me know the Titan could be a decent mattress for couples.
Edge Support
Edge support is also important to think about if you sleep with a partner. Basically, you want to know how close to the edge you can sleep without falling off. You paid for the mattress, so you should be able to use all of it!
While sitting near the edge of the Titan, I feel pretty secure. The coils do compress a bit, but not too much. I feel steady enough to reach down and tie my shoes.
While lying down near the edge of the Titan, I do not feel like I am going to roll off the mattress. This is a firm mattress with supportive coils, so I am not surprised by the solid edge support.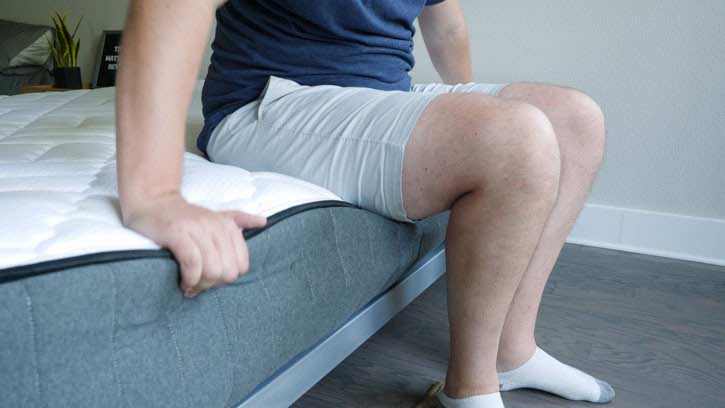 Unboxing The Titan
The Brooklyn Bedding Titan will arrive at your house in a cardboard box.
Ask a friend for help, and then start by opening the box and taking out the rolled-up mattress. Place it on your foundation or bed.
Then, carefully cut through the plastic without damaging the mattress. Like many bed-in-box mattresses, the Titan comes with a few layers of plastic wrapped around it. Be especially careful when you cut through the final layer. The mattress contains coils, so it might pop out quickly.
Then, clear the plastic away and give the mattress time to off-gas and expand.
What Makes This Mattress Stand Out?
Overall Rating
The Brooklyn Bedding Titan is definitely a good option for larger people, and it is a good deal too. However, large side sleepers and those who prefer a softer mattress might want to look elsewhere.
The Titan comes with a 120-night sleep trial, 10-year warranty, and free shipping and returns. Financing is available.
The company also offers many other mattress models including the Bloom Hybrid, Signature, Bowery, and Plank.
The following two tabs change content below.
Marten Carlson
Marten is Senior Editor at Mattress Clarity. He covers the mattress industry as well as sleep science news. He is specifically interested in the connection between sleep and overall health.Marten has written for media publications like Consequence of Sound and received a master's degree in Film Studies from Emory University.He comes from Franklin, Indiana, and spends all the time he can writing, directing, and acting in films. He has directed genre short films and features. His newest film, Starlets, recently premiered at the River Town Film Festival in Clinton, NJ. He also stars in the upcoming thriller, Sour Bear. His next film, At The Hop, is a hot rod actioner with a horror twist.
Latest posts by Marten Carlson (see all)