Let's face it, mattress shopping can be an overwhelming affair. There are hundreds of mattresses to choose from online, and they come in all different types and sizes. Plus, buying a mattress is a big investment, so it's a decision you want to make carefully.
There is one question that every mattress shopper should ask themselves: Do I want a firm or soft mattress? This is a great place to start because the mattress firmness will really affect how comfortable or supported you feel on a mattress. Yes, a big part if it comes down to personal preference, but there are some more objective benefits and drawbacks to both firm and soft mattresses.
We have put together this guide to help all those confused mattress shoppers decide which is best for you. Watch out video below or read on to compare firm vs soft mattresses!
What Makes A Mattress Firm Or Soft?
First off, most mattress companies use a 1-10 scale to rate how firm their mattresses are. At Mattress Clarity, we also use a 1-10 scale, and we consider 6.5 to be medium-firm. Anything below 6.5 is going to be on the softer end of the spectrum, and anything above 6.5 is going to be firmer.
A mattress's firmness is going to be mainly determined by its construction and materials. For instance, an innerspring mattress with no real comfort layer is probably going to be firmer. Of course, the grade of the coils will also affect the firmness and support of the mattress but, generally, innerspring mattresses are going to be firmer-than-average. Mattresses that feature latex are also usually firmer and more supportive; latex is a very durable and dense material that doesn't have quite the give that some foam mattresses have.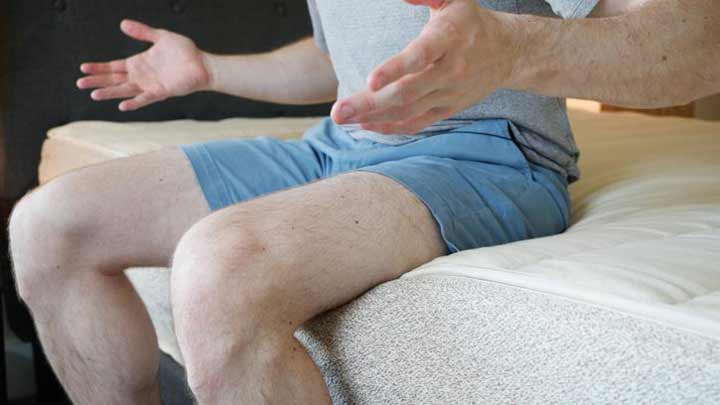 Speaking of foam, memory foam mattresses are often softer-than-average; this material is known for its comfortable feel and great pressure relief. In fact, some of the best bed-in-a-box mattresses feature memory foam alternatives such as Adaptive Foam or AirFoam that are also quite soft.
Just because a mattress features memory foam or soft foam, that does not necessarily mean that it is going to be softer-than-average. It really depends on how thick the comfort layer is. On one hand, a mattress like Allswell features only a thin layer of memory foam on top and is a very firm mattress. On the other, the Amerisleep AS4 features a very thick memory foam comfort layer, so it is a much softer mattress.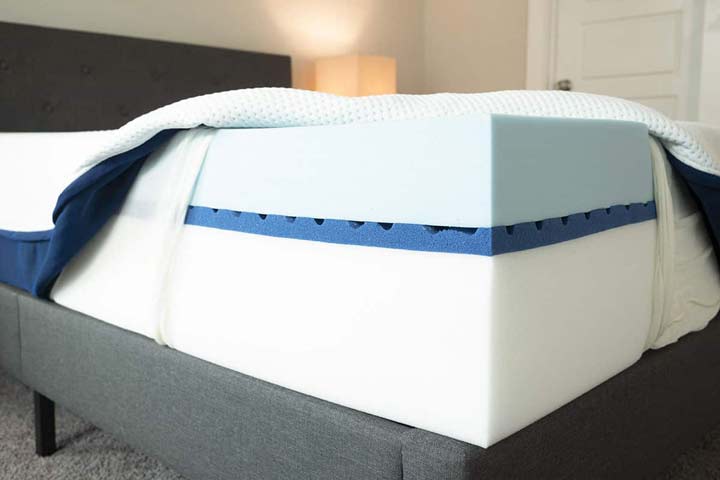 All this being said, firmness really is subjective and depends on the size and bodyweight of the sleeper. A person who doesn't weigh very much could find a mattress with a memory foam layer on top to be quite soft, but a larger person could press through the comfort layer and feel like the mattress is firmer. At the same time, a heavier person could really make the coils on an innerspring mattress compress so that it feels softer, but a lighter person might not really push in, and the mattress could feel firmer to them.
The Benefits & Drawbacks Of Firm Mattresses
Firm mattresses have many benefits and support is chief among them. Firm mattresses are more supportive than soft mattresses and hold up the body, rather than letting it sink in too far. Lying on a firm mattress, most people will feel like they are sleeping "on top" of the mattress, and they should have no real issues moving around on the mattress.
This also makes firm mattresses cooler than soft mattresses. Lying more "on top" of the mattress, more of the body is exposed to the air that is moving around in the bedroom.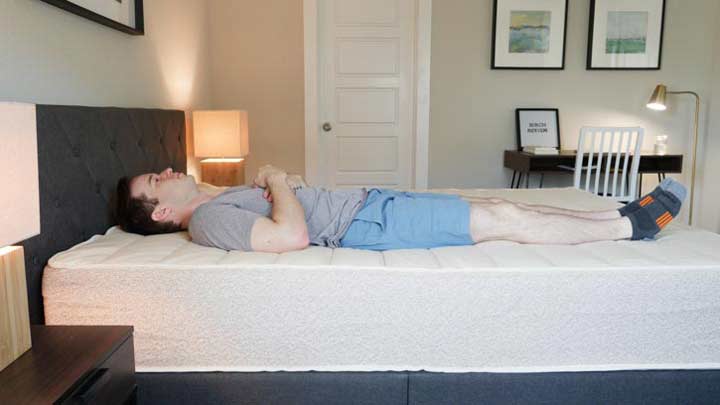 However, while firm mattresses offer great support, they aren't the best when it comes to pressure relief. Side sleepers might feel some serious pressure on their shoulders and hips when they lie on a firm mattress. Also, while comfort is subjective, many people don't find firm mattresses to be as "comfortable."
The Benefits & Drawbacks Of Soft Mattresses
Pressure relief is really where soft mattresses shine. They allow side sleepers to sink in a bit more and reduce pressure felt on the shoulders and hips. Also, people generally describe soft mattresses as more "comfortable."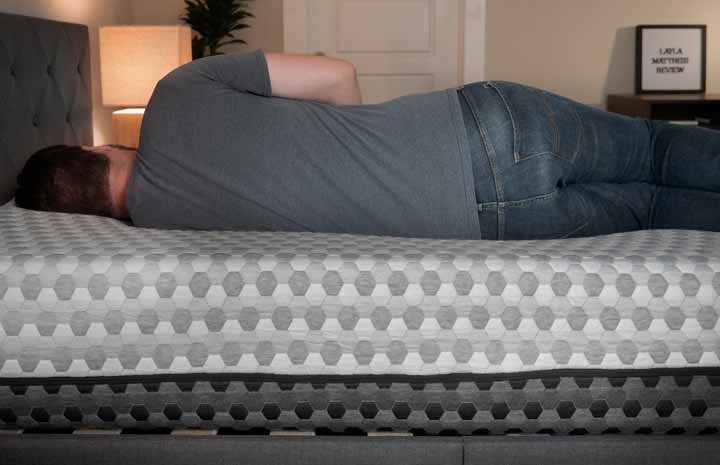 While they are very soft and pressure-relieving, soft mattresses are usually lacking in regard to support. They are not usually able to handle heavier weights and they don't always provide enough support for back sleeping and stomach sleeping.
Also, when people sink into a soft mattress, they might have more trouble moving around and switching positions at night. Sinking in, they might also complain of sleeping hot because a good portion of their body is not exposed to the bedroom air.
Who Should Choose A Firm Mattress?
Stomach sleepers. People who sleep primarily on their stomachs need a mattress that offers enough support across their entire body, but especially under their hips. A firm mattress should provide the requisite amount of support under the hips so that the spine stays in proper neutral alignment.
Some back sleepers. While most back sleepers would do well to choose a medium-firm mattress, some could find a firm mattress to be a good match. As long as the mattress allows the hips to sink in just a bit, it could work for back sleeping. If a mattress is too soft, it might not be the best mattress for back sleepers.
Larger people. Sleepers who are on the heavier side usually require more support than a soft mattress has to offer. Firmer mattresses usually offer more support and should be able to handle heavier body weights.
People who like to sleep on top of their mattress. Firm mattresses don't let people sink in too far. This makes them a better match for those who like to sleep atop their mattress.
Hot sleepers. As I mentioned above, firm mattresses usually sleep cooler than soft mattresses. Softer mattresses, especially those that feature memory foam, can trap body heat and direct it back at sleepers. This is much less likely on a firm mattress.
People with mobility issues. Anyone who has trouble moving around due to injury or health problems might want to choose a firm mattress. A firm mattress will make it much easier to change positions and get in and out of bed without feeling stuck.
Check out the best firm mattresses!
Who Should Choose A Soft Mattress?
Side sleepers. Anyone who sleeps on their side wants to find a mattress that will relieve pressure on their shoulders and hips. Soft mattresses usually feature superior pressure relief, so side sleepers should keep that in mind.
People with pain issues. Soft mattresses can be a good match for those who struggle with joint or hip pain. A soft mattress with memory foam can reduce and alleviate the pain felt in those areas.
Those who like to sink into their mattress. Soft mattresses really allow sleepers to sink into the mattress. Anyone who prefers to sleep "in" their mattress should prefer a soft mattress.
Couples. Softer mattresses, especially those that feature memory foam, handle motion transfer better than firm mattresses. When one partner moves around on the mattress, they have less of a chance of disturbing the other partner on a soft mattress.
Check out the best soft mattresses!
Final Thoughts
In the end, it shouldn't be too difficult to choose between a firm mattress and a soft mattress. Choosing whether one wants firm or soft is the first step toward finding the perfect mattress!
FAQs
Is a soft or firm mattress better for back pain?
People who struggle with back pain want to find a mattress that is not-too-firm and not-too-soft. A medium-firm mattress should ensure that they sink into the mattress just the right amount so that the spine stays in proper neutral alignment. Also, the mattress should feature good lumbar support, and this will also help prevent and alleviate back pain.
What mattress is best, firm or soft?
Neither firm mattresses or soft mattresses are "best," but they are a better fit for different types of people. Firm mattresses are better for stomach sleepers, hot sleepers, and those who like to sleep "on top" of their mattress. Soft mattresses are better for side sleepers, couples, and those who like to sink into their mattress. It really depends on the person and their sleep preferences.
Should side sleepers have a soft or firm mattress?
Side sleepers are going to be better off choosing a soft mattress. Soft mattresses offer better pressure relief and should ensure that side sleepers don't feel heavy pressure on their shoulders and hips.
Will a firm mattress get softer?
Firm mattresses can get softer over time as the materials start to weaken and sag. This will happen more quickly on mattresses with low-density foams. Mattresses with durable materials like latex and high-grade coils will not soften so quickly, but it should happen eventually.
How firm should my mattress be?
This depends on what type of sleeper you are. Back and stomach sleepers will want a firmer mattress while side sleepers will want a softer mattress.
Marten Carlson
Marten is Senior Editor at Mattress Clarity. He covers the mattress industry as well as sleep science news. He is specifically interested in the connection between sleep and overall health. Marten has written for media publications like Consequence of Sound and received a master's degree in Film Studies from Emory University. He comes from Franklin, Indiana, and spends all the time he can writing, directing, and acting in films. He has directed genre short films and features. His newest film, Starlets, recently premiered at the River Town Film Festival in Clinton, NJ. He also stars in the upcoming thriller, Sour Bear. His next film, At The Hop, is a hot rod actioner with a horror twist.