If people want a quality hybrid mattress, they usually have to spend a good amount of money to get one. Coils and high-density foams can really drive up the price of a luxury hybrid mattress without question.
That's why I was surprised when I saw that the Allswell Supreme mattress costs less than $1,000 for a Queen-size mattress. As a fan of the original Allswell mattress, I was excited to try out Allswell's most high-end mattress.
This review will go over everything people should know about this mattress, including a full breakdown of the construction, pros and cons, firmness and feel, comfort, support, motion isolation, edge support, breathability, durability, and much more.
20% Off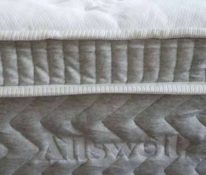 The Allswell Supreme is a comfortable yet supportive hybrid mattress. It should be a great match for back and sleepers. Click the button and use code GOBBLE20 to save 20%. 
Who Might Like The Allswell Supreme…
Back sleepers- The Allswell Supreme's hybrid construction gives the mattress a great balance of comfort and support. When people are on their back, they should definitely feel like they are well supported. Also, the top foam layers should press up into one's lumbar area, while the memory foam conforms to the precise curves of the body. It really is a very comfortable mattress for back sleepers as a result.
Side sleepers- The top layers of the Supreme are quite soft and should relieve pressure when people are sleeping on their side. While the mattress might feel firm when people first lie down, they will slowly start to sink into the mattress. If people are light- or medium-weight, they should feel almost no pressure on their shoulders and hips. However, if someone is a much larger person over 250 lbs, they could feel a bit more pressure and be less comfortable.
Hot sleepers- If people sleep hot, the Supreme should definitely be a good option for them. The mattress' coils allow for a lot of air to flow through the mattress, which will help regulate the temperature of the mattress. Also, the memory foam layer contains both graphite and copper, which are both cooling agents that should help dissipate any heat that might be trapped by the mattress.
Those who want a good value- If people want a high-quality hybrid mattress but they don't want to spend too much money, the Allswell should be a good fit for them. It features a high-end construction with a luxury look and feel. At the same time, it costs less than $1000, so this is definitely a great value.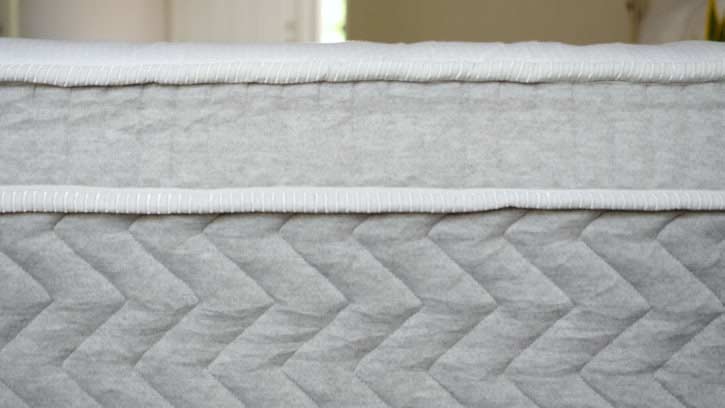 Who Might Not Like The Allswell Supreme…
Stomach sleepers- The Allswell Supreme is just a bit firmer-than-average, and stomach sleepers usually want to find a mattress that is quite firm. This will ensure people get the support they need in this position. The Allswell Supreme feels a bit too soft for stomach sleeping, so people might have their core sinking too far into the mattress.
Those who like to sleep on top of their mattress- Since the mattress features memory foam in its top layer, people are going to sink in a fair bit. If people prefer to sleep on top of their mattress and like to move around easily, the Supreme might not work for them. People will definitely sink into the mattress, and they might find it difficult to switch positions at night.
People who want one of the best firm mattresses– As mentioned above, the Allswell Supreme is not an extremely firm mattress. Whether people like the feeling of a firm mattress or they just have greater support needs, the Allswell is probably not their best bet.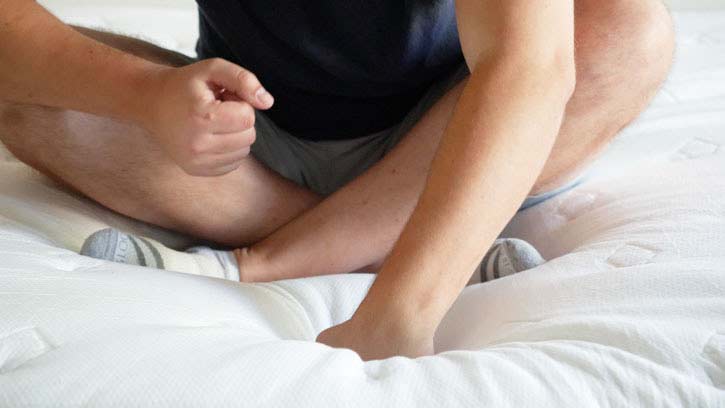 Construction Overview
The mattress is 14″ tall and features a construction coil and foam layers.
The cover is made of a polyester blend and doesn't affect the overall feel of the mattress significantly.
The cover is quilted with a bit of a Euro-top for added softness and pressure relief.
Below that, there is a layer of graphite and copper gel-infused memory foam, which gives the mattress great pressure relief and body contouring.
Then, there is a layer of Energex Foam, which prevents sleepers from sinking too far into the mattress.
The support layer consists of individually-wrapped coils, which are highly supportive and durable, and support foam.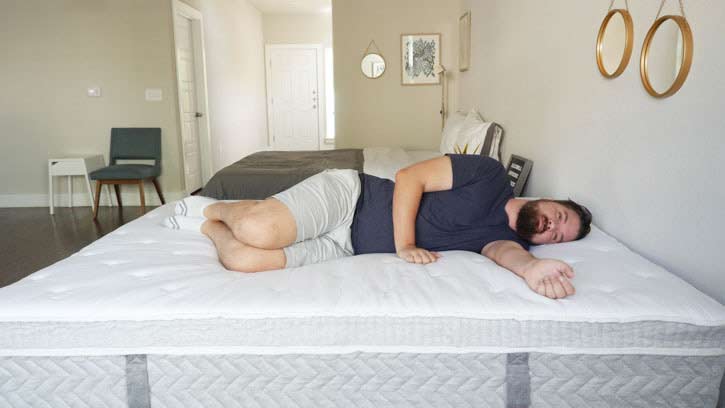 Construction Takeaways
Energex foam has both memory foam and latex mattress qualities where it is soft and lets people sink in. At the same time, it is a bit bouncy and responsive. The foam is open-celled, making it more breathable than most memory foams.
The mattress has a plush, Euro-top look and feel. There is a bit of plush material below the cover, and the combination of memory foam and Energex foam adds some plushness too.
The Allswell Supreme should be a very supportive mattress, because the coils are individually-wrapped and should be able to support even heavier weights. Larger people should get enough support, especially when they are back sleeping.
This should not be a hot-sleeping mattress. The memory foam contains both graphite and copper gel, which both should help with heat dissipation. At the same time, the coils will promote airflow through the mattress, so overall the mattress should sleep quite cool.
The Supreme should also be a longer-lasting mattress. The individually-wrapped coils should lend support for many years and the responsive Energex Foam should not sag too quickly. Make sure to check out our lists of the best mattresses that won't sag.
The top of the mattress does have some of that memory foam feel where people will feel like they are slowly sinking into the mattress.
20% Off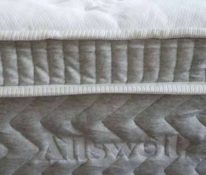 The Allswell Supreme is a comfortable yet supportive hybrid mattress. It should be a great match for back and sleepers. Click the button and use code GOBBLE20 to save 20%. 
Firmness And Feel
In terms of feel, the Allswell Supreme felt close to a 7/10, a little firmer than average. The top layers are very soft, and it is easy to press my hand into them. Then, my hand hits the support layers and stops. The soft top and firmer support layers combine to make the mattress just firmer-than-average.

Here is how it felt in all three sleeping positions:
Starting on my back, the Allswell Supreme is a great fit for me, as I am definitely feeling the support of the individually-wrapped coils. I also feel the top memory foam layer taking the shape of my body and supporting the lumbar area. Check out our best mattresses for back sleepers for more like the Supreme.
Lying down on my side, the mattress feels firm at first. Then, it slowly starts to soften up, and I sink into the mattress. I feel pretty fantastic pressure relief on my shoulders and hips.
Stomach sleeping, the mattress is a bit too soft for me, as I am not getting enough support on my hips. Most stomach sleepers should consider a firmer, more supportive mattress.
Even with the coils, the mattress has more of a slow-moving memory foam feel. The Energex Foam does not add too much bounce so it is sometimes difficult to move around.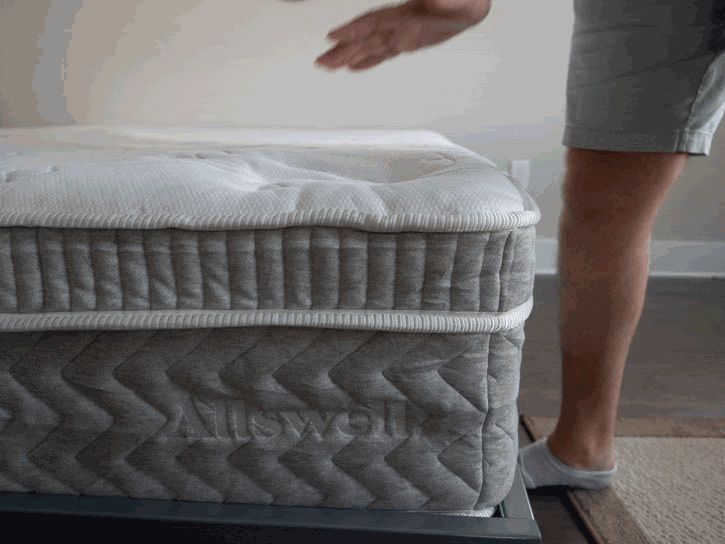 Motion Transfer
If someone is looking for a mattress for couples, they will want to make sure the mattress can handle motion transfer.  They want to be sure that they and their partner can move around freely without disturbing one another.
Memory foam is usually very good at preventing motion transfer across the mattress, so I was not surprised by how well the Allswell Supreme isolates motion. I placed a glass of water on one side of the mattress and pushed into the other side, and I did not see too much disturbance in the water.
If people sleep with a partner, they shouldn't feel each other moving around on their respective sides.
RELATED: Best Mattress For Couples 2020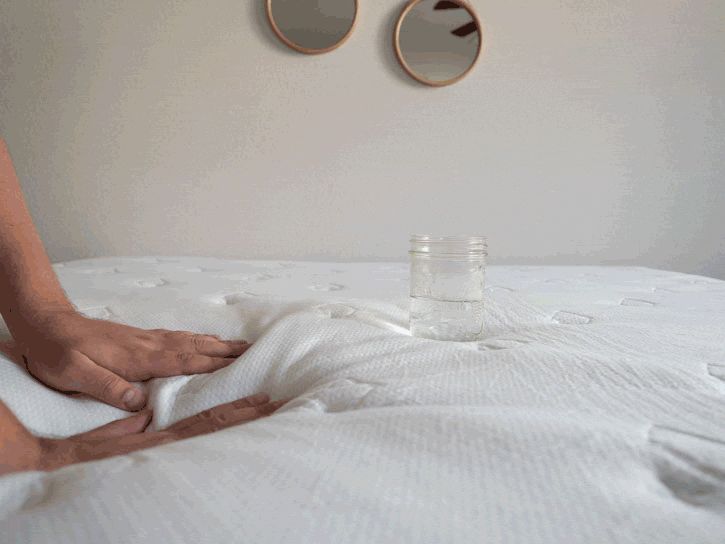 Edge Support
Couples should also think about edge support when they are looking for a mattress. You and your partner will want as much room to sleep as possible so you want a mattress that will let you sleep toward the edge.
Sitting down near the edge of the Allswell Supreme, the mattress does not collapse too much underneath me. The memory foam and Energex Foam do give in, but the coils hold me up. Also, when I lie down near the edge, I don't feel like I am going to roll off.
The Allswell Supreme actually includes a reinforced edge. This makes the edge of the mattress more supportive than the rest. This is giving the Supreme that great edge support.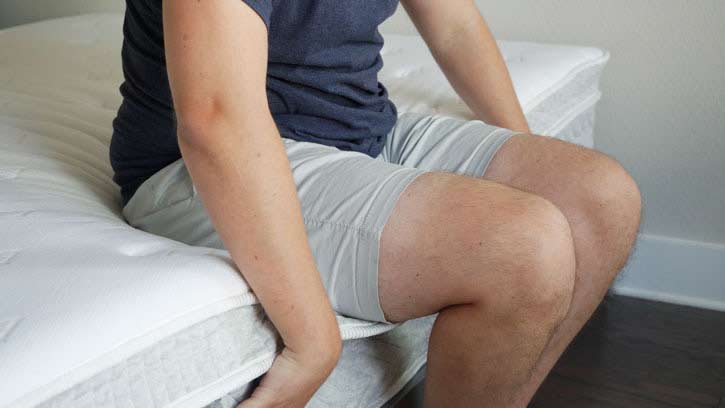 Joe's Take
If you are looking for a new mattress, it is also worthwhile to consider your size and weight. Since I am a larger person (6'7″ 230 lbs), I asked Joe to come in and give his perspective on the Allswell Supreme. He is 5'9″ and weights 160 lbs. Here is what he thought of the Allswell Supreme:
Marten said this mattress was a 7/10, and I thought it was closer to a 6.5/10. I think this is because Marten presses further into the mattress and feels some more firmness than I do. Here is how I feel sleeping on the Supreme:
When I am on my back, the mattress is a good match for me, and I feel good support overall.
When I'm on my side, I feel some nice pressure relief from the memory foam layer and think the mattress is also a good fit for side sleeping.
Sleeping on my stomach, I think I need a mattress that is firmer and offers more support.
If you are light or medium-weight and sleep on your back or side, the Supreme should work for you. If you are a stomach sleeper, I would go for something firmer and more supportive. 
It seems like Joe and I had a very similar experience on the Allswell Supreme. However, I did find it to be just a bit firmer than Joe did. As he said, that's because I'm pressing further into the mattress.
See our best mattresses for heavy people.
Unboxing The Allswell Supreme
So, you just received the Allswell Supreme at your house, but what do you do now?
As you can see, the mattress has come in a cardboard box. First, you are going to open the box and, with a friend's help, position the rolled-up mattress on your frame of foundation.
Then, you are going to carefully cut through the plastic. You don't want to damage your mattress! Once you get through the final layer, the mattress might pop out. There are coils in the Allswell, so the mattress will fill out quickly.
However, you might need to give it a few days for the top layer of memory foam to fully. I would say that after 24-48 hours, you will be ready to sleep on the Allswell Supreme.
What Makes The Allswell Supreme Stand Out?
The mattress features a high-end hybrid construction that a lot of sleepers will really enjoy.
The Allswell Supreme is priced very affordably for such a luxury mattress and is an excellent value overall.
The memory foam and coils make this mattress a good match for both back and side sleepers.
The Allswell Supreme should be a cooler-sleeping mattress.
This should be a durable, longer-lasting mattress that is a great investment.
Overall Rating
Allswell Supreme Mattress
Support
Edge Support
Cooling
Motion Transfer
Durability
Trial Period
Warranty
In the end, I was impressed by the Allswell Supreme mattress. It is both comfortable and supportive and shouldn't sleep too hot. In addition, it is an affordable hybrid mattress.
The Allswell Supreme comes with a 100-night sleep trial and a 10-year limited warranty. It also comes with free shipping and returns, and financing is available. Allswell also offers two other mattresses, the Allswell, and the Allswell Luxe.  Consumers should take a look through this article multiple times, assess their own needs and preferences, and then make a more informed decision.
The following two tabs change content below.
Marten Carlson
Marten is Senior Editor at Mattress Clarity. He covers the mattress industry as well as sleep science news. He is specifically interested in the connection between sleep and overall health.Marten has written for media publications like Consequence of Sound and received a master's degree in Film Studies from Emory University.He comes from Franklin, Indiana, and spends all the time he can writing, directing, and acting in films. He has directed genre short films and features. His newest film, Starlets, recently premiered at the River Town Film Festival in Clinton, NJ. He also stars in the upcoming thriller, Sour Bear. His next film, At The Hop, is a hot rod actioner with a horror twist.
Latest posts by Marten Carlson (see all)