At Walmart, you can get pretty much anything. Kenny Loggins' Greatest Hits? They've got it. An industrial-sized bag of cheese puffs? Yep.
They also have comfortable mattresses. If you need a new mattress, you don't even have to venture to the big box store. Walmart's line of Allswell mattresses is available online. You can choose from the Allswell, Allswell Luxe Hybrid, and Allswell Supreme.
The Allswell Luxe Hybrid is more expensive than the original Allswell but more affordable than the Allswell Supreme. Even though it costs more than the Allswell, it is still a very good deal for a hybrid mattress with soft memory foam.
The Allswell Luxe is affordable, but is it a good value? Read on for my full review.
Allswell Luxe Deals
The Allswell Luxe is a memory foam hybrid mattress with a great balance of comfort and support. Back sleepers and light- and medium-weight side sleepers should find what they need on the Luxe. 
You Might Want To Pick The Allswell Luxe If…
You are looking for a good value. Coming from a large company like Walmart, the profit margins are pretty thin for Allswell. This allows them to price their quality mattresses quite low. Considering the high-end materials contained in the Luxe, I would expect it to cost much more.
You like a medium-firm mattress. The Allswell Luxe is pretty much right in the middle of the firmness range. It is not too firm and not too soft. If you want a mattress with a balance of comfort and support, check out the Luxe.
You are a light- or medium-weight side sleeper. While the memory foam layer is not super thick on the Luxe, it should be thick enough to provide pressure relief for light- or medium-weight side sleepers. If you aren't too heavy, you should feel little pressure on your shoulders and hips while you are side sleeping.
You are a back sleeper. Whether you are a light or heavy back sleeper, the Allswell Luxe should be supportive enough for you. At the same time, you should feel your hips sink into the mattress just a bit. When you add in the contouring of memory foam, you've got a great mattress for back sleeping.
You want a mattress with a balanced feel. Some people like to sleep on top of their mattress, and some like to sleep within their mattress. If you want a mattress that gives you a bit of both, the Allswell Luxe could be a good choice. You get some of the memory foam feel but not so much that you get stuck. You also get the support of coils without an extremely firm, innerspring feel.
RELATED: Most Comfortable Mattress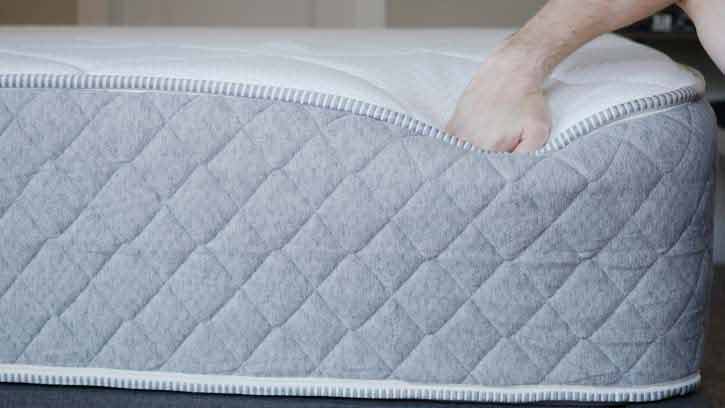 You Might Not Want To Pick The Allswell Luxe If…
You are a stomach sleeper. When you are stomach sleeping, support is the name of the game. You want a mattress that will support your whole body and keep you in neutral, spinal alignment. The Luxe does feature very supportive coils, but the memory foam layer is probably going to let your hips sink in too far. You could easily get out of neutral alignment.
You are a heavier side sleeper. Now, when you are on your side, pressure relief is important. Lighter side sleepers are going to get plenty of pressure relief on the Luxe. However, larger people may press right through the memory foam layer and into the coils beneath.
You want a firm or soft mattress. As I said above, the Luxe is smack dab in the middle of the mattress firmness range. So, if you like something very soft or very firm, the Luxe is probably not going to be a great fit for you.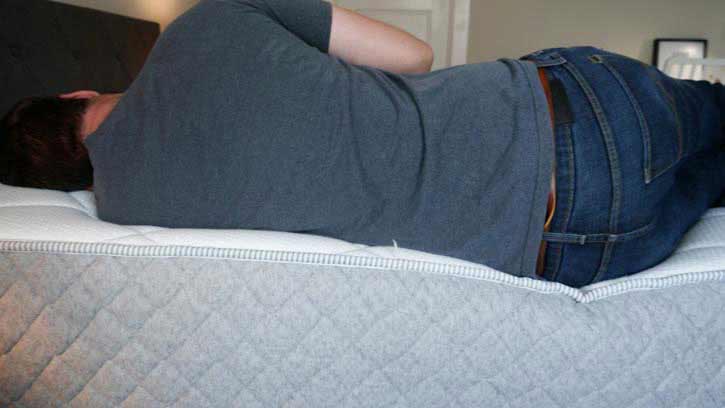 Construction
The Luxe mattress is 12″ tall.
The cover is soft and quilted with cooling SwirlFoam.
Below that, there are 2″ of copper gel-infused memory foam.
Next, there is a 1″ layer of high-density foam.
The support layer consists of individually-wrapped coils.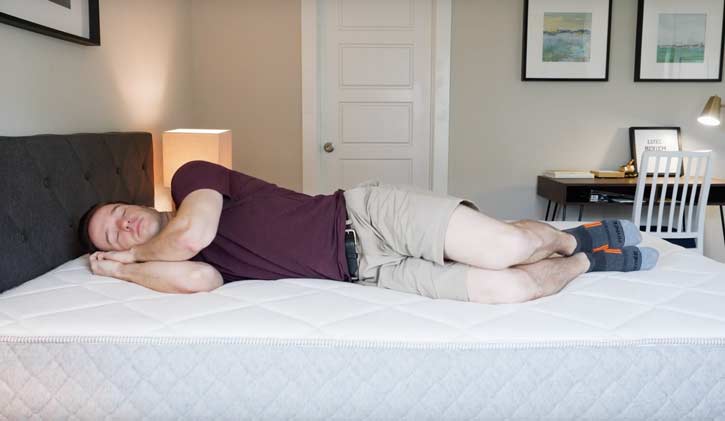 Construction Takeaways
The Allswell Luxe has a hybrid construction. This means it features supportive coils and then some type of foam in the comfort layer. In this case, the support layer consists of pocketed coils, and the comfort layer contains soft memory foam.
The memory foam layer contains a graphite gel infusion. Graphite is a cooling agent that is meant to help you sleep cool. Memory foam is known for making people sleep hot, but this infusion should dissipate heat, not trap it.
The top of memory foam is slow to respond. This is normal for memory foam, and it can make it more difficult to move around. However, with the Allswell Luxe, there are tall coils in the support layer, so you aren't going to get the full memory foam feel, and you shouldn't get stuck in the mattress and have issues moving around.
The memory foam layer is not too thick and not too thin. It is thin enough so that you can feel the support of the coils. This means it could be supportive enough for back and stomach sleeping. The layer is also thick enough to offer pressure relief for side sleepers. It is right in that sweet spot of support and comfort.
While the top layer is quite comfortable, this is still going to be a very supportive mattress. The pocketed coils should be able to support even much heavier weights.
Which Allswell Mattress Should You Get?
As I mentioned earlier, there are three Allswell mattresses to choose from. You have the original Allswell, Allswell Luxe, and Allswell Supreme. I have tried all three mattresses, and they are a good fit for different types of people. So, which one is best for you? 
The Allswell is the firmest and the most affordable of these mattresses. It is also a thinner mattress with a thinner comfort layer. Because of this design, it is a better fit for back sleepers and stomach sleepers. Those who need more support and want to save some money should go with the Allswell.
The Allswell Luxe is a bit softer than the Allswell, but it is firmer than the Allswell Supreme. The Luxe has a nice balance of comfort and support and should be the better match for combo sleepers and light- and medium-weight side sleepers. If you want more comfort and don't mind spending a bit more than you would on the Allswell, take a look at the Supreme.
Finally, the Allswell Supreme is the softest of the bunch. It is also the most expensive. However, for this extra money, you get a more comfortable mattress. It has a thicker comfort layer than what you find on the Allswell and Allswell Luxe. It should work for side sleepers of all sizes and those who prefer a softer mattress.
Allswell Luxe Deals
The Allswell Luxe is a memory foam hybrid mattress with a great balance of comfort and support. Back sleepers and light- and medium-weight side sleepers should find what they need on the Luxe. 
Firmness And Feel
I said the Allswell Luxe is softer than the Allswell and firmer than the Allswell Luxe. How firm is the Allswell Luxe exactly? In my experience, the Luxe felt like a 6.5/10, medium-firm. The top layers of SwirlFoam and memory foam are very soft. I have no trouble pushing my hand into the top. However, the coils are quite firm, so my hand stops when it gets to that layer. When you combine these layers, the firmness is close to medium.

However, larger people might feel like the Allswell is firmer than I thought. The memory foam layer is not extremely thick, so heavier weights could press right though that soft layer. They could feel more of the firm coil layer I mentioned. Check out Marten's experience below if you want to see how the mattress feels for a heavier person.
So, how did it feel sleeping on the Allswell Luxe? Let's take a look at how the mattress felt in different sleeping positions:
Back sleepers usually need a mattress that is both comfortable and supportive. The Allswell Luxe definitely fits this definition. Lying down, the firm coils are supporting my entire body. Simultaneously, the memory foam is compressing under my hips and but and contouring to my body. The Luxe is a great match for back sleeping.
As I mentioned earlier, the top layers of the Allswell Luxe are very soft. For someone of my size, this soft comfort layer is thick enough to relieve pressure on my shoulders and hips. Again, larger people might feel some more pressure.
For me, the Luxe is a decent match for stomach sleeping. I do feel supported somewhat. However, if you just sleep on your stomach, I would recommend finding a firmer mattress.
The Allswell Luxe has a balanced hybrid feel. You get the soft feel of memory foam on top and the firm feel of coils beneath that. So, you sink in but not so far that it will be difficult to move around.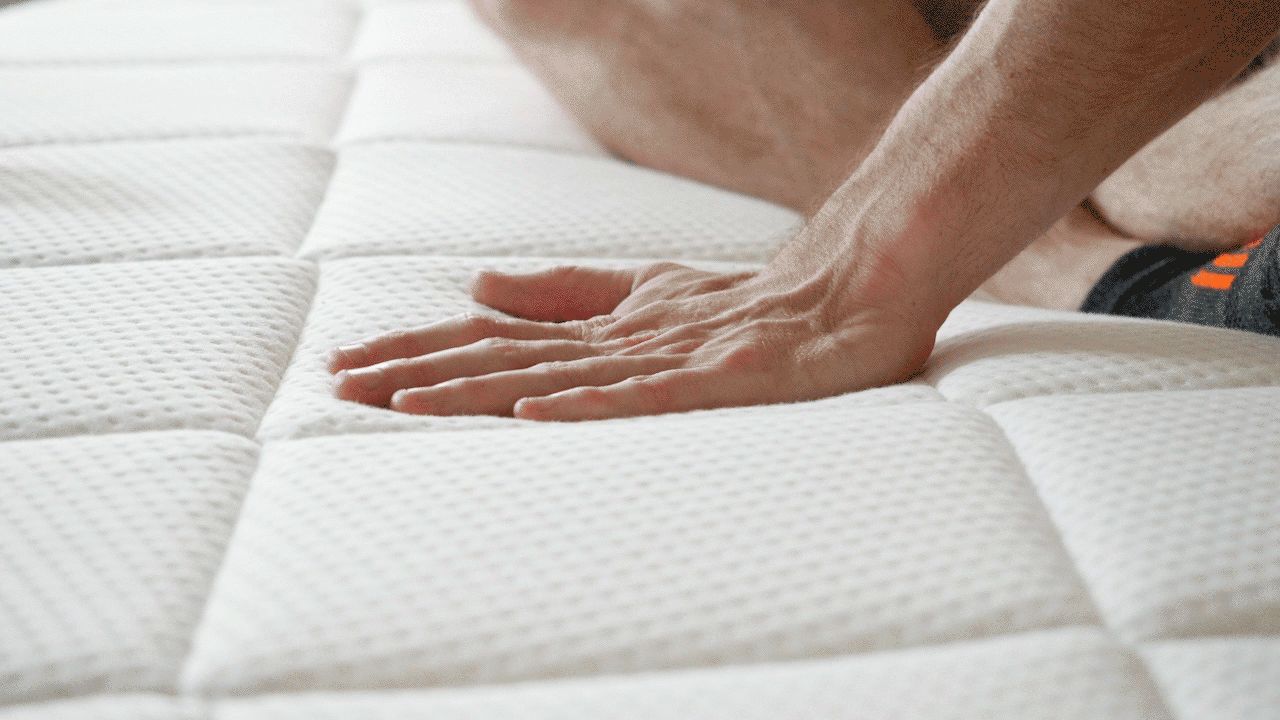 Motion Transfer
Memory foam is great for many reasons. It is soft, comfortable, and pressure relieving. However, for you couples out there, it can be even better. Memory foam can cut down on motion transfer in your mattress. Basically, when you and your partner move around at night, memory foam will help isolate your movements to their respective sides.
Considering that the Luxe features memory foam near the top, I was expecting the mattress to perform well in my motion transfer tests. I first placed a glass of water on one side of the Luxe. I then pushed into the other side of the Luxe, mimicking the movements you or your partner might make. The water was not disturbed too much.
Also, I lay down on the Luxe myself. Then, Marten lay down on the other side of the mattress. He rolled around and changed positions, and I did not feel his movements transfer to my side of the mattress.
This lets me know the Luxe could be a good mattress for couples.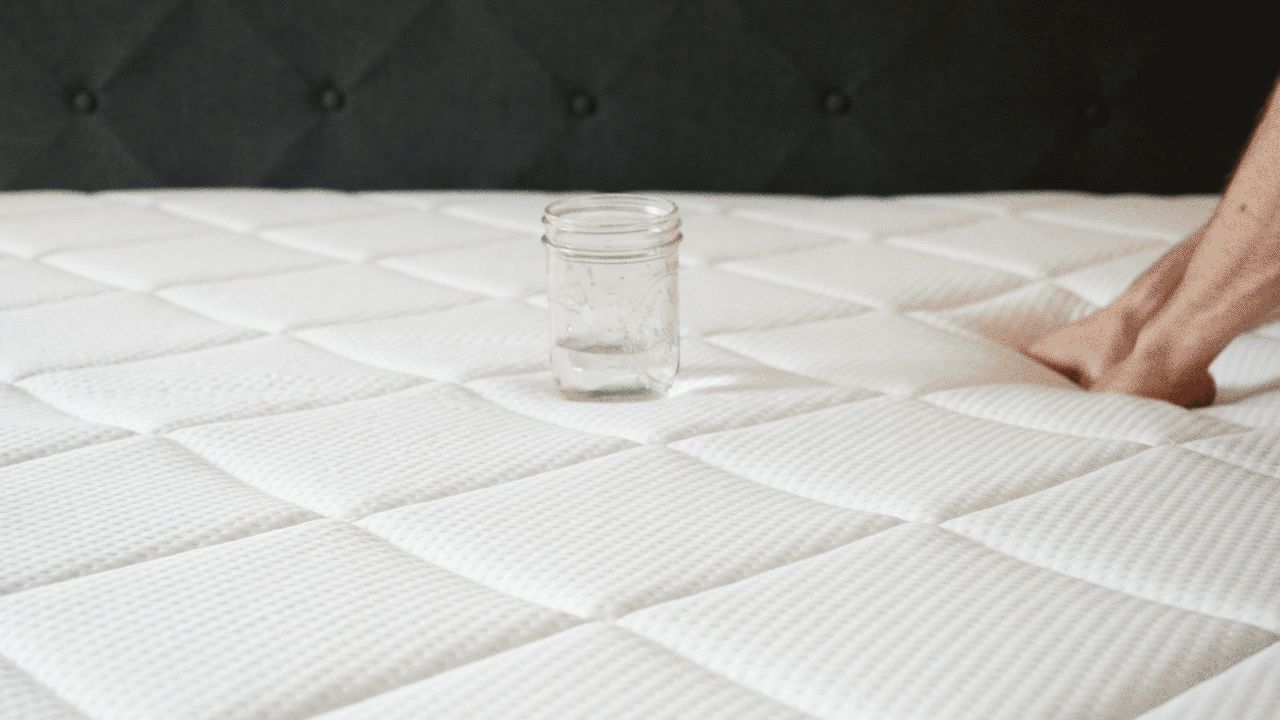 Edge Support
Edge support is also an important factor for couples. Whatever size mattress you have, you want something that lets you sleep close to the edge. A mattress with poor edge support will force you and your partner to sleep in the center of the mattress all the time.
When I sit near the edge of the Luxe, the soft top layers do collapse under my butt. However, I don't feel like I am going to fall forward. When I lie down near the edge of the Luxe, the side of the mattress does collapse a bit. Even with its supportive coils, the Luxe is not making me feel very secure while lying in this position. I do feel a bit like I might roll off the Luxe.
For me, the Allswell Luxes' edge support is just okay.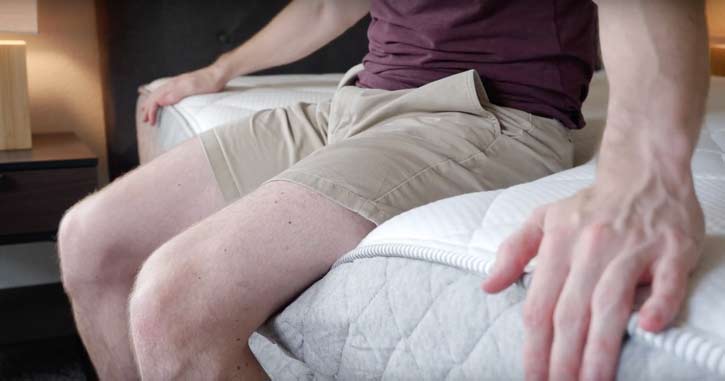 Marten's Take
As I mentioned in the firmness and feel section above, larger people might think the Allswell Luxe is firmer than I did. Since I am 5'9″ and weigh 160 lbs, I wanted to get the perspective of a larger person. So, I asked Marten, who is 6'7″ and weighs 230 lbs, to try out the Luxe and give his thoughts. Here is what he thought:
If you are a larger person like me, you want to make sure you find a mattress that is both supportive and comfortable for someone of heavier weights. You want to think about how thick the comfort layer is and how supportive the coils are.
While Joe said the Allswell Luxe was a 6.5/10 in terms of firmness, I thought the mattress was closer to a 7/10. As Joe mentioned, larger people are going to press through that comfort layer and feel the supportive coils beneath. That is definitely what was happening to me, so I felt the mattress was a bit firmer than Joe did.
Here is how I feel sleeping on the Allswell Luxe:
Lying on my back, I am really liking the Allswell Luxe. I am definitely feeling the support from the coils. At the same time, my hips are sinking into the memory foam layer, and this material is also providing some contouring.
While I am pressing further into the mattress, I am still getting some decent pressure relief when I am side sleeping. I don't feel an extreme amount of pressure on my shoulders and hips. However, I am only 230 lbs. If you are heavier, say over 300 lbs, you are probably going to feel much less pressure relief.
While the coils are very supportive, the memory foam is not giving me enough support when I am on my stomach. I can feel my hips dip into the Allswell Luxe. I am in need of some more overall support when I am stomach sleeping.
Heavier back sleepers are going to be big fans of the Allswell Luxe. Heavier side sleepers under 300 lbs could get the pressure relief they need. Heavier stomach sleepers are going to want to find a more supportive mattress.
It is great to get Marten's thoughts on the Luxe. As I expected, he thought the Luxe was firmer than I did. However, as Marten mentioned, if you are much larger, you will find the Luxe to be even firmer.
Unboxing
It's hard to believe that a big hybrid mattress like the Luxe comes out of a box. Well, it does. It will arrive at your house or apartment in a cardboard box.
The first thing you are going to do is: call a friend! This mattress is heavy and you don't want to pull a muscle trying to move the box. With your friend's help, move the box to your bedroom.
Then, you can open the top of the box and remove the rolled-up mattress. Place the roll on your bed frame of foundation. Now, you're reading to start cutting through the plastic. Be very careful, and don't cut into the Luxe!
Finally, clear away all the plastic and packing materials. You might need to give the Luxe about 24 hours to fully expand because it does have memory foam in it.
What Makes The Allswell Luxe Stand Out?
The Allswell Luxe is a very affordably-priced memory foam hybrid mattress.
The mattress features a balance of comfort and support.
Side sleepers who are a bit lighter should get great pressure relief from the Luxe's soft memory foam.
Back sleepers of all sizes should find the Luxe to be a great match.
Overall
The Luxe is another impressive mattress from Allswell. It is supportive, comfortable, and a fantastic value. However, stomach sleepers and heavier side sleepers might need to look elsewhere.
The Luxe comes with a 100-night sleep trial, 10-year warranty, and free shipping and returns. Financing is available as is white glove delivery. Allswell also offers the original Allswell and the Allswell Supreme.
The following two tabs change content below.
Joe Auer
Joe Auer is the editor of Mattress Clarity. He mainly focuses on mattress reviews and oversees the content across the site.
He likes things simple and take a straightforward, objective approach to his reviews. Joe has personally tested nearly 250 mattresses and always recommends people do their research before buying a new bed. He has been testing mattresses for over 5 years now, so he knows a thing or two when it comes to mattress selection. He has been cited as an authority in the industry by a number of large publications.
Joe has an undergraduate degree from Wake Forest University and an MBA from Columbia University.