Sleep Number's C4 Classic Series mattress is one of the most standard Sleep Number models but comes with a comfort layer that provides body countouring not found in the C2. The C4 could be a good fit for those (mostly couples) ready to take a dive into a Sleep Number bed without completely breaking the bank.
Sleep Number 360 c4 Smart Mattress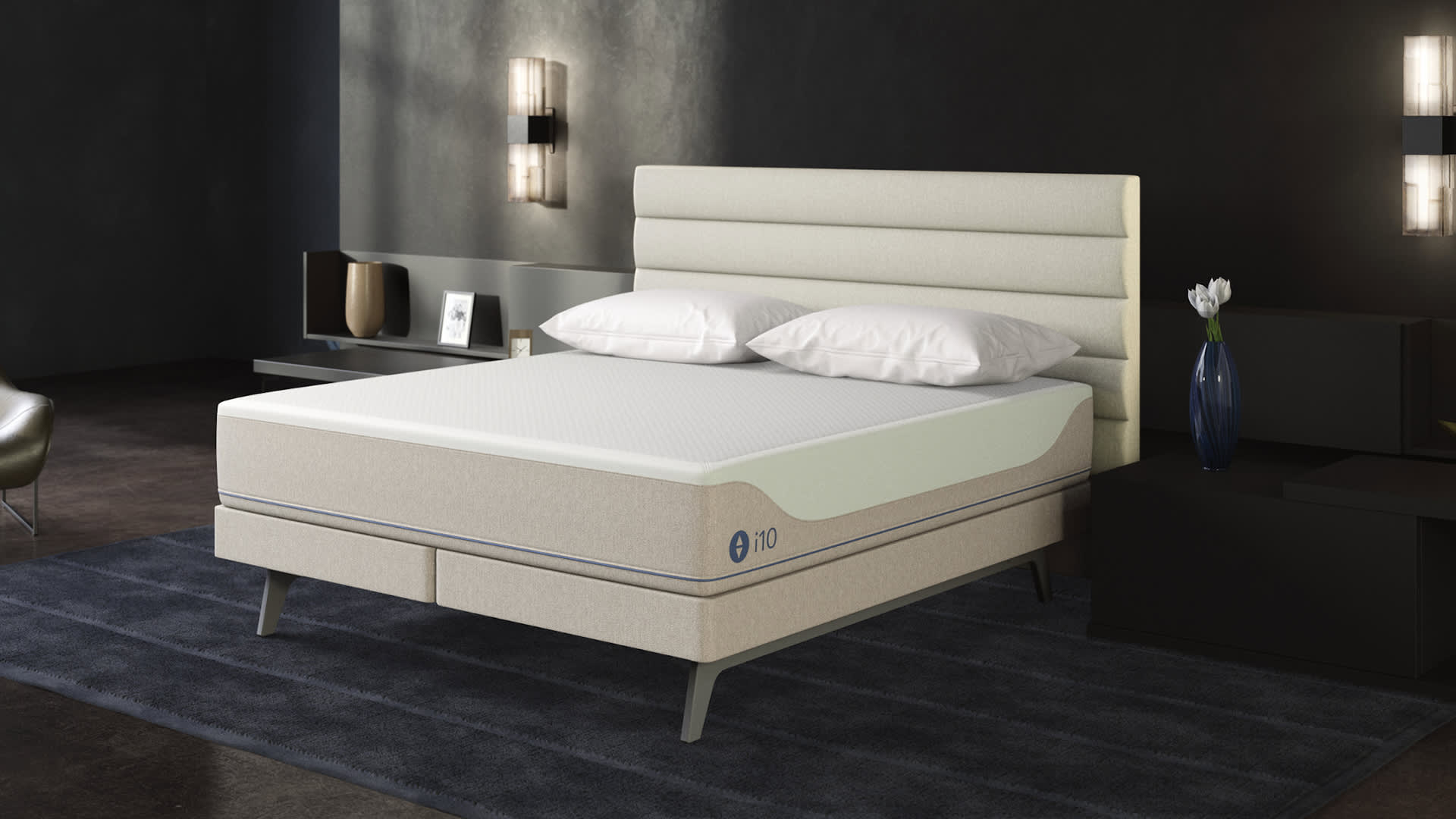 Shipping Method
Flat-rate white glove delivery
Firmness
Multiple firmness options
Warranty
15-year limited warranty
Sleep Number 360 c4 Smart Mattress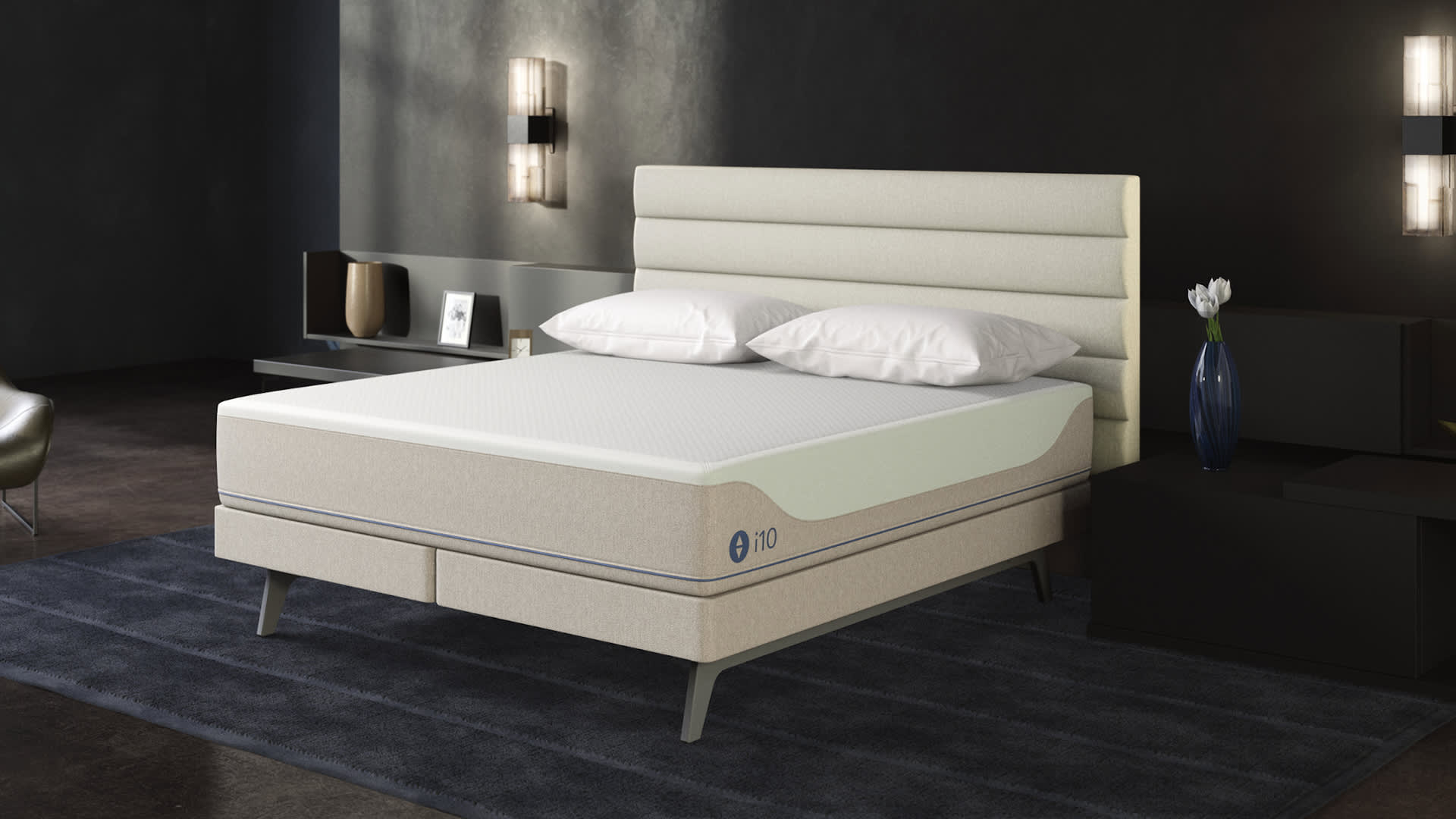 Warranty
15-year limited warranty
Firmness
Multiple firmness options
Shipping Method
Flat-rate white glove delivery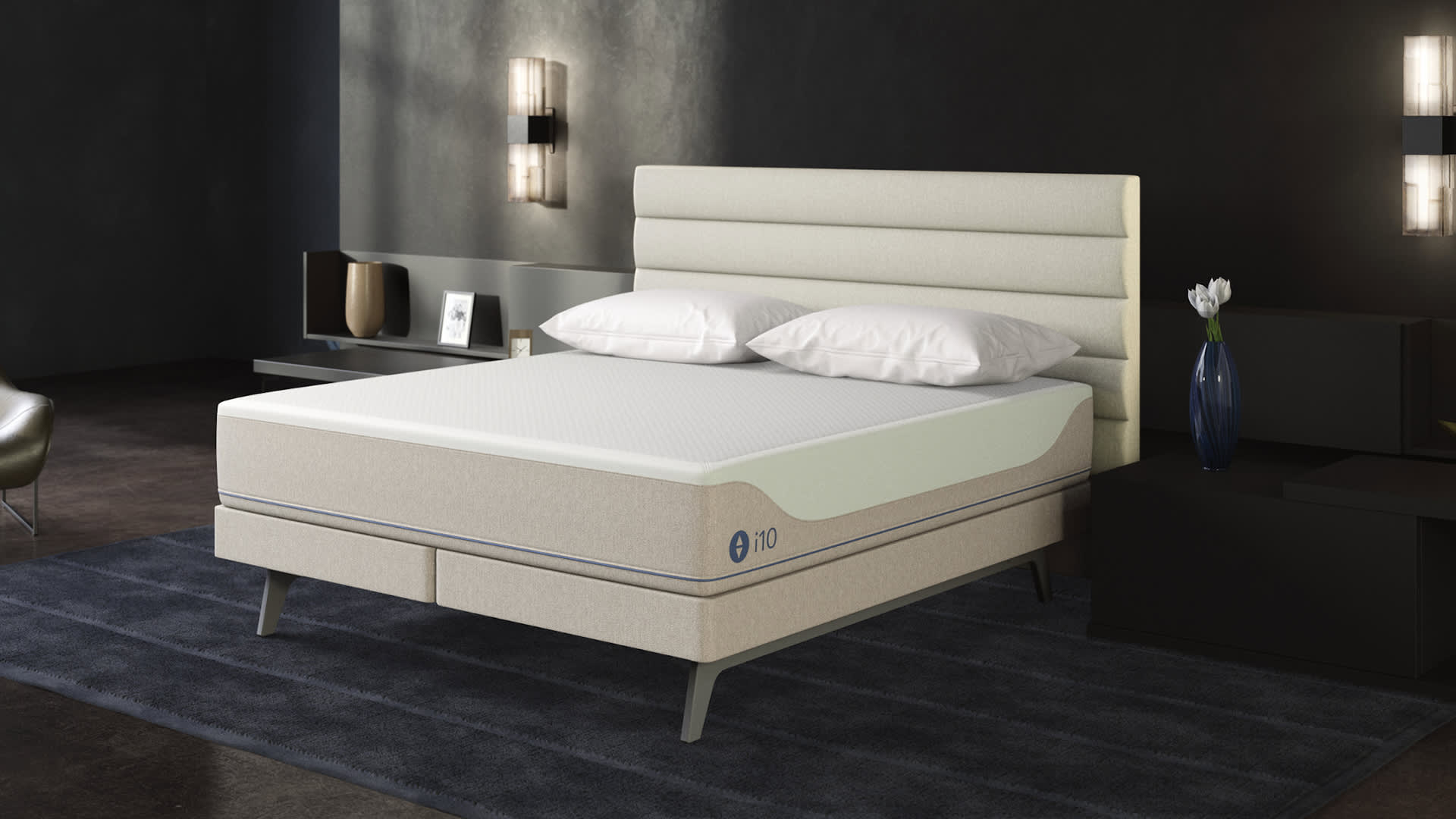 Sleep Number 360 c4 Smart Mattress
Firmness
Multiple firmness options
Warranty
15-year limited warranty
Shipping Method
Flat-rate white glove delivery
Construction Overview
The C4 mattress is 10 inches thick (measured from the base to the top of the mattress)
and made with a soft and breathable polyester/polypropelene knit blend.
Inside the mattress, there will be 1 or 2 air chambers, depending on the size of the mattress. Sleep Number calls this "DualAir™ adjustability" and it allows people to adjust firmness and support on each side of the bed to the Sleep Number setting.
The hoses to pump air into the chamber are 4ft in length.
The C4 model comes with a 1.5 inch "Comfort layer" of polyurethane foam that features 3 zones of comfort. Sleep Number says the zones are intended to relieve pressure and contour to the head and neck, back and hips.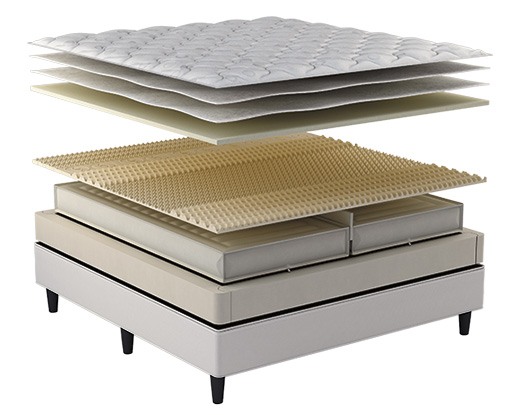 The top of the mattress has the ability to be zipped on/off and features a soft fiberfill material sewn into the mattress top.
It is not recommended that people remove or wash any part of their mattress but if they need to spot clean, customer service reps suggest that they use a mild detergent (Dreft, Ivory Snow or Woolite) and sparkling water. Lay the cover flat to air-dry.
To sum up, the C4 features: 1 (or 2) air chambers, 1.5 inches of polyurethane foam featuring three zones of contouring support and a soft layer of fiberfill sewn into the top of the mattress.
For an additional cost, consumers can add the FlexFit Adjustable Base, which lets them raise and adjust the foot and the head of the bed. They can also add on SleepIQ Tech (the Sleep Number app).

Firmness Level
Firmness is an interesting topic with Sleep Number beds. In theory, the Sleep Number will determine how firm the bed is because the number determines how much air fills the air chambers in the mattress.
That being said, the fewer layers between the air chamber(s) and the top of the mattress, the firmer the bed will be because there is less cushion.
Similar to the C2 model (which has no additional comfort layers) the C4 will also be a firmer Sleep Number mattress because it has fewer layers than other (more expensive) Sleep Number models.
You Might Want To Consider This Mattress If:
You Like Sleep Number Beds But Don't Want To Spend A Ton: While it is not the least expensive model, those who want a Sleep Number bed and three zones of contouring support, the C4 Classic Series Adjustable mattress could be a good option for $1,599 for a Queen.
You Sleep With A Partner: Sleep Number beds are very popular with couples because they allow each person to adjust their side of the bed to their comfort level. If you opt for the FlexFit adjustable base you can also move the head and foot of the bed.
You Like A Firm Mattress: The C4 Classic Series model has one foam layer –  1.5 inches of foam between the top layer and the air chambers. It also has a small layer of filling sewn into the mattress top (not foam). This somewhat minimal cushioning will naturally produce a firmer mattress than other Sleep Number models that have more layers of foam in them.
Save $400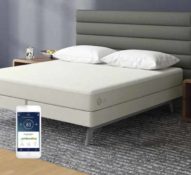 The Sleep Number 360 c4 is part of the company's Classic Series and is a bit firmer than other models. Click the button to save $400!
You Might Not Want To Consider This Mattress If:
You Like Foam Mattresses: Sleep Number mattresses are all about using an air chamber built into the mattress that can be used to adjust the firmness, support and comfort levels of the bed. It is less likely that you will "sink" into the bed like you would with memory foam or latex mattress.
You Want To Keep It Simple: Technically, you can use your own box spring underneath a Sleep Number mattress, however, customer service reps told me they recommend you purchase something called a "Bunky Board." According to Sleep Number customer service, this board is a thin upholstered layer that can be placed between the mattress and your base. Note: Sleep Number does not sell Bunky Boards but they can be purchased online at various retailers.
You Are A Heavier Person: Sleep Number mattresses can hold a weight of up to 400lbs per side. A Sleep Number model with more layers and more cushioning may be a better fit for heavier individuals. However, some customers have added mattress toppers to the more standard models, which could be a good (but potentially expensive) workaround.
Most Common Pieces Of Praise
Reviewers love that you can easily adjust the level of support with your remote. Several reviewers spoke about aches and not knowing what was wrong until they tried different firmness levels and found their ideal Sleep Number.
Couples loved that they could customize their half of the bed to whatever firmness they desired. Especially for couples who has one partner who likes firm beds and another who likes softer, this seems to be a big selling point.

Customers who are dealing with physical injuries like the FlexFit Adjustable Base option with the mattress because it allows them to be propped up or to elevate their legs and feet as desired.
Most Common Complaints
The beds can be high maintenance. If something goes wrong or needs repairs it seems like a hassle to go through their customer service system and send out a technician, often for an additional fee despite the 25 year warranty.
In C4 models with dual air chambers, some reviewers found that the middle of the bed (the space in between the air chambers) started sagging after a few years of wear.
Customers found the C4 model to be overpriced for the quality of the mattress.

Some customers were a little underwhelmed because they had such high expectations.

Why Would Someone Pick This Model Over The Other Sleep Number Mattresses?
Sleep Number mattresses can get expensive, nearly $5,000 for a Queen, which makes the C4 much more realistic at a base price point of $1,5999.
Those who are set on purchasing a Sleep Number bed may choose the C4 over the more affordable C2 because they want a slightly thicker mattress and an additional layer of comfort foam, which the C2 does not offer.
This extra layer of comfort foam (polyurethane) is said to have 3 zones for contouring support – so individuals who want all the benefits of a Sleep Number plus extra support for the head and neck, back and hips may like the C4.
Read our overall Sleep Number review
Overall
The C4 model could be a great fit for a couple (or individual) who wants to customize their sleep experience and need only a little bit of cushion. Just a step above the base model, the C4 offers an extra layer of added comfort with a 1.5-inch foam layer and three zones of support for your head and neck, back and hips. With some mixed reviews, your best bet may be to utilize the trial period and decide if the mattress firmness and construction quality make it worth the $1,599 price tag (for a Queen).
Katie Golde
Katie manages the day to day operations of the Mattress Clarity news site and reviews sleep products in addition to writing and editing sleep news. She hails from Austin, where she lives with her growing family. She is a Certified Sleep Science Coach and has a master's degree in Journalism from Northwestern University and has a background in health and science content. Her work can be found in print and online publications like Discover Magazine, USA Today and The Huffington Post.