All-foam mattress? Check. High-quality? Check. Back and side sleeper approved? Check.
If you're in the market for a new memory foam bed without all of the drawbacks, then the Nolah Signature 12″ mattress might be the best pick for you. Everything you want to know is right here in this unbiased Nolah Signature 12″ Mattress review!
We'll look at firmness level, feel, how it performed, and so much more. So keep reading to find out if the Nolah Signature 12″ is for you.
Nolah Signature 12" Mattress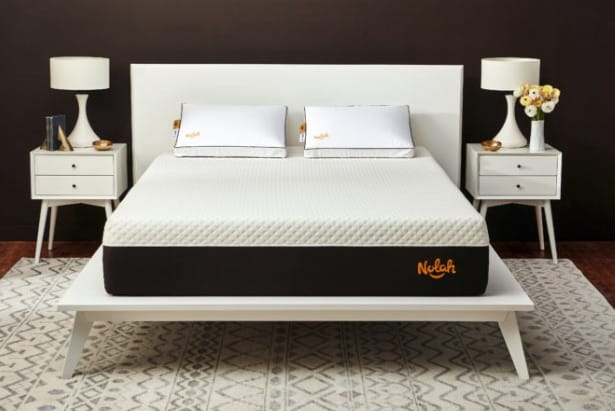 Shipping Method
Free shipping
Firmness
Medium-firm: 6.5/10
Warranty
Lifetime warranty
Price Range
$1099 - $1799
Nolah Signature 12" Mattress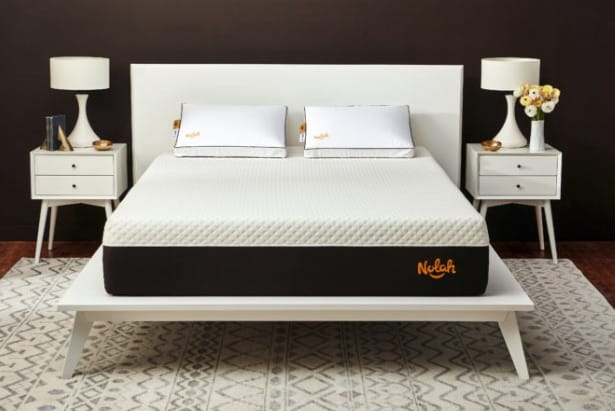 Warranty
Lifetime warranty
Firmness
Medium-firm: 6.5/10
Shipping Method
Free shipping
Price Range
$1099 - $1799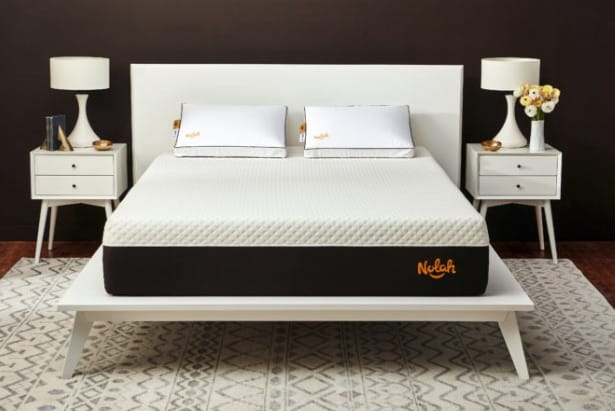 Nolah Signature 12" Mattress
Firmness
Medium-firm: 6.5/10
Warranty
Lifetime warranty
Shipping Method
Free shipping
Price Range
$1099 - $1799
Nolah Signature Mattress Overview
Nolah wants to remove the middleman and make mattresses more affordable for their customers, so they sell their mattresses exclusively online. The Nolah Signature Mattress uses Airfoam, which has some unique properties. It helps with pressure relief, and it's designed to help you sleep cooler at night.
Nolah proudly states that this mattress sells for one-third of the retail price of in-store memory foam mattresses. With all that said, what do you think of the Nolah Signature Mattress? Let's see if this is the new mattress for you:
Who Might Like the Nolah Signature?
Who Might Not Like the Nolah Signature?
Stomach sleepers
Fans of a firm mattress
Fans of a classic innerspring mattress
Nolah Signature Mattress Video Review
Let's see what this bed is all about! Check out our video review below.
Nolah Signature Mattress Mattress Firmness and Feel
People have all sorts of preferences when it comes to firmness and feel. In this Nolah Signature mattress review, we'll explain its firmness score and its overall feel.
How Firm is the Nolah Signature 10" Mattress?
While firmness can vary depending on height and body weight, in our experience, we found the Nolah Signature to be around 6.5/10.
For reference, at Mattress Clarity, we rate mattresses on a scale from 1 to 10, with 6.5/10 being the industry standard. This usually means that a 6.5/10 is considered medium-firm.
Sleeping on the Nolah Signature Mattress
The Nolah Signature feels different in each sleeping position. Back sleeping on this mattress, we felt a good amount of comfort and support. Our hips sank in just a little, but overall, this mattress really provided some good lumbar support for our backs.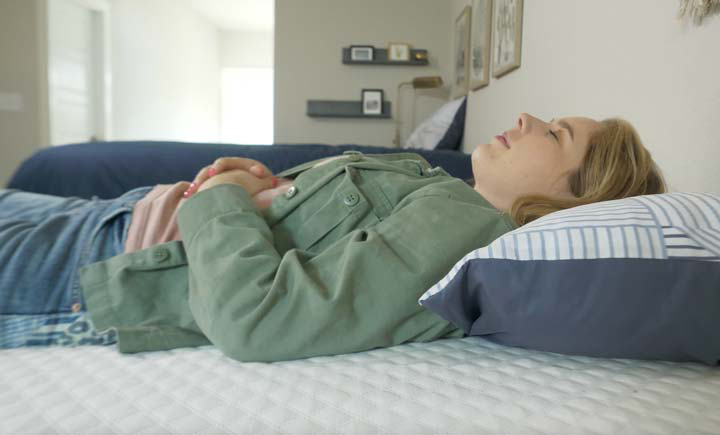 Switching to our sides, this is where the Nolah Signature mattress really shines. We can feel the top layer of Airfoam contouring to the pressure points in our hips and shoulders. While heavier side sleepers might experience this mattress a little differently, we would still rate this as one of the best mattresses for side sleepers.
For stomach sleepers, however, this mattress might not be the best pick. Stomach sleepers typically need firm mattresses to keep their hips elevated and to prevent back pain. With the Nolah Signature, this might be too soft, and your hips could sink too far into the comfort layers.
What Does the Nolah Signature Mattress Feel Like?
Unlike other foam beds, the Nolah Signature has a balanced foam feel, and it is quite responsive. We still get to sink into the top, slow-moving memory foam layers of this mattress. However, it's still easy to move around on top of it.
Average Weight Sleepers – 130lbs – 230lbs
Average weight back sleepers will really enjoy the balanced foam feel of this mattress, feeling both comfort and support. If you prefer side sleeping, then this mattress will also provide great pressure relief for your hips and shoulders. But, as mentioned, stomach sleepers might need a firmer, more responsive mattress to keep the correct spinal alignment.
Heavyweight Sleepers – Over 230lbs
Unfortunately, we wouldn't call this one of the best mattresses for heavy people. Because they could potentially press into the layers too much, they might not feel the comfort and support while back and stomach sleeping. While sleeping on their sides, pressure could build up in the hips and shoulders, which could cause pain down the line.
Lightweight Sleepers – Under 130lbs
On the opposite end of the spectrum, lightweight sleepers in all positions could call this one of the best mattresses for lightweight sleepers. Because they won't compress the layers that much, lightweight back and side sleepers should still feel that great support and comfort. Even stomach sleepers should be able to keep their hips elevated to reach the proper spinal alignment.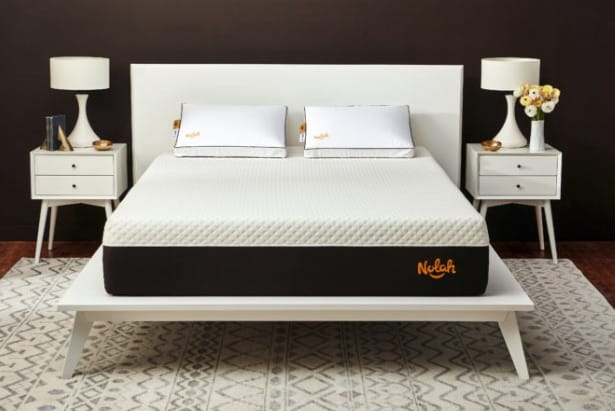 Nolah Signature Mattress Construction
Let's unzip the cover of the Nolah Signature and take a look at the inside, layer by layer.
Cover
The Nolah Signature has a soft cover made with 100% organic cotton. The result? A luxurious cooling exterior that you'll love to lounge on.
Comfort Layers
The top comfort layer contains Nolah's Plush Contouring Airfoam. This is proprietary to Nolah, and it's designed to prevent trapping body heat.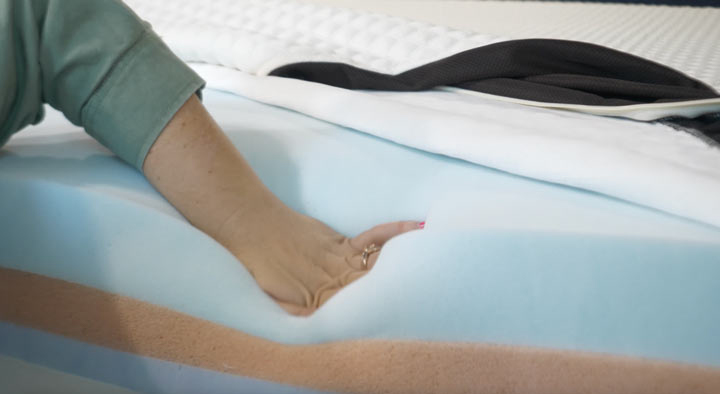 Right underneath that top layer, we have some Deep Supportive High-Resilience foam. This adds to the responsiveness of the mattress. Because this layer is denser than Nolah's Airfoam, it doesn't sink as much as some other memory foam mattresses out there.
Then, you'll find another layer of Airfoam. This layer feels much firmer than the foam you'll find at the top, which helps you get the necessary support.
Support Layer
The bottom support layer is made of 7" of high-density foam. This provides great lumbar support for back sleepers and helps give the mattress some good edge support, too!
One thing to mention – for added support, Nolah does recommend that you keep the mattress on one of their flat foundations or adjustable bases.
Mattress Height
The Nolah Signature Mattress is 12" tall.
Nolah Signature Mattress Size Options and Price
As we said earlier, this mattress is intended to be more affordable than mattresses in-store. Take a look at the up-to-date price table below.
| | | |
| --- | --- | --- |
| Size | Dimensions | Price |
| Twin | 38" x 75" | $1099.00 |
| Twin XL | 38" x 80" | $1199.00 |
| Full | 54" x 75" | $1399.00 |
| Queen | 60" x 80" | $1599.00 |
| King | 76" x 80" | $1799.00 |
| California King | 72" x 84" | $1799.00 |
Nolah Signature Mattress Performance
We've talked a lot about what goes into this mattress, but now let's take a look at how it performed while we tested it out.
Sleeping Hot or Cold
Memory foam mattresses are known for trapping heat, but with the Nolah, we're happy to report it sleeps relatively cool. The tencel cover is designed to be breathable. And the main comfort layer, the Nolah Airfoam, is designed to fight heat retention.
Motion Transfer
When it comes to motion transfer and motion isolation, the Nolah, like most foam mattresses, does very well. At Mattress Clarity, we test motion transfer out in a couple different ways. One way we do it is by putting a glass of water on the bed, and we press into the layers around it.
The water barely moved as we pressed our hands around the glass. This test is a good indicator for couples looking for a new mattress. You likely won't feel your partner change positions or get out of bed on the Nolah.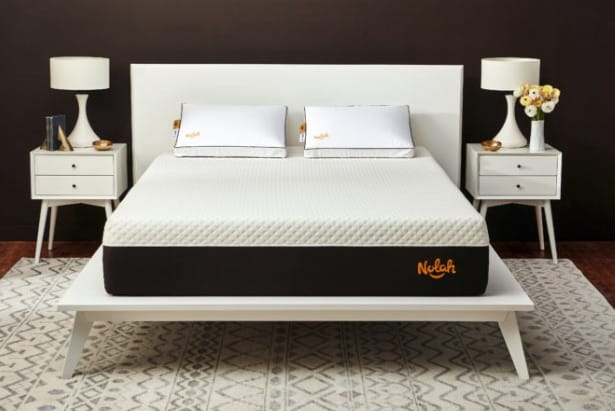 Edge Support
Traditional memory foam mattresses typically don't have the best edge support. For the Nolah Signature, we do notice a bit of compression at the edges. However, the high-density foam base layer keeps us from bottoming out.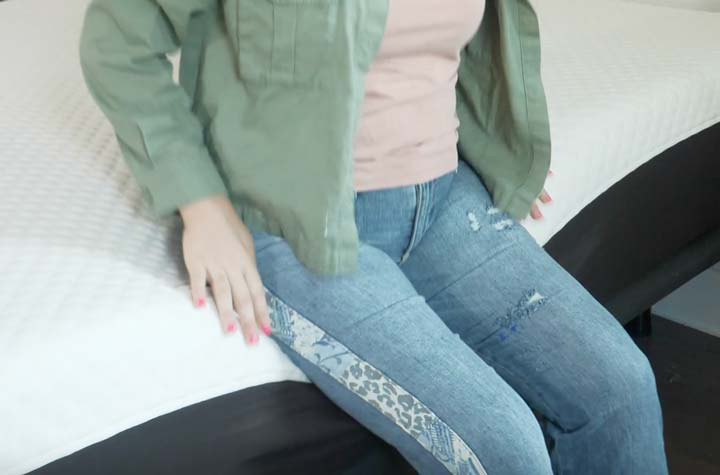 Sitting or even sleeping near the edge shouldn't be too much of an issue. You'll likely feel decently secure near the edge of this mattress.
Durability
The Nolah Signature Mattress is composed of some really durable high-density foam. Because of that, we expect this mattress to last a good while! Factors such as frequency of use and weight play a part here, but we fully expect this mattress to last 7-10 years.
Off-Gassing
Because the Nolah Signature is a bed-in-a-box, you may experience some off-gassing. This just means you may notice a slightly chemical smell to the mattress when you first take it out of the box. The good news is, after about 24 – 48 hours, the smell should completely fade.
Noise
Typically, all-foam mattresses don't make much, if any noise, as you move or change your sleeping position. The Nolah Signature is no exception!
Sex
Couples looking for the best mattresses for sex may think they need to avoid all-foam mattresses. However, because the Nolah Signature is a good deal more responsive than other foam mattresses, we expect this to be a good pick for sex.
Overall Rating
So, how does the Nolah Signature stand up after all our tests? Check out our rating card below!
Company Policies
Knowing a company has your best interest in mind is so important when making a purchasing decision. Let's see what Nolah offers on their mattresses.
Warranty Info
The best warranties are the ones that last a lifetime. And if that's important for you, you're in luck. The Nolah Signature Mattress does come with a lifetime warranty.
Sleep Trial
Because Nolah doesn't have a brick-and-mortar location, it's important to know that you can test your mattress. The Nolah Signature has a 120-night sleep trial period.
Return Policy
Nolah offers free shipping and returns for their mattresses. So, if you decide that the Nolah Signature Mattress isn't for you, Nolah will give you a full refund and come pick up your mattress.
Common Nolah Mattress Complaints
The main Nolah Signature mattress complaints have to do with support. Stomach sleepers complain that they do not get enough support. If you prefer this sleeping position, that's something to consider. Also, a number of heavier people complain that the mattress is too soft for them.
How Does the Nolah Signature Compare to Other Mattresses?
Shopping for a new mattress is quite the investment purchase. It's always a good idea to look at a few different comparisons.
If you'd like to see a full list of comparisons to brands such as Helix or Saatva, take a look at our full Nolah mattress comparisons.
Nolah vs Nectar
Nectar is considered one of the best bed-in-a-box mattresses but let's see how it stacks up to the Nolah Signature.
In terms of construction, these two mattresses are both all-foam, but the layers work a little differently. Nolah contains the company's proprietary AirFoam, which provides excellent pressure relief. Nectar's top comfort layer is made of gel foam, which is designed to help sleepers stay especially cool at night.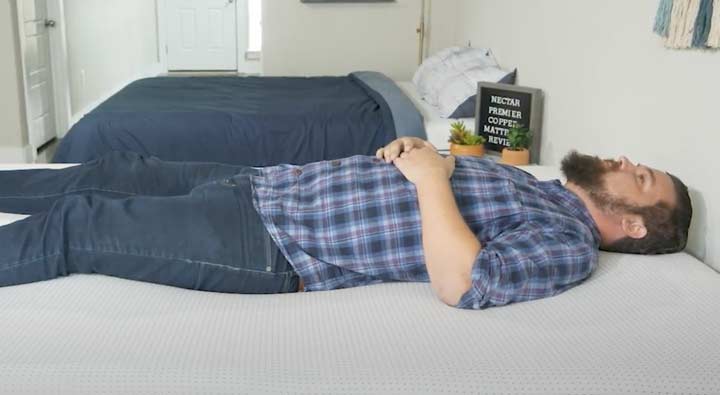 Both fall around the standard medium-firm range of 6.5/10. However, the Nolah Signature is a bit more responsive than the Nectar.
Finally, looking at the price, the Nolah is a bit more affordable than the Nectar. But remember, you can always save some extra money with our Nectar Coupons.
Who Should Get the Nolah Signature?
Mattress shoppers on a strict budget
Fans of a more responsive mattress
Who Should Get the Nectar Mattress?
Fans of a slow-moving memory foam feel
Anyone looking for one of the best soft mattresses
Read our full Nectar Mattress review.
Nolah vs Casper
Again, we're looking at Casper's all-foam model. However, the second layer is what really differentiates these two mattresses. In the Casper, there's a zoned memory foam layer. This means it feels firmer towards the middle of the bed and softer near the foot and head.
Despite this, the Casper is a bit firmer than the Nolah, coming in at a 7/10. Casper's polyfoam support layer and the zoned support layer is what make this a bit firmer than the Nolah.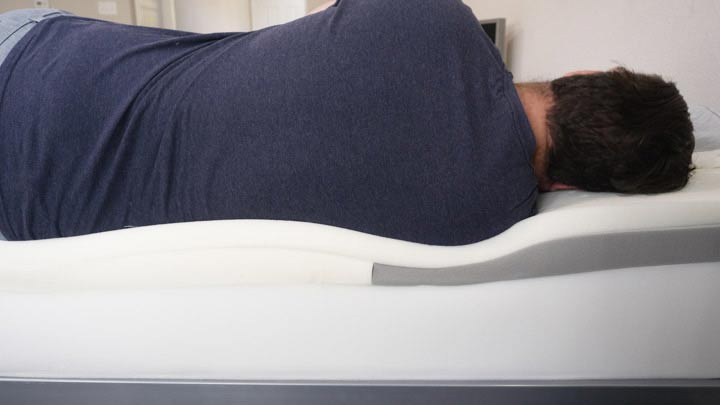 In terms of price, the Nolah is, again, the more affordable option. However, you're set on purchasing the Casper, make sure to check out our Casper mattress coupons.
Who should Get the Nolah Signature?
Side sleepers
Fans of responsive mattresses
Who should Get the Casper?
Back sleepers
Anyone looking for one of the of the best mattresses for back pain
Read our full Casper Original Mattress review, and check out our other Casper comparisons to see how it stacks up against more competitors.
FAQs
Let's see what kinds of questions people are asking about the Nolah Signature Mattress.
Is Nolah 12" Signature a good mattress?
The Nolah 12" Signature is indeed a good mattress. It offers two firmnesses in one and should be a good fit for pretty much any sleeping position.
Can you flip the Nolah Signature 12" mattress?
No, the Nolah Signature is no longer a flippable mattress. It has a classic medium-firm feel, so it works well for a variety of sleepers.
What if I don't like my Nolah Signature mattress?
If you don't like your mattress, you can return it for a full refund. Make sure you've tried out your Nolah Signature 12" mattress for 30 days before you contact the company.
Marten Carlson
Marten is the Lead Reviewer at Mattress Clarity. He is a Certified Sleep Science Coach and covers the mattress industry as well as sleep science news. He is specifically interested in the connection between sleep and overall health. Marten has written for media publications like Consequence of Sound and received a master's degree in Film Studies from Emory University. He comes from Franklin, Indiana, and spends all the time he can writing, directing, and acting in films.