Leachco refers to their Snoogle body pillow as "the mother of all pregnancy pillows" and it's certainly very popular with pregnant people. The total body pillow is shaped similarly to the letter "C" and can be used in multiple ways to provide support during and after pregnancy.
What else is there to know about this pillow? I've got all the details  in my Leachco Snoogle Pregnancy Pillow review below!
Leachco Snoogle Pregnancy Pillow Review
Key Features
Dimensions: 60″ x 7″ x 25″
Filling: polyester fibers (like firmly packed down alternative)
14.4 ounces in weight
A single uniquely C-shaped pillow that supports and aligns hips, back, neck, and tummy
Comes in a variety of fabric options with removable and zippered covers (see below for more details)
The actual pillow is spot clean only but removable covers can be machine washed and dried
The patented design was developed by a Registered Nurse and Mom
Free Returns
Leachco Snoogle Chic Jersey Total Body Pillow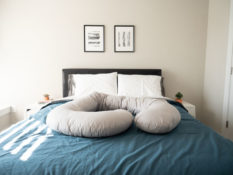 Leachco Snoogle Chic Jersey Total Body Pillow
The Snoogle is a total body pillow, providing support to the entire body. Check out our latest deals on the Leachco Snoogle Pregnancy Pillow!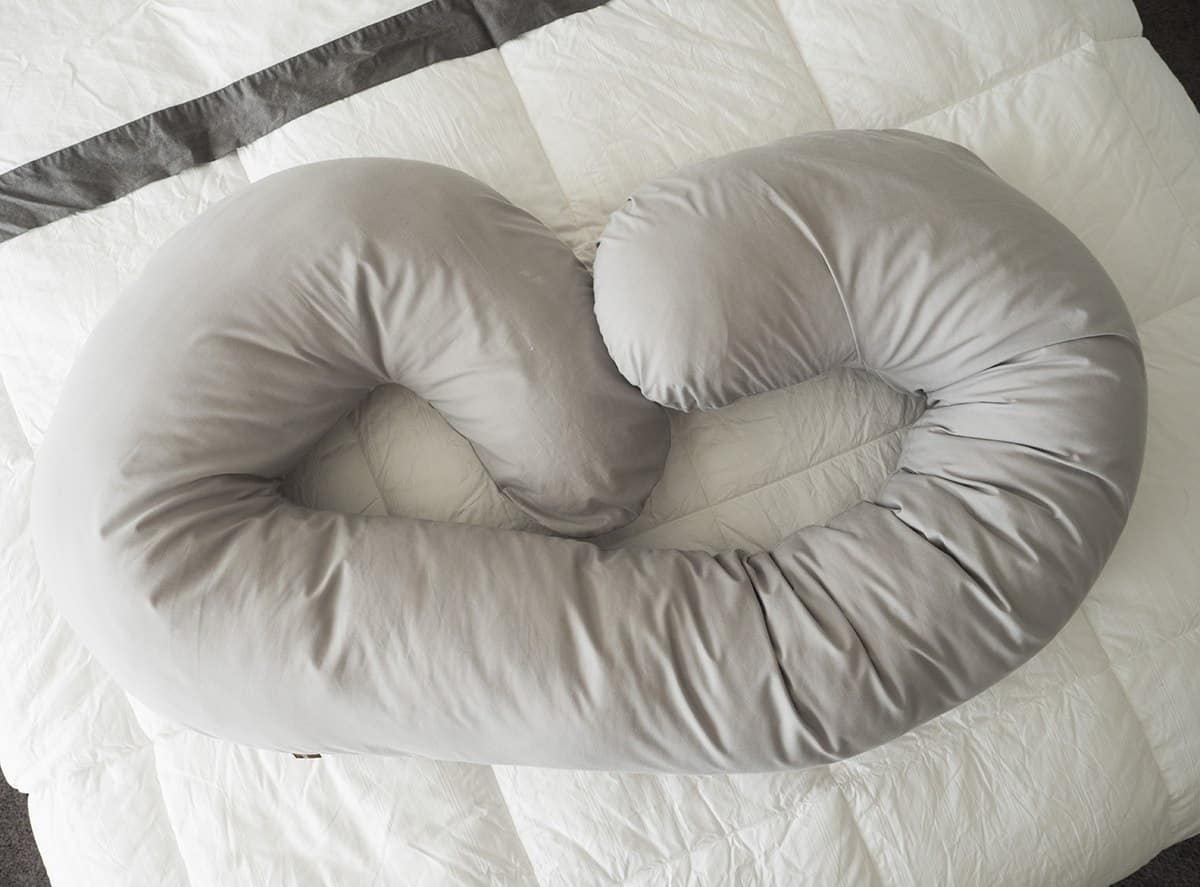 Pillow Construction
The Snoogle is a total body pillow, which means it provides support to all parts of the body with its C-shape. The filling of the Snoogle is made with polyester fibers but overstuffed, giving it a firm down alternative feel inside and 7″ height profile.
You can purchase a Snoogle in a range of cover options. "The Basic" has a non-removable cover and is 65% polyester/35% cotton. "The Original" has the same fabric blend but a sham-style removable cover that can be machine washed and dried.
RELATED: How to Sleep Better While Pregnant
There's also a version called "The Chic" that offers a variety of cotton blends, including organic cotton and jersey cotton. They all feature a zippered removable cover.
My review is of the Original sham-style removable cover in grey.
Here is a breakdown of the options from the Leachco website: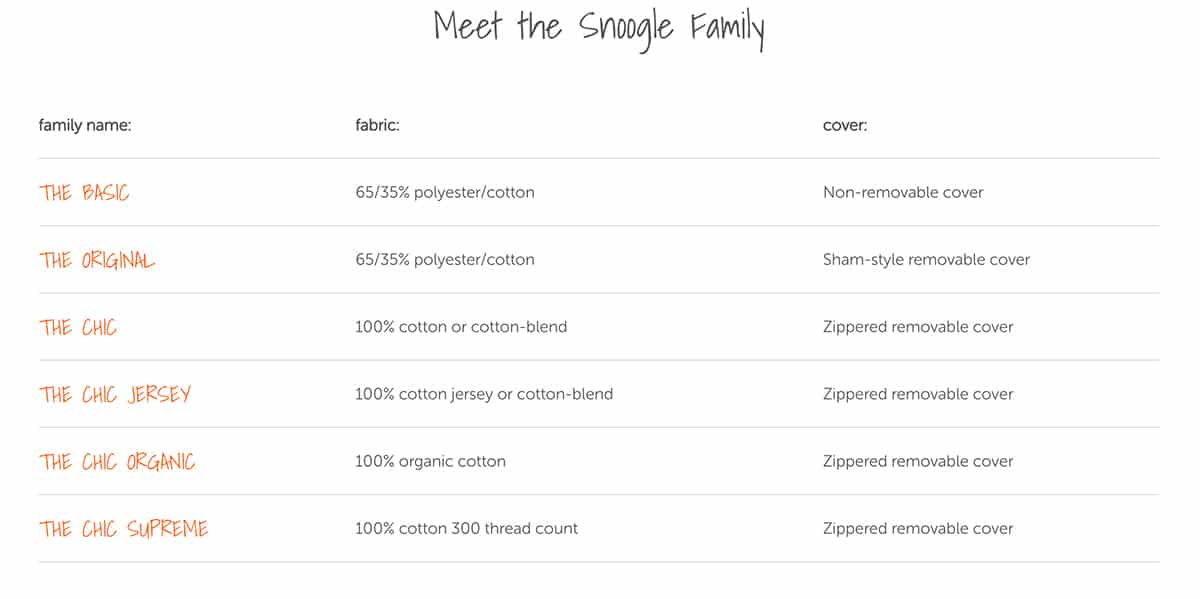 image from Leachco.com
Pros
Replaces the need for multiple pillows during pregnancy
Comes in several different cover materials, including 100% organic cotton and jersey knit (a mini version of the Snoogle is also available)
Fairly affordable ~$60; price varies by retailer
The cover is removable (in most cases) and easy to clean
Helps to keep the spine, head, and neck in neutral alignment

Cons
Pillow itself is spot clean only
The sham-style cover may be difficult to get on/off
7″ height profile might be too tall in the head/neck area
Can be cumbersome and take up a lot of room in the bed
Return options vary by vendor/retailer
My Experience
A little background: I'm a little more than five months pregnant with my second child and starting to get uncomfortable. I primarily sleep in multiple positions and switching primarily to my side has been a challenge.
After looking into pregnancy pillows, one thing became clear: Women love the Snoogle. The C-shape design curls around the entire body and is easy to move into a comfortable position – no matter what trimester.
I reviewed "The Original" – a polyester/cotton blend with a sham-style removable cover. This fabric isn't overly soft, it has more of that crisp feel to it.
No matter which type of Snoogle acquired – they're all stuffed with polyester fiber, giving it a firmer down alternative feel. It's almost like stuffing sausage into a casing (sorry if that's an off-putting comparison but that's how it felt to me).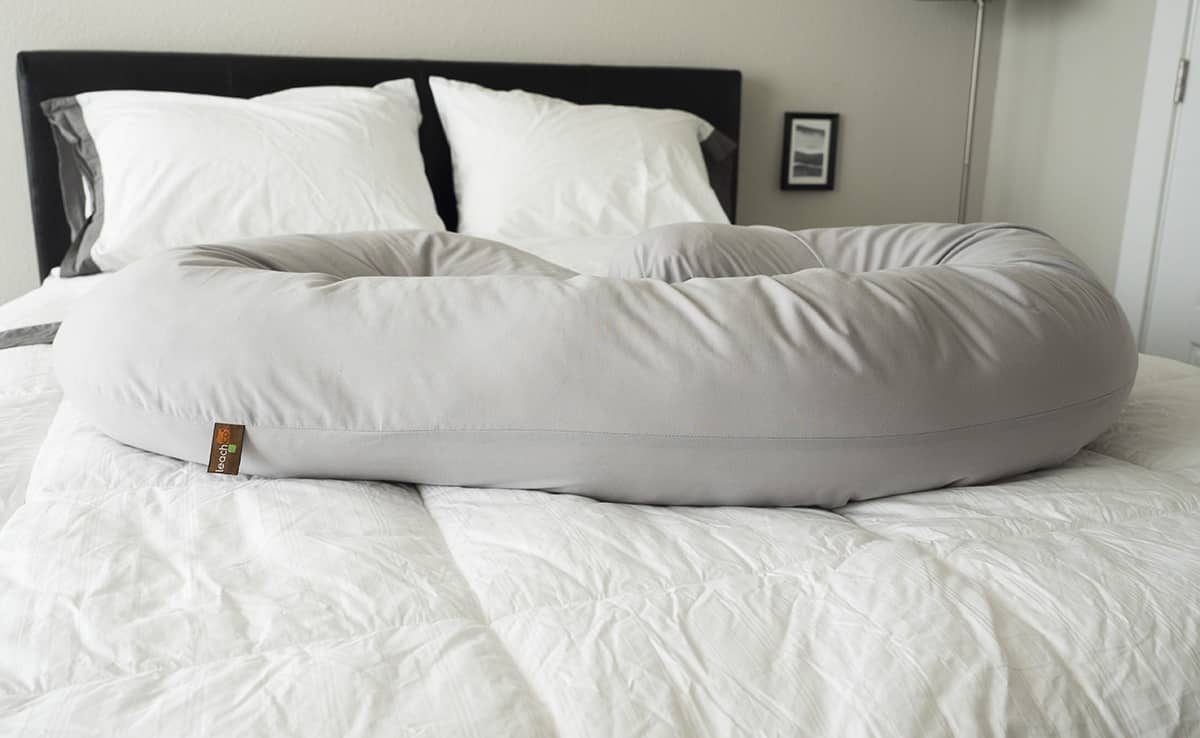 There are about six different ways to use the Snoogle (see below) but I think the most frequently used positions during pregnancy are the Belly Basic and the Back to Back positions. These allow a woman to rest her head, growing belly, and knees on the pillow and feel supported.
The other four resting positions are great for sitting up in bed, on the couch and especially postpartum when holding a little one and the adult needs a little support under his or her arms.
I think I've had an opportunity to use my Snoogle in just about every one of these positions. It is easy to get comfortable and feel supported but I was also taking up a lot of real estate in the bed (especially if the bed is a Queen or smaller and is shared it with a partner).
RELATED: Pregnancy Pillow Buying Guide
6 Ways to Use the Snoogle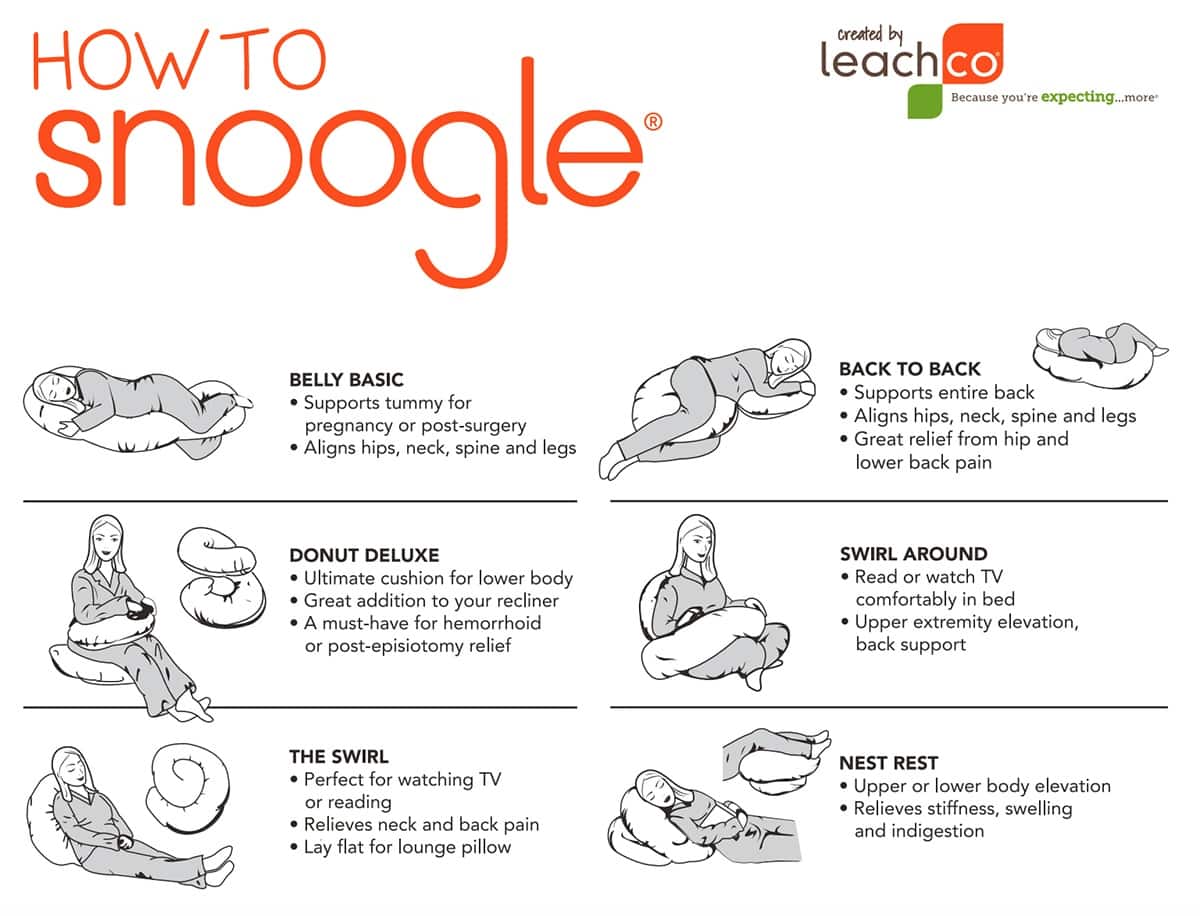 Where to Buy
Leachco is the maker of the Snoogle but it cannot be purchased directly from their website. Instead, they have a list of authorized retailers. They are listed below:
Bed Bath & Beyond
Toys "R" Us
buy buy Baby
Destination Maternity
Babies "R" US
Nordstrom
Various local retailers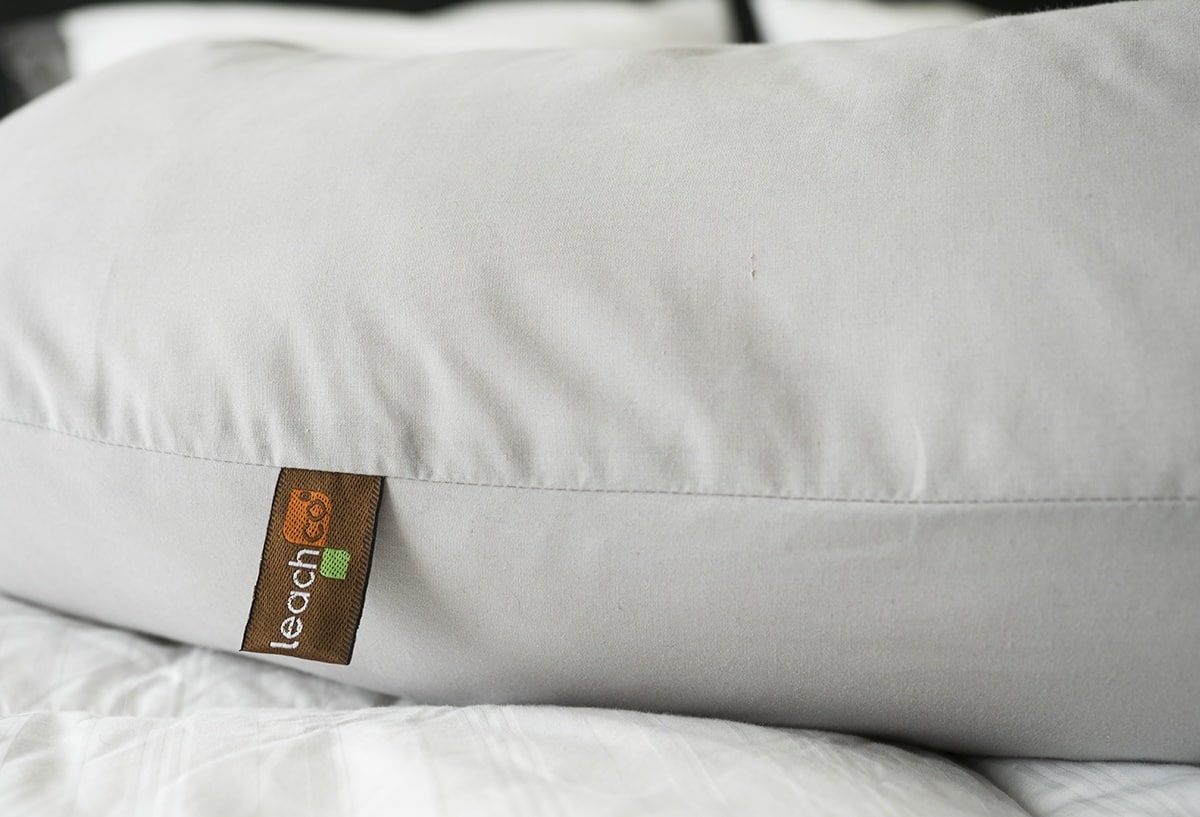 Overall
I think the C-shape and the versatility of the Snoogle make it a game-changer for pregnant women who are transitioning from a standard pillow (or two). It will support a woman while she is lying down and sitting up. It'll also work when during pregnancy as well as the post-partum period and it's not overly expensive.
I would personally go with one of "The Chic" options and choose a soft cotton or jersey knit cover. I like the softer feel and the ease of unzipping and re-zipping the cover whenever it needed to be washed  – I struggled with that sham!
Katie Golde
Katie manages the day to day operations of the Mattress Clarity news site and reviews sleep products in addition to writing and editing sleep news. She hails from Austin, where she lives with her growing family. She is a Certified Sleep Science Coach and has a master's degree in Journalism from Northwestern University and has a background in health and science content. Her work can be found in print and online publications like Discover Magazine, USA Today and The Huffington Post.