TEMPUR-Pedic is known for its conforming and responsive TEMPUR material, which the company uses in its pillows, mattresses, and other sleep accessories.
The company offers a very supportive full-body pillow that is designed for side sleepers, pregnant people, and those who really like supportive foam.
This review will go over the construction of the body pillow and go over the key takeaways consumers should be aware of in order to make a more informed decision.
TEMPUR-Pedic BodyPillow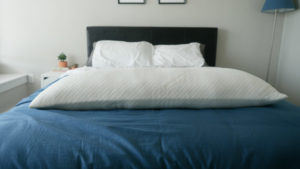 The TEMPUR-Pedic body pillow is a 5.5" tall pillow made with a medium-firm sleeve of the brand's TEMPUR material.
Mattress Clarity Score
4.30 / 5
Read Full Review
TEMPUR-Pedic Body Pillow Video Review
Watch as I take the biggest brand name in body pillows through some tests.
Key Features
Dimensions: 14" x 48" by 5.5" (in height)
Weighs just over 7.5 lb
Designed to support side-sleepers and expectant mothers
The core is filled with a medium-firm sleeve of TEMPUR® material (pressure-relieving memory foam) with shapeable micro-cushions
The cover is made of 60% polyester knit and a 40% nylon blend
The cover is also removable and washable (line dry only)
$199 at full price
5-year limited warranty and no returns
Who Makes The Body Pillow
The TEMPUR-Pedic body pillow is made by TEMPUR-Pedic, a popular mattress and bedding company that merged with Sealy in 2012 to become Tempur-Sealy International.
The TEMPUR-Pedic brand is well known for being the first to take memory foam mattresses mainstream. It also has a large collection of pillows made with TEMPUR material as well.
The review of their TEMPUR-Cloud Breeze Dual Cooling pillow or their TEMPUR-Symphony pillow is also available on our website.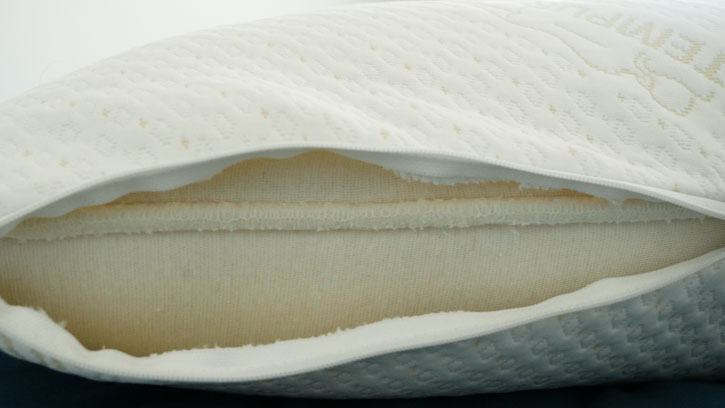 Care
The care instructions for this body pillow are fairly straightforward. Consumers cannot wash the TEMPUR material in the core, but there is a zipper that lets people remove the polyester knit cover.
The cover can be machine washed on a gentle or delicate cycle and should be line dried. It may shrink if they throw it in the dryer, so people should be careful.
Pros
The body pillow offers great support for side sleepers and pregnant people
The pillow is heavy and won't slide around easily in the bed
The cover is soft, removable, and can be machine washed
TEMPUR material conforms to the body nicely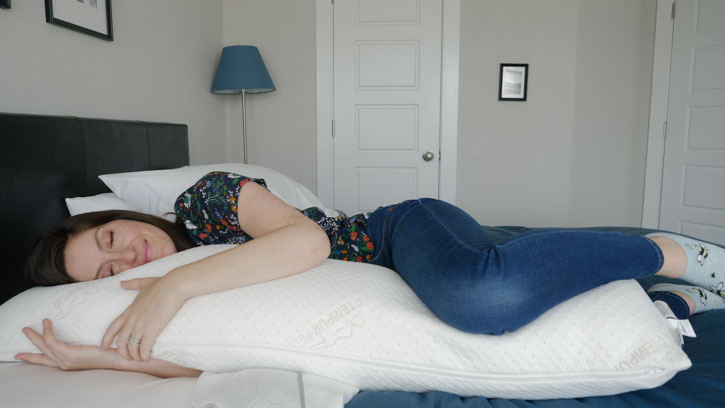 Cons
This body pillow is one of the more expensive options
It's a large pillow that will provide more than subtle support (serious support!)
It'll take up a good amount of space in the bed
It's not possible to adjust or manipulate the filling
There is no return policy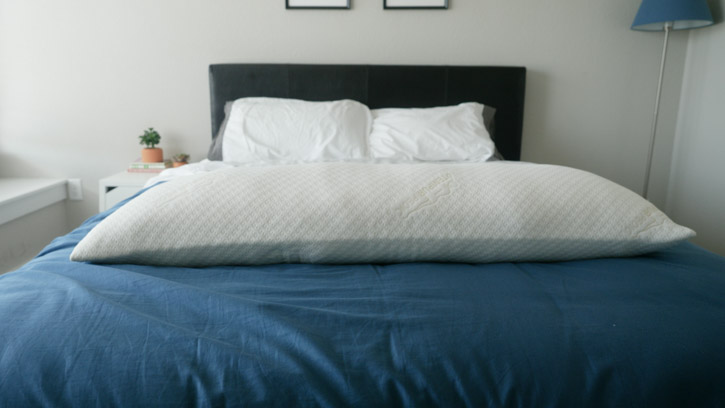 Personal Experience
I've had the chance to review a variety of body pillows and in my experience, they tend to range from those with low loft and softer fillings that add subtle or enhanced support, to taller and firmer options that tend to be filled with foam or shredded foam and have a lot of support.
The TEMPUR-Pedic body pillow falls on the firmer and more supportive end of that scale. TEMPUR material can be described as high quality, slow-response memory foam. This body pillow is basically 7.5 lb of that medium to firm foam filling.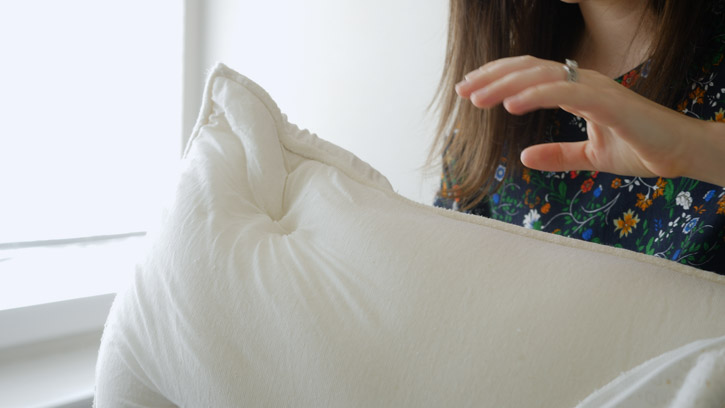 It can almost feel like there is another person nearby, which makes the pillow delightful (in my opinion) to use as a side sleeper, because people can wrap their arms and legs around it and help keep their hips open and aligned.
It felt a little too firm and oversized when trying to use it sleeping on my stomach. That said, I can definitely work for larger individuals who are looking for substantial support.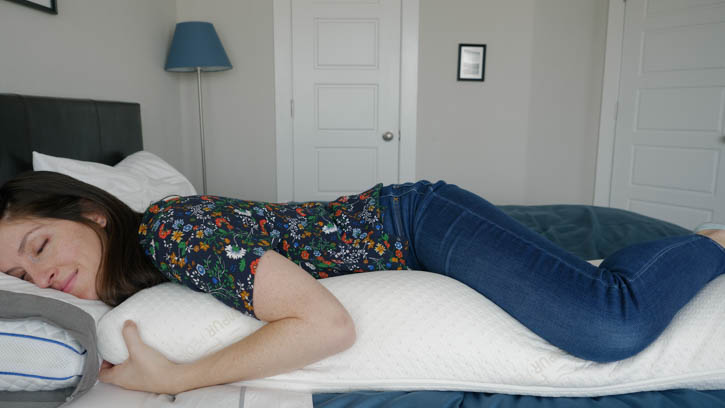 As a supportive pillow for back sleepers, it seemed to act as more of a barrier between me and my spouse rather than a pillow that provided support. This is primarily due to its large size and firmer feel.
The pillow cover is a soft polyester knit that is easy to remove with a zipper down the long side of the pillow. People can machine wash it following the directions on the cover, but they should make sure to line dry it so it doesn't shrink.
TEMPUR-Pedic BodyPillow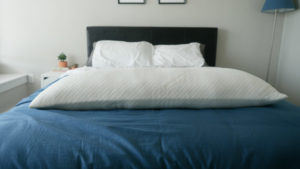 The TEMPUR-Pedic body pillow is a 5.5" tall pillow made with a medium-firm sleeve of the brand's TEMPUR material.
Mattress Clarity Score
4.30 / 5
Read Full Review
How This Pillow Works For Different Sleep Positions
As the brand suggests, the pillow really does work best for side sleepers and pregnant people who are looking for a good amount of added support.
I'd also recommend it for larger or heavier individuals who sleep on their sides or their stomachs.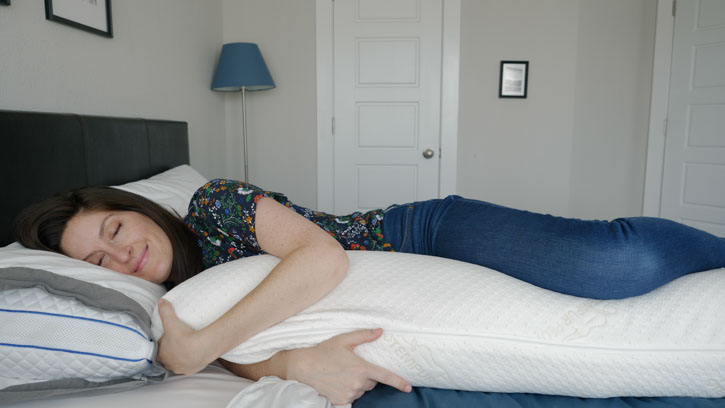 The pillow is a solid piece of medium-firm foam that is about 5.5″ tall. It does have small hills/valleys in it called "shapeable micro-cushions," but consumers can't really manipulate or adjust the filling.
For this reason, it is particularly challenging to get significant back support. My back rested up against the pillow, but it was too tall and firm to be helpful in terms of support.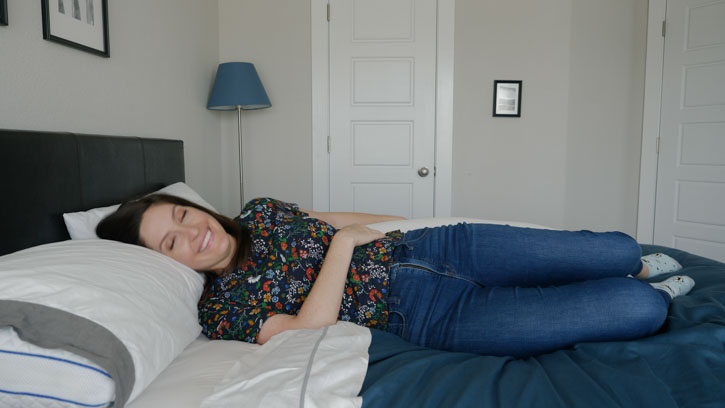 Overall
Overall the pillow is simple but substantial. I personally liked the firmer filling and the slower response and conforming nature of the foam. I can see side sleepers enjoying this pillow (but maybe not the price tag).
The pillow becomes a bit of an investment because of its $199 price tag and because TEMPUR-Pedic does not accept returns on its pillows.
Katie Golde
Katie previously managed the day to day operations of the Mattress Clarity news site and reviews sleep products in addition to writing and editing sleep news. She hails from Austin, where she lives with her growing family. She is a Certified Sleep Science Coach and has a master's degree in Journalism from Northwestern University and has a background in health and science content. Her work can be found in print and online publications like Discover Magazine, USA Today and The Huffington Post.