Coop Home Goods is known for making some super comfortable (and soft) adjustable, shredded foam pillows. Their body pillow is no exception.
You'll find features of both their Original pillow and their Eden pillow in the body pillow, from the soft rayon derived from bamboo to the "best of both worlds" mix of foam and fiber in the filling.
Who should get this body pillow? Check out my video and my written review below for all the details!
Coop Home Goods Pillow Deals
The Coop Home Goods body pillow is 54" long and filled with a mix of crosscut gel memory foam pieces and polyester fiber. It's adjustable and super soft and a great fit for all sleep positions.
Key Features
Dimensions: 20″ x 54″
Lulltra® fabric cover is 60% polyester, 40% bamboo-derived rayon
Cross-cut memory foam (80%) and microfiber filling (20%)
Zippered cover allows you to access filling and add/remove to meet your desired support level
Dust mite resistant
Hypoallergenic
Made in the USA
Comes with a 5-year limited warranty
100-night sleep trial
$69 full price
Care: won't fit standard washers and dryers, so it's a good idea to use a pillow protector and/or spot-clean the pillow using a mild detergent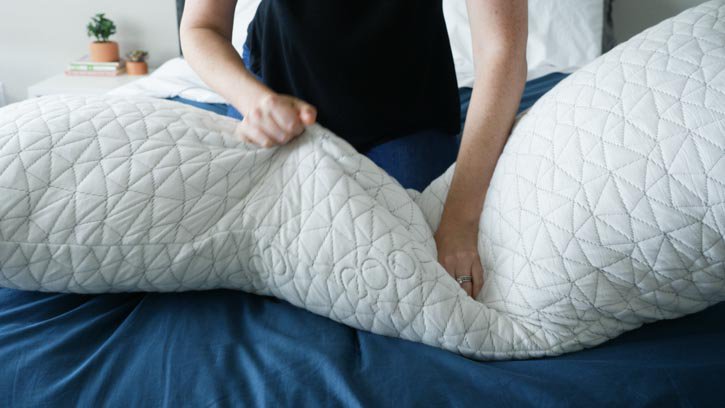 Who Makes It?
The body pillow is made by a bedding accessories company called Coop Home Goods. The business is family-owned by a brother and sister team. They are known for bringing high-quality and innovative products directly to consumers, bypassing retailers and associates.
Their first product is the shredded memory foam pillow that they started selling in October 2013. They also sell a mattress protector and home-related products such as a stainless steel spin mop and dish drying mat set.
We've had a chance to review their Original pillow and Eden pillow as well, and both are team favorites at Mattress Clarity.
Care
So the care instructions regarding how to clean this pillow are a little bit confusing.  I got a small piece of paper with my body pillow that says you can wash the pillow, but the instructions on the brand's site say to spot-clean it only.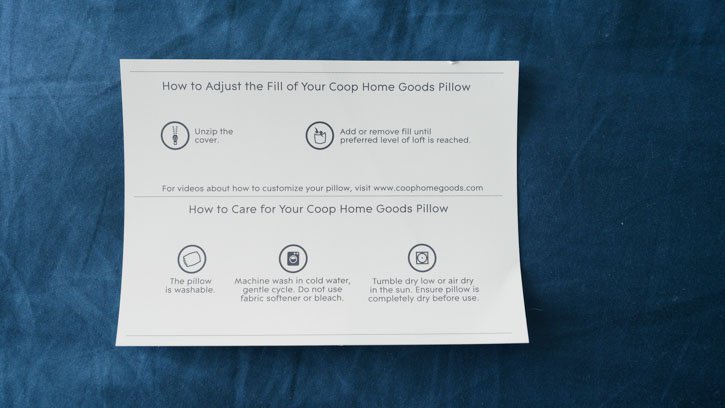 The pillow is too large to successfully fit into a standard-sized washer and dryer. So on their website, the brand gives you these instructions:
Because our Body Pillow is large and doesn't fit standard washers and dryers, we recommend layering our machine washable Pillow Protector over the Body Pillow to keep it fresh and clean. If you do wish to wash your Body Pillow, we recommend using a commercial washer and dryer.
I personally would recommend not trying to machine wash and then dry a large amount of shredded foam and fiber. This can take a very long time to fully dry, and in a commercial dryer it could get expensive. I'd suggest using a pillow protector or planning to spot-clean the pillow.
Pros
Super soft, breathable cover
Adjustable in nature
Hypoallergenic
100-night trial
Good full-body support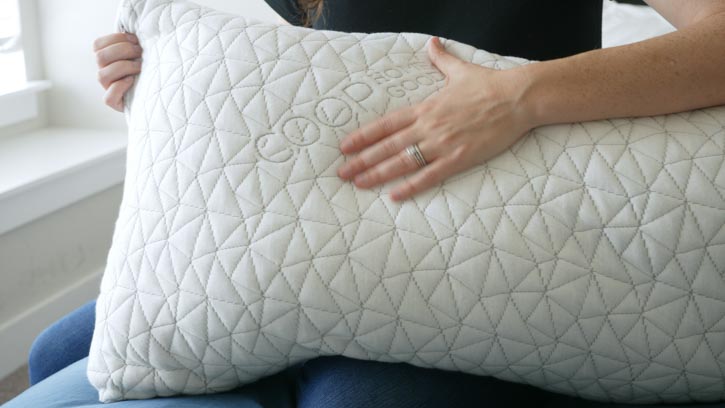 Cons
Wish they had a liner so you could remove the cover to wash separately
Takes up a good amount of space in the bed
Taking the foam and fiber combo out might be messy
Others are cheaper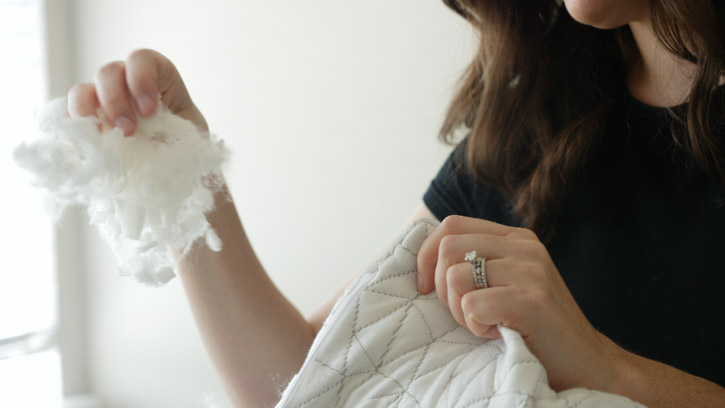 How This Pillow Works For Different Sleep Positions
Because of its adjustable nature, I think the Coop Home Goods body pillow will truly work for all sleep positions.
Side sleepers or larger individuals will want to use it with the amount of stuffing it comes with, while back and stomach sleepers may want to lose a little bit of the filling for slightly less body support.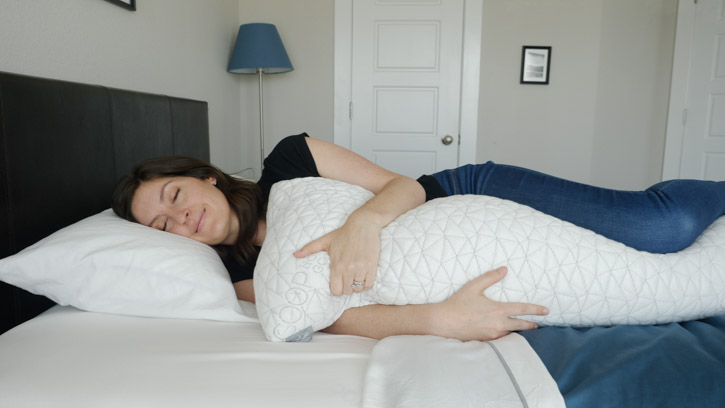 The filling is a mix of foam and fiber, and you can move it around and manipulate it as needed. This also makes it a nice option for a pregnant person who wants some customization from their supportive body pillow.
As a primary back and side sleeper, this body pillow is one of my favorites. I like the supportive feel on my side and my back.
You can also fold the pillow in half and use it between your knees (you'll probably need to take out some of the filling) or behind your back while you're in bed relaxing.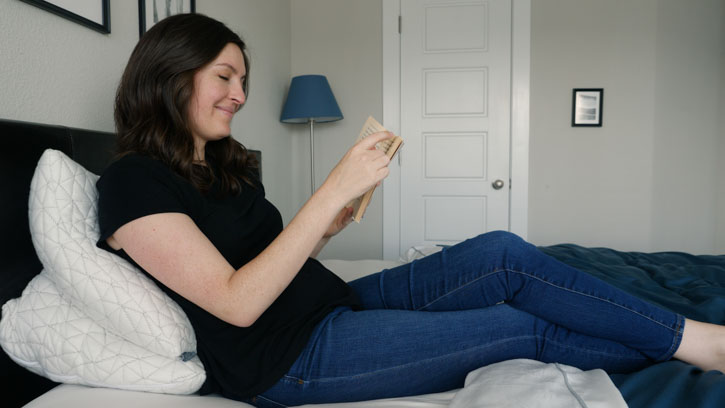 Coop Home Goods Pillow Deals
The Coop Home Goods body pillow is 54" long and filled with a mix of crosscut gel memory foam pieces and polyester fiber. It's adjustable and super soft and a great fit for all sleep positions.
Overall
Just like the brand's other pillows, this body pillow is sure to be a crowd-pleaser. The cover is super soft and breathable, and the inner filling can be added/removed and adjusted internally to match anyone's support needs.
It's also on the more affordable side (right around $70) with a 100-night trial, which minimizes the risk of the investment.
If you are still on the fence about this pillow or want a personal recommendation, comment below and I'll help guide you!
The following two tabs change content below.
Katie Golde
Katie manages the day to day operations of the Mattress Clarity news site and reviews sleep products in addition to writing and editing sleep news.She hails from Austin, where she lives with her growing family. She is a Certified Sleep Science Coach and has a master's degree in Journalism from Northwestern University and has a background in health and science content. Her work can be found in print and online publications like Discover Magazine, USA Today and The Huffington Post.
Latest posts by Katie Golde (see all)