What if I told you that the best pillow for shoulder pain relief is actually three pillows? The MedCline Shoulder Relief System is an incredibly unique, three-piece body pillow that has been designed to help relieve shoulder pain.
In my MedCline body pillow review, I'll cover everything from how to use this unique system, my experience with it, pricing, performance, and much more.
Before I get too detailed, I'd like to note that I am not a medical professional. While the designer of the MedCline has a medical background, my review should not be taken as medical advice. If you are experiencing severe shoulder pain, I recommend meeting with your doctor.
MedCline Shoulder Relief System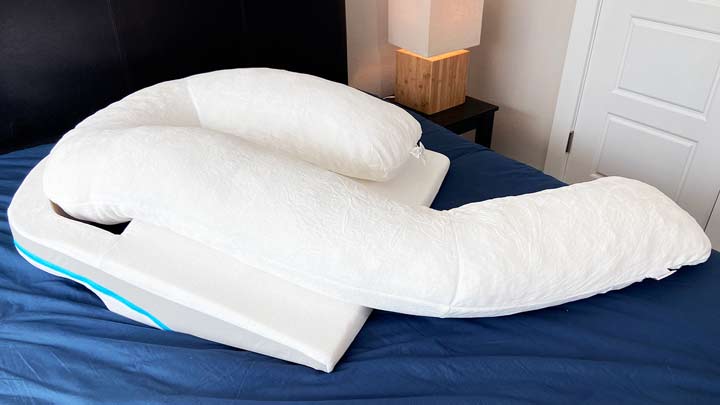 This three-part pillow system alleviates shoulder pain and can help with acid reflux symptoms.
MedCline Body Pillow Overview
MedCline was founded in 2011 by a retired physician named Carl Melcher. After a diagnosis that could develop into esophageal cancer, Melcher set out to develop a sleep system using positional therapy—a type of therapy that involves using your sleep position to help with various medical conditions such as gastroesophageal reflux disease (GERD), or sleep apnea. This was to help not just himself, but others with his condition.
Today, MedCline makes two main body pillow systems: the Acid Reflux Relief System, and the Shoulder Relief System. This review will focus on the Shoulder Relief System. Here's a quick overview before getting into the nitty gritty:
| | |
| --- | --- |
| Who Might Like the MedCline Body Pillow | Who Might Not Like the MedCline Body Pillow |
| People who love using wedge pillows | Anyone who prefers to sleep flat on their bed |
| People looking to relieve shoulder pain | Back and stomach sleepers |
| Side Sleepers | People who prefer traditional pillows |
MedCline Body Pillow Firmness and Feel
This is a very unique body pillow system designed for one sleeping position. Let's discuss two important factors for the MedCline: firmness and feel.
How Firm is MedCline Body Pillow?
The MedCline Shoulder Relief System, as a whole, has three separate parts: the therapeutic body pillow, the insert pillow, and the advanced positioning wedge. The insert and body pillow are full of shredded memory foam and have a medium-firm feel. Together they provide exceptional comfort and support.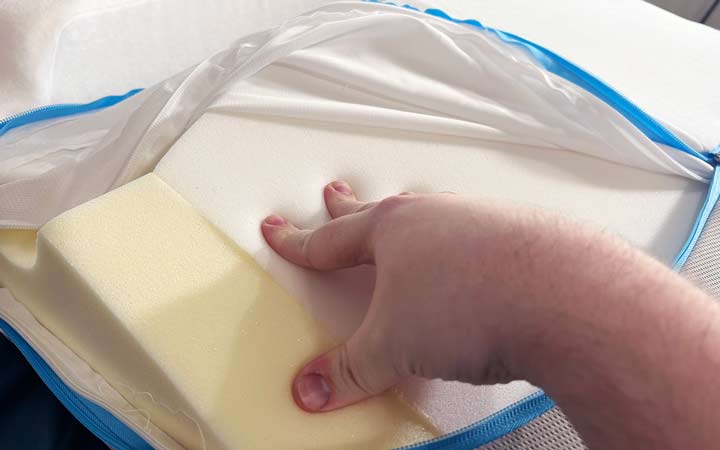 The wedge is made of high-density polyethylene foam. Because it is designed to elevate your body, it is the firmest, densest piece of the system. It can provide some pressure relief, but overall, it's very firm.
Sleeping on MedCline Body Pillow
This pillow is really only intended for side sleeping. But just to be thorough, I tried resting on my stomach and back. Because the wedge has an arm gap in it, and the insert isn't attached to the wedge in any way, sleeping on your back or stomach feels rather uncomfortable.
The good news is that regardless of whether you sleep on your right side or left side, you're able to sleep on both. Now, as a side sleeper who tends to toss and turn, this pillow isn't the easiest to change positions on.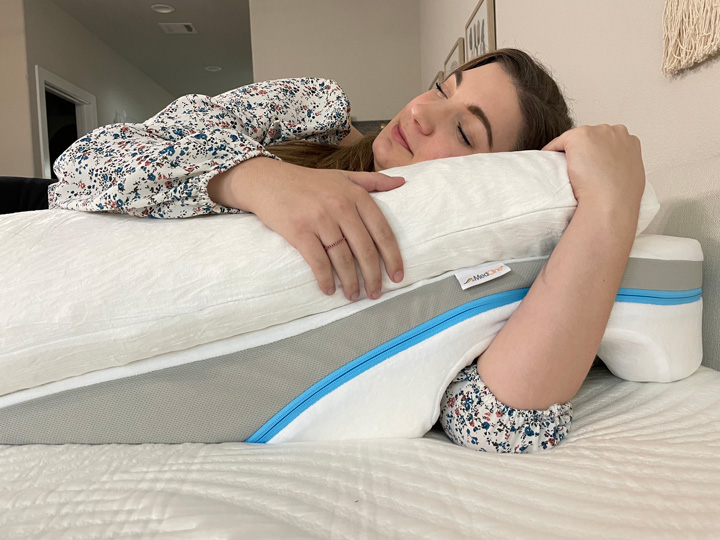 And I will admit, getting into a comfortable position took me a little longer than just simply lying down. But once I settled into the arm gap, and had the body pillow following my back (which is how I prefer to use body pillows) it was really comfortable.
Because my upper body was elevated on the wedge, there's zero pressure on my shoulder and it really is a pleasant sensation.
One thing I should note: the Shoulder Relief System is intended to assist with shoulder pain, and MedCline mentions it's not intended to help alleviate lower back pain or hip pain, though it could potentially help some.
30-60 Min Nap
When it came time for me to actually take a nap on the MedCline, I did start out using the wedge, the insert, and the body pillow. That's how it was intended to be used after all.
But I have to say, I didn't stick with the wedge. As a side sleeper who tosses and turns throughout my sleep, having to constantly take my arm out of the arm gap and then readjust the entire pillow became cumbersome immediately.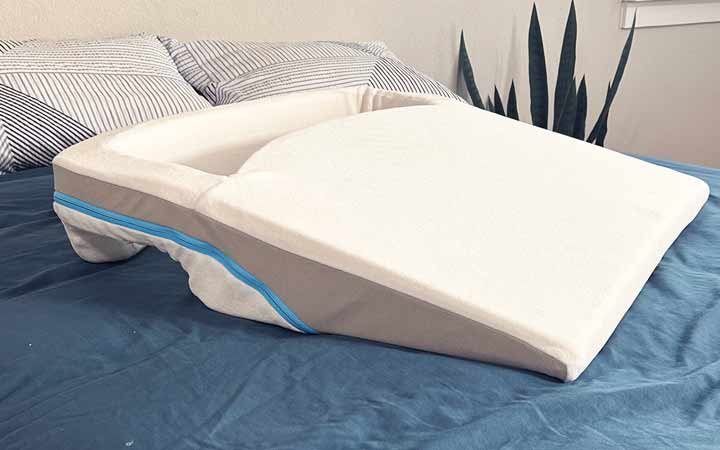 I also don't experience that much shoulder pain. So shortly into my nap, I decided to ditch the wedge. But I really enjoyed using the body pillow. It has a C-shaped design to it, so it's the only pillow I needed while using it. I like to use these wrap-around body pillows to follow my back, and then come through my legs to give my knees some cushioning.
While this still locked me to sleeping on just one side, I still felt much more comfortable this way, and the back support helped me from wanting to toss and turn to begin with.
I can see other sleepers who are like me ditching the wedge. So, if you toss and turn like I do, but want pain relief, you might need to consider other options.
Emylee's Take
Though MedCline offers a standard pregnancy pillow, the MedCline Shoulder Relief System has a wedge that some pregnant individuals may find useful. One Mattress Clarity team member, Emylee Barjuca, decided to test out the MedCline Shoulder Relief System while pregnant. Her thoughts and experience are as follows.
One surprising aspect of pregnancy was the sudden onset of hip and shoulder pain when sleeping on my side. As a predominant back sleeper (prior to pregnancy), it was a hard adjustment for my body to get used to exclusive side sleeping. With that, I struggled nightly with either searing hip pain or my shoulder falling asleep. Enter: the MedCline.
Not only did the MedCline effectively treat my hip and shoulder pain, but it also relieved general back and body aches with its zero gravity incline. As a result, my body felt incredibly supported and weightless, which finally let me get some restful sleep.
One small caveat to the MedCline relates to its size. While I have no qualms sleeping with it, my husband wasn't the biggest fan of how much space it took in our queen size bed. So, for those sharing beds with partners, it's a good idea to consider how much mattress "real estate" you have available before purchasing.
What Does the MedCline Body Pillow Feel Like?
The wedge, though made of foam, is quite dense and doesn't have that classic, slow-moving memory foam feel to it. You won't really sink into this part of the system. The body pillow and insert pillow, however, do have that slow-moving memory foam feel.
Average Weight Sleepers – 130 lb – 230 lb
Average weight side sleepers should enjoy the Shoulder Relief Sleep System. If you're looking for a new way to help with shoulder pain, and don't mind trying out a wedge pillow, this is a good option. Your body should feel comfortable and supported by the wedge and the body pillow.
Heavyweight Sleepers – Over 230 lb
Heavyweight side sleepers might be prone to shoulder pain a little more, just because there's more weight being supported by the pressure points in the shoulder. The MedCline will also work well for pain relief. Though the wedge is very dense and firm, it should still feel rather comfortable to use.
Lightweight Sleepers – Under 130 lb
My one concern for lightweight side sleepers is that the wedge might be too firm to rest on. Because you won't compress the wedge much, and since it doesn't offer much contouring, it could feel too firm.
MedCline Body Pillow Construction
The MedCline Shoulder Relief System comes to you in three separate pieces. I'll cover the components that make up the main body pillow, the wedge, and the insert below. One general note before I get into the details is that MedCline mentions these are all medical-grade materials that are used for effectiveness and longevity.
Cover
All three pieces come with an outer, removable, and machine-washable cover. The covers use a blend of cotton and polyester, and have a soft, felt-like feel to them.
The shoulder system comes with the covers already on, but you do have the option to purchase more covers if necessary.
Core
Both the body pillow and the insert pillow are made of soft, slow-moving memory foam. This helps contour around your head, shoulders, and offers good support if you have it running along your back or front.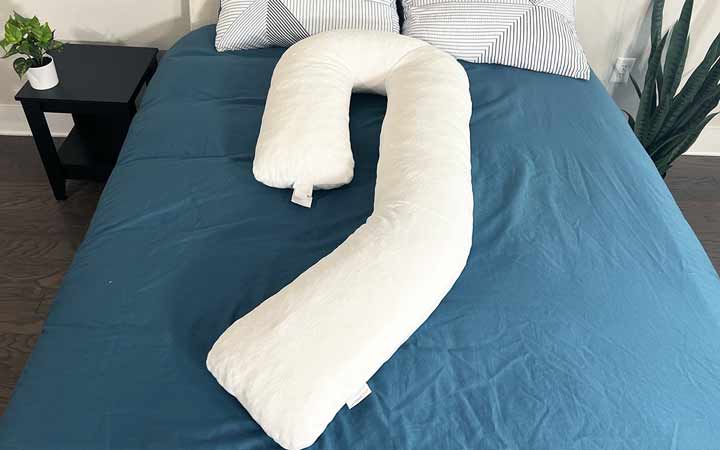 The wedge is made out of a single piece of very high-density foam. It feels quite firm. There's not going to be much give or body contouring here. The main goal is to keep your upper body elevated if you choose to rest on the wedge.
MedCline mentions that you do have the option to take out or add-in the memory foam fill to adjust the body pillow to your liking. This is the only part of the system that is adjustable, however.
Height/Loft
The wedge, at its highest point, is 6" tall and will elevate your upper body. The therapeutic body pillow also stands at 6" tall, which is ideal for side sleepers, as they need a tall pillow to elevate their heads, which can help prevent neck pain from developing.
MedCline also points out that the wedge will cover about half of the width of a queen-size mattress.
MedCline Body Pillow Size Options and Price
The MedCline Shoulder Relief System comes in two sizes, large and medium/small. Your height will determine which you need to get. Check out our-up-to-date price chart below to see which size is recommended for your height.
Dimensions
Price
Small (for people 5'6″ and shorter)
Wedge: 30″ x 34″ x 6″
Body Pillow: 22: x 50″ x 6″
$249.99
Large (for people 5'7″ and taller)
Wedge: 30″ x 34″ x 6″
Body Pillow: 22: x 50″ x 6″
$249.99
MedCline Shoulder Relief System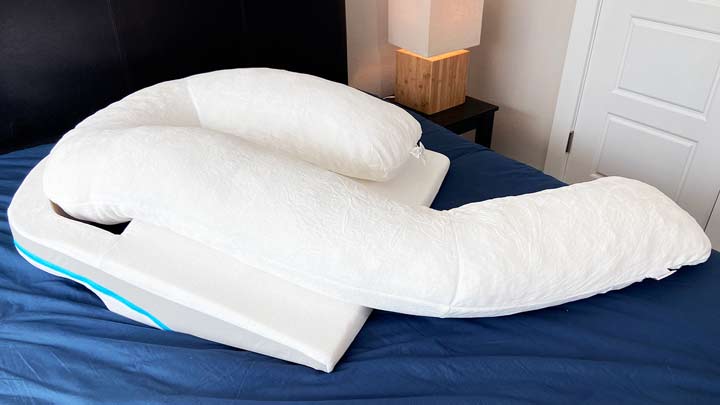 This three-part pillow system alleviates shoulder pain and can help with acid reflux symptoms.
MedCline Body Pillow Performance
So, how did this pillow perform while we tested it? Let's talk about a few more key considerations.
Sleeping Hot or Cold
The MedCline Shoulder Relief System has a few cooling innovations in place to keep you from overheating. The insert and body pillow feature gel-infused memory foam which will pull body heat away from you as you sleep.
The covers feature a cotton and polyester blend, and cotton is known to be breathable. Personally, I didn't feel too hot with the body pillow. I would worry about the wedge, however.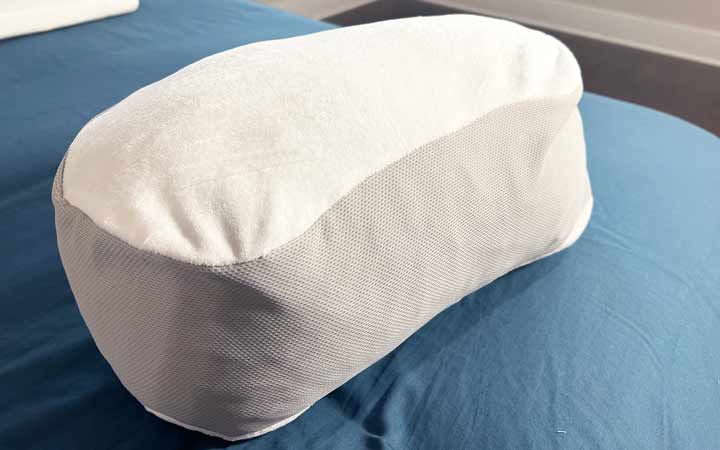 Though it has the same breathable cover as the body pillow and the insert, I did see some customer reviews mention it doesn't sleep the coolest. And I'd be inclined to agree. I test products out for as long as I can, though I did away with the wedge because I couldn't find a comfortable position.
I can see the wedge retaining a bit more heat then the insert and the body pillow. It's a very dense, very firm foam after all. If you use the wedge repeatedly, and are a hot sleeper I would take this into consideration.
Off-Gassing
The MedCline comes to you in three separate pieces. The therapeutic body pillow and insert pillow will be compressed into plastic. You will need to let these two pieces expand and off-gas before use.
There may be a slight chemical smell to these two pieces, but it should dissipate after about 24 hours. The wedge is ready to use right out of the box.
Care Instructions
The outer covers on all three pieces of the Shoulder Relief System are machine-washable! Follow the washing instructions that MedCline provides for best results.
Allergies
The MedCline Body Pillow is not listed as a hypoallergenic product. It is a medical grade product, but even if you have sensitive allergies or skin, I don't see this triggering any reactions.
Company Policies
Here's what you can expect when you purchase the MedCline body pillow shoulder relief system.
Warranty Info
MedCline offers a 1-year warranty on all of its products.
Sleep Trial
MedCline suggests that people new to the MedCline body pillow try it out for 30 days before issuing a return.
Return Policy
If, after those 30 days have passed, and you wish to return the pillow system, MedCline will send a prepaid shipping label.
Common MedCline Body Pillow Complaints
Though there are many satisfied customers who have reported a significant drop in shoulder pain, there are those for whom the MedCline system did not work.
After looking through customer reviews, there were two common complaints I noticed. The first being that this pillow is rather hard to use and get comfortable with. It comes to you in three pieces, and finding that comfortable position through the arm pocket presented a challenge.
And because people could not get comfortable, this led to the second issue: no shoulder pain relief. In my own experience, this pillow can take a good while to find that position that feels good. And depending on the severity of your shoulder pain, there could be other options to help with pain relief.
How Does the MedCline Body Pillow Compare To Other Pillows?
The MedCline body pillow system is truly unique but how does it compare to other body pillows on the market? Let's compare MedCline to a standard body pillow, the Tuft & Needle, and one total body support pillow, the Yana 360.
MedCline vs Tuft & Needle
When it comes to body pillows, the standard design is a simple, elongated pillow. Tuft & Needle makes a simple body pillow that features a soft, plush down alternative fill. It's a good option for people who want something soft and plush to hug in front of them while they sleep.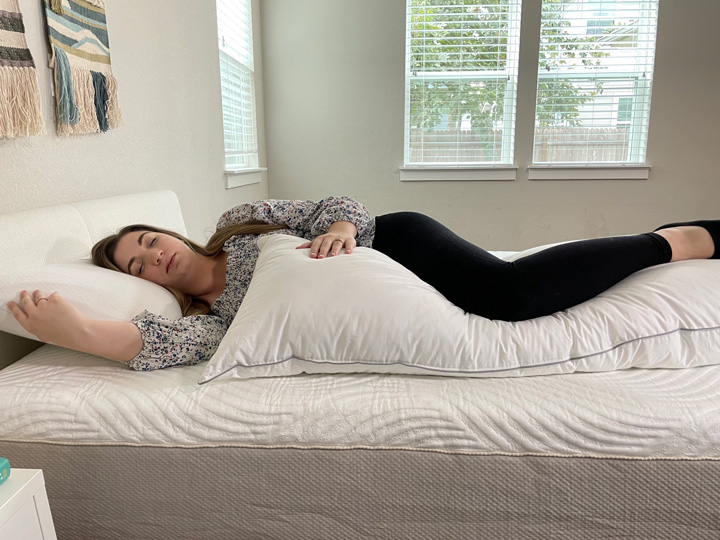 The MedCline can also be hugged in front, and for those looking to get back and neck support, this is the better option. With its C-shaped design, unlike the Tuft & Needle which has a long, straight design, it can be draped over your shoulder and run along your back for total body support.
Who Should Get the MedCline Body Pillow?
People looking for a body pillow to help with shoulder pain
People who want a pillow that can run along their back
Who Should Get the Tuft & Needle Body Pillow?
Anyone looking for basic body support or something to hug while they sleep
Shoppers with a budget in mind
Read our full Tuft & Needle body pillow review.
MedCline vs Yana
Total body support pillows are good for those looking to get support in their front as well as along their back. The MedCline can offer good body support, but with 360 in its name, the Yana pillow is long enough to surround your entire body.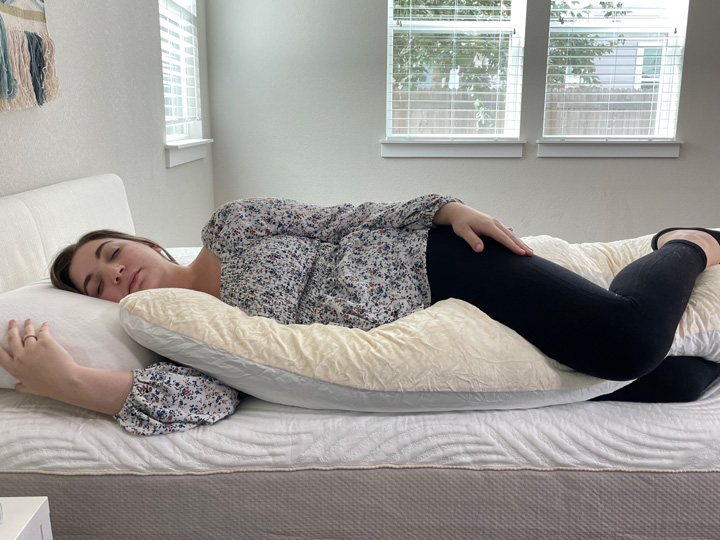 Unlike the MedCline, the Yana pillow has a few different fill options: from gel memory foam to shredded latex. Both are good options for hot sleepers as they are either very breathable or will pull body heat away.
The MedCline does feature gel memory foam in the main body pillow, but the wedge is full of dense memory foam that could trap heat. So if you're a hot sleeper, opt for the Yana 360.
Who Should Get the MedCline Body Pillow?
Side sleepers who want to relieve shoulder pain
People seeking a wedge pillow
Who Should Get the Yana 360 Body Pillow?
People who want a body pillow that molds into different positions
Hot sleepers
Read our full Yana 360 body pillow review.
Our MedCline Body Pillow Ratings
Take a look at our Mattress Clarity score for the MedCline Shoulder Relief System!

MedCline Body Pillow Review
FAQs
How do you use the MedCline Shoulder Relief System?
The MedCline Shoulder Relief System is certainly an interesting body pillow. Being a three-piece system, it can be confusing to look at the system and understand right away how it works.

But it is relatively simple to use. Simply place the insert pillow into the arm gap at the top of the wedge. Then place the body pillow around your shoulder and lay down on the wedge, threading your arm through the gap and insert pillow.

This should make for a fairly snug position, and you should feel little to no pressure on your shoulder while using it.
Does MedCline help with sleep apnea?
While not a guarantee, the basis for the MedCline, positional therapy, has been recommended as a method to help with sleep apnea. There is evidence that suggests elevating your torso can help relieve symptoms of obstructive sleep apnea (OSA). Bed wedges can even help treat acid reflux and heartburn as well.

I should note, I'm not a medical professional. While the MedCline could potentially help with OSA, I highly recommend seeking medical advice first.
Is MedCline covered by Medicare?
Unfortunately, Medicare does not cover the cost of the MedCline Shoulder Relief System.
Tony Klespis
Tony is a staff writer at Mattress Clarity where he analyzes sleep products and appears in review videos. He earned a B.A in English from Sam Houston State University and a M.A in Mass Communication from Texas State University.
When he isn't writing about sleep products, Tony loves to unwind with a good book or can be found playing Pokemon Go outside with his friends, or cuddling with his cat, Penguin. He's always down to try a new, local restaurant and try new foods.