Sometimes, getting quality sleep can be a challenge. That's why Yana created the 360 body pillow.
Made with organic bamboo cotton, this ergonomic pillow gently hugs the body and offers exceptional support. But is it the right choice for you? Our Yana body pillow review will help you find out!
Yana 360 Pillow Overview
Though the Yana 360 body pillow can be used by everyone, pregnant individuals find it's particularly useful. Customers can choose between two fillings: cooling gel and natural latex. For this review, we focused specifically on the 360 pillow filled with cooling gel foam.
Who Might Like the Yana 360
Pregnant people
Those who want a body pillow that won't sag or lose its shape
People looking for a versatile pillow that supports many sleeping positions
Who Might Not Like the Yana 360
People who want a lightweight body pillow
Couples who share a small bed
People with tight budgets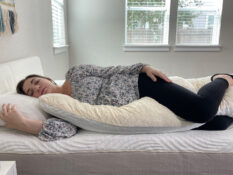 The Yana 360 pillow is plush, supportive, and great for pregnant individuals. 
Yana 360 Firmness and Feel
Now, let's get into the important stuff – firmness and feel.
How Firm is the Yana 360 pillow?
The Yana 360 pillow feels supportive and firm, but it's still flexible enough to be used in different sleeping positions. The dense filling offers excellent lumbar support, and it's also plush enough to cradle a pregnant person's belly.
Sleeping on the Yana 360 pillow
Because the Yana 360 pillow is so versatile, there are many ways you can use it! Here are some of the most comfortable ways to sleep with the Yana 360 pillow:
Side Sleeping
The Yana 360 pillow works well for side sleepers, especially if they need extra hip support. For the best results, place the arm of the Yana pillow in front of you and between your legs. Then, pull the other arm behind your back and lean against it for full-body support.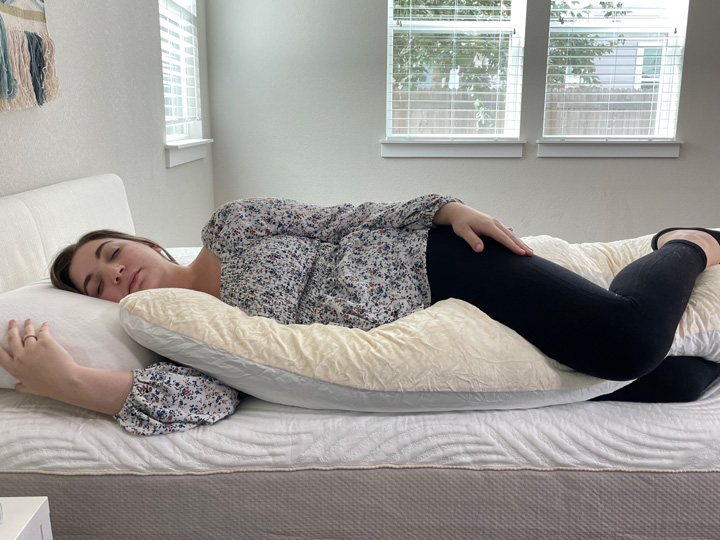 Alternatively, you can place the Yana pillow in a traditional U-shape, where the curve of the pillow rests at your feet. You can place the arms of the pillow between your knees for adding cushioning, or you could simply cuddle with it.
Back Sleeping
If you're a back sleeper, you can place the Yana pillow in a traditional U-shape, with the curve resting near your head. With one arm behind your back, you'll get an extra boost of lumbar support.
You can also prop the Yana pillow against your headboard and relax in a reclined position – perfect for lounging before bed!
Stomach Sleeping
While we don't recommend stomach sleeping on the Yana pillow overnight, brief naps in this position can help ease lower back pain – especially for pregnant people!
For this sleeping position, move the arms of the pillow into an "o" or "b" shape. Then, lie on top of the pillow and let your stomach rest within the round dome. After 15 minutes, you should feel some back pain relief!
What Does the Yana 360 Pillow Feel Like?
The Yana 360 pillow has a soft exterior and a dense filling. The cooling gel filling has more of a slow-moving feel when compared to the natural latex filling, but both options offer both comfort and support.
Yana 360 Pregnancy Pillow Review
The Yana 360 is a popular pillow for pregnant people who need a bit more comfort and support. To give you the most thorough review possible, we issued the help of my colleague Emylee Barjuca, who is an expectant mother at the time of writing.
Emylee's Take
Overall, this pillow is an easy favorite, and I can understand the hype behind Yana. Despite the high ticket price, its high quality materials and firm yet contouring design more than justify the cost. After sleeping on the Yana pillow through my first and second trimesters, I quickly grew accustomed to the less "real estate" available on my mattress, especially while sharing the bed with my husband and getting the occasional night time snuggles from our tabby cat, Miso.
While I loved this pillow, there are a few things I think other sleepers might not like. First, there's the issue of space. This pillow might not be the perfect match for you if you share a bed or have a mattress smaller than a queen. While I can snuggle up in the Yana pillow, feeling cozy in my cocoon, my partner felt like his precious mattress space was slipping away.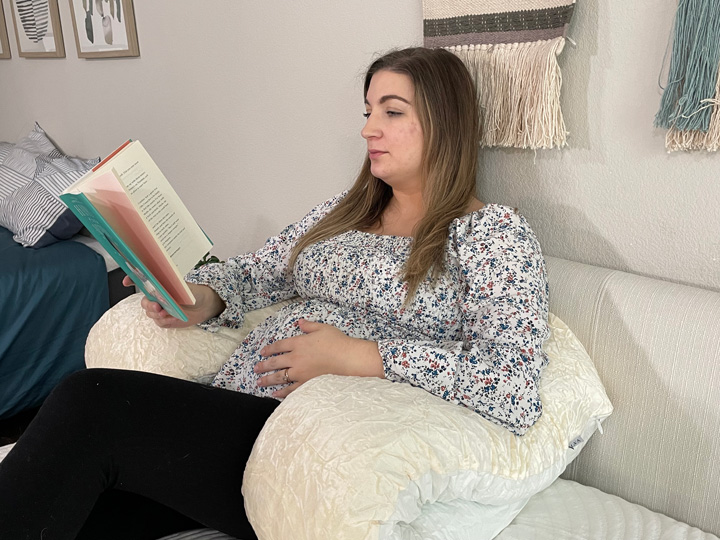 Another consideration to keep in mind is the weight of the pillow. While a heavier pillow isn't an issue while sleeping as it helps prevent shifting, it can be hard to adjust or move the pillow. There were a few nights in my second trimester where I woke up trying to move the pillow because it was difficult to adjust sleeping positions. Additionally, if my husband is already up and on his way to the gym, it can be more difficult to make the bed on my own and move the pillow on top of the comforter. As a result, there were many mornings when I draped my bedding over the pillow, leaving an odd U-shape lump under the covers (something that bothers me as one who likes a tidy home).
RELATED: How To Get The Best Sleep During Your Pregnancy (And After)
Yana 360 Pillow Construction
What's this pillow made out of? Let's take a look!
Cover
The Yana pillow comes with a removable, machine-washable cover made from a blend of bamboo, cotton, and polyester fabric.
Core
Customers can choose between two fillings: shredded cooling gel foam or shredded natural latex foam. Both options promote airflow and breathability.
Weight
Depending on when you purchase the pillow and which filling you choose, the Yana can weigh 10-16 lb.
Height/Loft
Loft is another way to describe a pillow's height, and it's particularly useful information to have when searching for a supportive body pillow. The Yana 360 is much loftier than others on the market, coming in at 8.15" tall. This makes it a great knee cushion or back rest. However, it may be too lofty to use as a head pillow because it could crane the neck out of alignment.
Yana 360 Size Options and Price
Need more information? Check out our chart below to learn more about pricing and dimensions.
| | | |
| --- | --- | --- |
| Dimensions | Weight | Price |
| 55″ x 28.5″ x 8.15″ | 10 – 16 lb | $199.00 |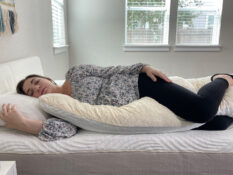 The Yana 360 pillow is plush, supportive, and great for pregnant individuals. 
Looking for another option? Check out our Hiccapop Pregnancy Pillow review.
Yana 360 Pillow Performance
We aren't done yet! We also need to look at Yana's performance features. Keep reading to learn more!
Sleeping Hot or Cold
No matter which filling you choose, the Yana pillow should sleep cool at night. The gel foam helps dissipate body heat, and the shredded latex feels naturally responsive and breathable. The Yana shouldn't contribute to night sweats!
Off-Gassing
Off-gassing simply means that a product emits a slight chemical smell after it's unboxed. The Yana pillow has a 48-hour off-gassing period. It looks compressed and wrinkly at first, but after two days, it should smell fresh and look fluffy.
Care Instructions
The Yana pillow has a removable, machine-washable cover that's easy to care for. Simply wash with gentle detergent, and you're good to go! It's important to note, however, that only the outer cover is machine washable. The interior shell can only be spot-cleaned, and the pillow itself is too bulky for a standard washing machine.
Allergies
Yana pillows are OEKO-TEX100 certified, which means they meet the highest health and safety standards. Folks with severe latex allergies may want to opt for the shredded gel foam filling, though we don't anticipate the latex filling to ever come in contact with skin.
Company Policies
It's always wise to read the company policies before making a big purchase. Here's what you can expect if you order a pillow from Yana Sleep.
Warranty Info
The Yana 360 pillow is not backed by a warranty.
Sleep Trial
Yana does not offer a sleep trial period.
Return Policy
Yana offers full refunds for returns made within 45 days of purchasing, but only if the product has been unopened and unused. After the first 45 days, Yana offers a partial refund for unopened products.
Common Yana Pillow Complaints
The Yana pillow has tons of favorable customer reviews, but some folks complained about the pillow's weight. Unlike many body pillows on the market, the Yana is filled with durable and dense materials. This is great for folks who need additional lumbar support, but some people had difficulty moving and adjusting the pillow.
How Does Yana Compare To Other Pillows?
We know how difficult it can be to buy a pillow without testing it first. To make things easier, we'll compare the Yana Sleep pillow with two other popular products: the Leecho Snoogle and Tuft & Needle body pillow.
Yana vs Leachco Snoogle
There are many significant differences between the Yana and Leachco Snoogle. Most notably, they have different shapes. The Yana makes a U-shape, with a thicker piece toward the top. The Leachco is shaped like a thin "C," and it has more of a soft, plush feel.
If you need more lumbar support, Yana is the better choice. The Yana pillow is quite heavy, however, so if you prefer something more lightweight you may want to opt for the Leachco.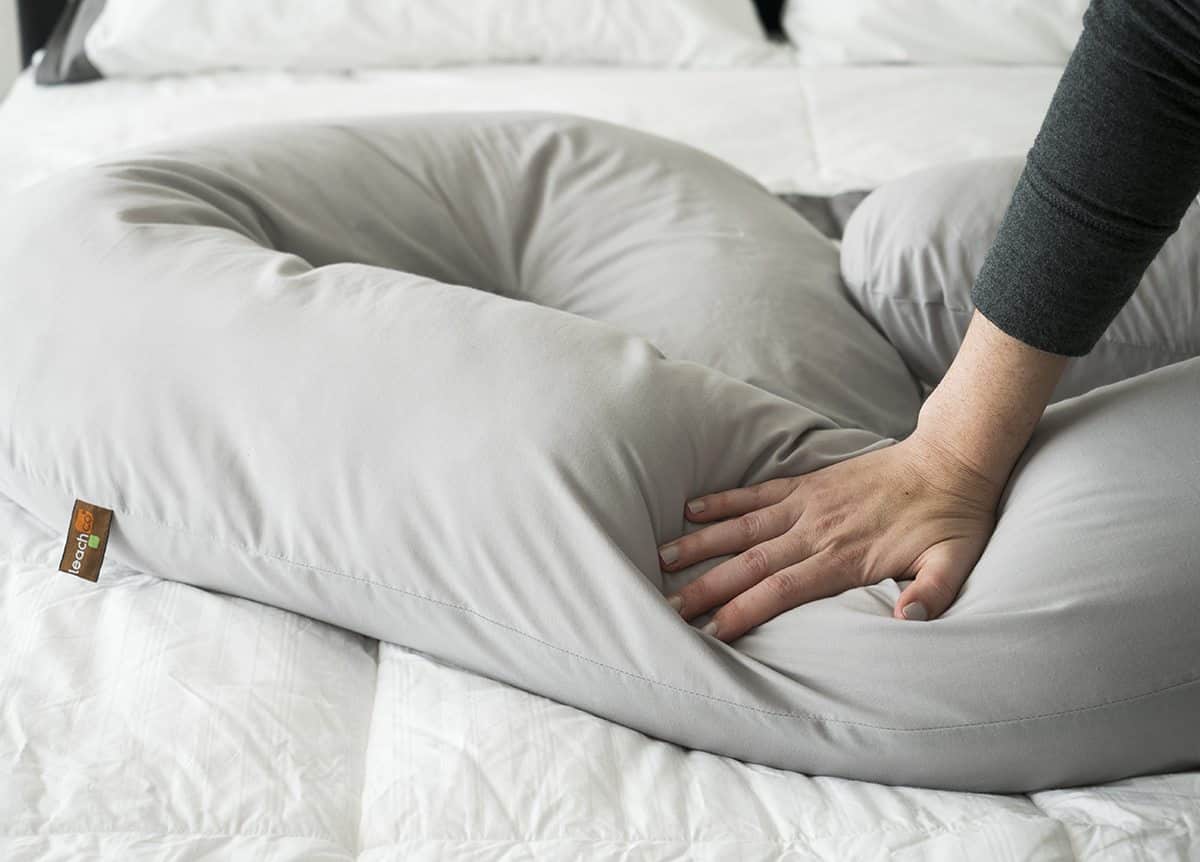 The Leachco isn't as big as the Yana, so it won't wrap around the whole body. This pillow does come at a lower price point, though, so it may work for people with tight budgets.
Who Should Get the Yana Pillow
People who want a more supportive body pillow
Those who want a bigger pillow
Folks who want a pillow that can wrap around their whole body
Who Should Get the Leachco Snoogle
People who want to save money
People who want a softer pillow
Those who want a lightweight pillow
Read our full Leachco Snoogle review.
Yana vs Tuft & Needle
Unlike the Yana, the Tuft & Needle body pillow doesn't have a curved shape. Instead, it's shaped like a long head pillow, or a lowercase "L." This makes it a good choice for folks who want something soft to snuggle with, but it may not work as well for pregnant folks who need more lumbar support.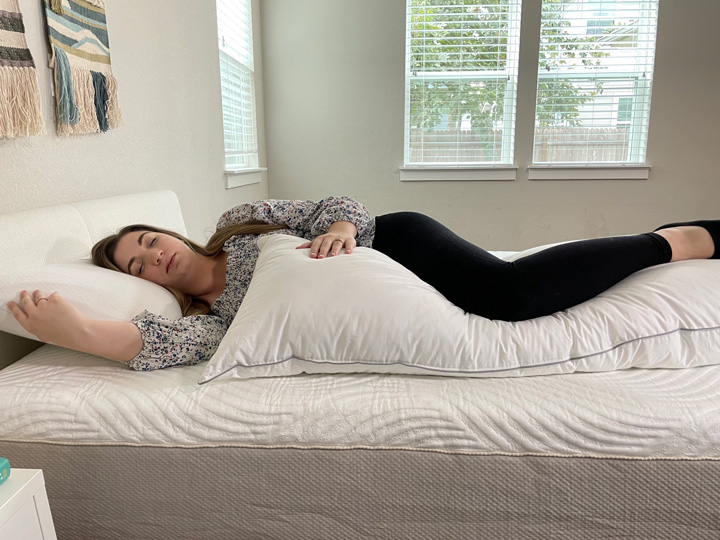 The Tuft & Needle pillow contains a down alternative fill, so it's particularly soft and malleable. The Yana pillow, on the other hand, feels supportive and dense.
Who Should Get The Yana Pillow
Pregnant people who need more hip and back support
Folks who want a heavier pillow
Those who want a U-shape pillow that can wrap around their entire body
Who Should Get the Tuft & Needle Body Pillow
People who prefer pillows with a light and malleable feel
People who want to save money
Those who want a long pillow shaped like a lowercase "l"
Our Yana Pillow Ratings
Check out our final tallies below!
Yana Pillow Review
Summary
The Yana 360 pillow is soft and versatile, and it's great for pregnant individuals who need additional lumbar support.
FAQs
Still have questions? We won't leave you hanging. Check out our FAQ section below.
How do I wash my Yana pillow?
The Yana pillow has a machine-washable cover. For the best results, wash with mild detergent on a gentle cycle. The interior shell is spot-clean only, and the pillow core is not machine-washable.
Are pregnancy pillows necessary?
Pregnancy pillows aren't necessary, but they can help alleviate the pain that often accompanies pregnancy. Maternity pillows can also help people change their sleeping position. Once pregnant people reach the second trimester, doctors recommend they start sleeping on their sides. Thick body pillows can act as a buffer and encourage pregnant people to remain in the ideal sleeping position throughout the night.
Which pillow is best for pregnancy?
There are so many pregnancy pillows on the market, but if you're looking for a heavy and supportive option, Yana is a great choice. This large pillow can be used in many different ways, which is particularly helpful for pregnant individuals. If you need more ideas, though, check out our full list of the best pregnancy pillows.
Elisa Regulski
Elisa is the Editor of Mattress Clarity, where she analyzes sleep products and appears in review videos. A certified sleep science coach, Elisa's sleep tips have appeared in Readers Digest, Homes and Gardens, and 21 Oak. She earned a M.A in Mass Communication from Texas State University and a B.F.A in acting from Oklahoma City University.