Trying to sleep while pregnant can be difficult, but a pregnancy pillow could help make you more comfortable and get a better night's sleep.
At first glance, the Hiccapop Wedge pregnancy pillow looks like a standard rounded wedge pillow —  in many ways it is — but the pillow offers enhanced design features that make it even more appealing to moms-to-be. Its dual-sided design means support levels can be adjusted depending on the trimester. To discover where can it be used and does it hold its shape, read on for my full review of the Hiccapop Wedge pregnancy pillow.
hiccapop Pregnancy Pillow Wedge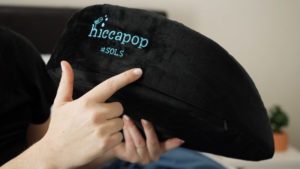 The hiccapop Pregnancy Wedge Pillow offers dual-sided comfort for pregnant individuals.
Mattress Clarity Score
4.90 / 5
Read Full Review
Key Features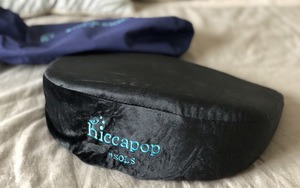 Dimensions: 15″ x 13.25″ x 4.5″ in height (at the tallest)

 

Filling: Ventilated foam filling
10 oz in weight
Dual-sided design: Memory foam on one side and a firmer foam option on the other side to accommodate all needs
Removable velboa fabric cover (faux fur/velour-type feel)
Phthalate-, PVC-, and BPA-free
Compact and portable
Versatile: can support different areas of the body, including the belly, back, and between the knees
Variety of colors (the pillow reviewed is Navy Blue)
One size
Pillow Construction
The Hiccapop Wedge pillow is considered a classic rounded wedge shape, with the tallest point at 4.5″ and a core made of a solid piece of ventilated foam. (See more on that here.)
This pillow stands apart from other wedge options thanks to its luxurious memory foam on one side and firmer foam on the opposite side. The whole pillow is 15″ x 13.25″ and comes with a travel case or cover that makes it easy to take on the road.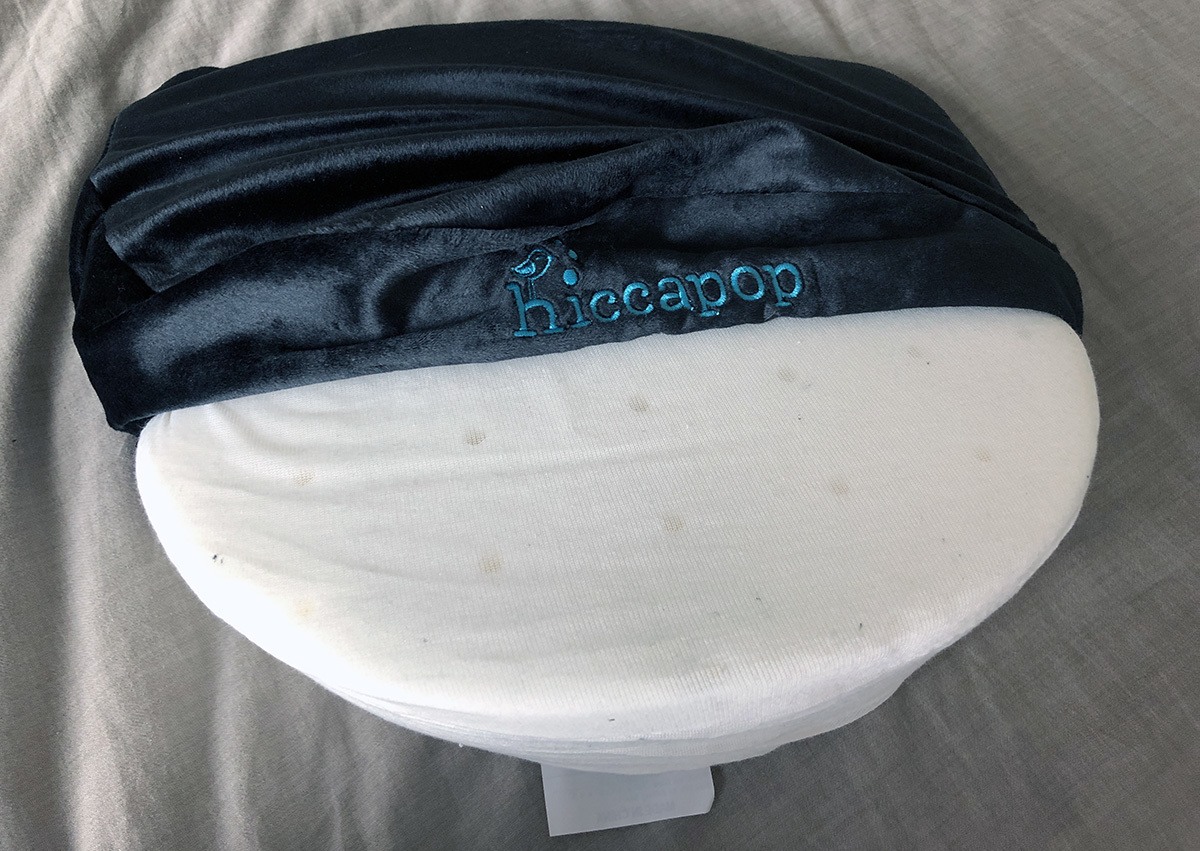 Ways to Use Hiccapop Wedge
Pregnant women can use the Hiccapop Wedge in a variety of ways, including placing it behind the back while resting, sitting on it when driving or working or supporting the baby bump during a nap.
The pillow is about adding an enhanced level of elevation, in order to reduce pregnancy-induced swelling and discomfort. It also works when placed between the knees to help keep the hips opened and the spine aligned.
Below is a guide provided by Hiccapop that features different ways to use the pillow: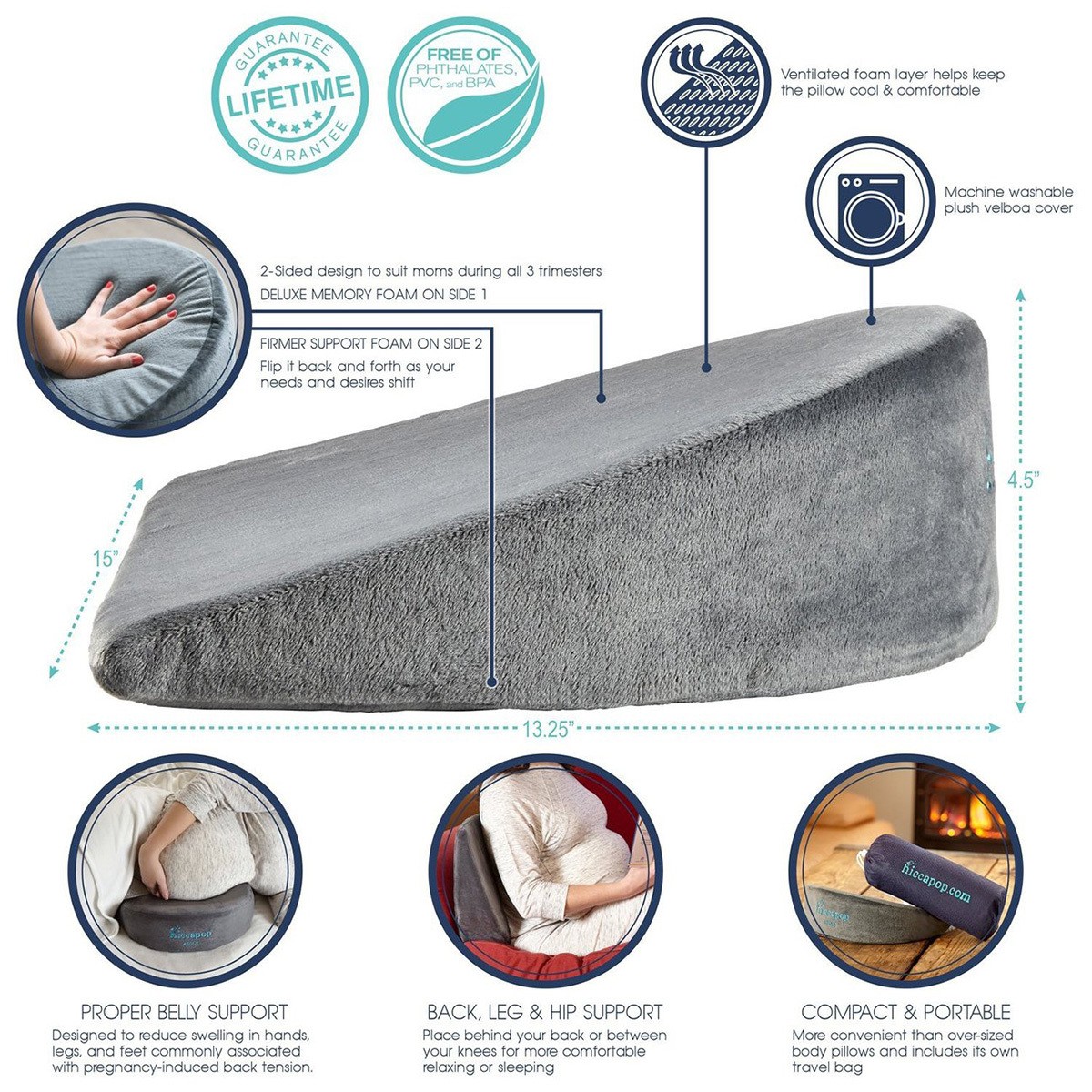 Hiccapop.com
Pros
Small, lightweight, and compact
Removable soft cover that can easily be machine-washed and dried (no recommended care instructions)
Inexpensive (around $20)
Great for treating specific issues in one area
Dual-sided nature makes it more customizable
Works both during pregnancy and postpartum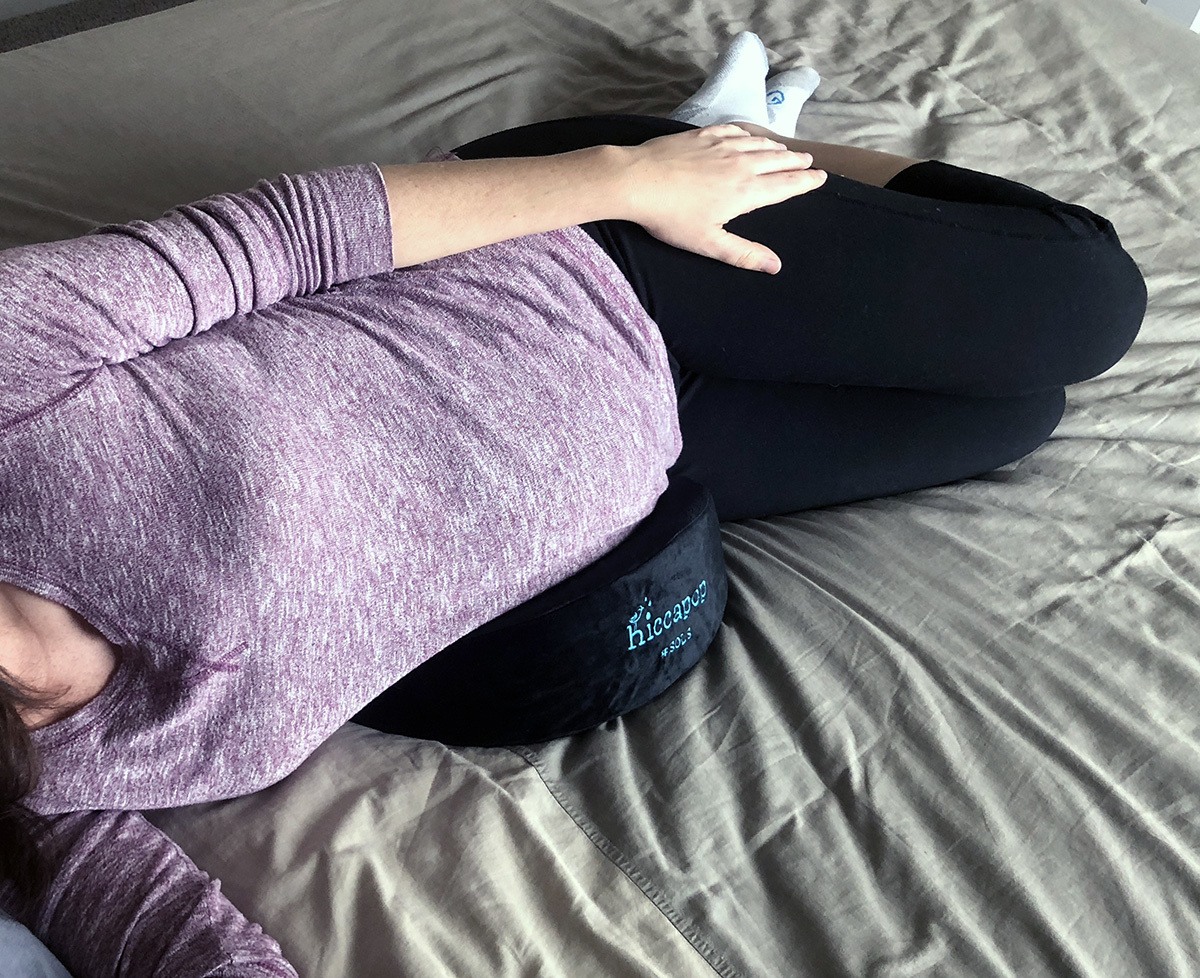 Cons
Cannot replace the need for multiple pillows — only tackles one part of the body at a time
Doesn't always stay in place throughout the night — fabric may allow for it to slip out of position
Cannot wash or dry the entire pillow
Only one fabric cover option — must like the faux-fur/velour feeling
RELATED: Oggi Elevation Wedge-Based Pregnancy Pillow Review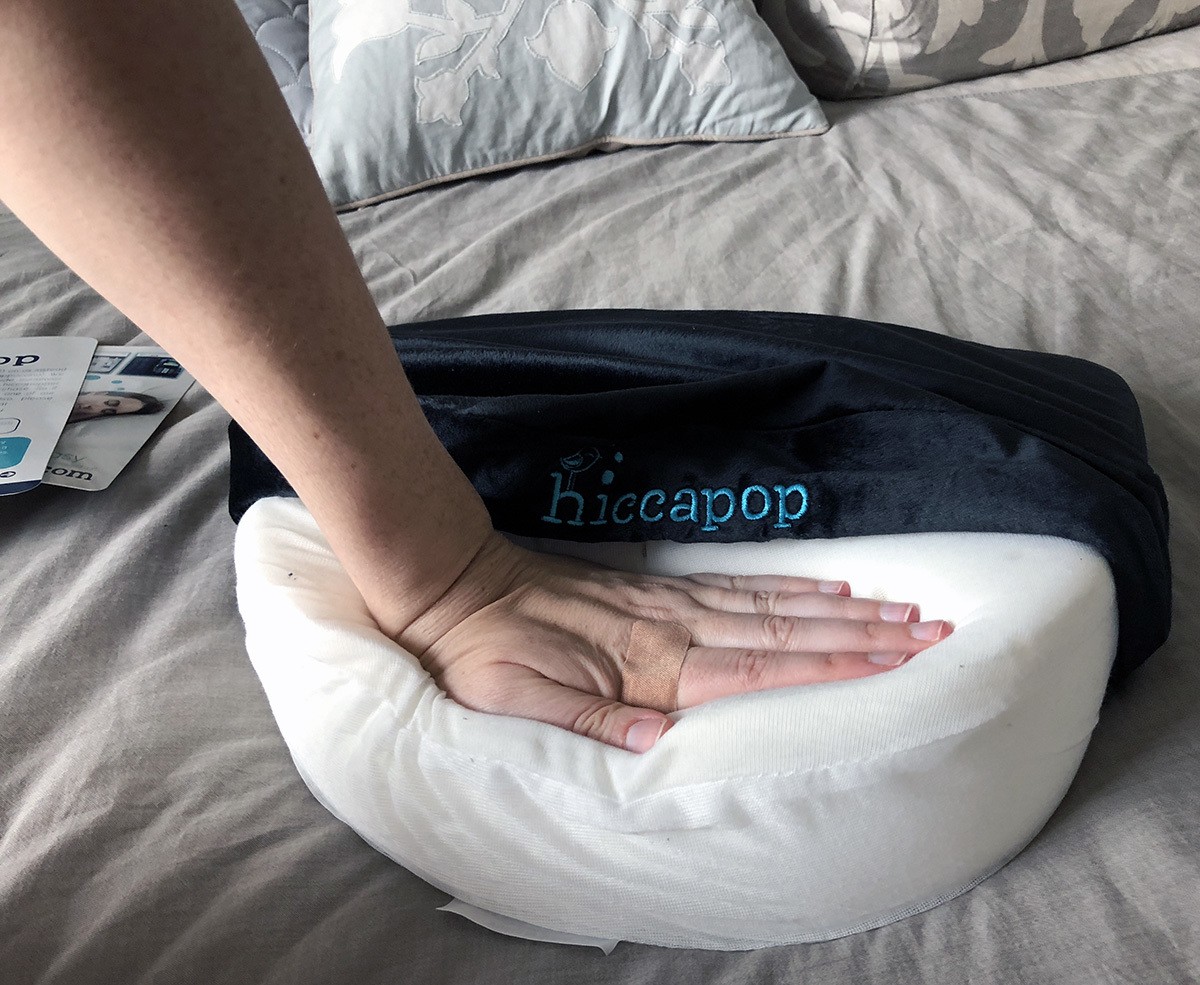 hiccapop Pregnancy Pillow Wedge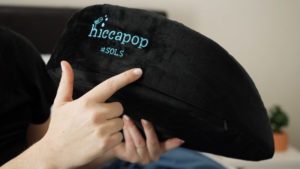 The hiccapop Pregnancy Wedge Pillow offers dual-sided comfort for pregnant individuals.
Mattress Clarity Score
4.90 / 5
Read Full Review
My Experience
The Hiccaopop Wedge pregnancy pillow is accompanied by a simple travel case, along with a couple of documents that instruct the customer on how to use the wedge pillow and highlight additional Hiccapop products.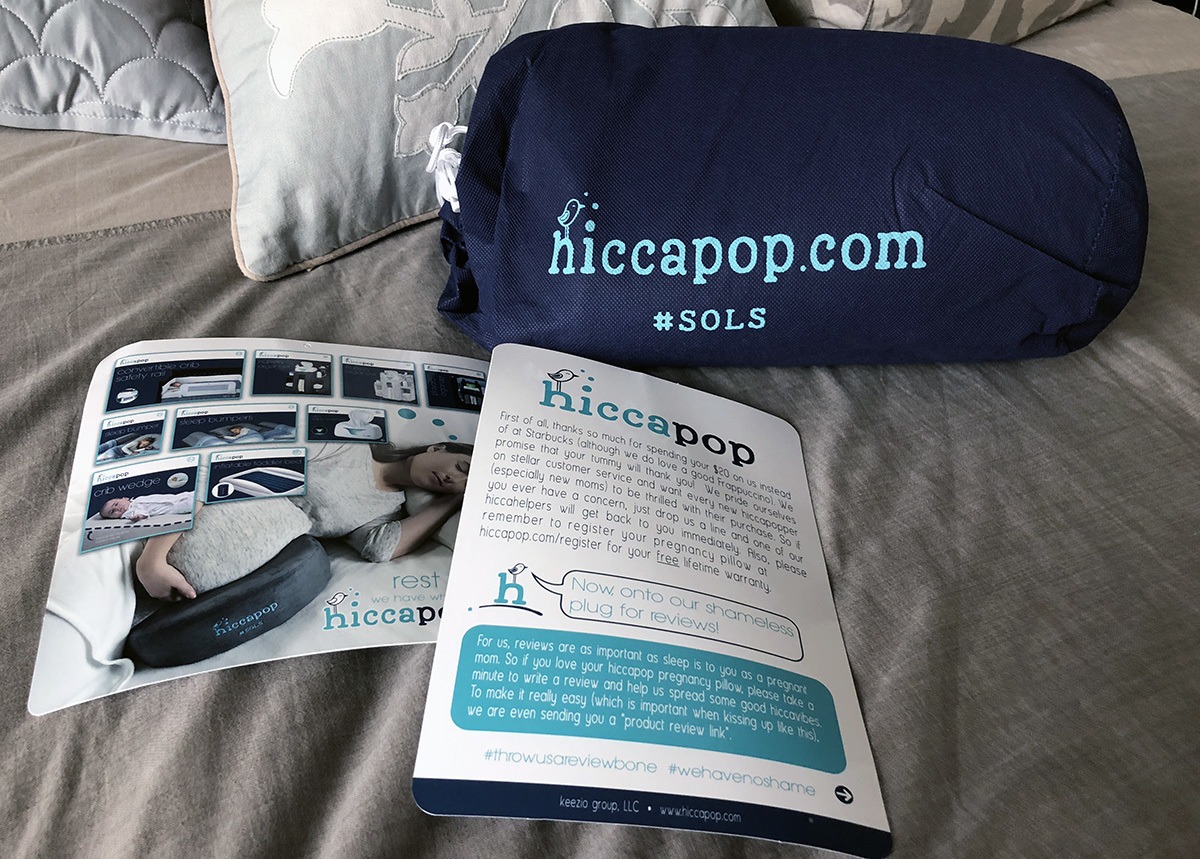 The pillow is simplistic in design, one side of the ventilated foam core has a softer feel, and the other side has a firmer feel. It's easy to unzip and remove the cover for cleaning and it slips back on quickly.
I really like how simple and lightweight the pillow is, I can see it being beneficial for pregnant women who are traveling frequently and/or need additional support to stay comfortable at night.
The other plus about this pillow is that it's effective when utilized during the daytime, too. When I'm on the couch or in a chair, I can easily place it behind my back and it helps provide extra support — which is superb when I'm experiencing back pain.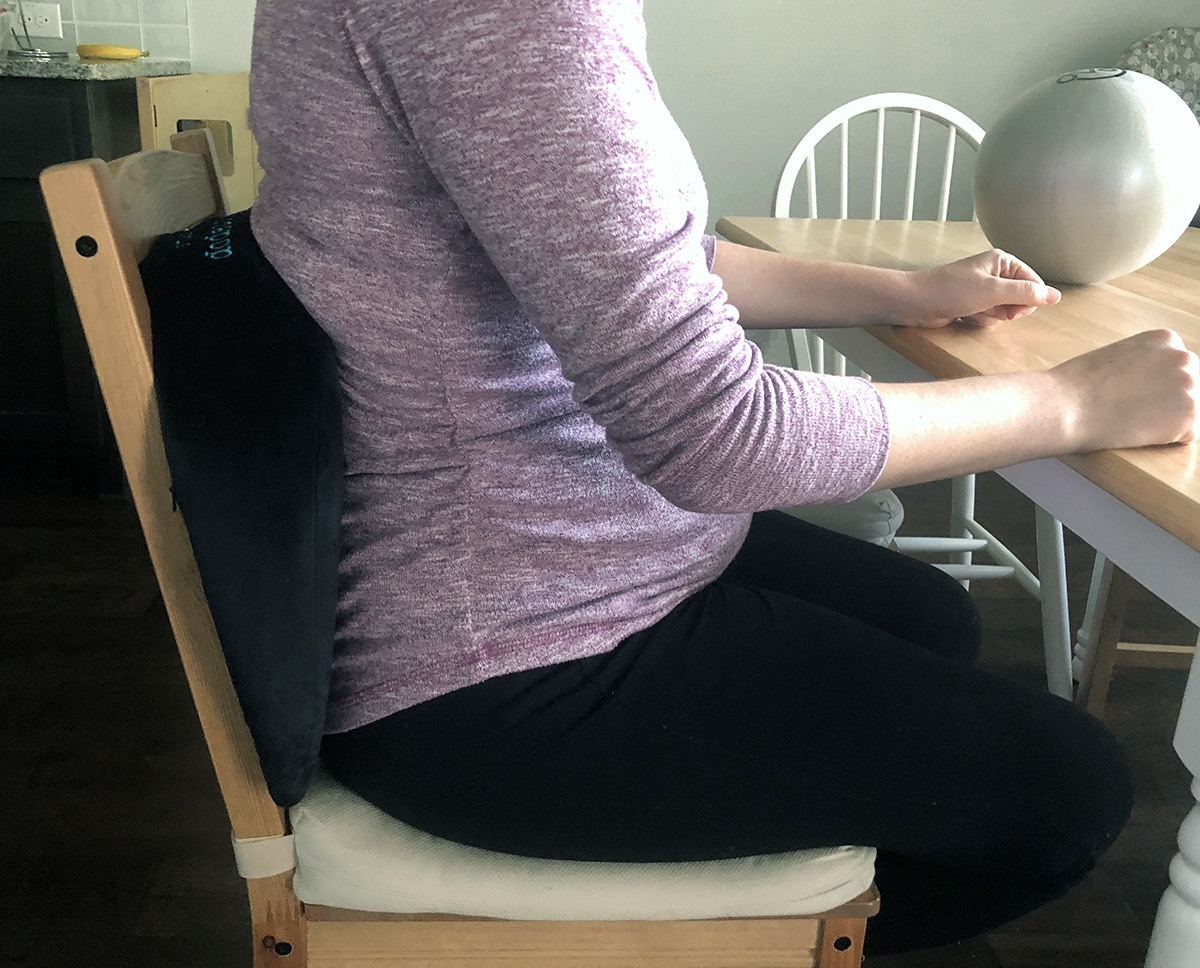 The guide suggests using the pillow in reverse (more width at the bottom), but this position was most comfortable to me!
It's also simple to slip it between the knees when lying down. It's helped me keep my hips aligned and isn't as clunky as a full-size traditional pillow.
I'm at the point in my pregnancy where I'm trying to avoid sleeping on my back as much as possible. I love that I can place this behind my back while I sleep. It helped stop me from rolling onto my back at night and kept me feeling supported.
That being said, there were a couple of points during the night where the wedge on my back did slip out. This is either due to the softer fabric or because I simply did not have it pushed far enough into my back to stay in place.
It cannot replace the feel of a whole-body pillow, which virtually reduces the need for more than one pillow at night. This is more of an option for people who are looking to address one specific issue at a time. For example, during the day, I use the pillow on my back when I'm sitting at my desk or on the couch; at night, I either place it between my knees or behind my back for support.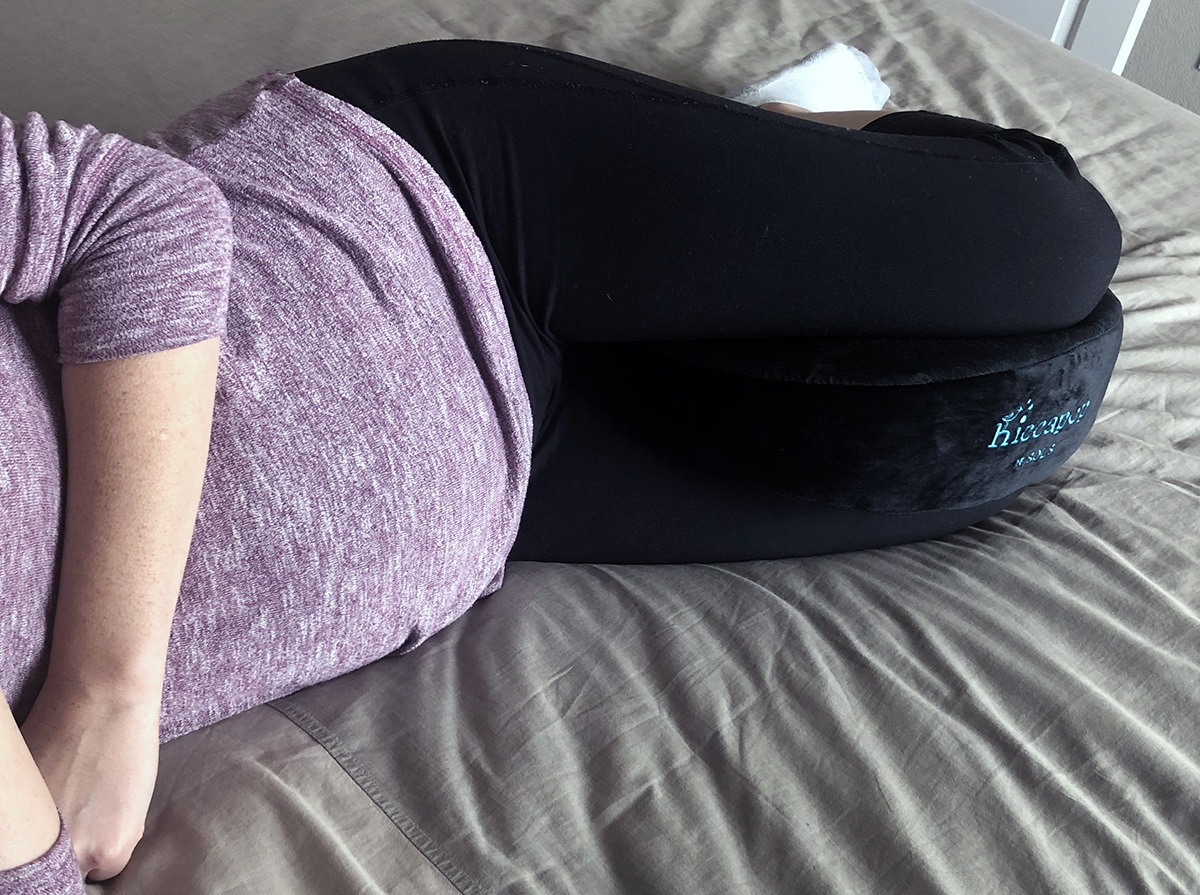 There are no set care instructions for the pillow. The makers of the pillow say that the fabric is durable. I threw the cover in a delicate cold cycle with some other clothes and put it in a low tumble-dry. It came out great with no issues.
RELATED: Pregnancy Pillow Guide: What To Know Before You Buy
Overall
Pregnant women and their friends or family can purchase the Hiccapop Wedge on Hiccapop's website or via other online retailers. (We got ours on Amazon.) The price will vary depending on the retailer, but expect to pay around $20 for a pillow.
Based on other reviews I looked at, people appreciated this smaller and more compact pillow relative to larger, full-body pillows such as the Leachco Snoogle or Back 'N Belly because the wedge allows the women to control the height. The other pillows were considered too tall or too firm for bump support, so this could be a perfect solution or addition to anyone's pregnancy pillow arsenal.
Katie Golde
Katie previously managed the day to day operations of the Mattress Clarity news site and reviews sleep products in addition to writing and editing sleep news. She hails from Austin, where she lives with her growing family. She is a Certified Sleep Science Coach and has a master's degree in Journalism from Northwestern University and has a background in health and science content. Her work can be found in print and online publications like Discover Magazine, USA Today and The Huffington Post.