Editor's Note: The Oggi Elevation Wedge-Based Pregnancy pillow is no longer available for purchase. For similar options, check out our best pregnancy pillow roundup!
Sleeping while pregnant can be a challenge, but a great pregnancy pillow can help make it easier.
The Oggi Elevation Wedge-Based Pregnancy pillow is a very interesting mix of two pillows: a foam wedge and a U-shaped, full-body pillow. Combining these two designs into one truly combats a lot of pregnancy aches and pains and really kept me very comfortable at the end of my pregnancy. I've covered everything a pregnant person needs to know in this review, including some concerns I have over quality and price. Read on to learn more.
Key Features
Measures 56″ x 10.5″ x  30″ (one size)
A U-shaped pregnancy pillow that is a combination of a foam wedge pillow at the top and contouring legs that run down the bottom
Removable faux suede cover (100 percent polyester) with zipper is machine washable
100 percent polyester filling in the legs
Available at a variety of retailers
Four available colors
3.75″ gusset for added reinforcement
Provides firm upper body support
Spot clean only (except for the removable cover)
Pillow Construction
The Oggi pregnancy pillow is basically a hybrid of a wedge pillow and a more traditional U-shaped pregnancy pillow. The top half is made of a solid piece of foam, and the bottom legs are filled with polyester filling.
The whole pillow is covered in a zippered faux suede cover that comes in four different colors. It's not so tight that it's a struggle to get on and off, and it is machine washable.
The pillow is made in China. (Some descriptions of this pillow claim that it's made in the U.S., but the pillow's tag says China.) Potential customers may also see this pillow called the Oggi Elevation: The Complete Body Positioning Pillow System.
RELATED: Hiccapop Wedge Pregnancy Pillow Review
Who Makes It?
According to the manufacturer tag, the Oggi Elevation pillow is made for BabyAge.com. This site redirects to an online baby products retailer, BabyEarth. BabyEarth.com says they sell nearly half a million baby products including this pillow and an extra cover.
Cleaning
The filling can only be spot cleaned; however, the removable cover is machine washable. To avoid shrinking the cover and messing with the way it fits around the pillow, I'd recommend using the "air only" setting on the dryer or letting it just air-dry overnight. It shouldn't take long!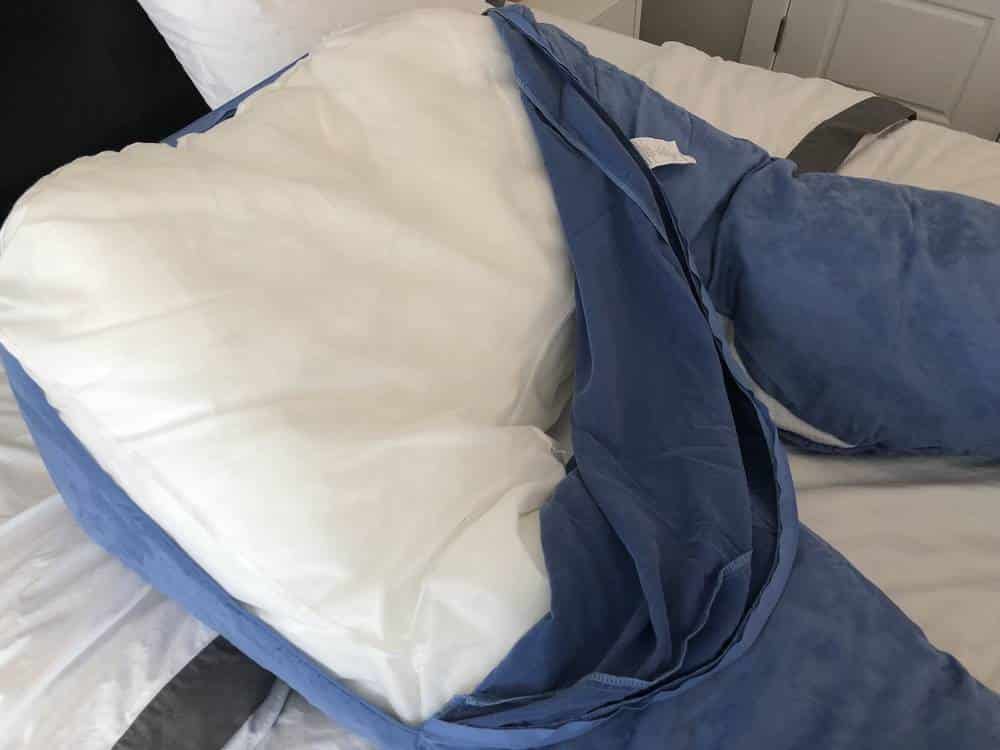 Pros
I found this pillow to offer really nice full-body support with added elevation. This helps support multiple parts of the body and may help combat heartburn or other potential issues.
The cover is fairly easy to get on and off and is machine washable.
The pillow is versatile; wrap it around the body and use it in different ways both during and after pregnancy.
The pillow is available at a variety of retailers.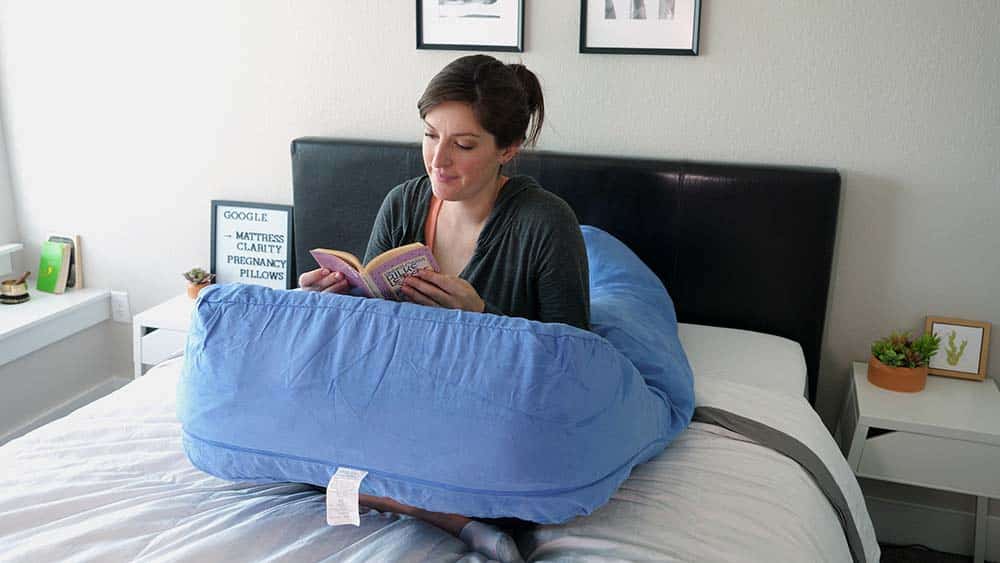 Cons
This pillow is very expensive; depending on the retailer, it costs anywhere from $175 to more than $200.

It's not possible to wash the entire pillow.
The pillow takes up a ton of room in a bed.
The pillow comes with very little information. No documentation or care instructions are given.
Faux suede is the only fabric choice. Personally, I would prefer more options.
Even though there's a manufacturer warranty, there are no available returns.
My Experience
The Oggi pregnancy pillow is a mega-sized body pillow. It's quite wide and the wedge portion really gives it some height. In my opinion, it's designed to serve two big needs that can arise when pregnant:
It keeps the body elevated to help alleviate symptoms of heartburn or other digestion-related issues.
It offers support for the back, belly, and hips (as it rests between the knees) when sleeping on the left or right side.
Up until now, I've only seen pillows that tackle these problems separately. Wedge pillows can be great for when a pregnant woman wants to be on her back for a little bit, and U-shaped pillows are designed for full-body support. This pillow combines the benefits of both a wedge pillow and a more traditional U-shaped pillow.
I thought the pillow was really cozy overall. As someone who is 5′ 7″, I didn't feel like I was "swallowed" by the pillow but I think that feeling is a possibility for a more petite person.
RELATED: Best Pillows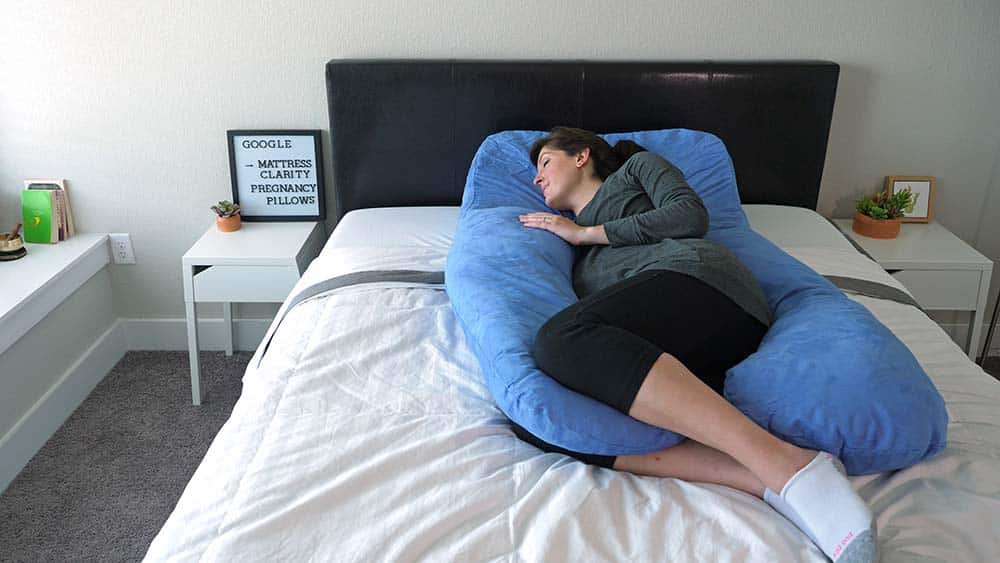 As one can see from the photos, the pillow definitely took up a lot of room on my bed. Those sharing a Queen sized bed may feel squished, especially when using the pillow for the first time. Rest assured, everyone will adjust to the new pillow and the positive benefits from the increased support with time.
I think the wedge portion of this pillow is my favorite part; the images from retailers show that customers can flip the pillow around and let the wedge be on the lap, so the individual can sit in bed and use it for the laptop or reading, as well. I enjoyed being elevated without having to use multiple pillows and found it comfortable to sleep on overnight.
I do wish there were other cover options available. I also wish the product came with documentation so I could learn how best to use it and how to care for it without having to research this information through different retailers.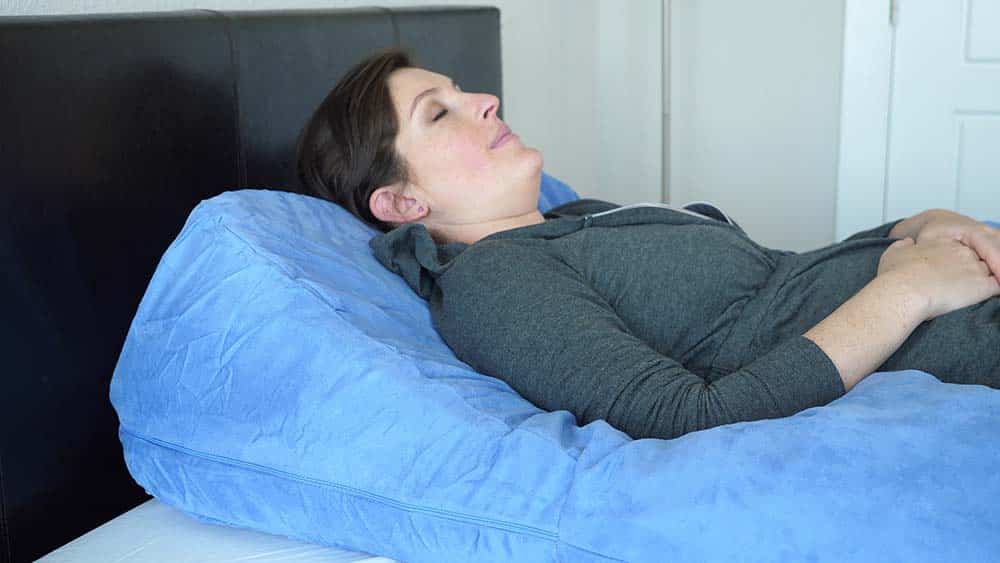 Overall
I love the cozy feeling of being surrounded by this pillow. I found it to be very comfortable in the final weeks or months when juggling multiple pregnancy-related issues, such as heartburn, backaches and needing to sleep primarily on the side.
That being said, it's on the expensive side for a pregnancy pillow (even a full-body one). The polyester filling and polyester faux suede cover don't convince me that the quality is totally worth the price. I see the value in it for specific needs, and if it's in the budget, I think the pregnant woman using it will like it; unfortunately, I think the price eliminates it from consideration for a lot of people.