Leachco is known for helping to ease the discomforts of pregnancy with its full body contouring pillows and accessories. The Back 'N Belly is no exception – it provides support on both sides of the body to make switching positions easier at night. It's also used in different resting positions to help elevate the body and relieve common discomforts like heartburn or sciatica.
To say the Back 'N Belly is a larger pillow is an understatement and it's worth considering the size of one's own bed before purchasing. What else is there to consider? Read on for my full detailed review.
Click Here To Get The Best Deal On This Pillow
Key Features
Dimensions: 

51″  x 33.5″ x 8.8″ 

Filling: polyester fibers (like firmly packed down alternative)
Sham-style removable cover or zippered cover available (in select styles)
Cover fabric (Original): 65% polyester and 35% cotton
About 7 lbs in weight
Provides equal support for back and tummy at the same time
No repositioning pillows during the night, easily turn from side to side
Helps elevate and align hips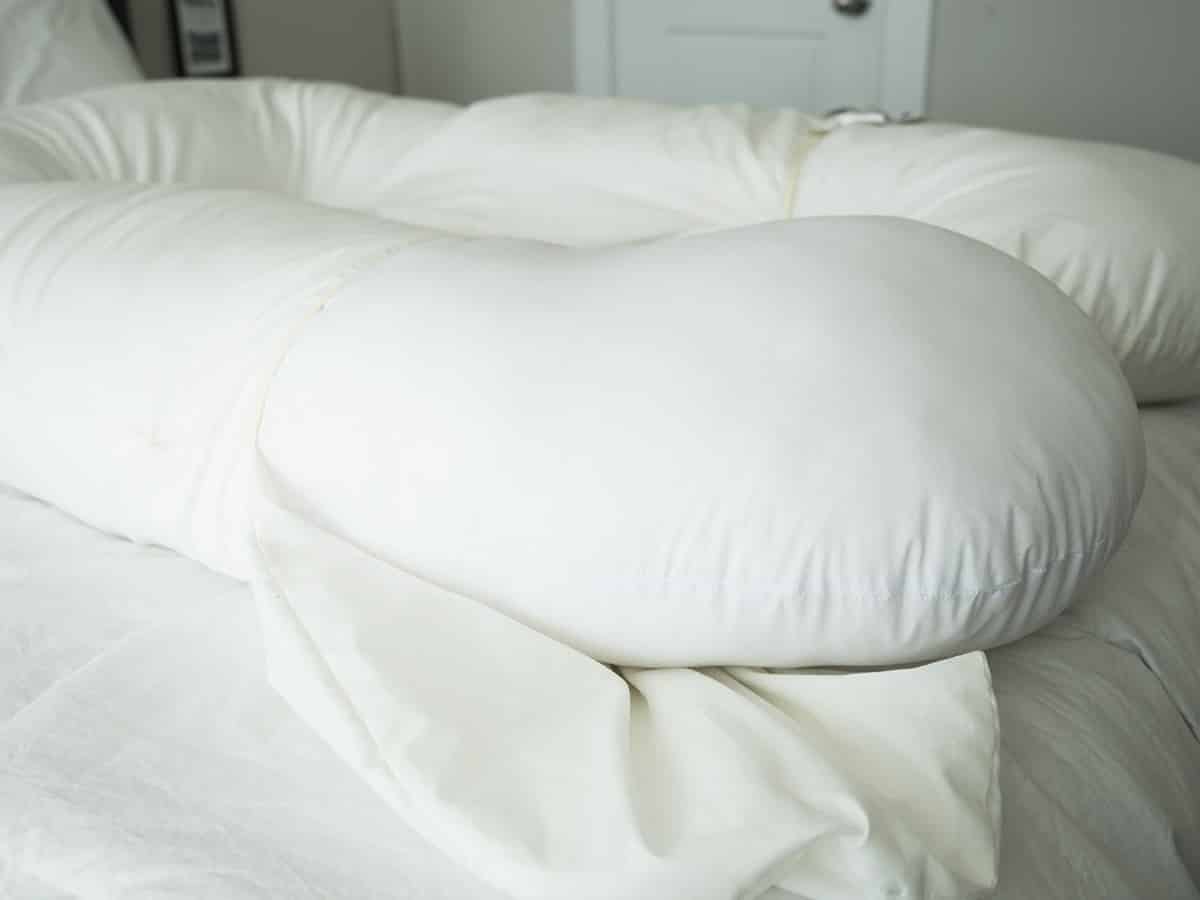 Pillow Construction
This total body (or full body) pillow has a U-shape with contoured edges on the inside. It's stuffed with polyester fibers and the outside is a polyester/cotton blend or cotton cover – depending on what option is selected (more on that HERE). I am reviewing "The Original", with a sham-style cover that is 65% polyester and 35% cotton.
Care: To clean the removable cover, remove the cover from pillow, machine wash warm, gentle cycle. Use non-chlorine bleach if needed. Tumble dry, lowest heat setting, remove promptly.
Here is a breakdown of the options from the Leachco website: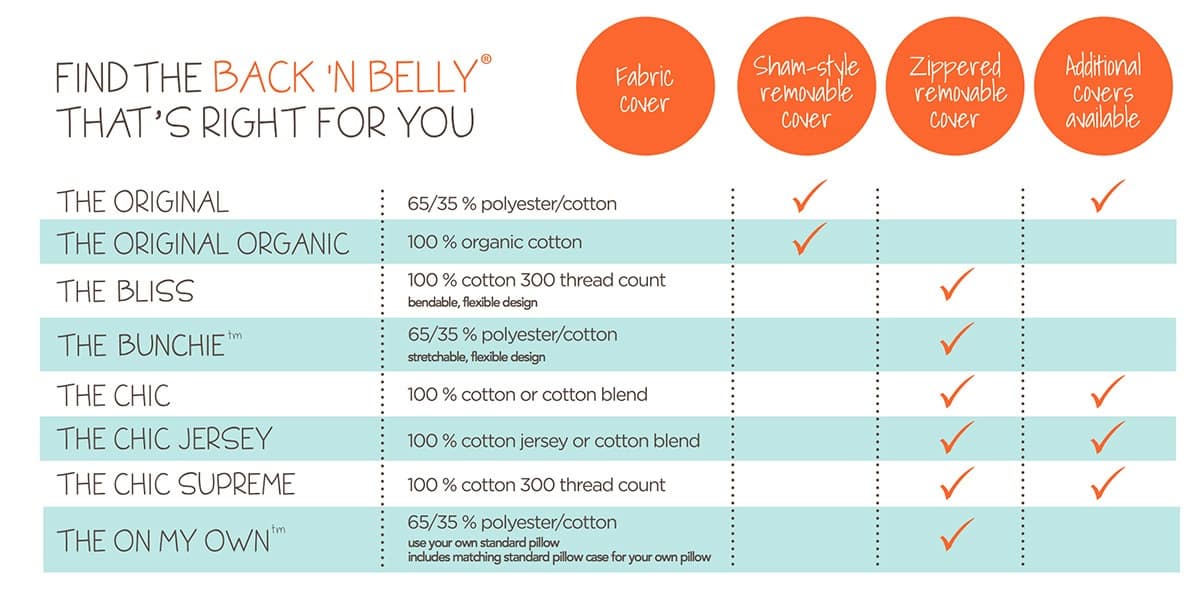 image from Leachco.com
Ways To Use The Back 'N Belly Pillow
A pregnant woman can use this pillow to support her growing baby bump while sleeping or in a more elevated/resting position when awake (this is helpful post-partum).
Here is how Leachco recommends utilizing their pillow: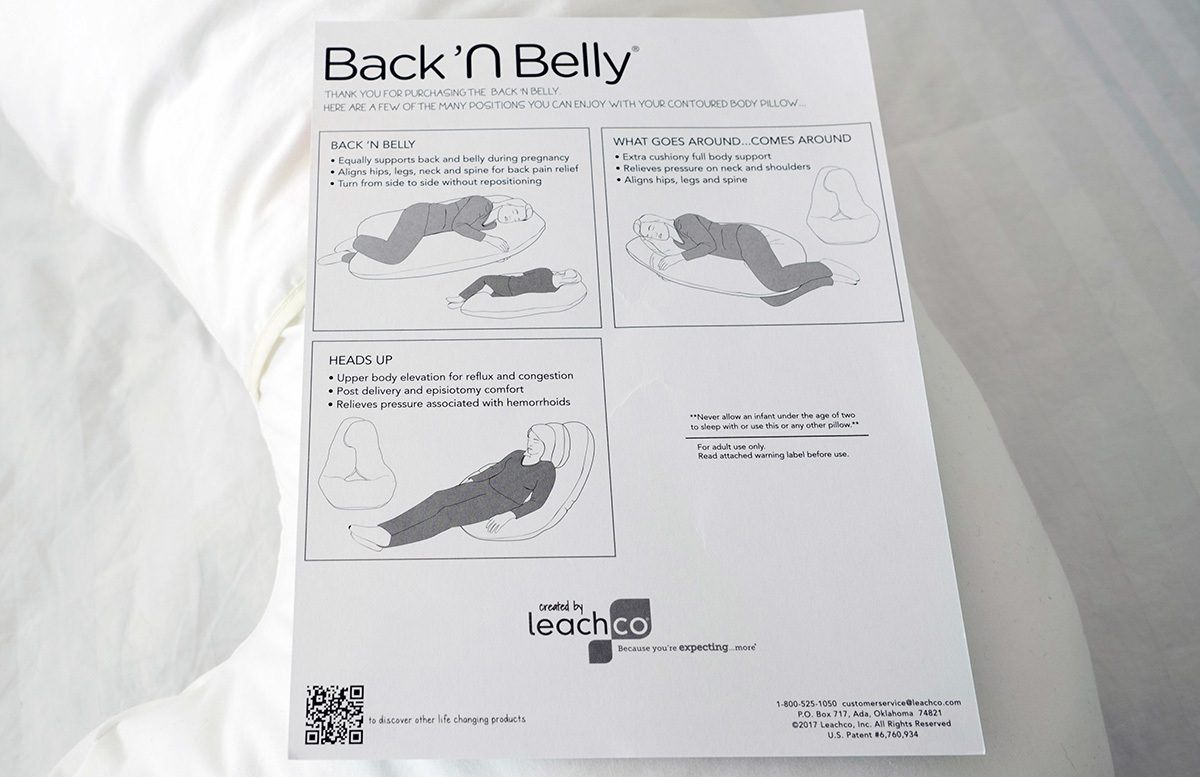 Pros
Virtually replaces the need for multiple pillows
The cover can be machine washed/dried
Comes in a variety of fabric options
Available at multiple retailers; have the ability to price compare/shop
Supports stomach and back at the same time
Check Current Pricing On Amazon Here
Cons
The sham-style cover may be difficult to get back on after removal and washing
Pillow filling is spot clean only
Large and in charge – consider the bed size
A little expensive – around $80 depending on the retailer
May not be long enough for taller mothers – bottom curve may end before resting between the knees (one of two sleeping position options, of course!)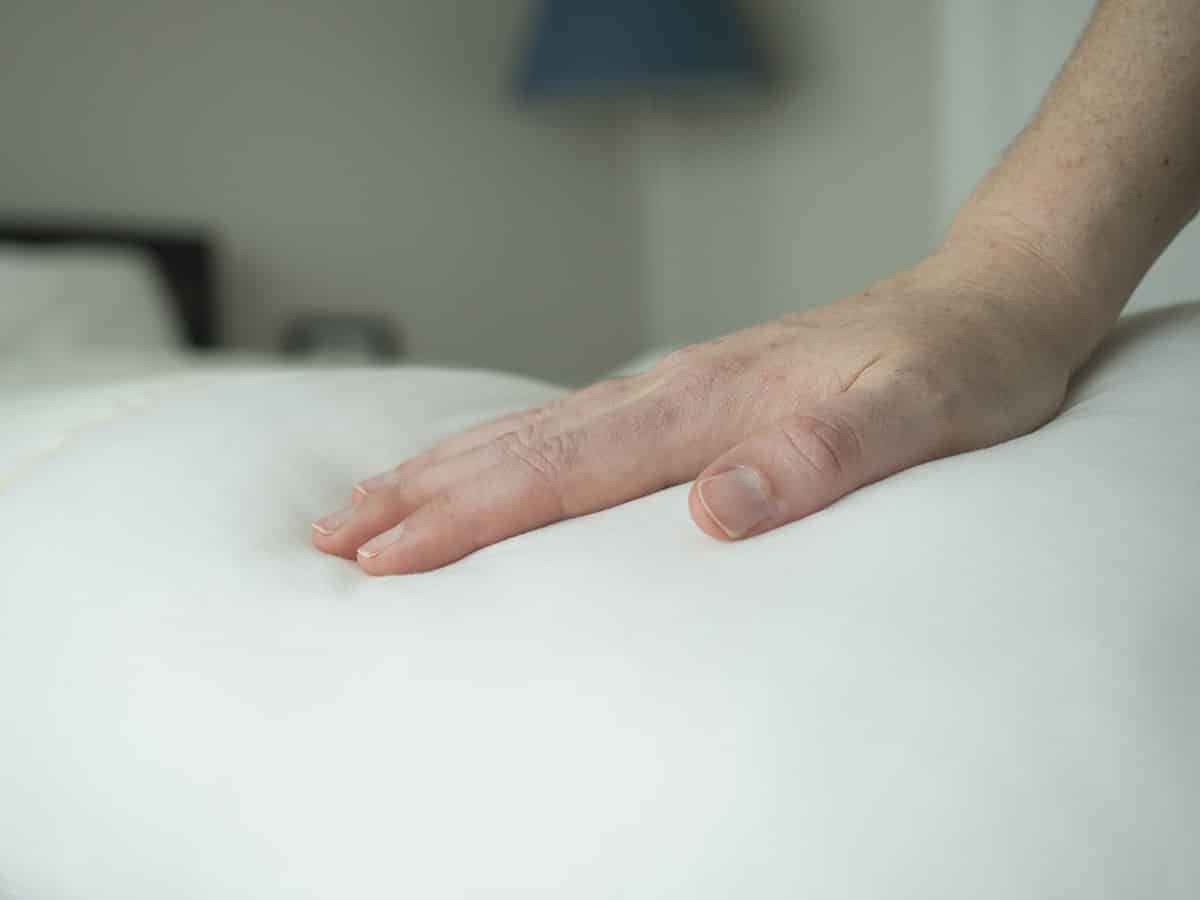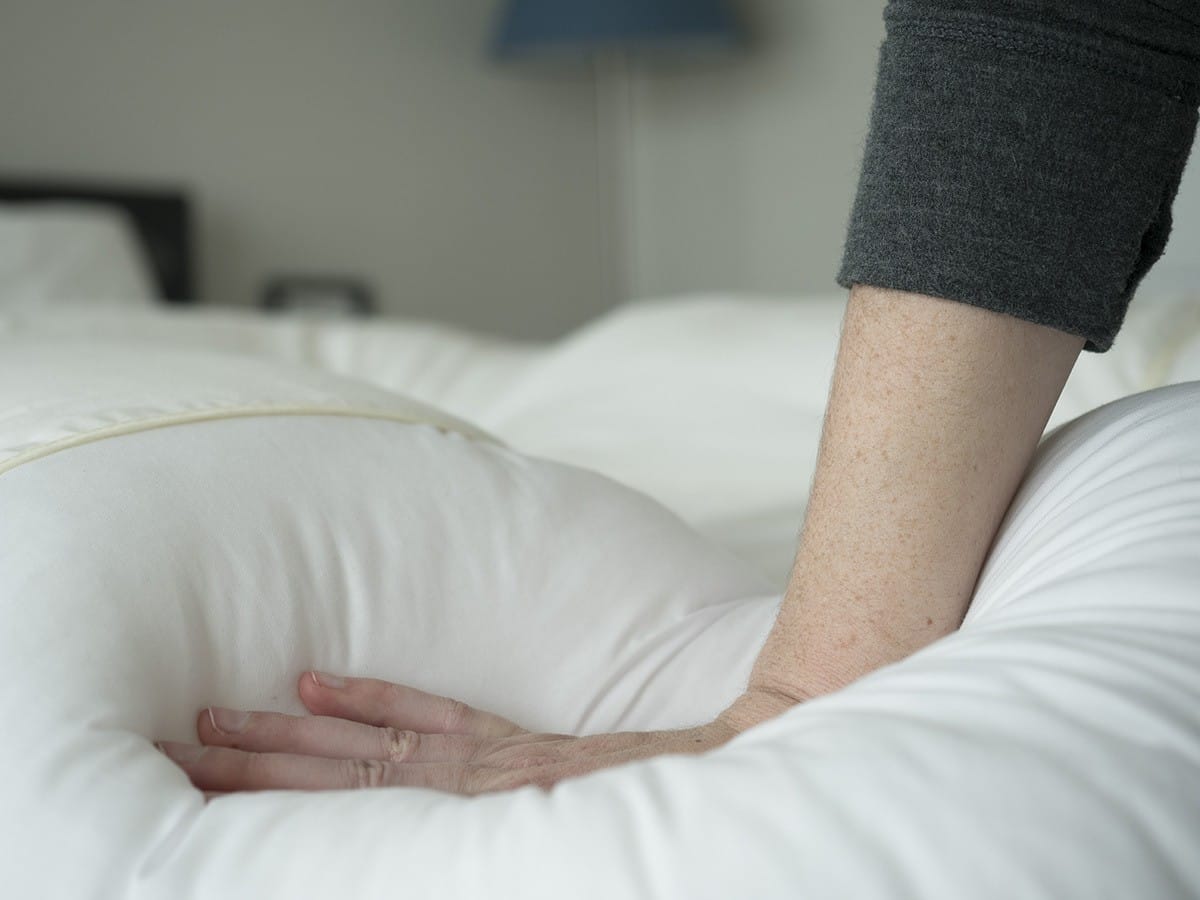 My Experience
After my positive experience with the Back 'N Belly's cousin pillow – The Snoogle – I was excited to give this U-shaped pregnancy pillow a try. One of the things the Back 'N Belly really has going for it is that women can get support on either side they sleep on.
For reference, I'm 5' 7″ and about six months pregnant. I'm primarily sleeping on my side these days but I usually sleep in multiple positions when I'm not pregnant.
The Back 'N Belly pillow is massive but it basically envelopes a woman in a little three-sided nest, so that she's tucked into the pillow from her head (or feet) to her sides when she gets into a sleep position.
I will say the one thing I wish is that the pillow was a little longer. When I slept with the pillow connecting at the top, my head rests nicely, but the sides come down only far enough to rest between the top of my knees and my thighs.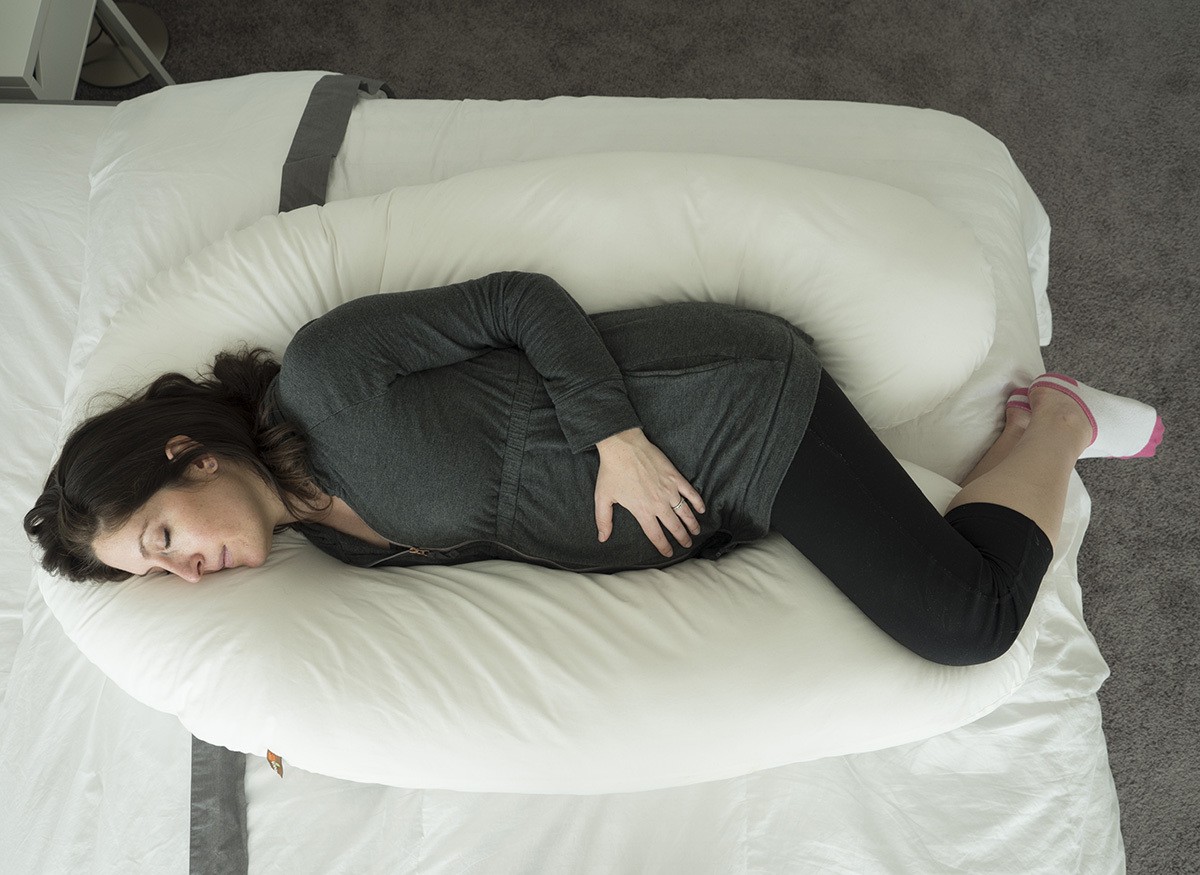 When I flipped it over and let the connecting part rest between my knees, I felt like I couldn't get all the support on my back and side that I needed – plus I personally needed an additional traditional pillow to support my head and neck on top.
RELATED: How To Sleep Better While Pregnant
Based on my experience, women shorter than 5'6″ or 5'7″ this will not be an issue, but taller women should take the 51″ length into consideration. The Snoogle is 60″ long and I didn't feel this issue during my time with that pillow.
Another note I wanted to make is that the sham-style removable cover can be a little tricky to get on and off with this U-shape. There are openings at both ends to remove the cover (it is easier to get on than the Snoogle) but I do think the zippered cover options are the easiest. It's simple to machine wash and dry the cover, just follow the directions on the tag and the cover can be spot cleaned.
The cover fabric on "The Original" version is a mix of polyester and cotton. It's not an uncomfortable fabric, but the 100% cotton or jersey knit fabric options will definitely be softer. Technically a woman can place a traditional pillow on top of the Back 'N Belly but it may be more comfortable to only rest her face on the Back 'N Belly, which means she may want to go with a softer fabric option.
RELATED: Pregnancy Pillow Guide: What To Know Before You Buy
Where To Buy
Leachco is the maker of the Back 'N Belly pillow but for whatever reason, it's not possible to buy it directly from their website. Instead, they have a list of authorized retailers (subject to change):
Amazon
Toys "R" Us
Babies "R" US
Check out the "Where To Buy" page on Leachco's website for local retail options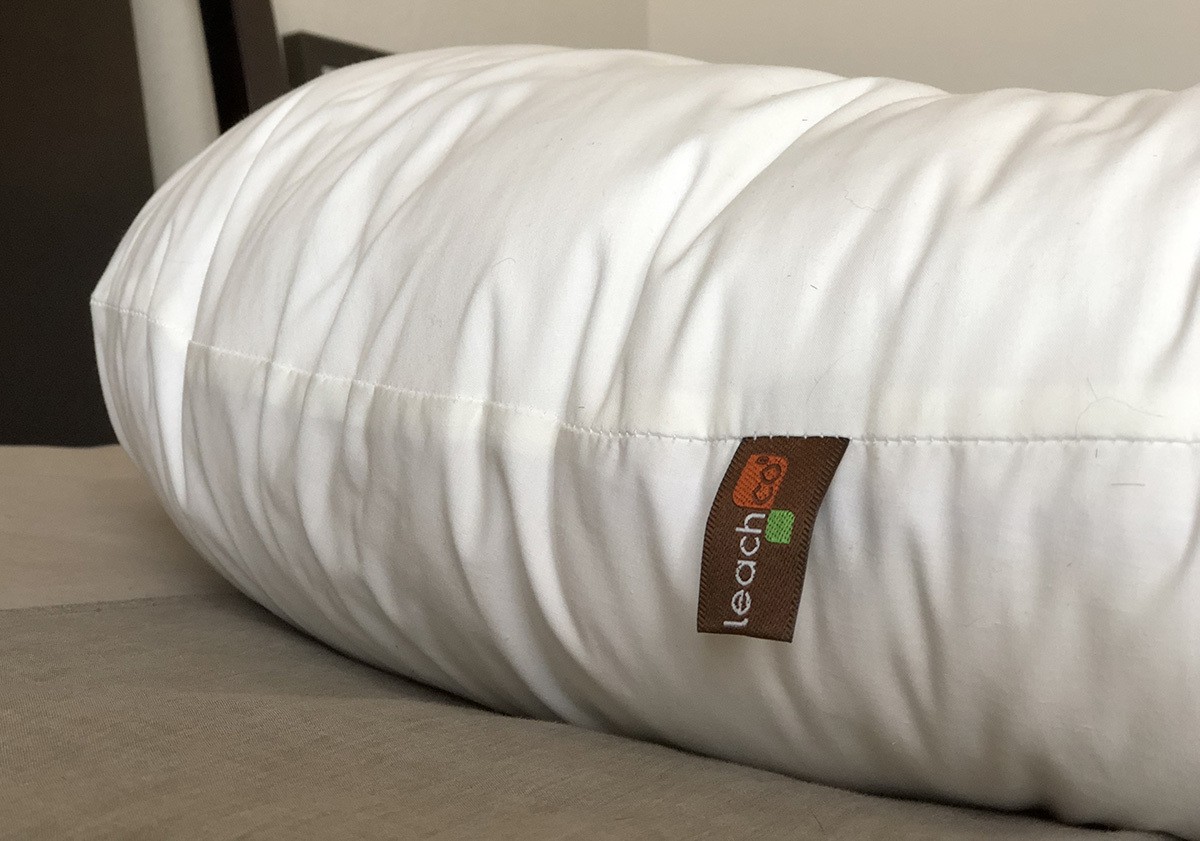 Overall
After seeing the Back 'N Belly contour pillow in action, I can really see why many pregnant women choose the nest-like pillow. Once a pregnant person snuggles into it, she won't want to move.
I think taller women or those with longer legs may have trouble getting the bottom legs to fit easily between their knees after moving around at night. I felt like I could have used a little extra length andI'd also opt for a soft fabric option, like 100% cotton or knit and a zippered removable cover to help with the ease of getting the cover on and off for washing. Check out the different retailers nearby that sell the Back 'N Belly and price compare to get the best deal. The pillow doesn't come with a set trial period and return policies will vary by retailer.
Katie Golde
Katie manages the day to day operations of the Mattress Clarity news site and reviews sleep products in addition to writing and editing sleep news. She hails from Austin, where she lives with her growing family. She is a Certified Sleep Science Coach and has a master's degree in Journalism from Northwestern University and has a background in health and science content. Her work can be found in print and online publications like Discover Magazine, USA Today and The Huffington Post.