Those who have been shopping for a memory foam mattress topper may feel like they all seem the same. They're all just a big block of memory foam, right?
While many mattress toppers are essentially soft and flat, there are some more complex options out there like the Lucid 5-Zone Mattress Topper is one such option. It features a zoned construction that is meant to give varying degrees of comfort and support.
As a fan of Lucid's other products, I was interested to see how the 5-Zone topper would perform for me. To find out of this topper is both comfortable and supportive, read on for my full review.
Lucid 5-Zone Memory Foam Mattress Topper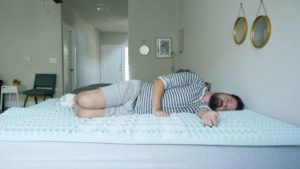 The Lucid 5-Zone Memory Foam Mattress Topper softens existing mattresses and offers ample pressure relief.

Read Full Review
Lucid Memory Foam Topper Video Review
Not all mattress toppers make for a fascinating video – but with 5 zones, watching the Lucid topper in action to see how it performs is a must-do before you buy.
The Lucid Might Be A Good Fit For…
Back sleepers. The Lucid's zoned construction makes it a very good match for back sleeping because the topper is firmer toward the center, giving a good amount of lumbar support. The other areas of the topper are softer so the hips should sink in a fair amount. Overall, the Lucid has that balance of comfort and support that is good for back sleeping.
Side sleepers. The topper is softer under the shoulders and hips, so most side sleepers shouldn't feel too much pressure in those areas. The Lucid could even be a good match for larger side sleepers because they shouldn't drop right through the topper.
Hot sleepers. Sleeping hot is pretty much expected when dealing with memory foam, but this shouldn't be too much of an issue with the Lucid. First off, the topper is infused with a cooling gel that should help with heat dissipation. Also, the zoned grooves create air channels throughout the topper so it won't trap so much heat.
Those who want a good value. For those who want a memory foam mattress topper but don't want to spend too much on their purchase, the Lucid is a good option. It is around $50 for a Queen-size topper, so those who want an affordable memory foam mattress topper should take a look at the Lucid.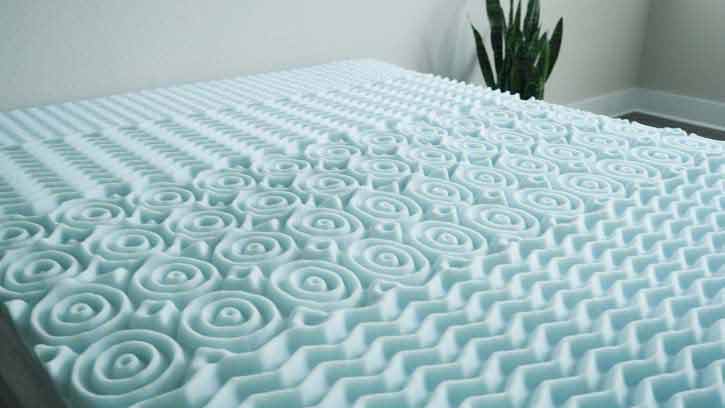 The Lucid Might Not Be A Good Fit For…
Stomach sleepers. It is important that stomach sleepers get enough support because they don't want to be bowing in at the hips. Even with the zoning, the Lucid will soften a mattress a good amount so stomach sleepers will be feeling less support on their hips.
Those who don't like a memory foam feel. While this topper does feature zoned ridges, it still has that slow-moving memory foam feel, so those who don't like to slowly sink into their sleeping surface might not like the Lucid. The slow response also makes it more difficult to move around on the topper so those who have mobility issues might want to look for a latex topper or a topper with more responsive foam.
Those who want a longer-lasting topper. The Lucid is a very good deal price-wise, but it might not be the best long-term investment. During my time with the topper, I did start to see some cracks and breakage. The topper is not made of very high-density memory foam so this is not too surprising.
RELATED: Best Mattress Topper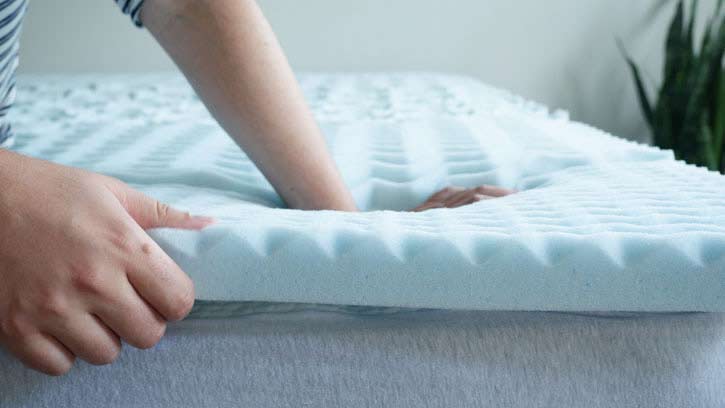 Construction And Options
The topper is 2″ thick.
It is made of soft memory foam.
The topper features five zones that vary in firmness. The middle of the topper is firmer and then it gets progressively softer as we move toward the head and foot.
Shoppers can choose from two infusions: a gel-infused topper which is designed to sleep cooler or a lavender-infused topper which features a soothing scent meant to promote better sleep.
Size options: Twin, Twin XL, Full, Full XL, Queen, King, and California King.
RELATED: Lucid Lavender mattress topper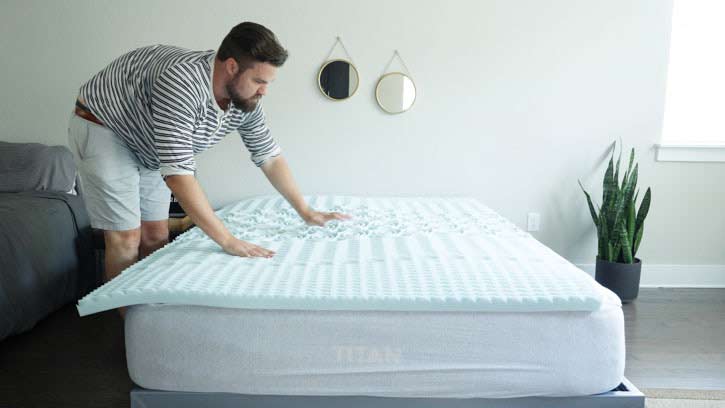 My Experience
I consider two things when I receive a mattress topper at my house: expansion speed and offgassing. Basically, I want to know how quickly the topper expands so that I can actually use it, and I also want to know if the topper has a strong chemical smell.
When I opened the Lucid 5-Zone Mattress Topper, it expanded very quickly. I was able to use the mattress topper that very night, and I only noticed a bit of offgassing.
One of the main reasons to get a mattress topper is to change the firmness of a mattress. To gauge the firmness of the Lucid, I placed it on a mattress with a firmness of 9/10 and, with the Lucid on top, the mattress felt closer to 7/10.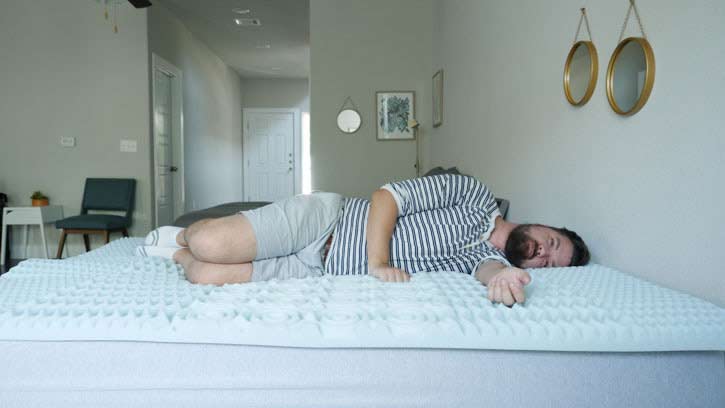 However, with its five zones, the Lucid does vary in firmness, and this means the mattress will feel softer or firmer depending on the sleeping position. Let's take a look at how that felt for me:
Back sleeping on the Lucid, the topper is a very good match. I feel my hips sinking in a bit, and the memory foam is taking the shape of my body while the center zone is giving me some added support on my lumbar area.
When I sleep on my side, the Lucid also works for me because it is softer under my shoulders and hips and relieving pressure there. However, I am not bottoming out on the Lucid as the zoning relieves pressure while still holding me up.
Stomach sleeping, the topper is a bit too soft for me because the center zone does not provide me enough support on my hips. I am sinking too far into the topper and feeling a bit of added strain on my lower back, so most stomach sleepers will want to find a more supportive topper.
Even with the zoned grooves, the Lucid does have that slow-moving memory foam feel. When I lie down on the Lucid, it slowly compresses under my weight. The material is slow to respond so it makes it more difficult for me to move around on the mattress.
Lastly, in terms of temperature, I can say the Lucid does not sleep too warm. The gel infusion does keep the topper from feeling too hot. Also, the zoned grooves allow for air to flow through the topper, and I can say I slept relatively cool on the Lucid.
Overall
I enjoyed my time with the Lucid 5-Zone Mattress Topper. The zoning makes the topper a great match for back sleeping and side sleeping. At the same time, I was not sleeping too hot.
Lucid 5-Zone Memory Foam Mattress Topper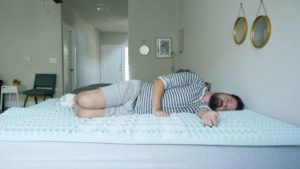 The Lucid 5-Zone Memory Foam Mattress Topper softens existing mattresses and offers ample pressure relief.
Read Full Review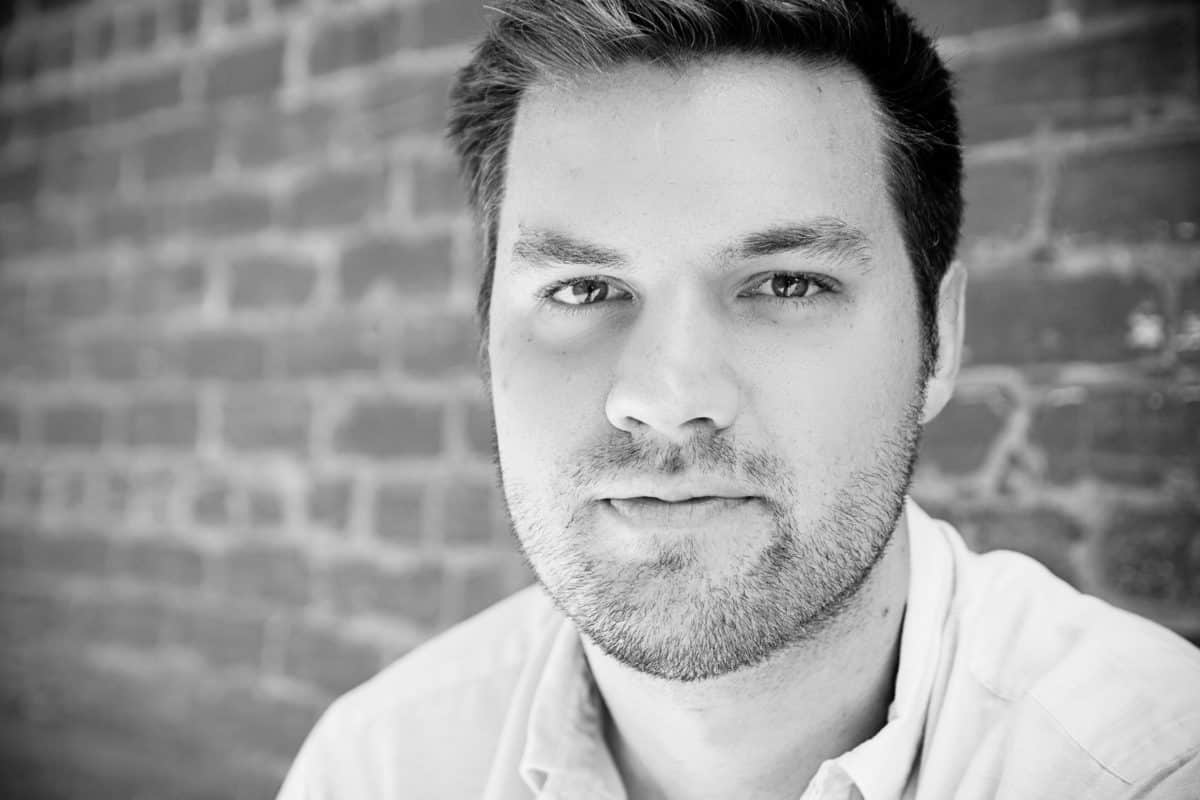 Marten Carlson
Marten is the Lead Reviewer at Mattress Clarity. He is a Certified Sleep Science Coach and covers the mattress industry as well as sleep science news. He is specifically interested in the connection between sleep and overall health. Marten has written for media publications like Consequence of Sound and received a master's degree in Film Studies from Emory University. He comes from Franklin, Indiana, and spends all the time he can writing, directing, and acting in films.