Editor's Note: After struggling with battery issues, Bose has decided to discontinue the production of their Noise-Masking Sleepbuds. As such, they are no longer for sale and consumers are eligible for a refund through this site.
Bose's Noise-Masking sleepbuds™ are an innovative mix of earplugs and headphones; they can't play music or podcasts from music-streaming apps, but they do wirelessly stream ambient noise from a pre-loaded library that syncs from the Bose app on a smartphone.
The Bose Sleepbuds are a viable option for those tired of earplugs falling out at night and are looking for something new to help them sleep.
They're an investment but they should be durable; operators have control over the sound and volume in the Sleepbuds and can even set a personal alarm that's only audible to the user.
Want to hear the good and the bad about the Sleepbuds? Check out the video and detailed written review below and let me know if questions come up!
View Bose Deals
Bose Noise-Masking Sleepbud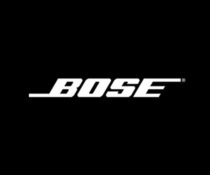 Bose Noise-Masking Sleepbud
The Bose Noise-Masking Sleepbuds act as noise blockers but can also wirelessly stream ambient noise via an app on a smart device. They're unnoticeable in your ear and you can seamlessly transition from different sleep positions.
Key Features
Sleepbuds: 0.94″ height x 1.06″ weight x 0.56″ dept and each bud weighs 0.081 oz
Charging pod: 1.06″ height x 3.03″ weight x 3.03″ depth
Sound-blocking design
Removable ear tips with three available sizes
Wirelessly streams ambient music that syncs with an app that's pre-loaded with a library of sounds
Ability to set an alarm that only the user can hear
Rechargeable, silver-zinc batteries. It takes eight hours to fully recharge the Sleepbuds, but then they're good for up to 16 hours per full charge
Charging case: up to three hours charging time
The maximum sound pressure level (SPL) output of the Sleepbuds is 70 dBA
30-day full refund
Care: Remove the tips from the Sleepbuds and wash them with mild detergent and water
Full price: $249 for the pair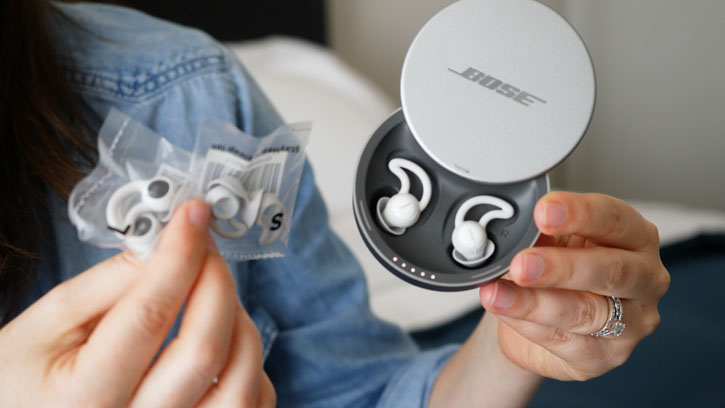 The Box Comes With:
Sleepbuds
Charging/storage case (Can also use the case battery to charge the Sleepbuds while traveling)
Three pairs of StayHear+ Sleep tips (sizes S/M/L)
Wall charger
USB cable
Drawstring travel pouch
Who Makes It?
The noise-masking Sleepbuds are engineered and produced by Bose, a well-known maker of high-tech audio products, including noise-canceling headphones.
When asked how they compare to more traditional earplugs, Bose says on its website, "We started with the fundamental problem of unwanted noise in the bedroom, and we laser focused our engineering on singularly addressing that problem. This design approach led us to optimize around very different variables than normal earbuds do — most notably in the size of the sleepbuds™ and acoustics."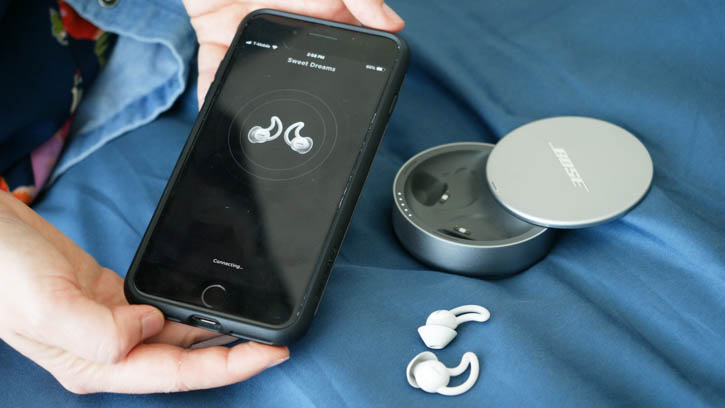 Pros
Virtually undetectable in the ear; the user can move around, get up, and change positions without the Sleepbuds moving or falling out
Wireless and lasts for up to 16 hours (when fully charged)
The alarm means that the user doesn't have to wake up the whole house, and can snooze a few times
Wide range of ambient sound options
Fine to wear long-term because the maximum sound (70 dBa) is lower than what's recommended by the World Health Organization
Charging pod can charge independently, which makes it convenient for travel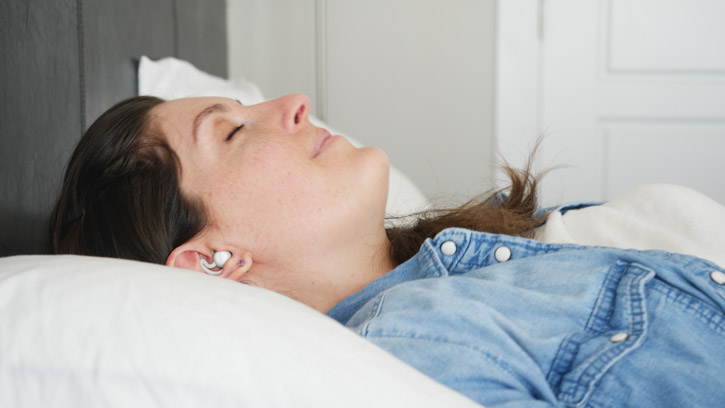 Cons
Pricey. Sleepbuds cost $249 for a pair
The supplementing device (smartphone, tablet, etc.) must support Bluetooth Low Energy (also called Bluetooth Smart) to work correctly with the Bose noise-masking Sleepbuds
The user must attach the magnetized sides of the Sleepbuds to the charging pod just right or they won't charge
If someone wants new sounds, they have to wait for a transfer that should take between 30 minutes and two hours (depending on their Bluetooth signal)
It's easy to lose them in light-colored sheets because they blend in easily with light-colored bedding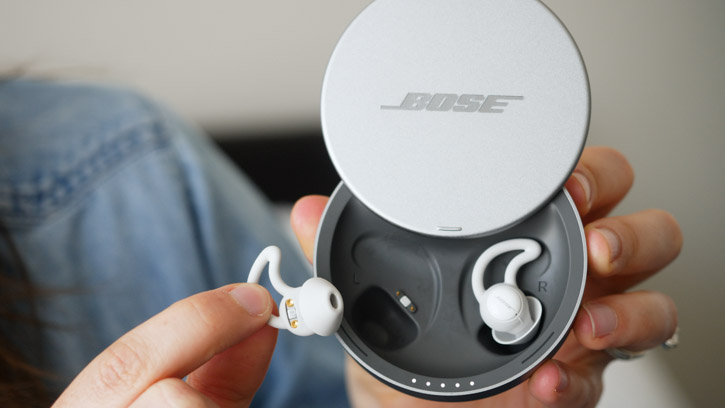 My Experience
I've personally used earplugs (all different kinds) to help me sleep for at least the last 10 years; it's not an addiction but I am dependent on earplugs or some noise-blocking mechanism to sleep at night!
I was excited but skeptical about the Bose Noise-Masking Sleepbuds because the brand makes several promises:
They promise to fit seamlessly in the ears and passively block noise.
They promise to help induce sleep by streaming a range of ambient noises at a volume level that the user controls.
They promise not to move or run out of juice for 16 hours when fully charged.
The best way to describe the Sleepbuds is to say they're essentially a hybrid between an earplug and a headphone. While they don't stream music or podcasts, they will wirelessly play ambient noise (think rain, white noise, etc.) to block out everyday noises and facilitate longer sleep with fewer disruptions.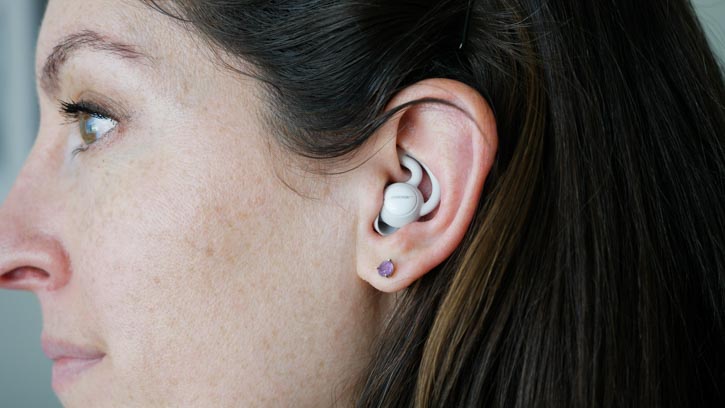 The packaging comes with three pairs of ear tips in varying sizes, one of which should fit seamlessly into the ear. The Sleepbuds themselves are small and delicate-looking, but they're simple to place in the ear and to remove.
The Sleepbuds are super easy to put in the ears; it's the same straightforward process as putting in any small headphones, except users will also hook the tip of their ear tip into the curved part of their earlobes so the whole device stays put.
Based on my experience, the Sleepbuds don't budget when switching positions at night and are virtually undetectable, even when sleeping to the side.
The Bose app that syncs with the Sleepbuds is critical; the app is where the owner can pick the type of noise, noise volume, alarm, and other settings for his or her Sleepbuds. The range of sounds is fantastic and the whole app is very simple to use. It allows the owner to check the Sleepbud battery life and generates a notification if the battery is going to run out.
It's essential that owners have a smartphone or media device that runs Bluetooth Low Energy or Bluetooth Smart. Please double-check before purchasing the Sleepbuds, as they'll fail to without it; I have an iPhone 8Plus with an up-to-date iOS and had no problems using the Sleepbuds and app.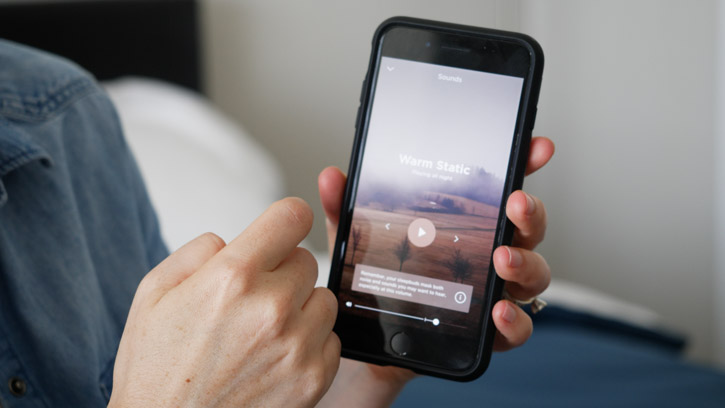 When they're fully charged, the battery can last up to 16 hours. The Sleepbuds come with a modern-looking charging pod to place them in and keep them protected when they're not in use.
Overall
I think the Sleepbuds make for an innovative choice for individuals, with the means, who rely heavily on earplugs to sleep but aren't satisfied with their foam or wax options.
Users glean more control and customization with the Sleepbuds, compared to headphones or any other simple set of noise blocking earplugs. The choice of sleep-inducing ambient music can easily flow from one type to another each night and those struggling with noisy neighbors throwing a party, go ahead and turn up that sound.
To be sure, they're an investment at $249. That said, I emphatically suggest those looking for high-quality earplugs check ou research and test the Bose Sleepbuds for themselves.
Katie Golde
Katie previously managed the day to day operations of the Mattress Clarity news site and reviews sleep products in addition to writing and editing sleep news. She hails from Austin, where she lives with her growing family. She is a Certified Sleep Science Coach and has a master's degree in Journalism from Northwestern University and has a background in health and science content. Her work can be found in print and online publications like Discover Magazine, USA Today and The Huffington Post.