If you or your partner reach for the ear plugs before climbing into bed, chances are one of you is a snorer. As a light sleeper myself, snoring is something that keeps me up all night. Snoring can be caused by a variety of reasons, but one of them might be using the wrong pillow.
That's why I've compiled a list of the best pillows for snoring. These pillows all do something differently, but they'll keep your head in a neutral position to help ease snoring problems.
Let's dive in!
The Best Pillows for Snoring: Our Top 6 Picks
Best Overall – Saatva Natural Latex
The Saatva latex pillow is a stand out amongst many pillows, and here at Mattress Clarity, it's one of our favorites. The Saatva latex pillow is perfect for back sleepers looking to get a combination of comfort and support.
Saatva uses a three-chamber design: a soft outer cover made of 100% cotton, a soft, plush microfiber layer, and a shredded latex core. This combination of materials makes it ideal for back sleeping to get a blend of comfort and support.
If you sleep with your head and neck in a neutral position, you may be able to alleviate your snoring problems. This pillow helps keep your head in line with your chest, which can help keep airways open.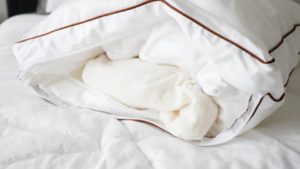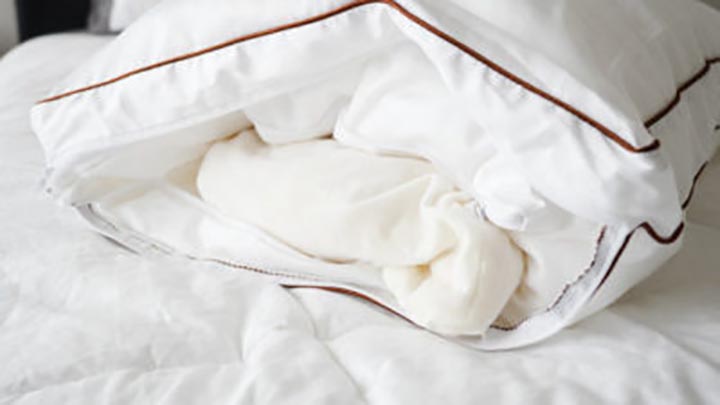 What Makes the Saatva Natural Latex Pillow Stand Out?
The design of this pillow will keep you sleeping in a neutral alignment which can help with snoring.
It won't trap heat thanks to breathable materials, like organic cotton and shredded latex.
It has been designed for pressure relief.
Read our full Saatva Natural Latex pillow review.
Best for Side Sleepers – Eli & Elm Side Sleeper
Getting into that neutral position to help with your snoring can be tricky for side sleepers. Eli & Elm's side sleeper pillow is a unique pillow because of its shape and design.
One side of the pillow features a U-shaped cut out that will accommodate your shoulder and make side sleeping feel much more natural and comfortable.
Eli & Elm also designed this as an adjustable pillow. This means you can take out or add in the latex noodle fill to make this pillow the right height and firmness for you. It may take a little trial and error, but it's worth it in the end to sleep in a neutral position and can help you be snore-free!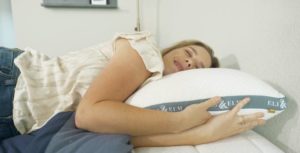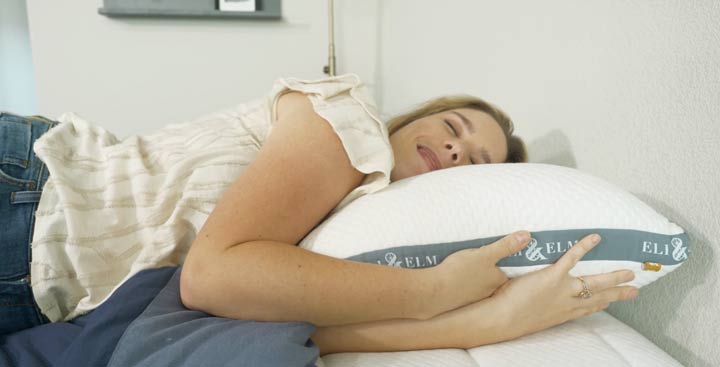 What Makes the Eli & Elm Side Sleeper Pillow Stand Out?
The U-shaped cutout was designed for side sleepers to make side sleeping more comfortable.
The adjustable fill makes it great to find a neutral alignment to help with snoring.
It won't trap heat because the shredded latex fill and cotton cover are very breathable.
Read our full Eli & Elm Side Sleeper pillow review.
Best for Snoring & Neck Pain – TEMPUR-Neck Pillow
You can't always hear yourself snoring, but one thing is for sure: you will notice when your neck is in pain during the night. There are many orthopedic pillows to help with both snoring and neck pain, but one of my favorites is the TEMPUR-Neck pillow from TEMPUR-Pedic.
This pillow has an ergonomic design that will contour to your head, neck, and shoulder to keep your head and neck in a neutral alignment. It works best for back and side sleepers who are looking for some neck pain relief and neck support.
While this pillow's focus is to help relieve neck pain, when looking through customer reviews, many reported that their spouses stopped snoring when using the TEMPUR-Neck.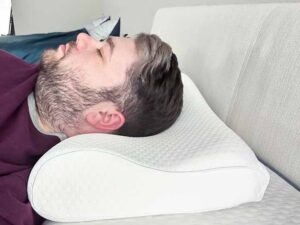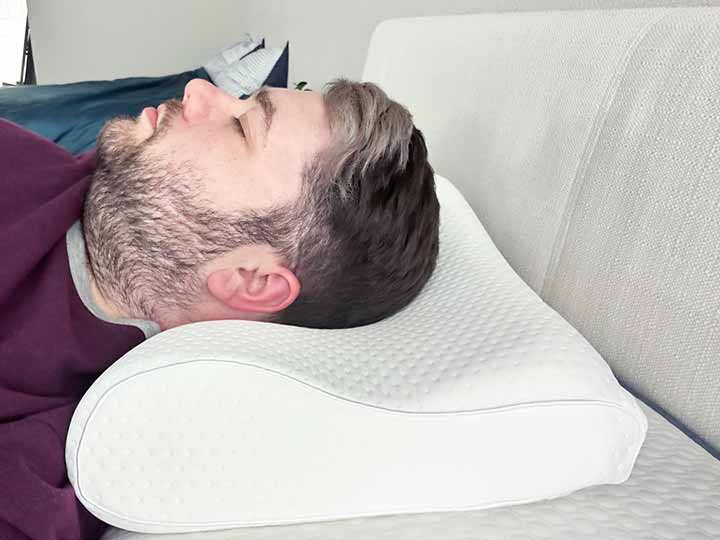 What Makes the TEMPUR-Neck Pillow Stand Out?
The TEMPUR-Neck features that classic, slow-moving memory foam that's very firm and dense.
Its ergonomic design will help relieve neck pain.
It comes in many different sizes to accommodate all body types.
Read our full TEMPUR-Neck pillow review.
Best TEMPUR-Pedic for Snoring – TEMPUR-Cloud
Though the TEMPUR-Neck is a TEMPUR-Pedic pillow, the best TEMPUR-Pedic pillow for snoring is the Cloud Adjustable pillow. When it comes to getting your head and neck in a neutral sleeping position, having a pillow with an adjustable loft is a great option to pursue.
TEMPUR is known for its thick slabs of slow-moving TEMPUR material, but the adjustable is full of three different kinds of shredded TEMPUR foam: Premium Support, Plush Comfort, and Pressure Relief foam.
Adjust the pillow by taking out or adding in the shredded memory foam to fit your sleeping style, be it back, side, or stomach, and find that neutral alignment. Once you're there, you'll be able to snooze soundlessly.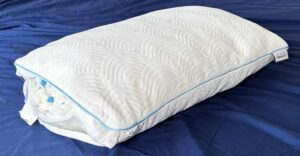 What Makes the TEMPUR-Cloud Adjustable Pillow Stand Out?
TEMPUR-Pedic is a well known and trusted brand, and makes high-quality pillows.
The Cloud Adjustable pillow will let you adjust the pillow to match your sleeping position.
Though TEMPUR material can trap heat, because the foam has been shredded, it allows for airflow and will sleep relatively cool.
Read about the most popular TEMPUR pillows!
Best Memory Foam – Tuft & Needle Original Foam Pillow
Memory foam lovers who have snoring problems should look at the Tuft & Needle Original Foam pillow! Though made of memory foam, the Tuft & Needle pillow is a bit more responsive and easy to move around on, but still provides exceptional pressure relief.
Your head won't sink too far into this pillow, so your head and neck will stay in a neutral alignment. Because of this, you should get some snoring relief! Many customers reported that their partners stopped snoring when using this pillow.
The Original Foam pillow is also a good match for hot sleepers! The foam has been infused with graphite and gel to help you stay nice and cool throughout the night.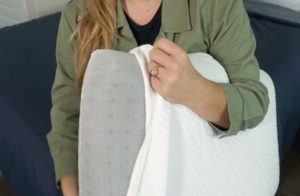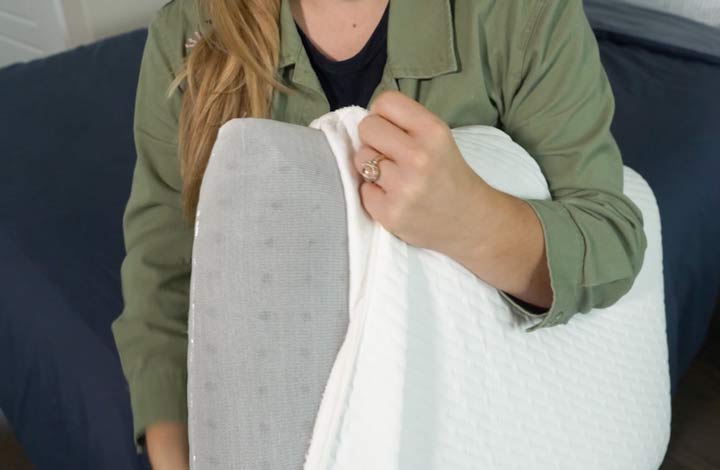 What Makes the Tuft & Needle Original Foam Pillow Stand Out?
It feels a little more responsive than traditional foam, but you'll still get all the benefits of memory foam.
The Tuft & Needle pillow is a medium firm pillow that works well for both back and side sleepers who are snoring.
It won't trap heat!
Read our full Tuft & Needle Original Foam pillow review.
Best Wedge – MedCline Shoulder Relief System
Experts have agreed that elevating your head and even your torso can help alleviate snoring problems. Enter wedge pillows! The MedCline Shoulder Relief wedge pillow will elevate your body and provide some exceptional shoulder support, too!
This is a combination wedge and body pillow that comes to you in three main parts: the wedge, the body pillow, and a space filler pillow. You slide your arm through an open section and sleep with the body pillow around your shoulder.
Every piece of the system is made from a memory foam filling, and is surrounded by super soft, minky feeling covers. So you should get some snoring relief and get rid of your shoulder pain at the same time! And for convenience, you can also find this pillow on Amazon to make shipping a breeze.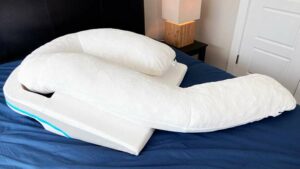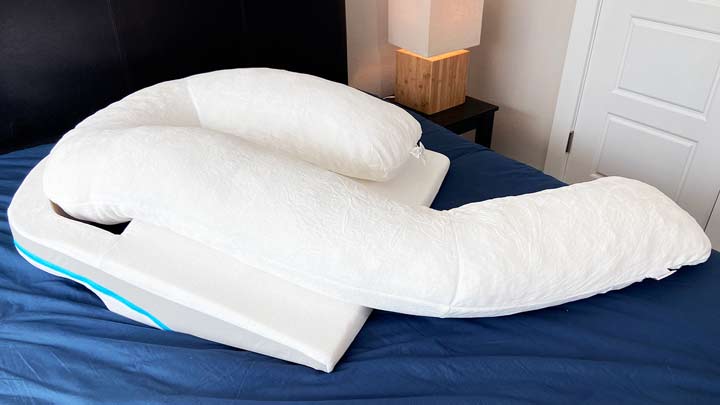 What Makes the MedCline Shoulder Relief System Stand Out?
It's a wedge pillow which elevates your body to help alleviate snoring.
It's been designed for shoulder support and can relieve shoulder pain.
MedCline even offers you a 1:1 consultation with a sleep specialist to figure out which pillow you need and how they help.
Full review coming soon!
What Causes Snoring?
According to the Mayo Clinic, the causes of snoring are varied. The most common causes of snoring include:
Your mouth & sinus anatomy: Having a low, thick soft tissue palette can obstruct your airway, causing snoring to occur
Allergies or illness: Some allergies or illnesses can obstruct your airway, making it hard for you to breathe efficiently
Alcohol consumption: Alcohol relaxes your throat muscles. Relaxed muscles can't work as efficiently, and can obstruct your airways
Weight: Overweight people are more likely to experience snoring, as the extra weight around your throat can cause your airways to narrow
Generally speaking, snoring occurs when you have a narrow airway, or when your airways have been obstructed. Even your sleeping or head position can impact your potential for snoring. Having the right pillow, which brings you to a neutral alignment, can certainly help by opening your airways.
Is Snoring Bad?
Snoring isn't an inherently bad thing. For some people, it's out of their control as to whether or not they snore. However, snoring could be an indicator for obstructive sleep apnea (OSA), especially when you wake up feeling groggy, have trouble focusing, feel sleepy during the day, and have increased irritability.
Of course, you should consult a medical professional if you think you or your partner have OSA, as you'll need more than just a good pillow to help out with that.
RELATED: What is Sleep Apnea?
How to Stop Snoring
When it comes to actually stopping your snoring, there are a few things within your control that you can try to do to help.
Using the right pillow: After all, that's what this list is all about! Find a pillow that can elevate your head or upper chest at a minimum 4" off your bed. Many pillows come with high lofts, or you can opt for a wedge pillow to give yourself a guaranteed boost.
Use anti-snoring devices: You've seen them advertised on TV before. Be it the nasal strip or a mouth piece, the goal with using these devices is to guarantee that your airways stay open.
Use a humidifier: If you're snoring as a result of a stuffy nose, using a humidifier can help hydrate your airways. This will help loosen anything clogging up your sinuses and will allow your body to more efficiently clear congestion when it happens.
Of course, these are just a few ways you can try and handle snoring by yourself. If you try these and don't find snoring relief, and fear it may be related to something more serious, I highly recommend that you seek out medical and professional advice. People diagnosed with sleep apnea will need a CPAP machine to help.
What is the Best Sleep Position for Snoring?
There's one last method that can help you with snoring, and it deals with your sleeping position. More often than not, back sleepers are more prone to snoring than any other position. Though back sleeping is the healthiest sleeping position, as recommended by medical professionals, it puts you in a position for snoring to occur.
As I've covered in this whole list, snoring occurs when your airways become narrow or obstructed. And when you're sleeping on your back, gravity comes into play. Lightweight back sleepers might not deal with this as much, but average to heavyweight back sleepers will face snoring more often.
One way to help out is changing your position to sleeping on your side. This can help alleviate snoring because you're no longer dealing with the weight around your neck obstructing your airways.
FAQs
Can too many pillows cause snoring?
If you're a pillow stacker, and sleep on your back, then yes too many pillows could cause snoring. If your head is going too far into your chest, you run the risk of obstructing your airways, which will cause snoring.
Does a higher pillow stop snoring?
Experts have agreed that elevating your head at least 4" is one way to help with snoring. Back sleepers who deal with snoring want a pillow that keeps their head in a neutral position. This means your head isn't going too far back, but it's not going too far forward, either. These can obstruct your airways.

So if you get a pillow that's around 4-5" tall, depending on various factors, a taller pillow can help you open up your airways. Be sure to check out our best pillows for back sleeping!
Are wedge pillows good for snoring?
Similarly to having the right height, a wedge pillow will work to elevate your upper body in addition to your head. The MedCline shoulder relief system pillows made our list for this very reason! Wedge pillows are also good at relieving symptoms of acid reflux, so they have many benefits!