Experts agree, sleeping on your back is the healthiest sleep position for you (compared to side and stomach sleeping).  Still, only eight percent of the American population sleeps on their back at night.
The health benefits of sleeping on your back center mostly on the ability for your head, neck, and spine to find a neutral alignment and pressure relief in this position. All of these are keys to a comfortable nights' sleep and lack of stress, stiffness or pain when you wake in the morning.
Choosing a pillow to complement your back sleeping and continue you support proper neck alignment is not only ensures you'll  stay comfortable but it'll also help you avoid sleep disturbances, like snoring (and wrinkles, too!).
We've put together our favorite pillows for back sleepers – and we included some things you should look for when you're buying your next pillow. Sweet dreams!
Top Picks: Pillows for Back Sleepers
eLuxury Supply Hotel White Goose Down
Good Life Essentials Shredded Memory Foam
Related: Best Pillows for Side Sleepers
Layla
The Laya pillow has a unique filling: a mix of shredded chunks of memory foam and Kapok fibers. You may still be able to feel the pieces of foam within the pillow, but the fibers also bring in a down-alternative like feel that stops it from getting too lumpy (learn more HERE).
With a 4″ loft, the pillow is a nice hight for back sleepers – not too flat to let your head fall back but not tall enough to push it forward. The cover is blended with Lycra and has copper fibers woven into it to add coolness and antimicrobial protection.
Pillow Details:
Dimension: 18″ x 26″ x 4″
Filling: 30% natural, organic and pesticide-free Kapok fibers/ 70% pieces of responsive memory foam
Cover: Blend of polyester, rayon, viscose, and Lycra and is woven with Copper fibers to add coolness and antimicrobial protection
Sizes: One size available
Hypoallergenic
Suitable for all sleep positions
Made in the USA
5 year prorated warranty
120-night trial
Click here for the full Layla pillow review. 
eLuxury Supply Hotel White Goose Down
This down pillow is designed with back and side sleepers in mind. It has a nice ratio of 80 percent down and 20 percent feathers and a high fiberfill. All of this helps to give it enough boost to support the head and neck of a back sleeper.
The pillow has a great luxurious feel to it and is easy to care for (machine wash and dry). For the value, it is at a good price point for a down pillow. It could be the perfect fit for a back sleeper who prefers the cozy feel of goose down.
Pillow Details:
230 Thread Count
100% Cambric Cotton
600 Fill Power White Goose Down (80% down/ 20% feathers)
Easy Care: Machine Wash and Dry
Shell made in China, filled and finished in the USA
Fill weight: Standard has 15 oz, the Queen has 18 oz and the King has 21 oz of fill
Read the full eLuxury Supply Hotel White Goose Down pillow review, here. 
Good Life Essentials Shredded Memory Foam
This shredded memory foam pillow is a nice foam option for back sleepers because it can be manipulated and molded to meet your desired loft and shape. You'll still get that "sinking" feeling like you do with solid memory foam but you'll need to toss it in the dryer to reinvigorate it and stop it from going flat every now and then.
Although the cover is not removable, it is made with 50 percent bamboo fabric and 50 percent polyester, which gives it a soft but breathable feel to it. It's also a nice hypoallergenic choice and can be thrown in the washing machine if needed.
Pillow Details:
Comes in sizes: Standard, Queen and King (reviewed Queen)
Made in the USA
Filling: 100% Polyurethane Shredded Foam
CertiPUR-US Certified Foam
Cover: 50% Bamboo and 50% polyester blend textured cover
Shredded memory foam is designed to be molded to your desired comfort
Hypoallergenic and dust mite resistant
Only sold on Amazon
Machine washable and dryer friendly
30-day trial
Lifetime warranty
Check out the complete Good Life Essentials Shredded Memory Foam pillow review, here. 
Brooklyn Bedding Latex in Plush
Brooklyn Bedding's #BestPillowEver is a solid piece of aerated Talay latex foam. While it comes in Firm and Plush options, the 7″ profile should work for back sleepers if you choose the Plush option. Your head should sink far enough into the latex foam to create a neutral angle, but the bouncier feel will keep it supported without going flat all night.
The standout feature of this pillow is how cool it sleeps (learn more on that HERE). The ventilation in the filling promotes airflow and the bamboo blend fabric on the removable outer cover is breathable (and super soft) as well.
Pillow Details:
Cover: 60% Polyester, 40% Charcoal Bamboo Blend
Filling: Single piece of ventilated Talalay latex foam
Firm and Plush options (I am reviewing the Plush)
Hypoallergenic
Anti-microbial
Removable cover that is machine washable and dryer friendly
Weight: 3.5 – 6 lb (depending on size and firmness)
Certifications: 2017 Oeko-Tex Certified Latex & 2017 Certi-Pur Certified Poly Foam
Made in the USA
3-year warranty
30-night trial
Price: $39.99 (Queen) and $55.99 (King)
Sizes available: Queen and King sizes available

Queen: 16″ x 29" x 7"
King: 16″ x 35 x 7″
Read more about the Brooklyn Bedding Plush Latex pillow, here.
Nest Bedding Easy Breather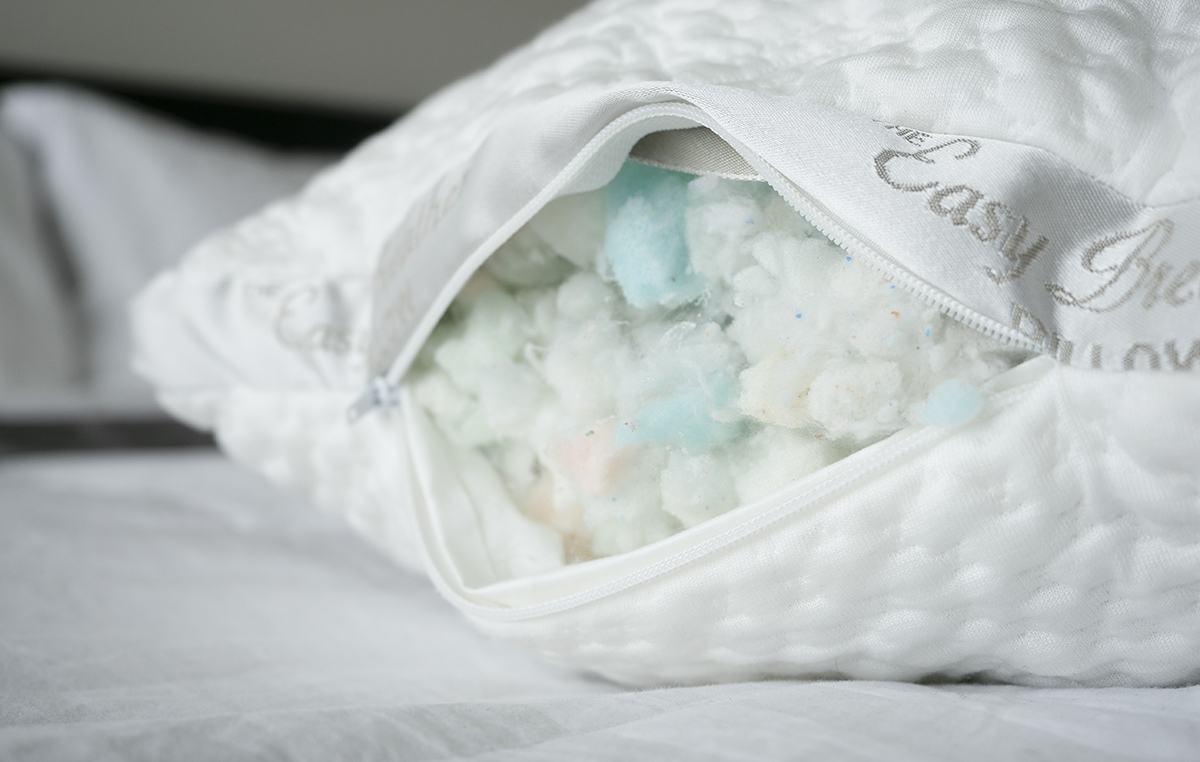 The Easy Breather pillow from Nest Bedding is an adjustable pillow – you can access the shredded foam/polyester fiber mix and add or remove as much of it as you'd like. This really makes it a great fit for nearly all sleep types but it is the unique feel and firmness of this filling mix that really suits back sleepers. It's not overly firm or chunky and supports the natural curve of the neck, helping to keep your back and spine in a neutral alignment.
The outer cover is Tencel blended fabric so it breathes very well and won't sleep hot. I thought the added polyester fibers helped give it a cozier feeling than just straight shredded foam.  It comes with a 30-day trial so customers have a month to adjust the pillow to the right loft and overall feel to see if it could be a good fit for them.
Pillow Details
Cover: Tencel blended fabric
Filling: Proprietary blend of shredded memory foam (75%) and polyester fibers (25%)
Adjustable: These pillows come full and can be adjusted by removing some of the material via the zippered cover
Care: Do not wash the pillow or the pillow casing.
100-night free trial
CertiPUR-US® certified foam
Comes in: Standard, Queen, and King
Made with all USA made materials
$99 (Standard)
Check out the full  Easy Breather pillow review, here. 
What Back Sleepers Should Look For
As we mentioned before, you want to find a pillow that helps your head, neck, and spine all stay in a neutral position. This will prevent unnecessary stress on joints and leave you waking up refreshed and comfortable.
The good news is that there are great pillow options for back sleepers made with down, a hypoallergenic alternative, memory foam or latex foam. It's really the personal loft and support levels that will make a difference in creating that neutral alignment between your head, neck, and spine.
Your neck has a normal curvature that should be supported by the pillow. If the pillow has too much loft, your neck will straighten out and if the pillow is too low, the curve will be intensified. Either of these positions will leave you with soreness and stiffness.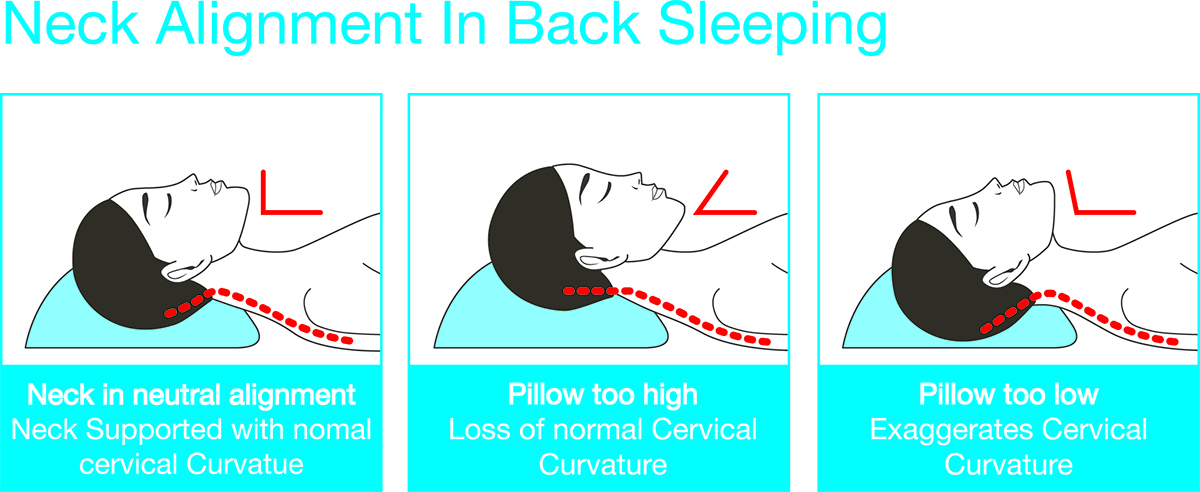 solar22/Shutterstock
Related: Best Pillows for Stomach Sleepers
Overall
When it comes to choosing the healthiest sleep position, back sleepers take first prize. The best way you can continue your healthy streak is by using a pillow that supports the natural curve of your neck and spine and helps keep everything in neutral alignment.
There is no one-filling-fits-all pillow for back sleepers, there are plenty of options in classic down, foam or even more unique materials like Kapok fibers. Look for a pillow whose loft and firmness aren't too high or too firm – that can push your neck up and make it harder to breathe.
If you're unsure of what you like, your best bet might be looking into pillows that offer trial periods (plenty do). This way you can sleep on several pillows for a few nights and see which one leaves you feeling the best in the morning.
Featured image: Dean Drobot/Shutterstock
The following two tabs change content below.
Katie Golde
Katie manages the day to day operations of the Mattress Clarity news site and reviews sleep products in addition to writing and editing sleep news.She hails from Austin, where she lives with her growing family. She has a master's degree in Journalism from Northwestern University and has a background in health and science content. Her work can be found in print and online publications like Discover Magazine, USA Today and The Huffington Post.
Latest posts by Katie Golde (see all)