Experts agree that back-sleeping is the healthiest sleep position for most people, as compared to side- and stomach-sleeping. The benefits center mostly on the ability for the head, neck, and spine to find a neutral alignment and achieve sufficient pressure relief, which becomes much easier if you have the right pillow. That's why we're sharing our list of the best pillows for back sleepers. Once you find the right one, you'll hopefully get a comfortable night's sleep without experiencing stress, stiffness, or pain when waking up in the morning.
The Best Pillows For Back Sleepers
Editor's Pick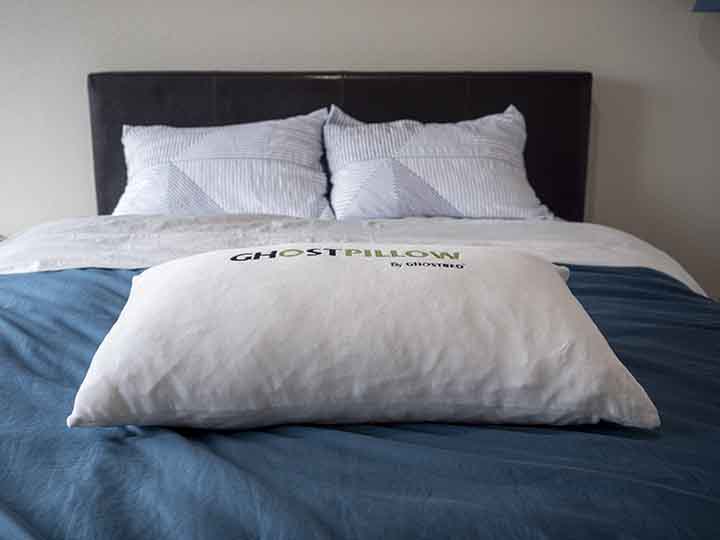 GhostPillow Faux Down
A filling of 100% microfiber gel cluster gives the GhostPillow Faux Down a medium firmness for back sleepers. The 7″ height means heads will sink into the more traditional, fluffier feel of the pillow, but won't come close to hitting the bottom. Those who turn over in the night and end up on their stomach or side will enjoy the soft feel of the velour-like cover, with no worries about wrinkles.
Pillow Details:
As of this review, the pillow is available in one size: 20″ x 30″ x 7″.
The entire pillow is naturally hypoallergenic and fully washable.
GhostBed offers 101-night sleep trial and five-year warranty.
Read our full GhostPillow Faux Down review.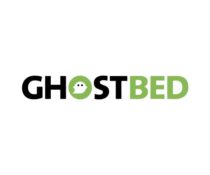 The perfect loft and support for most back sleepers, GhostPillow's Faux Down pillow is also hypoallergenic and has a soft velour cover that features wrinkle-resistant fabric. The best prices on these pillows can be found by clicking the button to the right!
Best Latex Pillow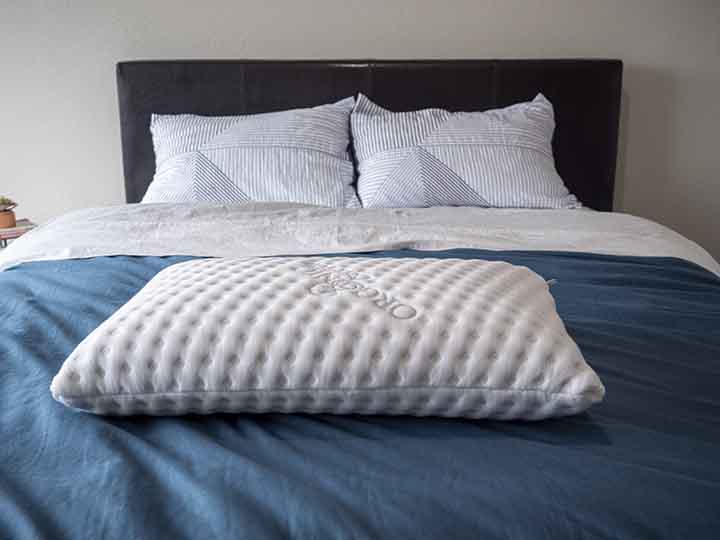 Brooklyn Bedding Talalay Latex
Brooklyn Bedding's Talalay Latex Pillow is solid but lightweight, offering a great level of support and pressure relief without the slow "sinking-in" feeling of memory foam. This medium-firm pillow comes in two height profiles (4″ and 6″). While back sleepers might be comfortable on either, those with broader shoulders or larger body types may want to go with the 6″. Likewise, more petite individuals should aim for the 4″ option.
Pillow Details:
It's available in King and Queen sizes, and is protected by a moisture-wicking, antimicrobial cover.
Made in the USA, it comes with a 30-day return policy/trial period.
You can wash the pillow on a gentle setting and lay it out flat to dry.
Read our full Brooklyn Bedding Talalay Latex pillow review.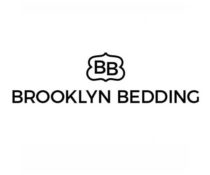 Brooklyn Bedding's Talalay Latex Pillow is a supportive and pressure-relieving blended latex foam pillow. It has a ventilated core and removable soft knit cover. It comes in two loft options, making it a good choice for any sleep position.
Best Adjustable Pillow For Back Sleepers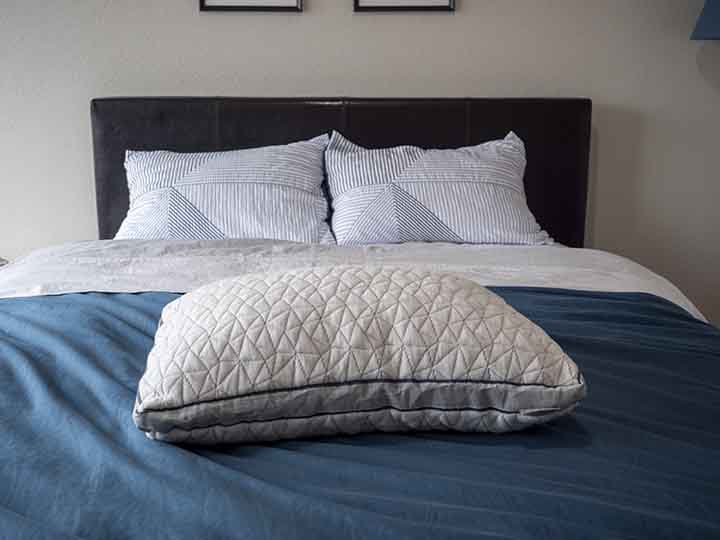 Coop Home Goods Eden
When I talk about a "best-of-both-worlds" feel in a pillow, I'm usually referring to a filling that's a mix of supportive foam and a smoothing, softer material like a polyester microfiber or Kapok fiber. One of the best examples is the Eden from Coop Home Goods. It's filled with cushy gel memory foam, blended  with more supportive polyester microfibers that smooth everything out, so no one can feel a single lump.
Pillow Details:
Back sleepers have the ability to add or remove as much of the filling as they prefer.
The cover is 60% polyester and 40% viscose-rayon derived from Bamboo, which helps it stay soft and breathable.
Because both the cover and inner filling are removable, the Eden is machine-washable and dryer-friendly.
Read our full Coop Home Goods Eden pillow review.

The Coop Home Goods Eden is an adjustable pillow that should be a great fit for back sleepers. Click the button to get the best deal on the Eden. 
Best Soft Pillow For Back Sleepers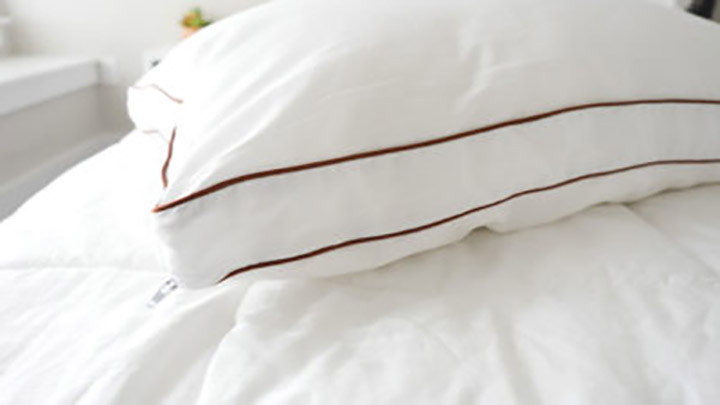 Saatva Latex
When it comes to finding a pillow for back-sleeping, medium-firm pillows are usually the best. That being said, if you prefer a softer pillow, the Saatva Latex could be a great fit. Its core of shredded, eco-friendly Talalay latex gives you the proper neck and head support, but it's surrounded by a soft microfiber that adds some nice plushness. 
Pillow Details:
Thanks to the Talalay and a breathable cover, this pillow is great for hot sleepers, as it won't trap heat the way memory foam might.
The inner pillow is removable.
Saatva offers 45-day free returns and one-year limited warranty.
Read our full Saatva Latex pillow review.
The Saatva Pillow has an organic cotton cover that is removable. Underneath is an outer pillow made up of hypoallergenic microfibers. You can unzip that pillow and reach a pouch filled with shredded Talalay latex pieces. 
Best Memory Foam Pillow For Back Sleepers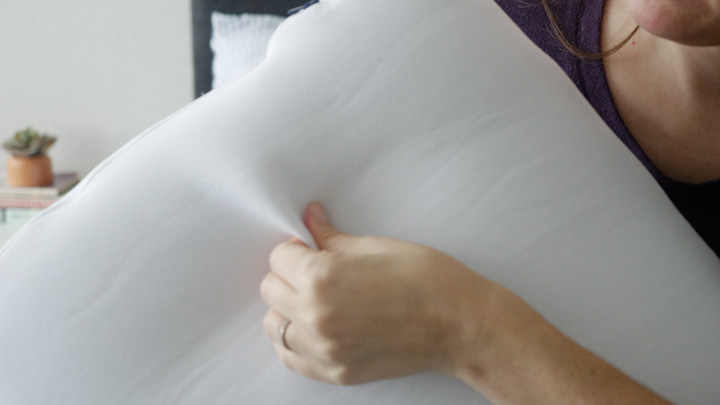 Casper Memory Foam
The three layers of foam inside Casper's pillow offer a balance of comfort and support that back sleepers love. When lying down, they should feel their head sink in just the right amount. The outer layers of plusher foam offer nice contouring around the head and neck, while the center layer is made of a more supportive foam. 
Pillow Details:
It's available in two sizes (Standard and King), as well as a mid loft or a low loft.
Hot sleepers should find a lot to love in the pillow's proprietary AirScape foam, which is designed to promote airflow.
The cover is a knit blend that's very breathable. You can also remove it for easy washing.
Read our full Casper Memory Foam pillow review.
Casper's Foam Pillow has a polyester/spandex knit cover and a 3-layer foam core that's made with plush outer layers and a firmer center layer.
Best Cooling Pillow For Back Sleepers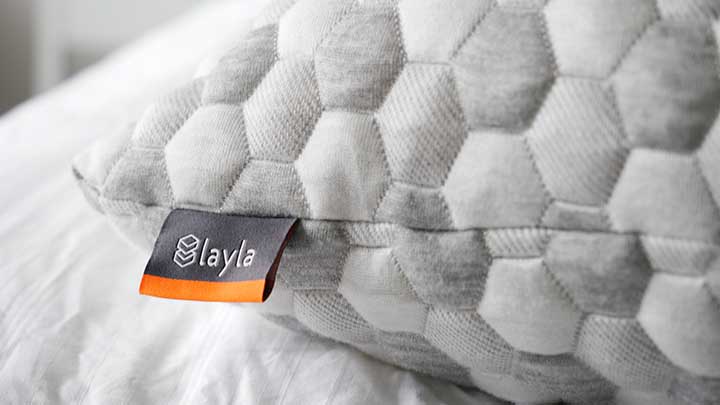 Layla Kapok
The Layla Kapok pillow has some truly impressive cooling properties that come from its cover, which contains CuTEC yarn made from copper fibers. This material is known for drawing heat away from the body. Of course, the Layla is on this list, so it's also a great fit for back sleepers. A filling of shredded memory foam provides support, while Kapok fibers give the necessary plushness. 
Pillow Details:
The Kapok fibers come from rainforest trees.
The pillow is hypoallergenic.
Layla offers a five-year prorated warranty and a 120-night trial.
Read our full Layla Kapok pillow review.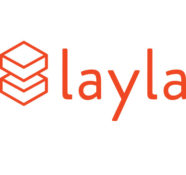 The Layla Pillow features a zipper on the side that lets you access the Kapok fiber and shredded memory foam mixed filling. It has a soft knit cover that includes copper-infused yarn and a pattern that matches the mattress cover. 
Most Breathable Pillow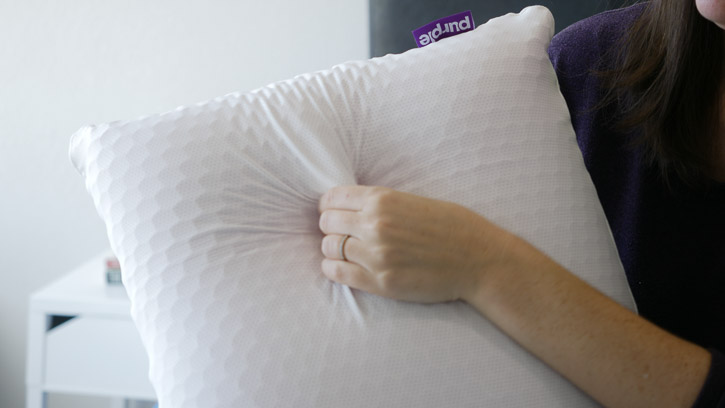 Purple Harmony
If you're looking for a new mattress, you've probably heard of the popular brand Purple. But did you know they also offer pillows? One of their best pillows is the Purple Harmony, which is made with a unique hex grid that leaves plenty of room for airflow. In addition to wicking away moisture, the honeycombed pattern surrounds a core of hypoallergenic latex — a material also known for its breathability. 
Pillow Details:
It's available in three different heights. Back sleepers should opt for the Low loft.
You can machine-wash the pillow separately on cold and lay it out flat to dry. 
Purple offers a 100-night trial and one- year warranty.
Read our full Purple Harmony pillow review. 

The Purple Harmony pillow combines a solid and bouncy feel — thanks to its ventilated latex core — with the squishy nature of the Hex Grid that's made with the brand's Hyper-Elastic Polymer.
Best Pillow For Athletes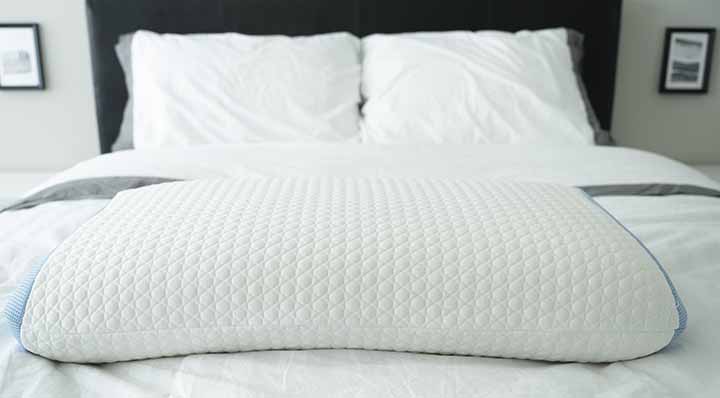 Bear
As a brand, Bear is known for its mattresses that cater to athletes, so it's no surprise that they have a pillow for the same audience. The core is made with Loft-X Foam, which combines memory foam and latex foam to contour the spine and neck. Any back sleepers who have just hit the track, gym, or any other fitness space should get a deep, restful sleep on this material. It has a really nice level of support (around a 5″ height profile) that keeps the head from sinking in too far.
Pillow Details:
The outside cover is soft and breathable. With its Double Ice Fabric, it's cool to the touch, plus it has dual mesh side panels that promote airflow.
The cover is machine-washable and dryer-friendly, and the pillow is both hypoallergenic and antimicrobial. 
Bear offers free shipping and a two-year limited warranty.
Read our full Bear pillow review.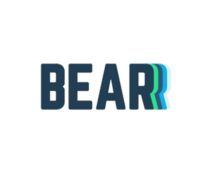 The Bear Pillow is a great option for hot sleepers. Click the button to save 25% on your purchase. 
Best Luxury Pillow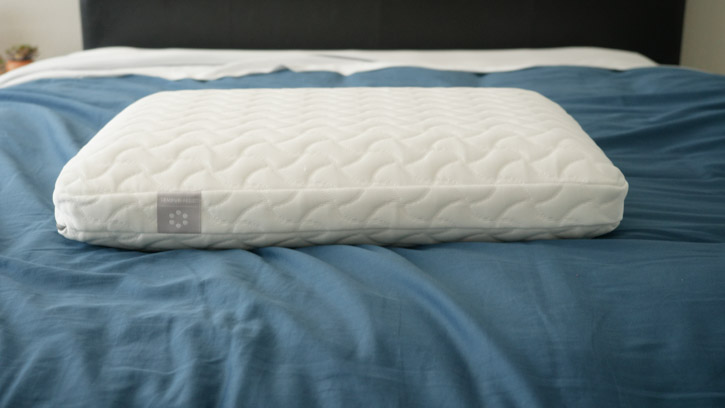 TEMPUR-Cloud
TEMPUR-Pedic's TEMPUR-Cloud pillow is a slam dunk for back sleepers who relish that plush feel of memory foam. They should feel luxurious pressure relief right off the bat, due to a single piece of the brand's proprietary TEMPUR material as the fill. Some extra softness comes from the textured cover on the outside. 
Pillow Details:
The cover is removable in case you want to replace it with something thinner. 
The pillow can be easily compressed to fit in a suitcase for traveling.
As a luxury pillow, it's still a bit pricey, but less expensive than many of TEMPUR's other pillows. 
Read our full TEMPUR-Cloud pillow review.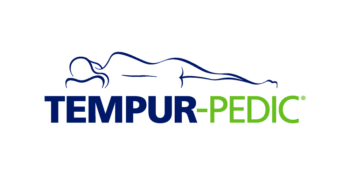 The TEMPUR-Cloud pillow is a traditional memory foam-like pillow made with a solid piece of TEMPUR material. It has a soft knit polyester cover that's removable and can be washed. The pillow is a good fit for most back sleepers.
Best Pillow For Neck Pain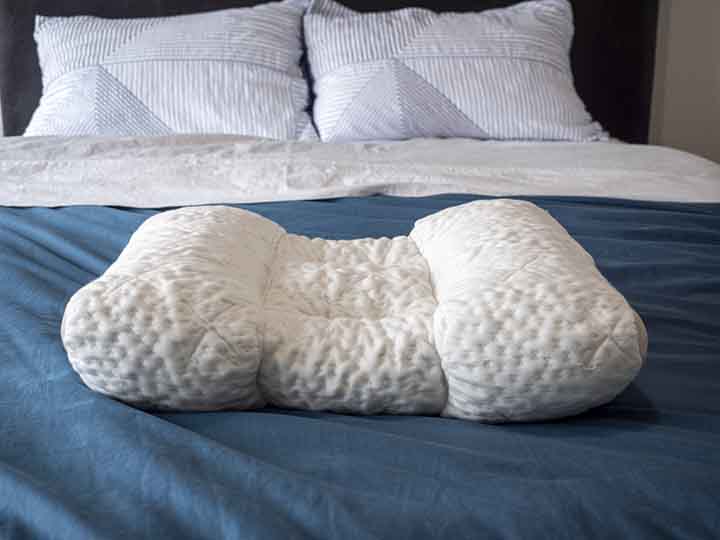 SpineAlign
Back sleepers truly benefit from the unique shape of a contour pillow, and the experience is only elevated when the pillow is designed by a sports chiropractor. Dr. Loth's SpineAlign is just that pillow. The center chamber is made just for back sleepers, with a beautiful curve at the ends to support the natural cervical curvature of an individual's neck. Meanwhile, the two outer chambers should be a good fit for side-sleeping. Make sure to keep an eye out for the logo on the pillow, as that side is designed for taller sleepers, and more petite sleepers will prefer the opposite side. 
Pillow Details:
The pillow also has little zippers for each chamber of the pillow, so individuals can access the filling and remove it as they see fit.
The cover is made from a blended Tencel fabric with strips of mesh built into the sides.
The pillow has a "one-size-fits-most" design and comes with a 90-night free trial.
Read our full review of the SpineAlign pillow.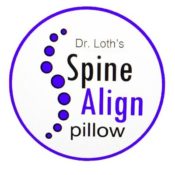 The SpineAlign pillow is a contour pillow offering a combination of support and plushness, thanks to an adjustable core filled with foam and fibers. 
Marten's Take
When we get asked for a personal pillow recommendation, one suggestion our team makes is to take body weight and body type into consideration when shopping. For instance, petite back sleepers need a different support level than heavier back sleepers. For reference, I'm 5′7″ and of average body type, so I wanted to add another opinion into the mix. I asked Marten, who is 6'7" and weighs 250 lb, to offer his take on which of these pillows would be best for heavier back sleepers.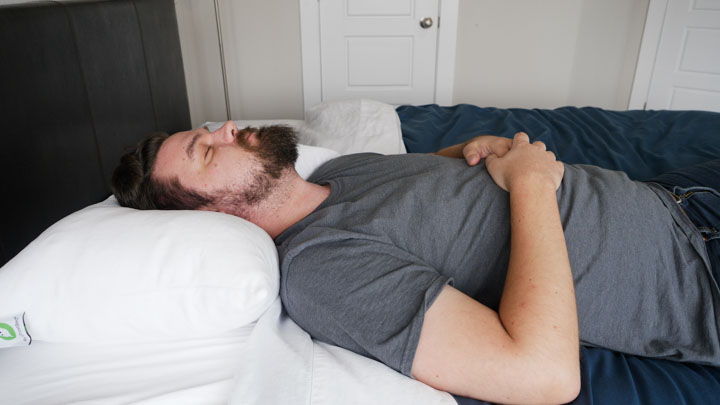 Hi, guys! Marten here. These are my favorite pillows from Katie's list:
Faux Down GhostPillow: This pillow offers that fluffier down alternative feel that I love. When I lie on my back, it offers just the right amount of support.
Coop Home Goods Eden: I'm a big fan of the Coop Home Goods feel because I'm still getting that fluffy feel, but with a little bit of that slower, sinking feeling of memory foam. I feel a lot of good support on the back of my head and my neck with this pillow.
SpineAlign: As Katie mentioned, there are two sides to choose from depending on how much neck support someone needs. I chose the more lofted side — the one intended for taller sleepers. The middle chamber provided great support.
What Back Sleepers Should Look For In A Pillow
As we mentioned before, people want to find a pillow that helps the head, neck, and spine all stay in a neutral position. This will prevent unnecessary stress on the joints and leave people waking up refreshed and comfortable. In order to find that perfect pillow, there are a few factors you should keep in mind.
Materials
There are many great pillow options for back sleepers from a variety of material types.
Latex pillows offer great pressure relief and long-term support. Plus, latex quickly responds to your movements so you can sleep comfortably.
Memory foam pillows also have effective contouring to match the natural curvature of your neck and spine. Additionally, they're very durable and offer long-lasting support.
Down pillows are soft and cooling, though they tend to become flat more quickly and may not offer long-lasting support.
Cotton pillows are also softer and may lose support more quickly.
Gel-infused pillows can help keep you cool at night.
Loft
Your neck has a normal curvature that should be supported by the pillow. If the pillow has too much loft, the neck will straighten out. Alternatively, if the pillow is too low, the curve will be intensified. Either of these positions will leave a person with soreness and stiffness.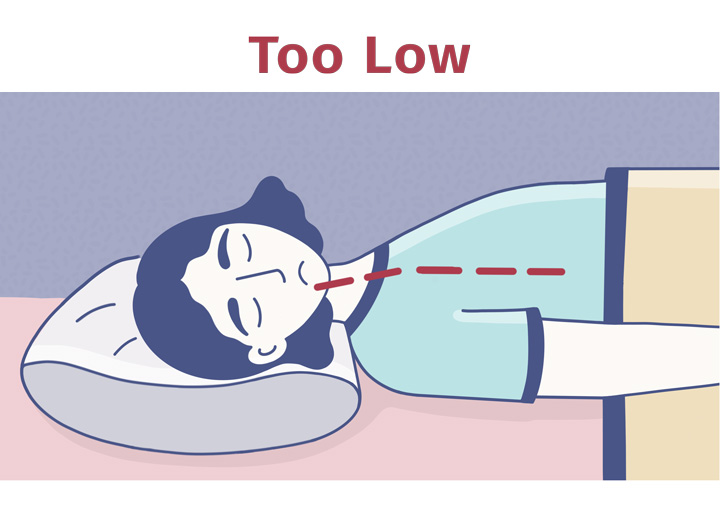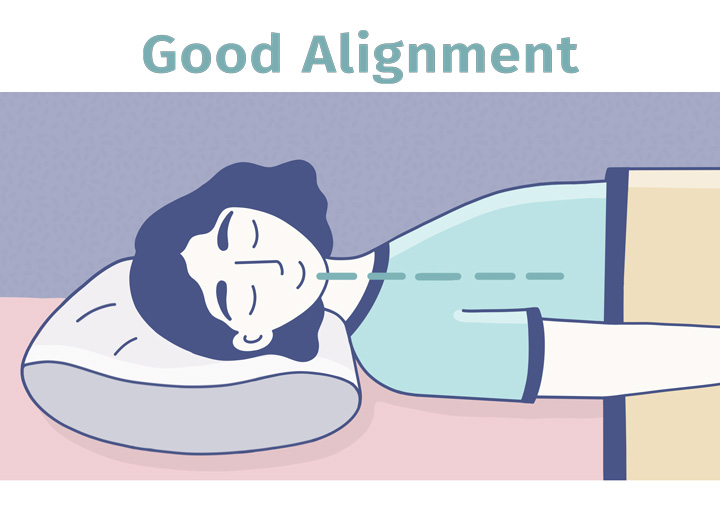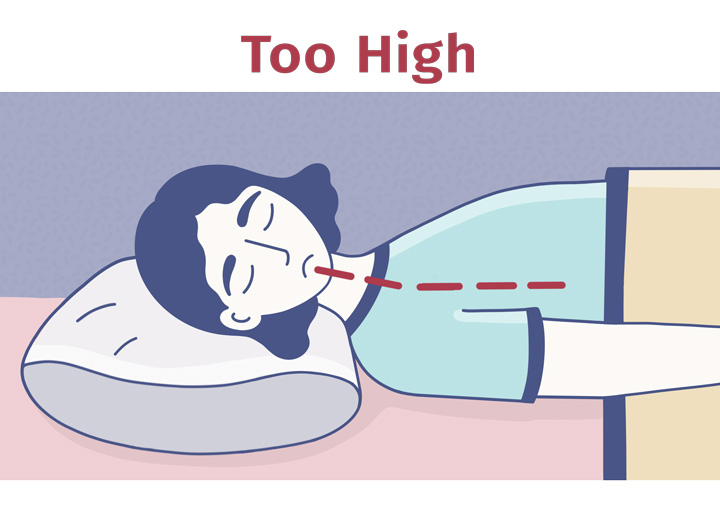 Firmness
Back sleepers should avoid pillows that are extra-soft or extra-firm. In order to get the proper amount of support needed to keep the spine in alignment, back sleepers will want a medium to medium-firm pillow.
Keep in mind that certain materials affect the density and firmness of the pillow. For example, latex and memory foam pillows are more dense and offer a different feel from down and feather pillows.
What Else Can Back Sleepers Do?
Back sleepers may want to consider more than just the pillow resting under their head. Here are a few more tips to help them get a good night's sleep.
Sleep on a supportive mattress: Back sleepers will be most comfortable on a medium-firm mattress that offers great support, especially in the lumbar region of the spine. Check out our roundup of the best mattresses for back sleepers, if you're on the market for a new mattress!
Add a mattress topper to a too-firm mattress: If your mattress is too firm and you aren't ready for a new one, try adding a memory foam or latex mattress topper for an extra layer of comfort. If your mattress is too soft, some high-density toppers may help make your sleep surface slightly more firm.
Add another pillow to the bed: Sleeping with a pillow underneath your knees can help back sleepers support the natural curvature of the spine. This is especially true for back sleepers who experience lower back pain.
Stretch before bed: Doing some light stretches before bed to release muscle tension can help you avoid pressure and pain in the lower back while you sleep.
Looking into pillows that offer trial periods: This way, you can sleep on several pillows for a few nights and see which one leaves them feeling the best in the morning.
Summary
FAQs
What kind of pillow is best for back sleepers?
The best pillow for back sleepers is one that will support the natural head, neck and spinal alignment of the body. Please keep in mind that this is not the same thing as an exact straight line. Our bodies have a natural curve to them - this is noticeable when sleepers place their hands behind their heads and move them down toward the shoulders - the curvature is prominent in this point. The best pillow for back sleepers is one that supports this natural curve. One that is too firm will push the head forward, generating neck strain and discomfort. Likewise, a pillow that's too soft or flat will cause the head to fall too far back, exaggerating the curve of the neck and increasing the likelihood of neck pain as well.
Are memory foam pillows good for back sleepers?
Memory foam pillows can be a great option for back sleepers; the natural contouring and pressure-relieving properties that memory foam provides can help support the neck and the head and keep it in the right alignment, all without falling flat or changing shape overnight. The key is to find the right support level and height for a person's body type - not all memory foams are created the same in terms of feel or support.
Should back sleepers even use a pillow?
Yes, in most cases back sleepers should use a pillow. How tall or supportive the pillow should be will be determined by body shape and size and also how firm or soft one's mattress is. The firmer the mattress, the more one's body will sleep on top of the bed, as opposed to sinking into the bed. This correlates to how supportive one's pillow should be - the firmer the mattress, the taller and the more supportive the pillow will need to be. Likewise, the softer the pillow the more someone will sink into the mattress and a flatter pillow will be sufficient.
Katie Golde
Katie manages the day to day operations of the Mattress Clarity news site and reviews sleep products in addition to writing and editing sleep news. She hails from Austin, where she lives with her growing family. She is a Certified Sleep Science Coach and has a master's degree in Journalism from Northwestern University and has a background in health and science content. Her work can be found in print and online publications like Discover Magazine, USA Today and The Huffington Post.