A latex foam pillow is an excellent option for someone who's desiring more support or firmness than a down or down alternative pillow but who isn't completely sold on the feeling of memory foam. Latex foam pillows offer that classic pressure relief but maintain their resilience and bounce, so no one is left feeling as if they're "sinking into' the pillow at night.
Not all latex foam pillows are created equal; there are natural, synthetic, and blended options and they can be made into various shapes and combinations, making it a good chance that there is a latex pillow out there to meet an individual's sleep needs.
We've done the napping, testing and reviewing to find the best pillows, and now we've come up with a list of the four best latex pillows available today. Each of these pillows is designed with comfort in mind and is made of unique materials that help them stand out above the rest. There's also more information about how latex pillows are made, all in an effort to help our sleepers figure out the best match.
Best For Side Sleepers

Eli & Elm Organic Cotton Side-sleeper

Eli & Elm Organic Cotton Side-sleeper

The Eli & Elm Organic Cotton Side-sleeper pillow has a one of a kind design with a distinct shoulder-friendly curvature. Get the best deal on this pillow by clicking the CHECK PRICE button!

Good For All Sleep Positions

Brooklyn Bedding Talalay Latex

Brooklyn Bedding Talalay Latex

Brooklyn Bedding's blended Talalay latex pillow offers two height profiles and is sure to be a hit for all sleepers. It features a breathable ventilated core that highlights the latex foam's incredible resilience and lightweight nature. Click CHECK PRICE for the best deal on this pillow.

Eco-Friendly

Birch Living Organic

Nature lovers are going to fall head over heels for the Birch Living Organic pillow, with its unique blend of natural Talalay latex shreds from Southeast Asia and Birch Wool all the way from New Zealand. Click the button to the right for the best price!

100% Natural Latex

Z by Malouf Zoned 100% Talalay Latex

Z by Malouf Zoned 100% Talalay Latex

The zoning in this 100% natural Talalay latex pillow helps pinpoint pressure relief and its multiple height profiles and support levels mean there is truly a version for everyone. Click CHECK PRICE for the best deal!
Pillow Details
There's so much to love about each of these latex foam pillows; keep reading below for more information about my review experience and who is going to want to take one home.
Best For Side Sleepers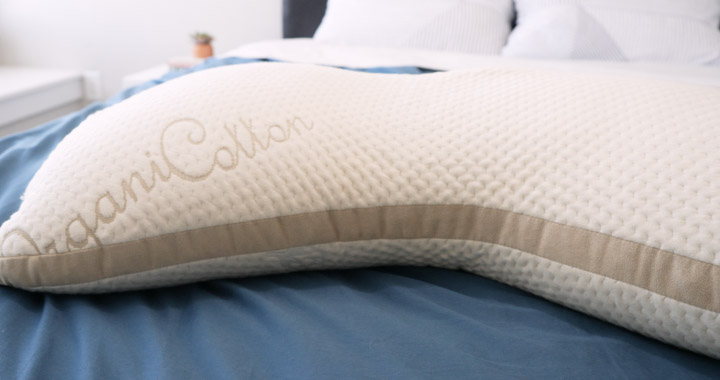 Eli & Elm Organic Cotton Side-sleeper
Side sleepers, rejoice! This standout design – with its prominent curved indentation – makes it a crowd-pleasure, no question. The folks at Eli & Elm know that side sleepers need enough loft (height) and firmness to support that 4″ to 6″ gap between the shoulder and the head and neck. This is achieved easily with the pillow's unique latex and polyester fiber combination.
To be more specific, they use proprietary gel-infused synthetic latex noodles and combine them with polyester fibers (in a 75%/25% ratio) to provide that gorgeous loft and firmness while generating a smoothness that all side sleepers will love.
The cover is not to be missed, either. The organic cotton, polyester, and spandex fabric mix in the cover are antimicrobial, mildew-proof, and dust-mite-resistant as well. The pillow comes in on size at the moment and costs $99 at full price. 
Pillow Details:
The pillow comes in one size
Specially designed to support side sleepers while conforming to the precise contours of the head and neck with its curved construction
The cover is 37% organic cotton, 2% spandex, and 61% polyester. It's also a temperature-managing material that is designed to dissipate heat
The filling is made up of engineered latex (75%) and polyester fibers (25%). It's adjustable so one can customize the firmness
Noodle latex foam is mixed with extremely soft, cooling gels to regulate body temperature throughout the night
Hypoallergenic, antimicrobial, mildew-proof, and dust-mite-resistant
$99 at full price
45-day return policy
Read the full Eli & Elm Review
Good For All Sleep Positions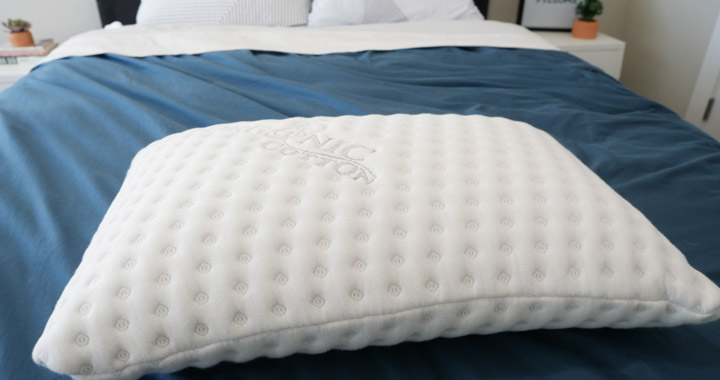 Brooklyn Bedding Talalay Latex
Brooklyn Bedding is a well-known mattress brand, and they've put together a blended Talalay latex pillow that should surely work for any type of sleeper. Why? Because they offer their 70% synethic/30% natural latex pillow in two sizes and lofts: High and Low.
With a medium firmness level, the Low loft is 4″ and the best fit for petite individuals, specifically back sleepers and average-sized back sleepers. Likewise, the 6″ profile on the High loft is better for average-sized back sleepers and some side sleepers. 
The cover is removable and can be cared for separately – it's moisture-wicking, antimicrobial and a mix of 50% organic cotton and 50% polyester.
Pillow Details:
Comes in King and Queen sizes
The low loft is 4" tall and the high loft is 6" tall
Solid piece of ventilated, hypoallergenic Talalay latex foam
Blended Talalay Latex layer that is 70% synthetic and 30% natural
Medium firmness level
Made in the USA
Hyper-responsive latex foam is bouncy but supportive
The cover is 50% organic cotton and 50% polyester
Moisture-wicking, antimicrobial cover
30-day return policy/trial period
Care: Wash on a gentle setting and lay flat to dry
Full Price: $89 for Queen and $99 for King
Read the full review of this blended latex pillow.
Eco-Friendly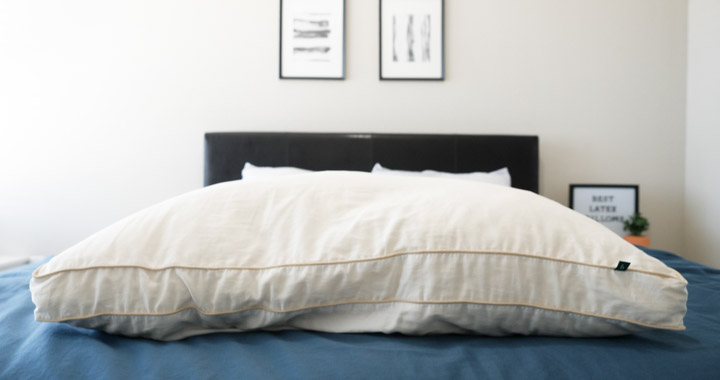 Birch Living Organic
Natural elements and sustainable design are the real highlights of the Birch Living Organic pillow. It's truly a globally produced product, with shreds of natural Talalay latex sourced from Southeast Asia entwined with beautiful Birch Wool (which can be found in many of the brand's sleep products) from New Zealand.
The result is an effortlessly comfortable but eco-friendly pillow that is surely a non-toxic sleeper's dream scenario. The cover is 100% organic cotton and the entire pillow – while it can't be adjusted in terms of loft or height – is a lovely fit for average-sized back and stomach sleepers, alike. 
Pillow Details:
Comes in Standard and King sizes
Dimensions: 26" x 20" wide and 5" in height (Standard size)
The pillow cover is made with 100% certified organic cotton
The filling is a mix of shredded, natural and organic New Zealand Birch Wool and 100% natural Talalay Latex from southeast Asia
100-night sleep trial and 3-year warranty
Care: cannot wash in the machine; spot clean only
Made in the USA
Full price: $99 for Standard and $119 for King
Check out our review and experience with this natural pillow.
100% Natural Latex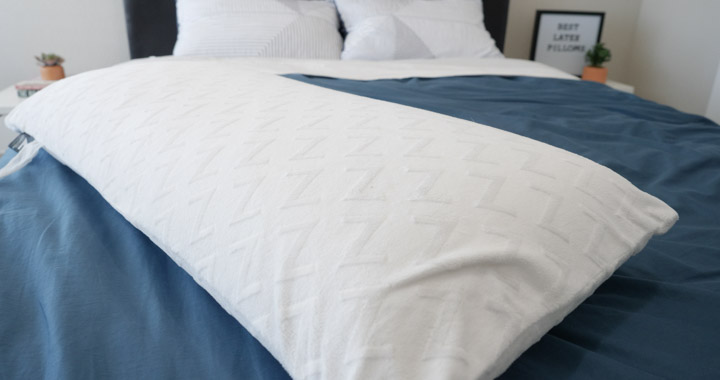 Z by Malouf Zoned 100% Talalay Latex
Z by Malouf is a collection of wonderful pillows that includes a very special one on our list, the Zoned 100% Talalay Latex pillow. The name shares a lot about the features of the pillow – it's a solid piece of ventilated latex foam – specifically natural Talalay latex foam.
The pillow comes in a multitude of options, guaranteeing a perfect match somewhere in the mix. Sleepers can choose between Queen and King sizes, as well as Plush or Firm support levels and Low or High Lofts. 
This is my go-to pillow when I'm not reviewing – I have the King size (because I'm fancy) in a High loft with a Plush feel. As a natural side sleeper who ends up switching to my back occasionally, this is the perfect loft and support for me.
Don't forget the super-soft velour-like cover that is easily removable and easy to care for! My recommendation is to shop around for the best price on this pillow. At full price, it should cost around $134 for a Queen, but I've seen it on different retail sites for closer to $100.
Pillow Details:
Pin-core design configured to cradle the head while providing the neck and shoulders with needed support
Firm density is optimal for back and side sleepers
100% pure natural Talalay Latex – no synthetic additives
Unique foam consistency and zoned technology provides zoned support and superior pressure relief
Naturally mildew proof, dust mite resistant and hypoallergenic
Soft, removable velour cover made from a rayon from a bamboo blend (75% polyester, 25% rayon from bamboo)
Comes in Standard, Queen and King sizes
Options: high and low profiles; and firm and plush densities
Learn more in our complete review of this zoned latex pillow.
Marten's Take
At Mattress Clarity, we think it's vitally important to give as many perspectives as possible when sharing our reviews and lists of our favorite pillows. One important way to deduce which pillow is the best match is to take a look at one's body type, including height and weight. I'm 5'7″ and about average body type and I wanted my colleague Marten to come in and share his perspective as well. Marten is 6′ 7″ and weighs about 250 lbs. He can give his experience with the pillows on my list and give his recommendation on which ones will be the best for heavier sleepers or those with larger body types.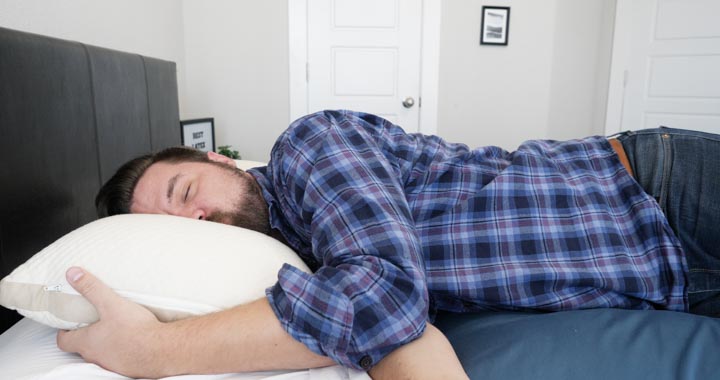 Hey guys, Marten here – I wanted to give my take on each pillow. I actually liked all the latex pillows on Katie's list and I think each could be great for heavier sleepers. I'm going to go through each one and share who I think they're a good fit for based on sleep position.
Eli & Elm Organic Cotton Side-sleeper – As a side sleeper naturally, this is probably my favorite pillow on Katie's list thanks to its innovative indentation. This pillow is a great fit for heavier side sleepers, no doubt.
Brooklyn Bedding Talalay Latex – This pillow in the tall profile is absolutely my pick for heavier back and side sleepers.
Birch Living Organic – This pillow has a unique feel with its mix of fillings but the latex makes it a good match for heavier back sleepers.
Z by Malouf Zoned – Katie reviewed the high loft and plush support option in this pillow and for me, I thought it worked really well for heavier stomach sleepers.
The Different Types of Latex Foam
Latex foam, like the kind found in pillows or mattresses, can be made through a natural or a synthetic process (or sometimes a blend of the two). While they may differ in how they're made, they are all considered 100% Latex. We've put together the details on the production process of each type below.
If you are worried about latex allergies, make sure to read our full article on the subject!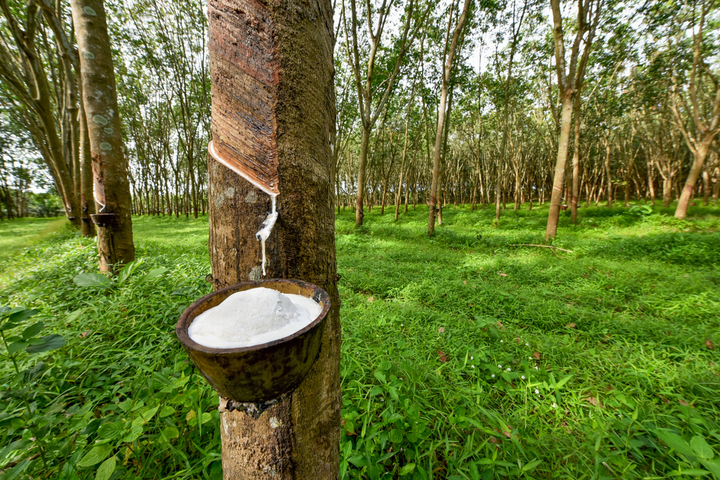 Natural Latex
Natural Latex is a milky sap that can be harvested from rubber trees (also known as Hevea brasiliensis). Much like how one collects maple syrup, harvesters will "tap" the tree. This means they will carefully cut a wedge in the bark of a tree and let the latex ooze out into a container.
There are two different ways to process natural latex into foam: the Dunlop method and the Talalay method. These processes can get a little science-heavy, and individuals can learn more about the details, here. We'll try to keep it simple. Both involve washing the latex and removing any impurities or additives. In the Dunlop process, the foam is heated and sulfur is added to help form it into a foam block. The Talalay method is similar, except there is a freeze/vacuum step in the process before it's turned into a block of foam (vulcanization).
In the end, the foam made with the Dunlop method is denser and more stable, offering a more solid feel. The Talalay latex foam is a softer grade latex that feels softer than it does springy.
Synthetic Latex
Synthetic Latex is produced chemically. "Several types of synthetic latex exist but SBR (styrene-butadiene rubber) is the most common type of synthetic latex used in the production of synthetic latex foam," says Sleep on Latex. Synthetic Latex also uses the Dunlop method or the Talalay method for production.
Blended Latex
Some companies will use a combination of natural and synthetic latex to create their bedding product. For example, the Brooklyn Bedding #BestPillowEver is a blended Talalay latex pillow. Both Synthetic and Blended Latex pillows and bedding products tend to be cheaper to produce and usually cost less than Natural Latex products.
Related: Best Memory Foam Pillows
Overall
Whether it's a solid piece of molded latex foam or proprietary noodles, there are several different ways to utilize latex foam as a comfortable pillow. Those in the market for a latex foam pillow should look carefully at the type of foam and its manufacturing process to determine whether a natural or more synthetic pillow is right for an individual and his or her budget.
Just like with any pillow, one's primary sleep position should help determine the overall loft and support level needed. Latex foam pillows come in different firmness levels like other pillows, so one should be able to find the best one to keep the head, neck, and spine in neutral alignment. 
FAQs
What is the best latex pillow to buy?
There is no universal or singular "best pillow" for anyone – regardless of the filling. However, the best way to find the right pillow for an individual is to determine the person's primary sleep position (the one he or she wakes up in most often) and go from there.
Generally speaking, side sleepers need the most loft (height) and firmness or support. Back sleepers need an average amount and stomach sleepers tend to need the softest and flattest pillows.
These guidelines can be applied to latex foam pillows, which come in a range of lofts and support levels.
Are latex pillows good for side sleepers?
Yes, latex pillows can be wonderful for side sleepers. These sleepers, which make up more than half of the adult American population by the way, need latex foam pillows that offer taller profiles and good support.
In my list above, I love the Eli & Elm pillow and the high profile on the Z by Malouf pillow (plush or firm filling depending on body type) for most side sleepers.
What are the benefits of latex pillows?
There are many benefits of latex pillows because, unlike memory foam, latex foam pillows can be 100% naturally produced. This drives up the price but it's a lovely non-toxic option for those who want the characteristics of foam, such as the support and pressure-relief, but no synthetic materials.
Latex is naturally anti-fungal and mold resistant, it's lightweight, and incredibly durable as well.
Katie Golde
Katie manages the day to day operations of the Mattress Clarity news site and reviews sleep products in addition to writing and editing sleep news. She hails from Austin, where she lives with her growing family. She is a Certified Sleep Science Coach and has a master's degree in Journalism from Northwestern University and has a background in health and science content. Her work can be found in print and online publications like Discover Magazine, USA Today and The Huffington Post.