On the last day in January, popular mattress retailer Sleep Number and the National Football League announced a multi-year partnership focused on "helping to improve players' performance by maximizing the benefits of a great night of sleep," according to a press release.
The Minneapolis-based company is offering every player in the league a Sleep Number 360™ smart bed with SleepIQ® technology. Sleep Number says they plan to work with players, teams, and trainers as they integrate sleep insights into their overall performance regimens.
RELATED: Exercise & Sleep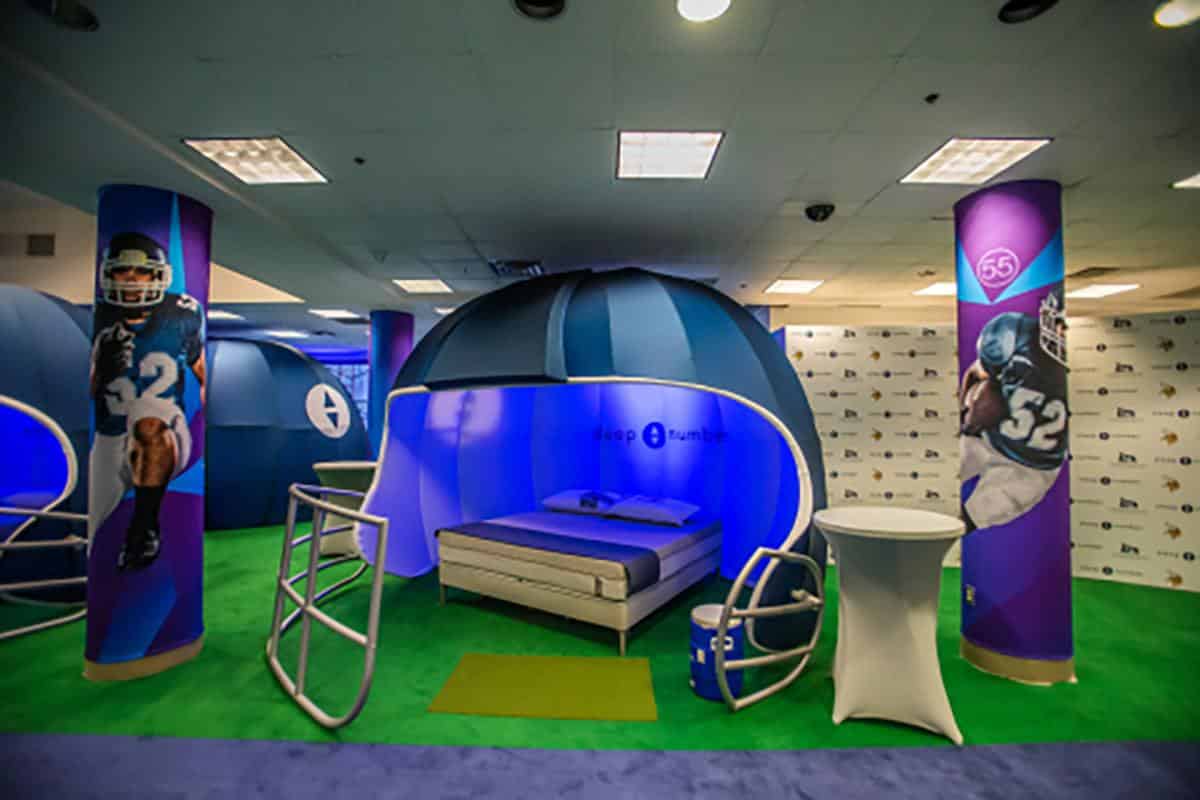 Sleep Number Corporation
"We are constantly assessing world-class technologies and partners and know this unprecedented partnership will provide players the ability to improve their performance through individualized, smarter sleep," said Roger Goodell, NFL commissioner. "We're offering Sleep Number's revolutionary technology to maximize the body's most basic need for renewal – sleep – to improve the well-being of our players and coaches."
Sleep Number may be best known for their adjustable air beds. You can adjust the firmness and support of the bed using a remote. The beds can be made with dual air chambers, so couples can adjust to their preferred setting without compromising.
RELATED: Best Mattresses for Heavier People
Your Sleep Number number –  or Sleep Number setting-  reflects your ideal firmness and support. Numbers range from 0 to 100 and the higher your number, the more air/firmer your Sleep Number bed will be.
The Sleep Number 360™ smart bed is designed to sense your movements and then automatically adjusts your firmness, comfort, and support levels, according to the company. Sleep Number smart beds also come with SleepIQ technology. The sensor technology tracks how well you sleep each night and can make recommendations to help you optimize your sleep.
While only some Sleep Number models come with SleepIQ technology included, the technology is available to be added to any Sleep Number bed.
"We're excited to make a difference for these world-class athletes as they benefit from our SleepIQ technology and the effortless adjustability of our beds. And we are thrilled to be entering a long-term partnership with a performance-based organization like the NFL," said Shelly Ibach, Sleep Number president, and chief executive officer. "Our partnership builds on the deep relationship we've established with the Minnesota Vikings and the Dallas Cowboys, who understand the connection between sleep, training, and performance."
RELATED: Sleep Number Bed Reviews
Featured image: topseller/Shutterstock
Katie Golde
Katie previously managed the day to day operations of the Mattress Clarity news site and reviews sleep products in addition to writing and editing sleep news. She hails from Austin, where she lives with her growing family. She is a Certified Sleep Science Coach and has a master's degree in Journalism from Northwestern University and has a background in health and science content. Her work can be found in print and online publications like Discover Magazine, USA Today and The Huffington Post.