Select Comfort, the makers of Sleep Number, had adjustable and customized comfort in mind when they created Sleep Number beds. One of the main benefits of a Sleep Number bed is that you can sleep on a mattress that fits your precise level or cushion and support. This can still be the case even if that level changes frequently or if you sleep with a partner whose idea of comfort differs from yours.
What Does My Sleep Number Mean?
Sleep Number beds are made with air chambers (sometimes referred to as air bladders) that inflate/deflate based on your desired level of support. A number – ranging from 0 to 100 – corresponds to a level of support in the mattress. The support that fits you the best is your Sleep Number.
In general, the higher your number, the more air/firmer your Sleep Number bed will be. And naturally, the lower your Sleep Number, the less air will be in your air chamber and the softer your bed will be.
Most Sleep Number beds (size dependent) come with something called DualAir technology that allows you to adjust your half of the bed to your Sleep Number setting (how much air is in your air chamber) while your partner can adjust his/her side. This way no one has to compromise on comfort.
How Do I Find My Sleep Number?
There are two main ways to find your Sleep Number.
Go to your nearest Sleep Number store and work with a Sales Representative to identify your setting. They will have you lay on a bed in the store and work with you to find both your ideal setting and what Sleep Number mattress models and options may suit you best.
Find your number at home using your own Sleep Number bed and the remote that it comes with. Following the instructions on Sleep Number's website, you will want to lie in your "waking up" sleep position and allow the mattress to go from soft to firm and back from firm to soft so you can identify which level is best for you.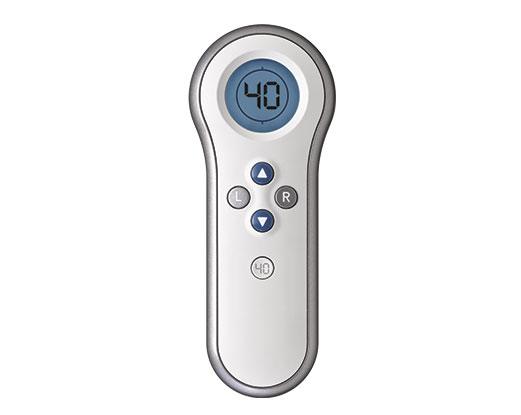 Your Sleep Number setting is really ultimately determined by what feels "right" to you. Those who are more inclined to sleep on firmer beds will more likely have a higher Sleep Number than those who like more cushion.
A few things to keep in mind while you're searching for your Sleep Number setting.
Sleep Number recommends giving your number two to five nights and if you are still uncomfortable, you can adjust the number up or down by five. For example, if your Sleep Number is 35, you can make your mattress firmer by adjusting the Sleep Number to 40 (or softer by bringing it to 30).
Each Sleep Number model varies by the amount of foam cushion and layers that are in between the air chamber(s) and your mattress top. For example, the most basic model – the C-2 – has no foam layer between the air chamber and mattress. The I-10 has several foam layers, including a memory foam option. These layers, their thickness, and their density will all have an effect on your sleep comfort and ultimately your Sleep Number.
Most Common Sleep Number
According to Sleep Number representatives, the most common Sleep Number is somewhere in the 35-40 range. With 0 being the softest bed and 100 being the firmest.
The representative said that, while your Sleep Number is really based on personal preference and what is most comfortable for each person, the 35-45 range gives great support and pressure relief for most.
Sleep Number settings for Back Pain
Because there are numerous personal reasons for back pain, there is no one-size-fits-all setting to fix back pain in Sleep Number beds. That being said, Sleep Number has several ideas available on their website. Most of these adjustments are based on your sleeping position.
Here is an image from Sleep Number with recommendations for adjustments based on Upper and Lower back pain: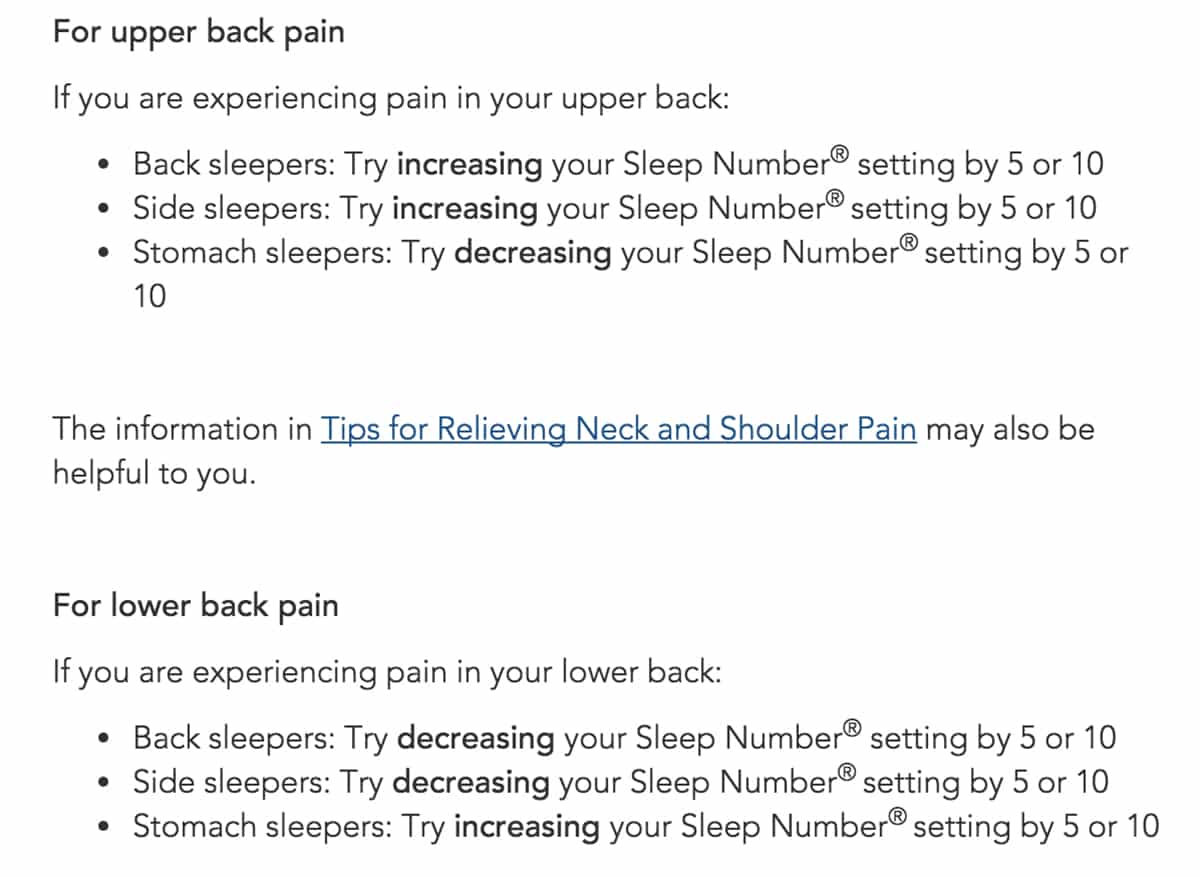 Sleep IQ Technology
Sleep Number's Sleep IQ Technology is a proprietary program that works with sensors in your Sleep Number bed to track your sleep at night and help you utilize the data to find your ideal Sleep Number setting.
While you don't need this technology to find your Sleep Number, you can take a look at the data on your sleep over the long term and find insights into how you are sleeping that could affect your ideal number.
Sleep IQ Technology is included in the Memory Foam and Innovation Series models. You can add it on to any Classic or Performance Series model for an additional $199.
For an in-depth look at Sleep Number, click here.
The following two tabs change content below.
Katie Golde
Katie manages the day to day operations of the Mattress Clarity news site and reviews sleep products in addition to writing and editing sleep news.She hails from Austin, where she lives with her growing family. She is a Certified Sleep Science Coach and has a master's degree in Journalism from Northwestern University and has a background in health and science content. Her work can be found in print and online publications like Discover Magazine, USA Today and The Huffington Post.
Latest posts by Katie Golde (see all)