Taking the leap and purchasing a brand new bed or bed system can be a financial investment (and an investment in comfort, too!). Most mattresses come with some sort of warranty or guarantee that will cover people if something is wrong with their new bed. It'll also help people feel a little bit better about spending their money.
Sleep Number has its own warranty policy for its mattresses and modular bases. We've broken down the main coverage areas and details people need to know when they're considering a Sleep Number bed.
Please note that this is an overview that covers some general topics. I would also suggest reading Sleep Number's warranty in full on their website.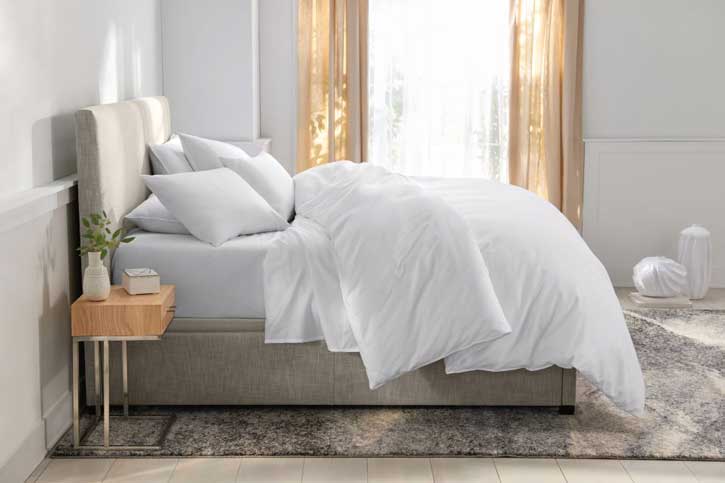 What is Sleep Number's mattress warranty?
Sleep Number's mattress/bed warranty policy is called the "Sleep Number® Core Line Mattress and Modular Base 25 Year Limited Warranty." It is easy to focus on the "25 Year" part of the warranty but important to figure out what the "Limited" phrasing means, as well.
*There are additional warranties for other bed accessories like sheets and pillows. For the sake of this post, we're going to cover the details of the warranty associated with the Core Line mattresses and modular bases.
RELATED: Best Sleep Number Bed Alternatives
What Products Does the Warranty Cover?
Sleep Number's mattress warranty covers:
Sleep Number®'s "Core Line" of mattresses: C2, C4, P5, P6, I7, I8, and I10 models and Sleep Number® modular bases purchased after May 1, 2017
All Sleep Number 360™ smart bed mattresses (our "Smart Beds") and Sleep Number 360™ smart bed integrated bases and frames purchased after January 1, 2017
The warranty also applies to the Firmness Control™ system that is a part of the covered mattress. If the Firmness Control™ system contains a SleepIQ® module, that specific SleepIQ® module is only covered for a period of two (2) years from the original date of purchase.
What Work Will They Do?
Sleep Number will repair or replace the product if there is a defect in it from either the materials used or the manufacturing process (that people experienced from using it normally). So basically, they'll fix an issue that is a result of something done wrong on their end during the production of the bed.
This will be covered completely by Sleep Number during the first two (2) years of the warranty.
After the first two (2) years – years three (3)-25 of the limited warranty – people are responsible for a portion of the cost should anything arise from the manufacturing/build of the mattress or bed. Here is how Sleep Number breaks the cost down.

What Is Not Covered in the Warranty?
Sleep Number goes into pretty specific detail about what's not covered (as they should). The gist is that if people do something to damage/tamper/mess with the mattress, the responsibility is all theirs.
One of the biggest things to note is that Sleep Number is not responsible for how comfortable the mattress/bed is to someone. If it turns out that the way the mattress is constructed just doesn't suit someone's needs, they're still responsible for the full cost.
Here's part of what Sleep Number has to say about what's not covered in their policy. People can read the full section on their website:
Your warranty excludes claims for conditions arising from normal wear and tear including but not limited to mattress cover compression, foam compression, discoloration of parts or normal body indentations. This warranty does not provide coverage for claims related to comfort preference (e.g., "The bed feels too hard/soft").
and
Damage caused by using the product in any manner that is inconsistent with applicable owner's guides, user manuals or other operational instructions or from laundering or dry–cleaning the product or any part thereof as well as damage caused by misuse or abuse including but not limited to stains, soil, burns, cuts, tears or spills or factors other than a product defect, are also excluded hereunder and will void this warranty.  
How Can I Void My Warranty?
On their website, Sleep Number does a good job of laying out what has to happen for people to void their warranty. Fail to follow any of these guidelines and people may be out of luck if they file a warranty claim.
Keep the original receipt – File this receipt away, stat.
Use the correct foundation/base for the mattress – People do not have to buy a modular base for their Sleep Number mattress, but they do need "a firm, solid, non–spring foundation or adjustable bed base that is sufficiently strong and stable so as being capable of supporting the weight of the mattress and its occupants," according to Sleep Number. If you put the mattress on the floor, this could void the warranty.
Do not remove the "Law" label/tag – That tag on the end of the mattress that says something like, "Don't remove under penalty of law"? Don't rip/pull/cut it off your mattress or you will void your warranty.
Do not open the remote or the Firmness Control™ system.
Keep your mattress in decent condition – this includes body fluid, blood, bugs or other things that suggest that you didn't try to handle your mattress with care. Accidents and spills can happen easily but can also be avoided by putting a waterproof mattress protector on your mattress.
How Do I File a Warranty Claim?
If you think something is wrong with your Sleep Number mattress or modular base – and it's within the scope of the warranty policy – here is how you file a claim.

Katie Golde
Katie previously managed the day to day operations of the Mattress Clarity news site and reviews sleep products in addition to writing and editing sleep news. She hails from Austin, where she lives with her growing family. She is a Certified Sleep Science Coach and has a master's degree in Journalism from Northwestern University and has a background in health and science content. Her work can be found in print and online publications like Discover Magazine, USA Today and The Huffington Post.