Picking the right comforter can make all the difference when it comes to one's sleep quality; finding the perfect warmth, loft, and filling could ensure one gets a long, deep sleep.
While most people prefer something warm and fluffy, this feeling is not for everyone. There are many types of sleepers and many types of comforters and, because of this, the buying process can be quite overwhelming.
Fear not because I have six comforters here that really stand out and could be a good match for different sleep preferences; read on to find out about the best comforters!
Our Top Picks For The Best Comforters
First off, take a look at our top picks:
There is no one perfect comforter for everyone because we all have our own specific preferences; that being said, one of these six comforters should be a fantastic match.
Best Comforter For Hot Sleepers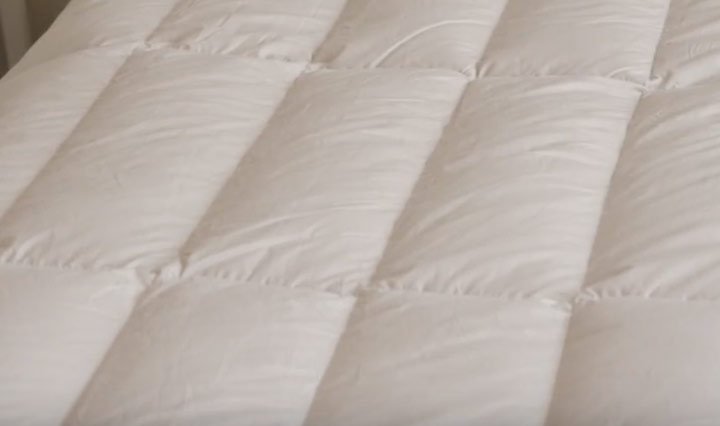 Casper
A down comforter can be a fantastic choice for those who want to stay nice and warm at night; what about those hot sleepers who don't want to wake up hot and sweaty in the middle of the night? Well, that's where the Casper Humidity Fighting Duvet comes in.
The Casper contains a layer of merino wool, a material that is known for its heat-dissipating qualities; the wool should draw moisture away from sleepers so that they are not overeating during the night. In addition, the comforter features a 100% cotton shell which is extremely breathable and should promote airflow over the sleeper.
The fill consists of duck down with a decent amount of loft; this is not the heaviest or fluffiest comforter, but it should still give people some of that cloud-like experience.
Hot sleepers who want a comforter to keep them cool throughout the entire night should be excited by the Casper.
What Makes The Casper Stand Out?
The comforter contains merino wool which will help with heat dissipation and moisture-wicking; it should be a great match for hot sleepers.
The comforter comes from Casper, producer of quality Casper mattresses and bedding products.
The Casper boasts durable construction and should be a good long-term investment.
Casper Deals
Casper Humidity Fighting Duvet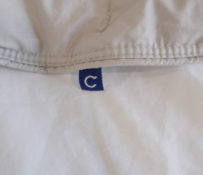 Casper Humidity Fighting Duvet
The Casper Humidity Fighting Duvet is a great option for hot sleepers who want to stay cool at night. Click the link for the best deal on the Casper Duvet.
Editor's Pick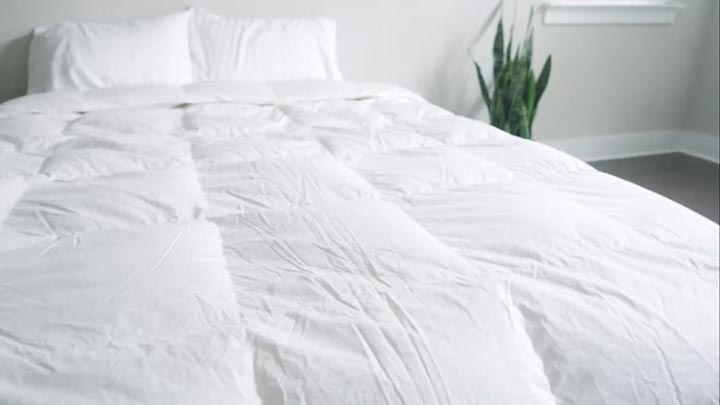 Brooklinen
Not everyone wants a big fluffy down comforter; some people prefer something lighter than can be useful all year round. For those who are looking for a down comforter that is light enough for those warmer nights, the Brooklinen All-Season Down Comforter is an excellent option.
The comforter comes from, well, Brooklinen, a producer of high-quality bedding and other sleep products; it features a 100% cotton shell with a sateen weave which gives the outside of the comforter a very smooth feel. Those who don't love the outer feel of the Brooklinen can place it in a duvet cover; the comforter even has duvet tabs at all four corners.
With down comforters, everyone wants to know what the fill is – the Brooklinen contains down clusters from Hutterite farms in Canada. These farms never engage in live-plucking, and these down clusters have a fill power of 700.
The Brooklinen is a very well made down comforter that should be a better fit for those that want something not quite as fluffy and a bit less warm.
What Makes The Brooklinen Stand Out?
The comforter features high-end down sourced from Hutterite farms who never live pluck.
The Brooklinen is an all-season option that should be an excellent option for hotter nights; the breathable cover and down should allow for air to pass through the comforter quite easily.
The comforter contains some luxurious materials that are also very durable; this should be a solid long-term investment.
Brooklinen also offers a Lightweight model which could be an even better option for hot sleepers.
Read the full Brooklinen comforter review 
Brooklinen Comforter Deals
Brooklinen Down Comforter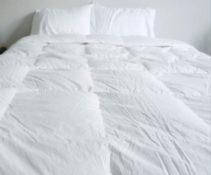 Brooklinen Down Comforter
The Brooklinen Down Comforter is a great luxury pick for hot sleepers. Click the button for the best deal on the Brooklinen. 
Best Lightweight Comforter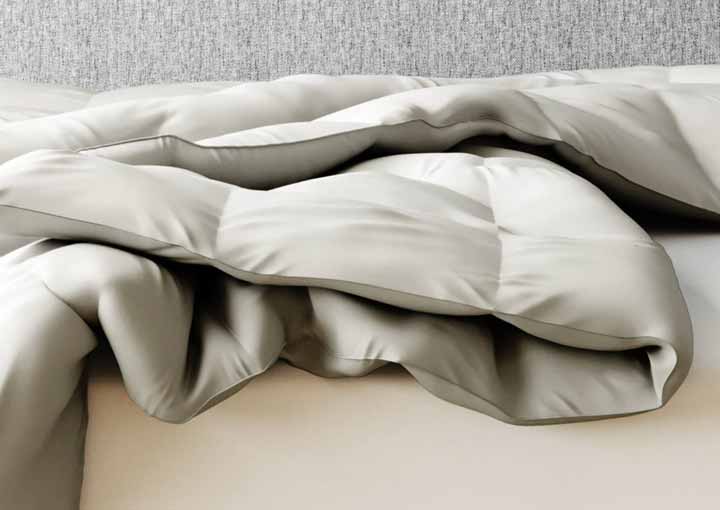 Amerisleep Recover+
While big, heavy comforters can be a great fit for those colder months, they aren't the best for all-year use. If you want a lightweight comforter that you can use all year, we definitely recommend the Amerisleep Recover+ comforter. 
The Amerisleep Recover+ comforter is a comforter designed to make sure you aren't overheating during the night. It boasts Celliant material in both the cover and the fill. This is meant to help draw heat and moisture away from your body. 
While it is a lightweight comforter, the Amerisleep has some good loft. It gives you a bit of that cloud-like fluff without being extremely heavy. It should be a good fluffy option for the whole year!
What Makes The Amerisleep Stand Out?
The comforter features Celliant technology to help keep you cool at night.
The Amerisleep features some good loft and will be a good fit if you like something fluffy. 
The comforter is an excellent lightweight option for all four seasons. 
Amerisleep Deals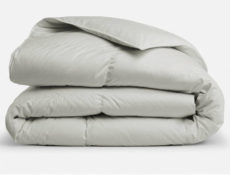 The Amerisleep Recover+ comforter is a year-round option for hot sleepers. Click the button to get the best deal!
Best Hypoallergenic Comforter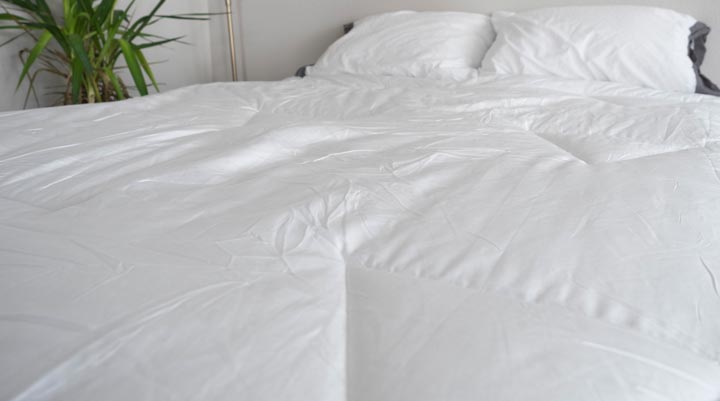 Buffy
We all need to do our part to ensure that we leave a thriving planet for our children and grandchildren; that's why we're such big fans of the Buffy, one of the most eco-friendly comforters on the market. 
The Buffy's fill is made from 100% recycled plastic, which is quite rare; even though the comforter does not contain down, it still features a good amount of loft. Also, the comforter's shell is made of 300 thread count eucalyptus fiber which offers some anti-inflammatory properties and could be good for the skin. Add in the hypoallergenic materials, and there's a lot to love about this comforter.
The comforter is also designed with hot sleepers in mind; it is breathable and the fill should draw heat away from sleepers' bodies as well.
Customers who are seeking an eco-friendly comforter that also has a fair bit of loft should consider the Buffy.
What Makes The Buffy Stand Out?
The Buffy contains eco-friendly materials such as recycled plastic.
The comforter has temperature-regulating properties and could be an option for hot sleepers.
Read the full Buffy comforter review 
Buffy Comforter Deals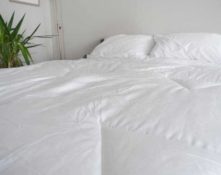 The Buffy is an eco-friendly comforter that features technology to fight overheating. 
Best Affordable Comforter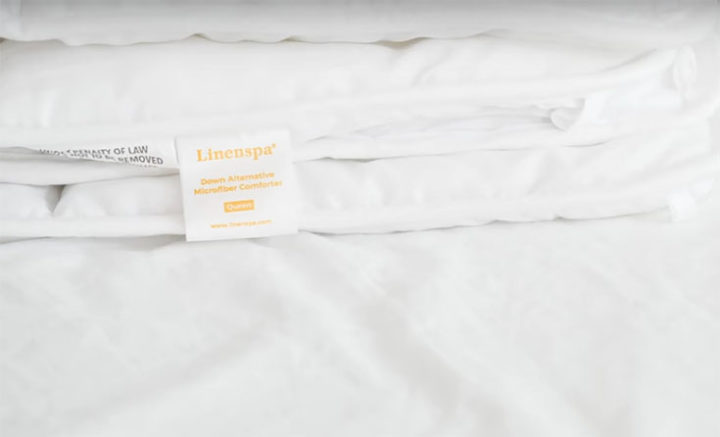 Linenspa
When you're shopping for a new comforter, you always want to keep your budget in mind. If your budget is smaller, and you want a great affordable comforter, the Linenspa All Season Down Alternative Comforter should work for you. It's currently around $30 for a Queen size, which is a very good deal! 
The Linenspa is, surprise, a down alternative comforter that microfiber fill instead of down. This material is hypoallergenic and won't trap allergens the way down is known to do. Also, for a down alternative comforter, the Linenspa is quite fluffy. You get some good loft for not too much money. 
Lastly, while it is called "All-Season," the Linenspa is on the warmer side. This makes it a good affordable pick for those colder months.  
What Makes The Linenspa Stand Out?
The Linenspa All-Season is a good affordable comforter pick for those on a budget. 
The comforter is nice and fluffy for a down alternative. 
The Linenspa All-Season is warmer and should work on those colder nights. 
Read the full Linenspa comforter review
Linenspa Deals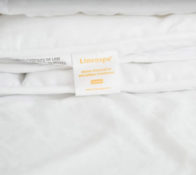 The Linenspa Down Alternative is a great value comforter for all seasons. Click the button to save big!
Best Down Comforter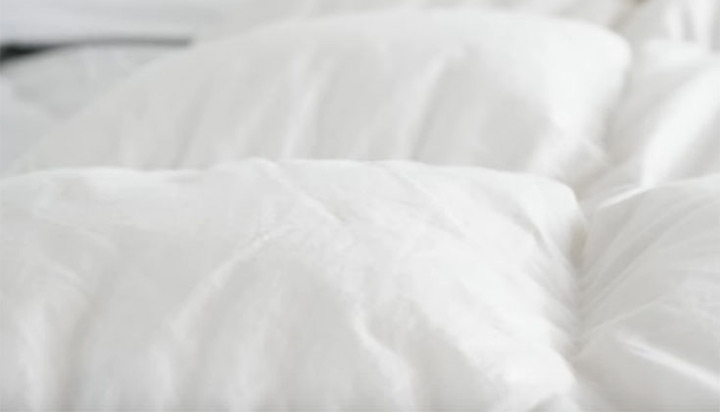 Egyptian Bedding
The Egyptian Bedding is one of the fluffiest down comforters I have come across – it features 70 oz of 750 fill power Siberian Goose down and a baffle box construction. This design and this amount of lofty fill weight and loft combine to make an extremely fluffy down comforter.
Many people expect serious warmth with a down comforter, and the Egyptian Bedding definitely provides this; those who are seeking a comforter for those cooler nights are going to love snuggling up under the very insulating Egyptian Bedding.
The outside of the Egyptian Bedding should also feel particularly nice against the skin of most sleepers; the comforter sports 600 thread count Egyptian cotton in its cover which is very soft to the touch. While the comforter can be easily placed in a duvet cover, the Egyptian Bedding is smooth enough on its own.
Finally, this is an exceptional deal for such a high-quality down comforter; currently, a Queen-size costs less than $150. Customers who are shopping for a great deal on a fluffy, warm down comforter should like what they find with the Egyptian Bedding.
What Makes The Egyptian Bedding Stand Out?
It is a down comforter that features a baffle box design, which allows for maximum loft.
The Egyptian Bedding has a high fill weight and fill power; this is an extremely fluffy comforter.
The comforter features double-needle stitching; this makes the Egyptian Bedding more durable so that it will stand up to more years of use.
The Egyptian Bedding is quite affordable when we consider the quality of this comforter; it costs less than $150 for a Queen-size.
Read the full Egyptian Bedding comforter review
Egyptian Bedding Deals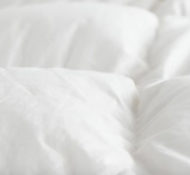 The Egyptian Bedding is a down comforter that is a good fit for those who like something fluffy. Click the button for the best deal. 
Best Down Alternative Comforter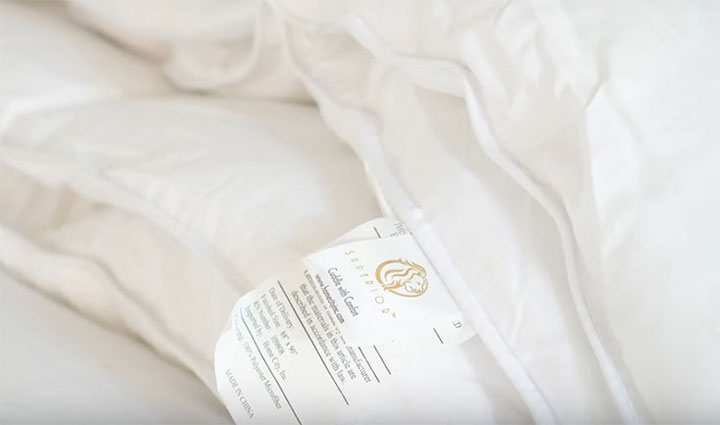 Superior
There are a few reasons someone might not want a down comforter; they could struggle with allergies, their budget might be too tight, or they might find down to be unethical. Whatever someone's reasons for seeking a down alternative comforter, the Superior is a fantastic place to start.
The Superior has many of the benefits associated with a down comforter – namely, it is particularly fluffy and insulating. While its synthetic fill is not as lofty as natural down, the comforter's baffle box construction really allows this fill to fully expand. Also, sleeping under the Superior, people should feel a significant amount of warmth.
At the same time, the Superior does not come with the drawbacks of a down comforter – it is hypoallergenic, free of down, and it is also a steal. Right now, the Superior costs less than $50 for a Queen size!
Those who are on the hunt for a fluffy comforter, but they don't want to break the bank or deal with down, the Superior is an excellent option.
What Makes The Superior Stand Out?
The Superior features a baffle box construction, which allows for the fill to reach its full expansion.
The comforter is hypoallergenic and shouldn't trap allergens like dust mites or pollen the way that down might do.
The Superior is quite affordable and is priced under $50 for a Queen size comforter.
Read the full Superior comforter review 
Superior Deals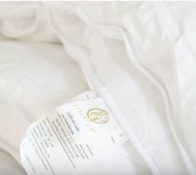 The Superior is a great down alternative comforter sold for a value price. Click the button to get the best deal. 
Best Value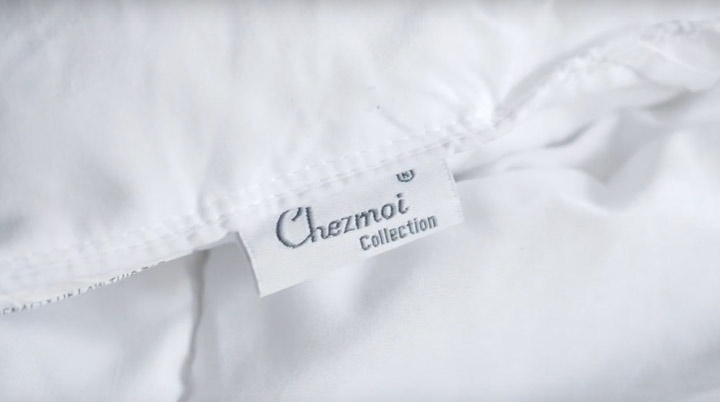 Chezmoi
As I said above, affordability is one of the main reasons someone might be looking at a down alternative comforter – if someone's budget is extremely tight, the Chezmoi is worth taking a gander at. Right now, the Chezmoi down alternative comforter costs around $35 for a Queen size, and that is quite the deal.
While the Chezmoi is very affordable, it is still a quality comforter; it is a warmer comforter and is evenly quite fluffy. The outer shell is 100% polyester and isn't the smoothest, but the comforter features duvet tabs at all four corners, making it easy to stuff the Chezmoi in a duvet cover. With the money saved on the Chezomi, customers can maybe splurge a bit more on a smooth sateen duvet cover.
So, those who need a quality comforter or duvet insert that won't cost them an arm and a leg are going to appreciate the Chezmoi down alternative comforter.
What Makes The Chezmoi Stand Out?
The Chezmoi features duvet tabs, which allow it to be tied into a duvet cover.
The comforter is a very affordable option at under $35 for a Queen size.
The Chezmoi boasts decent fluff and warmth for such a budget-friendly comforter.
Chezmoi Deals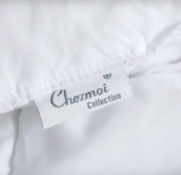 The Chezmoi is a great value comforter that is a good fit for those colder months. Click the button to get the best deal. 
What Should People Consider When Buying A Comforter?
A comforter is not quite the investment that a mattress is, but no one wants to go through the process of buying and returning an unfit comforter. Keep the following criteria in mind, and it should not be difficult to track down the right comforter.
Down Versus Down Alternative
When it comes to the comforter's fill, the main choice customers have to make is between down and down alternative.
Down is taken from underneath the feathers of ducks and geese and is a natural insulating material. Down alternative filling is made from synthetic materials (such as polyester) or other natural materials (such as cotton).
Down is usually more expensive than an alternative option – I'll touch on more specific benefits and drawbacks associated with each type of comforter in the following sections.
RELATED: Down Vs. Down Alternative Comforters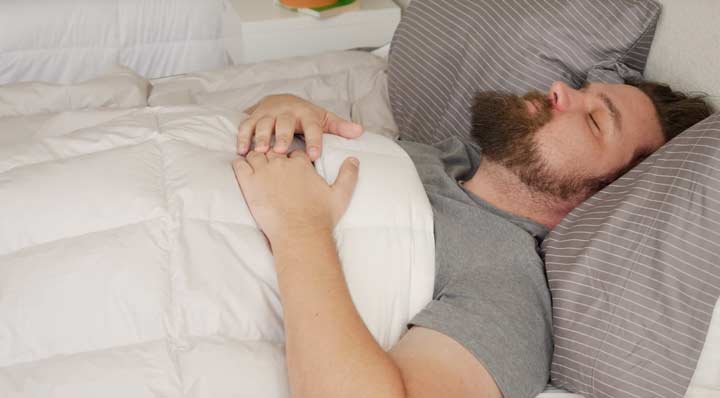 Warmth And Breathability
Down is usually more insulating than most alternatives and, because of this, one needs more down alternative filling to equal the warmth of down. Basically, down comforters can be lighter and still offer a good amount of warmth.
Down is also more breathable than alternatives like polyester and, with down alternative comforters, people may get clammy or sweaty while they sleep. Down is both warm and breathable at the same time.
While customers need to first pick between down and down alternative, they should also consider how much warmth they really need. Are they a hot sleeper or will they be using this comforter during winter or summer? If they need a summer comforter, a very lightweight down alternative comforter could work.
Fill Power 
When shopping for a comforter, people will undoubtedly come across the term "fill power." This is basically a measurement of loft. More specifically, it measures how much space one ounce of down fills at full expansion.
The higher the fill power, the greater the loft; anything from 500 to 750 is considered good fill power and over 750 is excellent.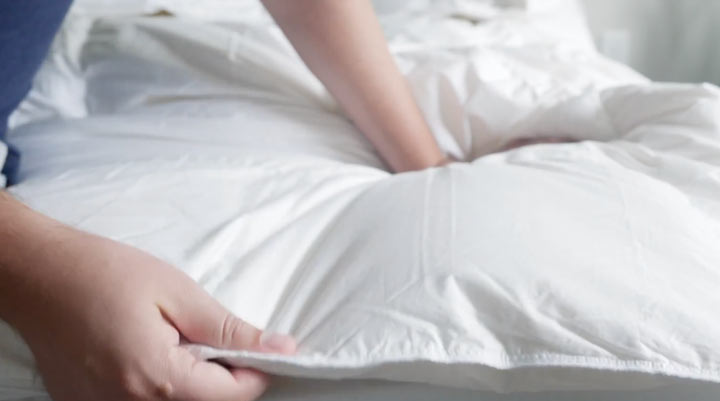 One also needs to consider the amount of fill in a comforter to really understand how lofty it will be. For instance, an 800 fill power comforter with only 30 ounces of filling could be less lofty than a 700 fill power comforter with 60 ounces of filling.
One may also see down alternative comforters with an advertised fill power, but it is very difficult to compare the fill power of polyester to that of down. They have different properties, so be careful when judging the fill power of down alternative comforters.
Construction 
Two other terms shoppers will come across are "sewn-through" and "baffle box." These refer to the way the filling is sewn into the comforter.
Sewn-through is when the two sides of the comforter are sewn directly together, and the down or synthetic fill is held in an almost two-dimensional square.
A baffle box is created when an extra piece of fabric is sewn between the two sides of the comforter which creates a three-dimensional space for the fill.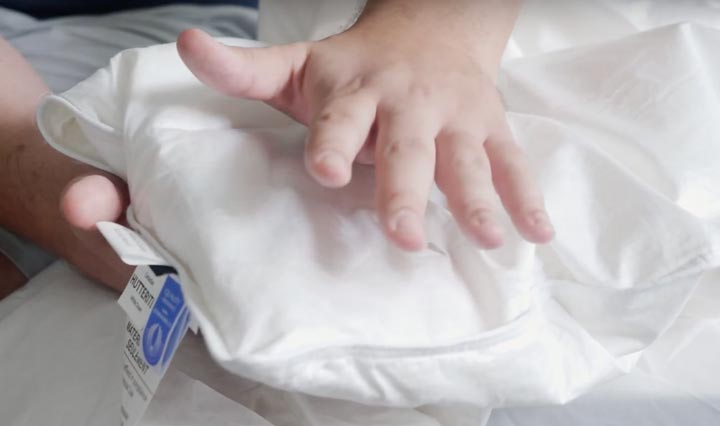 With a baffle box construction, there is more room for the fill to fully expand. Even if a comforter has a high fill power, it is important to make sure it can reach its maximum loft. As a general rule, baffle box construction allows for greater loft.
RELATED: Sewn-Through Vs. Baffle Box Comforters
Allergies 
While down comforters are usually superior in warmth and fluffiness, they do have issues when it comes to allergies. Down easily traps allergens such as dust mites and pollen, while down alternative does not have this problem.
Shoppers will see down comforters with hypoallergenic covers that are meant to stop dust and pollen from moving into the fill. Other down comforters advertise that their fill has been washed many times, but this is still not as reliable as a comforter with synthetic fill.
Those who struggle with severe allergies might consider a down alternative comforter.
Summary
Once again, here is our list of the best comforters on the market.
Buying a comforter doesn't have to be a chore and, considering the information above, it shouldn't be difficult to find the right comforter! If customers consider the temperature of the bedroom, budget, and other preferences, they should be sleeping under a cloud in no time.
FAQs
What is the best type of comforter?
This really depends on what someone is looking for; those who struggle with allergies and want to spend less money should consider a down alternative comforter. Those who prefer a fluffier and warmer comforter with more breathability should take a look at down.
What is the best down comforter?
One of the best down comforters on the market is the Siberian Goose Down Comforter; it is a very lofty comforter with a fill power of 750 and a fill weight of 70 oz. It is a great match for those who want a fluffy and insulating comforter.
What's the best down alternative comforter?
The Superior Down Alternative Comforter is at the top of our list for those who want something without down. The comforter has many of the benefits of a down comforter without the drawbacks; it is fluffy and warm but it is also hypoallergenic and much more affordable.
How do I choose a good down comforter?
In order to find a good down comforter, consider a few things: find a comforter with a high fill power and heavy fill weight. This will ensure that the down comforter is on the fluffier side.
Also, look at what the fill of the comforter is: is it a high-end goose down or something else? Finally, find a comforter with a baffle box construction, as this will allow the fill to full expand.
Marten Carlson
Marten is Senior Editor at Mattress Clarity. He covers the mattress industry as well as sleep science news. He is specifically interested in the connection between sleep and overall health. Marten has written for media publications like Consequence of Sound and received a master's degree in Film Studies from Emory University. He comes from Franklin, Indiana, and spends all the time he can writing, directing, and acting in films. He has directed genre short films and features. His newest film, Starlets, recently premiered at the River Town Film Festival in Clinton, NJ. He also stars in the upcoming thriller, Sour Bear. His next film, At The Hop, is a hot rod actioner with a horror twist.