The mattress world is full of different models. Classic innersprings are the oldest variety, while memory foam has become more popular in recent years. Hybrid mattresses combine the best of both worlds. In fact, some of our most highly rated mattresses here at Mattress Clarity are hybrids.
Hybrid mattresses combine both foam and coils for a seamless blend of comfort and support. They can work for all types of sleepers, but we strongly recommend them for side and back sleepers. Keep reading to learn more about what a hybrid mattress feels like, how it differs from other beds, and if you should buy one!
What Is a Hybrid Mattress Made of?
A hybrid mattress has two main layers: a comfort layer, which is made from some sort of foam, and a support layer, which is made out of coils. These layers are stacked within a cover, which is usually some kind of cotton or polyester.
The comfort layer is directly below the cover. Comfort layers aren't always made from the same material, but the most common are either memory foam or latex foam.
Lastly, the support layer consists of coils and is located at the base of the mattress. Underneath that, there's often a thin layer of high-density foam to pad the coils, so they don't come in contact with the cover layer and the base.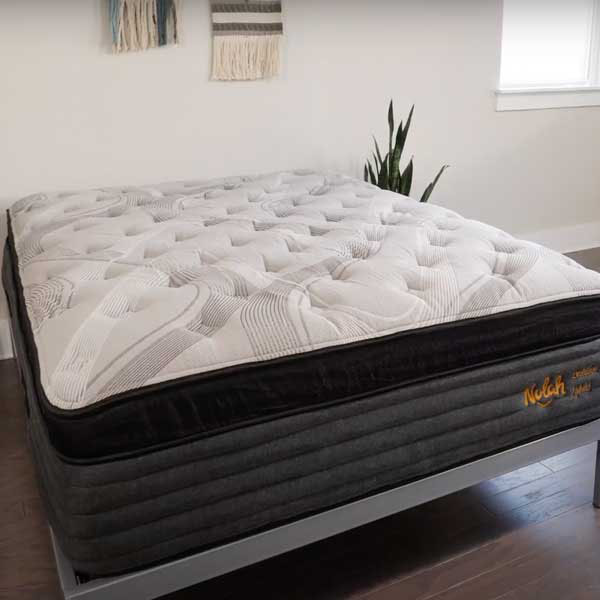 What Does a Hybrid Mattress Feel Like?
A hybrid mattress feels plush yet supportive. The comfort layer provides a soft touch while the support layer gives a responsive, supportive feel while you sleep. These kinds of mattresses aren't as bouncy as an innerspring depending on the type of foam in the comfort layer.
A memory foam comfort layer will have that classic, slow-moving feel. Latex foam will be a bit more responsive and bouncy. And hybrid mattresses tend to have an equal balance of comfort and support.
How Do Hybrid Mattresses Work?
Hybrid mattresses are made up of three general layers: the cover, the comfort layer and the support layer. Unlike an all memory foam mattress that is only constructed with  foam, hybrid mattresses have various materials incorporated into them.
A main distinction in the hybrid mattress is that the comfort layer has to be at least 2" of material. This comfort layer is most commonly traditional memory foam or latex foam. The base support layer will always have coils.
Hybrid Mattress Pros and Cons
If you're interested in getting a hybrid mattress but want to know the benefits and the drawbacks, we've got you covered with a brief rundown below:
Pros
The coils provide airflow and cooling throughout the mattress
They offer pressure relief and support
Hybrid mattresses have  responsiveness without being too bouncy
Cons
Can have a high price point
Not ideal for stomach sleepers because of the soft top layer
Can be heavy and more difficult to move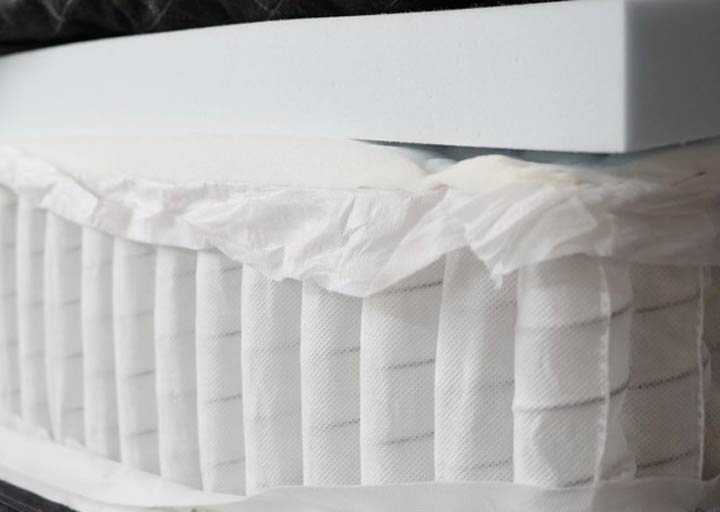 How Do Hybrid Mattresses Compare to Other Mattresses?
Hybrid mattresses use a combination of materials to offer sleepers different perks, from cooling to back support. But what makes it stand out from other types of mattresses? We've done all of the research so you don't have to.
Hybrid vs Innerspring
The main difference between a hybrid and innerspring mattress is the amount of materials used. In a traditional innerspring, the comfort layer is less than 2" of material. To be considered a hybrid, there has to be at least a 2"  comfort layer. Both of these mattresses have cover layers on the top and springs at the base.
An innerspring mattress is an ideal option for folks who want a firmer mattress or a thinner comfort layer. It's especially good for stomach sleepers who need more support. In comparison to the innerspring, a hybrid mattress is a better option for those who need a responsive, pressure-relieving bed with plush top layer.
Hybrid vs Memory Foam
Hybrid and memory foam mattresses differ because memory foam mattresses don't have any coils. Some hybrid mattresses have memory foam comfort layers, so you can get the memory foam feel with the addition of coils at the base.
A memory foam mattress is a great choice for side sleepers because of the pressure relief it provides. In comparison to memory foam, a hybrid mattress is an optimal bed for combination sleepers or heavyweight sleepers because of the extra support from the coils.
Hybrid vs Latex
Latex mattresses are a type of foam mattress without coils, unlike the hybrid mattress. The feel of latex is bouncy and firm in comparison to a memory foam bed.
A latex mattress suits those who run hot and heavier sleepers who need added support. When we compare latex mattresses to hybrids, a hybrid model is best for side sleepers and those who don't want a bouncy bed.
There are two types of latex foam: Dunlop and Talalay. You'll see both in latex mattresses, but the main difference is Dunlop feels much denser and is a less processed form of  latex. Talalay is much softer, but is more often blended with synthetic materials.
How Long Does a Hybrid Mattress Last?
The durability of your mattress is going to depend on a few factors like your sleeping position, weight, the mattress materials, and overall care.
If you're a side sleeper, you could be putting more pressure on specific points of your mattress which can lead to sagging. Keep in mind that your mattress will wear and tear differently if you sleep alone or with a partner.
A mattress with optimal edge support is essential for couples, so you can spread out while you rest and avoid putting too much pressure in the center of your mattress. This helps prolong the life of your mattress.
With these factors in mind, hybrid mattresses are generally known to last between 10-15 years. Most of these beds are specifically constructed to last longer than other mattresses, as the foam helps take some pressure off the coils, while the coils offer more support than the foam.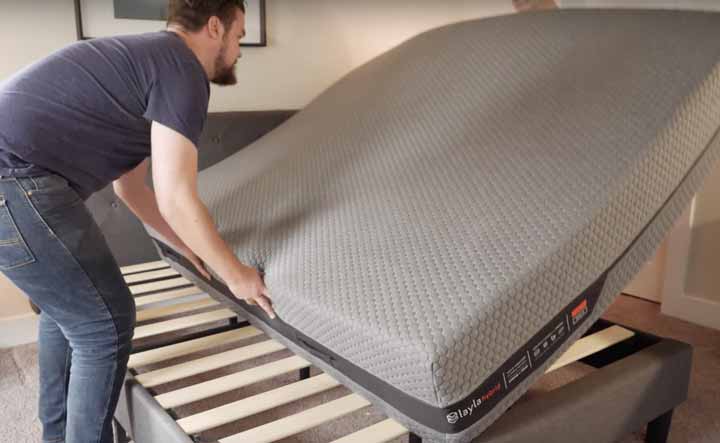 Do You Need a Box Spring with a Hybrid Mattress?
Box springs are a base for your mattress. They can be either metal or wood and hold coils inside. Box springs are commonly used with innerspring mattresses because they're designed to take some pressure off of the coils inside the mattress, which helps them last longer.
Another reason that people use box springs is to make their bed taller and easier to climb into at night. Generally, hybrid mattresses don't need a box spring, but adding height or extra support could be a reason that you want one. Check out our full breakdown of box springs to learn more!
Can You Flip a Hybrid Mattress?
Most of the time, the answer is no. Hybrids are built with the comfort layer on top and springs at the bottom, and they should stay this way. However, rotating your hybrid mattress is recommended.
As always, we recommend that you read the manufacturer care instructions before flipping your mattress.
How to Clean a Hybrid Mattress
Unfortunately we can't throw our mattresses in the washer and dryer, so how can you clean your hybrid mattress?
The best way to clean your mattress from spills and stains is to spot treat the area. For how to spot treat your mattress, you can follow our complete guide on getting stains out, from blood to urine.
Before treating, double check the care instructions on your mattress before using any cleaning products to make sure you don't cause any further damage. However, there are some beds out there with removable covers that are machine-washable. But more often than not, the best cleaning method is to spot treat.
Who Should Get a Hybrid Mattress?
Hybrid mattresses are suited for folks who want a responsive bed that provides pressure relief. The hybrid mattress gives the best of both worlds with a plush comfort layer and supportive coil base layer.
We especially recommend these beds for side sleepers, because the foam and coils offers the ideal  balance of comfort and support for their sleeping position. For those who are looking to invest in a long-lasting mattress, a hybrid bed is a durable choice.
A hybrid mattress is also perfect for those who run hot because the coils within the mattress offer airflow to keep sleepers cool while they rest.
If you're having trouble narrowing down the best hybrid mattress for you, don't fret! We've created a list of the best hybrid mattresses, from the best for couples to the best for combination sleepers.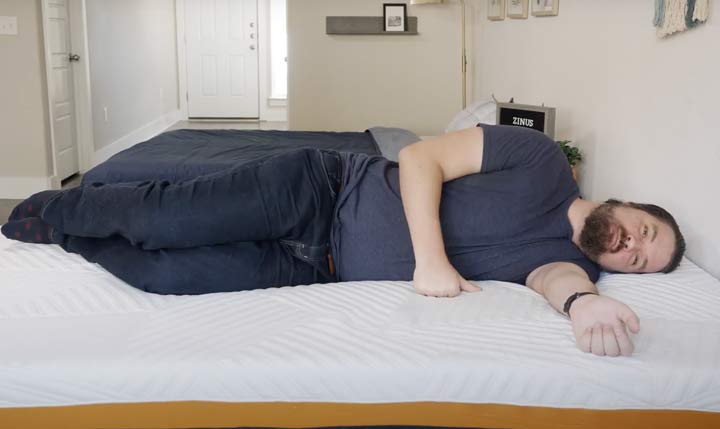 What to Look for When Buying a Hybrid Mattress
The first thing to look for when choosing a hybrid mattress is the material of the comfort layer. Everyone is different, so be mindful of what feels comfortable for you. Memory foam provides a slow-moving feel whereas latex will be more bouncy.
The next factor is the type of coils. Pocketed coils will make the mattress contour to your body whereas open coils won't form to your body as you sleep.
Then you'll want to consider the firmness that you need. Stomach sleepers will need a firmer mattress to support proper alignment, but side sleepers can get proper alignment with a medium firmness. Review the product description before purchasing so you can get your perfect firmness.
Lastly, and this goes for all mattresses, review the warranty. If you're investing in a mattress, you should know what the manufacturer's warranty policy is in case there are any issues or damages.
For more information about choosing a mattress, check out our mattress buying guide.
FAQs
Get the answers to your lingering questions in our FAQ below!
Is a hybrid mattress worth it?
Yes, hybrid mattresses are good for people who want pressure relief from memory foam, but also want supportive coils. The coils at the bottom help sleepers from feeling trapped in their mattress. Hybrid models are good for hot and combination sleepers. These mattresses typically last from 10-15 years.
Are hybrid mattresses firm or soft?
Hybrid mattresses vary on their level of firmness. This usually is based on the material of their comfort layer, and how thick it is. For example, a thick memory foam layer will be much softer  than a thick latex layer. Read the firmness level of the model you're researching before you purchase.
Can you use a hybrid mattress with an adjustable base?
You can use an adjustable base with a hybrid mattress, but you should be mindful of the coils in the mattress. If coils aren't flexible enough, the adjustable base could damage the mattress. 
Are hybrid mattresses good for back pain?
Yes, hybrid mattresses give ideal back support with the comfort layer and support layer because they provide pressure relief.
Are hybrid mattresses good for side sleepers?
Yes, hybrid mattresses are supportive without being too soft which makes them  great options for side sleepers.
Samantha Nuno
Samantha Nuno is a writer on the Mattress Clarity editorial staff. She is a combination sleeper and sleeps on a Nectar mattress. When she's not immersed in all things sleep, she enjoys walking, paddle boarding, and making lattes.