Before the bed-in-a-box industry revolutionized how people buy mattresses, innerspring beds reigned supreme. But these days, most companies create stylish hybrid models.
Though they look similar, hybrid and innerspring mattresses aren't identical. In this hybrid vs innerspring mattress comparison, we'll go over all of the important components of each bed and help you find the best mattress for your sleep needs.
Hybrid vs Innerspring Mattress – What's the Difference?
You've probably wondered, "What's the difference between a hybrid and an innerspring mattress?" The short answer: hybrid mattresses have more cushioning than innerspring beds. Because of this construction difference, each bed works well for different people.
Who Should Get A Hybrid Mattress?
Fans of mattresses that feel more plush
People with joint pain
Who Should Get An Innerspring Mattress?
Fans of particularly bouncy mattresses
Stomach sleepers
What is a Hybrid Mattress?
Hybrid mattresses got their name because they contain two different components: coils and comfort layers. Whether the top layers are made out of latex or gel-infused memory foam, they usually offer plenty of pressure relief for the sleeper.
| | |
| --- | --- |
| Layer | Description |
| Cover | The first thing you'll see is the mattress cover, usually made out of a breathable cotton material. |
| Comfort Layers | To be considered a hybrid mattress, the bed must contain at least 2" of comfort materials. There's no specification for what this layer is made out of – it could be latex, gel foam, polyfoam, or even a cotton pillow top! |
| Support Layer | Hybrid mattresses have support coils in the base layer. This make the mattress feel more responsive than all-foam beds, but not quite as bouncy as traditional innerspring mattresses |

Benefits of a Hybrid Mattress
Offers more pressure relief – This is great for folks who suffer from joint pain. It also benefits side sleepers because the comfort layers cushion shoulders and hips.
Feels Responsive – Hybrid mattresses are more responsive than all-foam beds, but they aren't as bouncy as innersprings. This could be a good option for folks who want a bed that has a more balanced feel.
Easy to find – These days, mattress manufacturers are creating more hybrids than innersprings, so there are many options to choose from.
More variety – Because hybrid mattresses contain different comfort layers, customers can be choosy with how they want their bed to feel. Latex foam is great for hot sleepers who want something a bit more supportive, while memory foam works well for folks who need more pressure relief and body contouring.
Drawbacks of a Hybrid Mattress
Not always the best choice for stomach sleepers – Because hybrid beds have at least 2" of cushioning on top, they usually aren't supportive enough for stomach sleepers.
They tend to cost more – Some hybrid mattresses contain many high-quality materials, which can drive up the price.
Might sleep hot at night – If a hybrid mattress has a thick layer of memory foam on top, sleepers could start to overheat at night.
The Best Hybrid Mattresses
Think a hybrid mattress is the best choice for you? Fortunately, we've reviewed hundreds of different beds and rounded up a list of the best hybrid mattresses.
We particularly like Helix, because its sleep quiz matches sleepers to their ideal bed. The new Nectar hybrid mattress is great for folks who want a plush memory foam bed that still feels responsive. Fans of flippable mattresses will love the Layla Hybrid – it has two firmness levels in one!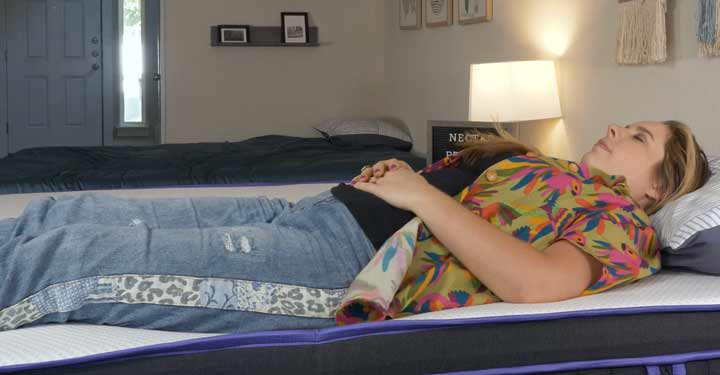 What is an Innerspring mattress?
Innerspring mattresses share many similarities with hybrids, but the main difference is that innerspring mattresses have less than 2" of comfort materials on top.
| | |
| --- | --- |
| Layer | Description |
| Cover | Innerspring mattresses typically have soft covers made out of cotton or another breathable fabric. |
| Comfort Layers | To be considered an innerspring mattress, the bed must have less than 2" of comfort materials on top. Most innerspring mattresses feature a thin layer of cushioning, often in the form of a Euro top or pillow top. |
| Support Layer | Like hybrid mattresses, innerspring beds contain springy coils in the support layer. |

Benefits of an Innerspring Mattress
They have a more traditional feel – If you're a fan of classic, bouncy mattresses, you may want to opt for an innerspring bed.
They're easier to move around on – Because innerspring mattresses are particularly bouncy, they are great options for people who have mobility issues.
They are firmer than hybrid mattresses – This is beneficial for stomach sleepers, who need additional hip support.
Drawbacks of an Innerspring Mattress
They don't offer as much comfort – If you're a side sleeper, you may want to opt for a hybrid mattress that offers more pressure relief.
They tend to squeak – As time goes on, innerspring mattresses can become noisy.
They are harder to find – Most mattress companies have steered away from manufacturing innerspring mattresses, so they can be more difficult to find – especially if you want to order one online.
The Best Innerspring Mattresses
Though they are harder to come by, innerspring mattresses still exist in the marketplace. Throughout our review process, we have been able to identify some of the best innerspring mattresses, but one of our favorite brands is Saatva. Their classic model is available in three firmness levels and has a plush pillow top.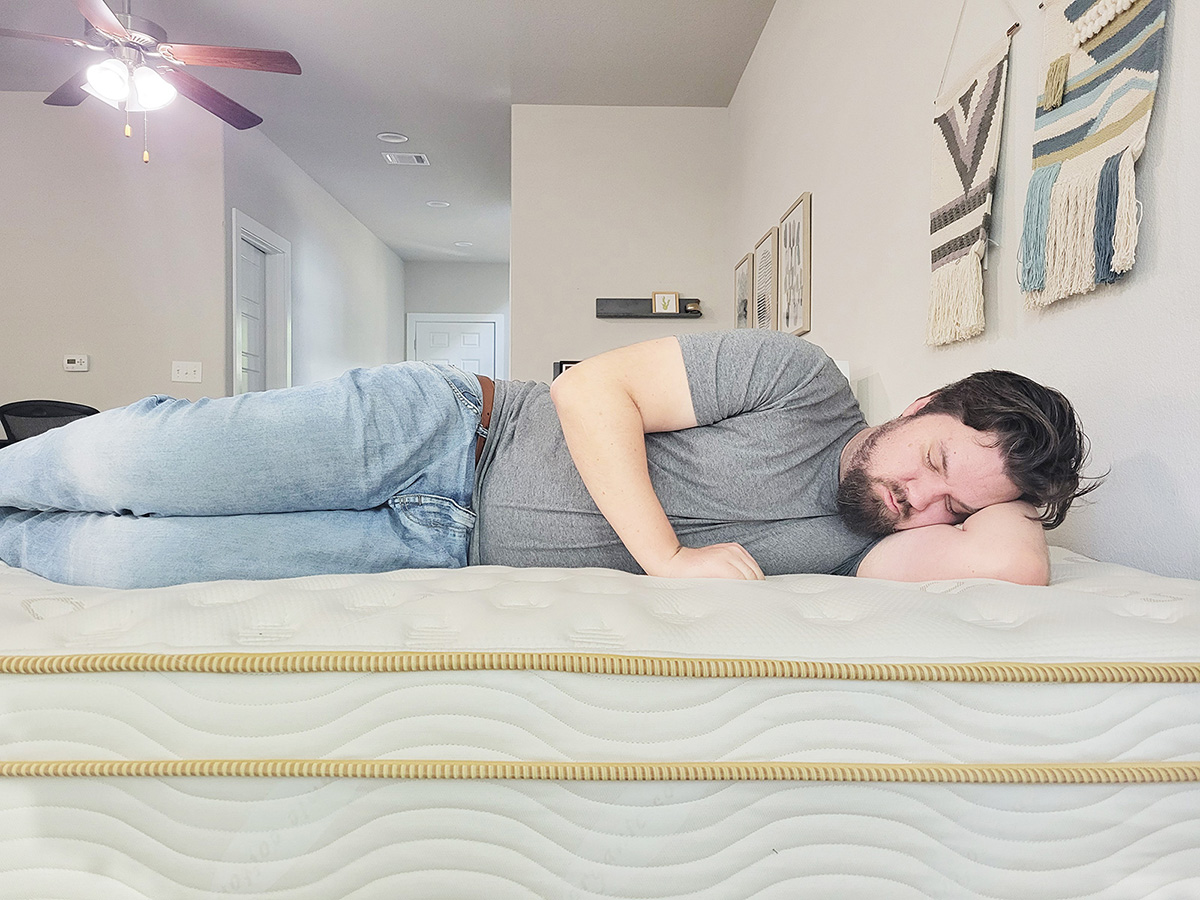 Summary
The differences between hybrid and innerspring mattresses are subtle, but even so, each bed will work best for different types of people. If you're looking for a mattress with more comfort and plushness, opt for a hybrid. But if you want a traditional firm and bouncy mattress, innerspring is the way to go.
FAQs
Still have questions? We are here to help. Check out our FAQ section below to learn more.
What is the difference between a hybrid and an innerspring mattress?
Hybrid and innerspring mattresses both have coils for support, but hybrid mattresses contain at least 2" of comfort materials and innerspring beds contain less.
Do you need a box spring with a hybrid mattress?
No, you don't! With hybrid mattresses, box springs are optional. Some people like them because they offer additional support and make the mattress taller, however, a hybrid mattress will still have a long lifespan if it's not placed on top of a box spring.
Ultimately, it boils down to what you need from your mattress. Many people love innerspring beds because they offer ample lumbar support and are easy to move around on. Some folks prefer hybrid mattresses because they offer more comfort and pressure relief.
Can an innerspring mattress be used on an adjustable base?
Because of their sturdy construction, innerspring mattresses don't work well on adjustable bases. Typically, all-foam mattresses work best.
Elisa Regulski
Elisa is the Editor of Mattress Clarity, where she analyzes sleep products and appears in review videos. A certified sleep science coach, Elisa's sleep tips have appeared in Readers Digest, Homes and Gardens, and 21 Oak. She earned a M.A in Mass Communication from Texas State University and a B.F.A in acting from Oklahoma City University.