In today's world of seemingly endless mattress options, it's easy to get overwhelmed. We went from simple innerspring mattresses (with pillow tops if you wanted to get fancy) to memory foam beds, hybrid beds, latex beds, and more.
This article explores two popular and high-quality mattress types–latex and hybrid. Read on to learn what makes up each mattress type, what qualities they share and how they differ, and which is the right choice for you.
Latex vs Hybrid: General Overview
| | | |
| --- | --- | --- |
| | Latex Mattresses | Hybrid Mattresses |
| Average Cost (Queen Size) | $2,000 | $1,700 |
| General Comfort | Feels like you're sleeping "on" the bed instead of "in" it | Depends on comfort layer material. Bouncier than all-foam latex mattress. |
| Materials Used | Latex foam | Memory foam, polyfoam or latex with pocket coil base |
| Average Lifespan | 20 years | 10–15 years |
| Pros | Eco-friendly (natural latex), cooling, responsive | Choice of comfort layers, good pressure relief, highly responsive |
| Cons | Expensive, less pressure relief than memory foam, heavy | Less durable than latex, heavy, can be expensive |
Top Similarities
Cooling: Latex and hybrid beds are both great for hot sleepers. Latex mattresses sleep cool due to latex's breathability and lack of heat retention, while hybrid beds allow for lots of airflow through their coil layers.

Expensive: Latex and hybrid beds are both an investment and are the two most costly mattress types. 

Excellent Responsiveness: Innerspring coils ‒ which make up a hybrid's support layer ‒ and latex are both responsive materials. What this means is they feel slightly bouncy and facilitate ease-of-movement.
Zoned Support: While you can have zoned support in any mattress type, it's especially common in hybrid and latex beds. These various support zones provide superb lumbar support.

 



Firmness Options: Firmness depends on the thickness and density of comfort layers, so both latex and hybrid beds can come in various firmness levels.

Key Differences
Eco-Friendliness: As long as the latex in your bed is natural, it is more eco-friendly than a hybrid bed.

Lifespan: Latex mattresses last around 20 years, while hybrid beds last an average of 10–15 years. A hybrid's lifespan is shorter due to the potential for indentations in the top foam layers and because of the coils slowly losing tension.  

Feel: Because memory foam or polyfoam is often the top layer of hybrid mattresses, the feel of these beds differs from latex beds. Latex delivers a buoyant feel, without the sinking-in cushion you get with foam comfort layers. 

What is a Latex Mattress?
Latex is a naturally occurring material made from the sap of the rubber tree. A latex mattress is a bed made from latex foam.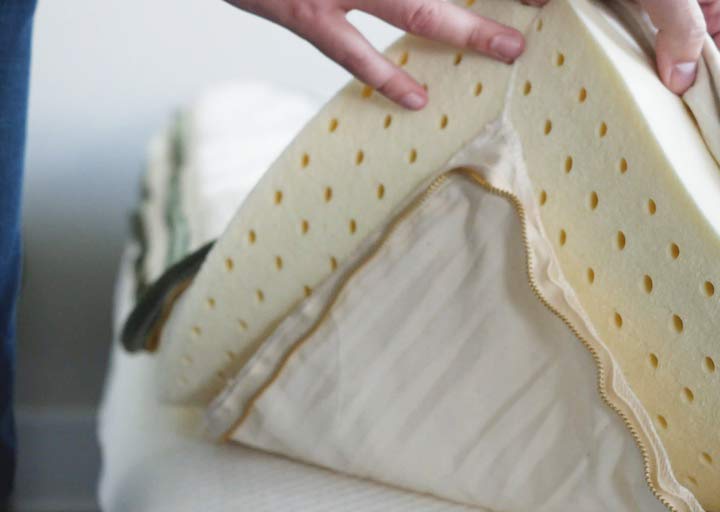 Types of Latex Mattresses
There are all-latex mattresses, hybrid latex beds that incorporate coils, and all-foam beds with both latex and polyurethane foams. Most beds labeled as a latex mattress are the all-latex variety.
Talalay vs Dunlop Latex
Latex in beds is either Talalay latex or Dunlop latex–the names refer to the processing style. Talalay latex is bouncier and more responsive, while Dunlop latex is a bit denser and less likely to appear in the top layer of a mattress. Dunlop latex is also less processed than Talalay, and therefore is a more eco-friendly option.
Synthetic vs Natural Latex
While most latex beds utilize latex derived from rubber trees, there's also synthetic latex and blended latex. Natural latex is superior to synthetic latex thanks to its eco-friendliness, comfort, and lack of potentially harmful chemicals.
All-natural and organic mattresses are almost exclusively latex mattresses made from natural latex foam. GOLS-certified organic mattresses are the most eco-friendly of all options.
Latex Mattress Benefits
Natural latex has a vast array of benefits, including:
Cooling: Latex is one of the coolest mattress materials.
Hypoallergenic: Latex repels dust mites, mold, and mildew.
Responsiveness: Latex is a naturally bouncy material and quickly conforms as you change position.
Durability: A latex mattress lasts longer on average than any other mattress type.
Latex Mattress Considerations
If latex mattresses are so amazing, why doesn't everyone have one? Well, there are a few downsides to keep in mind.
Latex mattresses are:
Expensive: Latex beds tend to be much pricier than other mattress types.

Heavy: Because latex is a very heavy material, latex mattresses can be unwieldy to move around.

Less Pressure Relief: Memory foam generally has much more give than latex, making beds with memory foam better for side sleepers who need abundant cushion. 

What Is a Hybrid Mattress?
Hybrid mattresses are a hybrid of multiple materials, typically innerspring coils and foam. While a hybrid bed can have as few as two layers, most have multiple layers of foam atop a thick coil layer for a luxurious feel.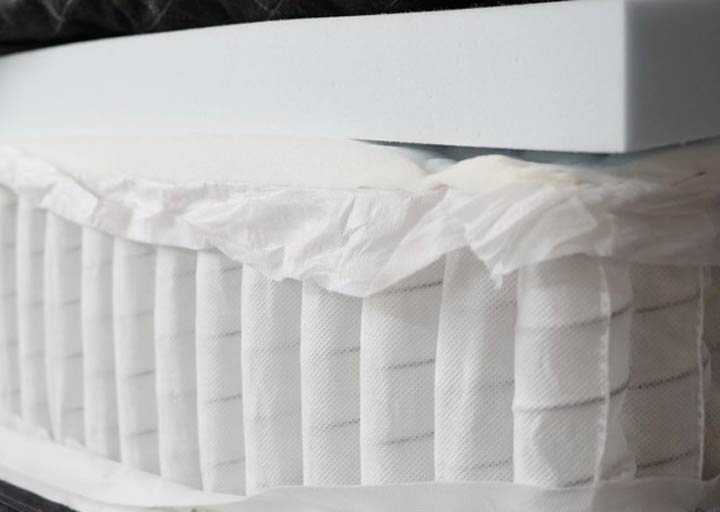 Hybrid Mattress Benefits
Hybrid beds offer the best of both worlds regarding plush comfort and supportive coils. Some benefits of hybrid mattresses include:
Motion Isolation: Traditional innerspring mattresses offer a lot of bouncy responsiveness, but you can feel that movement across the entire bed. Hybrid mattresses dampen that motion transfer with thick layers of foam.
Air Circulation: Hybrid beds sleep cool due to the easy flow of air through coil support layers. This is even better in latex hybrid beds, which sleep impressively cool.

Personalized Feel: With a hybrid mattress, you get to choose whether you want the feel of foam or latex comfort layers. Some hybrids have a memory foam hug, some a pillow-top feel, and others the cooling buoyancy of latex.  

Responsiveness: Hybrid beds are even more responsive than latex mattresses due to their coil base. This is important for changing sleep positions and for sex.

Hybrid Mattress Considerations
Durability: While some hybrid beds can easily last fifteen years, the quality and density of the foams and the durability of the springs can influence lifespan. The average hybrid lasts 10–15 years, compared to 20+ for a latex bed.

Heavy: Because of the many layers in hybrid beds, they can get quite heavy.

Value: Latex mattresses are more expensive than hybrid mattresses, but they last five to 10 years longer, on average. So when shopping for a hybrid mattress, consider the long-term value.

Latex vs Hybrid Mattresses: Which Should You Get?
Who Should Get a Latex Mattress?
Latex mattresses are a great fit for many sleepers. We particularly recommend them for eco-conscious shoppers, people with allergies, those who don't like the traditional memory foam feel, and people looking for a durable mattress that they will have for years to come.
Who Should Get a Hybrid Mattress?
If you want some of the benefits of a traditional innerspring bed and some of either foam or latex, then a hybrid mattress is for you.
Hybrid mattresses are especially good for couples, as they reduce motion transfer and have extra bounce for sex. We also recommend a hybrid mattress with thick foam comfort layers if you're a side sleeper or enjoy a plush feel.
FAQs
Is latex natural?
The latex found in beds can either be natural, synthetic, or a blend of the two. Natural latex is the most eco-friendly option and is free from potentially harmful chemicals. 
How long does a latex mattress last?
Latex mattresses are extremely durable, generally lasting at least 20 years.
How long does a hybrid mattress last?
Hybrid mattresses last 10–15 years, on average. Comfort foam indentations are a common reason for retiring a hybrid bed. 
Are latex mattresses good for back sleepers?
Latex mattresses suit any sleep position and are particularly good for back sleepers. They offer an outstanding balance of support and pressure relief to help keep your back and joints healthy.
Are hybrid mattresses good for side sleepers?
Hybrid mattresses can be an excellent choice for side sleepers. In a hybrid bed for side sleepers, it is essential to have thick, pressure relieving foams to cradle the joints.