Serta's iComfort line is designed to be comfortable and cooling, and the memory foam iComfort contingent is made up of seven mattresses ranging in firmness, so shoppers could easily find the foam mattress that meets their needs.
I received the Blue 100 Gentle Firm mattress to review, and it is near the middle of the iComfort's firmness scale, so it could be best for back sleepers.
To find out if this mattress will give sleepers the support they need on their back while still keeping them cool, read on for my full review!
The iComfort Blue 100 If might Work For …
Back sleepers. As long as someone isn't over 250 lbs, this mattress should give them the support they need when they are on their back; the foam should press into the lumbar area, keeping the spine neutrally aligned.
Hot sleepers. This mattress is made to keep people cool while they sleep, and both of the top layers are designed to be breathable and dissipate heat. People shouldn't be sleeping particularly hot on this mattress.
Fans of the classic memory foam feel. For those who like to slowly sink into the mattress and feel enveloped, this could be an exceptional match because it does have that quicksandy feel and allows people to sleep more "in" the mattress.
RELATED: Best Cooling Mattresses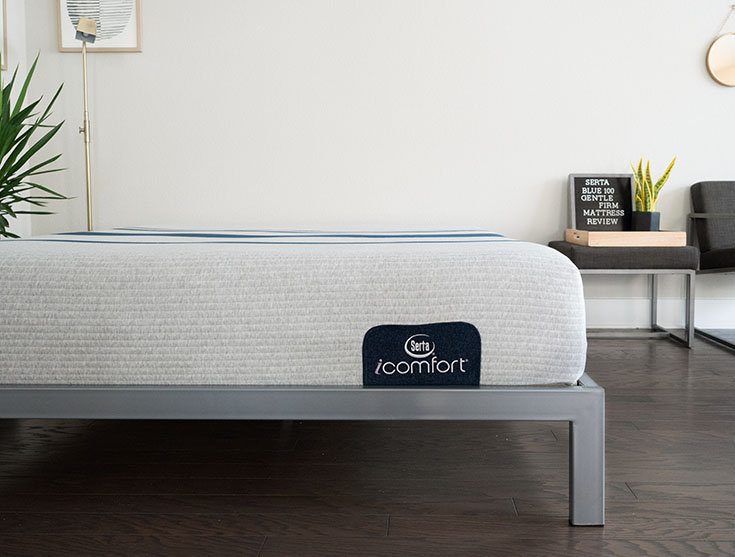 The iComfort Blue 100 Might Not Work For …
Stomach sleepers. For those who sleep primarily on their stomachs, support is very important because they want to ensure that their hips don't sink in too far so that their spine gets out of alignment; stomach sleepers of many sizes will need significantly more support than this mattress has to offer.
Heavier people. Those who weigh over 250 lbs will probably not get enough support when they are on your back or stomach but, when they are on their side, they might press through the softer comfort layers and feel the support layers beneath.
Fans of a balanced foam feel. For those who like the feeling of memory foam, but want to move around the mattress with ease, this mattress might not be the best fit. The top layers are very soft and only slightly responsive, so some people might have the feeling of getting "stuck."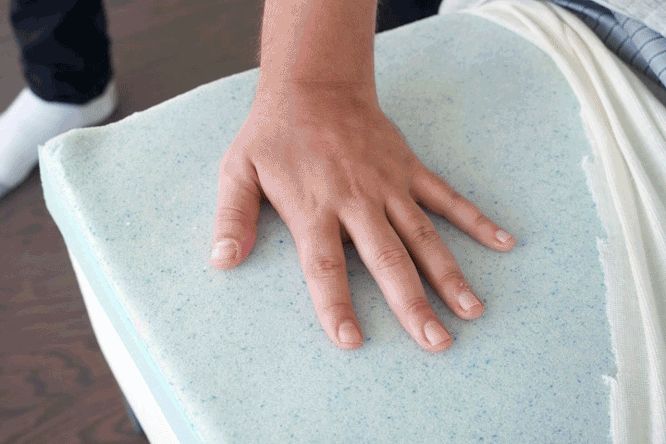 Construction Overview
The mattress is 9.75" tall.
The cover is soft and has a significant sweatshirt-like feel.
The first layer is ¾" TempActiv™ Gel Memory Foam.
Then, there are 2" of EverCool® Fuze™ Memory Foam.
Next, there is 1" of a transition foam.
The base is 6" of Serta® Ultimate Edge® Foam Core.
The mattress is made in the USA.
Check out our overview of the Serta iComfort line.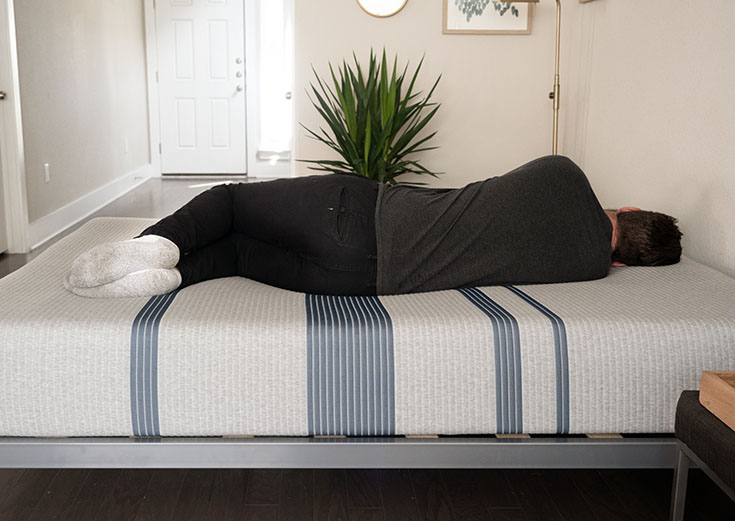 Construction Takeaways
The Blue 100 Gentle Firm is available in Twin, Twin XL, Full, Queen, King, and California King.
The cover is thin and allows sleepers to engage with the top comfort layers with no real issues.
The top two layers of memory foam are very soft and, since these add up to just under 3", this means that heavy people might press through these top layers and hit the support layers. Because of this, they may think the mattress is firmer than a lighter person might think.
These top layers are also specifically designed to keep this mattress cool: the first layer is infused with gel to promote heat dissipation, and the second layer is also breathable, meaning people shouldn't be sleeping hot on this mattress.
Firmness and Feel
In terms of firmness, the Blue 100 Gentle Firm felt like a 7.5/10, but I am a heavier person and weight 230 lbs, and I do tend to press into mattresses more than a lighter sleeper may; they may find this mattress to be softer.
Back sleeping, I feel very well supported – my hips sink into the mattress just the right amount, and the top foam layers press up into the lumbar area.
Side sleeping, there is some pressure on my shoulders and hips but, again, lighter side sleepers may have a different experience because they won't press into the mattress quite so much. Stomach sleeping, I definitely need more support.
In terms of feel, the Blue 100 Gentle Firm has a classic memory foam feel, and I feel myself slowly sink into the mattress when I lie down. There is only a bit of bounce, so it isn't the easiest to move around on the mattress without feeling stuck.
Read all about the Blue 300 model.
Motion Transfer
For those who sleep with a partner, the Blue 100 Gentle Firm could be a great choice. We tested how well it handled motion transfer by placing a glass of water on the mattress and pressing into the surrounding area, and the glass and water were barely disturbed.
In addition, moved around on the other side of the mattress while I was lying down, and I could barely feel his motion on my side of the bed.
None of this is surprising considering how well memory foam is known to absorb motion, so the Blue 100 Gentle Firm could be a great mattress for couples.
Edge Support
Sitting near the edge of the mattress, those soft foam layers compress very easily, but the base foam is quite dense, so I feel somewhat secure sitting down.
Lying down, again the mattress compresses, and I get a slight feeling that I may roll off the mattress but, for an all-foam mattress, the edge support is decent.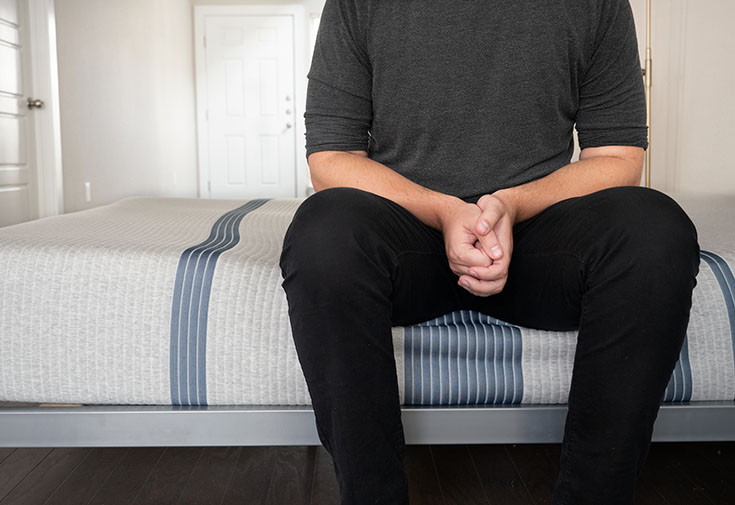 Joe's Take
To get a different opinion on this mattress, we asked Joe to talk about his experience. I am 6'7" 230 lbs., while Joe 5'9" 160 lbs." He has a different body type, and here is what he thought of this mattress:
Marten said it was a 7.5/10, but I thought it was closer to a 7/10.
The top layers are pretty soft, but I do press through those. On my back, the mattress was a good match for me. My hips were allowed to sink in, but not too much. The mattress conforms well to the curves of my body. On my side, I feel like I press through the comfort layers and bottomed out a bit.
If someone is 125 lbs or less, this mattress could work for them on their side. If they are heavier than that, they might bottom out and think this mattress is too firm. On my stomach, I did need more support.
Overall, if someone is my body type, back sleeping is good on this mattress. This mattress could work for lightweight side sleepers, but anyone who needs the best mattress for stomach sleepers might want to look for something more supportive.
Joe and I actually had very similar experiences, even though he thought the mattress was a bit softer than I did. He also pressed into the mattress and felt the support layers underneath, and this lets me know that someone would have to be extremely lightweight to get good pressure relief on their side.
What Makes This Mattress Stand Out
It should do a particularly good job of keeping people cool while they sleep because the two top layers are both designed to dissipate heat and keep the mattress breathable.
The mattress has a nice, classic memory foam feel, so fans of the quicksandy, slow-sinking feeling of memory foam will feel right at home on the Blue 100 Gentle Firm.
Back sleepers of many sizes should find the support they need on this mattress because the top layers are soft, but the transition and support layer should keep them from sinking in too far.
Overall
For those who like the classic feeling of memory foam and sleep on their back, the Serta iComfort Blue 100 Gentle Firm mattress may be a great match. However, stomach sleepers or side sleepers of average or heavyweight might want to look elsewhere.
The following two tabs change content below.
Marten Carlson
Marten is Senior Editor at Mattress Clarity. He covers the mattress industry as well as sleep science news. He is specifically interested in the connection between sleep and overall health.Marten has written for media publications like Consequence of Sound and received a master's degree in Film Studies from Emory University.He comes from Franklin, Indiana, and spends all the time he can writing, directing, and acting in films. He has directed genre short films and features. His newest film, Starlets, recently premiered at the River Town Film Festival in Clinton, NJ. He also stars in the upcoming thriller, Sour Bear. His next film, At The Hop, is a hot rod actioner with a horror twist.
Latest posts by Marten Carlson (see all)