During my pregnancy, I had the opportunity to review a collection of 10 terrific pregnancy pillows. Each one was different and unique, and all were designed to meet a mom-to-be's needs during her pregnancy. I really enjoyed the process and learned a lot about what pregnant people can come to expect in terms of support and comfort with pregnancy pillows.
After reviewing so many pregnancy pillows, I've put together my top two favorite picks as well as two additional pillows that I think are perfect for certain pregnancy-related needs (namely: pain and space on your bed). Below my reviews, you'll find more information on what you should look for if you're in the market for a pregnancy pillow.
Overall, I can say the last nine months have been significantly more comfortable thanks to these pillows. I hope they help support you during this time as well.
Top Pregnancy Pillow Picks For 2019
Leachco Snoogle
Hiccapop Pregnancy Wedge
Why The Snoogle?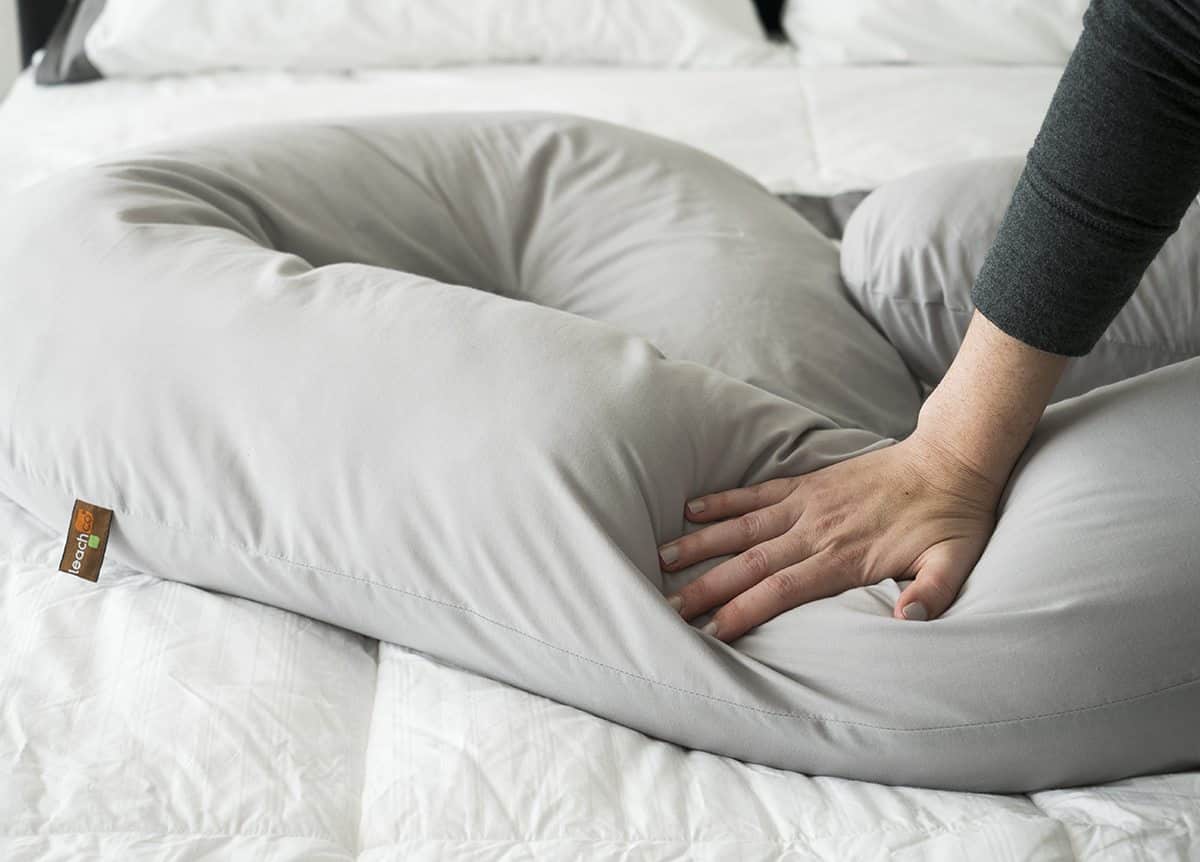 Pillow Details
Dimensions: 60″ x 7″ x 25″
Filling: polyester fibers (like a firmly packed down alternative)
Weight: 14.4 oz
A single, uniquely C-shaped pillow that supports and aligns hips, back, neck, and tummy
Comes in a variety of fabric options with removable and zippered covers (see below for more details)
Actual pillow is spot-clean only, but removable covers can be machine washed and dried
Patented design was developed by a Registered Nurse and Mom

Why I Love It
The shape and overall feel of the Snoogle mean that you only need one pillow to keep you comfortable all night — and it's easy to adjust. It really helped keep my head, neck, back, and hips in neutral alignment and served me well during all trimesters of my pregnancy.
You have your choice of several different cover options, including 100 percent organic cotton or jersey knit. (A mini-size option is also available.) The covers are removable and simple to clean, though I'd recommend going with a zippered one since it saves time when it comes to getting the cover back on.
There are a so many different ways to use this pillow both while sleeping at night and resting during the day. It's also fairly affordable and can be found at multiple retailers, so check for coupons and discounts!
Why The Hiccapop?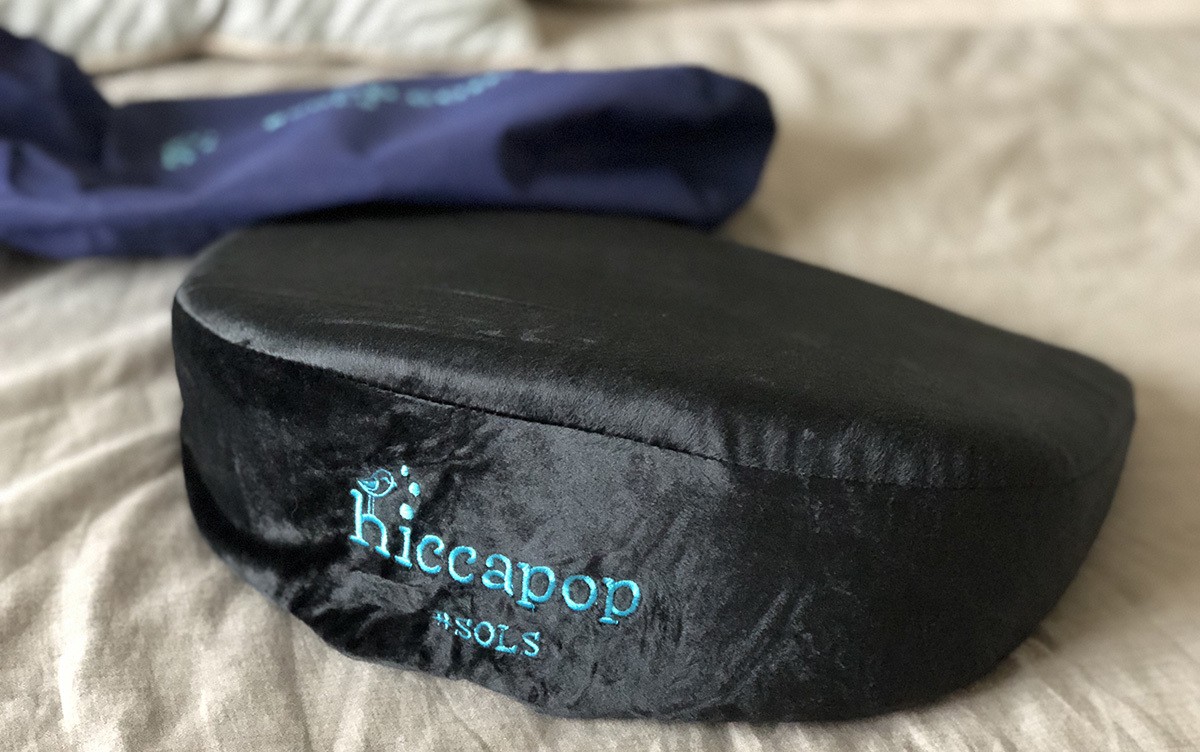 Pillow Details
Dimensions: 15″ x 13.25″ x 4.5″ in height (at the tallest)

 

Filling: Ventilated foam filling
Weight: 10 oz
Dual-Sided Design: Memory foam on one side and a firmer foam option on the other side to accommodate all needs
Removable velboa fabric cover (faux fur/velour-type feel)
Phthalate-, PVC-, and BPA-free
Compact and portable
Versatile — can support different areas of the body, including the belly, back, and between the knees
Variety of colors (the pillow I reviewed is Navy Blue)
One size
Why I Love It
One of the biggest perks of the Hiccapop wedge pillow is that it's small, lightweight, and compact. It's so easy to travel with (and it even comes with a little carrying case). If you're a mom-to-be who travels frequently, it can really help you stay comfortable in a pinch.
The soft velour cover is removable, so you can easily machine wash and dry it whenever you need to. I liked that it was inexpensive and had different firmness levels on each side so you could customize it slightly to meet your needs.
This has been a great pillow for me throughout my pregnancy. I've already used it a lot in the car for my back, and I also sat on the wedge to ease my tailbone pain when I was working. It will fit nicely between your knees to help you keep your hips aligned at night, or you could wedge it behind your back to help prevent you from rolling onto your back at night. I know I'll be able to use it when I'm resting once my little guy arrives as well.
Best Pregnancy Pillow For Back And Hip Pain: Queen Rose Full Body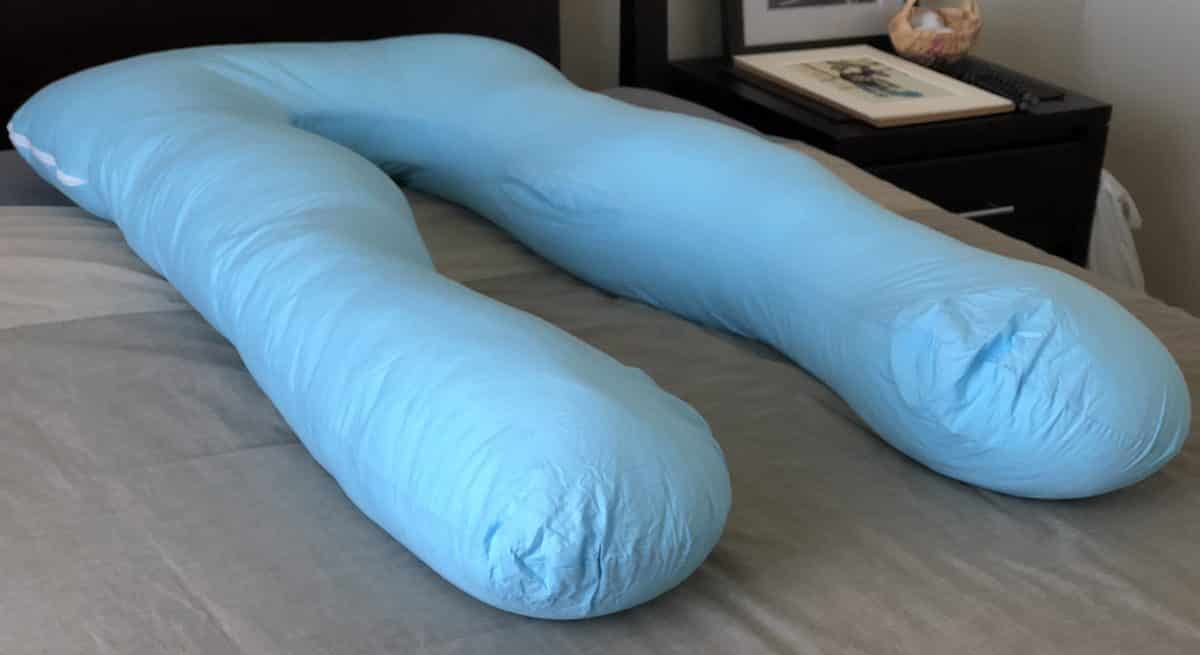 Pillow Details:
Dimensions: 51″ x 31.5″ x 7.9″
Cover: 100 percent organic cotton (there are also grey velour and grey jersey knit options)
Filling: 100 percent polyester fiberfill
Weight: ~7 lb
Care instructions: Cover zips off and is machine washable
Colors: Multiple available colors
Inner curve intended for support
Keeps your back cushioned and keeps baby supported while nursing postpartum
Upper and lower body can be elevated
All sales are final. Items damaged upon arrival are eligible for a refund. You must contact customer service within 30 days of receipt and provide a photo of the defect and/or incorrect product
Made in China
Why It Works For Back And Hip Pain
The Queen Rose is a full-body pillow. It wraps around your entire body in a U-Shape, which means you're getting support for your head, neck, back, bump, and in between your knees to help align your hips. If you're struggling with back and hip pain, you don't have to juggle multiple pillows at night; you can just slip the "legs" of this pillow between your knees to help your hips and support your back at the same time. You can also fold it and use it on the couch for back support while you're resting.
The cover is easy to remove, and you can buy extras if you want. It's got two sizes, so if you're on the taller and/or bigger side during your pregnancy (or before/after) there should be an appropriate option available. It's also priced reasonably for such a large product!
Best Pregnancy Pillow For Small Spaces: Boppy Side Sleeper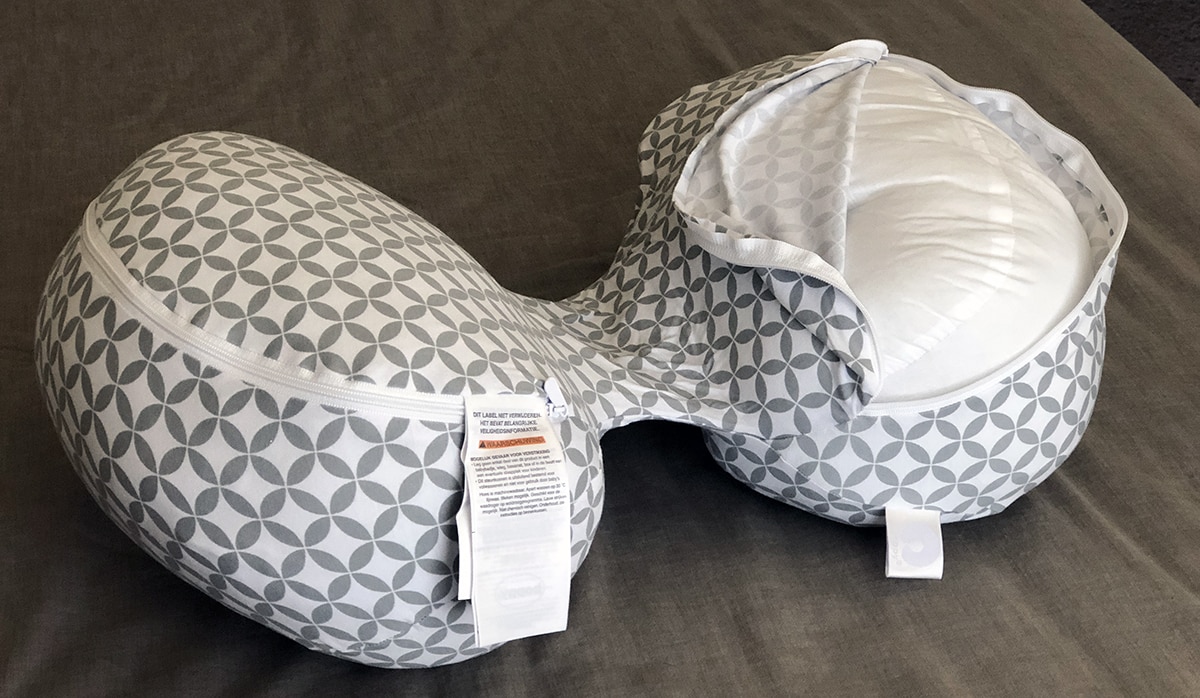 Pillow Details
Dimensions: 24″ x 14″
Weight: 14 oz
Soft-knit, removable cover

Filled with 100 percent virgin polyester fiber
Support for your back and baby bump while side sleeping
Stretch panel keeps the pillows in place as your bump grows
Compact design allows you to sleep comfortably even while traveling
Can be used before, during, and after pregnancy for support
Machine washable
Made in China
Available at several retailers; around $30 per pillow
Why It Works For Small Spaces
The Side Sleeper from Boppy provides good support to both your back and your growing bump — without surrounding you completely. This leaves more room in your bed and more room for your partner if someone shares your bed. You can also use it between your knees at night or to sit up and feel supported on your bed or on the couch.
One of my absolute favorite things about this pillow is that you can unzip the cover and toss the whole thing in the washer and dryer! And the cherry on top? It's super affordable, and you can find it at a range of retailers.
What To Look For In A Pregnancy Pillow
In case it isn't obvious, not all pregnancy pillows look or function the same way. There are a ton of them out there, and it can be overwhelming to determine which is right for you. Here are the main factors you should think about before buying your pillow.
Size And Shape
Pregnancy pillows can be full-body or they can be compact and travel-size. Choosing the right one really depends on what your needs are. Here are some questions to think about to determine which size is best for you:
How big is your bed?
Do you sleep with a partner?
Do you have room to store the pillow when you're not using it?
Will you be traveling with your pregnancy pillow?
Some pillows are designed for overall use, while some are shaped to support a specific area. For example, wedge pillows are often the best for letting a mom rest comfortably on her back at an elevated level or for placing under the bump for support at night.
Filling
Just as with regular pillow shopping, there are a ton of fillings to choose from when considering a pregnancy pillow. Here's an idea of what types of fillings you'll find:
Memory foam
Polyester fibers
Air (inflated)
Micro-beads
Wool
Kapok fibers (seed pod fluff from a rainforest tree)
Fabric
In many cases, you'll find that your pregnancy pillow comes with a removable cover that you can wash (and sometimes extra covers are available for purchase). Typically they're made with the same fabric as a regular pillow: cotton, organic cotton, jersey knit, polyester knit, velour, and so on. Always check the cleaning instructions if you want something that is machine washable and dryer friendly.
Price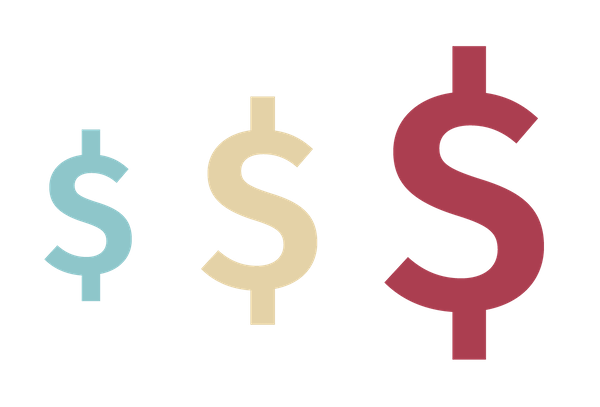 There is a pregnancy pillow in just about everyone's budget! The more compact, lightweight, and travel friendly pillows tend to be the most affordable and range from around $20 to $40. You can get full-body, U-shaped, or C-shaped options for around $50 to $60, but I've reviewed some that are closer to $200. Many of the pillows I reviewed are sold at multiple retailers, which helps to keep their price competitive. It also means you should price-compare before purchasing and look for coupons that might apply to your pillow.
Trimester And Sleep Position
Your pregnancy pillow needs may change as you progress in your pregnancy. While everyone is different, you may feel like you want more full-body support towards the end of your pregnancy and perhaps support for specific areas earlier on. Also, by the halfway mark of your pregnancy you'll primarily be side sleeping, which can be quite a change for those who are used to sleeping mostly on their stomach or back.
"By the second trimester, if you're still sleeping on your back, it's time to shift, since the weight of your expanding midsection can compromise your circulation," says the National Sleep Foundation. "And by the third trimester, even if you naturally prefer to sleep on your left side, which is the ideal position during pregnancy, the sheer weight of your bump — combined with the increased laxity in your joints as your body prepares for childbirth — can add up to serious aches and pains."
By considering these factors, doing your research, and comparing prices, you should be equipped to find the best pregnancy pillow for your personal needs. For even more information, we've put together a whole guide to pregnancy pillows!
The following two tabs change content below.
Katie Golde
Katie manages the day to day operations of the Mattress Clarity news site and reviews sleep products in addition to writing and editing sleep news.She hails from Austin, where she lives with her growing family. She is a Certified Sleep Science Coach and has a master's degree in Journalism from Northwestern University and has a background in health and science content. Her work can be found in print and online publications like Discover Magazine, USA Today and The Huffington Post.
Latest posts by Katie Golde (see all)