Made with earth-friendly materials, the Buffy Wiggle pillow offers comfort for pregnancy and beyond. But like many sleep products, this pillow may not meet everyone's needs.
Ready to see whether this pillow will offer the back and belly support you need? Keep reading our Buffy Wiggle pillow review!
Buffy Wiggle Pillow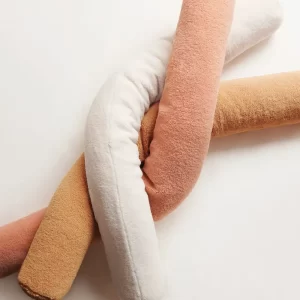 The Buffy Wiggle pillow is a great option for expectant parents who suffer from back pain and want some extra belly support.

Read Full Review
How We Tested It
At Mattress Clarity, we pride ourselves on thoroughly testing each product we write about. For this pregnancy pillow review, we consulted Emylee Barjuca, who was pregnant at the time of writing. Barjuca slept with the pillow in many different positions and shared her thoughts on how the pillow feels for a pregnant woman in her third trimester.
Mattress Clarity editor Elisa Regulski used her extensive pillow knowledge to assess the Buffy Wiggle's firmness, feel, construction, and customer service terms.
Key Features
Dimensions: 8" x 82"
Removable and machine-washable cover
Stuffed with 100% recycled, BPA-free filling
Made with eucalyptus fabric
Can be used before, during, and after pregnancy
| | |
| --- | --- |
| Who Might Like The Buffy Wiggle Pillow? | Who Might Not like the Buffy Wiggle Pillow? |
| Pregnant people who want an adjustable pillow | People who need a particularly firm body pillow |
| Folks who want a pillow made with eco-friendly materials | Folks who prefer pillows with a high loft |
| Folks who want a long body pillow | Those who want many different color options |
Construction and Feel
The Buffy Wiggle pillow is made with soft eucalyptus fabric. Because the interior is filled with small pieces of recycled materials, the pillow has a malleable and squishy feel. It's easy to move this pillow into different shapes, and because it's 82" long, it's big enough to support pregnant people from the first to third trimester.
Emylee's Experience
One thing I've learned from this pregnancy is to prioritize back and hip support. Positioning a body or pregnancy pillow slightly under your back and belly can make a world of difference. The Buffy Wiggle Pillow is an effective and affordable way to tackle back pain.
As rolling over in bed has become more of an olympic feat in the last few weeks, I've come to appreciate a lighter, contouring pillow that easily maneuvers and tucks into the right spots. Coming in at 82" long, this pillow is great for even the tallest of sleepers, providing enough cushion for both the back and bump.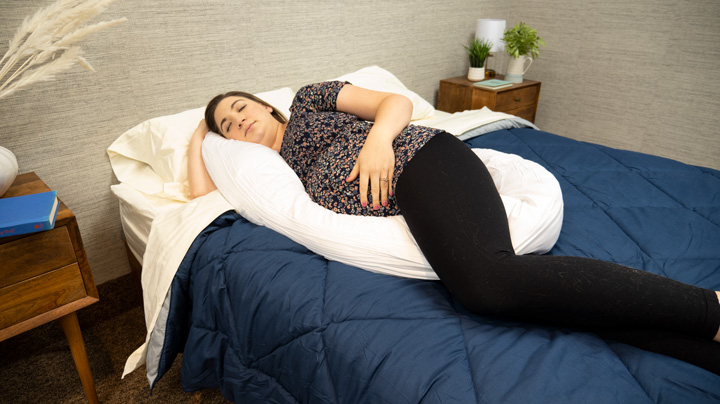 While there is much to love about this pillow, one downside was that the pillow is a little too low in loft for my taste. Expectant mothers who experience a lot of hip pain may need a pillow that offers enough support to maintain hip and spinal alignment when side sleeping. Although this could be easily fixed by putting an extra pillow between your legs, I'd look for a pillow that gives better hip support, such as the BBHugMe pregnancy pillow.
Sleeping on the Buffy Wiggle Pregnancy Pillow
This adjustable pregnancy pillow works in a variety of sleeping positions. Let's take a closer look!
Side Sleeping
If you need full-body support, put the Buffy Wiggle in a "U" shape. Simply rest the pillow between your knees and wrap the arms around your belly and back. This helps keep hips aligned, which can alleviate joint pain. Plus, the lumbar support helps prevent sleepers from rolling onto their backs in the middle of the night, which is great for the health of the baby and the expectant person.
Back Sleeping
Doctors advise pregnant people to rest on their sides once they reach the second trimester. If you're in the early stages of pregnancy, you can rest on your back and place the Buffy Wiggle pillow under your knees. This can help you soothe lower back pain and get more restful sleep.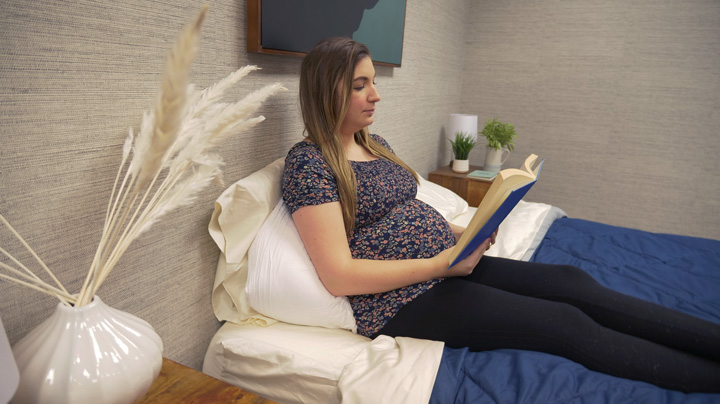 The Buffy Wiggle pillow can also be used as back support while reading a book or nursing! All you need to do is prop the pillow against the wall or headboard and wrap the arms around your body.
Stomach Sleeping
It's not wise for pregnant people to sleep on their stomachs, but you can take a short nap in this sleeping position if you create the right environment. For the best results, twist the Buffy Wiggle pillow into a donut shape and place your belly in the center. After 10-15 minutes, you should feel your lower back pain melt away.
When to Begin Using the Buffy Wiggle Pillow
Though the Buffy Wiggle is popular among pregnant people, it's not meant exclusively for expectant parents. Anyone can use this pillow for snuggling and lounging!
Pregnant stomach sleepers might want to start using the Buffy Wiggle as early as the first trimester, in order to get used to sleeping on their sides. But ultimately, it all boils down to what you need – there are no strict rules for using a pregnancy pillow.
Cleaning and Care
For the best results, machine-wash the cover in cold water and line dry. The insert should be dry cleaned.
Warranty and Return Policy
Buffy has a 7-day free trial period which allows customers to test the pillow within the comfort of their own homes. Customers also have 100 days to return the pillow if they decide it isn't for them.
The Buffy Wiggle pillow is not backed by a warranty.
Overall
The Buffy Wiggle is a flexible pillow that can be used in many different ways. It's longer than many other pillows on the market, making it a great choice for tall and short folks. It's not as lofty as other body pillows, though, so if you want to place it under your head, you may want to look for a more supportive pillow.
FAQs
For more information, check out our FAQ section.
Is Buffy Wiggle worth the money?
The Buffy Wiggle pillow costs less than many other body pillows on the market, and it's made out of high-quality materials. For those reasons, we definitely think it's worth the money! Plus, you can save even more with Mattress Clarity coupons.
Can you use Buffy Wiggle as a nursing pillow?
You absolutely can! The Buffy Wiggle pillow is 82" long, so it can wrap around your lower back and act as an armrest while nursing.
What is the best pregnancy pillow on the market?
There are so many pregnancy pillows on the market, so finding the best one often boils down to personal preference. We love the Buffy Wiggle pillow because it has a flexible design and works in a variety of different positions. However, it's not the most supportive pregnancy pillow. If you need something that feels a bit loftier, check out our list of the best pregnancy pillows.
Elisa Regulski
Elisa is the Editor of Mattress Clarity, where she analyzes sleep products and appears in review videos. A certified sleep science coach, Elisa's sleep tips have appeared in Readers Digest, Homes and Gardens, and 21 Oak. She earned a M.A in Mass Communication from Texas State University and a B.F.A in acting from Oklahoma City University.