When you're expecting, you may find it more difficult to get some much-needed sleep. If you're suffering from pregnancy-related aches and pains, the BBHugMe pillow might help you rest easier.
This adjustable pillow feels plush and breathable, but it may not work for every person. Take a look at our full BBHugMe pregnancy pillow review to learn whether it will meet your sleep needs!
BBHugMe Pillow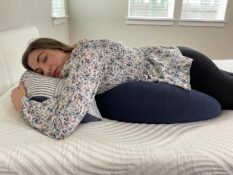 The BBHugMe pillow is breathable and comfy, and it's available in many different color options.
Mattress Clarity Score
4.60 / 5
Read Full Review
How We Tested It
At Mattress Clarity, we personally test each product we review. For this BBHugMe pillow review, we combined Elisa Regulski's vast pillow knowledge with Emylee Barjuca's personal experience as a pregnant woman.
It's important to note that this pregnancy pillow review is not to be taken as medical advice. If you have a healthcare concern, consult with your doctor or primary care physician.
Key Features
Dimensions: 59" x 7.5"
Weight: 75 ounces
Washable and replaceable cover
Available in 10 different colors
Filled with BPA-free silicone pebbles and BioFoam beads
Designed with five-point support
Can be used before, during, and after pregnancy
Who Might Like the BBHugMe
Pregnant people who want an adjustable pillow
Hot sleepers
People who want to choose between different color options
Who Might Not like the BBHugMe Pillow
People who want to use it as a head pillow
Those who need a heavy pillow that will prevent them from rolling onto their backs at night.
People who have tight budgets
Construction and Feel
This cylindrical pillow has an outer cover made from 95% cotton and 5% spandex jersey fabric, so it feels a lot like a cozy sweatshirt.
The interior is filled with two different materials: BioFoam beads and BPA-free silicone pebbles. Both fillings promote airflow, which helps sleepers stay cool at night.
The BBHugMe comes with two stoppers, which allow sleepers to adjust the pillow's firmness level. Simply slide the stoppers on both sides of the pillowcase until you reach your desired length and loft.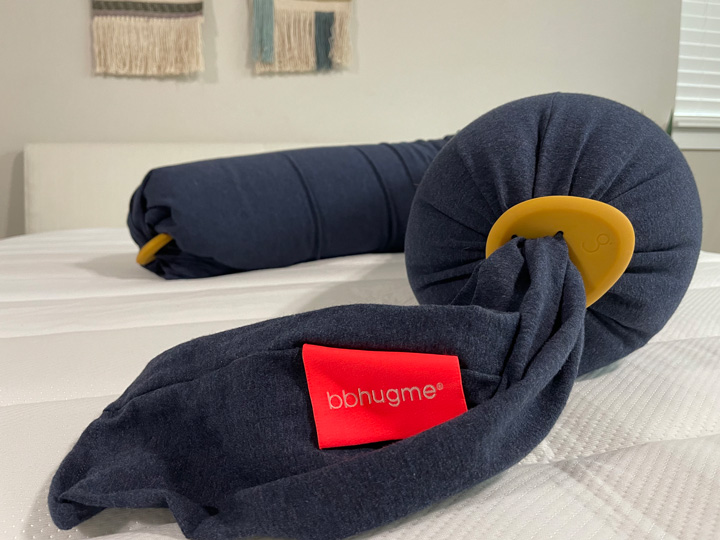 Overall, the BBHugMe pillow feels malleable and cozy. It can be used from the first trimester until postpartum.
Emylee's Experience
As someone who appreciates purposeful home decor, the BBHugMe offers practical maternity pillow benefits in a sleek design that blends in with any part of the home! Both with and without the pillow cover, this pillow offers the right amount of support, and I don't feel like I'm fighting to keep it in the position I need for the best relief.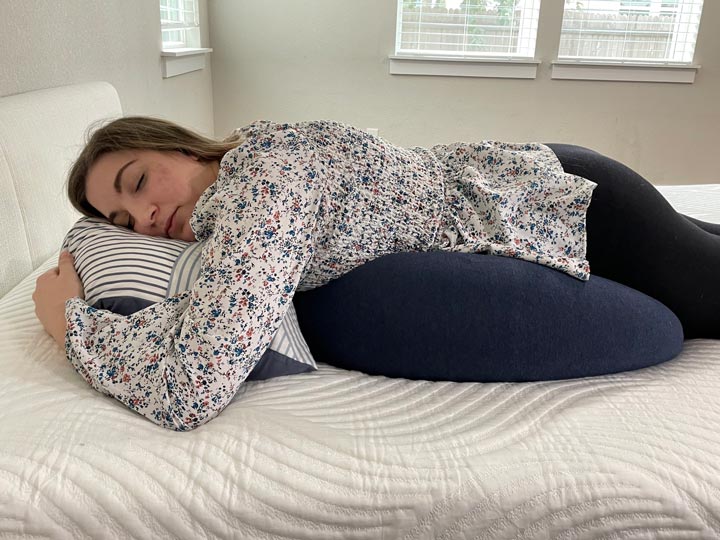 What were my favorite ways to use this pillow? With chronic back and hip pain, I experienced immediate relief when positioning the pillow into a circular shape and resting on my stomach for a quick break. When sleeping, I loved forming the pillow into a U-shape for constant back and belly support while having my hips aligned.
While I love this pillow, I was surprised to find how difficult putting the cover on would be if I didn't have anyone to help me. With a compromised core during the second and third trimesters, it definitely helps to have someone assist, otherwise it could take a while! However, once the cover and silicone stoppers are on, the rest is a breeze.
Sleeping on the BBHugMe Pregnancy Pillow
Because it's an adjustable pillow, the BBHugMe can be used in many different sleeping positions. Let's take a closer look at this versatile pregnancy pillow.
Side Sleeping
If you place the pillow vertically in front of you, or in an "I" shape, you can place your knees around it and feel some lower back pain relief. You may not feel a lot of belly support with the pillow in this position, but you can rest your arm around it for more comfort.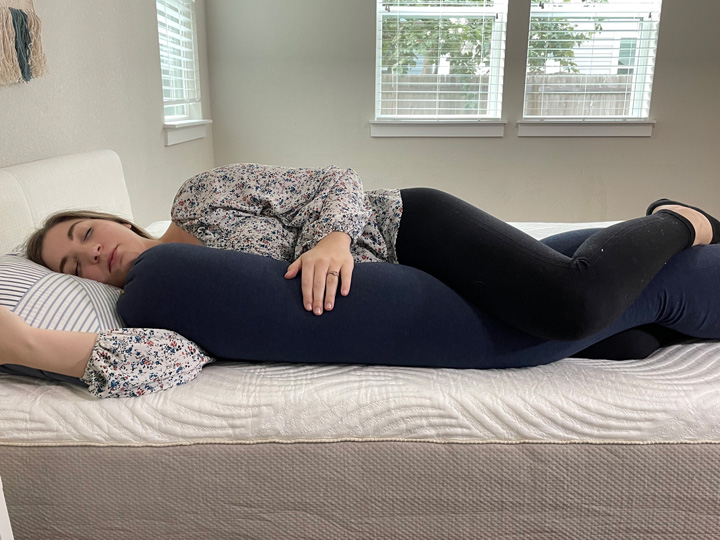 Because it's so long, the BBHugMe pillow can also twist into a "U" shape. Simply place a portion between your knees and wrap the other ends around your belly and lower back for more comfort and support. The "U" shape also helps prevent people from switching onto their backs in the middle of the night.
Back Sleeping
It's generally not advised that pregnant people sleep on their backs after the first 18 weeks of pregnancy. However, if you want to use the BBHugMe in the beginning phases of pregnancy, you can place it under your knees for some joint pain relief. The BBHugMe pillow also works as a back rest when lounging in bed – perfect for breastfeeding the baby!
Stomach Sleeping
It's not wise for pregnant people to sleep on their stomachs, but with the proper lumbar support, it can be a beneficial position for lower back pain relief – as long as it's done in short increments of time.
All you need to do is wrap the BBHugMe into a donut shape and place your belly in the center. After 10-15 minutes, you should feel the pain and tension melt away.
When to Begin Using the BBHugMe Pregnancy Pillow
Because doctors recommend pregnant people start sleeping on their sides during the second trimester, most people start sleeping with the BBHugMe during the 14th week of pregnancy.
That said, there are no strict rules! The BBHugMe has a versatile design, so you can adjust it as you progress through your pregnancy. Many people like to use the pillow during the first trimester so they can get used to how it feels. Other people continue using the BBHugMe postpartum because it offers excellent lumbar support while nursing.
Cleaning and Care
The outer cover is machine-washable, and the interior pebbles can be cleaned in the dishwasher. The inner pillow is not machine-washable and should only be spot cleaned with a damp towel.
Warranty and Return Policy
Though they do not offer warranties, BBHugMe does have a 30-day Love-It Guarantee. If you are unhappy with the product during the first month, you can return it for a full refund. Please note – BBHugMe won't accept the return if the pillow is excessively damaged.
Overall
The BBHugMe is a versatile pillow that can help pregnant people feel comfortable throughout their pregnancies. It's made with high-quality, breathable materials, so it will last a long time and keep sleepers cool.
It's not the most budget-friendly pillow on the market, but if you want something that's sold at a lower price point, check out our Boppy Side Sleeper pillow review or our Frida Mom pregnancy pillow review.
BBHugMe Pillow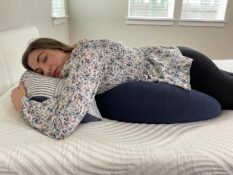 The BBHugMe pillow is breathable and comfy, and it's available in many different color options.
Mattress Clarity Score
4.60 / 5
Read Full Review
FAQs
Want to know more? Check out our FAQ section below.
Is BBHugMe worth the money?
The BBHugMe pregnancy pillow has a high price tag, but its versatile design and comfy construction makes it worth the money. It can also help pregnant people become side sleepers, which is the doctor-recommended sleeping position after the second trimester. And because it's so large, the pillow offers full-body support, which can help pregnant people get a good night's sleep.
Can you use BBHugMe as a nursing pillow?
Yes! The BBHugMe can also work as a breastfeeding pillow. Simply place it behind your lower back for some additional comfort and support.
What is the best pregnancy pillow on the market?
There are so many great products on the market, whether you're looking for a full body pillow or a knee wedge. We love the BBHugMe because it has an adjustable design and helps sleepers stay cool at night. However, if you're in the market for something different, you can find more options in our list of the best pregnancy pillows.
Elisa Regulski
Elisa is the Editor of Mattress Clarity, where she analyzes sleep products and appears in review videos. A certified sleep science coach, Elisa's sleep tips have appeared in Readers Digest, Homes and Gardens, and 21 Oak. She earned a M.A in Mass Communication from Texas State University and a B.F.A in acting from Oklahoma City University.