Frida sells tons of pregnancy-related items, such as postpartum recovery kits and baby shampoo, but their most popular item is soft and comfy. That's right – we're talking about the Frida Mom Adjustable Keep-Cool pregnancy pillow.
This long, flexible pillow can twist into many different shapes, so it works for a variety of people. But is this the best pillow for your needs? Our Frida Mom pregnancy pillow review will help you find out!
Frida Mom Pregnancy Pillow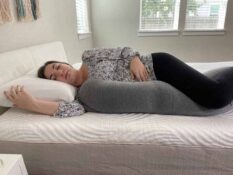 The Frida Mom pregnancy pillow is flexible and adjustable, so it offers lumbar support throughout a person's pregnancy.

Read Full Review
How We Tested It
The Mattress Clarity team personally tests each product before reviewing. For this pregnancy pillow review, Elisa Regulski analyzed the pillow's construction, durability, and customer service terms. Emylee Barjuca, who was pregnant at the time of publication, tested the pillow's comfort, support, and cooling features.
This pregnancy pillow review is not to be taken as medical advice. If you have a healthcare question, consult your doctor or primary care physician.
Key Features
Cylindrical body pillow that can twist in many different directions
Micro-bead filling makes the pillow feel cool and breathable
Compact and easy to pack away
Available on Frida Mom website and on Amazon
Machine-washable cover
Dimensions: 54" x 9" x 9"
Weight: 1 lb
Who Might Like the Frida Pregnancy Pillow
Hot sleepers
Shorter people
People who want a compact pillow that's easy to put away
Who Might Not like the Frida Pregnancy Pillow
Tall people
People who want a pillow to place between their knees
People who want a pregnancy pillow that can twist into a donut shape
Construction and Feel
Thanks to its unique pillow-inside-a-pillow construction, the Frida feels squishy and malleable. The outer cover, made of Tencel fabric, has a soft and breathable texture. The inner pillow's cover is made with a blend of polyester and spandex.
Inside the inner pillow, you'll find polyester foam beads. These beads don't just aid in airflow – they also make the pillow flexible! Sleepers can twist this pillow into many different shapes and use it as a body pillow, thin knee wedge, or arm rest.
Emylee's Experience
The first thing I noticed about the Frida pillow was its cooling materials. Although the bulk of my pregnancy occurred during colder temperatures, I definitely understand the value of cooling pillows, especially for expectant mothers who need extra cooling support through warmer climates.
When laying down and sleeping, I appreciated the flexibility of Frida's pillow as it provided easy support for my growing bump. I was able to effectively tuck the pillow under my belly and behind my back to comfortably keep me sleeping on my side. However, as one who regularly slept with a pillow between my legs for hip support prior to pregnancy, I wish the Frida was a tad thicker so my hips could stay level.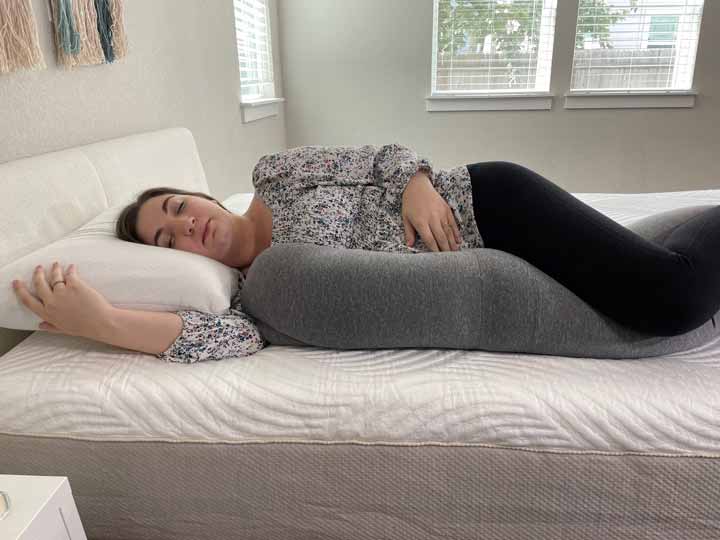 Overall, I would highly recommend the Frida Mom Pregnancy Pillow to expectant mothers. The best selling points of this product include the fair price-point, cooling features, back and belly support, and a smaller footprint, meaning that if you share your bed with a partner or sleep on a smaller size mattress, you will still have enough room while feeling comfortable and supported.
Sleeping on the Frida Pregnancy Pillow
Now, let's take a moment to learn about the different ways you can use the Frida pregnancy pillow.
Side Sleeping
The frida adjustable pillow can twist into "C," "L," "I", and "U" shapes. Most pregnant people will find the "C" shape is better suited for side sleeping because the pillow helps align the hips and alleviate pain on pressure points.
The "I" shape works well for people who want some cushioning between the knees, but because this pillow is only 9" thick, it doesn't provide as much padding as other pillows do. The "U" shape works best for shorter people. Folks who are taller than 5'5" may not be able to move the pillow all the way around their bodies.
Back Sleeping
After the second trimester, doctors advise pregnant people to rest on their sides. But if you're in the beginning phase of your pregnancy and want to rest on your back, the Frida Adjustable Pillow could offer some additional comfort. Many pregnant people like to place the pillow under their knees, but it could also be used as back support when lounging and relaxing before bed.
Stomach Sleeping
It's generally not advised for pregnant people to sleep on their stomachs, but sometimes, short naps in this sleeping position can help alleviate lower back pain. For the best results, you'll need a pillow that can curve into an "O" shape. Simply place your belly in the center and rest in that position for 10 – 15 minutes.
Because the Frida Mom pillow is only 54" long, it doesn't curve into a large "O" shape. Most people will find it difficult to relax in this position with the Frida pillow.
When to Begin Using the Frida Pregnancy Pillow
While there's no strict rule about when you can use a pregnancy pillow, most people find they are most helpful after the second trimester. Some folks have a difficult time becoming a side sleeper, but the Frida Mom Adjustable pregnancy pillow helps make that transition a bit easier.
This pillow isn't just reserved for pregnancy, though! You can also place it behind your back for additional lumbar support while you're nursing.
Cleaning and Care
The outer cover is machine-washable. For the best results, wash in cold water on the gentle cycle with similar colors. Do not use bleach or other harsh ingredients, and tumble dry on low heat. Do not iron or dry clean the outer cover. If you get the interior pillow dirty, spot clean with soap and warm water.
Warranty and Return Policy
The Frida pillow is backed by a lifetime warranty.
You can return your unused Frida Mom Adjustable Keep-Cool pregnancy pillow within 30 days of the delivery date.
Overall
The Frida Adjustable pillow is a great option for pregnant folks who need additional comfort and support while side sleeping. Thanks to the breathable micro-beads, this pillow doesn't overheat at night. Its malleable design makes it easy to adjust and pack away, but because it's not very long, it may not work well for taller people.
Frida Mom Pregnancy Pillow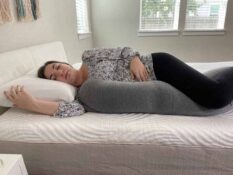 The Frida Mom pregnancy pillow is flexible and adjustable, so it offers lumbar support throughout a person's pregnancy.
Read Full Review
FAQs
Still have questions about the Frida Mom adjustable pillow? We've got you covered.
Is the Frida Mom pregnancy pillow worth it?
We think so! This adjustable pillow costs less than many others on the market, and it can be used in many different ways. This pillow is slightly short, however, so it may not work well for tall people.
Like many things, pregnancy pillows aren't one-size-fits-all. We love the Frida pregnancy pillow because it's affordable and versatile, but if you want more suggestions, check out our list of the best pregnancy pillows.
How do you wash the Frida pregnancy pillow?
The outer cover of the Frida pregnancy pillow is machine-washable, but the inner pillow can only be spot cleaned.
Elisa Regulski
Elisa is the Editor of Mattress Clarity, where she analyzes sleep products and appears in review videos. A certified sleep science coach, Elisa's sleep tips have appeared in Readers Digest, Homes and Gardens, and 21 Oak. She earned a M.A in Mass Communication from Texas State University and a B.F.A in acting from Oklahoma City University.