The Boppy Side Sleeper Pregnancy Pillow is formerly known as the "Boppy Bump and Back," and the pregnancy pillow is really designed to provide support to pregnant people when their doctor recommends they start sleeping primarily on their sides.
There are two main support pillows, which are created primarily for a developing baby bump and the back; there's a stretch panel in between to help them stay in place overnight. Fortunately, people can use the pillow sitting up, between their knees, or in other ways postpartum and it's easy to clean and has a removable cover.
Yes, there's a lot to like about this pillow but there are also a few drawbacks. If this pillow is piquing any interest, read on for my full review of the Boppy Side Sleeper Pregnancy Pillow.
Check out the latest deals for the Boppy Side Sleeper Pregnancy Pillow HERE!
Key Features
Dimensions: 24″ x 14″
Weight: 14 oz
Soft knit, removable cover

Filled with 100 percent virgin polyester fiber
Support for the back and baby bump while side sleeping
Stretch panel keeps the pillows in place as the bump grows
Compact design allows a pregnant woman to sleep comfortably, even while traveling
Can be used before, during, and after pregnancy for support
Machine washable
Made in China
Available at several retailers; around $30 per pillow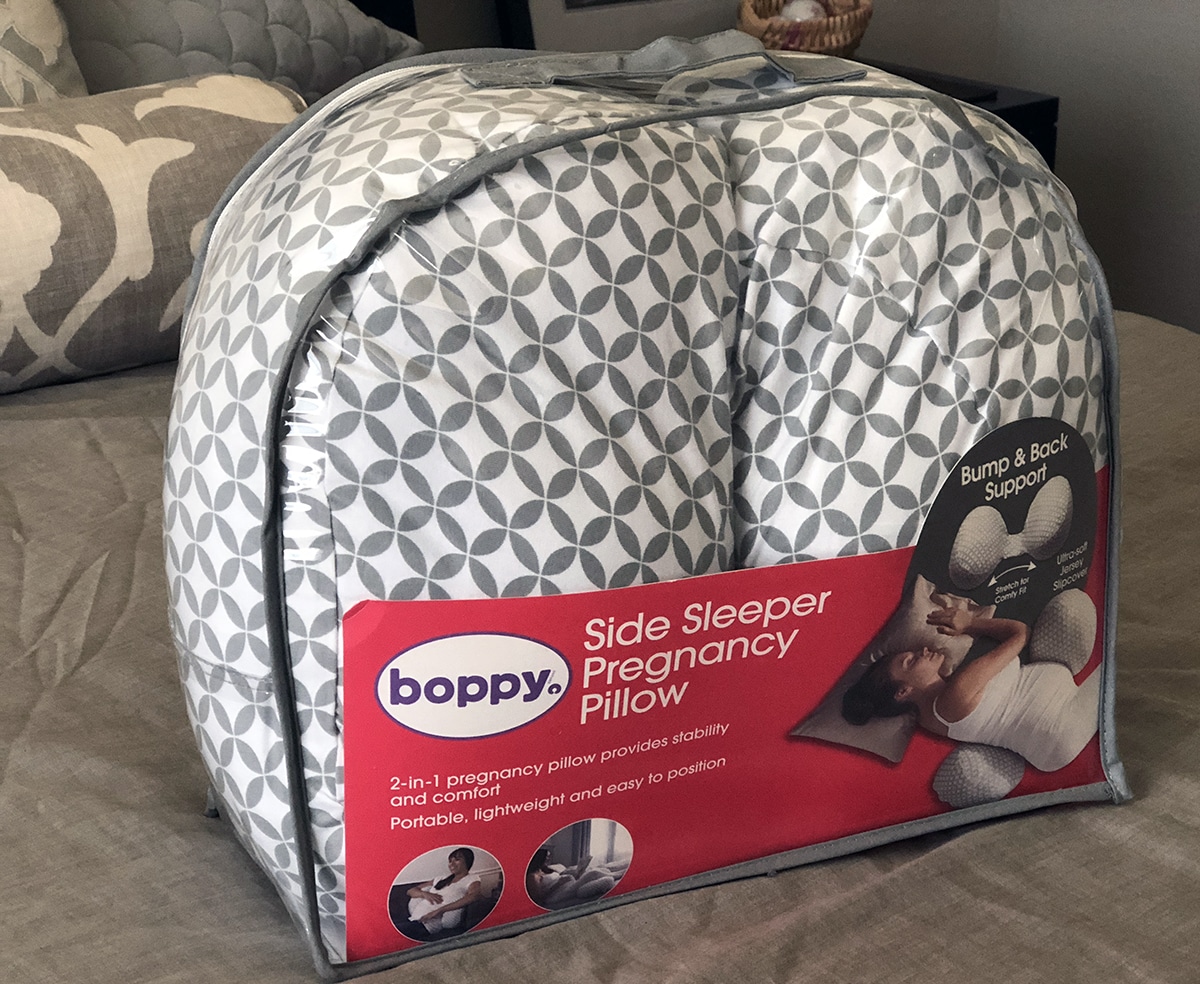 Pillow Construction
The Side Sleeper Pregnancy Pillow from Boppy is designed with two removable pillows filled with polyester fibers that are connected into one piece by a soft (and also removable) outer cover. The 2-in-1 pillow quality provides support for the back and the stomach; it stays in place because of a connecting piece of fabric between the two pillows.
The pillow comes in one size that's approximately 24″ x 14″ and the filling is made up of overstuffed 100% "virgin" polyester fibers. I'm not sure what virgin means in this instance since I would assume they'd say it was 100% organic if it was actually organic, but "virgin" fabric it is!
RELATED: Best Pillows for Side Sleepers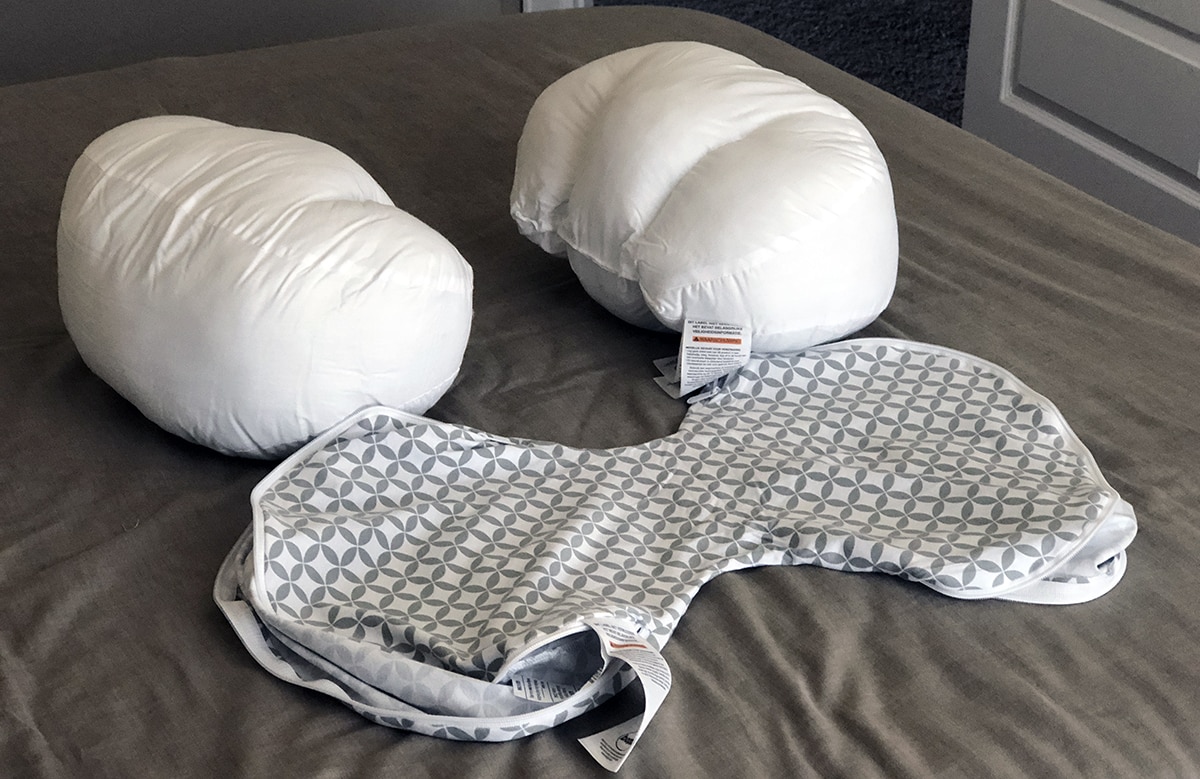 Who Makes It?
This pillow is made by Boppy, a company that specializes in pregnancy, feeding, and infant support pillows. The company was originally formed under the name "Camp Kazoo" after the founder (who was a mother to an infant at the time) was asked by her daughter's daycare to create a pillow that would support babies while they weren't being held.
The company has been around since 1989, and during that time it's earned national recognition and multiple awards for its nursing pillows and other baby-related products.
Cleaning
The company has detailed care instructions on their website, so I recommend heading there prior to cleaning this pillow. Both the pillows and the cover are machine washable and Boppy's care instructions recommend using a delicate cycle for both the washer and dryer.
Pros
Seems to help ease people into the "no sleeping on the back" recommendation
Takes up less space than a full-body or C-shaped pregnancy pillow
Can be used in a variety of positions aside from sleeping
Easy to clean
Affordable
Cons
The side pillows can feel a little too tall, and by the end of the pregnancy a woman may feel "squeezed" in between the supports
Won't take the place of multiple pillows the way a C-shape or U-shaped full body pregnancy pillow can
Not comfortable all night (in my personal experience)
RELATED: Best Mattresses for Side Sleepers
My Experience
Support is the name of the game with this pregnancy pillow; I really like the size, filling, and height of this 2-in-1 pillow (although some other reviewers say it's too tall). It really stops a person from being able to roll over on her (or his) back at night and I also really like how it supports my sides and my ribs when I'm sitting on the couch or bed working or reading. Occasionally, I include a second traditional pillow for added back support since I'm on the taller side and have a tall torso.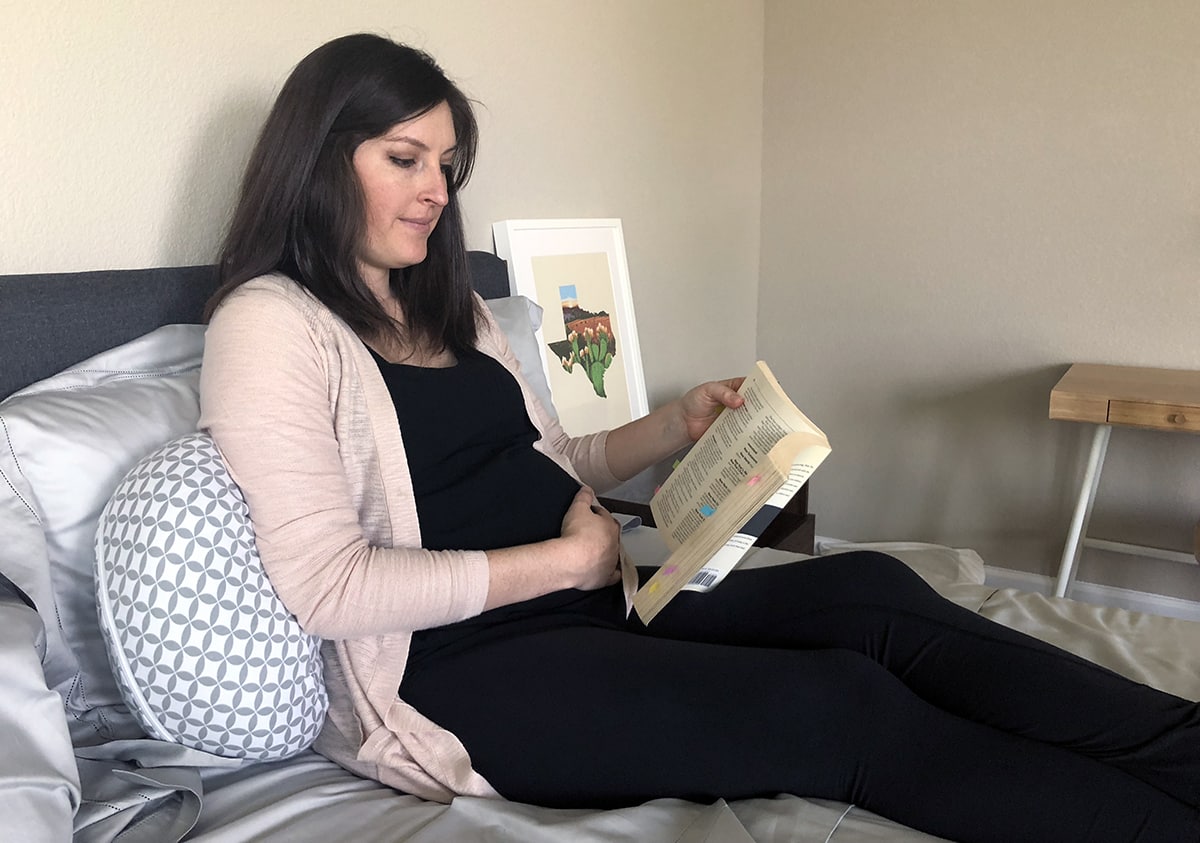 I think the bigger a pregnant woman gets, the more she will potentially feel "cramped" with this pillow. Although the outer fabric cover does stretch, the woman will definitely feel sort of wedged between the two pillows and feel them firmly on either side of the back or supporting the bump if she's asleep on her side.
RELATED: How To Sleep Better While Pregnant
I can see how this pillow will be beneficial postpartum when I can use it to support my elbows as I hold my baby to feed him.
After using this pillow consistently for a week, I found that I enjoyed it most sitting up to do work and while taking naps. I felt secure with the pillows on my back and my stomach while I slept for short periods. However, when I tried to sleep with it overnight, I kept trying to roll over on my back and would end up laying on it awkwardly. (This would generate some back pain as a result.)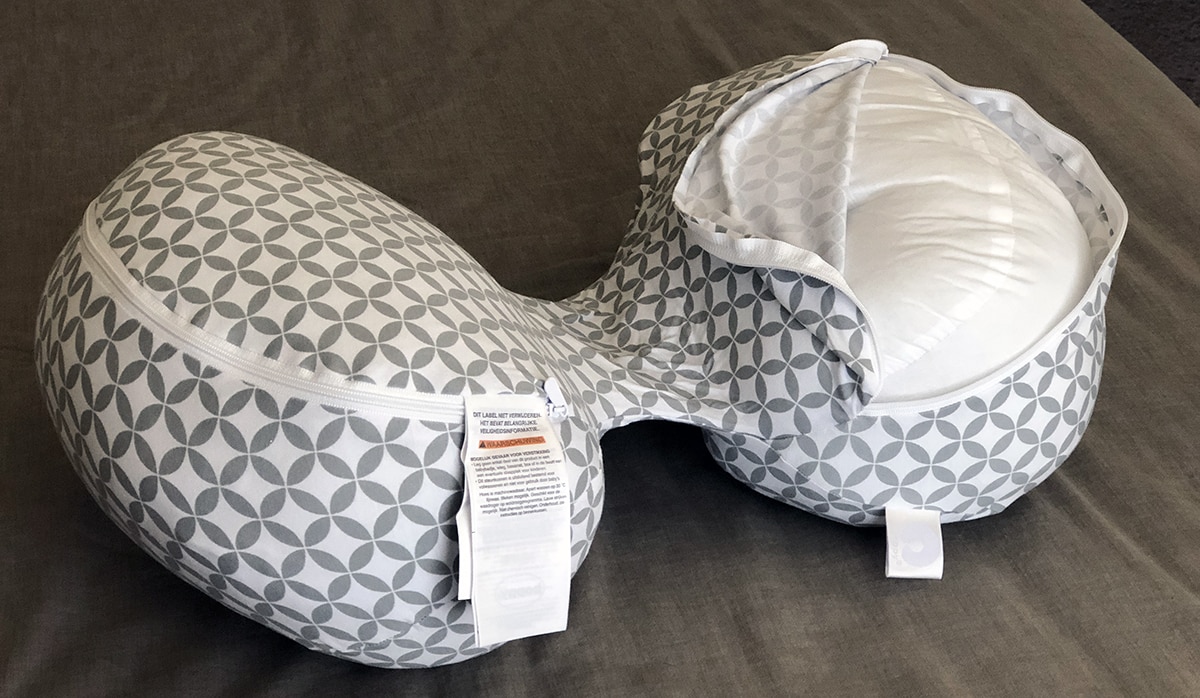 Overall
For around $30, I think the Boppy Side Sleeper is an excellent choice for pregnant women who want to feel "wedged in" between pillow supports and prefer a  lightweight, easy to care for pillow that can work both during and after pregnancy.
It didn't work that well for me while sleeping overnight, but I think I can still get a lot of use out of it during the day while I work or take naps. If I had to choose the best trimester to use this pillow in, I think it's most comfortable during the first and second trimester before the bump gets too big and the wedge feels too snug.
The pillow can be found on Boppy's website or at a variety of retailers including big box stores and Amazon.
Katie Golde
Katie manages the day to day operations of the Mattress Clarity news site and reviews sleep products in addition to writing and editing sleep news. She hails from Austin, where she lives with her growing family. She is a Certified Sleep Science Coach and has a master's degree in Journalism from Northwestern University and has a background in health and science content. Her work can be found in print and online publications like Discover Magazine, USA Today and The Huffington Post.