Here's the hard truth: there's no point in investing in a quality pillow if it's going to result in an uncomfortable night's sleep that leaves a person feeling hot, sweaty, and generally uncomfortable. It's 2020, and there are way too many awesome pillows filled with cooling technology for that to happen anymore!
Not all cooling pillows are created the same – there are several ways a pillow can help a sleeper stay cool, including Phase Change Material technology, moisture-wicking fabrics, and ventilated fillings – there are a lot of options out there. I've put together my list of the ten best cooling pillows that each bring a little something special to the table.
Side sleepers, back sleepers, stomach sleepers and, most of all, hot sleepers – there are pillows here that will suit even the pickiest sleeper's needs. Watch my list unfold in the video below or scroll for more details. I'll address some commonly asked questions about pillows at the bottom of the post! If you don't find what you're looking for, check out our overall best pillows guide.
The Best Cooling Pillows
Here are our top picks for the best cooling pillows:
Here's a more detailed look into each of the cooling pillows on my list.
Best Cooling Gel Foam Pillow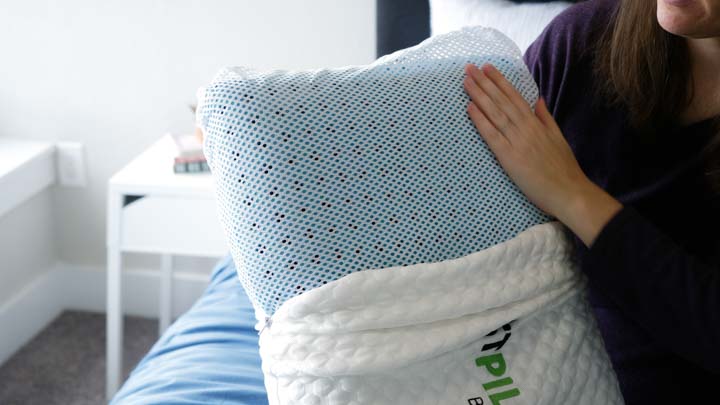 Gel Memory Foam GhostPillow
The Gel Memory Foam GhostPillow from GhostBed is covered in cooling technology – it's woven into the fabric in the GhostIce material and is layered on the gel memory foam core via Phase Change Material (PCM).
Ghost Ice fabric is made up of 53% polyethylene and 47% polyester and offers performance wear, moisture-wicking feel to it (plus, it's washable!). Sleepers can unzip the cover and feel the solid ventilated gel memory foam core. Half of the core is covered in a layer of PCM that absorbs body heat to help regulate temperature during the night. 
The pillow has a plusher feel, which is why I recommend it for average-sized back and stomach sleepers. Currently, it comes in one size for $85 and it comes with a 101-night sleep trial.
Pillow Details:
As of this review, only one size is available and the dimensions are 16″ x  23″ x 6″
Cover: Ghost Ice Fabric Zippered Cover – made out of 53% polyethylene and 47% polyester
Core: A solid piece of aerated Gel Memory Foam with a performance cooling side. This is a layer of the brand's proprietary Phase Change Material (PCM). PCM helps absorb body heat and dissipates it throughout the night.
The core has a plusher feel and slow-moving response
The cover is removable and washable (line dry only)
GhostBed offers a 101-night sleep trial and 5-year warranty
$85 full price, one size only
Check out our full review of this GhostPillow (and the Faux Down option).
GhostPillow Deals
GhostPillow: Gel Memory Foam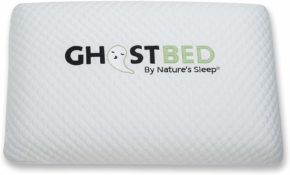 GhostPillow: Gel Memory Foam
The GhostPillow Memory Foam offers a variety of cooling features, starting with its aerated gel memory foam core with a layer of Phase Change Material. It also has a Ghost Ice Fabric cover that is cool to the touch. 
Best Cooling Pillow For Stomach Sleepers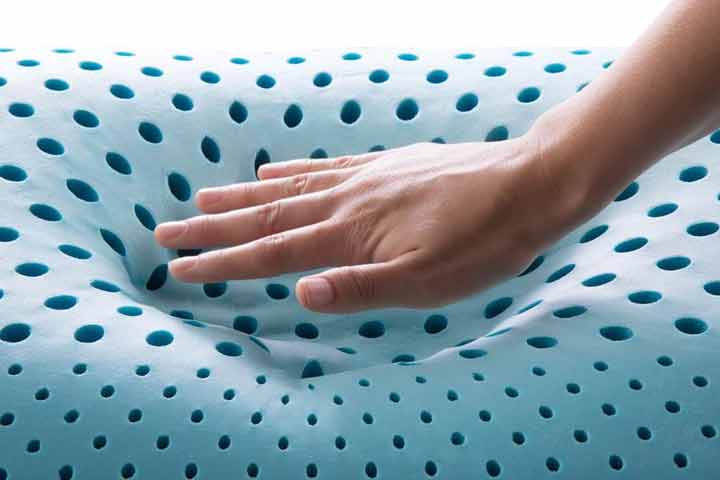 PlushBeds Zoned Gel Active
The PlushBeds Zoned Gel Active pillow is an advanced pillow with some of the best cooling features on the market. It features a cooling gel that makes the pillow actually feel cool to the touch. It is also ventilated, so air flows in and out of the pillow. It shouldn't be trapping heat whatsoever! 
As the name suggests, it features a zoned construction that offers the perfect balance of comfort and support. This makes it good for back sleeping and side sleeping. In particular, we feel like it is one of the best cooling pillows for stomach sleepers. You shouldn't feel the PlushBeds pillow pushing your head up, causing neck pain over time. 
There's a lot to love about the PlushBeds Zoned Gel Active pillow. Hot sleepers and stomach sleepers should definitely check it out! 
Pillow Details:
Dimensions:

Queen size: 16″ x 29″
King size: 16″ x 35″

Cover: TENCEL cover is breathable and cooling
Features one large piece of gel-infused ActiveDough foam
5-year warranty
Price: Standard $115; King $129
25% Off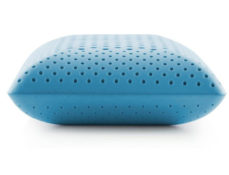 The PlushBeds Zoned Gel Active Cooling Pillow is a great option for hot sleepers and stomach sleepers. Click the button for 25% off. 
Best Cooling Pillow For Side Sleepers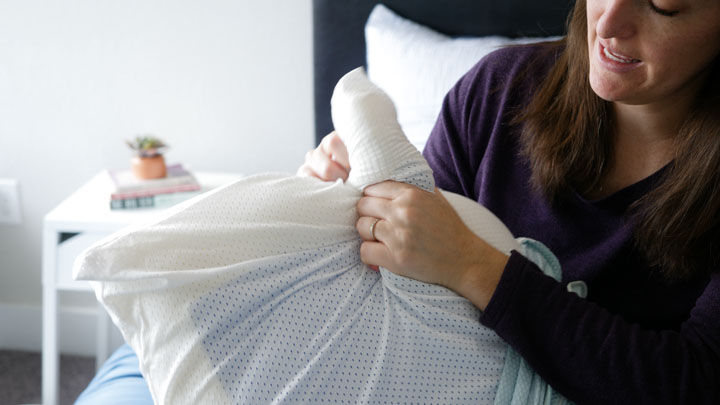 TEMPUR-Cloud Cooling Pro
Side sleepers who sleep hot are going to like what we have to say about the TEMPUR-Cloud Cooling Pro pillow. It's a cooling pillow that also has that height and support that side sleepers really need. 
The TEMPUR-Cloud Cooling Pro is one of my favorite TEMPUR-Pedic pillows – it's a significant pillow that comes in 5″ or 6.6″ height levels and has a solid piece of TEMPUR material (proprietary memory foam) in the core. There are dual side gel panels underneath the performance knit cover that keep the pillow cool to the touch. It also ensures that the core remains cooling and can provide an excellent level of support (about a medium firmness).
The pillow comes in Queen ($169) and King sizes ($209) and the one downside is that pillows are not returnable. Based on our experiences with this pillow, we recommend side sleepers and heavier sleepers go for the taller height and back sleepers and larger stomach sleepers check out the low profile option.
Pillow Details:
Dimensions (Queen ProHi): 25″ x 16″ x 6.6″
Removable Cover: High stretch performance panel cover that's made up of 90% polyester and 10% elastane
Core: A solid piece of medium Tempur material sandwiched between dual-sided cooling gel pads
Removable and washable cover
Available in Queen and King sizes and Hi and Lo profile (6.6″ vs. 5″) 
Full price: $169
Learn more about this TEMPUR-Pedic pillow and others in our ultimate list. 
TEMPUR-Pedic Deals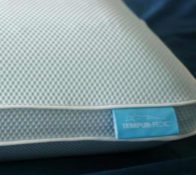 The TEMPUR-Cloud Cooling Pro encompasses height, support, and coolness and is excellent for larger body types with its two height profiles. Click the link for the best deals on TEMPUR-Pedic's many pillow offerings.
Best Cooling Pillow For Neck Pain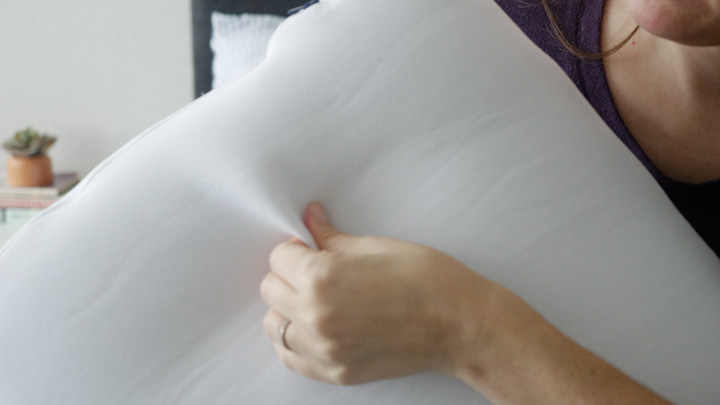 Casper Memory Foam
The Casper Memory Foam pillow is no ordinary memory foam pillow. While other pillows feature one chunk of memory foam, the Casper boasts three layers. At its core, there is a piece of Casper's proprietary AirScape foam and, surrounding that, there is some softer foam. This design gives the pillow an excellent balance of comfort and support. 
Now, if you struggle with neck pain, you're going to want a pillow with such a balance of comfort and support. The plush outer foam will let your head sink in, and the AirScape foam will make sure your head and neck are properly supported. 
Of course, being on this list, the Casper Memory Foam is a great option for hot sleepers! It has a breathable cover and the AirScape foam is designed to promote airflow through the pillow. 
10% Off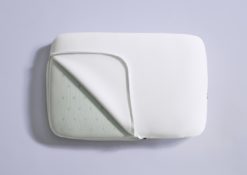 Casper's Foam Pillow has a polyester/spandex knit cover and a 3-layer foam core that's made with plush outer layers and a firmer center layer. Click the button below to save 10% on your purchase!
Best Cooling Pillow For Back Sleepers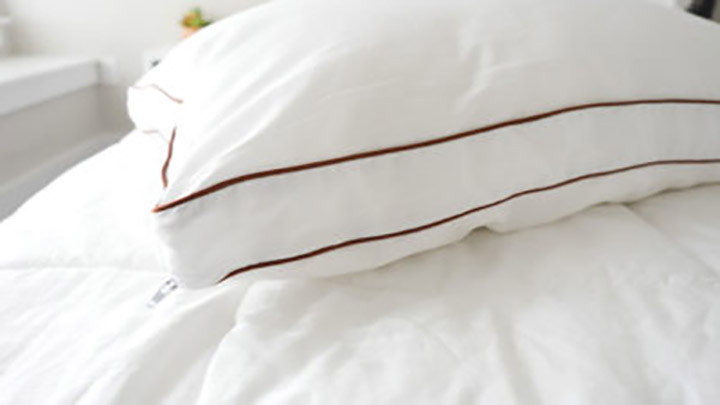 Saatva Latex
The Saatva company is known for offering some of the nicest mattresses on the bed in a box market. Did you know they also sold pillows? Well, the Saatva Latex pillow is their best cooling option and is also a great fit for back sleepers. 
The Saatva Latex pillow features shredded Talalay latex at its core. No surprise there! Now, what is surprising is the microfiber found around this core. This creates a unique balance of comfort and support that is ideal for back sleeping. The Talalay Latex supports the neck, while the microfiber provides nice comfort. 
But, how does it sleep cool? Well, Talalay latex does not trap heat the way that memory foam. Add in a breathable cover and that breathable microfiber fill, and you shouldn't be sleeping hot! 
Pillow Details:
Pillow Dimensions are 18″ x 28″ for a Queen and 18″ x 34″ for a Kin
Contains eco-friendly, hypoallergenic materials
Contains a Shredded Talalay latex core
Outer microfiber fill creates plush feel
You can remove the inner pillow
Saatva offers 45-day free returns and 1-year limited warranty
Full price: Queen – $155 King – $175
Learn more in our Saatva pillow review
Saatva Deals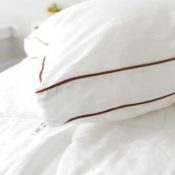 The Saatva Pillow has an organic cotton cover that is removable. Underneath is an outer pillow made up of hypoallergenic microfibers. You can unzip that pillow and reach a pouch filled with shredded Talalay latex pieces. 
Best Cooling Pillow For Athletes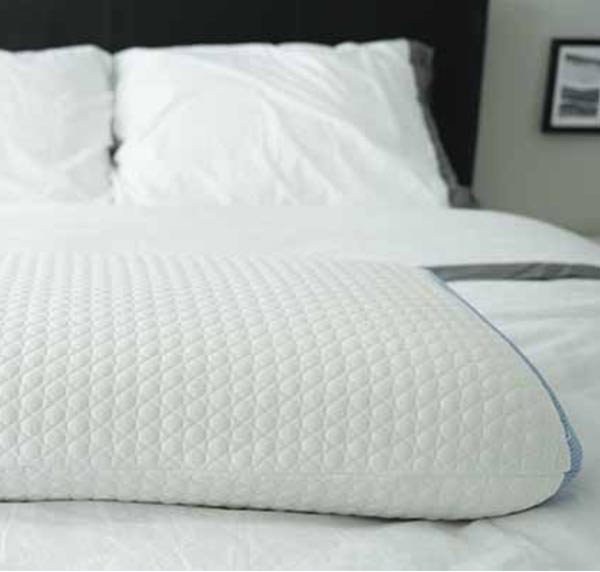 Bear
After a long workout, good sleep could be just what you need. With that in mind, Bear has created some of the best mattresses for athletes. At the same time, they offer some great cooling pillows to help you recover after your time at the gym or on the field. 
The Bear Pillow features a big piece of Loft-X Foam that is designed to be a hybrid of memory foam and latex. It contours to the head and neck without making you feel stuck in the pillow. The cooling comes in with the cover's Double Ice Fabric and two mesh panels designed to promote airflow. 
The Bear Pillow is also a great match for side sleepers and back sleepers. It is lofty enough to support the head when you are side sleeping. At the same time, it has the balance of comfort and support that back sleepers require. 
Pillow Details:
Double Ice Fabric in the cover helps to draw heat away from your body
The pillow core consists of Loft-X Foam: a blend of memory foam and latex. 
Mesh panels allow air to pass through the pillow
Cover can be removed and washed at home
Free shipping & 2-year warranty
Queen ($125) and King ($145) sizes available
Read the full Bear Pillow review. 
25% Off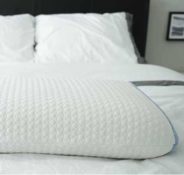 The Bear Pillow is a great option for hot sleepers. Click the button to save 25% on your purchase. 
Best Cooling Latex Pillow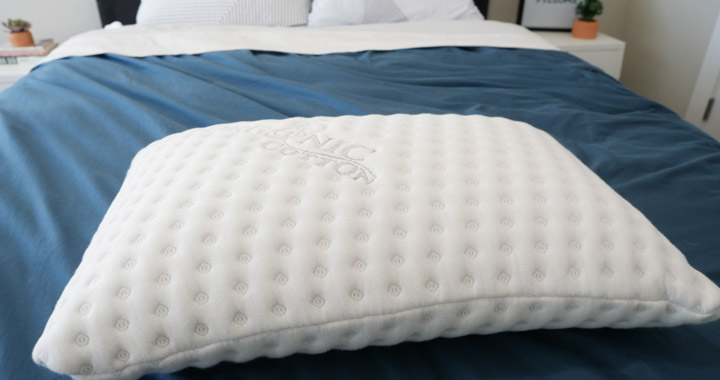 Brooklyn Bedding Talalay Latex
When it comes to sleeping cool, latex pillows are always a good choice. Unlike memory foam, latex foam won't trap an extreme amount of heat and have you waking up hot and sweaty. Out of the many pillows we've tried, the Brooklyn Bedding Talalay Latex is one of our favorites for hot sleepers. 
It's probably no surprise, but the Brooklyn Bedding features Talalay latex! Taking a closer look, this piece of latex foam is also ventilated for additional airflow. With the addition of a breathable cover, this should be one cool-sleeping pillow. 
Being a latex pillow, the Brooklyn Bedding is also a good eco-friendly and hypoallergenic option. If you want something better for the environment that doesn't contain too many chemicals, this could work well for you! 
Pillow Details:
King and Queen sizes are available
High loft and Low loft models give you firmness and height options
Features a solid piece of hypoallergenic Talalay latex foam
Latex foam is bouncy and makes it easy to move around
Breathable cover is also moisture-wicking and antimicrobial 
30-day trial period
Full Price: $89 for Queen and $99 for King
Read the Brooklyn Bedding Talalay Latex pillow review
Brooklyn Bedding Deals
Brooklyn Bedding Talalay Latex Pillow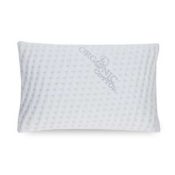 Brooklyn Bedding Talalay Latex Pillow
Brooklyn Bedding's Talalay Latex Pillow is a supportive and pressure relieving blended latex foam pillow. It has a ventilated core and removable soft knit cover. It comes in two loft options, making it a good choice for any sleep position.
Best Cooling Organic Pillow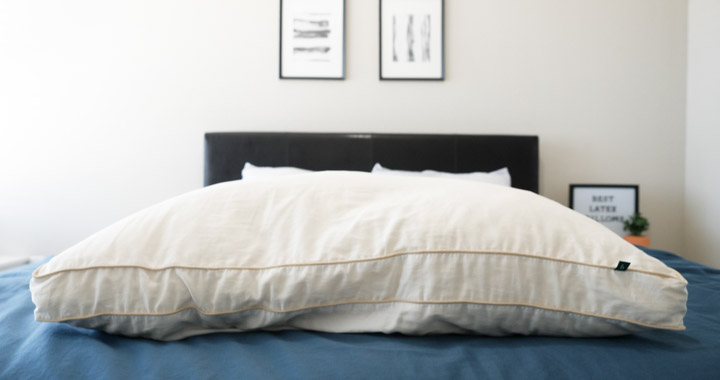 Birch Living
When shopping for a pillow, it's always a good idea to take a look at exactly what is in the pillow. If you are more of a green shopper and want something organic, the Birch pillow could be just what you are looking for. 
The Birch pillow features an organic cotton cover that is eco-friendly and breathable. Inside, the pillow, there is a mix of shredded Talalay latex and New Zealand Birch wool. These are all naturally sourced materials and adhere to the highest sustainability standards. 
Organic latex pillows like this are usually great for hot sleepers, and the Birch is no exception. These are all breathable materials that keep the pillow from absorbing heat during the night. 
Pillow Details:
Available in Standard and King sizes
Cover: 100% certified organic cotton
Fill: A mix of organic New Zealand Birch wool plus 100% natural Talalay latex
Birch offers a 100-night sleep trial and 3-year warranty
Full price: $99 for Standard and $119 for King
Check out our Birch pillow review 
Birch Deals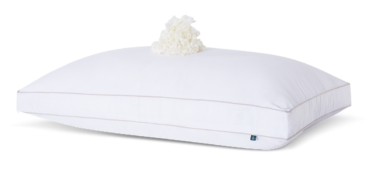 The Birch Pillow is an eco-friendly and sustainably made pillow that has an organic cotton cover and fill made with Birch Wool and Talalay Latex shreds. It will work for all sleep positions and needs to be spot cleaned only.
Best Cooling Memory Foam Pillow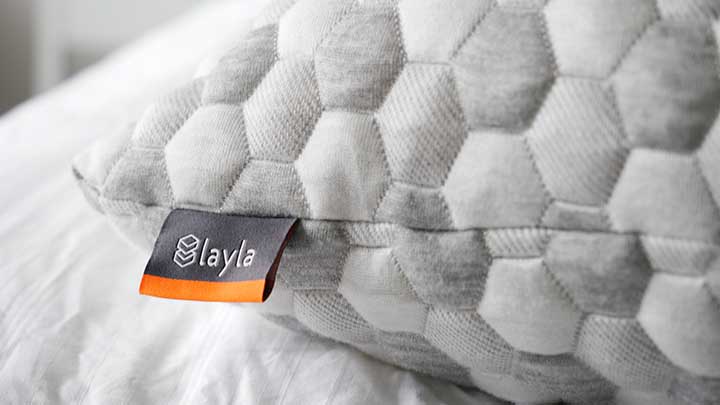 Layla Kapok
When it comes to sleeping cool, memory foam pillows are not always the best bet. However, if you want a memory foam feel and don't want to overheat, you have to check out the Layla Kapok pillow. 
The Layla Kapok pillow's cover contains copper fibers. Copper is a conductive material and has been shown to help promote a cooler sleep. While there is memory foam in the pillow, it is shredded and won't trap heat like a solid piece of memory foam might. 
The pillow offers a nice balance of comfort and support. This makes it a great fit for back sleepers and side sleepers. 
Pillow Details:
Dimensions: are 18″ x 26″ x 4″ for a Standard and 18″ x 32″ x 4″ for a King
Filling: Kapok fibers mixed with shredded memory foam pieces
Cover: Knit blend woven with copper fiber
Layla Pillow is Hypoallergenic
Layla offers a 5-year prorated warranty and a 120-night trial
Read our full Layla pillow review.
BOGO Half Off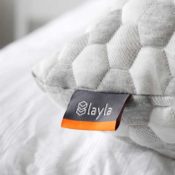 The Layla Pillow features a zipper on the side that lets you access the Kapok fiber and shredded memory foam mixed filling. It has a soft knit cover that includes copper-infused yarn and a pattern that matches the mattress cover. 
Best Affordable Pillow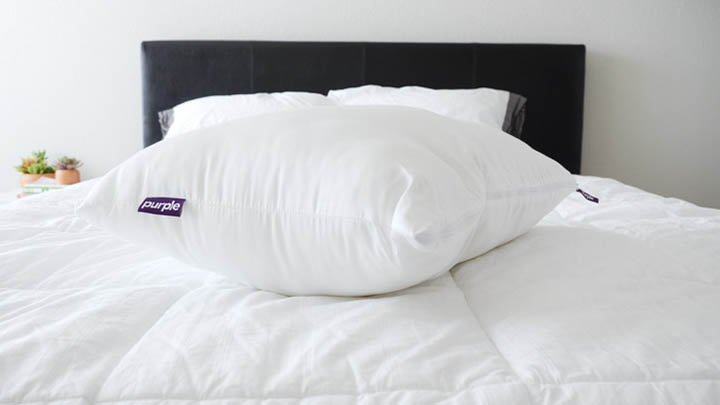 Purple Plush
If your budget is tighter, and you want a pillow to keep you cool during the night, the Purple Plush is a great place to start. For a Standard size, the Purple Plush currently costs $49 at full price. That's a great deal for a nice, cooling pillow.
How does it help you sleep cool at night. Well, the cover features a moisture-wicking treatment that can help cool things down. Also, the fill allows for air to pass through the pillow. In our experience, the Purple Plush doesn't trap too much heat! 
The Purple Plush also features an interesting adjustable design. There are zippers on the sides of the pillow. When you zip or unzip them, that will make the pillow feel firmer or softer. Because of this, you should be able to find just the right firmness. 
Pillow Details:
Available in Standard and King sizes
Cover: Lyocell/Nylon blend with moisture-wicking treatment
Fill: "Smart Fluff" or poly-fiber puff balls
Zippers help adjust firmness of the pillow
Purple offers a 100-night trial and 1- year warranty
Entire pillow can be washed and dried at home
Read the full Purple Plush pillow review. 
Purple Deals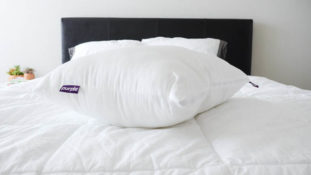 The Purple Plush Pillow is a simple but innovatively designed pillow that features a Lyocell and Nylon blended cover and is filled with "Smart Fluff" which is interlocking polyester fibers.
Marten's Take
In the process of selecting the best pillow, one's body type and primary sleeping position are incredibly important. The whole team at Mattress Clarity always recommends that people think about that before making a decision. For this reason, I love incorporating my colleague Marten's experience with the pillows into my review. I am 5'7" and about a medium-weight and Marten is 6'7" and weighs 250 lbs, so he can offer a different opinion and share his personal experience with these pillows in a way that helps to determine which would be best for heavier sleepers.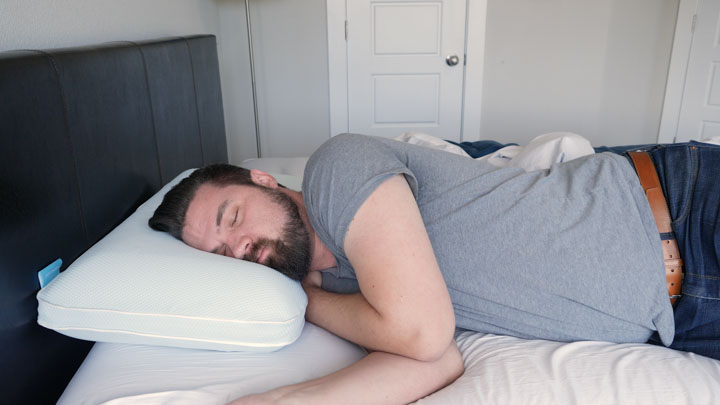 Of the four pillows on Katie's list, the one I like the most is the TEMPUR-Cloud Cooling Pro. I'm naturally a hot sleeper and I loved the soft and contouring feel of the memory foam in the Hi profile when I'm on my back, but I loved the cooling nature of the pillow when I moved onto my side. The height from the Hi profile version provides good support in both of these sleeping positions for me.
Summary
The best pillow for hot sleepers is going to look different for everyone but individuals who keep an eye out for ones that offer technology and innovation like gel infusions and Phase Change Materials – as well as cores with breathability and airflow promotion – stand a good chance at sleeping cool all night long.
Comment in the YouTube video if any questions pop up or a personal recommendation is needed – I'm always checking back!
FAQs
What is the best pillow that stays cool?
There are some features in a pillow to look for that will help individuals assess whether or not it'll say cool.
Breathable materials - those looking for a cotton cover, choose a percale weave over sateen because that will allow for more airflow. Moisture-wicking material or material designed for athletes are also great options.
Cores that promote airflow - Usually solid foams will sleep hotter than shredded foam or other material that can be broken up or moved around like fibers; solid foam that is ventilated or contains gel, gel pads or Phase change Material can really help make a solid foam pillow cooler.
Do cooling pillows lose their cool?
Unfortunately, some do lose their cool, and it's all about what materials and technology are used and the quality of them. This is where trial periods come in handy - it allows sleepers to give the pillow or pillows a chance to stay cool and to discover if it fails after a few hours or a few days. I've personally had the best luck with pillows that are made with Phase Change Material and have core fillings that promote airflow, like the aerated core of the Gel Memory Foam GhostPillow.
Are gel pillows good?
The pillow world seems to be somewhat divided on whether or not gel infused into pillows helps keep it cool. I've had some gel pad pillows work really well, including the TEMPUR-Cloud Breeze Dual Cooling pillow that offers the same gel panels at the TEMPUR-Cloud Cooling Pro pillow that made my list. I've also slept on plenty of foam pillows that are infused with gel and haven't really noticed a big difference with those. Therefore, I am hesitant to say definitively that gel is always a good idea with a pillow, it truly depends on the quality of the brand, the gel they're using and how they're using it!
Katie Golde
Katie manages the day to day operations of the Mattress Clarity news site and reviews sleep products in addition to writing and editing sleep news. She hails from Austin, where she lives with her growing family. She is a Certified Sleep Science Coach and has a master's degree in Journalism from Northwestern University and has a background in health and science content. Her work can be found in print and online publications like Discover Magazine, USA Today and The Huffington Post.