GhostBed is a pretty well-known mattress brand that's created some innovative mattresses over the years. Not to be forgotten, however, is the company's collection of pillows that feature some cool – pun intended – materials and technology.
This post combines two pillow reviews into one that we're calling the GhostPillows Review: Gel Memory Foam and Faux Down. I'm covering the ins and outs of the Gel Memory Foam pillow and the Faux Down pillow from GhostBed. These two distinct GhostPillows mean there's something for everyone here. Stick around as we break down each pillow and discuss who they're a good fit for based on sleeping positions.
Please comment below with any questions, if they come up. Now, let's start with the Gel Memory Foam pillow!
Check out the full written review with more detailed images below, including a deep dive into the best sleeping position for each pillow.
Gel Memory Foam: Key Features
As of this review, only one size is available and the dimensions are 16″ x  23″ x 6″
Cover: Ghost Ice Fabric Zippered Cover – made out of 53% polyethylene and 47% polyester
Core: A solid piece of aerated Gel Memory Foam with a performance cooling side. This is a layer of the brand's proprietary Phase Change Material (PCM). PCM helps absorb body heat and dissipates it throughout the night.
The core has a plusher feel and slow-moving response
The cover is removable and washable (line dried only)
GhostBed offers a 101- night sleep trial and 5-year warranty
$85 full price, one size only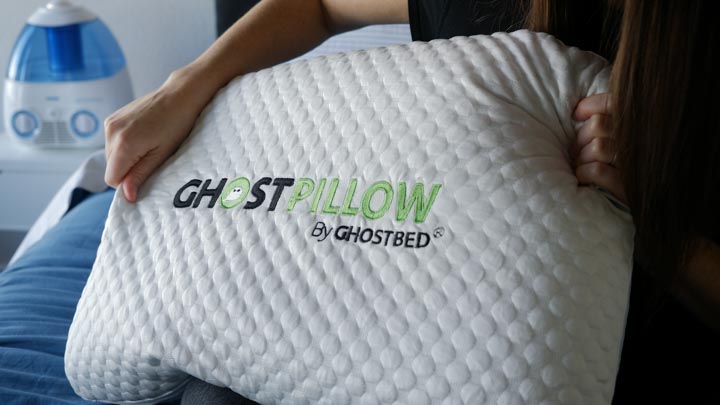 Pros
The pillow is designed to be good for hot sleepers and athletes will probably like it, too
The plush memory foam offers good pressure relief and contouring characteristics
Because it's a solid piece of ventilated foam, it won't go flat or change shape overnight
Cons
At the time of this review, the pillow was available in one size only
At $85 at full price, the pillow may just be out of some budgets
There are no adjustable features available in this pillow
The slick feel of the performance fabric may cause it to slip off pillow covers
Best Sleeping Position for Gel Memory Foam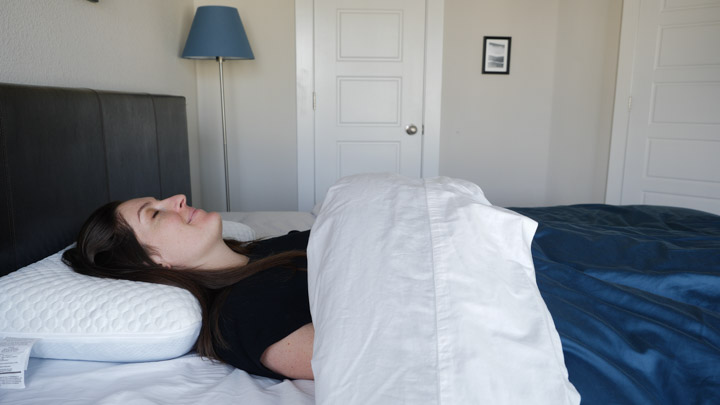 The Gel Memory Foam GhostPillow is deceptive when it comes to determining the appropriate sleep position to recommend. I say this because, at 6″ tall and featuring a solid piece of foam, it looks like it's going to be quite firm but to the contrary, it's on the plush side. Sleepers will find that their heads sink pretty far down into the pillow, which helps mitigate the 6″ height.
For these reasons, I found it to be the perfect fit for average-sized back sleepers and just that position. When I moved to my side, my head started to sink so far into the pillow that the pillow no longer provided enough loft and support to be comfortable. Likewise, on my stomach, the 6″ of foam, no matter how plush, was still too much support for me.
The Gel Memory Foam pillow definitely has that classic memory foam feel in that it's very contouring and pressure relieving. Back sleepers who want a cool pillow will most likely be interested in this pillow both for the loft and feel but also for the cooling properties included in it.
Faux Down: Key Features
As of this review, only one size is available and the dimensions are 20″ x  30″ x 7″
The outer cover is made of velour, which is 80% cotton and 20% polyester and the lining is 100% cotton
The Faux Down pillow fill is 100% microfiber gel clusters and has a feel of polyester fiber or down alternative
The pillow offers a soft, plush and wrinkle-free feel with a medium firmness
The entire pillow is naturally hypoallergenic and fully washable
GhostBed offers 101-night sleep trial and 5-year warranty
$85 full price, one size only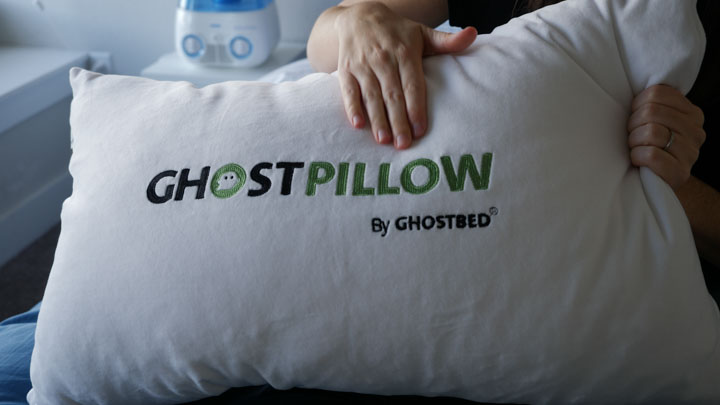 Pros
It's easy to clean because the entire pillow is washable
The soft, plush, and fluffy feel will appeal to those who like a traditional down pillow
The pillow is completely hypoallergenic and good for those with sensitivities
With the clusters of microfibers in the core, the pillow is very breathable
Cons
At the time of this review, there is only one size available
At $85, this pillow may be outside of some people's budgets
The pillow may fall flat after multiple nights' use
Best Sleeping Position for the Faux Down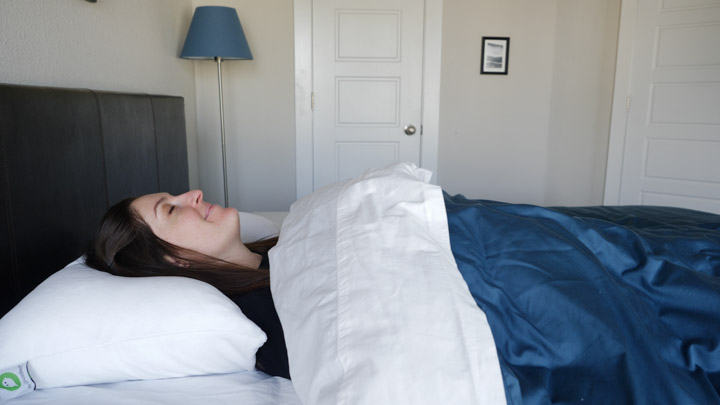 This pillow is 7″ tall and is filled with microfiber gel clusters, which give it a soft and fluffy feel but also some level of support. Based on my experience, it will work well for average-sized back sleepers and side sleepers. Throwing it in the dryer to keep it fluffed and lofted will help side sleepers stay comfortable all week long.
Stomach sleeping, there is just a little bit too much filling in here and corresponding support to be comfortable in this sleep position – I couldn't avoid neck strain.
Marten's Take On The Gel Memory Foam Pillow And The Faux Down Pillow
Marten is my colleague and 6'7″ (roughly a foot taller than me) and around 230 lbs. I always love getting his take on any pillow that I review because of the additional experience he can provide. Below is his experience with both the Gel Memory Foam pillow and the Faux Down pillow: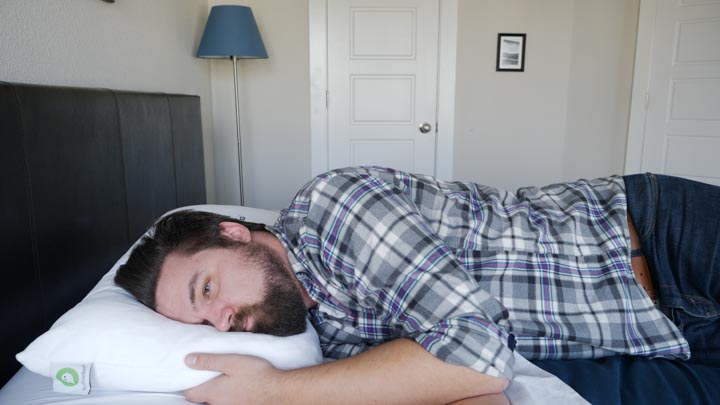 Hi guys, Marten here. As Katie mentioned, I'm a larger person than she is and I wanted to share what I think are the best sleeping positions with these two pillows. Starting with the Gel Memory Foam, it's definitely plush and my head sank right into the pillow. For me, it was comfortable when I slept on my back and I also liked it on my side, even though my head sinks further in than Katie's. I also felt like I had good spinal alignment when I moved to my side.
Moving onto the Faux Down pillow, I personally really like the feel of this pillow, especially how fluffy it is. It offers a good amount of support on my back and the perfect amount of support on my side. It's a little bit on the lofty side, so when I move to my stomach, it's pushing my head up, and I wouldn't recommend it in that position.
Overall, I think either pillow can work for heavier back and side sleepers, and stomach sleepers will want to look at just the Gel Memory Foam option.
Final Thoughts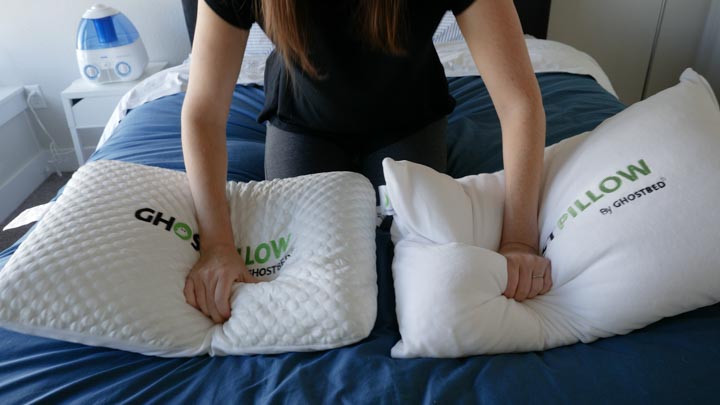 Thanks for checking out my review of these two very different pillow offerings from the mattress company GhostBed! To sum things up, the Gel Memory Foam option is going to be the best choice for back sleepers who sleep hot and like that slow response or "sinking" feeling from their pillow. Likewise, back and side sleepers who love that down-like fluffiness and softness will want to take a look at the wrinkle-free cover on the Faux Down pillow.
Confused about which one could work at home? Please comment below or leave any questions and I'll respond as quickly as possible.
FAQs
What is a GhostPillow?
A GhostPillow is a pillow made by the mattress brand GhostBed, and in our review, it's actually two different pillows - the Gel Memory Foam and The Faux Down. The Gel Memory Foam pillow can be great for hot sleepers, and the Faux Down, which is hypoallergenic and feels more fluffy and soft.
Does memory foam make you hot?
Plenty of people try to steer clear of memory foam, whether in their pillows or mattresses because they're concerned that the foam traps heat and will cause them to become hot at night. That's not always the case, and it truly depends on the foam pillow. The GhostPillow Gel Memory Foam option has ventilated gel memory foam, which makes it breathable, and adds a layer of coolness to the pillow. The Ghost Ice Fabric on the Gel Memory Foam pillow is cool to the touch and the Phase Change Material inside the core should also help keep the pillow cool.
Do cooling pillows work?
Some cooling pillows will do work but it depends on their materials, construction, and overall design. Pillows that stay cool will have the ability to promote airflow within the pillow will keeping it breathable. They'll also have cooling technology within the materials - whether moisture-wicking or Phase Change Material (PCM).
Katie Golde
Katie previously managed the day to day operations of the Mattress Clarity news site and reviews sleep products in addition to writing and editing sleep news. She hails from Austin, where she lives with her growing family. She is a Certified Sleep Science Coach and has a master's degree in Journalism from Northwestern University and has a background in health and science content. Her work can be found in print and online publications like Discover Magazine, USA Today and The Huffington Post.