The GhostPillow from GhostBed (Nature's Sleep) is a solid ventilated gel memory foam pillow with cooling fabric that helps keep heat away during the night. With its 5.5″ height profile, the pillow is a good fit for back and side sleepers. What else is there to know about the pillow? Read on for our full GhostPillow review.
Key Features
16" x 24" x 5.5" – Queen size
Weight: 2.86 lbs
Filling: solid ventilated piece of gel memory foam
Performance Cooling Side: Proprietary layer of phase change material
Exterior Cover Performance Side: High-performance moisture wicking
Exterior Cover Reverse Side: 97% premium polyester, 3% spandex
Inner Cover: 100% soft cotton scrim
The brief scent of lavender that should dissipate after a few days
101 night-trial
5-year warranty
Made in China
RELATED: Best Pillows 2020 – Our Top 10 Favorites!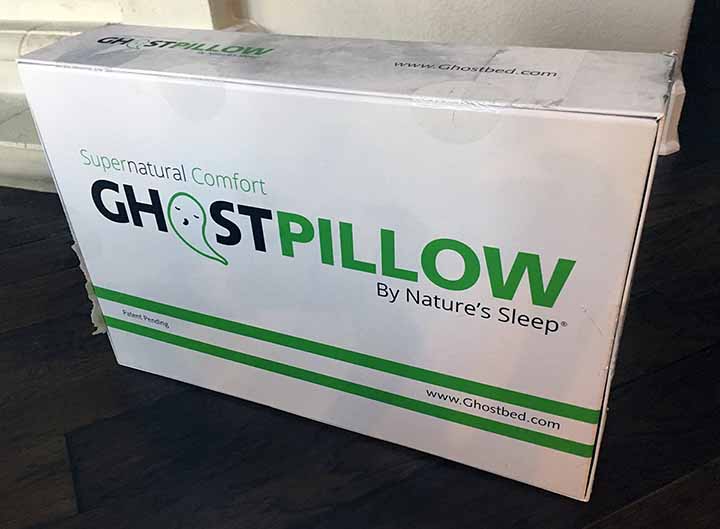 Who Makes It?
The GhostPillow and all Ghostbed products including their original mattress and Ghostbed Luxe mattress are made by Nature's Sleep.
Nature's Sleep manufactures a lot of different foam mattresses and bedding products. The original GhostBed came out in 2015 – check out our review of it the mattress.
Pillow Construction
As of the time of this review, the GhostPillow is available in one size: Queen size (16" x 24" x 5.5") and one comfort level (about mid-range firmness).
The Ghostpillow's core is a solid piece of aerated gel memory foam with a 5.5" profile. The ventilated holes allow air to circulate and helps promote breathability.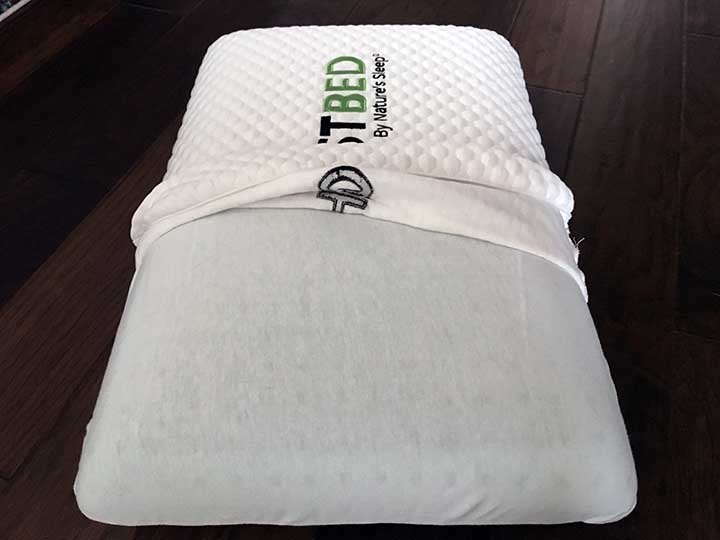 The embroidered cover is removable (zipper on the side) and washable and dryable. It is made up of 97 percent premium polyester, 3 percent spandex.
The fabric of the cover does feel like a performance fabric and is cool to the touch thanks to the company's patent-pending new thermosensitive technology (a phase change material) that adjusts to regulate a person's body heat to keep the pillow at a neutral temperature.
GhostBed says the overall design of the pillow is meant to adjust to the neck and head to achieve spinal alignment. The firmness level is a medium or a 5/10 according to GhostBed.
The pillow's cover is removable and can be machine washed and dried. The core foam filling should be spot cleaned only.
RELATED: Best Cooling Pillows
Pros
Let's talk about the benefits of this pillow from GhostBed.
Cooling
Nice responsive foam
Breathable thanks to ventilation
Won't go flat
Not overly firm or overly plush
Cons
Here are some items to take into consideration before making a GhostPillow purchase.
Not adjustable
One size available
Pricey
May not work for those sensitive to smells or dislike lavender
May not work for all sleep positions
Significant off-gassing (not unusual for foam pillows)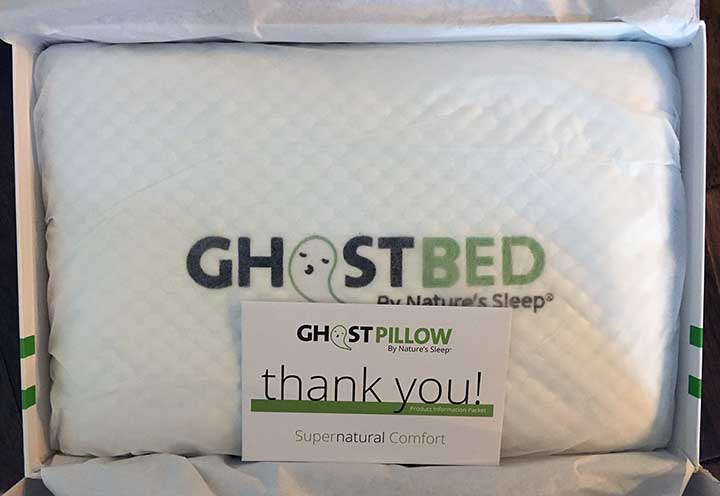 Our Experience
There are several features and a few comments we wanted to make about the pillow, so we decided to break this section into categories to help make the information as clear as possible. Katie was our reviewer who personally tested the pillow and she shared her thoughts below.
Off-Gassing
The GhostPillow came fully expanded and wrapped in plastic. When we opened it, we did notice some immediate off-gassing. This is typical of memory or latex foam pillows, especially ones that have been compressed or wrapped in plastic for shipping.
The pillow cover comes already removed from the pillow and we let the ventilated foam core off-gas outside for 48 hours and washed the cover based on the care instructions on the inside tag. The off-gassing was gone after a couple of days in a well-ventilated area.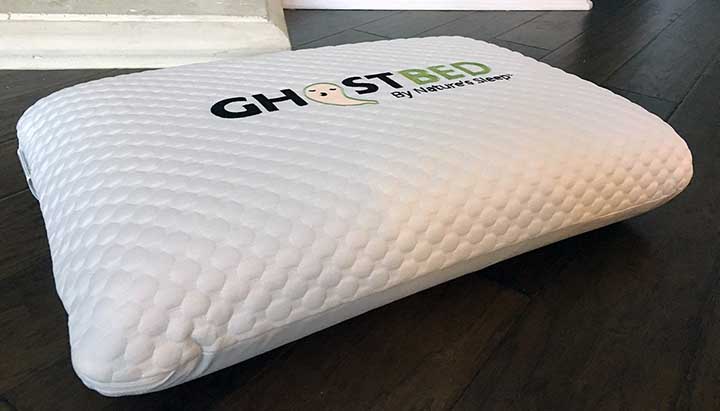 Lavender Scent
After the pillow finished off-gassing it was replaced with a noticeable scent of lavender. Lavender has soothing properties and is often used for things like pillow sprays to help calm one's senses.
Ghostbed says the light scent of lavender should dissipate after a few days. From our experience, the scent stayed around for the week+ and was noticeable with a pillowcase on. Our reviewer could also tell when the pillow was nearby because she could smell the lavender when she walked into her bedroom.
Other reviewers have commented that the pillow stopped smelling for them in a week. Katie may just have a sensitive nose but wanted to share her experience.
Cooling Features and Materials
It seems a big part of the design focus was using a new phase change material technology to help the outer performance fabric stay cool. Memory foam pillows and mattresses can sometimes sleep hot if they're not well ventilated or have other features.
The GhostPillow's aerated foam definitely helps promote airflow and the thermosensitive technology included in the textured outer cover is also cool to the touch. We preferred it with a pillowcase over the cover but either way, it succeeded in keeping me cool overnight.
Firmness and Sleep Position
In terms of comfort, we thought the aerated gel memory foam and 5.5" height profile made the pillow really comfortable laying on our backs and fairly comfortable on our sides. The foam isn't extremely responsive, so one's head will sink deeply into the pillow.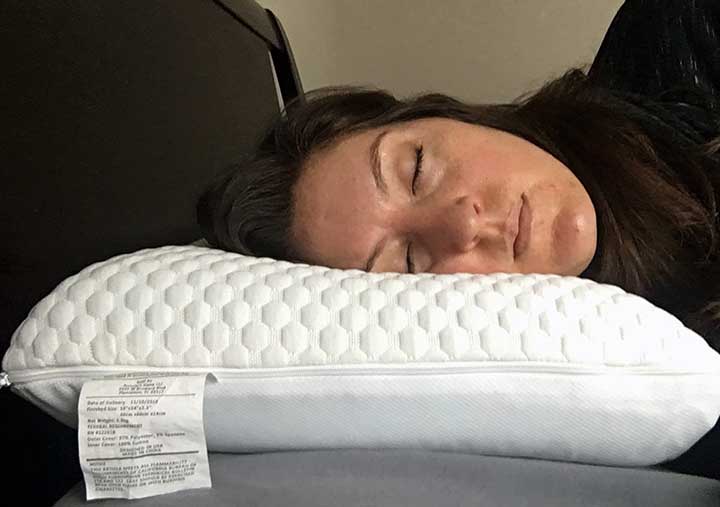 Katie felt that she had the most neutral neck and spinal alignment when She slept on her back using the GhostPillow. Some might find this if they sleep on their sides but we do think it'll be a struggle to completely comfortable sleeping on the stomach with the pillow.
She also found the lavender scent to be the most pleasant when she slept on her back because it wasn't right in her face.
Overall
We think the GhostPillow is a nice gel memory foam pillow option for back sleepers (or some side sleepers) whose priority is to stay cool at night. Katie did personally struggle at times with the lavender scent that accompanies the pillow but others may find it relaxing and agreeable.
Those who are interested in foam pillows will cooling features may also enjoy the Bear pillow or the Tempur-Cloud Breeze Dual Cooling Pillow. We like that the cover is removable and easy to care for. The pillow is a little bit on the pricey side but individuals are getting cooling features and there is a 101-night trial, which helps mitigate the risk.
FAQs
Let's address some frequently asked questions about the GhostPillow from GhostBed.
What is a GhostPillow?
The GhostPillow is a pillow made with GhostBed's Ghost Ice fabric, which gives it a cool to the touch feel; the core is a solid piece of ventilated gel memory foam with an added layer of Phase Change Material on one side for coolness.
How much does a GhostPillow cost?
The GhostPillow costs around $85 at full price but look for discounts during most major US holidays.
How do I clean my GhostPillow?
According to the GhostBed brand, "you cannot wash the inner foam core of the pillow, nor get it wet. If you need to clean the foam you can use a damp clean cloth with a mild detergent, then allow it to dry. The outer zippered cover is completely washable."
Is the GhostPillow good for side sleepers?
Yes, most average-sized individuals will find the GhostPillow to be comfortable. Those with larger body types or broader shoulders may find the pillow to not be supportive enough.
Katie Golde
Katie manages the day to day operations of the Mattress Clarity news site and reviews sleep products in addition to writing and editing sleep news. She hails from Austin, where she lives with her growing family. She is a Certified Sleep Science Coach and has a master's degree in Journalism from Northwestern University and has a background in health and science content. Her work can be found in print and online publications like Discover Magazine, USA Today and The Huffington Post.