Whether you're trying to improve your sleep or reach your fitness goals, trackers can offer valuable data and insight. The Oura Smart Ring remains one of the most popular products on the market, thanks to its sleek design and variety of functions. But is this the right sleep and fitness tracker for your needs?
I personally tested the Oura Smart Ring for one week and assessed its usability, comfortability and price point. Read my full Oura Ring review to find out whether this product will help you meet your health goals.
Oura Ring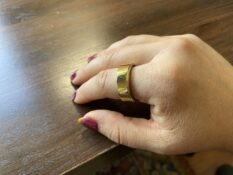 The Oura ring tracks sleep, fitness, and body temperature to help users learn more about their health.
Read Full Review
Oura Ring Pros and Cons
I tried the third generation Heritage Oura Ring in gold. Let's take a closer look at the pros and cons of the Oura Smart Ring.
| | |
| --- | --- |
| Pros | Cons |
| Offers valuable insight into sleep habits, including time spent in deep sleep | Takes time to get used to wearing it |
| Suggests reasonable goals to reach each day, depending on the quality of rest you received the night before | Could cause orthosomnia, an obsession with sleeping well that ultimately hinders sleep quality |
| Has a sleek and subtle design | Requires a paid monthly subscription to the Oura app in order to use the ring |
Want to learn more? Check out our complete guide to sleep trackers.
Oura Ring Features
The Oura Smart Ring doesn't simply monitor your sleep and count the steps you take each day. Let's take a detailed look at its many impressive features.
Oura Sleep Tracking
Here are the many ways the Oura Smart Ring can help you learn more about your sleep:
Total time asleep – Most people need between seven and nine hours of sleep per night.
Time spent in bed – This includes time spent awake and time spent in all three sleep stages
Sleep efficiency – The percentage of time spent asleep compared to the the time spent awake in bed
Restfulness – The amount of time spent moving excessively or waking up during the night
Latency – The amount of time it takes to fall asleep at night
Timing – How your sleep aligns with a 24-hour rhythm
Time spent in different sleep stages – This includes light, deep and REM sleep
Resting heart rate (RHR) – This helps measure your recovery each night. Everyone's RHR is slightly different, and it takes the Oura Ring about two weeks to determine your individual baseline.
Oxygen saturation – Optimal levels are between 95% and 100%. If you have lower percentages, it could be due to sickness or allergens.
Breathing regularity – This may be able to help some people learn whether they are at risk of developing sleep apnea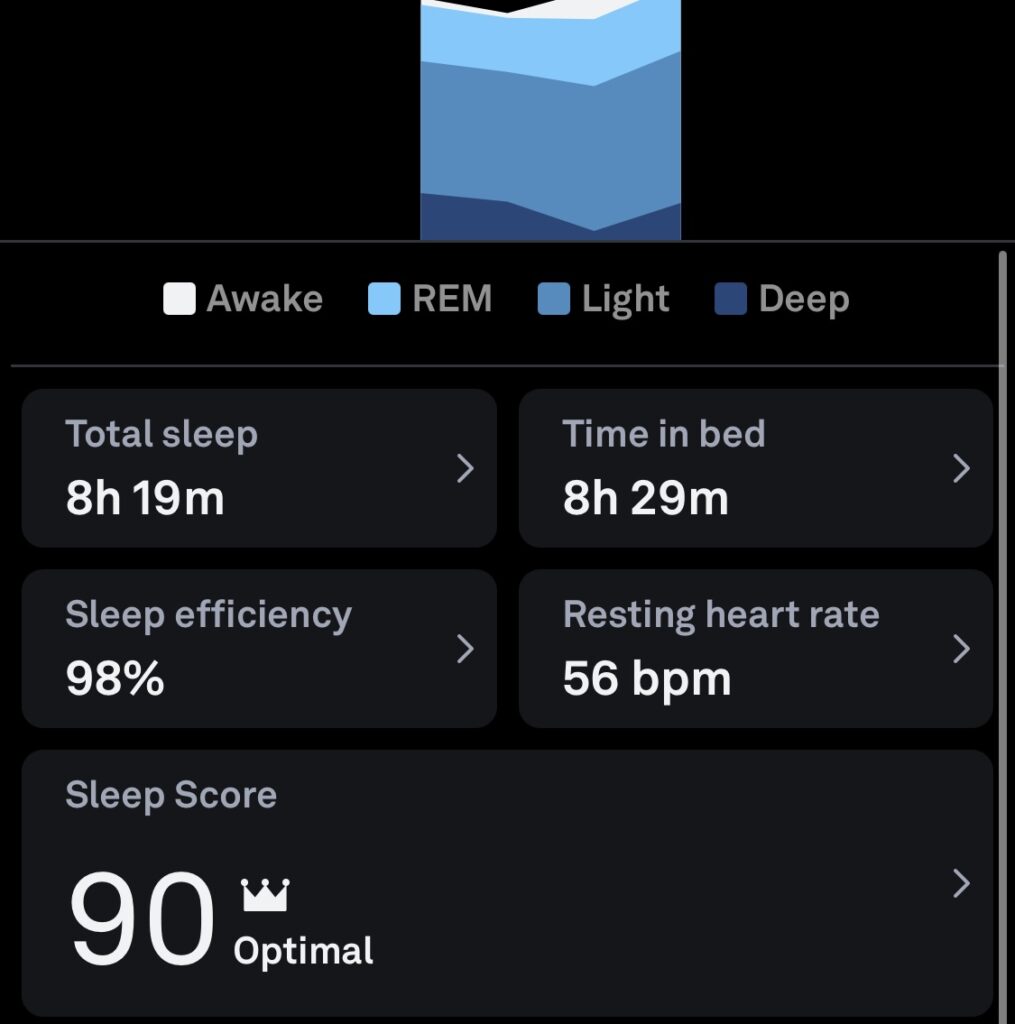 Oura Ring Fitness Tracking
Sleep and activity levels go hand in hand. Let's take a closer look at how the Oura Ring can track fitness:
Readiness Score – a rating of how well you have recovered both physically and mentally. It can help you determine whether you should rest and relax or work harder toward your goals.
Activity goal progress – The amount of calories you should try to burn a day. This fluctuates day to day, depending on how much rest you got the night before. Oura assigns a baseline activity goal depending on age, height and sex.
Total burn – The amount of calories you burned throughout the day
Walking equivalency – your daily activity level converted into walking distance. This may not show the real distance you traveled throughout the day.
Steps – the total amount of steps taken per day
Activity score – a measurement of how active you've been throughout the day. Scores range from 0-100, with optimal levels falling in the 85-100 range.
Workout heart rate – You can log your workout time to learn more about what your heart rate is during the session.
Move every hour – how often you avoid long periods of sitting still
Training frequency – how often you engage in medium or high-intensity workouts over the course of a week. Oura recommends exercising three to four times per week to boost your activity score.
Training volume – the amount of medium and high activity you do over a period of one week
Recovery time – the number of days that you spend resting and recovering
Health
Using the data from your heart rate, sleep quality and body temperature, Oura can offer information about your overall health and wellness.
Resting heart rate – The number of times your heart beats per minute (bpm) whenever you're at rest. Normal numbers can range from 40-60 bpm.
Heart rate variability – Helps you understand how your body responds to stress, travel and intensive training
Body Temperature – Sudden changes in body temperature can indicate sickness and changes in the menstrual cycle
Respiratory rate – The average number of breaths taken per minute. This can range from 12-20, but it varies from person to person. If you notice your respiratory rate change suddenly, which could indicate a health issue such as dehydration, fever, anxiety or heart disease.
Fertility insight and period tracking– Oura has a birth control app called Natural Cycles, which tracks body temperature in order to gather information about daily fertility status. The Natural Cycles app costs an additional $99.99 per year or $12.99 monthly.
How To Use the Oura Ring
Using the Oura Ring isn't as difficult as it may seem. Here's a rundown:
Sizing the Oura Ring
In order to receive the most accurate data, you'll need to get the correct size. However, Oura doesn't follow the US standard ring size charts. Fortunately, Oura will send a free sizing kit so you can determine the perfect fit from the comfort of your home.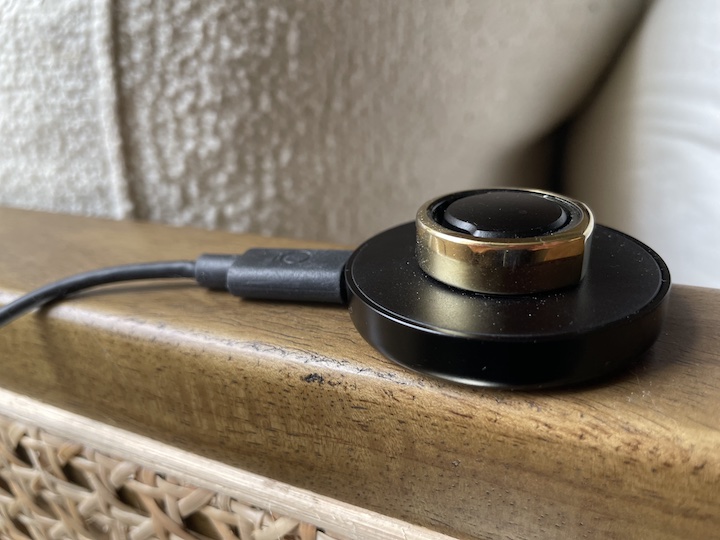 Oura recommends shoppers try on several sample ring sizes in order to find the one that best fits their finger. Oura works best on the index finger, but you can also place it on your middle or ring finger.
Setting Up the Oura Ring
In order to access your health data, you'll need to download the Oura Ring app on your smartphone. Oura offers a one-month free trial for this subscription, but it requires a monthly fee to use the app after that timeframe. For people in the United States, the subscription costs $5.99 per month.
Once you've downloaded the Oura app, you'll need to follow the instructions on the homepage to create an account and pair the ring with your phone. This process only took about five minutes, and I was able to start using it right away.
What Does the Oura Ring Feel Like?
The gold Heritage ring has a smooth feel that's lightweight and comfortable. I appreciated the slanted top portion, because it reminded me to place the sensors toward my palm. All Oura Rings are water resistant up to 328 feet, and they weigh between four and six grams.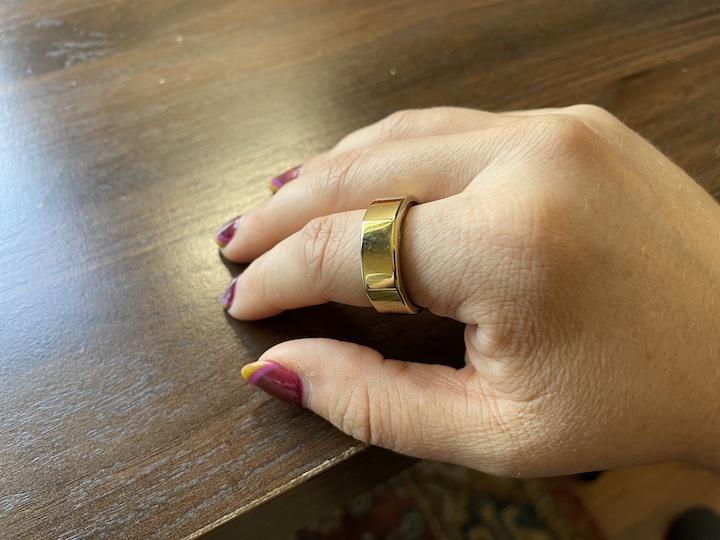 Oura Ring Battery Life
Oura Rings come with a size-specific charging stand and USB-C cable. It takes between 20 and 80 minutes for the ring to fully charge, and the battery lasts about seven days. You can check your Oura Ring's battery life through the app.
Personal Experience with the Oura Ring
I was skeptical about the Oura Smart Ring at first. The ring gathers so much data, I feared it would cause me to obsess over health. But after using it for a full week, I was pleasantly surprised to learn that was not the case.
Yes, Oura gathers a lot of heath data. But it's organized in a thoughtful way that helped me understand the most important factors. Every morning I can see my readiness score, which analyzes my sleep quality from the night before and helps me make plans for the rest of the day.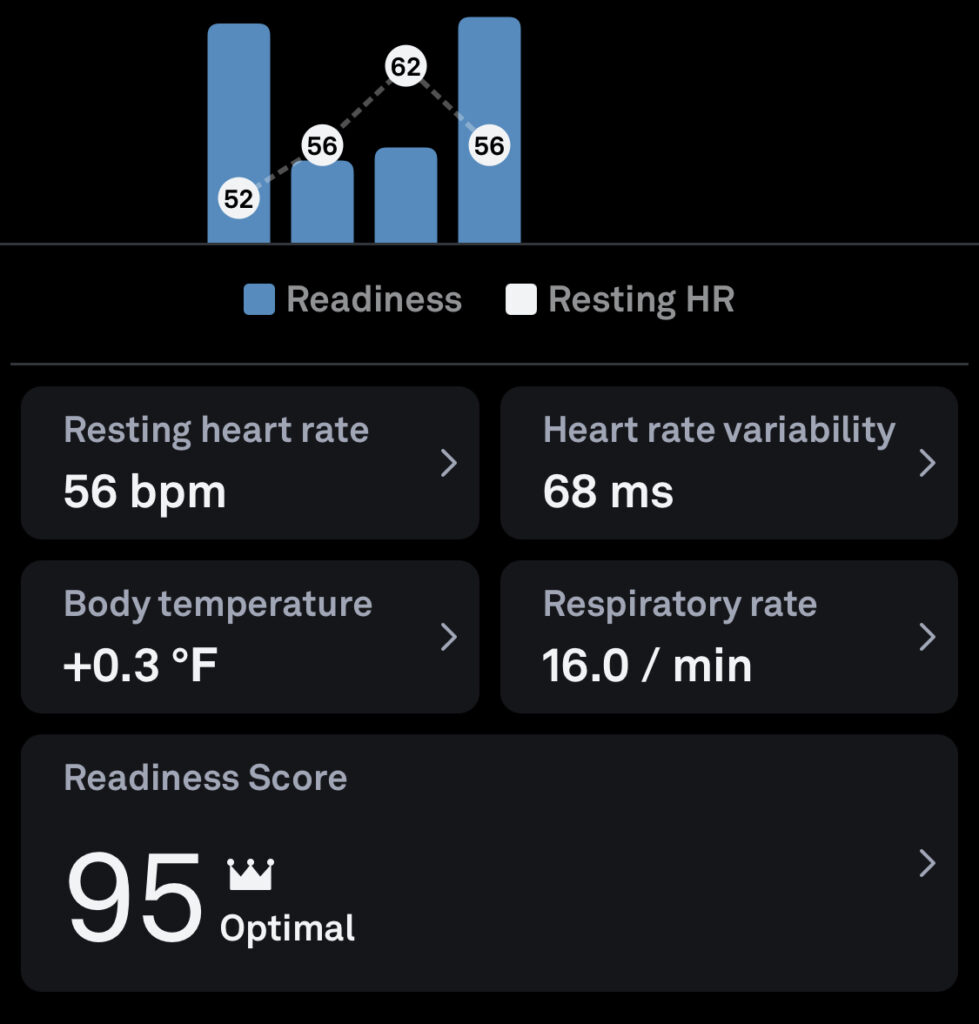 Over the weekend, my readiness score was 95, so I decided to go for a jog and take a kickboxing class. But after drinking a few beers at a dive bar on Wednesday, I didn't get as much deep sleep. This caused my readiness score to dip to 75 the following day, so I decided to take a bubble bath and read a book to recover.
Because the Oura Ring sits on my finger and analyzes my heart rate, I feel like it gathers accurate information about my sleep quality and activity level. One morning, I woke up feeling groggier than usual. When I looked over to my Oura app, I saw a notification stating that my recovery index was low, which can make people feel unrested the following day. This is often caused by working out late at night or eating a large meal before bed. And I had, in fact, had a late dinner the night before!
RELATED: How accurate are sleep trackers?
Even when I didn't get great sleep, I didn't feel shamed by the Oura app. Instead of focusing on the lower score, the notifications encouraged me to prioritize sleep the following night and be kind to myself throughout the day.
Purchasing the Oura Ring
Thinking about buying an Oura Ring? Here are some important details:
Cost
The Oura Ring ranges from $299 to $349, depending on which model you get. But you don't have to pay for it all at once–Oura offers financing options through Affirm. The Heritage collection has a plateau design with a flat surface at the top, and the Horizon collection has a smooth circular design all the way around. Horizon rings cost more than the Horizon collection. If you want either ring in a matte black, gold or rose gold color, you will need to pay more.
Shipping
Standard shipping typically costs $15, and expedited shipping costs around $35. Ring sizing kits are shipped for free, expedited.
Return Policy
Oura Rings purchased through the Oura website have a 30-day return window. If, for any reason, you aren't happy with your purchase within the first 30 days, you can issue a return on the website and receive a full refund. Original shipping costs are non-refundable.
Monthly Fee
In order to use the Oura Ring, you'll need to subscribe to the Oura app. The first month is free, but after that it costs $5.99 per month.
Warranty
All Oura Rings are covered by one-year warranties, which protects against manufacturing defects.
Customers also have the option to get a two-year protection plan for $45, which covers manufacturing defects, breakage from drops and collisions and damage from power surges or electrical failures.
If you want additional protection, you can purchase a three-year protection plan for $60. This has all of the same benefits as the two-year plan, but it lasts longer.
FAQs
What exactly does the Oura Ring do?

The Oura Ring monitors the user's heart rate and body temperature to assess sleep quality and activity levels. It can help people learn more about their health habits so they can improve their sleep quality and meet their fitness goals. 
Does Oura have a monthly fee?

Yes, in order to use the Oura Ring you need to pay for a monthly subscription to the Oura app. Oura offers the first month for free, but it costs $5.99 per month after that. 
Is Oura worth it without a subscription?

No, you can't see any of your health data without an Oura subscription. 
What are the best sleep trackers?

Oura is one of the best sleep trackers on the market, but it may not be for everyone. If you want a lower-cost option, you may want to consider the ShutEye or RISE Science apps. Take a look at our list of the best sleep apps for more options.