Sleep can sometimes feel like a mystery. What happens while we're deep in dreamland? If you've ever wondered what's going on while you get some Zzzs, the ShutEye Sleep Tracker might be for you.
This unique app, available for both iPhones and Androids, records and analyzes your sleep. It's backed by scientific research, and it can help people pinpoint health issues such as sleep apnea and insomnia. You can download the basic version for free, but if you want to utilize the sleep tracker, you'll need to upgrade to the VIP model for $9.99 per month or $59.99 per year.
But is it the right app for you? Our ShutEye Sleep Tracker review will help you find out. Keep reading to learn more about how it works and what our personal experience testing it was like.
ShutEye Sleep Tracker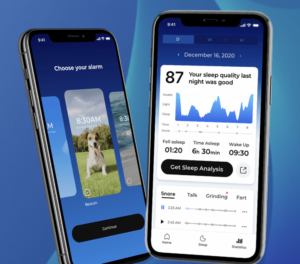 Using an artificial intelligence algorithm, the ShutEye app tracks users' sleep and provides helpful information about how to improve it.
Mattress Clarity Score
4.80 / 5
Read Full Review
ShutEye Sleep Tracker Pros and Cons
Before downloading a new app, it's always smart to weigh the pros and cons. Here's a quick overview of who might like the ShutEye Sleep Tracker.
Who Should Download The ShutEye Sleep Tracker?
Who Shouldn't Download The ShutEye Sleep Tracker?
How Does The ShutEye Sleep Tracker Work?
ShutEye features an artificial intelligence algorithm that analyzes the sounds you make while you're asleep. When it comes to accuracy, ShutEye performs in the 90th percentile of all sleep trackers. But unlike many other trackers on the market, this one doesn't require the user to wear the device all night long. Simply keep your phone charged near your bed and let ShutEye do the rest.
ShutEye details the time it takes you to fall asleep, your time awake, and the amount of time spent in light and deep sleep. When you wake up in the morning, you can play back sound bites from the night. You might chuckle when you hear yourself snore or talk in your sleep!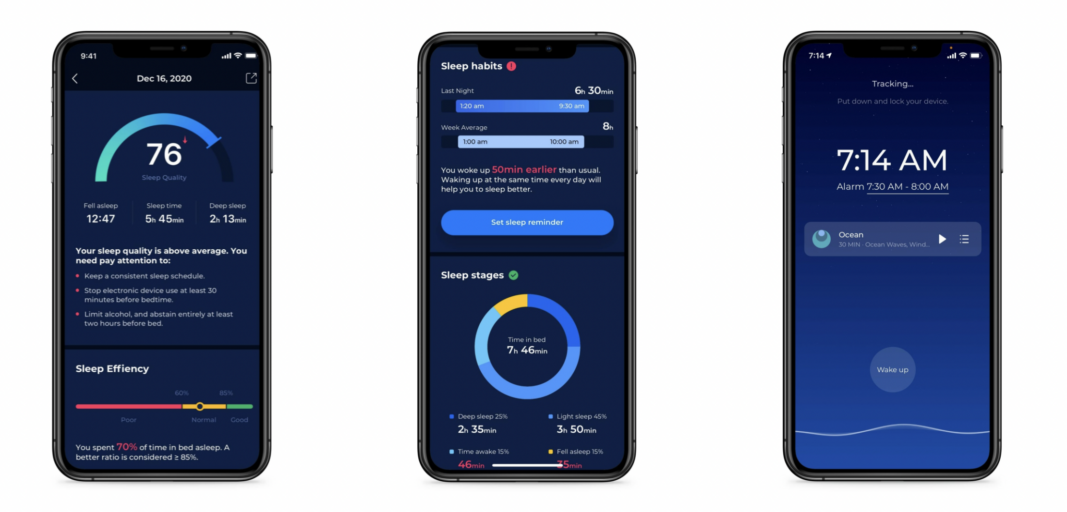 After the app has recorded your sleep for five nights in a row, you'll receive a ShutEye sleep score. This score quantifies your overall experience and provides helpful information about how to improve your sleep over time. ShutEye also compares your data to other users, so you can see whether your sleep is within the normal range.
RELATED: Best Sleep Apps
ShutEye Features
ShutEye is so much more than a sleep recorder; it also contains a wealth of resources. Take a look at some of its most notable features:
Sleep Tracker
First and foremost, ShutEye is a sleep tracker. The app's microphone records the sounds people make while sleeping, and artificial intelligence analyzes the data.
In the morning, users receive detailed information about their night's rest, including graphs and charts displaying overall trends. Think you might be talking in your sleep? ShutEye even allows you to play back sounds you made throughout the night.
Smart Alarm
If you have trouble waking up in the morning, ShutEye's Smart Alarm might help. First, notate a time frame you'd like to wake up. Then, the app's artificial intelligence algorithm will set an alarm whenever you're in your lightest stage of sleep. The Smart Alarm will wake you up gently so that you feel refreshed and ready to start your day.
White Noise
White noise can help block out disruptive sounds, and when used frequently, many people find it helps them fall asleep faster. The ShutEye app features a whole library of ambient sounds that can help you unwind. In addition to the sound of static, you can listen to rain tapping on windows, clocks ticking, and crickets chirping. There's even an array of ASMR sounds designed to soothe your mind.
Sleep Aids
The ShutEye app features many different types of sleep aids designed to help people suffering from insomnia. You can listen to relaxing music, such as the "Sleep at Ease" and "Happy Night" tracks. Or, you could listen to soothing bedtime stories like "Cottage By The Sea" and "Sinbad the Sailor."
If you need to quiet your anxious mind, try ShutEye's meditation series. These guided meditations last between 20 minutes and one hour, and they each have a specific theme such as building confidence and slowing down racing thoughts.
Dream Analysis
Whether they're exhilarating or scary, dreams always fascinate us. Maybe you've had a nightmare about snakes, or perhaps you've dreamt about a wedding.
If you've ever wondered what your dreams mean, check out ShutEye's dream analysis articles. The app highlights some of the most common dream themes and explains what they could reveal about your waking life.
ShutEye Subscription Information
ShutEye is available for ios and android users. The premium version costs $59.99 per year, but you can try it out for free for one week. Please note – ShutEye will collect your credit card information and automatically sign you up for the VIP version after the one-week trial period. If you don't wish to keep the upgraded app, you must cancel it before the trial period ends.
Our Experience With The ShutEye Sleep Tracker
As someone who occasionally struggles to fall asleep, I found the ShutEye app immensely helpful. I was surprised to learn that, on a good night, I actually fall asleep within about 15 minutes.
When I'm stuck in an insomnia loop, it's easy to let my emotions get the best of me and fall into a shame spiral. I appreciate that ShutEye compares my sleep data to other users, so I can see how much my sleep habits deviate from the norm. It was comforting to learn that many people suffer from insomnia and I'm not alone!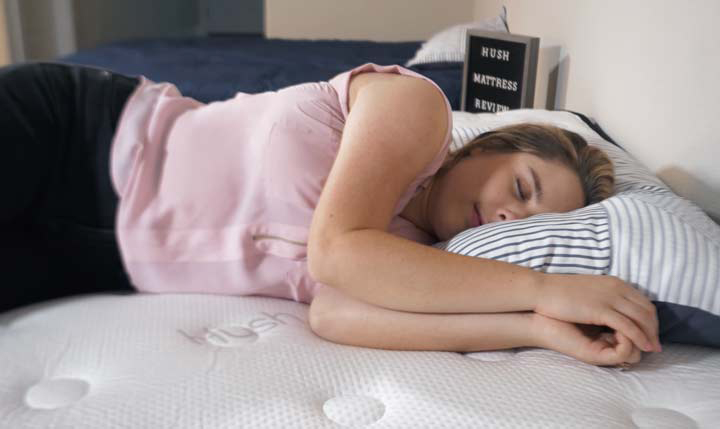 If you suspect you might have sleep apnea, ShutEye is a great tool to gather information. However, it may not work well for people who share a bed with a partner or animals. On my first night using the app, ShutEye recorded four hours of deep snoring and warned that I might need to see a doctor. When I played the recording back the next morning, however, I realized that the app detected my bulldog's snores and mistook them for my own.
I don't recommend ShutEye as a replacement for professional medical advice, but it's a great way to learn more about your sleep habits. By bringing this information to your doctor, you can save valuable time in diagnosing potential problems.
FAQs
Still have questions about the ShutEye sleep tracker? Check out our FAQ section for more information.
How accurate is the ShutEye app?
Researchers compared the ShutEye app to many other sleep trackers on the market and found that it performs in the 90th percentile when it comes to accuracy.
What is the best sleep tracker?
There are many sleep trackers available, and they're not one-size-fits-all. ShutEye is a great choice for people looking for an inexpensive user-friendly option. However, it may not work well for people who share a bed with a partner or a pet because the microphone may incorporate their sounds into the individual sleep data. If you're looking for something that will only detect your experience, consider purchasing a wearable sleep tracker such as the Oura Smart Ring or FitBit.
Is the ShutEye Sleep Tracker free?
ShutEye offers a free version of the app, but for the best results, you will need to purchase the upgraded model. Download the free trial and test it out for a week. If you like it, you can enjoy the full benefits for only $59.99 per year.