Over the past few years, I've had the opportunity to review more than 50 pillows. I'm talking pretty much every type of pillow, including a huge range of fillings, cover materials, innovative designs, and one-of-a-kind features I honestly didn't know existed until now. With all of this in mind, I've created a comprehensive list of the best pillows for 2021 that should suit all sleep needs and preferences.
Is there one perfect pillow that meets everyone's needs? No way! That's because we all sleep differently and our differences are one reason there are what feels like a million pillows on the market, with new fabrics and technologies all geared towards helping people sleep better.
This enormous amount of options can seem daunting initially, but I've included a list of my favorite tips or tricks for narrowing down the many choices out there and making it simpler to find the best match. As always, leave a comment below for me and I'll help as well!
The Best Pillows Detailed
Here is our comprehensive list of the best pillows:
There's so much to know about each of these awesome pillows – keep scrolling for more details on why they made the top of our list of best pillows.
Editor's Pick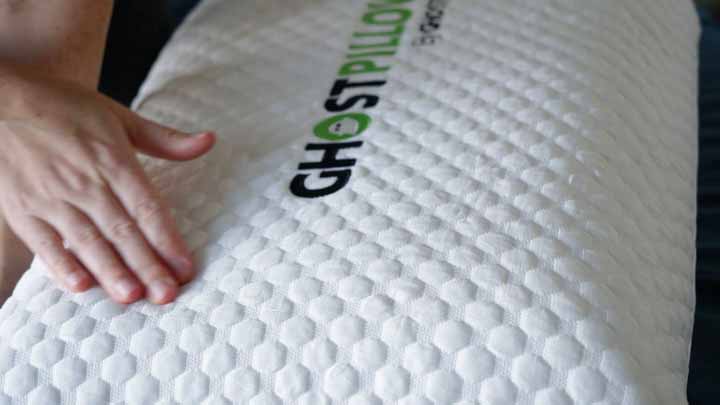 GhostPillow Gel Memory Foam Pillow
The Gel Memory Foam GhostPillow features inventive cooling technology in both the ice-cold cover and the ventilated foam filling, resulting in a superb coolness that will keep the hottest hot sleeper comfortable.
The outer cover is made out of what the team at GhostBed calls "GhostIce" fabric – it's  53% polyethylene and 47% polyester and has that performance wear, moisture-wicking feel to it. Inside the pillow is a solid piece of aerated Gel Memory Foam, one side has a layer of proprietary Phase Change Material (PCM) which is known for absorbing heat and then re-releasing it slowly and evenly to keep a person's body temperature as neutral as possible overnight.
In general, the pillow has a  plusher feel so it may be good for average-sized back and stomach sleepers. The pillow comes in one size for $85 and customers get a 101-night sleep trial.
Pillow Details:
As of this review, only one size is available and the dimensions are 16″ x  23″ x 6″
Cover: Ghost Ice Fabric Zippered Cover – made out of 53% polyethylene and 47% polyester
Core: A solid piece of aerated Gel Memory Foam with a performance cooling side. This is a layer of the brand's proprietary Phase Change Material (PCM). PCM helps absorb body heat and dissipates it throughout the night.
The core has a plusher feel and slow-moving response
The cover is removable and washable (line dry only)
GhostBed offers a 101- night sleep trial and 5-year warranty
$85 full price, one size only
Check out our full review of this GhostPillow (and the Faux Down option).
25% Off
GhostPillow: Gel Memory Foam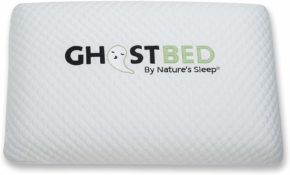 GhostPillow: Gel Memory Foam
The Gel Memory Foam GhostPillow offers a variety of cooling features, starting with its aerated gel memory foam core with a layer of Phase Change Material. It also has a Ghost Ice Fabric cover that is cool to the touch. 
Best Down Pillow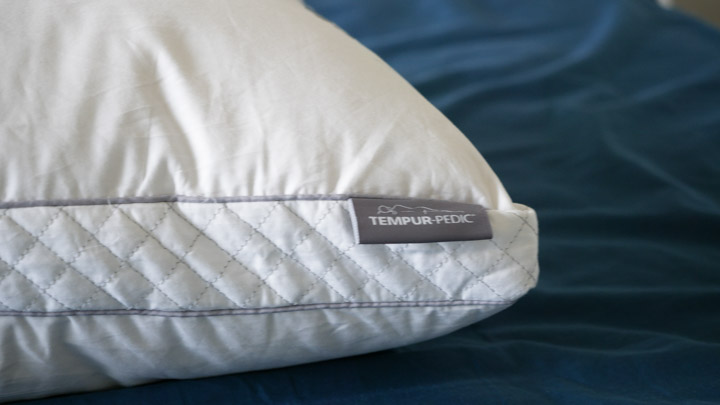 TEMPUR-Down Precise Support Pillow
The TEMPUR-Down Precise Support pillow from TEMPUR-Pedic is hands down one of the most luxurious pillows I've had a chance to review. I love the feeling of the down surrounded by the crisp premium 100% cotton and the support of the shredded Tempur-material (proprietary memory foam) in the core. It's got all that gorgeousness that down pillows provide but it won't fall flat because of the foam center.
Unlike many down pillows, the cover – which features the cotton and the down – is completely machine washable and dryer friendly. It's an easy way to keep the pillow clean and performing as it should. From my experience, I slept the best on my back and stomach, but petite side sleepers can enjoy this one as well. At full price, the pillow is $149 and TEMPUR-Pedic does not offer trial periods on their pillows or returns. 
Pillow Details:
Dimensions (Queen): 25.25″ x 17″ x 7.88″
Cover: Premium 500 thread count 100% cotton and filled with authentic, premium down filling 51% white duck down
Core: The core is made with medium TEMPUR-Material (shredded)
The cover is removable and washable
Comes in Queen and King sizes
Full price: $149
Learn more about this TEMPUR-Pedic pillow and others in our ultimate list. 
Down Filling
TEMPUR-Down Precise Support Pillow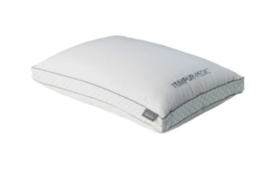 TEMPUR-Down Precise Support Pillow
The TEMPUR-Down Precise Support provides a more traditional and luxurious down feel in combination with a supportive shredded foam core made of proprietary TEMPUR material. 
Best Memory Foam Pillow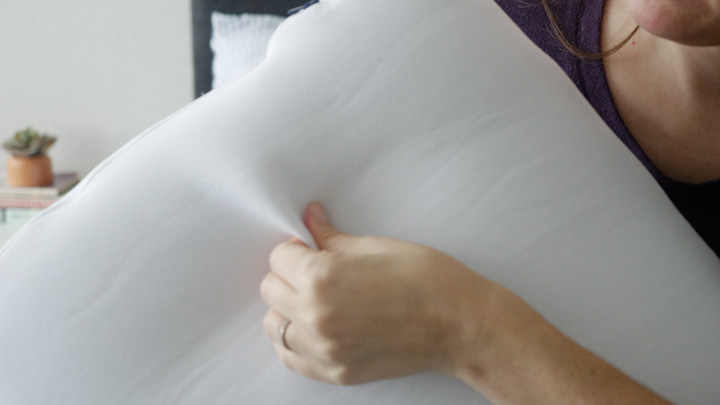 Casper Memory Foam
If you're on the hunt for a comfortable memory foam pillow, look no further than the Casper Memory Foam Pillow. The Casper features a whopping three layers of foam, including Casper's proprietary AirScape foam. This, plus a breathable cover should keep this memory foam pillow from trapping too much heat. 
Being a memory foam pillow, the Casper also offers that soft, contouring feel you should really expect from this material. Lying on the Casper memory foam pillow, you should really feel it contour to your neck and head. It's honestly extremely comfortable. 
The pillow also comes in two models – Mid Loft and Low Loft. The Mid Loft is a great fit for side sleepers as it really keeps your head elevated. The Low Loft is a better option for back sleepers and stomach sleepers. Whatever position you sleep in, Casper can accommodate!
Pillow Details:
Comes in two sizes: Standard and King (We reviewed the Standard)
Available in two lofts – Mid Loft and Low Loft
The cover is a knit blend of 88% Polyester and 12% Spandex fabrics
Three layers make up the Casper Foam Pillow
The inner liner is made of 90% Polyester and 10% Spandex
The cover is removable, so you can easily wash it at home. 
Pricing is Standard: $89 King $119
Read our full Casper Foam Pillow Review 
Casper Pillow Deals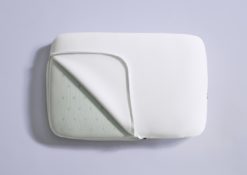 Casper's Foam Pillow has a polyester/spandex knit cover and a 3-layer foam core that's made with plush outer layers and a firmer center layer. The fill acts as a solid piece of ventilated foam but it's truly a firm pillow that's the best fit for side sleepers.
Best Pillow For Neck Pain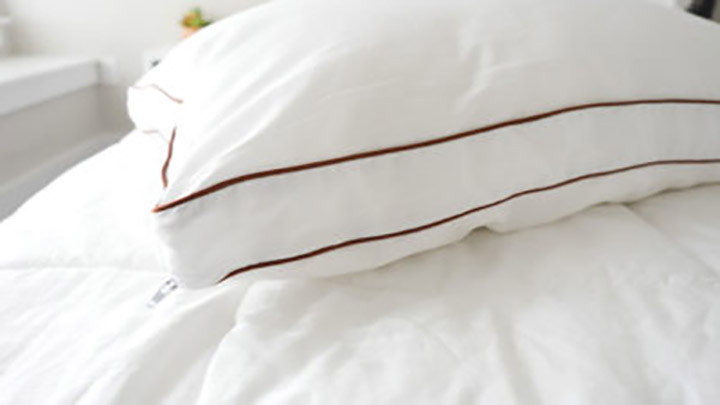 Saatva Latex Pillow
If you struggle with neck pain, you want to find a pillow that can keep your spine in good neutral alignment. If your pillow is too soft or too firm, you could feel your neck getting out of whack. Neck pain sufferers are definitely going to want to take a look at the Saatva Latex pillow. 
The Saatva is a hypoallergenic pillow that boasts an organic cotton cover, microfiber fill, and a shredded latex core. This design gives the pillow a good balance of comfort and support. When you are back sleeping, you should feel your head sink in a fair amount, but the shredded latex will make sure you don't bottom out. You shouldn't be waking up with a kink in the neck! 
The Saatva pillow is also going to be a great fit for hot sleepers. The breathable cover and loose fill should allow for plenty of airflow. You could be sleeping pain-free and cool as well with the Saatva pillow. 
Pillow Details:
Dimensions: Queen – 18″ x 28″ King – 18″ x 34″ 
Features eco-friendly materials such as organic cotton and Talalay latex 
Shredded Talalay latex provides support in the center of the pillow while soft microfiber provides soft comfort
Inner pillow is removable  
Saatva offers 45-day free returns and 1-year limited warranty
Full price: Queen – $155 King – $175
Learn more in our Saatva pillow review
Saatva Deals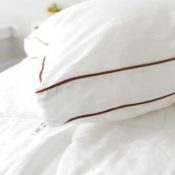 The Saatva Pillow has an organic cotton cover that is removable. Underneath is an outer pillow made up of hypoallergenic microfibers. You can unzip that pillow and reach a pouch filled with shredded Talalay latex pieces. 
Best Pillow for Stomach Sleepers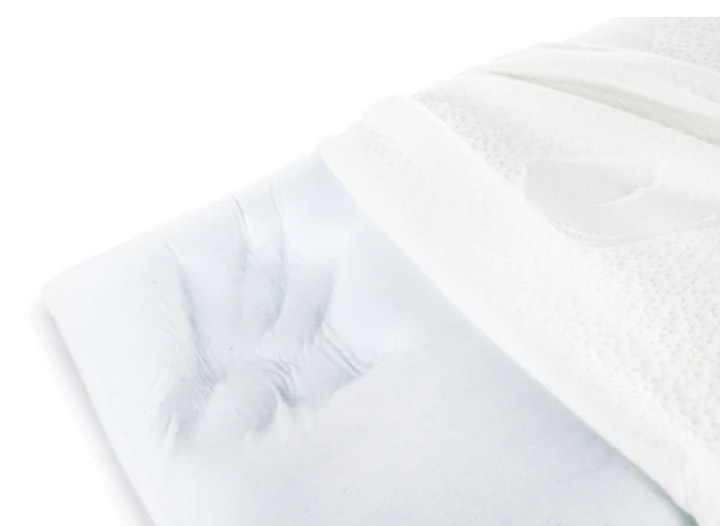 Belly Sleeper
Stomach sleeping is a tricky sleeping position because stomach sleeping requires a pillow flat enough to avoid neck strain but comfortable enough to fall asleep and stay asleep all night. There is often a lot of trial and error finding a pillow that offers that right balance of comfort and support, and Belly Sleeper has the answer.
As the name suggests, the Belly Sleeper is made specifically with stomach sleepers in mind. It features a thin layer of memory foam that has been infused with cooling gel. Surrounding that, there is a removable cover. With its thinner profile, the Belly Sleeper should not be pushing your head up and off the mattress while you are stomach sleeping. 
Also, with the gel and breathable cover, you should not be sleeping too hot. This can be an issue with memory foam, but it shouldn't be with the Belly Sleeper. The pillow should feel cool against your face when you are stomach sleeping. 
Pillow Details:
Thinner memory foam profile designed for stomach sleepers 
Gel-infused to help keep you cool during the night
Removable cover makes washing and cleaning easy 
Hypoallergenic and antibacterial
Comes with a 30-night trial and Forever Warranty
Price: $79 before discounts
$30 Off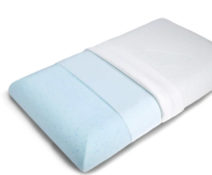 The Belly Sleeper pillow is made specifically with stomach sleepers in mind. Click the button to save $30 on your purchase. 
Best Pillow for Combination Sleepers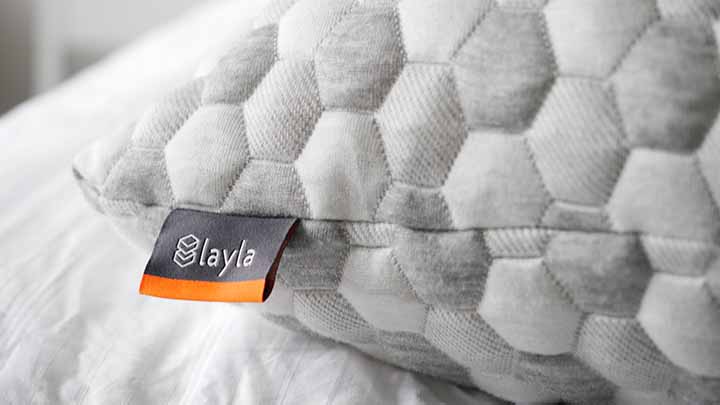 Layla Kapok
Combination sleepers are the people who fall asleep in one position and wake up in another; no two days are the same and nearly every sleep position or a combo of some, feels good.  Combo sleepers tend to need the most versatile pillow and that's where the Layla pillow comes in. First of all, the cover is super soft, a mix of  66% polyester, 30% viscose, 4% poly/lycra woven with CuTEC Yarn (copper-infused performance fiber) so stomach sleepers and side sleepers will absolutely love that.
The filing is natural, organic, and pesticide-free Kapok fibers plus pieces of responsive memory foam. Sleepers are getting support from the memory foam but the Kapok fibers (which is the seed pod fluff from a rainforest tree that has a down-like feel) smooth out the chunks of foam and makes it comfortable for every sleep position.
The key to making it a good fit for the combo sleepers is the adjustable nature, the zipper along the side lets a person access the filling to add or remove his or her desired amount. At its fullest, it's probably best for back and side sleepers and the more that comes out the better it will be for stomach sleepers of all sizes.
The pillow is hypoallergenic, comes with a 120-night trial and is available in two sizes – the Queen is $99 at full price.
Pillow Details:
Dimension: 18″ x 26″ x 4″ (Standard) and 18″ x 32″ x 4″ (King)
Filling: natural, organic, and pesticide-free Kapok fibers plus pieces of responsive memory foam
Cover: Blend of polyester, rayon, viscose, and Lycra. Woven with copper fibers to add coolness and antimicrobial protection
Hypoallergenic
Potentially suitable for all sleep positions
Made in the USA
5-year prorated warranty and a 120-night trial
To learn more, check out the full review of the Layla pillow.
BOGO Half Off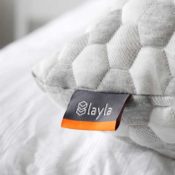 The Layla Pillow features a zipper on the side that lets you access the Kapok fiber and shredded memory foam mixed filling. It has a soft knit cover that includes copper-infused yarn and a pattern that matches the mattress cover. 
Best Hypoallergenic Pillow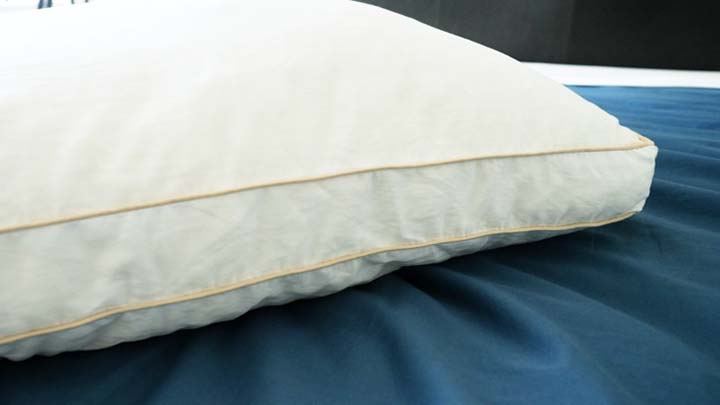 Birch Living Pillow
The Birch Living pillow focuses on high-quality, eco-friendly materials in its construction – but that's not all it has to offer. The filling, which is a mix of shredded, natural and organic New Zealand Birch Wool and 100% natural Talalay Latex from southeast Asia, gives the pillow a "best of both worlds" feel. With all these materials, it is also one of the best hypoallergenic pillows on the market. 
It brings the support from the latex foam but the softness of the natural wool provides a down alternative type feel – it smoothes out any potential lumps from the foam pieces and provides its own unique feel. This one will work for back and stomach sleepers, but some smaller side sleepers may like it, too!
The cover is 100% certified organic cotton and it's all made in the USA with materials from across the globe. The pillow comes in two sizes and the Standard is $99 – plus customers get 100 nights to try it out.
Pillow Details:
Comes in Standard and King sizes
Dimensions: 26" x 20" wide and 5" in height (Standard size)
The pillow cover is made with 100% certified organic cotton
The filling is a mix of shredded, natural and organic New Zealand Birch Wool and 100% natural Talalay Latex from southeast Asia
100-night sleep trial and 3-year warranty
Care: cannot wash in the machine; spot clean only
Made in the USA
Full price: $99 for Standard and $119 for King
Read the full Birch pillow review
Birch Deals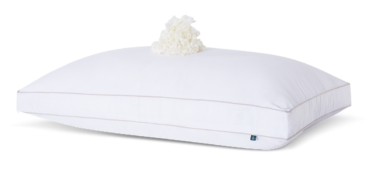 The Birch Pillow is an eco-friendly and sustainably made pillow that has an organic cotton cover and fill made with Birch Wool and Talalay Latex shreds. It will work for all sleep positions and needs to be spot cleaned only.
Best Pillow for Side Sleepers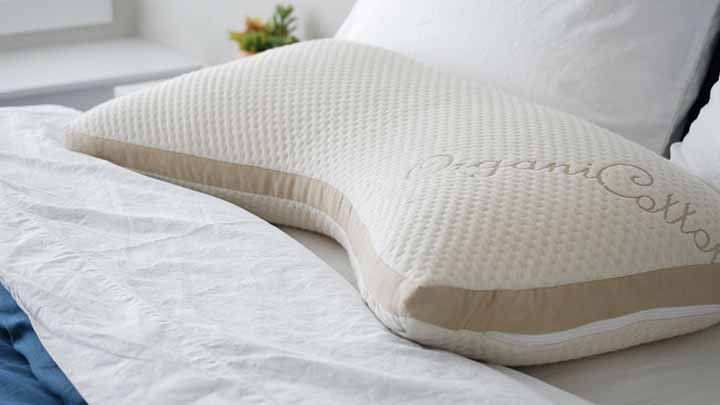 Eli & Elm Organic Cotton Side Sleeper
The unique design and supportive fill of the Eli & Elm Organic Cotton Side-sleeping pillow are two features that helped earn its name as my pick for the best pillow for side sleepers. This curvature allows for proper head and neck alignment while side sleeping, giving the shoulder ample room next to the pillow without pressing into the pillow itself and adding extra unnecessary pressure and/or pain.
The cover is a super-soft, 100% organic cotton and it's also hypoallergenic, antimicrobial, mildew-proof, and dust-mite-resistant! The core of this side sleeping pillow is made up of 75% engineered latex and 25% polyester fibers, giving it a supportive but smooth feel overall. A zipper along the side makes it adjustable so larger or petite side sleepers can adjust the overall height and firmness level with ease.
Right now the pillow comes in just one size and at full price, it's $99.
Pillow Details:
The pillow comes in one size
Specially designed to support side sleepers while conforming to the precise contours of the head and neck with curved construction
The cover is 37% organic cotton, 2% spandex, and 61% polyester. It's also a temperature-managing material that is designed to dissipate heat
The filling is made up of engineered latex (75%) and polyester fibers (25%). It's adjustable so one can customize the firmness
Noodle latex foam is mixed with extremely soft, cooling gels to regulate body temperature throughout the night
Hypoallergenic, antimicrobial, mildew-proof, and dust-mite-resistant
$99 at full price
45-day return policy
Read the full Eli & Elm Review
Eli & Elm Deals
Eli & Elm Organic Cotton Side Sleeper Pillow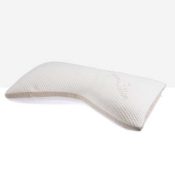 Eli & Elm Organic Cotton Side Sleeper Pillow
The Eli & Elm Organic Cotton Side Sleeper pillow is designed for side sleepers with its curvature and offers great support with its latex foam and polyester fiber combination.
Best Budget Pillow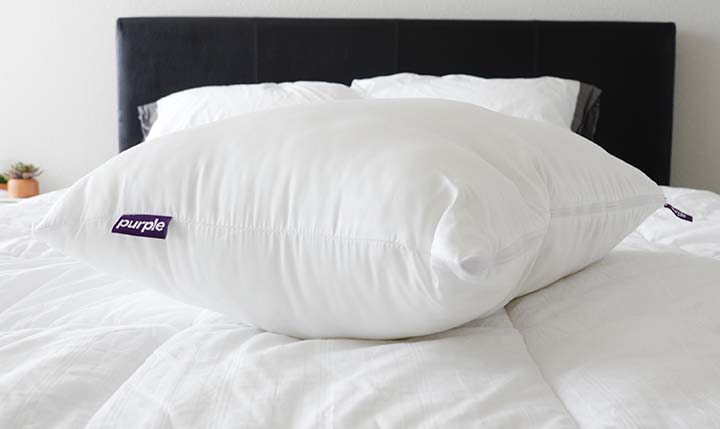 Purple Plush Pillow
Last but not least, my pick for the pillow with the best value goes to the Purple Plush pillow! I selected this pillow because, for the quality of the material and the innovative design; customers are getting a good bang for their buck.  The outer cover is super smooth, made up of 60% lyocell (synthetic fabric known for breathability) and 40% nylon with a moisture-wicking treatment.
The filling is what Purple calls their "Smart Fluff," or interlocking, denier poly-fiber puffballs (say that five times fast!) It definitely has that soft and fluffy down alternative feel but the design doesn't allow it to fall flat or lose a lot of air when compressed by a head and neck.
The innovative part really has to do with the adjustable nature of the pillow – sleepers can unzip to make the pillow plusher and then zip one or both sides to make it firmer. 
The pillow is $49 for a Standard size, which is a great deal for an adjustable pillow that's super easy to care for, and easy to change the overall feel without any mess and comes with a 100-night trial. Average sized back and side sleepers will enjoy this pillow the most!
Pillow Details:
Available in Standard and King sizes
The cover is 60% Lyocell and 40% Nylon with a moisture-wicking treatment
The filling is what Purple calls "Smart Fluff," or interlocking denier poly fiber puff balls
Feels like polyester fibers that won't fall flat or lose a lot of air when one presses down
Adjustable in that sleepers unzip to make it softer and zip it to make it firmer. Features two zippers so one can combine or do half and half for even more preciseness with no mess
100-night trial and 1- year warranty
Care: Machine wash in cold water, gentle cycle. Tumble dry low heat with a clean dryer or tennis ball
Read the complete Purple Plush pillow review. 
Purple Deals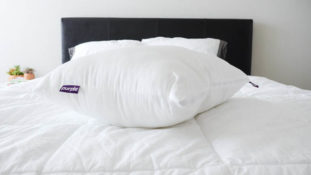 The Purple Plush Pillow is a simple but innovatively designed pillow that features a Lyocell and Nylon blended cover and is filled with "Smart Fluff" which is interlocking polyester fibers.
Best Pillow for Back Sleepers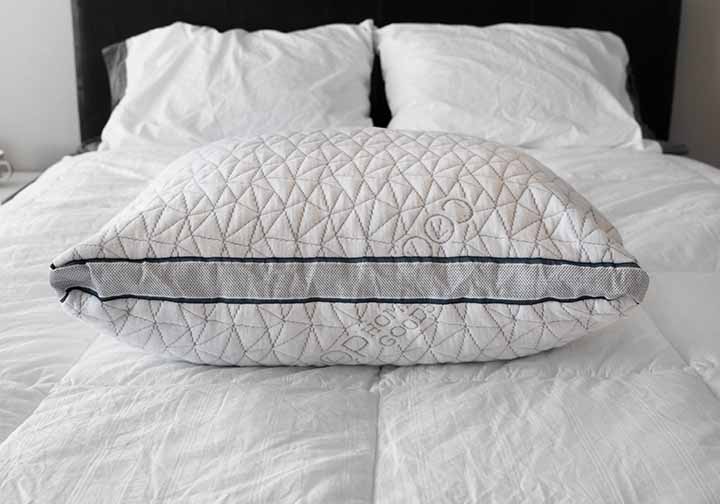 Coop Home Goods Eden
To achieve a solid neutral back and spinal alignment, back sleepers tend to need a medium amount of loft and support in their pillows. However, no two people are the same so one of the best ways to find this perfect balance is with an adjustable pillow. Enter the Eden pillow by Coop Home Goods – this pillow a little slice of heaven with its soft outer cover (60% polyester and 40% viscose-rayon derived from Bamboo) and the hybrid filling of crosscut gel memory foam and polyester microfibers.
The small and uniform size of this gel-infused foam means a lot of blissful support but without the lumps and chunks. The polyester microfibers basically wrap around the foam and hold it in place, creating smoothness and a little more of a down alternative feel and help to keep the foam filling from separating and creating gaps overnight.
I love that back sleepers can adjust it to their liking – the pillow will also most likely come with extra filling if needed. It's also entirely machine washable and dryable. Sleepers get 100 nights to try it out and at full price, it's $70 for Standard (Queen and King size also available).
Pillow Details:
The idea behind this pillow is that it's made for those who want the support of memory foam and the comfort of down in one pillow
The Eden is adjustable – one can add/remove the filling
It is filled with a lush blend of gel-infused memory foam and microfiber
The cover is 60 percent polyester and 40 percent viscose rayon derived from Bamboo (soft and breathable)
Machine-washable and dryer friendly (both the cover and inner filling are removable)
$80 for Queen ($70 for Standard and $90 for King)
Check out my full review of the Coop Home Goods Eden pillow.
Coop Home Goods Deals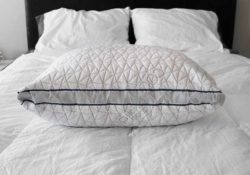 The Coop Home Goods Eden is an adjustable pillow that should be a great fit for back sleepers. Click the button to get the best deal on the Eden. 
How To Find The Best Pillow
In this buyer's guide section, I'll explain everything you need to know and look out for when you're shopping for your next pillow. These factors include:
Your sleeping position
Types of pillows
Loft
Firmness level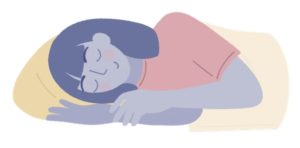 Sleeping Position
I always suggest that people start by looking at their primary sleep position, this is the position a person typically wakes up in the morning.
Side sleepers – Side sleepers need a thicker, more supportive pillow to keep their neck properly aligned. Side sleepers can be comfortable on any type of pillow as long as it provides enough loft and support. Check out the best pillows for side sleepers.
Stomach sleepers – Stomach sleepers need a thinner pillow for neutral alignment. I generally recommend softer pillows like down, down alternative, and feather pillows for stomach sleepers. If stomach sleepers want a foam pillow, look for shredded foam for a less dense feel or adjustable pillows so you can remove excess filling. Check out the best pillows for stomach sleepers.
Back sleepers – Back sleepers, like stomach sleepers, also need a thinner pillow to keep their neck in proper alignment. Avoid pillows that are extra firm or extra soft. Many of the pillows that work for stomach sleepers will also work well for back sleepers. Check out the best pillows for back sleepers.
Pro Tip: Those who wake up in different positions consistently can consider themselves to be combination sleepers!
Different Types Of Pillow Fillings
One factor to consider is what materials feel good in a pillow. Some prefer the slow sinking feeling of memory foam while others love the bounce of latex. Even those with allergies who prefer the soft feel of a down pillow can consider hypoallergenic down alternative options.
Some of the most popular and lesser-known types of pillow fillings today include:
Memory foam – Memory foam pillows have a soft, cushioning feel. These pillows offer nice pressure relief so they are especially good for sleepers with neck pain. Some pillows contain shredded memory foam, creating a less dense feel. Memory foam pillows can also contain materials like gel to add cooling features to the pillow.
Latex – Latex pillows offer great support like memory foam pillows, though they have a different feel. Latex pillows will offer pressure relief, but you won't feel like you're "sinking in" to them as much as a memory foam pillow because latex is resilient and bouncy. Latex pillows can contain completely natural, synthetic, or blended materials. They are generally pretty cooling.
Down – Down pillows have a classic, soft feel that many sleepers are accustomed to. If you've ever slept on a hotel pillow, you've probably slept on a down pillow. These pillows are less dense and supportive than memory foam and latex pillows, so they make a good fit for back and stomach sleepers.
Down Alternative – Down alternative pillows have the same soft, classic feel of down pillows, but instead contain a synthetic down alternative material. Down alternative pillows are cheaper than down pillows. Plus, they are hypoallergenic.
Kapok fibers – Pillows made with kapok fibers have a similar feeling to down pillows. They are soft, buoyant, and naturally hypoallergenic. These pillows will require occasional fluffing.
Buckwheat – Pillows that use buckwheat hulls are unique and becoming more popular. Buckwheat pillows offer great neck support, they're breathable, and naturally hypoallergenic. These pillows have a firmer feel and are more noisy than other types of pillows.
Feathers – Feather pillows are very soft and lightweight. They have a similar feeling to down, but feather pillows are more durable than down pillows. Some people's allergies are affected by feather pillows, and others say feather pillows sleep hot.
Honestly, it can be overwhelming to figure out which pillow is going to be the best match just from a quick glance and squeeze to assess the fill and support level, especially with so many options available.
We have a comprehensive guide that covers all the main different types of pillows and the pros and cons of each material that can help you narrow your options if you need more information.
Finding The Right Loft
People who wake up with a stiff head or neck may be sleeping on a pillow that is an incorrect height – also called loft – or firmness for their primary sleep position. One way to reduce the risk of neck pain is to ensure the head is resting on a pillow that allows for the head, neck, and spine to be in a straight line. (This is also referred to as neutral alignment.)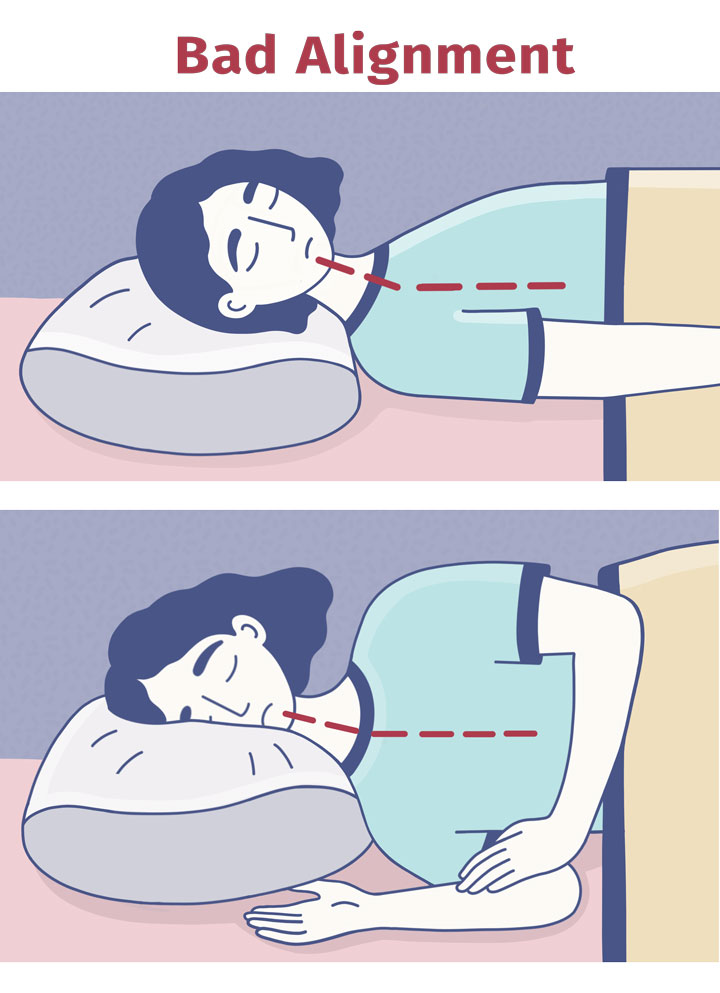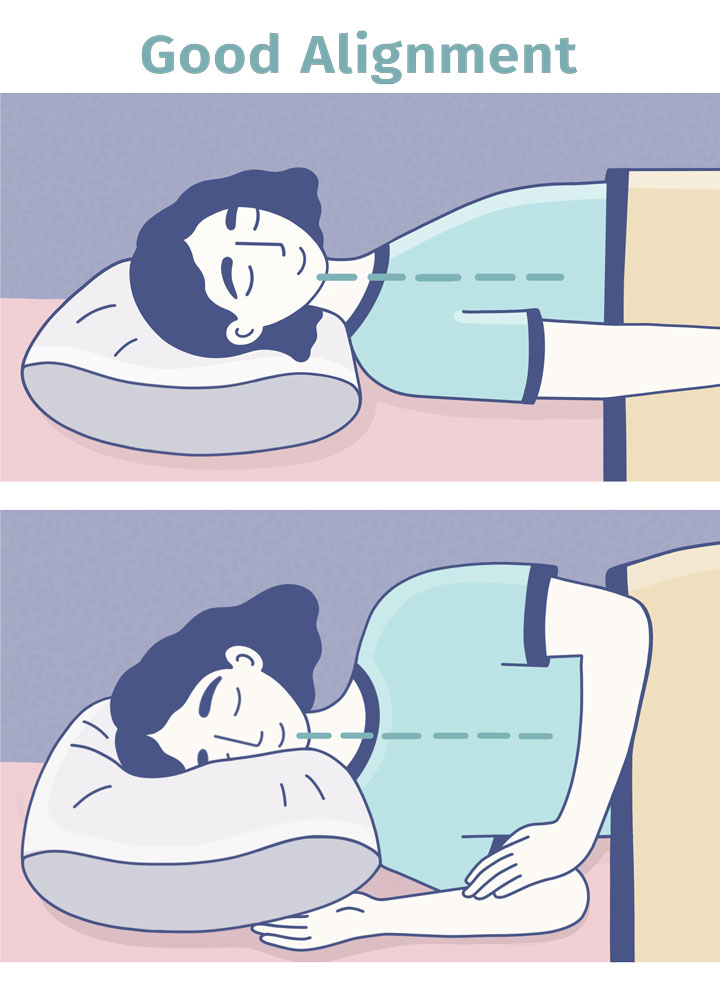 Generally speaking, side sleepers need pillows with the most support, loft, and height while back sleepers need a smaller amount, and stomach sleepers need the softest and flattest pillows. The goal here is to get the head, neck, and spine in neutral alignment so a person wakes up refreshed and feeling great and not sore and stiff.
Your body weight can also affect what loft you need in a pillow. Heavier people need pillows with a higher loft to support more weight, whereas lightweight people need pillows with a shorter loft. It's still important to consider your sleeping position in conjunction with your bodyweight (i.e. heavyweight back or stomach sleepers will probably be most comfortable on a pillow with medium loft).
Summary
Individuals can rest easy knowing that a dream pillow is out there waiting to be selected! Again, here is our list of top picks:
This list is intended to be an informational and helpful guide – in some cases, it may take several nights testing a couple of pillows before the best one is discovered. Waking up reinvigorated and ready to start the day is one way to know the pillow is a good fit.
FAQs
Which is the best pillow for sleeping?
There is no single best pillow for everyone out there – we wish it was that easy! The best pillow for sleeping is going to depend on a person's primary sleeping position and their personal preferences – whether they prefer down or foam, cotton or a different knit blend!
How do I pick the right pillow?
To pick the best pillow, individuals need to figure out what sleep position they most often wake up in. In general, stomach sleepers tend to need the flattest pillows that are the softest or most plush. Back sleepers do best with a medium-sized lofted pillow and a medium range of support. Lastly, side sleepers tend to need the most loft (height) and support to fill the gap between their shoulders and their heads and necks.
What are the best affordable pillows?
The right pillow doesn't necessarily have to be an expensive one. There are plenty of options for under $50 including a few on our list: Sleepgram and Purple Plush.
Other options include:
What is the best kind of pillow for a side sleeper?
Side sleepers need to fill a 4″ to 6″ gap of space between their shoulder and their head and neck when sleeping on their sides. For this reason, side sleepers tend to need the most height, loft and overall support from a pillow.
Look for pillows that are labeled for side sleepers and/or come overstuffed. Adjustable pillows that offer additional filling can also be a good option.
Katie Golde
Katie manages the day to day operations of the Mattress Clarity news site and reviews sleep products in addition to writing and editing sleep news. She hails from Austin, where she lives with her growing family. She is a Certified Sleep Science Coach and has a master's degree in Journalism from Northwestern University and has a background in health and science content. Her work can be found in print and online publications like Discover Magazine, USA Today and The Huffington Post.