We've all been there: reaching for the $10 pillow from a bin at a supermarket. But often, those pillows go flat quickly and just don't give you that luxurious sleeping experience. Sometimes, it can be worth it to invest in a luxury pillow!
I've tested dozens of pillows, and I've curated a list of the best luxury pillows for those who want to splurge. Whether you're a side sleeper, a memory foam lover, or needing some neck pain relief, there's a pillow for everyone.
Keep reading to see my top picks!
Our Top Picks for the Best Luxury Pillows
Best for Side Sleepers – Saatva Memory Foam
Who's It For?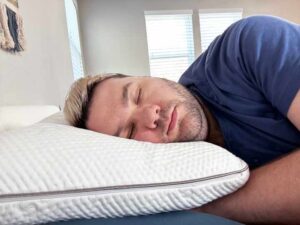 Saatva makes some great luxury hotel-quality mattresses and pillows. But if you love a memory foam pillow and sleep on your side, the Saatva Memory Foam pillow is the perfect match for those on the hunt for luxury. It even made its way onto my bed!
This pillow combines both shredded memory foam and solid pieces of foam. The outer foam is great for side sleepers because it contours to your head and neck, but the shredded foam core keeps heads elevated and supported. It truly gives a luxury experience for side sleepers!
What Makes the Saatva Memory Foam Pillow Stand Out?
This pillow blends solid pieces of memory foam with shredded foam to provide support and comfort.
It's tall and keeps a side sleeper's head elevated, which will prevent neck pain from developing.
The cotton cover is breathable, which allows for airflow, making it a good option for hot sleepers.
Read our full Saatva Memory Foam pillow review!
Best Comfortable – Lagoon Otter
Who's It For?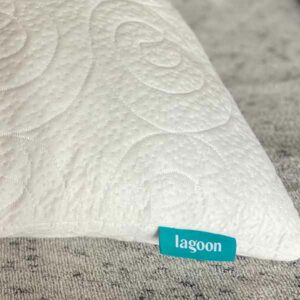 Lagoon is a brand that's all about options, but one of its most versatile pillows that gives a luxury sleeping experience is the Otter pillow. This pillow features a shredded memory foam fill that gives it a slow-moving feel. But the foam is also gel-infused, meaning it's going to pull heat away from your head, keeping you cool while you sleep.
The Otter is an adjustable pillow, meaning you can take out or add in the shredded foam fill to make it taller and firmer, or lower and softer. This makes it work well for all sleeping positions. The outer cover can be removed and machine-washed for easy care, too!
What Makes the Lagoon Otter Pillow Stand Out?
This pillow uses shredded, gel-infused memory foam that gives it a comfy, slow-moving feel.
You have the option to take out or add in the foam fill to make it work best for your sleeping position.
Lagoon offers a 100-night sleep trial and a 5-year warranty.
Read what we have to say about some popular Lagoon pillows!
Best Cooling – Cozy Earth Silk Pillow
Who's It For?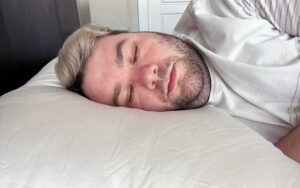 When it comes to luxury, it doesn't get much more luxurious than silk. However, did you know that some pillows use a silk fiber fill? That's what Cozy Earth does with its silk pillow. The mulberry silk threads inside this pillow are breathable, supportive, and plush.
All of this luxury silk is wrapped up in a bamboo outer cover. Bamboo fabric has a similar softness and silkiness to real silk, and it's not only breathable but moisture-wicking, too. This means that if you're a hot sleeper battling night sweats, this pillow will keep you cool and dry all night long.
What Makes the Cozy Earth Silk Pillow Stand Out?
It features a bamboo cover, which is breathable and moisture-wicking.
Silk is a very luxurious product on its own.
Cozy Earth has a dedication to ethical practices and has a direct supply chain for all its production and materials.
Read our full Cozy Earth Silk pillow review!
Best for Combination Sleepers – Luxome LAYR
Who's It For?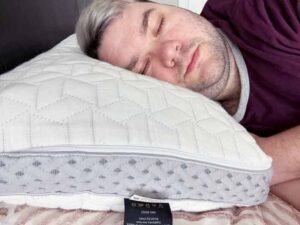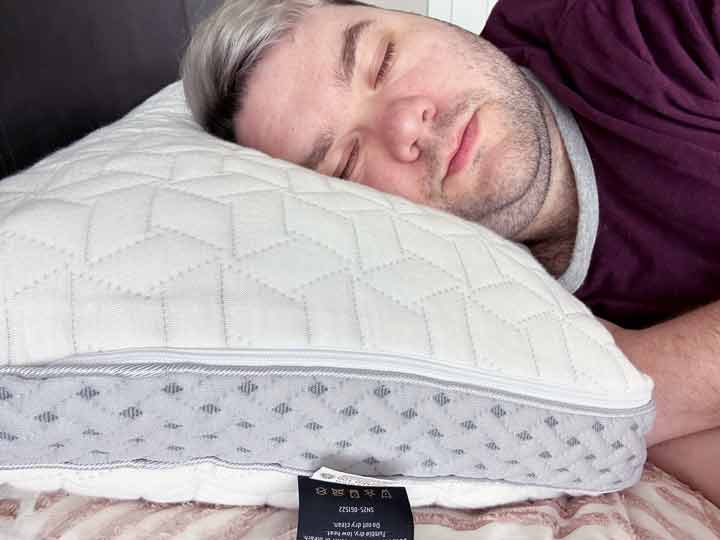 When it comes to combination sleepers, it can be hard to find a pillow that matches whatever sleeping position you end up in during the night. Luxome's LAYR pillow is an adjustable pillow where the options are abundant.
This pillow features three fill options that you can mix and match to make work for all your sleeping positions. Back and side combination sleepers will do well with a mix of the medium and firm fills. Back and stomach will find comfort and support with the medium and soft fills, and side and stomach sleepers can achieve the loft and support necessary with the firm and soft options.
What Makes the Luxome LAYR Pillow Stand Out?
It comes with many different customization options, making it ideal for people who change positions during the night.
The bamboo outer cover feels luxuriously soft, and is breathable and moisture-wicking.
Luxome is a brand that is all about giving sleepers a luxury experience.
Read our full Luxome LAYR pillow review!
Best Firm – Avocado Molded Latex Pillow
Who's It For?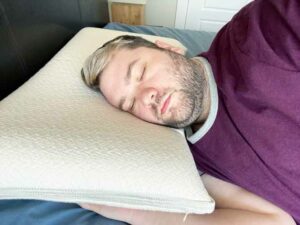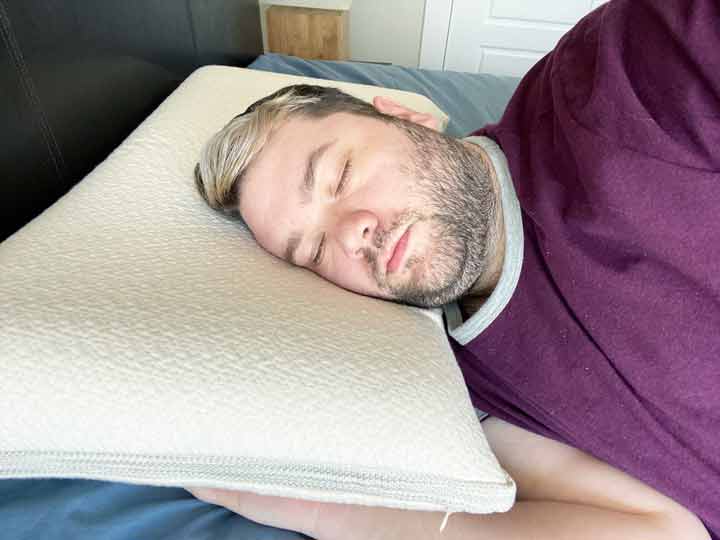 Firm pillows are great for people who want to feel supported by their pillow. And sometimes, luxury comes in the form of certified organic products. So, for those who love firm and organic pillows, the Avocado Molded Latex pillow might be the perfect choice for you.
Avocado uses Global Organic Textile Standard (GOTS) certified organic materials in this pillow. The fill is made from a single piece of dense, firm latex foam. This pillow works best for back and side sleepers who love firm pillows for support. Hot sleepers can also enjoy this pillow because the latex is perforated with holes for airflow, and it's encased in a breathable organic cotton cover.
What Makes the Avocado Molded Latex Pillow Stand Out?
It's made from a single piece of latex foam, which is very dense and firm, but still offers good comfort.
This is a great pick for eco-conscious shoppers because it has many certified organic materials.
It's a good option for hot sleepers, having perforations in the foam and a breathable cotton cover.
Read our full Avocado Molded Latex pillow review!
Best Luxury Down – Plushbeds Goose Down Pillow
Who's It For?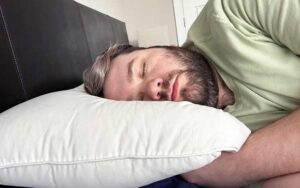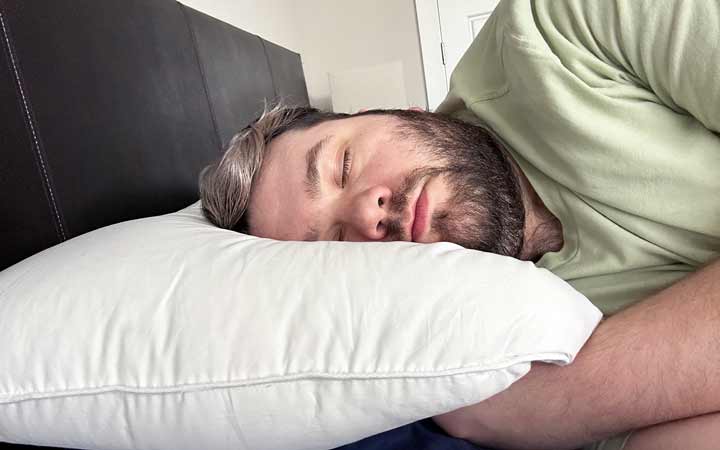 These days, down pillows have reached luxury status. Though they were the blueprint for many modern pillows, down has become a precious resource. Plushbeds' Goose Down pillow is one of the most luxurious down pillows I've encountered. The goose down is 100% imported European down which is fluffy and soft.
The outer cover is made of a 100% cotton shell that has been woven with the sateen weave, giving it a satin-like feel and finish. Cotton is very breathable and the down is temperature neutral so you shouldn't worry about overheating on this cloud-like pillow !
What Makes the Plushbeds Goose Down Pillow Stand Out?
It is chock full of soft, fluffy goose down, giving it a luxurious cushioning feel.
It comes in two firmnesses to accommodate sleeping position.
Plushbeds uses a soft, cotton sateen cover on the outside, which is breathable and won't trap heat.
Read our full Plushbeds Goose Down pillow review!
Best Memory Foam – Layla Kapok
Who's It For?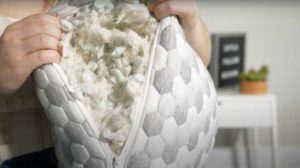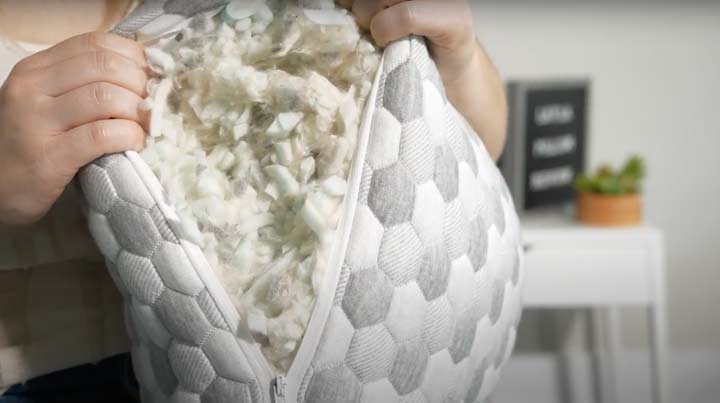 Memory foam is a super popular material for pillows and it can take a few different forms. The Layla Kapok pillow combines shredded memory foam with soft, airy kapok tree fibers that makes for a luxuriously soft sleeping experience. The shredded foam is slow-moving, but the addition of the kapok fibers help give the pillow a plush feel.
The cover on the outside is made with a blend of polyester and viscose, giving it a soft feel and making it breathable. You have the option to add in or take out the foam and fiber fill as well. This lets you adjust the loft and firmness to make it work best for your preferences and sleeping position.
What Makes the Layla Kapok Pillow Stand Out?
Layla uses a blend of shredded memory foam and kapok tree fibers to give this a slow-moving, yet comfortable feel.
The outer cover is very breathable, and the combination of kapok fibers and shredded foam give this pillow lots of opportunity for airflow; you won't sleep hot!
You can add in or remove some of the foam fill to make it work best for your sleeping position.
Read our full Layla pillows review!
Best for Neck Pain – TEMPUR-Neck
Who's It For?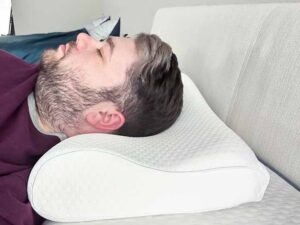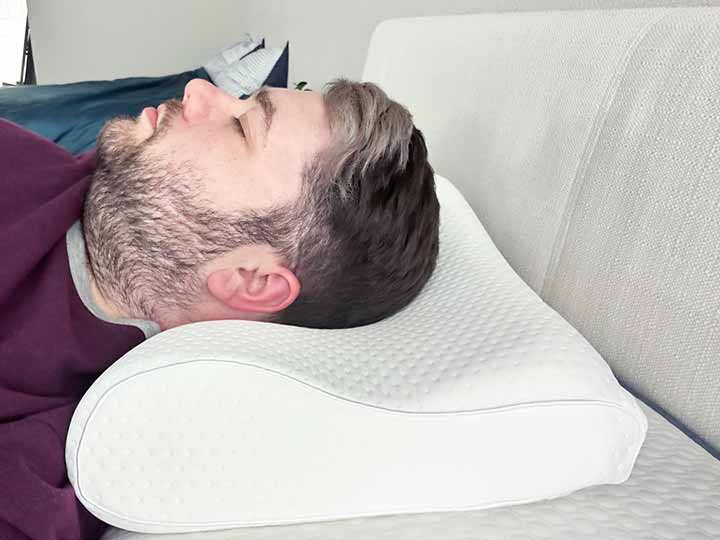 Waking up with a crick in your neck can make for a rough day. Luckily there are pillows, like the TEMPUR-Neck, that have ergonomic designs to help you feel like you're getting a luxury neck pain treatment. The curvature of this pillow will follow the natural curve of your neck, which keeps it supported while you sleep.
It works best for side and back sleepers because of its unique shape. It's also TEMPUR-Pedic's firmest pillow, but it's made out of a single piece of slow-moving TEMPUR material. This gives it that classic memory foam feel, and will help cushion your neck while providing support and pain relief.
What Makes the TEMPUR-Neck Pillow Stand Out?
It has a unique, ergonomic design that is intended to help with neck pain.
The TEMPUR material used is slow-moving, but is firm and supportive.
You can opt for a cooling cover if you're a hot sleeper.
Read our full TEMPUR-Neck pillow review!
What is a Luxury Pillow?
Luxury is a subjective term, but when I think of luxury I think of two things: features and price. Ultimately, luxury pillows are going to cost a pretty penny. But that's because companies or brands put a lot into the pillow to really sell the luxury experience.
A couple examples of this include getting a pillow certified toxin free (OEKO-Tex® or CertiPUR-US®), or it can be using 100% certified organic materials and giving the pillow a variety of features. This list that I've curated has a variety of pillows that have designs and features that range from simple to complex, but all of them have at least one certification. It all depends on what the company uses or how they certify the materials used.
Types of Luxury Pillows
Luxury pillows come in all shapes and sizes. More often than not, the types of pillows that are considered "luxury" improve upon existing pillow types. Let's break down some of the types of pillows that were featured in this list.
Memory foam: Usually luxury memory foam pillows will include cooling infusions such as gel, which help pull body heat away from your head.
Down: Luxury down pillows will naturally cost more due to down being an animal product, and many companies are taking steps to ethically and responsibly source high-quality down.
Silk: Though you've seen silk pillow cases, brands like Cozy Earth use silk fibers as the fill for a pillow. Silk is already a luxury product as well.
Latex: When it comes to latex foam, this material will be a bit pricier as it is a natural product. Brands like Avocado also go the extra mile to get the latex certified organic, which can drive up the price due to the certification process being rigorous, time-intensive, and expensive.
How to Choose a Luxury Pillow?
Everyone wants to sleep in luxury, but there are some important factors that one should consider before clicking check out. I've come up with three considerations when it comes to choosing and buying one of the best luxury pillows.
Budget: Let's get the obvious out of the way. Luxury pillows are called luxury for a reason: they are going to have a higher price point than something you can find in-store. Some luxury pillows on this list are just a little more than $100, but even that can be pricey for some.
Sleeping position: Some pillows can work for all sleeping positions, while others work better for just one. Back sleepers want pillows that keep their chin in line with their chest, so a medium loft works best. Stomach sleepers need low and flat pillows so their necks don't crane upwards. Side sleepers need tall pillows to keep their head and necks elevated and supported.
Timing: If you're after that luxury experience, but can't afford to pay full price, consider shopping around major holidays. Many brands discount pillows around major holidays like Black Friday or Presidents Day. Be sure to check out some of our Mattress Clarity deals as well!
Pros & Cons to Luxury Pillows
Let's go over some pros and cons to the best luxury pillows.
| | |
| --- | --- |
| Pros | Cons |
| They go through processes or get certifications that prove they are safe to use or are organic. | They can be quite expensive, even with the ability to break up payments through financing. |
| They have many features that can help you stay cool, or are able to accommodate multiple types of sleepers. | Not many people want to go through trial and error to find the sweet spot that fits their needs if the pillow is adjustable. |
| They're often made with high-quality materials that are more durable. | They might not have the easiest care instructions. |
FAQs
Let's cover some frequently asked questions about the best luxury pillows.
How much do luxury pillows cost?

Luxury pillows can be quite pricey. The pillows on this list range from about $120 to $370, and I'd say that's a pretty average range.
How do I clean a luxury pillow?

Some luxury pillows can be machine-washed or have machine-washable components. It all depends on what the manufacturer recommends, however. All the pillows on this list can either be fully machine-washed, or have machine-washable components.

Be sure to read our article detailing how to clean a pillow for more, in-depth information!
How long do luxury pillows last?

At least two years. Luxury pillows are full of high-quality, durable materials. They may be an investment up front, but they often can last you a while. Some brands recognize this and offer multi-year warranties on their pillows, too!
Tony Klespis
Tony is a staff writer at Mattress Clarity where he analyzes sleep products and appears in review videos. He earned a B.A in English from Sam Houston State University and a M.A in Mass Communication from Texas State University. When he isn't writing about sleep products, Tony loves to unwind with a good book or can be found playing Pokemon Go outside with his friends, or cuddling with his cat, Penguin. He's always down to try a new, local restaurant and try new foods.